Pumpkin with applesauce cookies with warm spices is a fantastic way to bring in the crisp fall weather. These are so easy to make!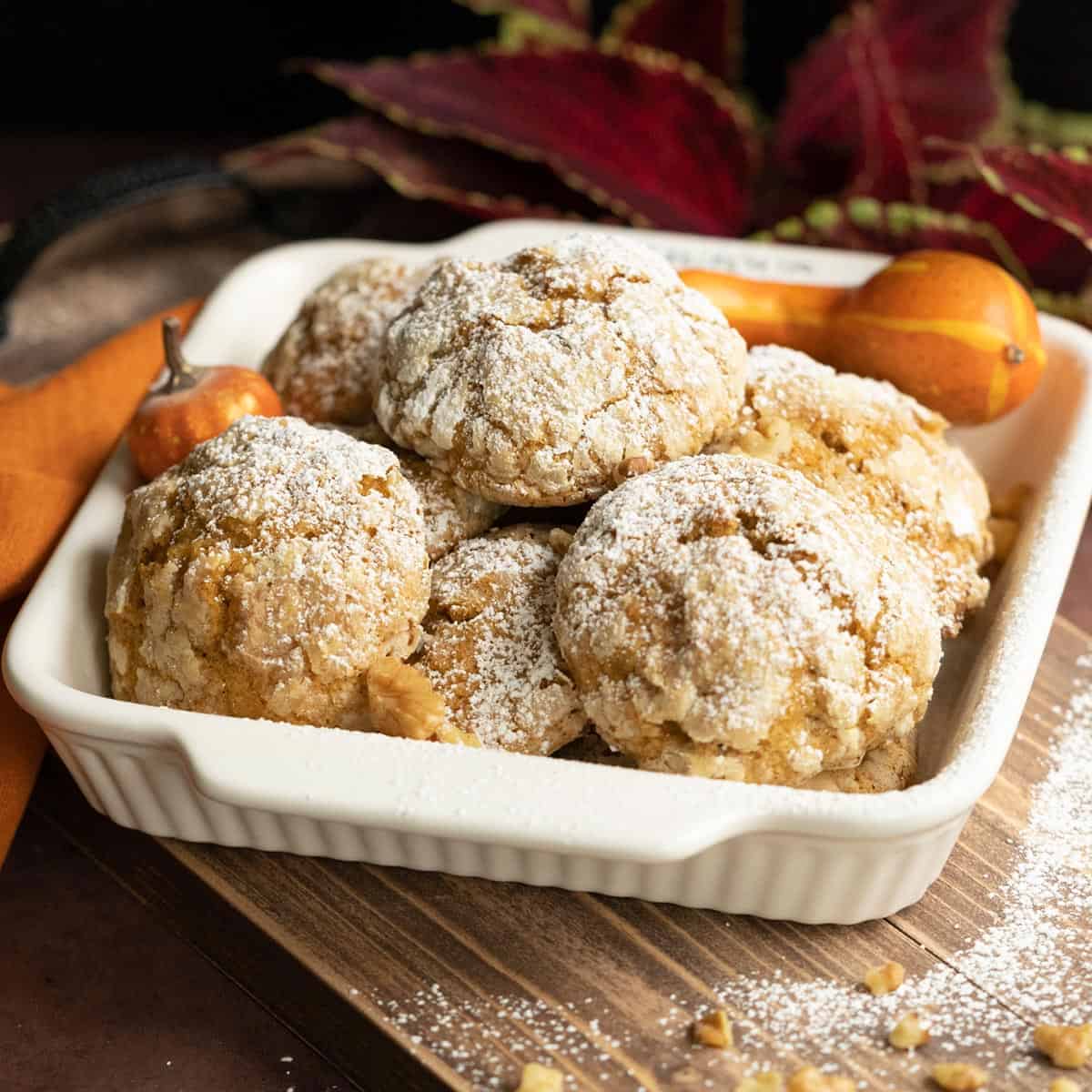 Baking in the fall has its unique smells! But, mainly, apples and pumpkins come to my mind when talking about baking fall cookies—So, combining both the pumpkin and the apples for this week's cookie was a perfect bite of fall.
I decided to use the unsweetened applesauce and cut down on the sugar in the cookie since I would be coating the cookie balls.
Ingredients You Will need.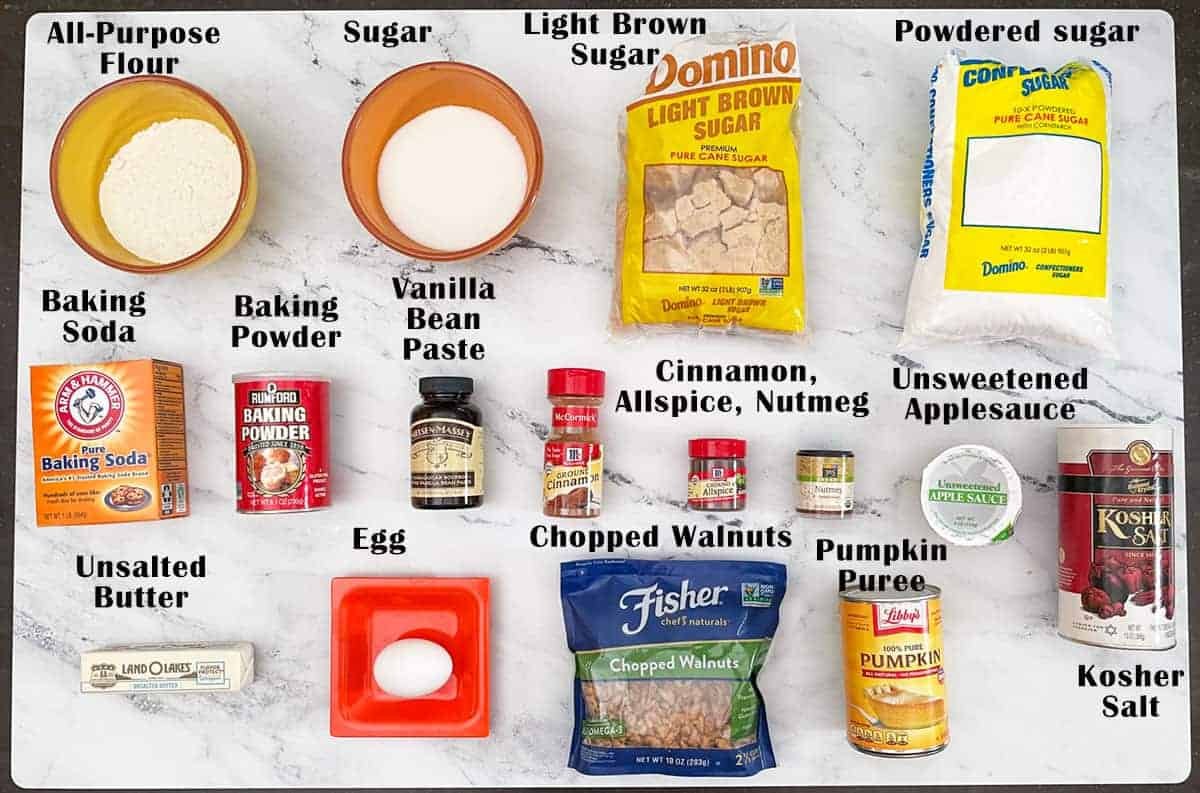 Jump to Recipe for Amounts
Butter unsalted
Granulated sugar white
Light brown sugar
Egg
Vanilla bean paste
Unsweetened applesauce
Pumpkin puree
All-purpose flour
Ground cinnamon
Nutmeg
Allspice
Baking powder
Kosher Salt
Baking soda
Chopped walnuts
Powdered sugar To coat cookie balls
How to Combine Apple and Pumpkin
Preheat the oven to 375°.
Weigh or measure flour, baking soda, baking powder, salt, cinnamon, nutmeg, allspice into a bowl and run a whisk through to blend.
Start your cookie adventure by blending the sugars and the butter. I mix on a medium-high setting for 3 minutes.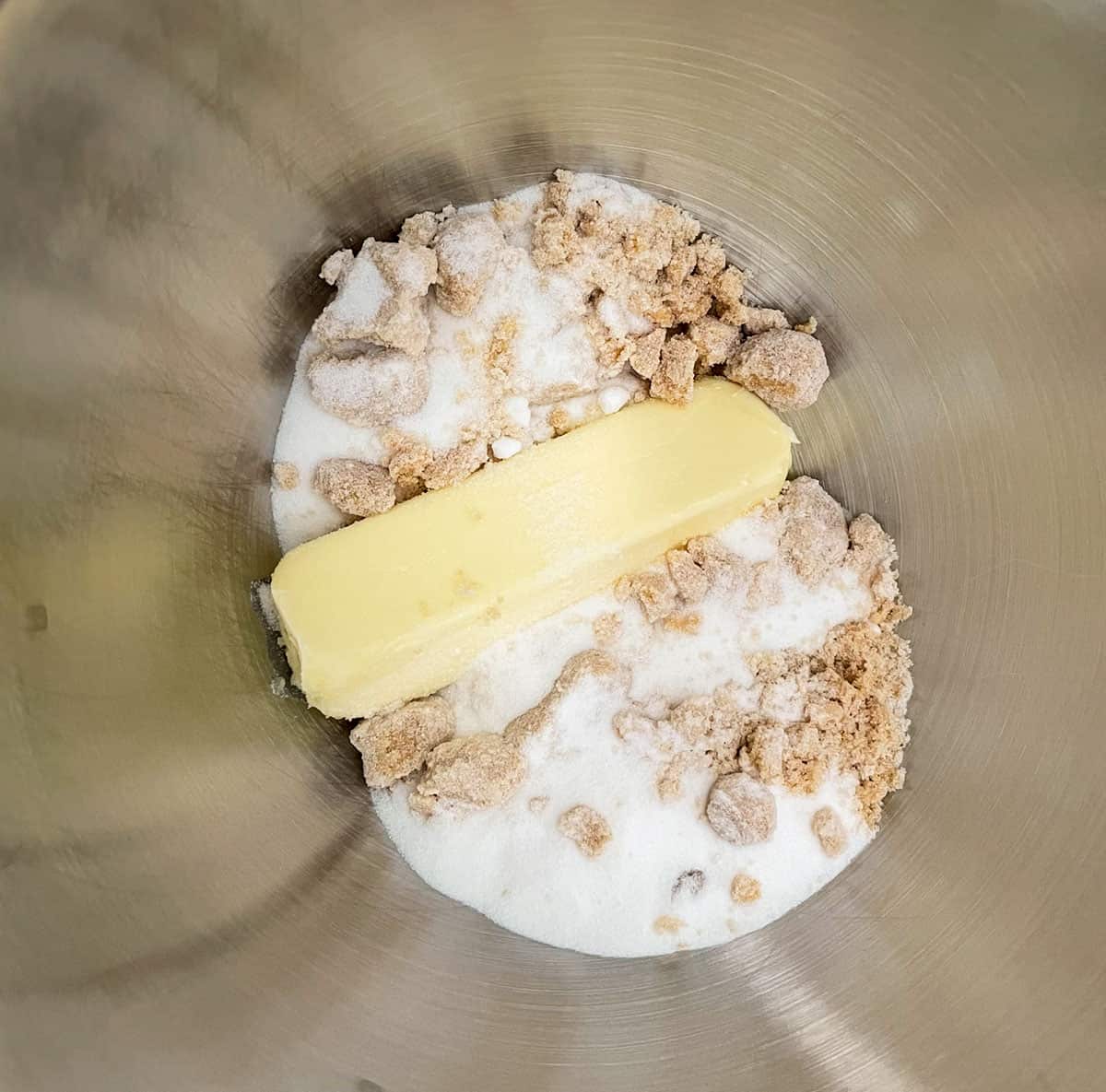 Next, add pumpkin puree, unsweetened applesauce, vanilla bean paste, egg, and mix till incorporated.
After you add the applesauce, your wet batter will look like the butter broke, but in fact, it is the applesauce showing all these little apple pieces.
Turn the mixer down to low and add the dry ingredients slowly. After the flour is mixed in, scrape down the sides and add the chopped walnuts. The cookie dough will be a little wet. You want to chill for an hour or place it in the freezer for half an hour.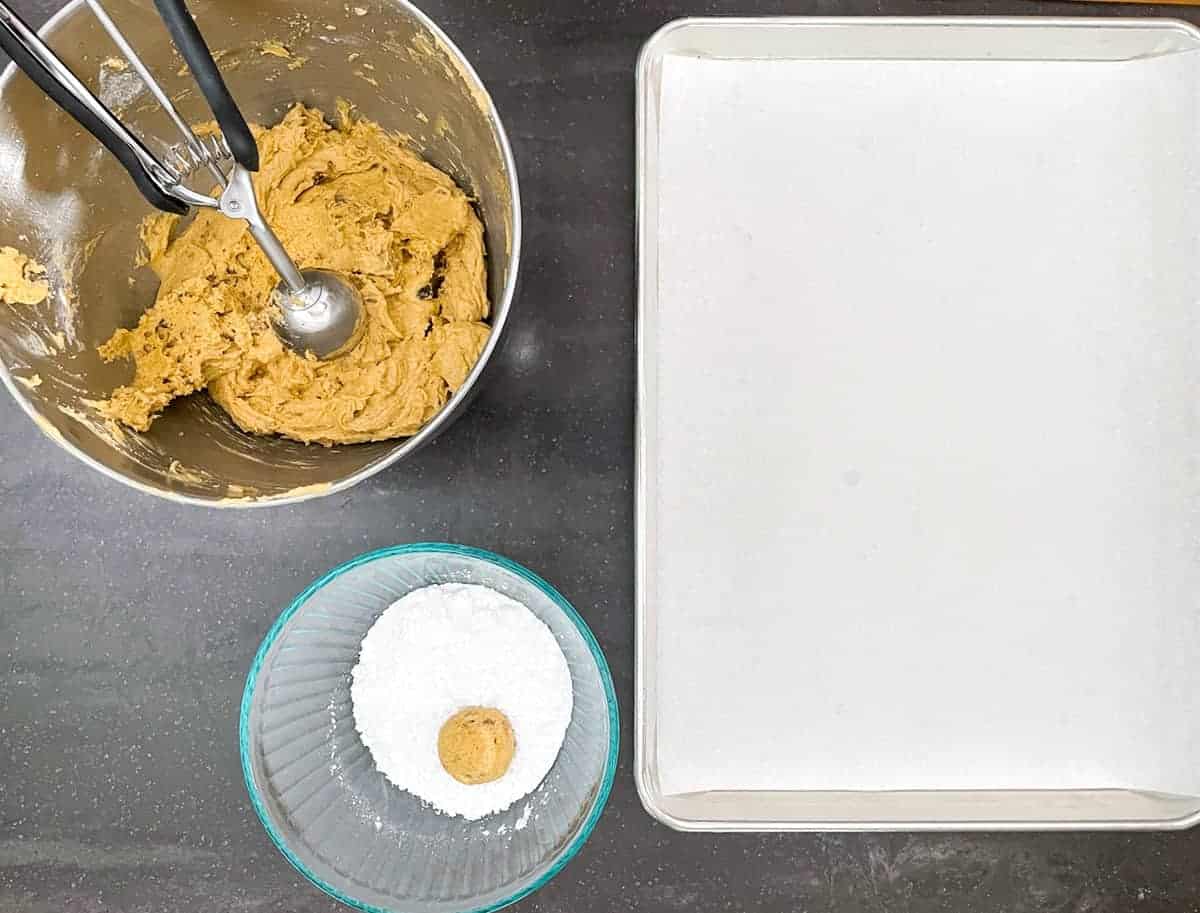 After taking the bowl from the refrigerator, place the bowl in the freezer for ten more minutes if the cookie batter still feels tacky.
Take a medium-scooper and scoop it into your hand to make round balls. Next, add the cookie ball to the powdered sugar and coat. Finally, shake off excess powdered sugar before placing the coated ball onto your cookie sheet pan.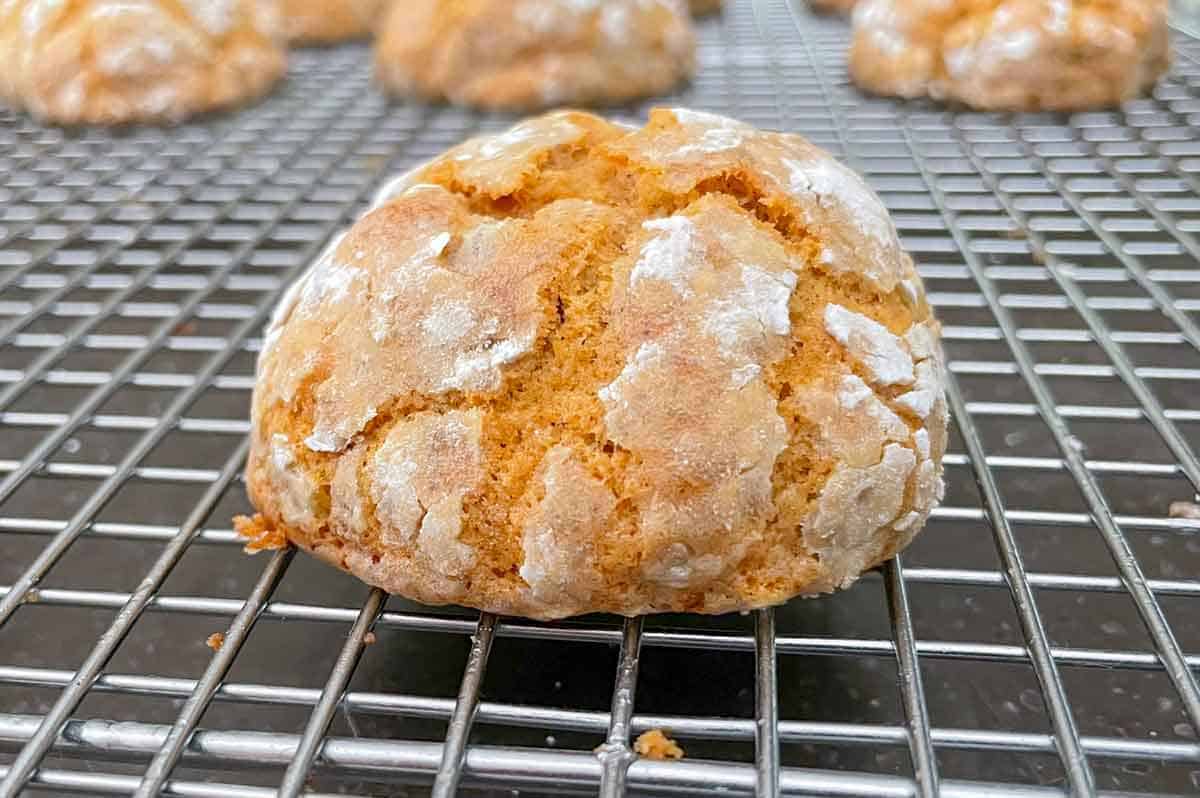 These cookies, you can taste the pumpkin, apples, and the allspice together for a warm fuzzy wrap-around blanket of fall.
Enjoy More Apple or Pumpkin Cookies
Recipe
Pumpkin with Applesauce and Walnut Cookies
Barbara Hall
Pumpkin and applesauce with a little allspice creates wonderful spice cookies!
Ingredients
½

cup

(

113.5

g

)

Butter unsalted and softened

⅔

cup

(

133.33

g

)

Granulated sugar white

½

cup

(

110

g

)

Light brown sugar

1

(

1

)

Egg

1

teaspoon

(

1

teaspoon

)

Vanilla bean paste

½

cup

(

122

g

)

Unsweetened applesauce

½

cup

(

122.5

g

)

Pumpkin puree

2-½

cups

(

312.5

g

)

All-purpose flour

1

teaspoon

(

1

teaspoon

)

Ground cinnamon

½

teaspoon

(

0.5

teaspoon

)

Nutmeg

¼

teaspoon

(

0.25

teaspoon

)

Allspice

½

teaspoon

(

0.5

teaspoon

)

Kosher Salt

1

teaspoon

(

1

teaspoon

)

Baking powder

1

teaspoon

(

1

teaspoon

)

Baking soda

1

cup

(

117

g

)

Chopped walnuts

½

cup

(

60

g

)

Powdered sugar

To coat cookie balls
Instructions
Preheat the oven to 375° Line 2 sheet pans with parchment paper.

Weigh or measure the sugars into a small bowl, set aside. In another bowl, weigh or measure the flour, baking powder, baking soda, cinnamon, nutmeg, allspice, salt, and run a whisk through to blend.

With a mixer, beat the sugars and the butter together until light and fluffy. On medium speed, add the egg, vanilla bean paste, pumpkin puree, and the applesauce and mix till blended*.

Scrape down the sides of the bowl and, at a low speed, gradually add the dry ingredients. Finally, add the chopped walnuts and mix for about 30 seconds. Once combined, cover and refrigerate for an hour.

Scoop out some cookie batter using a medium cookie scoop, and in your hands, make a ball. Add to a bowl with the powdered sugar and coat the ball. Then place on the cookie sheet pan. You can fit 12 balls on a pan. Bake for 12-13 minutes. Move to a cooling rack to cool. Enjoy!
Notes
*The mixture will have light-colored specks running through the whole batter this is only the small pieces of apple from the applesauce. Once the flour is added everything blends together. 
NUTRITION DISCLAIMER
I am not a certified Dietitian or Nutritionist. The nutrition amounts given below are provided through a program and are only a guideline.
Nutrition
Calories:
145
kcal
Carbohydrates:
21
g
Protein:
2
g
Fat:
6
g
Saturated Fat:
2
g
Polyunsaturated Fat:
2
g
Monounsaturated Fat:
1
g
Trans Fat:
1
g
Cholesterol:
15
mg
Sodium:
129
mg
Potassium:
52
mg
Fiber:
1
g
Sugar:
11
g
Vitamin A:
793
IU
Vitamin C:
1
mg
Calcium:
22
mg
Iron:
1
mg