Cream cheese in cookies is one of the easiest ways to keep cookies moist and soft. It also makes the cookie richer in flavor, and I love it with chocolate. Of course, you can't taste the cream cheese, but it compliments cookies and has become a staple for making the perfect cookie and becoming one of my favorite ingredients.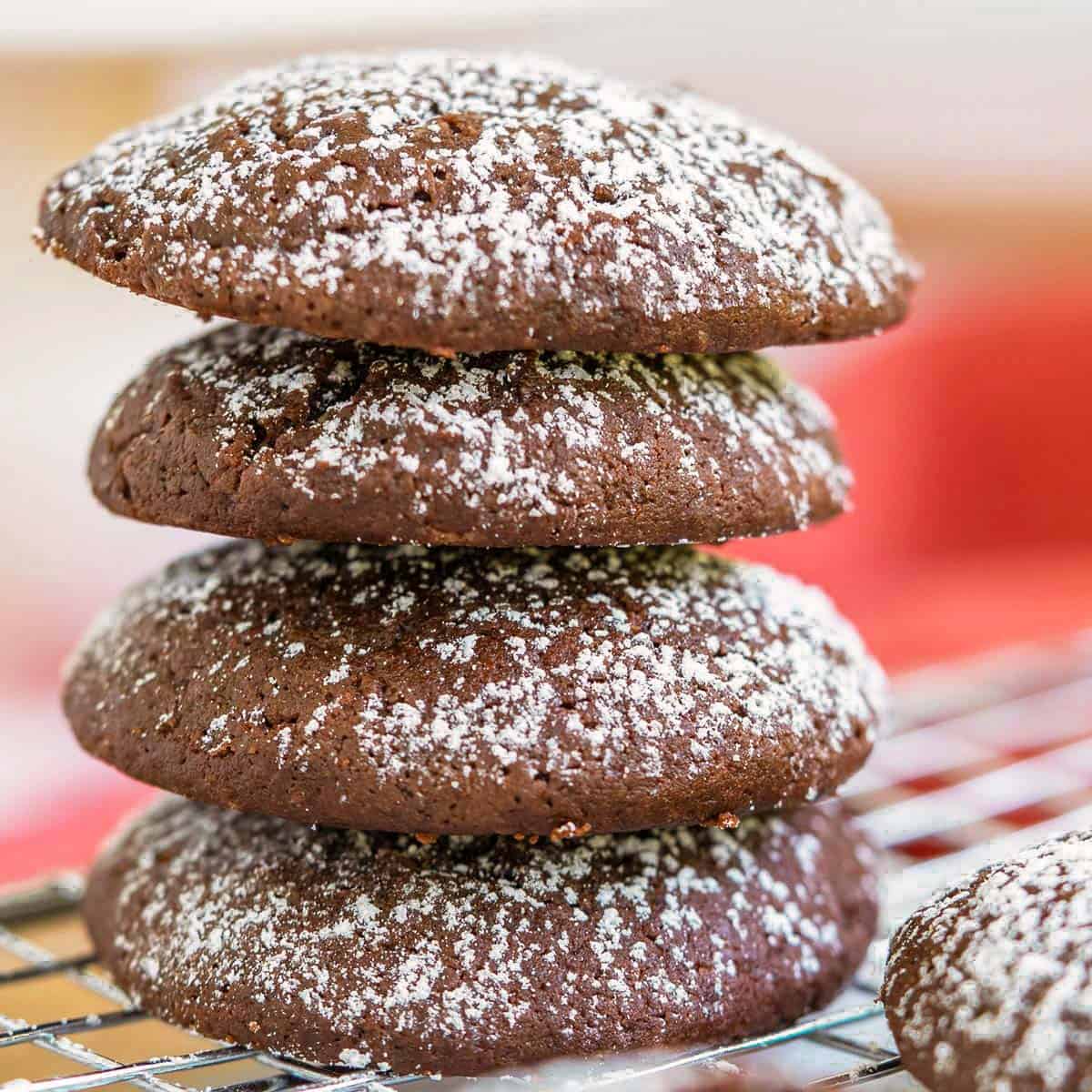 Of course, the other star ingredient is cocoa. I am just discovering that my beloved local natural Hershey's cocoa may not have the best flavor for this cookie. So I opted for Dutch Processed Cocoa powder. It is more expensive, but I really like the taste of the cocoa with the cream cheese.
Ingredients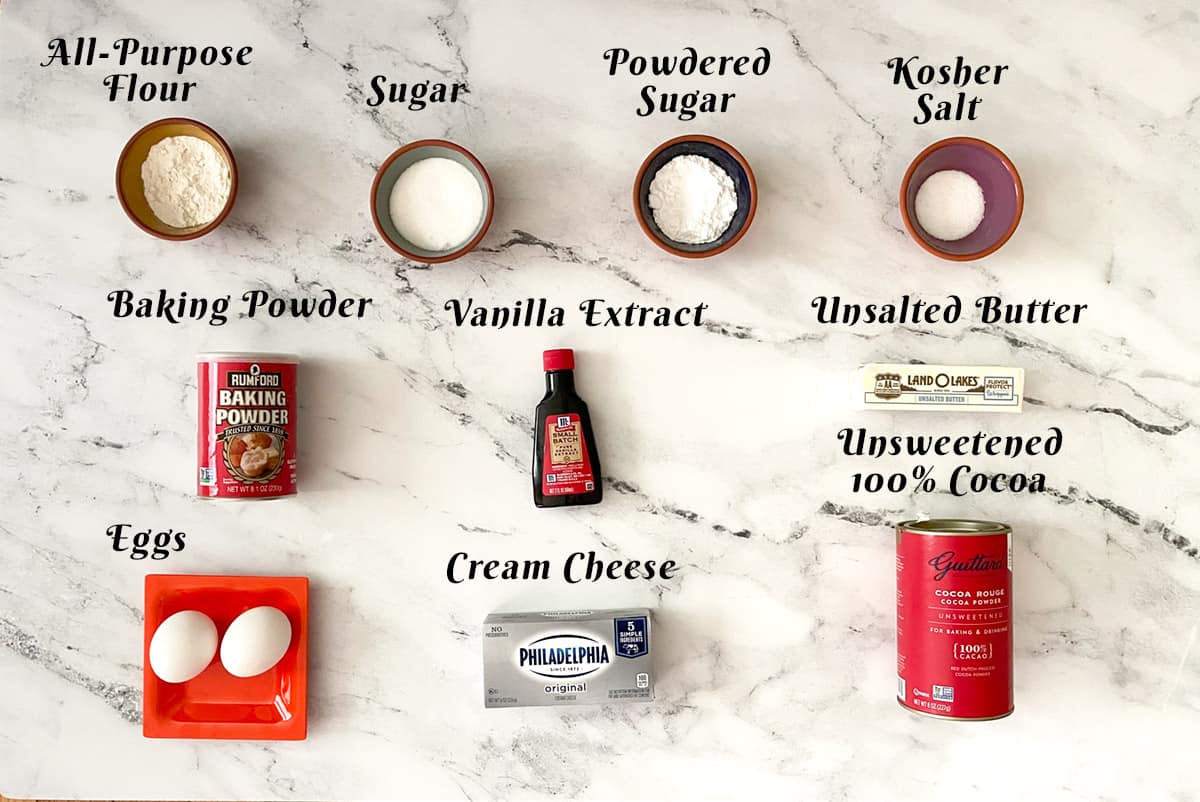 Jump to Recipe for Amounts
Cream Cheese
Butter unsalted
Sugar
Vanilla Extract
Unsweetened cocoa powder
Baking powder
Eggs
Kosher Salt
Powdered sugar
Ingredient Brands In My Cookies
Cream Cheese - Well, I live in Pennsylvania, so it has to be regular Philadelphia Cream Cheese in my cookies. If you google for the best cream cheese on the market, Philly Cream Cheese will win.
Butter - Everyone has their preference on the brand of butter they use for baking. Also, the other controversy is salted or unsalted. My choice has always been Land O'Lake unsalted butter. Unless I make a specific type of cookie that I need something different, this is my go-to brand for 98% of my baking.
Unsweetened Cocoa Powder - I found Guittard Chocolate Cocoa Rouge Cocoa Powder locally in Lancaster at Wegmans. It was the only brand of Dutch-process cocoa I could find. It turned out to be fantastic cocoa that I have used for several cookies. However, there really is a difference between Dutch-processed and natural cocoa taste, so you need to decide which is best for you.
Kosher Salt - This is why I use unsalted butter to control the amount and kind of salt that is added to my cookies. I use Diamond Crystal Kosher Salt for all my baking. It has a cleaner taste, and I have never had a bad result from using this brand.
These ingredients that I use are not what you have to use for this cookie recipe, but I think it is nice to know what the recipe creator used to get the results in the pictures. Since I am the creator, photographer, post writer, and editor, you can be sure these ingredients are what I used for this recipe.
Making Cream Cheese Chocolate Cookies
Prepping
I set out the cream cheese, butter, and eggs about a half-hour before I will be mixing to give these ingredients time to come to room temperature.
I weigh or measure all the dry ingredients (chocolate cocoa, flour, baking powder, and salt) into a bowl. I run a whisk through until all the chocolate cocoa is evenly distributed.
Next, weigh or measure the sugar in another bowl and then set it aside.
Mixing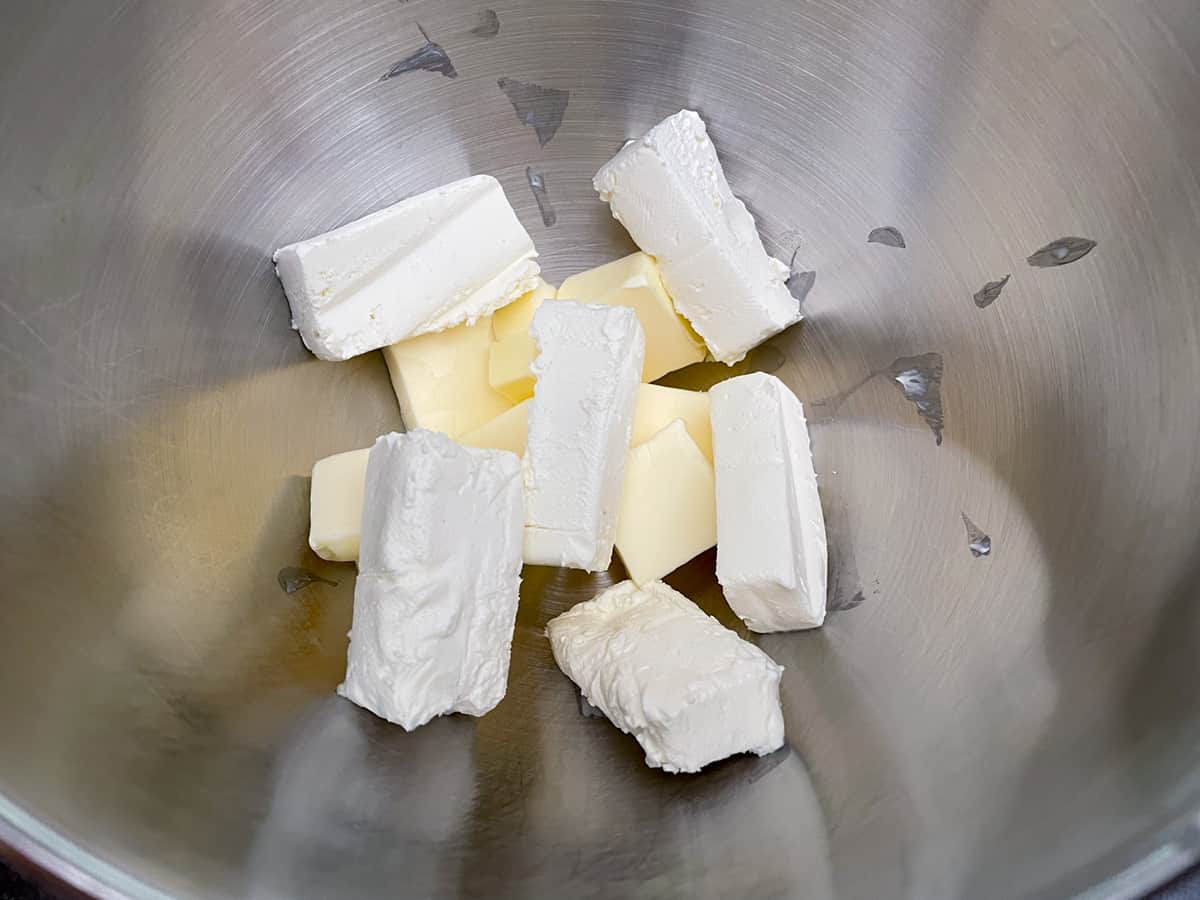 Add the cream cheese and butter to the mixer bowl. On a medium mixer speed beat until the cream cheese and butter are light in color. About 2 to 3 minutes.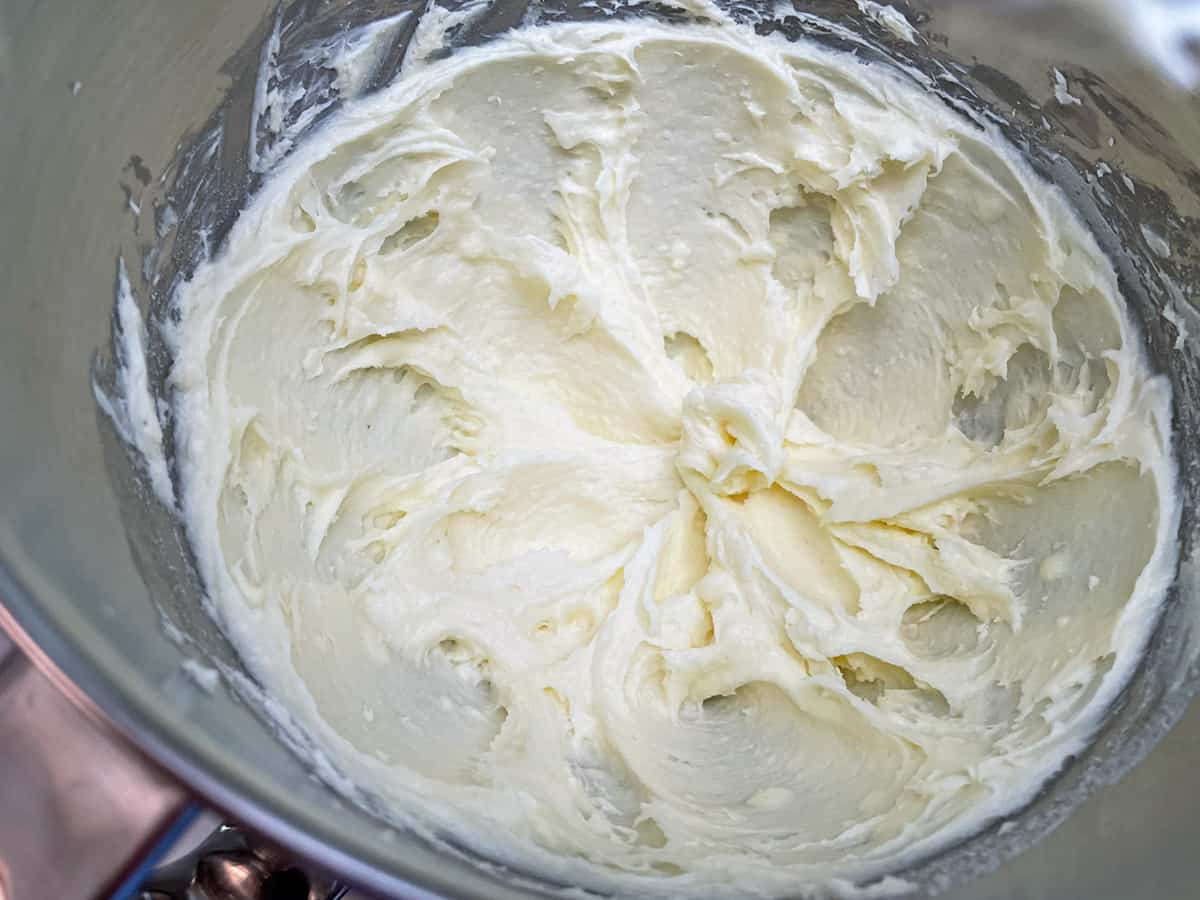 Next, add the sugar and mix on medium speed until light and fluffy looking. This takes about 2 to 3 minutes. Scrape the bowl sides and across the bottom and mix for another minute.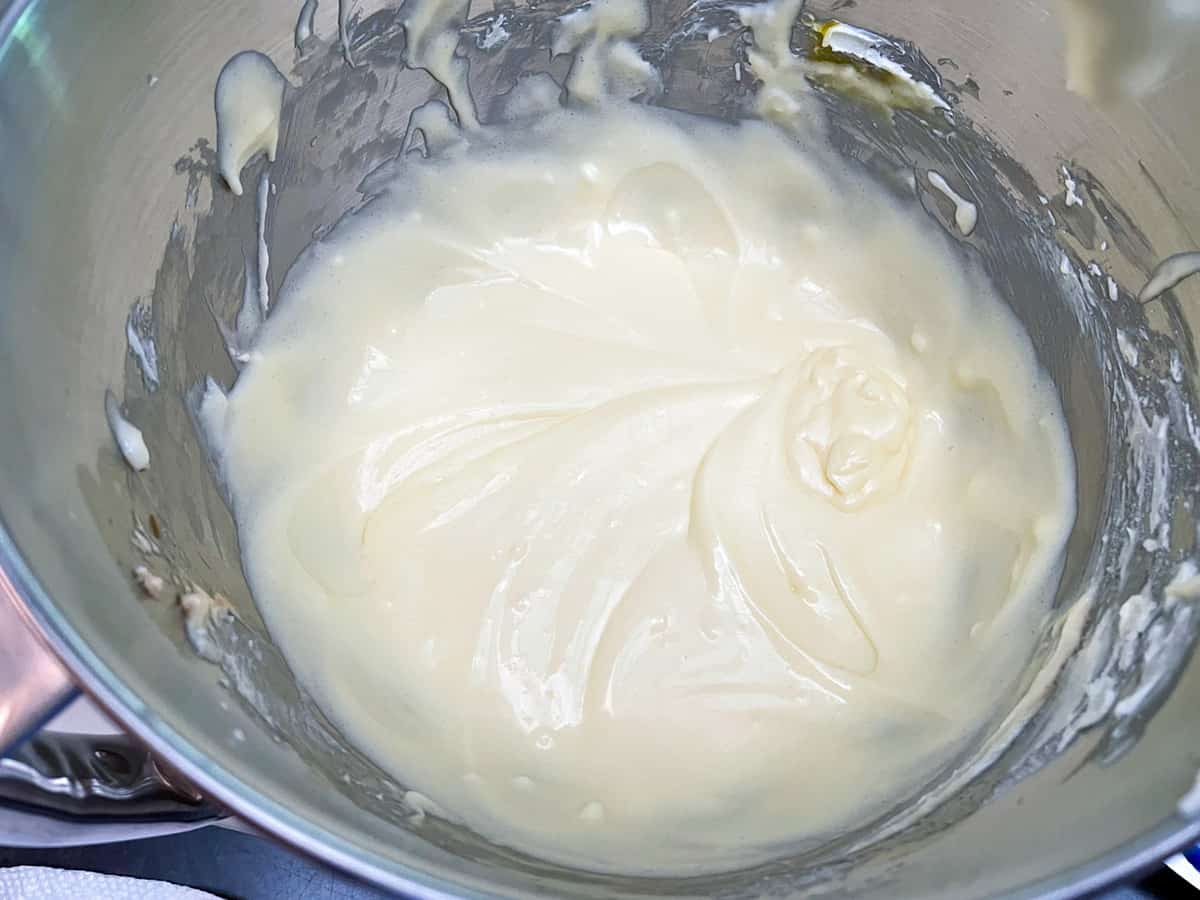 Add one egg at a time along with the vanilla extract. Blend until the batter is a smooth consistency and all the cream cheese is incorporated.
Scrape the bowl and turn the mixer to a low speed. Gradually add the flour mixture. Don't over mix but you want the chocolate to be blended throughout the batter.
Cover loosely and refrigerate for half an hour. Heat your oven to 350°F (175°C or 180°C) and line your cookie sheet pans with parchment paper.
Baking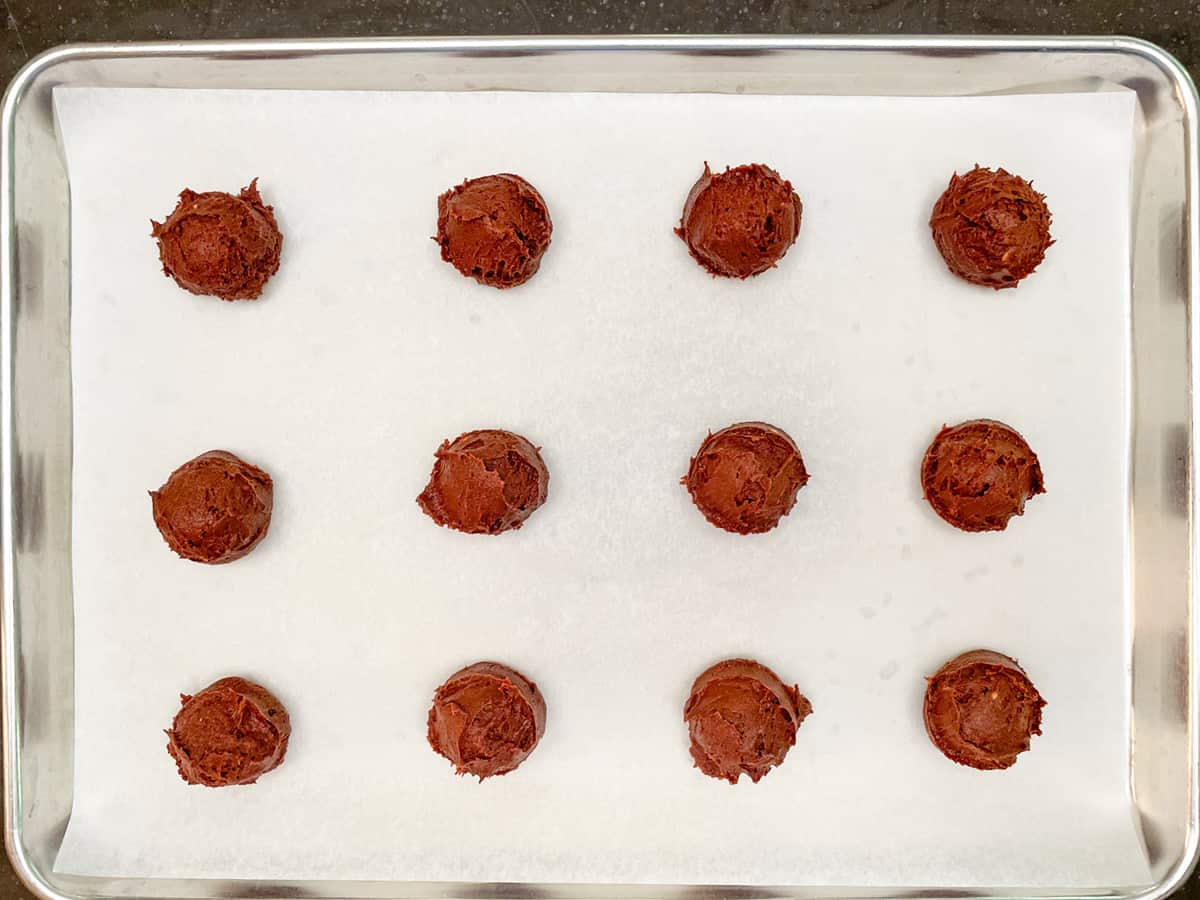 Using a medium cookie scooper I add 12 mounds to a cookie sheet pan. Bake at 350°F (175°C or 180°C) for 10 to 12 minutes. I leave them on the sheet pan for 2 to 3 minutes after taking them out of the oven.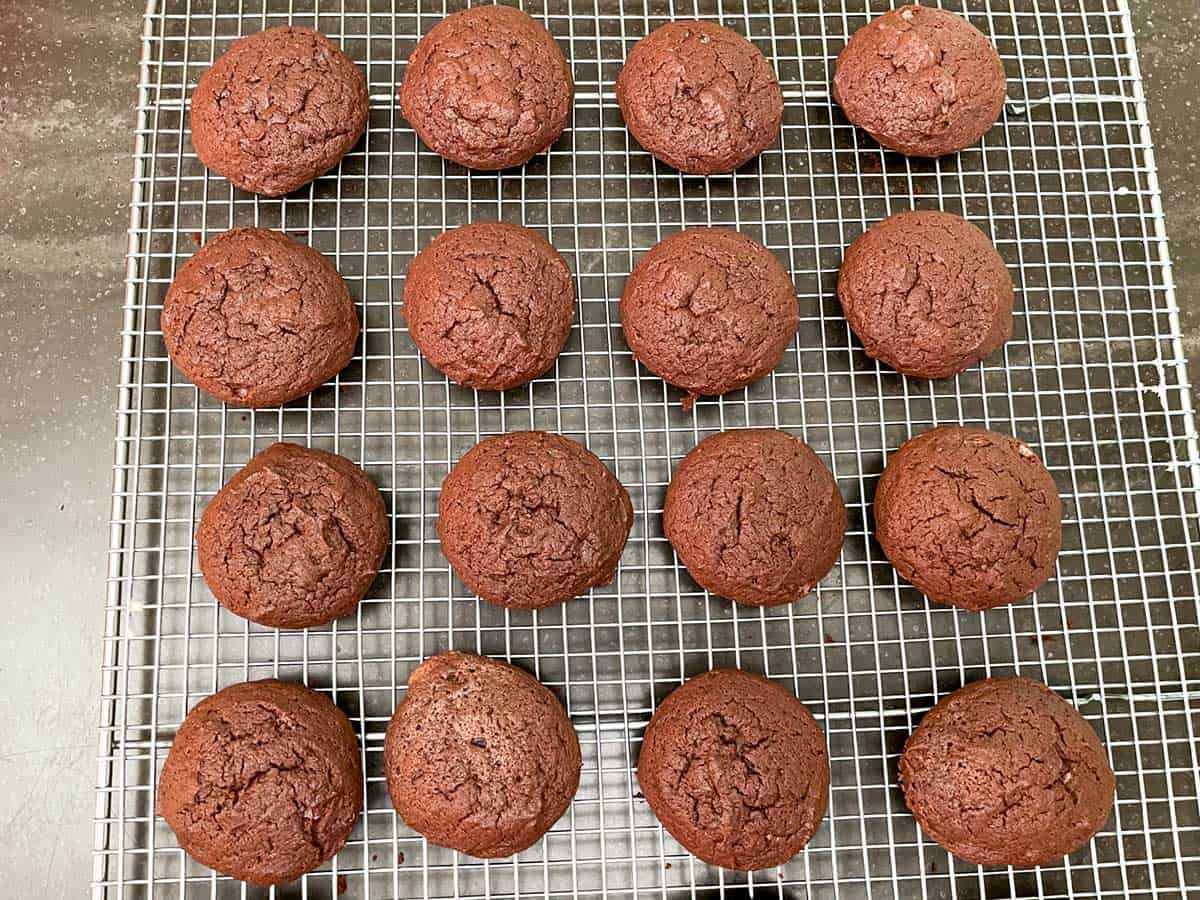 Now, move your cookies to a cooling rack to finish. After the cookies have cooled I sprinkle powdered sugar on top. This is optional but it does make the cookies look pretty and adds just a little sweetness.
These cookies are easy to make and if you are a chocolate person this will certainly satisfy that chocolate craving. Enjoy!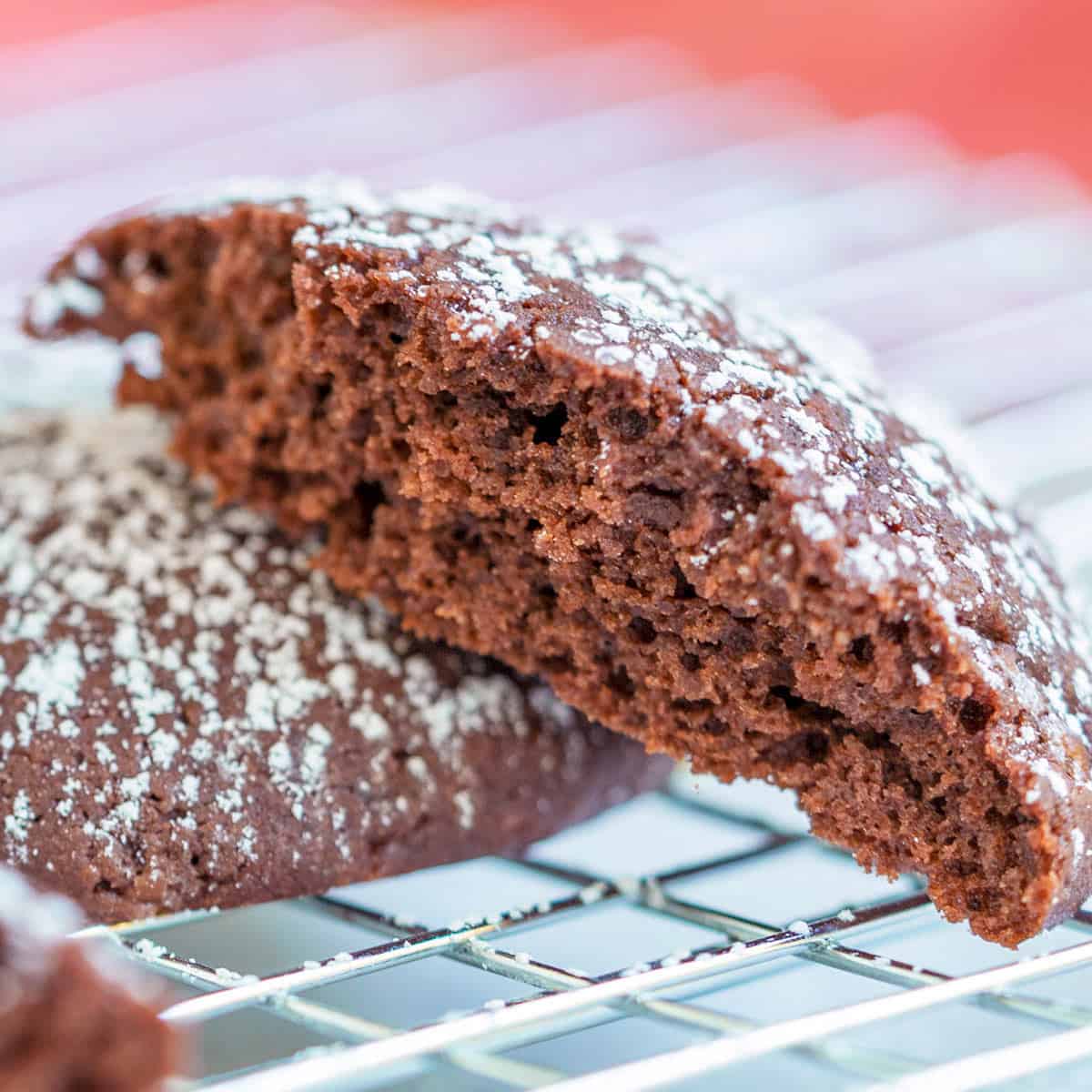 Storage
I store these in an air-tight container that sits on my counter. They will last for 5-7 days.
Other Cookies with Chocolate
Recipe
My Favorite Cream Cheese Chocolate Cookies
Barbara Hall
The greatest reason for adding cream cheese to a cookie recipe is that it adds a creaminess to the cookie that you just can't get with any other ingredient. It also helps cut down on the sweetness so you can taste the chocolate.
Ingredients
8

ounce

(

226.8

g

)

Cream Cheese

room temperature

½

cup

(

113.5

g

)

Butter unsalted

room temperature

1 ½

cup

(

300

g

)

Sugar white

2

(

2

)

Eggs

½

teaspoon

(

0.5

teaspoon

)

Vanilla Extract

1 ¾

cups

(

218.75

g

)

All-purpose flour

¾

cup

(

64.5

g

) Guittard Cocoa Rouge cocoa powder

2

teaspoon

(

2

teaspoon

)

Baking powder

½

teaspoon

(

0.5

teaspoon

)

Kosher Salt

¼

cup

(

30

g

)

Powdered sugar

To sprinkle on top
Instructions
Weigh or measure into a medium bowl your flour, cocoa powder, baking powder, and salt and whisk until the cocoa powder is mixed throughout the flour. Set the bowl aside. Weigh or measure the sugar in a small bowl and setting it aside.

Using a stand or hand-held mixer, beat the cream cheese and butter on medium-high for 2 to 3 minutes. Turn off and scrape the sides down and add the sugar. Turn the mixer back to medium-high and beat until light and fluffy. This step should take 2 more minutes. Add the eggs 1 at a time and the vanilla extract and beat for 1 more minute.

I turn the mixer off and scrape down the sides. I turn the mixer to the lowest setting and gradually add the flour mixture to the butter-cream cheese mixture. Just blend until incorporated. I take the bowl off the stand and scrape down the sides and across the bottom to finish mixing any flour that the stand mixer did not blend. I put the cookie dough into the refrigerator for half an hour to firm the butter.

Line 2 cookie pans with parchment paper or silicone mats. Using a medium cookie scooper add 12 mounds onto a prepared sheet pan. You can use a rounded tablespoon, but I find a cookie scoop is much easier.

Bake at 350°F (175°C or 180°C) for 10-12 minutes. After you pull the cookies out of the oven, leave them on the pan for at least 2 to 3 minutes. They will be soft to the touch, but leaving them on the pan finishes them, and the outside of the cookie will harden slightly. Then move to a cooling rack to finish cooling. I have a powdered sugar shaker, and I dust the tops of the cookies after they have completely cool.
NUTRITION DISCLAIMER
I am not a certified Dietitian or Nutritionist. The nutrition amounts given below are provided through a program and are only a guideline.
Nutrition
Calories:
132
kcal
Carbohydrates:
18
g
Protein:
2
g
Fat:
6
g
Saturated Fat:
4
g
Polyunsaturated Fat:
1
g
Monounsaturated Fat:
2
g
Trans Fat:
1
g
Cholesterol:
27
mg
Sodium:
96
mg
Potassium:
56
mg
Fiber:
1
g
Sugar:
11
g
Vitamin A:
212
IU
Calcium:
30
mg
Iron:
1
mg