It is Thursday night, and I have been kicking around a few options for this week's cookies. I wanted apples. Granny Smith apples are the perfect choice for baking. They don't get mushy and fall apart. They also seem to have the least amount of moisture, so this is perfect for cookies.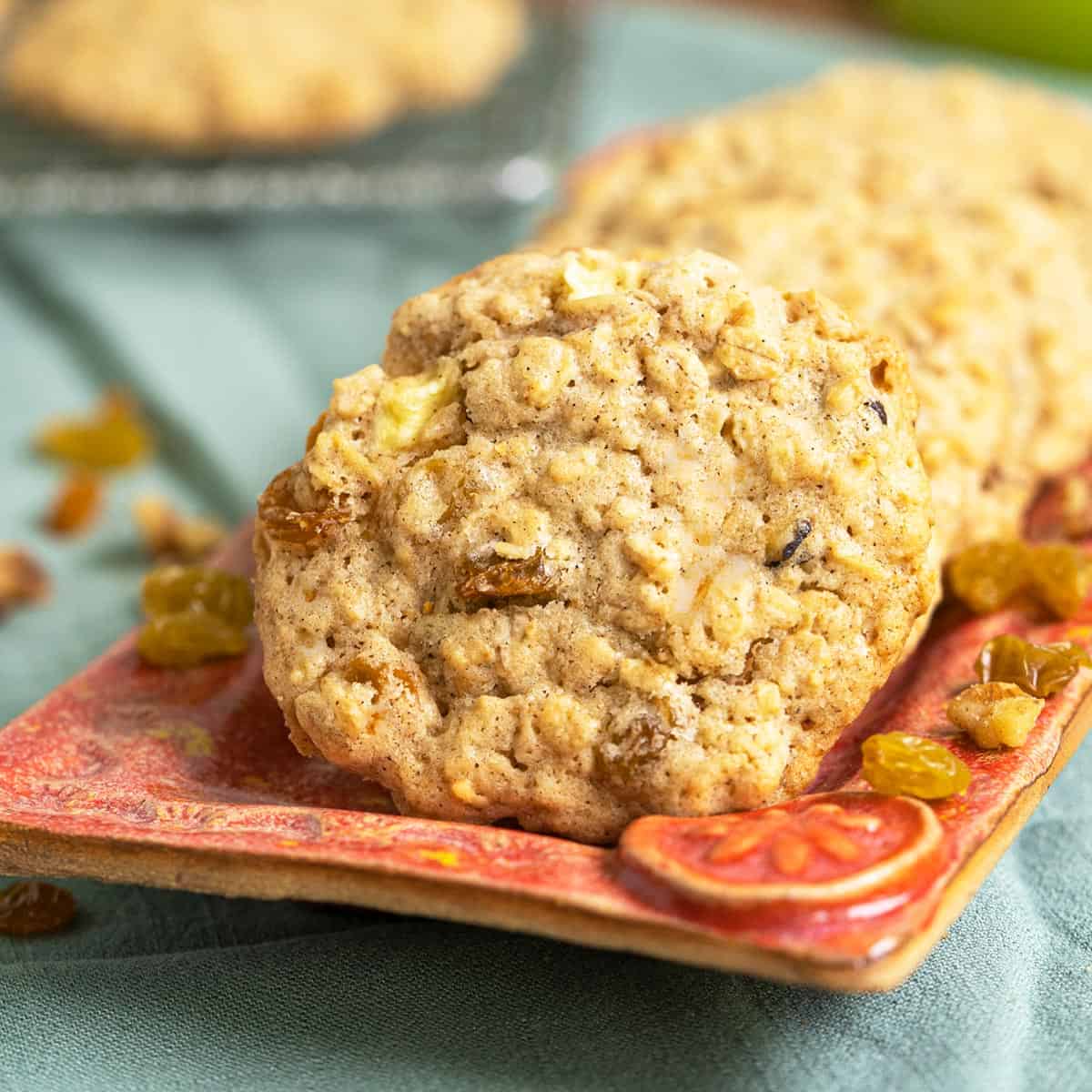 Table of Contents
A couple of weeks ago, I picked up the seedless golden raisins at the store and had been anxious to try them in a cookie. I didn't know the differences between white (golden) and regular raisins, but I found this comparison of the two on Livestrong.com.
Of course, you need a little spice, so I went with cinnamon and ginger. I only added a small amount of ginger since it is a strong spice, but it went well with the small amount of apple juice. Please email me if you have adapted this recipe with other ingredients; always fun to hear from bakers.
Apple, raisin, and oatmeal are the perfect combination of flavors plus I throw in some walnuts just to give the cookie a little more crunch. I hope you enjoy them!
Ingredients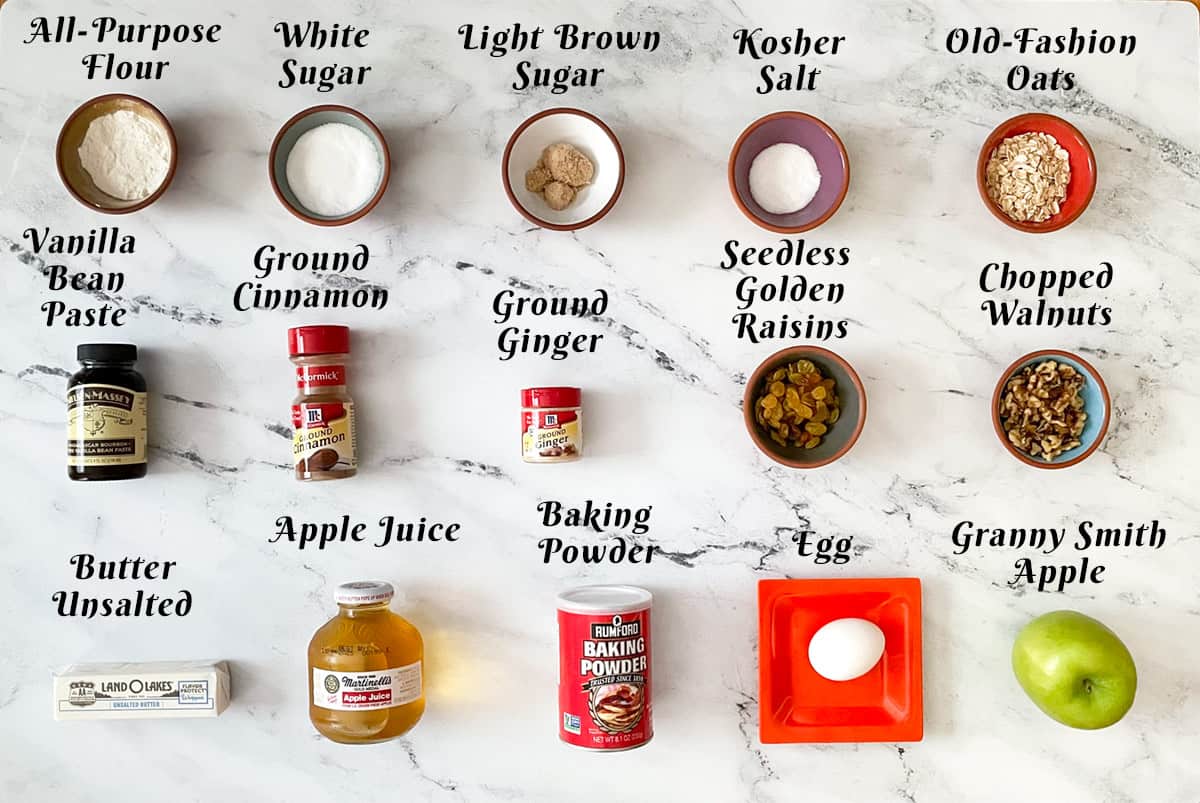 Jump to Recipe for Amounts
Butter unsalted
Light brown sugar
Sugar white
Egg
Vanilla bean paste
Apple juice
Ground cinnamon
Ground ginger
Baking powder
Old fashion oats
Kosher Salt
Granny Smith apple
Seedless white raisins
Chopped walnuts
Substitution of Ingredients
Old-fashion oats-You can use quick oats instead of the old-fashion but keep an eye on the baking time. They tend to bake a little faster.
Vanilla bean paste-You can use vanilla extract in place of vanilla bean paste. One teaspoon of the paste equals one teaspoon of extract. The extract does not have specks of vanilla bean seeds from the pods like the paste does.
Seedless white raisins- If you only have regular raisins, you can use them and make them plump like their golden cousin. First, add the regular raisins to a bowl of hot water and let soak for 15 minutes. Then add the raisins to a strainer to drain. I then lay them out on a paper towel to absorb more of the water.
Chopped walnuts-If you do not have any walnuts, you can substitute pecan or almonds and chop them into small pieces. I picked walnuts mainly because I like walnuts and apples together.
How to Dice Apples
I use this corer from Amazon called a 12-Blade Extra Large Apple Corer to make quick work of coring and slicing an apple. They are not expensive and will last for years.
Dice half a Granny Smith apple into a bowl. Now apples brown quickly after the skin is peeled off and cut up. Although you can wait to dice the apple at the last minute, an alternative would be to squeeze a little lemon juice over the apple pieces. You want as little as possible since this is not a lemon cookie.
If you add too much lemon juice, lay the apple pieces on a paper towel to absorb some of the lemon juice and liquid from the apple.
Making Apple Oatmeal Cookies
Prep for making the cookies by weighing or measuring the white sugar and the light brown sugar into a small bowl and setting it aside. In another bowl, weigh or measure the flour, oats, baking powder, cinnamon, and ginger, running a whisk to blend them.
Add the room temperature butter and both sugars to a mixer bowl. Mix on a medium speed for at least 3 minutes. You want as much sugar as possible to incorporate into the butter.
Next, add the vanilla bean paste, apple juice, and egg, blending until mixed. Scrape the sides and add the dry ingredients on a low speed. Finally, add the raisins, chopped walnuts, and diced apple pieces.
Loosely cover the top of the mixer bowl and refrigerate for 30 minutes.
Using a medium-sized cookie scooper, place 12 balls on a parchment-lined cookie sheet pan. The cookie dough is a little tacky, so to make it easy to flatten into thick disk shapes, I put a piece of parchment paper between the bottom of the glass and the cookie ball.
Try not to flatten them too much, or they will be thin and crips. They tend to get crumbly if they are too thin. I leave a good 2 inches between the cookies.
Bake at 350°F (175°C or 180°C) for 12-14 minutes. They will be soft on the top but not shiny. Leave them on the pan for 3 minutes after pulling them from the oven. Then move them to a wire cooling rack to cool. Great almost fall cookie!!!
Storage
These are pretty hardy cookies and be stored in almost any cookie container for 5-7 days. If the oatmeal starts to make the cookies crumbly, you can stick a small piece of bread or a saltine cracker near the cookies. Try not to let the bread or cracker touch the cookies.
Other Fall Cookies
Recipe
Apple Raisin Walnut Oatmeal Cookies
Barbara Hall
These cookies are a wonderful start to the almost fall season. When baked, apples and spices fill the whole house with the feeling that September is right around the corner.
Ingredients
½

cup

(

113.5

g

)

Butter unsalted

room temperature

½

cup

(

110

g

)

Light brown sugar

½

cup

(

100

g

)

Sugar white

1

(

1

)

Egg

room temperature

½

teaspoon

(

0.5

teaspoon

)

Vanilla bean paste

1

teaspoon

(

1

teaspoon

)

Apple juice

1

cup

(

125

g

)

All-purpose flour

½

teaspoon

(

0.5

teaspoon

)

Ground cinnamon

¼

teaspoon

(

0.25

teaspoon

)

Ground ginger

½

teaspoon

(

0.5

teaspoon

)

Baking powder

1 ½

cups

(

121.5

g

)

Old fashion oats

¼

teaspoon

(

0.25

teaspoon

)

Kosher Salt

½

cup

(

62.5

g

)

Granny Smith apples, diced small

about ½ apple

½

cup

(

72.5

g

)

Seedless white raisins

½

cup

(

58.5

g

)

Chopped walnuts
Instructions
Core and dice the apple, so you have small pieces. Weigh or measure the light brown and white sugar into a bowl and set aside. In another bowl, weigh or measure the flour, oats, baking powder, cinnamon, ginger, and salt, running a whisk to blend.

With a stand or handheld mixer, add the butter to the sugar and beat on medium speed for 2 to 3 minutes. Add the egg and blend. Next, add the vanilla bean paste and the apple juice. I scrape the sides and across the bottom and mix for another 30 seconds. Next, turn the mixer to low and add the dry ingredients. After the dry ingredients are incorporated, stop the mixer and add the apple, raisins, and walnuts. Just mix for a minute; you can use a spatula to ensure they are evenly spread around the cookie dough. Cover and refrigerate for 30 minutes.

Line 2 cookie sheet pans with parchment paper. Take the cookie dough out of the refrigerator and, using a medium cookie scoop, drop a mound into the palm of your hand, and make a ball by rubbing your hands together in a circular motion. Put 12 balls onto the sheet pan and flatten them slightly using the bottom of a water glass so they are more of a thick disk shape—Bake at 350°F (175°C or 180°C) for 12-14 minutes. You want the tops not to be shiny. They will be soft when you take them out of the oven. Leave them on the pan for at least 3 minutes before transferring .them to a wire rack.
NUTRITION DISCLAIMER
I am not a certified Dietitian or Nutritionist. The nutrition amounts given below are provided through a program and are only a guideline.
Nutrition
Calories:
135
kcal
Carbohydrates:
19
g
Protein:
2
g
Fat:
6
g
Saturated Fat:
3
g
Polyunsaturated Fat:
1
g
Monounsaturated Fat:
1
g
Trans Fat:
0.2
g
Cholesterol:
17
mg
Sodium:
38
mg
Potassium:
71
mg
Fiber:
1
g
Sugar:
11
g
Vitamin A:
130
IU
Vitamin C:
0.3
mg
Calcium:
19
mg
Iron:
1
mg