As usual, my habit is to go looking through my cabinets to see what goodies I have. Something is always lurking in the back that is just begging to be one of my cookies. Today I found dried tart cherries. I got to thinking, what kind of cookie could I make? What would go well with tart cherries, and of course, oatmeal? I have heard so many times of a cookie called "Kitchen-Sink Oatmeal Cookies" that sent me in all kinds of directions as to what else I could add?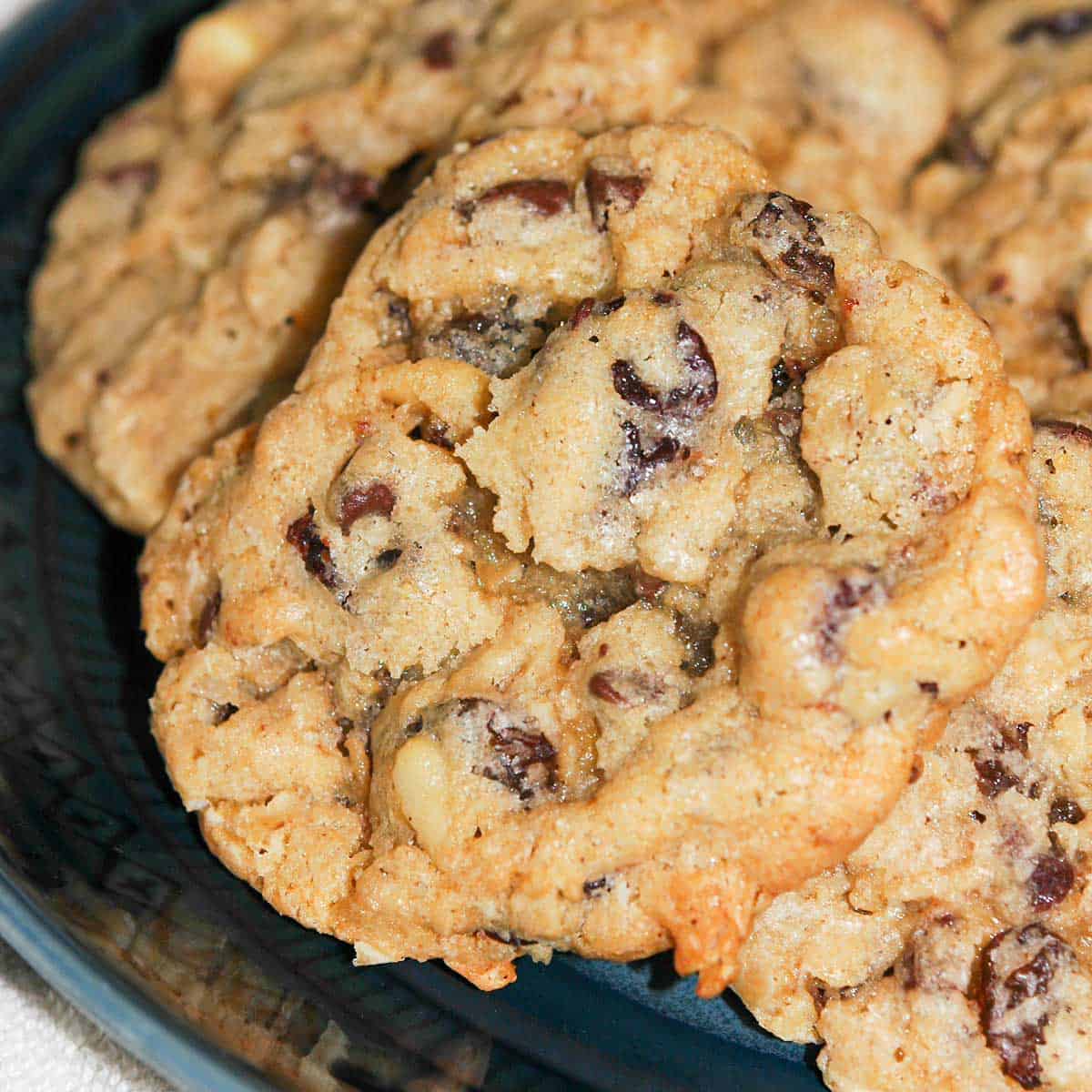 Trying to be unique isn't always a good thing. But as I was making my cookies, I started adding and adding and then added one more thing. Finally, I looked down at the bowl of the basic cookie dough, sugar, butter, and flour underneath a pile of stuff I just added, and it hit me "Everything in the Bowl Oatmeal Cookies."
I just smiled and thought did I go too far...?
According to the folks at work last week, I didn't. They are always a great sounding board for what works and what doesn't.
I found this definition of what a kitchen-sink cookie is;
It's called a Kitchen Sink cookie because it has "everything but the kitchen sink" — basically a bunch of random stuff from your pantry that baked together is absolute cookie perfection.
Ingredients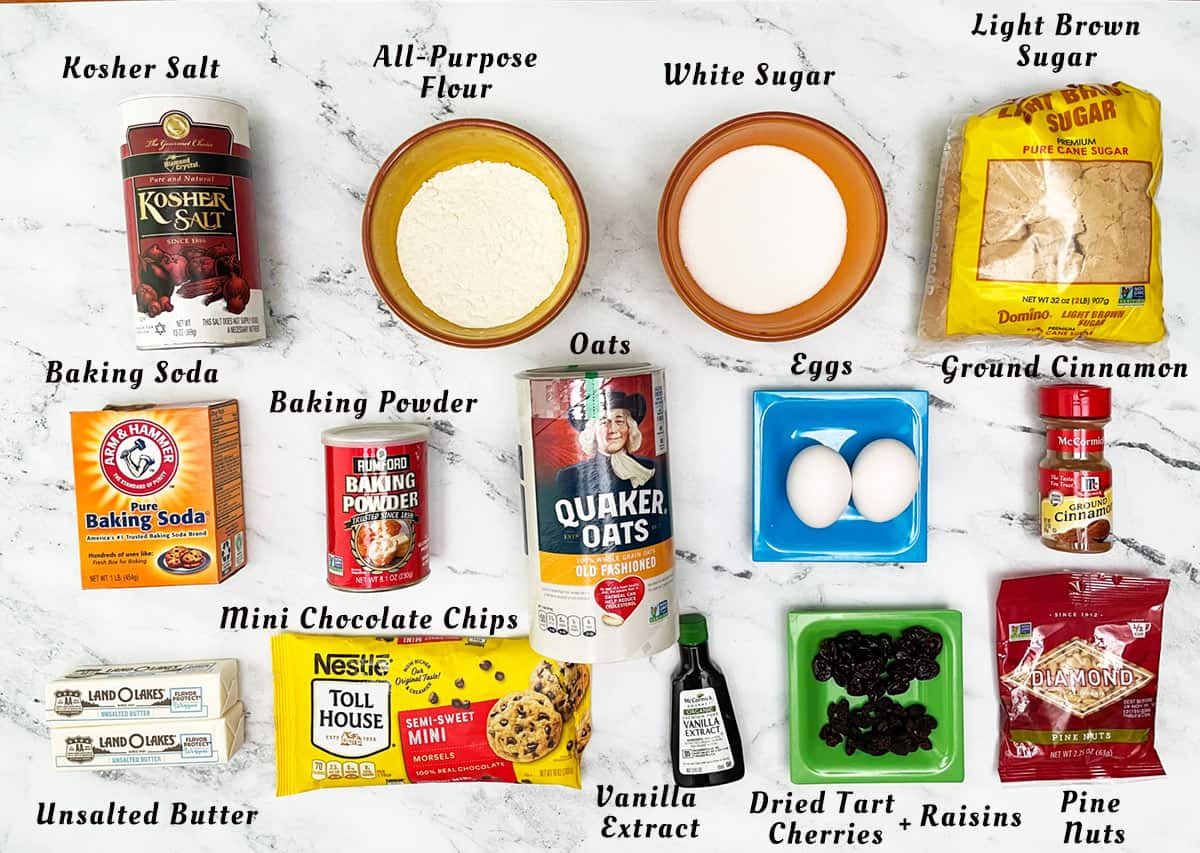 Jump to Recipe for Amounts
All-purpose flour
Baking soda
Baking powder
Sugar white
Light brown sugar
Butter unsalted
Egg
Egg yolk
Vanilla Extract
Old fashion oats
Kosher Salt
Ground cinnamon
Dried tart cherries
Raisins
Pine nuts
Mini chocolate chips
Kitchen Sink Cookies
These Kitchen Sink cookies take the cake! From making all these new recipes lately, I sometimes end up with many bags that have only a little left in them. So whether it's various chocolates or fruits and nuts, they all go into the bowl here!
These also remind me somewhat of Monster Cookies, though I believe Monster Cookies always include peanut butter. Whatever you call these, I guarantee they will be a hit at your next party or office event.
Begin like most cookies with creaming the butter and sugars until light and fluffy. This gives you the perfect creamy cookie base. This recipe uses a whole egg plus an extra yolk giving the cookies more structure. Make sure you crack your eggs into a small bowl first to watch for shell fragments. You'll also want to separate the egg over a dish so you can easily save the white for another use.
Next, you'll stir in your oats and flour and all the little seasonings. Then it's time to get crazy with your add-ins! Feel free to add whatever you'd like in whatever combination. This recipe is just a suggestion based on what's in my pantry. Try and do a good mix of textures as well. I recommend using up to 2 ½ cups of mixins.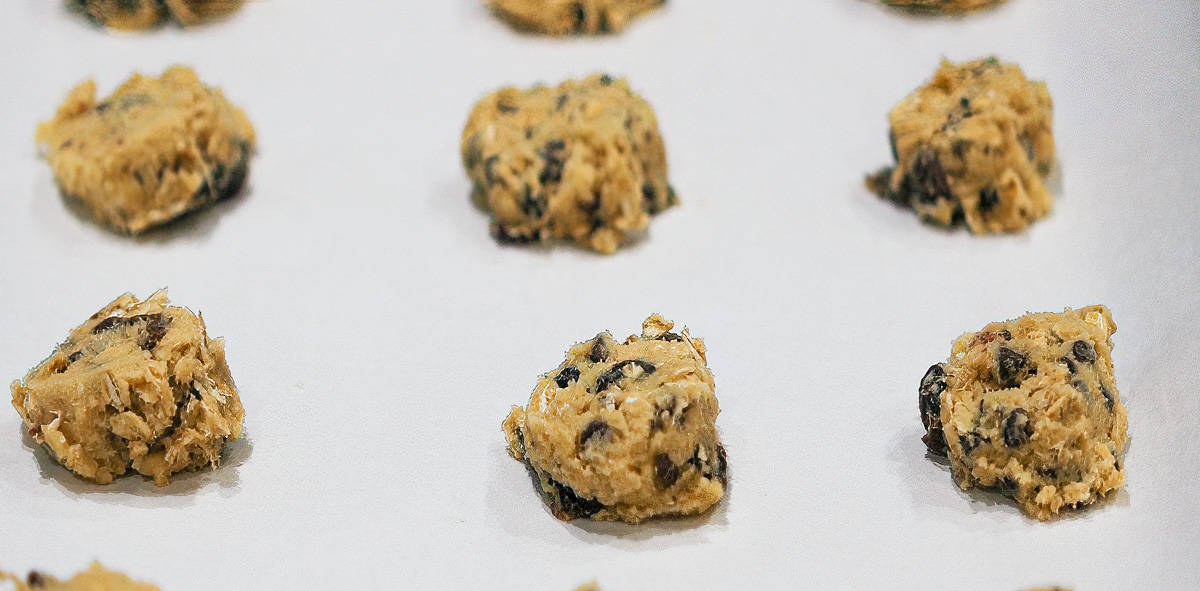 Just look at these, ready to bake! This dough will spread a touch, so make sure not to crowd them on the baking sheet.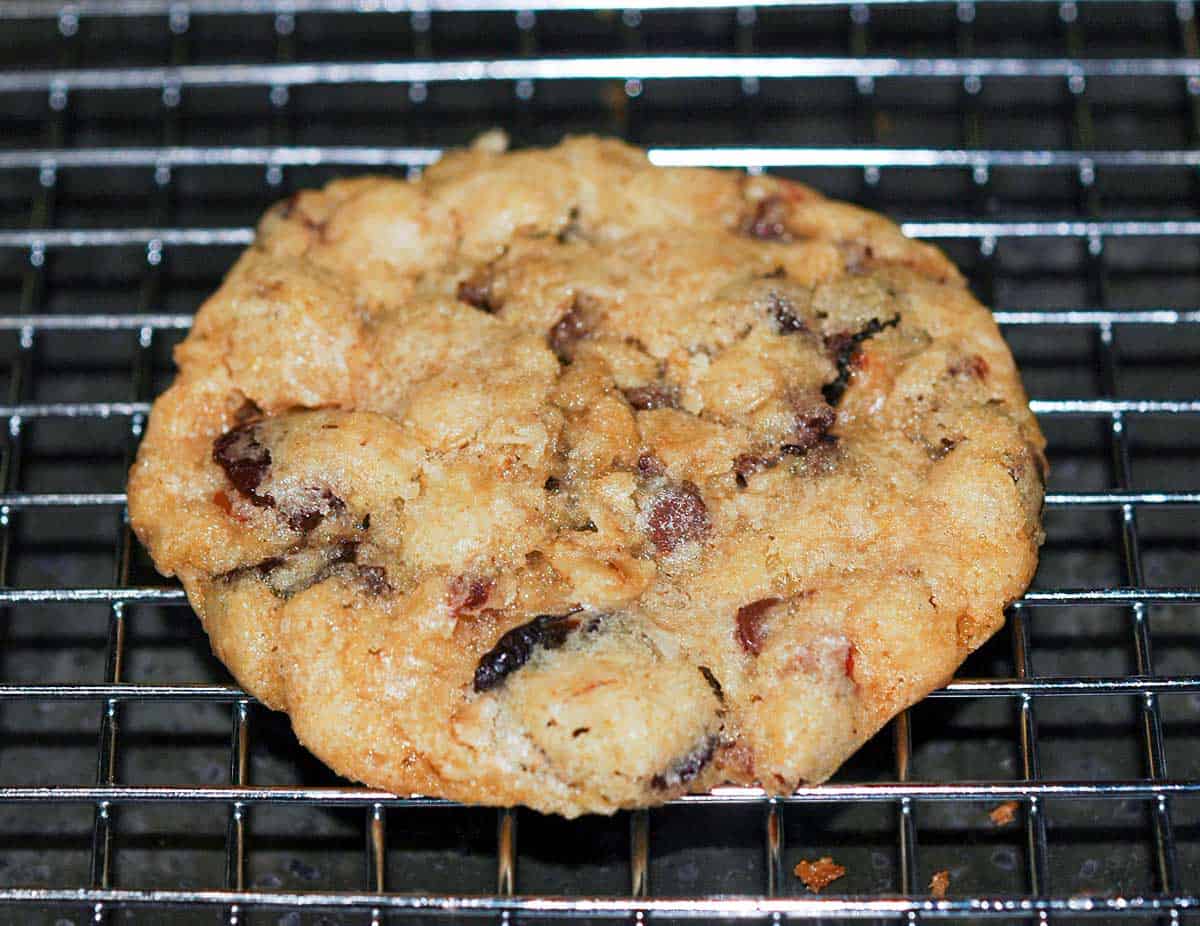 Once baked and cooled, they are ready to enjoy and share!
Love Chocolate Chips Here are a Few More
Chocolate Chips with Glazed Pecans Cookies
Cranberry Cinnamon Chocolate Chip Bars
Recipe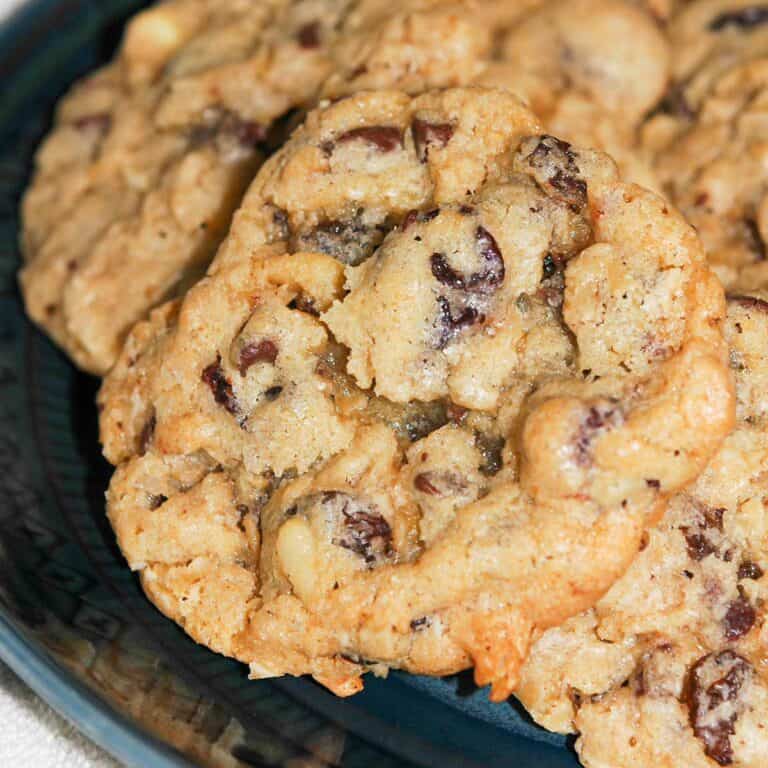 Everything in the Bowl Oatmeal Cookies
Barbara Hall
Whether you choose the name Kitchen-Sink Cookies or my version Everything in the Bowl Oatmeal Cookie, you can be sure they are great cookies!
Ingredients
1 ½

cups

All-purpose flour

195 g

¾

teaspoon

Baking soda

4.5 g

¾

teaspoon

Baking powder

3 g

1

cup

Sugar white

198 g

1

cup

Light brown sugar

213 g

1

cup

Butter unsalted

2 sticks softened

1

egg

1

egg yolk

1

teaspoon

Vanilla Extract

2

cups

Old fashion oats

198 g

¼

teaspoon

Kosher Salt

¼

teaspoon

Ground cinnamon

1

cup

Dried tart cherries

½

cup

Raisins

½

cup

Pine nuts

½

cup

Mini chocolate chips
Instructions
Weigh or measure the flour, baking soda, baking powder, and salt. Run a whisk through to blend them. In a separate bowl weigh or measure the white and light brown sugars and set that bowl aside. I also weigh out the oats but you can either weigh or measure into another bowl and set that aside.

In a stand (I use a KitchenAid) or hand-held mixer, blend the sugars and butter on medium speed. Add the one egg followed by the one egg yolk. Add the vanilla extract and blend till it is all incorporated. Slowly add the flour mixture, don't over mix. Stop the mixer and scrape down the sides and across the bottom to make sure you mix all the flour and turn your mixer on for about 30 more seconds, then stop.

Add your oats, cherries, raisins, pine nuts, and mini chocolate chips and turn on the mixer to speed 2 or 3. You want to incorporate all into your batter. The dough will be stiff, always is when you are adding oats. My mixer was having a hard time on the lowest setting, so I bumped the speed up a little. You may need to mix a little by hand.

Cover the bowl loosely and refrigerate for 30 minutes. I also start to preheat my oven at this point — line 2 cookie pans with parchment paper. Take the cookie dough out of the refrigerator and either drop or use a cookie scoop (I prefer OXO Good Grips Cookie Scoop Small) to add 12 mounds to a cookie pan.

Bake for 13 to 16 minutes at 325°. Keep an eye on them starting at 13 minutes. Take them out of the oven and move them to a cooling rack.
NUTRITION DISCLAIMER
I am not a certified Dietitian or Nutritionist. The nutrition amounts given below are provided through a program and are only a guideline.
Nutrition
Calories:
129
kcal
Carbohydrates:
18
g
Protein:
2
g
Fat:
6
g
Saturated Fat:
3
g
Polyunsaturated Fat:
1
g
Monounsaturated Fat:
1
g
Trans Fat:
1
g
Cholesterol:
18
mg
Sodium:
75
mg
Potassium:
46
mg
Fiber:
1
g
Sugar:
11
g
Vitamin A:
223
IU
Vitamin C:
1
mg
Calcium:
17
mg
Iron:
1
mg