Fruit flavors are one of the easiest ways to make cookies taste yummy. So many combinations that work well together. This week's recipe called for cranberry and orange, which work exceptionally well together but needed a little kick. Looking around at my nut assortment, I thought perfect pecans would be just what these cookies required.
Pecans have almost a buttery taste; well, let's face it, who doesn't love butter! Since there is two stick of butter in this recipe, what a perfect match. Plus, since I have an excellent friend in Atlanta, Georgia, I support her state agriculture.
Pecans are a great source of vitamin E and B1, plus they are plant protein sources. So these little beauties are just full of good components.
Ingredients You Will Need
1 cup Butter unsalted
⅔ cups Powdered sugar
3 tsp Vanilla Extract
2 TBSP Orange zest 2 medium oranges
½ cup Cranberries
½ cup Pecans crushed
2 cups All purpose flour
¼ tsp Baking powder
¼ tsp Kosher Salt
How to Make Roll and Slice Cookies
In a food processor, take fresh cranberries and pulse them into small pieces. You can use frozen but know that they contain more moisture and turn your cookie redder because it bleeds. Take the cranberries out of the processor and then add the pecans. You want small pieces of pecans. You can chop them yourself if you prefer.
Next, zest the oranges. I love a lot of orange with my cranberries, but zest at least enough for two tablespoons.
Weigh your powdered sugar and in another bowl, weigh the flour, baking powder, salt, and whisk to blend.
Mix all the ingredients in a mixer. The cranberries and pecans are the last to be mixed into the dough. You may have to mix a little by hand to ensure it is as even throughout the dough as possible.
Then, place the dough onto a pastry sheet. Divide the dough in half and roll each half into a log. Wrap each log with plastic wrap and place them on a small sheet pan. Then into the refrigerator, it goes. Chill for an hour. I turn them occasionally, so they do not go flat on one side.
Take one log out of the refrigerator and slice out as many cookies as you can. I made my slices anywhere from ⅜ to ½ inches thick. I can usually get almost one log onto a half sheet pan. They do not spread very much but leave a little room between them on the parchment-lined pan.
Bake at 350° for 12 to 13 minutes. After pulling the pan from the oven, I let them sit on the pan for a minute or two before moving them to a cooling rack.
The FAQ's on Fresh or Frozen Cranberries
Well, everyone has an answer to this question. Here is what I found for myself based on using both in my baking. Of course, it depends on what you are baking. If I am going to put cranberries into a food processor to get small pieces, I use fresh. I think they stand up to the blades and do not turn mushy.
If I am making a filling that will be cooked on the stove, you can use either, but I would probably use fresh since they will hold their shape while cooking.
I would use the frozen cranberries if I added them straight to the cookie batter as a whole fruit. Cranberry muffin and cranberry bread are perfect examples.
Try My Other Roll and Slice Cookies
Lemon Ginger with Hazelnut Shortbread Cookies
Great lemon taste with just a hint of ginger and so easy to make just mix, roll, slice, then bake.
Check out this recipe
Cardamom Orange Shortbread Cookies
Cardamom is underused. I love pairing it with orange in these shortbread as it gives it such warmth.
Check out this recipe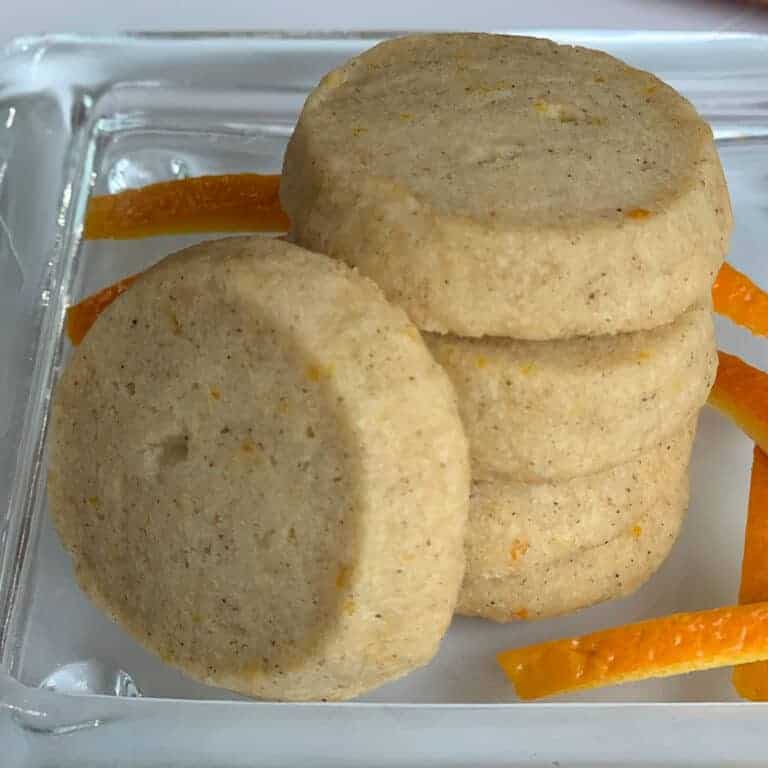 Hazelnut Espresso Shortbread Cookies
Fantastic flavor and easy to make. I love how versatile shortbread can be. Dipping it in chocolate makes it extra indulgent.
Check out this recipe
Adapted from Authentic Suburban Gourmet
Fresh Cranberry Orange Pecan Shortbread Cookies
Barbara Hall
These are small cookies just a perfect bite of flavor. You can also sprinkle a little powdered sugar on the tops for added sweetness.
Ingredients
1

cup

Butter unsalted

2 sticks room temperature

⅔

cups

Powdered sugar

83 g

3

teaspoon

Vanilla Extract

2

tablespoon

Orange zest

2 medium oranges

½

cup

Cranberries

fresh or frozen

½

cup

Pecans

crushed

2

cups

All-purpose flour

240 g

¼

teaspoon

Baking powder

1 g

¼

teaspoon

Kosher Salt
Instructions
In a food processor pulse whole fresh cranberries till they are in pieces and add to a small bowl. You can use frozen if you don't have fresh. Then pulse pecans till they are small pieces but not dust, you want very small pieces. Then add pecans to a small bowl. It gives the cookies a little texture and will incorporate well throughout the whole cookie dough. Set both bowls aside.

Next zest 2 medium oranges into a small bowl. (Depending on how much orange taste you like I added two heaping tablespoons into my dough mix). Set the bowl aside.

Weigh or measure your powdered sugar into a bowl. In a separate bowl weigh or measure flour, baking powder, and salt together. I run a whisk through to blend them.

In a stand mixer or handheld, add the butter and mix on medium speed to cream the butter. I scraped down the sides to make sure all the butter creamed. Turn the mixer speed down and slowly add the powdered sugar till it is all incorporated. Next, add the vanilla extract and orange zest and turn the mixer back to medium speed. I had to stop and scrape down the bowl and across the bottom to make sure it was all mixed.

Turn the mixer speed down and slowly add the flour, baking powder and salt mixture till the flour is incorporated. The dough will be a little stiff. Turn the mixer off and add the cranberries and pecans and turn the mixer on for about 30 seconds. You may need to mix by hand the dough a little to make sure the cranberries and pecans go through the whole mixture.

Take the dough out of the bowl and place on a silicone pastry mat. Divide the dough in half and roll and form 2 log shapes about 12 to 14 inches each. It should have a diameter of approximately 1-½ inches. Take plastic wrap and wrap around each cookie dough log and put it into the refrigerator for at least 1 hour. I took them out after about ¾ of an hour and just rolled them a little, so they do not get a flat bottom, then returned them to the refrigerator for 15 minutes or more.

Preheat the oven to 350°. Take one log out of the refrigerator and unwrap the plastic (I put it on a piece of parchment paper so I can slice the cookie log). Slice into ½ inch slices and put them onto a parchment-lined cookie pan. I did four across and five down. These cookies do not spread hardly at all, so they only need about an inch between each disc of cookie—Bake for 12 to 13 minutes. After pulling the pan from the oven, I leave the cookies on pan for about a minute or two. Then move the cookies to a cooling rack.
Nutrition
Calories:
109
kcal
Carbohydrates:
10
g
Protein:
1
g
Fat:
7
g
Saturated Fat:
4
g
Polyunsaturated Fat:
1
g
Monounsaturated Fat:
2
g
Trans Fat:
1
g
Cholesterol:
16
mg
Sodium:
24
mg
Potassium:
20
mg
Fiber:
1
g
Sugar:
3
g
Vitamin A:
193
IU
Vitamin C:
1
mg
Calcium:
7
mg
Iron:
1
mg