Apple cider was always in my refrigerator during the fall months when I was growing up in rural Pennsylvania. We had plenty of apple trees orchards everywhere, and the owners of the orchard stands would make homemade apple cider. It was a cloudy, light brown color that smelled of crisp fall apples.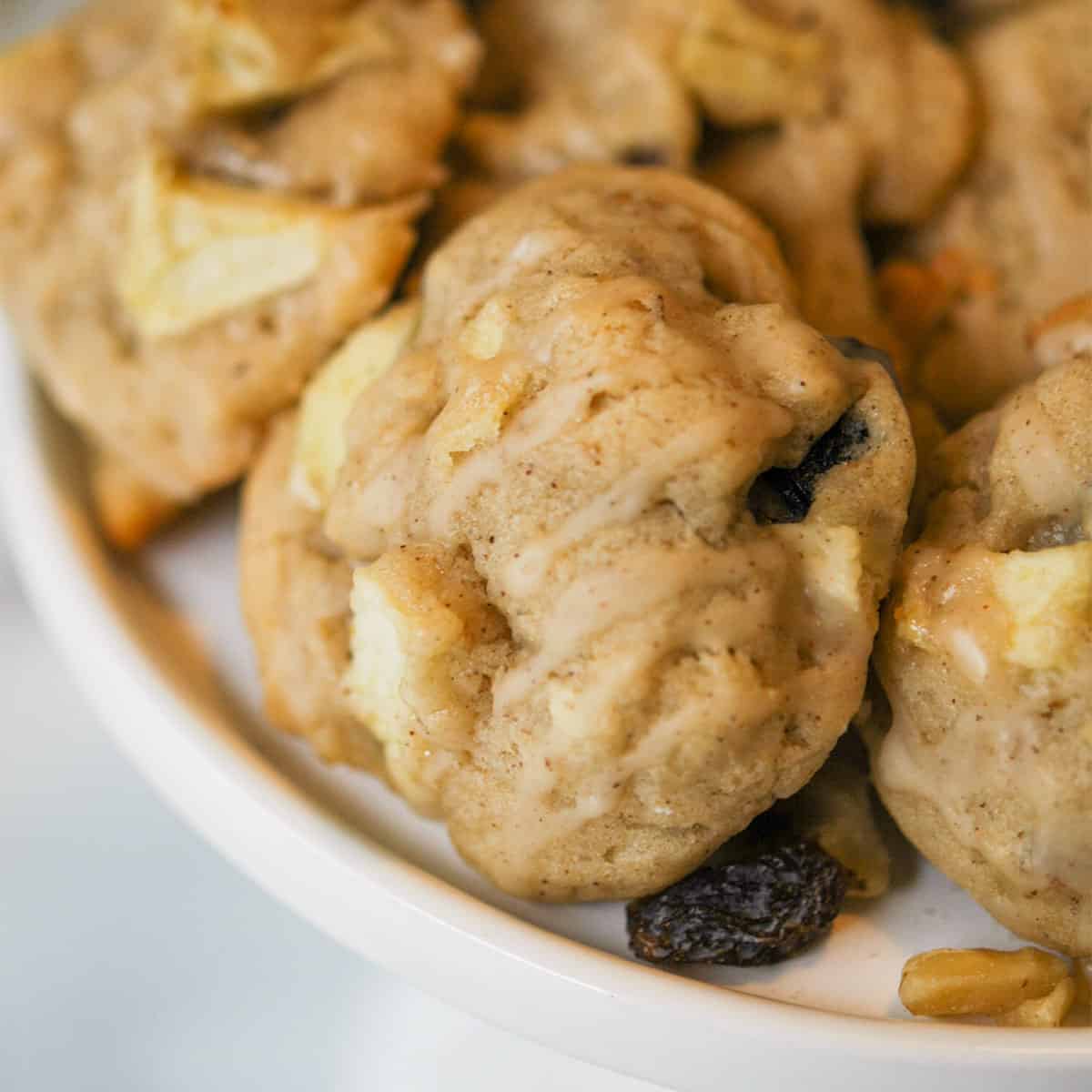 Since apples are a good source of vitamins, I wanted to know what benefits apple cider contained, and Livestrong has an excellent article.
Of course, to make the yummy cider, you need spices; cinnamon, ground cloves, and allspice (sometimes called a Jamaican Pepper). I found a great website that talks about spices called Spice Advice.
Ingredients You will Need
COOKIE DOUGH
1 cup Butter unsalted
½ cup Light brown sugar
½ cup Sugar white
3 TBSP Apple cider
½ tsp Vanilla Extract
2 ¾ cups All purpose flour
1 tsp Baking powder
½ tsp Ground cinnamon
¼ tsp Ground cloves
½ tsp All spice
¼ tsp Kosher Salt
1 Granny Smith apples diced
½ cup Raisins
½ cup Chopped walnuts
Lemon juice To squeeze onto diced apple pieces
APPLE CIDER GLAZE
1 cup Powdered sugar
2 TBSP Apple cider
⅛ tsp Cinnamon
½ tsp All spice
The Key to Soft Cookies
Juicy mixins, lots of butter, and no eggs - that is key to these soft cookies! Start by dicing your apple and giving it a light sprinkle of lemon juice so they don't brown. Browning isn't harmful, but it doesn't look that great.
Making Apple Cookies
Whisk your dry ingredients in a small bowl. I do this first to ensure the spices are distributed evenly to really flavor each cookie. Then cream your butter and sugars until light and fluffy. Finally, stir in the flour in batches until well mixed.
Now it's time to add your mixins. I like to use twice as many apples as nuts and raisins. This is what makes them apple cookies! It's fun to use these different textures too, the contrast of fresh apples, chew raisins, and crunchy nuts makes for a party.
Let these cool on a rack after baking, giving the dough time to settle around the apple bites so they don't break.
Next up is the apple cider glaze. Most glazes use a touch of milk or even just water, but I go ahead and use apple cider here. I also add the same spices from the cookie dough to make these a fall delight.
Storage
This cookie has fresh apples in it, so any time you use fresh fruit you Do Not want to store them in an airtight container. Either leave the lid off or let them sit out on a plate.
Fresh fruit holds the liquid so in an airtight container your cookies will end up getting a soggy bottom. Don't be afraid the taste of fresh fruit in your cookie is worth a little extra precaution.
Other Apple Cookies to Try
Pumpkin with Applesauce and Walnut Cookies
Apple Raisin Walnut Oatmeal Cookies
Recipe
Apple Cider Cookies
Barbara Hall
Make your own apple cider and then use some in these incredible, soft apple cider cookies to welcome in fall.
Ingredients
COOKIE DOUGH
1

cup

Butter unsalted

2 sticks room temperature

½

cup

Light brown sugar

106 g

½

cup

Sugar white

99 g

3

tablespoon

Apple cider

½

teaspoon

Vanilla Extract

2 ¾

cups

All-purpose flour

330 g

1

teaspoon

Baking powder

½

teaspoon

Ground cinnamon

¼

teaspoon

Ground cloves

½

teaspoon

Allspice

¼

teaspoon

Kosher Salt

1

Granny Smith apples

diced

½

cup

Raisins

½

cup

Chopped walnuts

Lemon juice

To squeeze onto diced apple pieces
APPLE CIDER GLAZE
1

cup

Powdered sugar

110 g

2

tablespoon

Apple cider

⅛

teaspoon

Cinnamon

½

teaspoon

Allspice
Instructions
COOKIE DOUGH
In a bowl, weigh or measure both sugars and set aside. In another bowl, weigh or measure the flour, baking powder, salt, allspice, cinnamon, and ground cloves, run a whisk through to blend. Dice the Granny apple and squeeze the juice of ½ lemon on top to keep them from turning brown.

In a mixer, blend the butter and sugars for a couple of minutes at medium speed. Add the apple cider and vanilla extract and mix. Turn the mixer down and add the flour mixture about a third at a time; once the flour is incorporated, turn the mixer off. Add the diced apple, raisins, walnuts, and mix through for about a minute. Wrap the top of the bowl with plastic wrap loosely and refrigerate for about ½ hour.

Preheat oven to 350°F (175°C or 180°C). Using a medium cookie scoop, put 12 scoops onto a parchment-lined cookie pan and bake for 14-16 minutes. Leave the cookies on the pan for a minute or two before moving to a cooling rack.
APPLE CIDER GLAZE
Combine powdered sugar, apple cider, cinnamon, and allspice and mix till smooth consistency. After the cookies have cooled, take a ½ teaspoon of glaze and drizzle over each cookie.
NUTRITION DISCLAIMER
I am not a certified Dietitian or Nutritionist. The nutrition amounts given below are provided through a program and are only a guideline.
Nutrition
Calories:
161
kcal
Carbohydrates:
20
g
Protein:
1
g
Fat:
9
g
Saturated Fat:
5
g
Polyunsaturated Fat:
1
g
Monounsaturated Fat:
2
g
Trans Fat:
1
g
Cholesterol:
20
mg
Sodium:
46
mg
Potassium:
60
mg
Fiber:
1
g
Sugar:
15
g
Vitamin A:
242
IU
Vitamin C:
1
mg
Calcium:
22
mg
Iron:
1
mg
You can make apple cider yourself. I found a few tasty recipes if you would like to try: