When I graduated high school, I worked at a factory during the summer. A co-worker from the deep south mentioned while in the breakroom that she would make a Sweet Potato Pie. I looked at her like she had two heads. I was thinking you have got to be kidding. She commented that she would bring in one of the pies for the workers to eat. It was so good! Sweet potatoes are grown all year round so that you can make it any time of the year, but the flavors remind me of the holidays.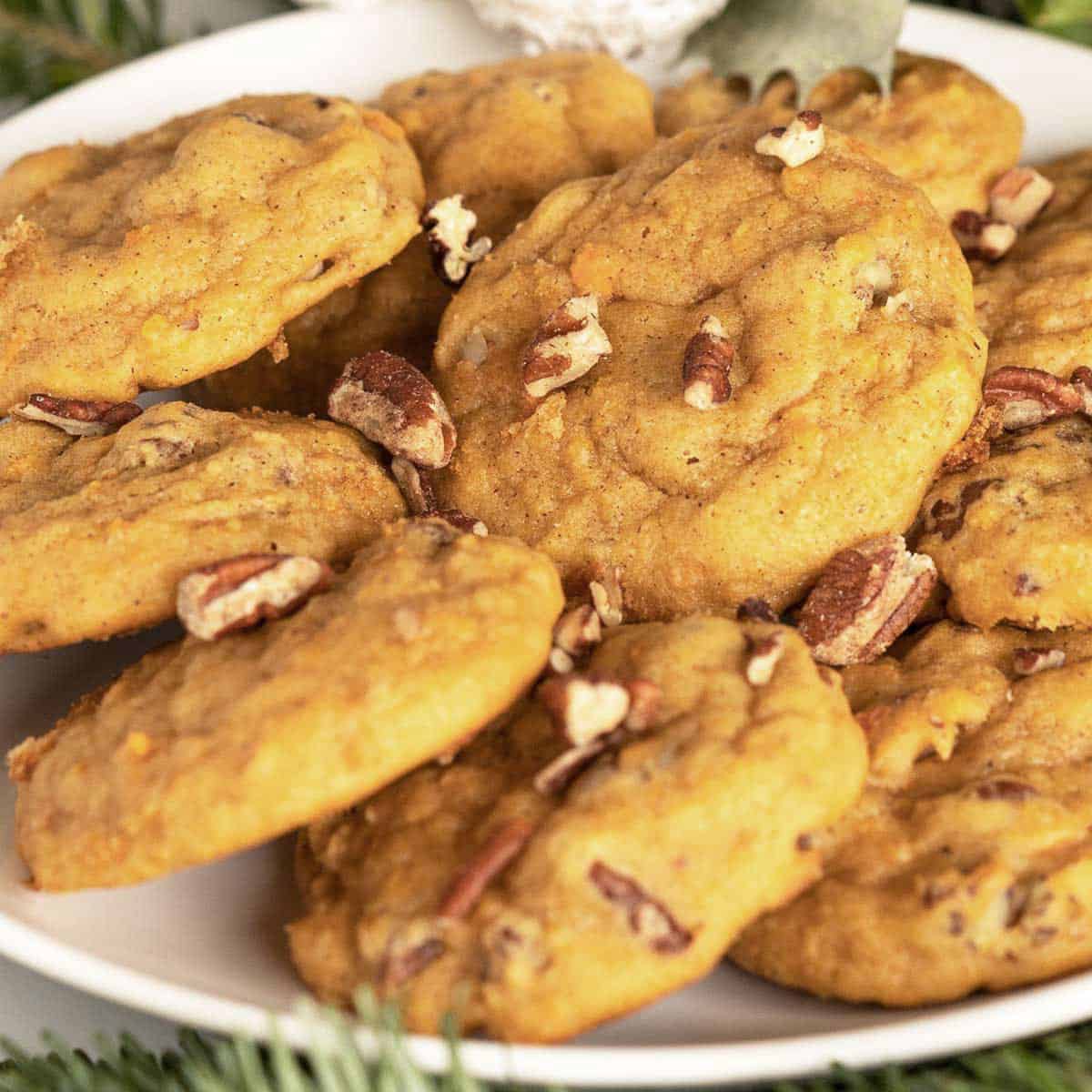 Retirement means being a little more frugal with money. So I have been buying all my kitchen small appliance toys for the past five years before I retire in the upcoming year. My new toy came Thursday, and it is a Breville Immersion Blender that had been back-ordered at Williams Sonoma for two months. I love it! I made the sweet potato puree for this recipe using this blender in the provided cup. It was perfect in blending the butter, maple syrup, and cooked sweet potatoes into a puree. The blender took all but 1 minute.
The taste to me was so much better than using canned sweet potatoes. I used four small sweet potatoes in a steamer bag that only took 9 minutes to microwave. Skin them and cut them into small pieces. You can certainly use canned sweet potatoes and mash them with a fork. Since the can version is packed in syrup, don't add maple syrup or butter.
This cookie's added surprise is the pecans and how it transforms this cookie into a sweet additive to any Christmas Dinner. I hope you try this wonderful cookie!
Ingredients You Will Need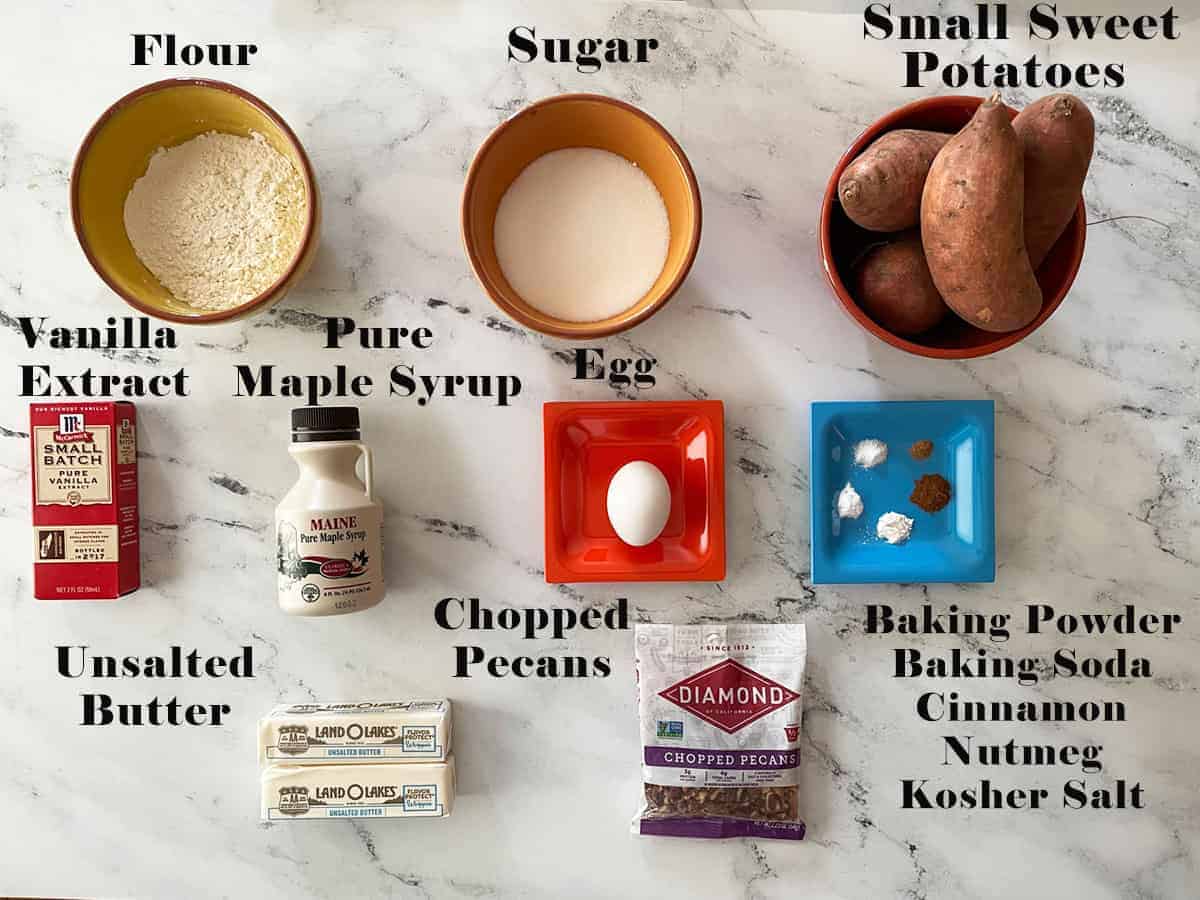 Jump to Recipe for Amounts
Flour
Sugar
Sweet Potatoes
Vanilla Extract
Pure Maple Syrup
Egg
Unsalted Butter
Chopped Pecans
Baking Powder
Baking Soda
Cinnamon
Nutmeg
Kosher Salt
Instructions
Add your cooked sweet potato to a blender or use an immersion blender.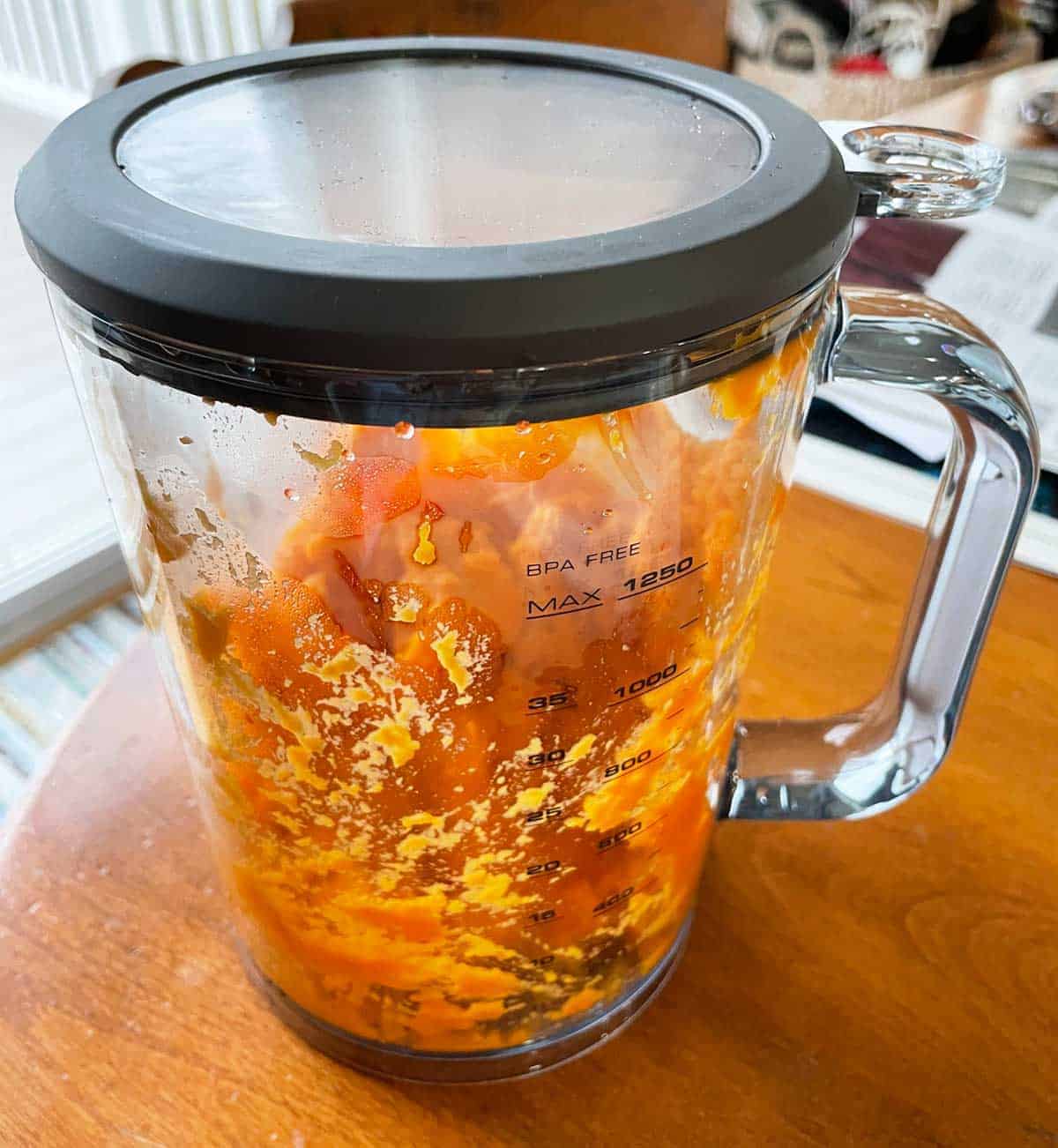 Once you add the syrup and butter, it comes together and looks (and tastes!) delicious.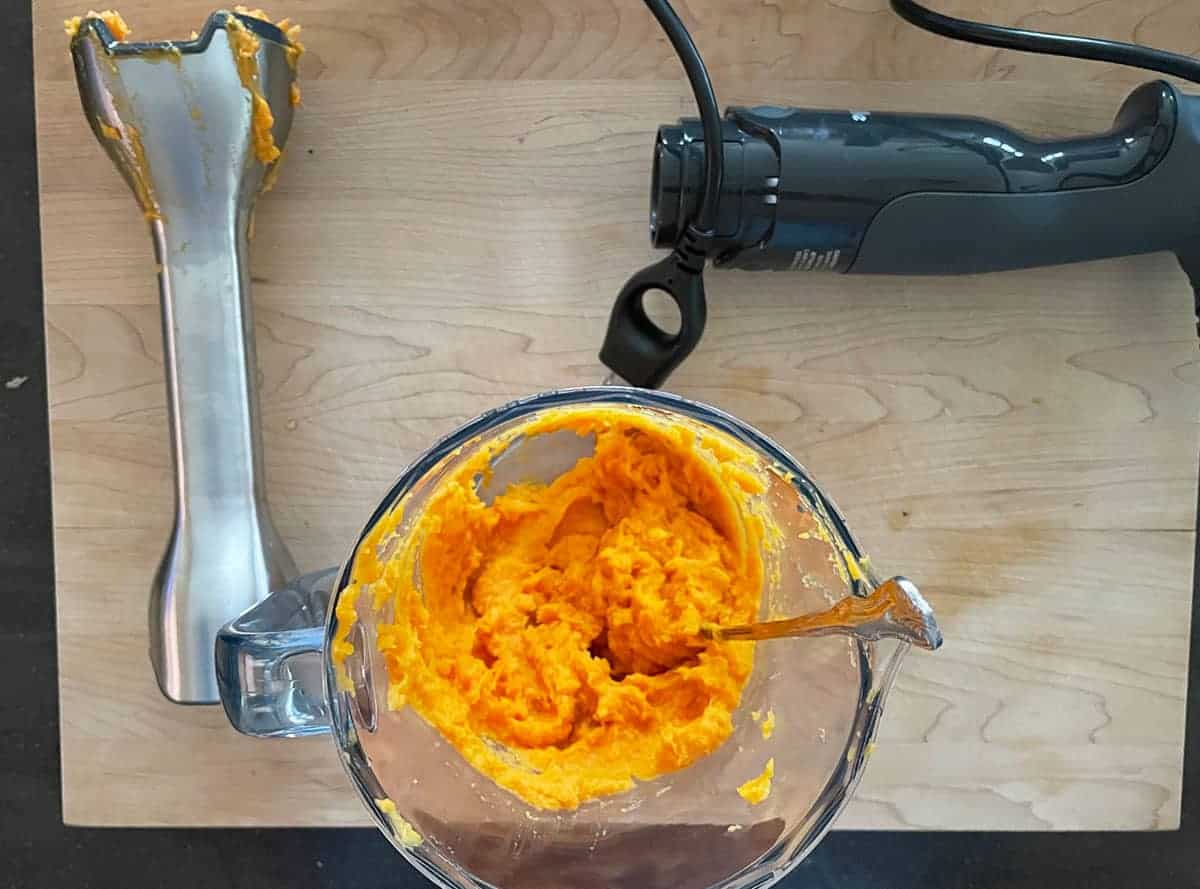 I love using a cookie scoop to get uniform cookies. They look so pretty when they are all the same size and shape. Also, feel free to press some extra pecans into the top of the cookies before baking for a nice extra presentation.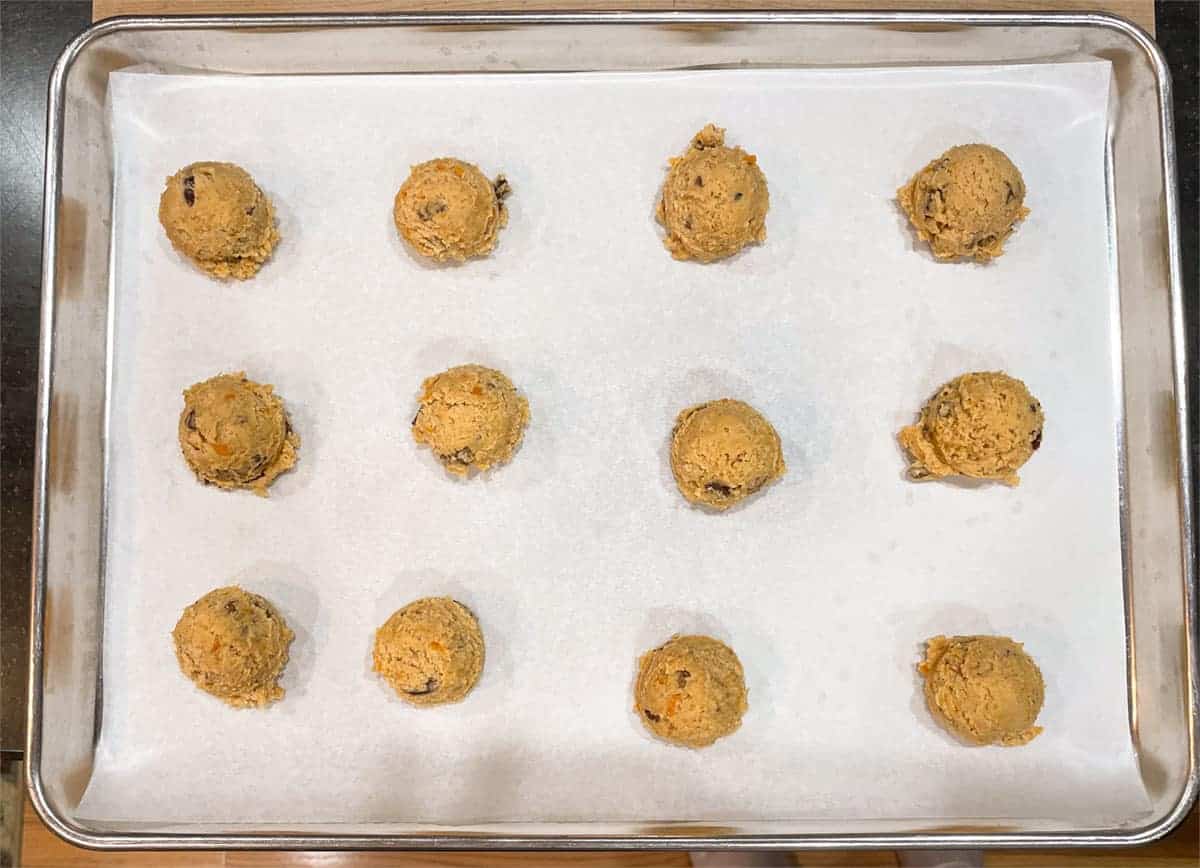 Common Questions
Which is better, fresh or steamed sweet potatoes?
For this recipe, I choose Steamables Sweet Potatoes, Petite. I could have used fresh, but I wanted to try the new Steamables that came out. I could not distinguish between fresh or the whole sweet potatoes that you can steam in a bag. It also was a much shorter cooking time.
Can I substitute canned yams or sweet potatoes?
You can use canned yams or sweet potatoes in a pinch, but you will need to adjust the amount of maple syrup you add. A 16 oz can of yams is equal to 1 ¾ to 2 cups of puree. Depending on the brand's type of syrup the yams are packed in, you will have to judge if anything needs to be added to the puree.
Recipe
Southern Sweet Potato Pie Cookies
Barbara Hall
If you have never had sweet potato pie, this will be a special treat. These are the perfect cookies at Christmas time.
Ingredients
SWEET POTATO PUREE
2

(

2

)

Sweet potatoes

1

Tablespoon

(

1

Tablespoon

)

Butter unsalted

½

Tablespoon

(

0.5

Tablespoon

)

Pure maple syrup
COOKIE DOUGH
½

cup

(

113.5

g

)

Butter unsalted

room temperature

1 ½

cups

(

300

g

)

Sugar white

1

(

1

)

Egg

½

teaspoon

(

0.5

teaspoon

)

Vanilla Extract

½

teaspoon

(

0.5

teaspoon

)

Maple syrup

1

cup

(

280

g

)

Sweet potato puree

2 ½

cups

(

312.5

g

)

All-purpose flour

1

teaspoon

(

1

teaspoon

)

Baking powder

1

teaspoon

(

1

teaspoon

)

Baking soda

1

teaspoon

(

1

teaspoon

)

Cinnamon

½

teaspoon

(

0.5

teaspoon

)

Nutmeg

½

teaspoon

(

0.5

teaspoon

)

Kosher Salt

1

cup

(

99

g

)

Pecans chopped
Instructions
SWEET POTATO PUREE
I found sweet potatoes in a steamer bag at my grocery store, but you can bake or microwave 2 large or 4 small until cooked. Set them aside till they cool a little, then take the skins off and cut the sweet potatoes into small pieces. I added the cut-up sweet potatoes to the immersion blender cup, plus the maple syrup and butter. Pulse until it becomes a puree. It took me less than a minute to blend the ingredients. You can use canned sweet potatoes, but they are usually canned in syrup, so mash them and don't add maple syrup or butter.
COOKIE DOUGH
Weigh or measure the sugar and set aside. In another bowl, weigh or measure the flour, baking powder, baking soda, cinnamon, nutmeg, salt and run a whisk through to blend. In a stand or hand-held mixer, add the sugar and the butter and mix on medium speed for 2 to 3 minutes. Add the vanilla extract, maple syrup, sweet potato puree, and mix through. Break the egg into a small bowl (just in case some shells pieces break off) and add it to the rest of the wet mixture. Once blended through, turn the mixer down and slowly add the flour mixture till it is incorporated. Add the pecans and mix through for about 30 secs to a minute. Cover with plastic wrap and refrigerate for at least 45 minutes.

Preheat oven to 350° and line 2 cookie pans with parchment paper (I use parchment sheets). Using a medium cookie scooper, space out twelve scoops onto the cookie pan about 2" apart. This gives it space to spread and rise. Bake for 12-14 minutes. Leave the cookies on the baking pan for a minute or two before moving them to a cooling rack. This size batch makes about 2-½ dozen. Enjoy!
NUTRITION DISCLAIMER
I am not a certified Dietitian or Nutritionist. The nutrition amounts given below are provided through a program and are only a guideline.
Nutrition
Calories:
164
kcal
Carbohydrates:
25
g
Protein:
2
g
Fat:
6
g
Saturated Fat:
2
g
Polyunsaturated Fat:
1
g
Monounsaturated Fat:
2
g
Trans Fat:
0.1
g
Cholesterol:
15
mg
Sodium:
108
mg
Potassium:
152
mg
Fiber:
2
g
Sugar:
12
g
Vitamin A:
5126
IU
Vitamin C:
2
mg
Calcium:
25
mg
Iron:
1
mg