Thinking about my cookie for this week, I have wanted to do an almond crescent cookie for a while. Getting out my books on flavors, I tried to find a flavor that would compliment the almonds. But it is hard to take a classic and put your spin on the cookie so that it is yours. I do not keep much alcohol in my house, so it never occurred to me to add a liqueur.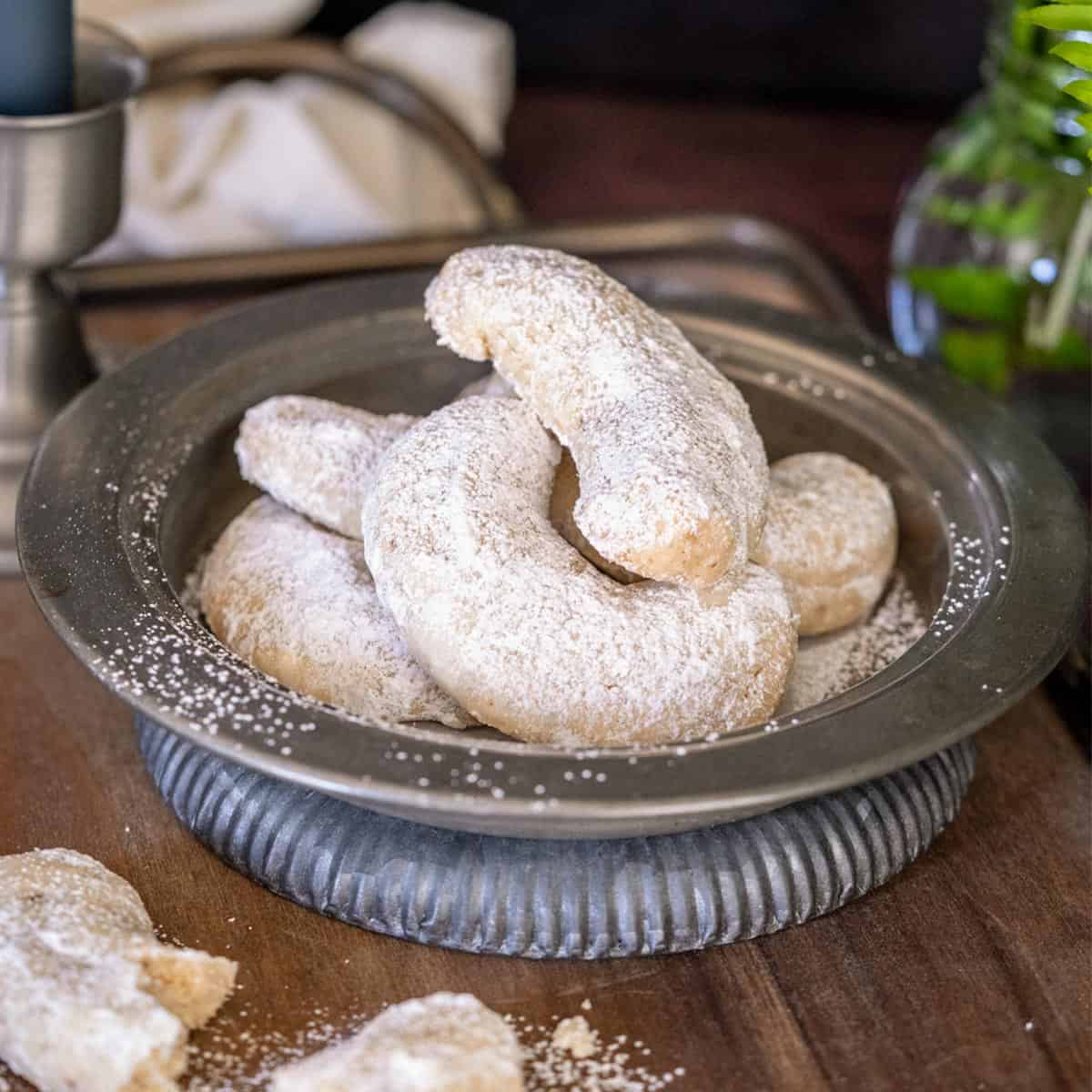 After doing some research, I found that amaretto would be a great compliment to the almond cookie. So off I went to the state store here in PA to see my options. I did not want to purchase a whole bottle of amaretto because it would be a waste of money and good amaretto. 🙂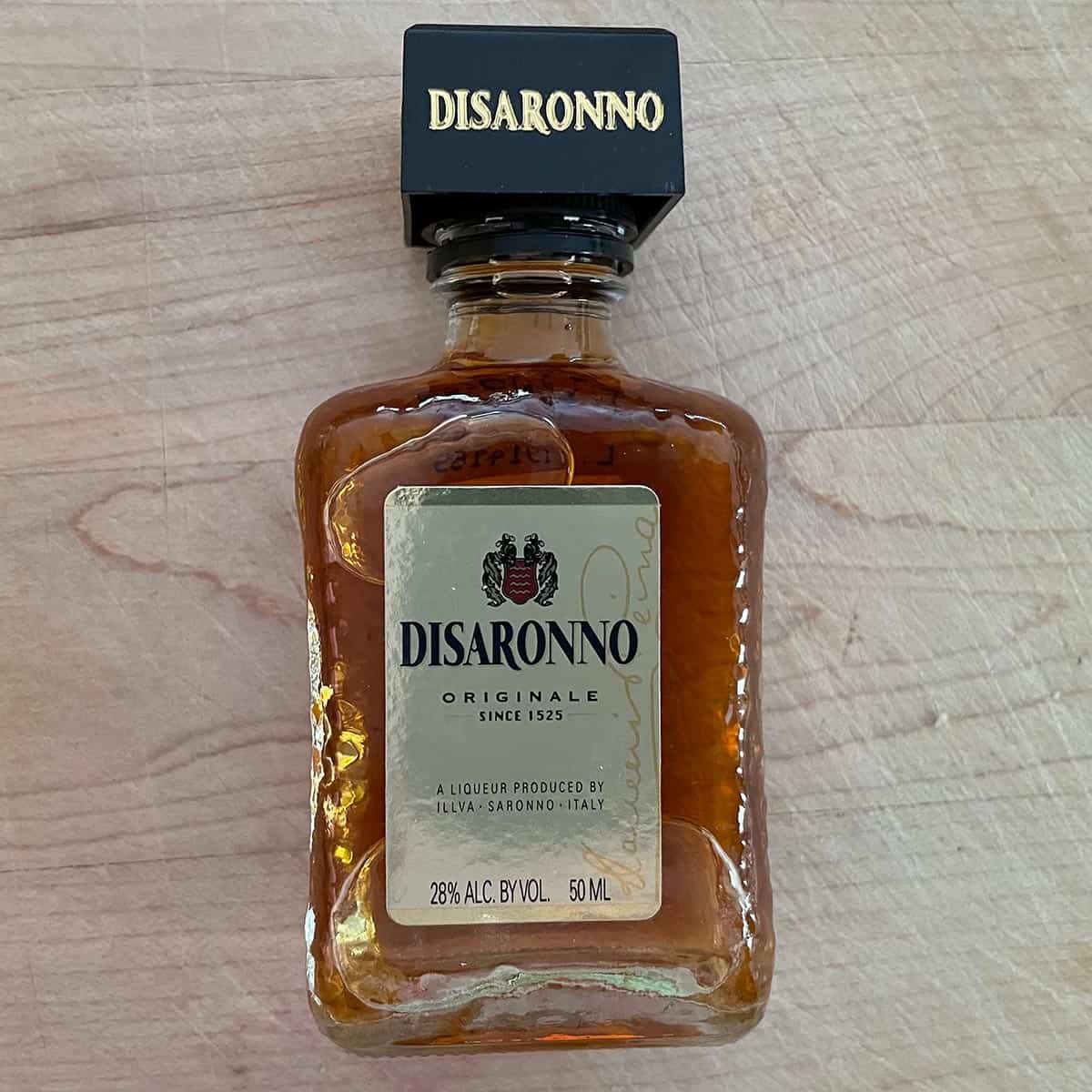 So they have these cute little bottles to choose from, and they had the one I wanted. They are the kind that they serve on planes and have in hotel rooms that cost a fortune. But since I only needed 2 teaspoons, it was perfect. Of course, you can add a little more than I did, but I would start with the 2 teaspoons then taste the cookie dough before adding any more.
I know many people make almond crescent cookies for the holidays, so I thought I would get a head start, never too early.
Ingredients You Will Need
1 cup Butter unsalted
¾ cups granulated Sugar white
¾ cup finely chopped Almonds, raw
2 tsp Amaretto liqueur
2 - ¼ cups All purpose flour
¼ tsp Kosher Salt
1 cup Powdered sugar or more if needed
Almond Crescent Cookie Steps
Almond crescent cookies (or do you call them almond horns?) are such a classic holiday staple. I love how they almost melt away in your mouth. That makes it easy to eat too many!
This recipe calls for ¾ cup of finely chopped almonds. I like to start with about a cup of whole almonds in my food processer and pulse until they are uniformly chopped. Take care to then measure or weigh the amount needed for this recipe. It's very important to chop and then measure.
There is a lot of wonderful butter here, too - make sure and whip it up to a creamy state in the mixer before adding the sugar. Then whip it again until it is very light in color.
Toss in your chopped almonds to incorporate before finally adding the remaining ingredients. The dough looks so pretty with the nuts sprinkled throughout.
Next, take golf-ball-size lumps of dough and gently roll them out to about a three-inch-long log. These are fairly thick cookies so make sure you use enough dough.
Gently bend the edges a bit to get the classic crescent shape before placing them on the prepared baking sheet.
Let these cool on the rack for about 10 minutes or so. You want them to be still warm, but not hot. If they are too hot, they will soak up the powdered sugar rather than be coated in it. If they have cooled too much, it might not stick. Find that balance! You can always dust them with more once they have cooled completely.
If You Love Almonds Try These Cookies
Storage
Store in an air-tight container at room temperature for about a week. You can also freeze them to store them longer.
Recipe
Almond Crescent Cookies with a Touch of Amaretto
Barbara Hall
These are not hard to make, but you need raw almonds in tiny pieces, so you have texture in your cookies.
Ingredients
1

cup

(

227

g

)

Butter unsalted

¾

cups

(

150

g

)

granulated Sugar white

¾

cup

(

107.25

g

)

finely chopped Almonds, raw

2

teaspoon

(

2

teaspoon

)

Amaretto liqueur

2 ¼

cups

(

281.25

g

)

All-purpose flour

¼

teaspoon

(

0.25

teaspoon

)

Kosher Salt

1

cup

(

120

g

)

Powdered sugar

or more if needed
Instructions
In a food processor (I used whole raw almonds), pause almonds till they are tiny pieces. Weigh or measure what you will need for the recipe and set the almond pieces aside. Weigh or measure the sugar in one bowl, and in another bowl, weigh or measure the flour and the salt. I run a whisk through to blend the flour and salt.

In a stand or hand-held mixer, beat the butter till it is light and fluffy. It should be creamy looking, not chalky. Gradually add the sugar in and beat on medium-high speed until the sugar and butter are incorporated—at least 3 minutes. Scrape down the sides and across the bottom and turn the mixer on for about 30 seconds to ensure the butter and sugar are mixed well. Next, add the amaretto liqueur and the almond pieces and blend till the almonds are incorporated. Scrape down the sides again and turn the mixer to a low speed. Slowly add the flour mixture and blend till incorporated. Take the dough and form a large ball. You want to make sure the butter is incorporated into the flour. The ball should be a little greasy from the butter.

Preheat your oven to 350°F (175°C or 180°C), and line two cookie sheet pans with parchment paper. Take a ball-size piece (a little smaller than a golf ball) and either gently roll it between your hands or on a flat surface till about 3 to 4 inches long. When rolling, if it starts to separate, just start that one over again or gently roll till it comes back together again. Laying on a flat surface, bend the ends gently down to you to form a crescent shape. The crescent shape should be about 1 inch thick. I put two rows of five on my cookie sheet and bake for 12-14 minutes. Leave them on the cookie sheet for a minute after taking them out of the oven before moving them to a cooling rack.

Take the powdered sugar and add it to either a shallow bowl or flat plate. After the cookies have cooled for about ten minutes, they should be warm but not hot to the touch. Add a cookie at a time and roll it around in the powdered sugar till completely coated. Move the coated cookies back to the cooling rack to complete the cooling. After the cookies have completely cooled, you can dust more powdered sugar on it you like.
NUTRITION DISCLAIMER
I am not a certified Dietitian or Nutritionist. The nutrition amounts given below are provided through a program and are only a guideline.
Nutrition
Calories:
162
kcal
Carbohydrates:
22
g
Protein:
2
g
Fat:
10
g
Saturated Fat:
5
g
Polyunsaturated Fat:
1
g
Monounsaturated Fat:
3
g
Trans Fat:
1
g
Cholesterol:
20
mg
Sodium:
26
mg
Potassium:
47
mg
Fiber:
1
g
Sugar:
7
g
Vitamin A:
236
IU
Calcium:
16
mg
Iron:
1
mg