I love the smell of anise, whether it is the extract or the whole star. It is hard to put your stamp on a classic cookie with so few ingredients, but I made a couple of small changes to suit me.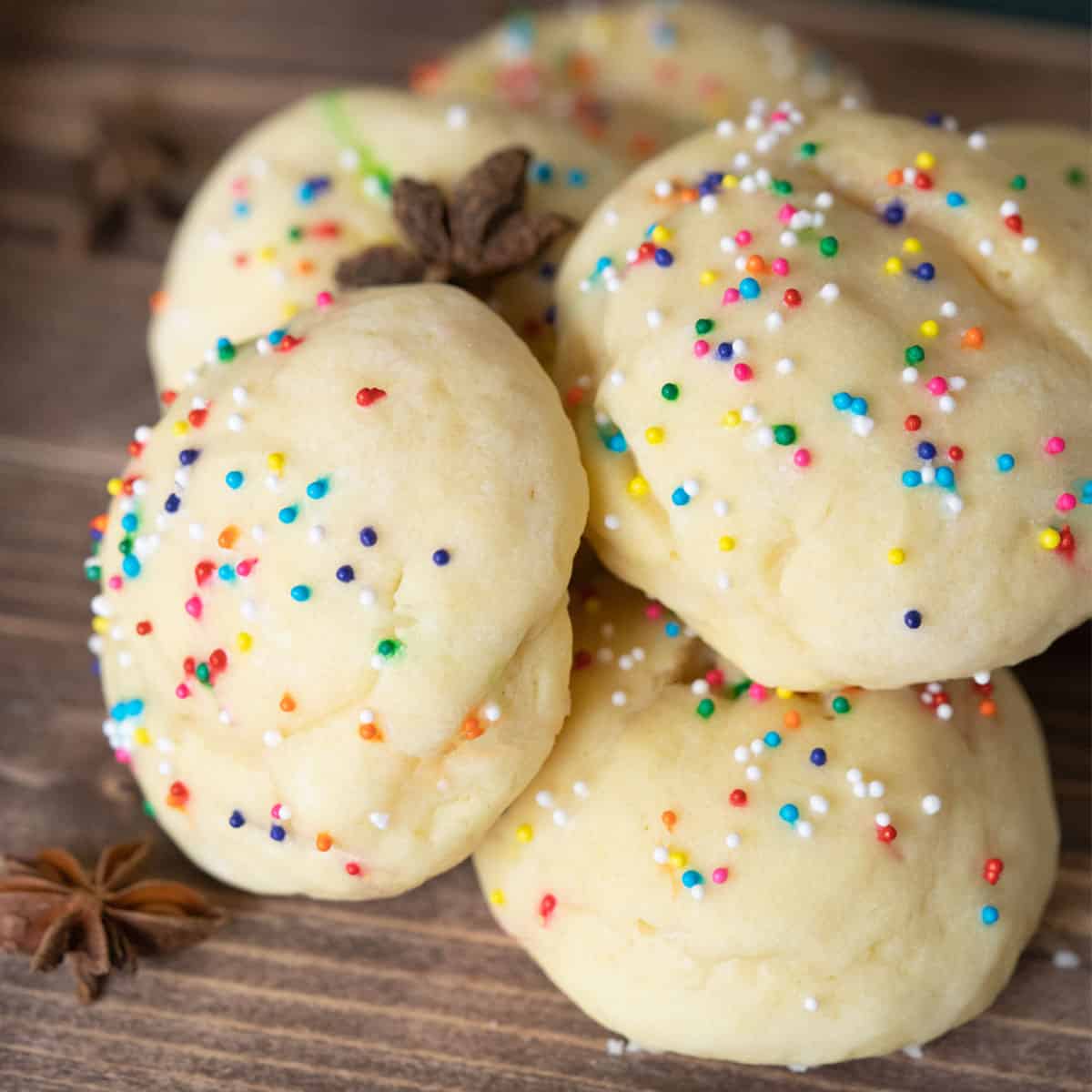 My version of this recipe is a great try-me recipe since it only makes 18 cookies. This way, you can adjust anything, and you are only out of an hour of your time and not many pantry ingredients. I found a great article from HeathLine.com about the star anise that I hope you will find interesting. It is always fun to read about the star ingredient of a cookie.
How to Make Anise Cookies
A stand mixer makes quick work of these cookies. The dough is stiff and tacky so using a mixer will save your hands!
I use a cookie scoop and roll them into plump little balls before placing them on the cookie sheet. Because the dough is so tacky, flouring your hands first will make rolling easier.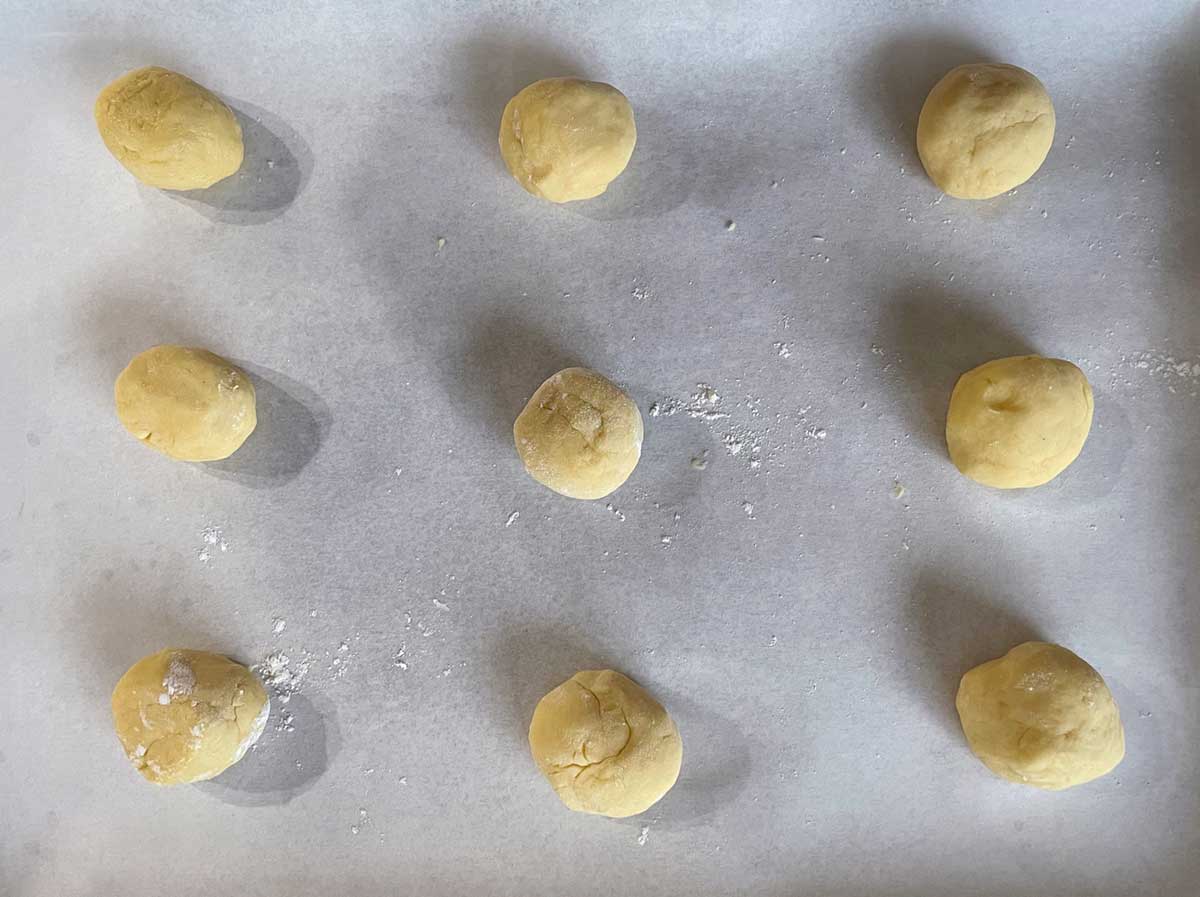 These cookies don't spread much when baking, but I still give them plenty of room on the tray. You'll know they are done when they have a few small cracks. Don't overbake them until they brown!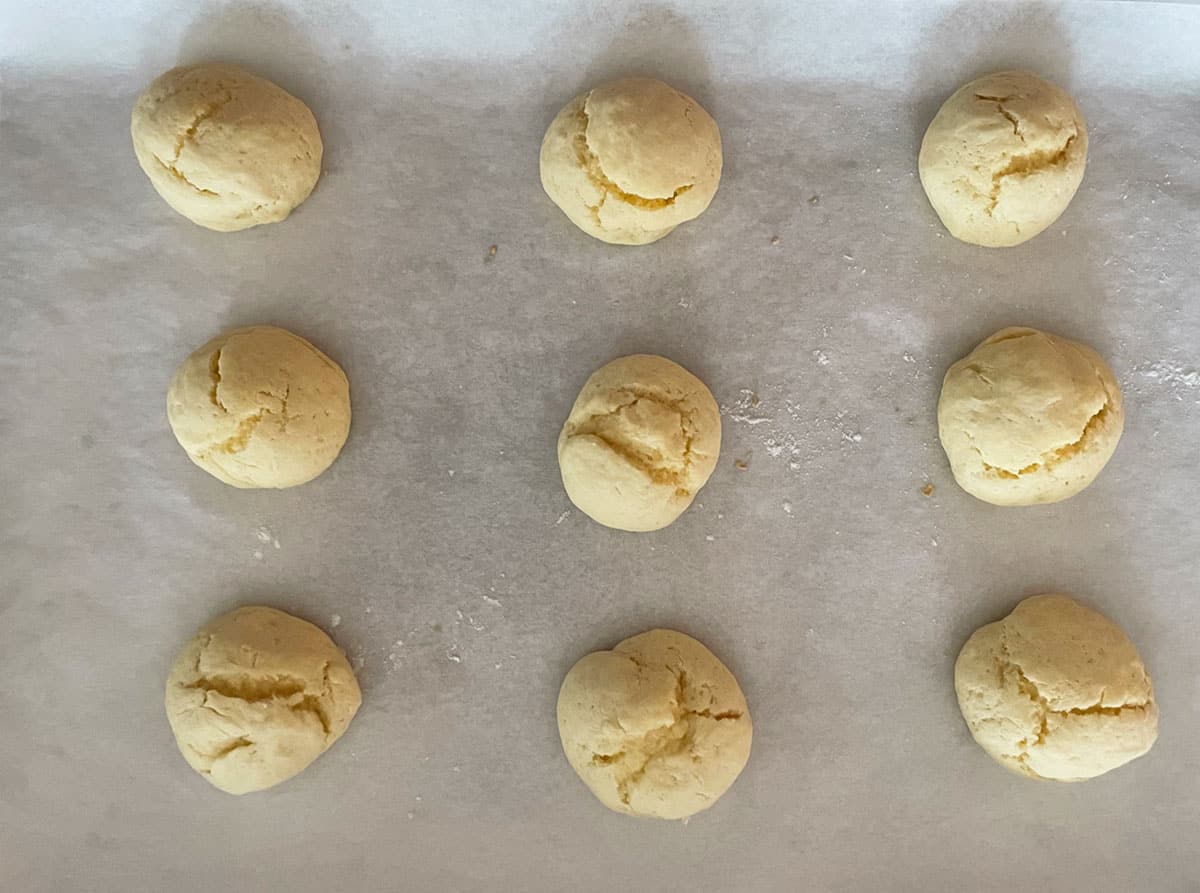 While these are cooling on the rack, go ahead and add some whole anise stars to the milk for your icing. This will bring the anise flavor to the front, having it in the dough AND the icing, so don't skip this step! It can rest for about 15 minutes to infuse the milk.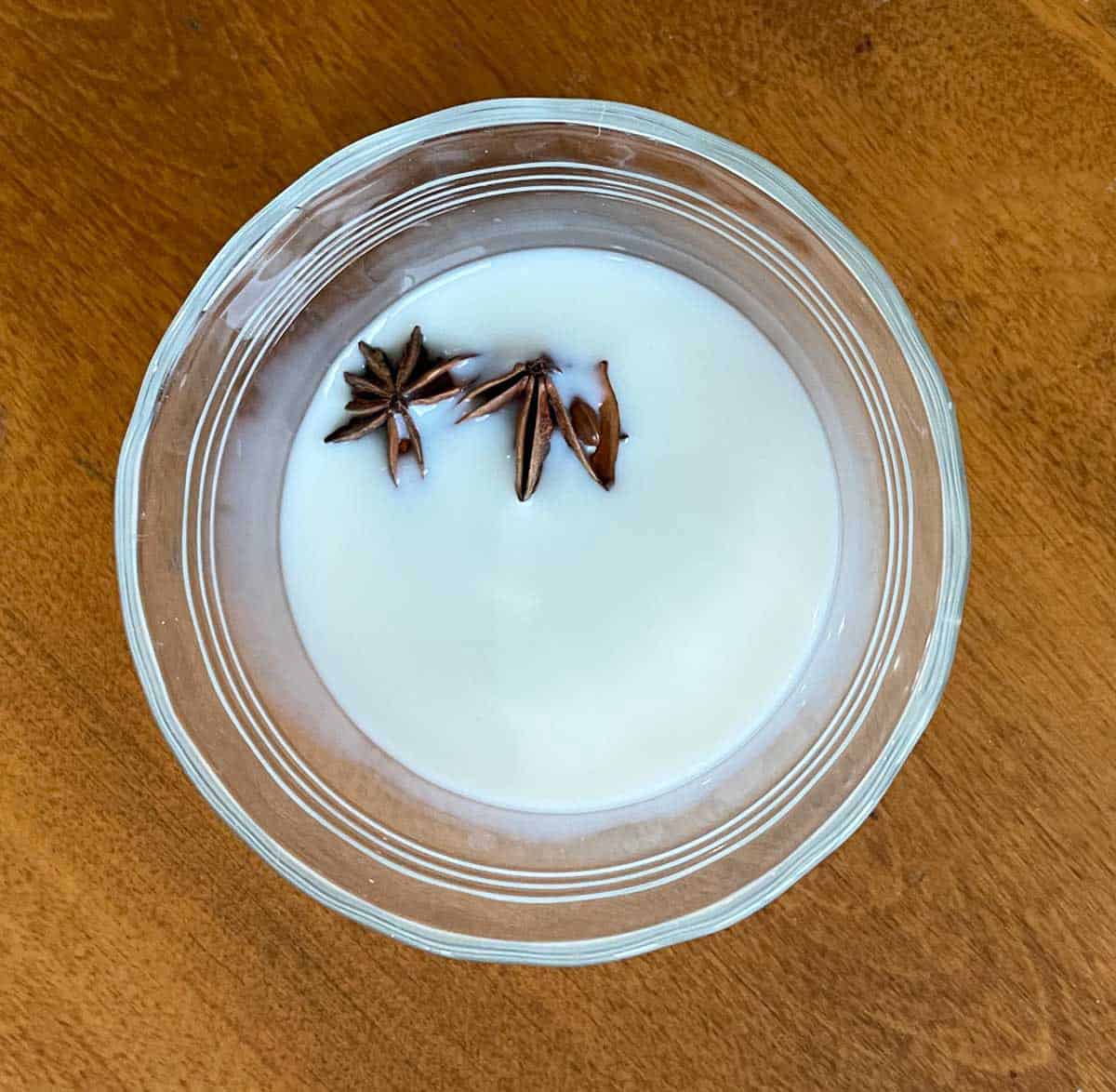 I'm not the biggest fan of icing on my cookies! I do like the flavor here though, and of course it helps your sprinkles stick to the cookie. My icing is quite thin, so that I get just that little bite of flavor. Feel free to add more powdered sugar as you see fit to get the consistency you want. You can also dip the cookie multiple times, letting each layer of icing dry first.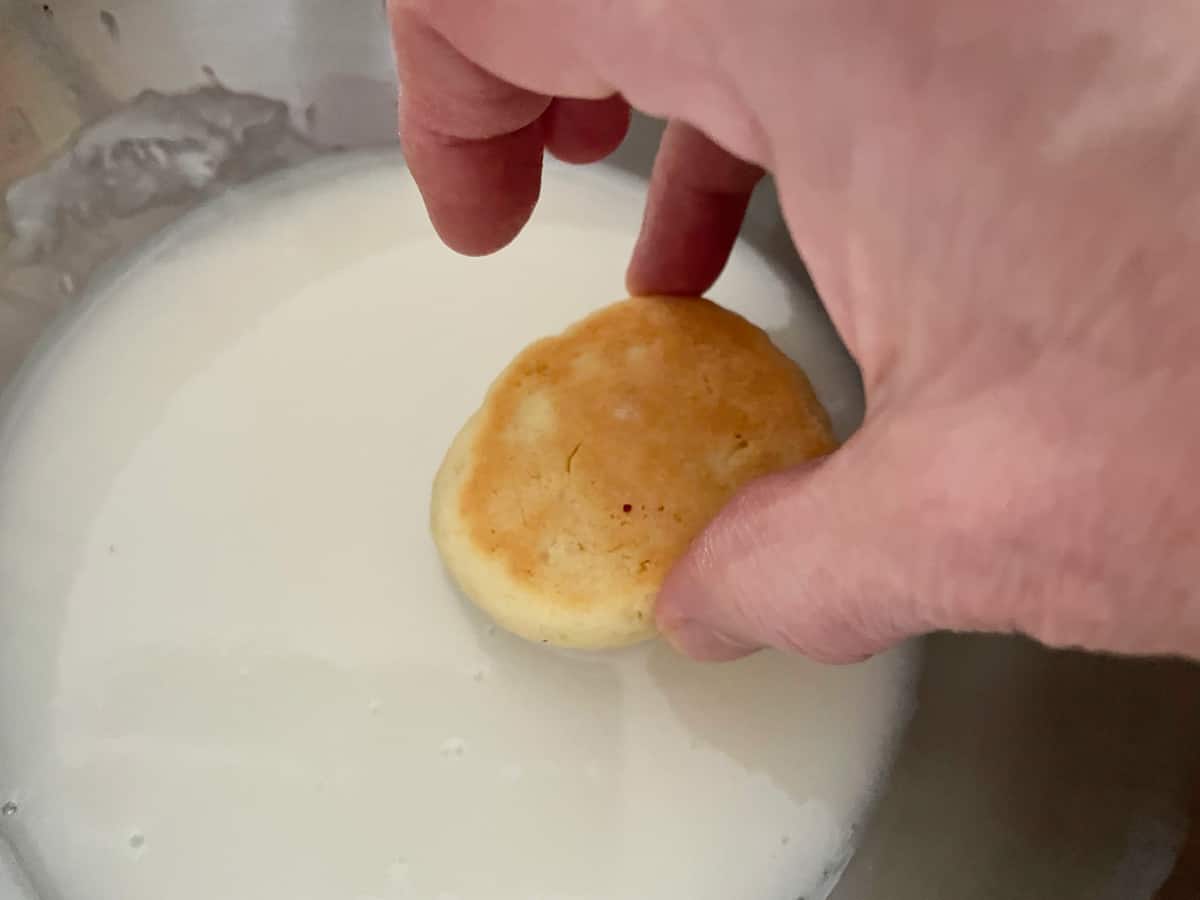 Once dipped and sprinkled, let dry completely on a rack before packing up.
Recipe
Italian Anise Cookies
Barbara Hall
Very easy to make with only 10 ingredients!
Ingredients
COOKIES
½

cup

room temperature Butter unsalted

1 stick

½

cup

Sugar white

99 g

3

large

Eggs

2

teaspoon

Anise extract

2-¼

cup

All-purpose flour

270 g

2-¼

teaspoon

Baking powder

9 g
ICING
3-4

tablespoon

Milk

4

Whole star anise

2

cups

Powdered sugar

227 g

As needed Nonpareils sprinkles
Instructions
In a small bowl, weigh or measure the sugar and set aside. In another bowl, weigh or measure the flour, baking powder and run a whisk through to blend.

In a stand or handheld mixer, beat the butter and the sugar till well mixed for about 2 to 3 minutes. Stop the mixer and scrape down the sides. Beat for another 30 seconds. Add the Anise extract, then turn the mixer to medium-low and crack one egg into a small bowl (to make sure there are no shells) and then add to the sugar-butter mixture. Incorporate before adding the next egg and repeat for the last egg. I usually scrape down the sides and across the bottom, then mix for another 30 seconds. Turn the mixer to low and slowly add the flour mixture. The cookie dough might be a little tacky, but when you flour your hands to make the balls, it will tighten up the dough.

Preheat the oven to 350° Line 2 cookie sheet pans with parchment paper. I flour my hands if the dough is a little tacky. Taking a medium cookie scoop, I scoop out and roll it into a ball, just about a golf ball's size or just a little smaller. I put 9 balls onto 1 pan. Bake for 9-11 minutes. Pull out of the oven and leave on the pan for a minute before moving them to a cooling rack. This recipe makes 1-½ dozen. After the cookies have cooled, take the 4 tablespoon of milk for the icing and put it into a small bowl. Add 3 to 4 anise stars to the milk, and let it sit for 10 to 15 minutes.
ICING
In a bowl, add the powdered sugar and 2 tablespoon of the anise star infused milk and whisk till blended. At this point, you will have to decide if you want thick or thin icing that you will be dipping the tops of your cookies in. I prefer a little thinner, but this up to you. Only add a small amount of milk after the 2 tablespoon until you reach the desired thickness. Take the top of your cookie, dip it into the icing, and return it to the cooling rack. Sprinkle on top of the icing some of the nonpareils sprinkles. After you dip the first cookie, you can adjust the icing thickness by adding more powdered sugar or making it a little thinner by adding a small amount of milk. Enjoy!
NUTRITION DISCLAIMER
I am not a certified Dietitian or Nutritionist. The nutrition amounts given below are provided through a program and are only a guideline.
Nutrition
Calories:
145
kcal
Carbohydrates:
22
g
Protein:
2
g
Fat:
6
g
Saturated Fat:
4
g
Polyunsaturated Fat:
1
g
Monounsaturated Fat:
2
g
Trans Fat:
1
g
Cholesterol:
45
mg
Sodium:
70
mg
Potassium:
24
mg
Fiber:
1
g
Sugar:
19
g
Vitamin A:
207
IU
Vitamin C:
1
mg
Calcium:
18
mg
Iron:
1
mg