I decided to make an oatmeal cookie this week. I love using the Old Fashion Oats for oatmeal cookies, but honestly, I have used whatever I had on hand, and they still turn out good.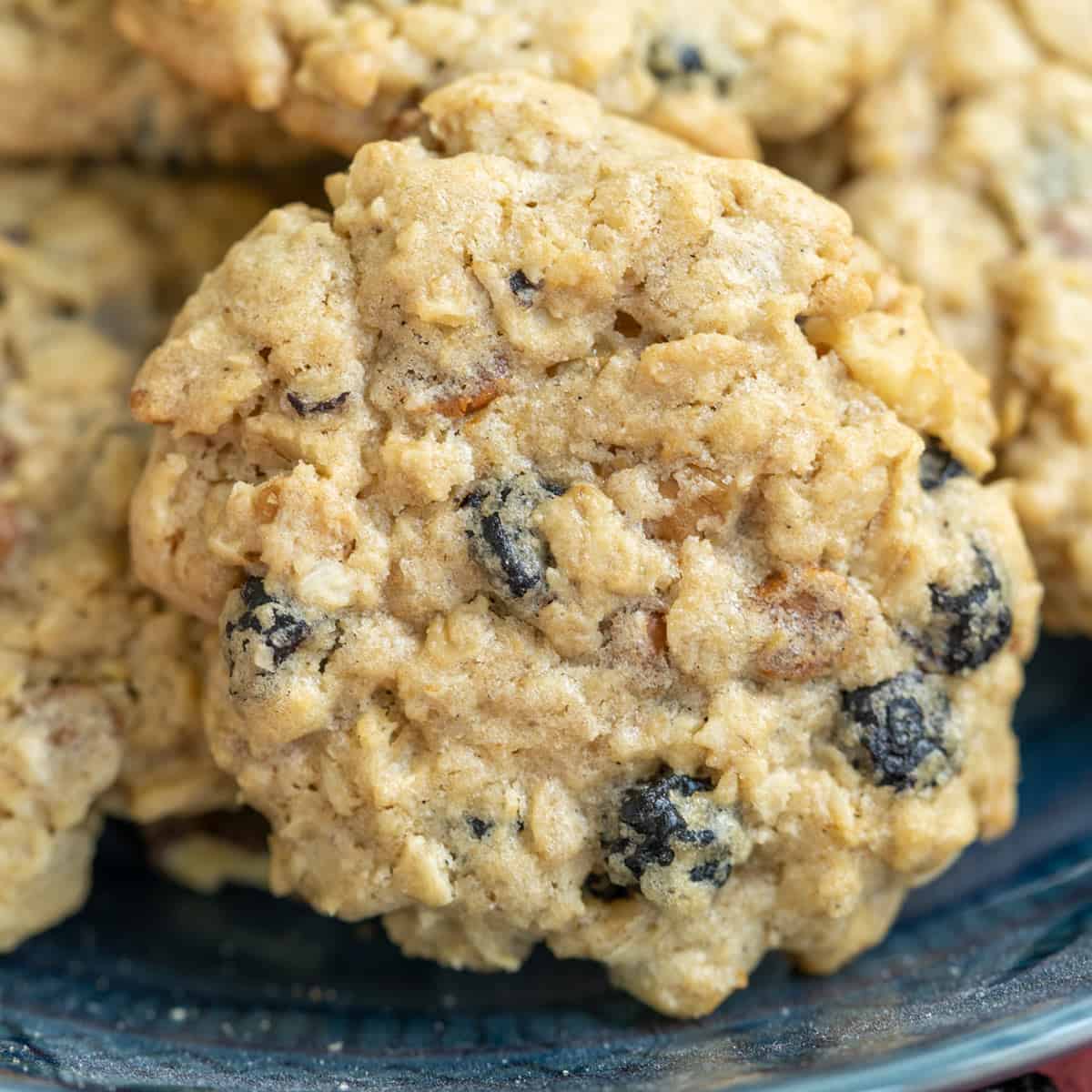 My old standby "MedicalNewsToday" website for the benefits of certain ingredients did not fail me for oatmeal. So feel free to learn the benefits of oatmeal at their site.
Most people add raisins to their oatmeal cookies like my apple cider cookies or my oatmeal raisin cookies, but I could not help adding walnuts instead for a nutty taste.
There was also half of a bag of cinnamon chips, which goes very well with oatmeal. Apples and cinnamon are favorites, but I decided to use dried blueberries this time. This cookie reminds me of an English breakfast biscuit.
Ingredients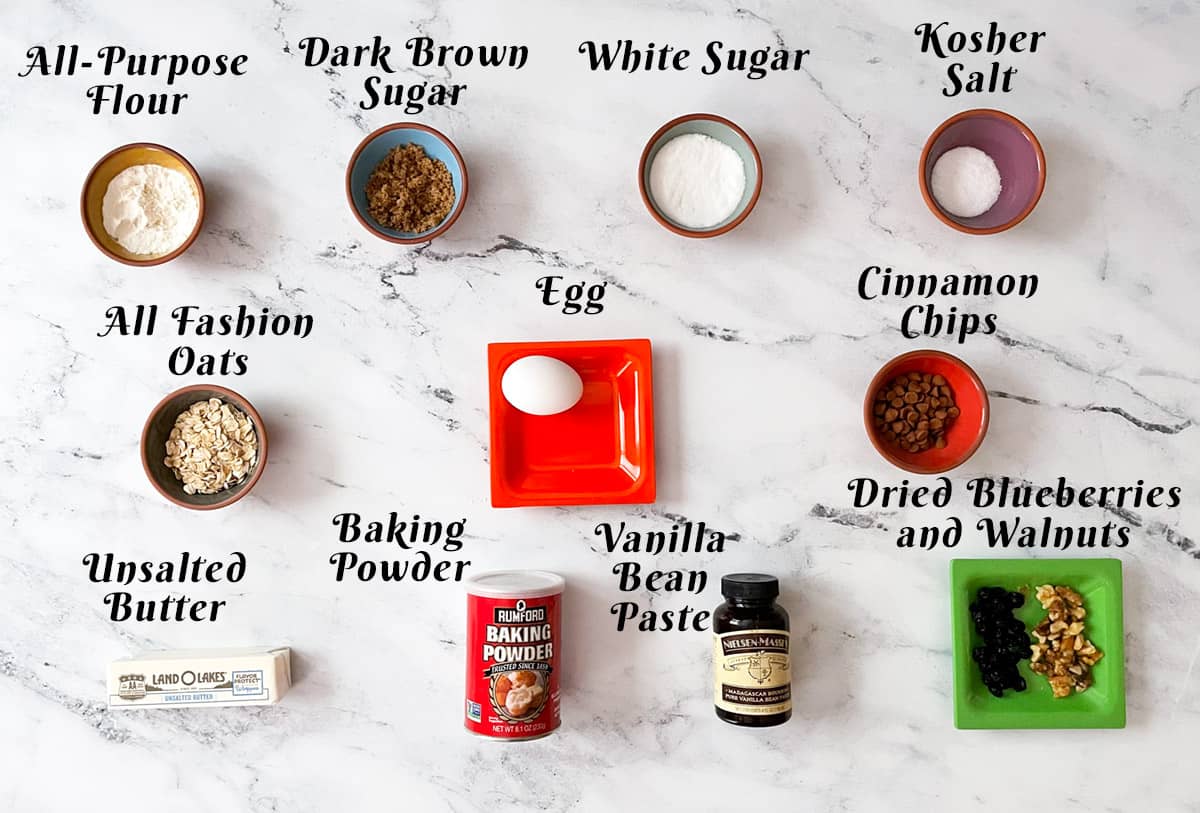 Jump to Recipe for Amounts
Butter unsalted
Dark Brown Sugar
Sugar white
Egg
Vanilla bean paste
All-purpose flour
Baking powder
Kosher Salt
Old Fashioned oats
Blueberries dried sweetened
Chopped walnuts
Making Oatmeal Cookies
Weigh or measure both sugars into a bowl and set that bowl aside. Next, weigh or measure the dry ingredients (flour, oats, salt, and baking powder) into a bowl and set that bowl aside.
In a stand or hand-held mixer, add the butter and the sugars, beating them on a medium mixer speed for 3 minutes. Scrape down the sides and add the egg, and vanilla bean paste, mixing until incorporated.
Turn the mixer to a low speed and add the dry mixture. You may need to use a spatula to ensure all the flour and oats are mixed into the batter. Finally, add the blueberries, walnuts, and cinnamon chips.
Ensure all the blueberries, walnuts, and cinnamon chips are evenly spread throughout the cookie dough. Next, chill the cookie dough for about 15 minutes. I do this while the oven is preheating.
Line 2 cookie sheet pans with parchment paper. I purchase from the Webstaurant Store online Baker's Mark 12" x 16" Half Size Quilon® Coated Parchment Paper Bun / Sheet Pan Liner Sheet - 100/Pack.
Place 12 mounds of cookie dough onto a cookie sheet pan using a medium cookie scooper. I try to ensure the bottom of the cookie dough that touches the parchment paper on the sheet pan is flat. This helps when you flatten the cookie mounds with a glass so that the cookie will be an even thickness.
Cut a 4X4 inch square of parchment paper and place it on top of a cookie mound. Next, take a flat surface glass or jar and press it down on the parchment paper square.
Flatten the mound to about ½ inch and peel the parchment paper square off the cookie. Repeat for all the cookie mounds.
Bake at 350° for 11-13 minutes. The top of the cookies will be soft but they do stiffen up in a short time. Leave the cookies on the pan for a minute or two before moving them to a cooling rack.
These cookies are crunchy on the outside, primarily due to the oatmeal and the dark brown sugar. But they are chewy on the inside. This style of cookie makes them a perfect candidate to go along with a large glass of cold milk. Whether you are a dipper or not, milk is a great accompaniment. These are super quick and easy to make, so I hope you enjoy them!
Storage
I store these in an air-tight container right on my counter so anyone can grab one when they are looking for something sweet. They will last a good week.
Recipe
Blueberry with Walnuts and Cinnamon Oatmeal Cookies
Barbara Hall
These cookies are crunchy on the outside and chewy on the inside, just the perfect cookie to go with a tall cold glass of milk.
Ingredients
½

cup

(

113.5

g

)

Butter unsalted

room temperature

½

cup

(

110

g

)

Dark Brown Sugar

½

cup

(

100

g

)

Sugar white

1

(

1

)

Egg

1

teaspoon

(

1

teaspoon

)

Vanilla bean paste

1

cup

(

125

g

)

All-purpose flour

½

teaspoon

(

0.5

teaspoon

)

Baking powder

¼

teaspoon

(

0.25

teaspoon

)

Kosher Salt

1 ¼

cups

(

101.25

g

)

Old Fashioned oats

1

cup

(

160

g

)

Blueberries dried sweetened

⅓

cup

(

78.86

g

) Cinnamon Chips

½

cup

(

58.5

g

)

Chopped walnuts
Instructions
Weigh or measure the white and dark brown sugars into a small bowl and set them aside. In another bowl, weigh or measure the flour, baking powder, salt, old fashion oats and run a whisk through to blend. Don't forget to use the Tare button between each ingredient.

Blend the sugars and butter in a stand or hand-held mixer for 2 to 3 minutes. It will get a light brown color and look a little whipped. In a small bowl, crack the egg into it; this will ensure you do not get any eggshells in your cookie batter. Add the egg from the bowl to the butter and sugar mixture. Add the vanilla bean paste and blend until the egg is incorporated. I stop and scrape down the sides and across the bottom. I turn the mixer back to a low speed and add the flour and oats mixture. This is a thick batter, but you want to ensure all the flour is mixed through. I scrape along the bottom to get all the dry ingredients, and they are incorporated. Add the blueberries, cinnamon chips, and walnuts and mix for another 30 seconds. Chill the cookie dough for about 15 minutes.

Preheat the oven to 350°, and line 2 cookie sheet pans with parchment paper. Take a medium cookie scoop; I scoop and press the bottom flat to make a nice mound shape. These do not spread much when they bake. Next, I cut a 4 or 5 inch square piece of parchment paper that will go in between the cookie mound and a flat bottom glass or jar. I press the bottom of the glass down onto the parchment paper-covered mound, so it is a round ½" thick. Bake for 11-13 minutes. The tops of the cookie will be very soft, but they firm up quickly. Leave on the pan for 1-2 minutes before moving to a cooling rack.
NUTRITION DISCLAIMER
I am not a certified Dietitian or Nutritionist. The nutrition amounts given below are provided through a program and are only a guideline.
Nutrition
Calories:
154
kcal
Carbohydrates:
23
g
Protein:
2
g
Fat:
6
g
Saturated Fat:
3
g
Polyunsaturated Fat:
1
g
Monounsaturated Fat:
1
g
Trans Fat:
0.2
g
Cholesterol:
17
mg
Sodium:
79
mg
Potassium:
92
mg
Fiber:
2
g
Sugar:
14
g
Vitamin A:
131
IU
Vitamin C:
0.03
mg
Calcium:
20
mg
Iron:
1
mg