Orange is such an excellent ingredient for a cookie. They are sweet and remind me of spring and summer. So I wanted to make oranges the star of this cookie, but I needed it to be soft and moist. I could have done a cream cheese cookie but opted for ricotta cheese.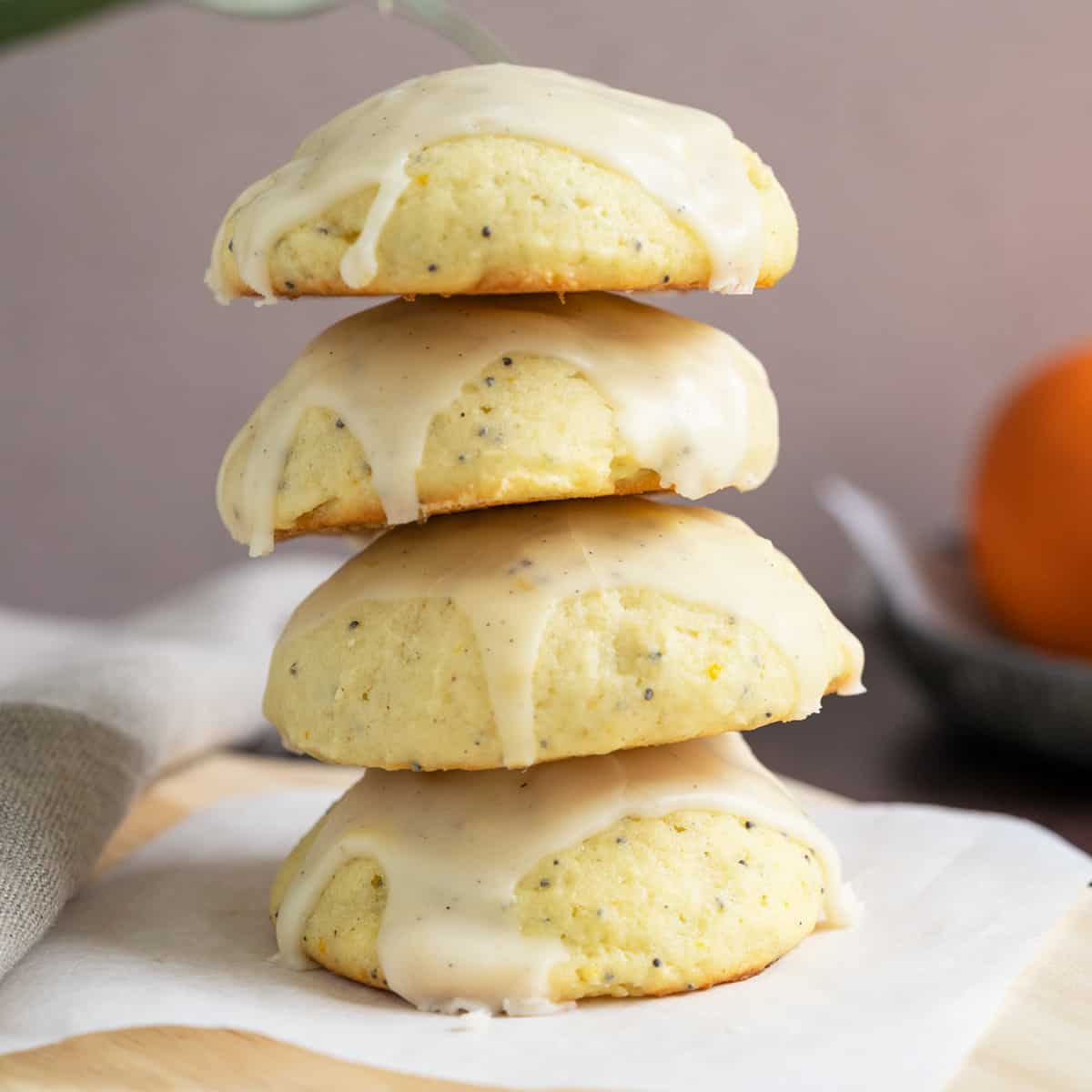 Cardamom is a spice that pairs itself so well with orange, so I added a little to bring out the orange flavor. Also, the poppy seeds add a little nutty taste and aroma.
Ingredients for Ricotta Orange Cookies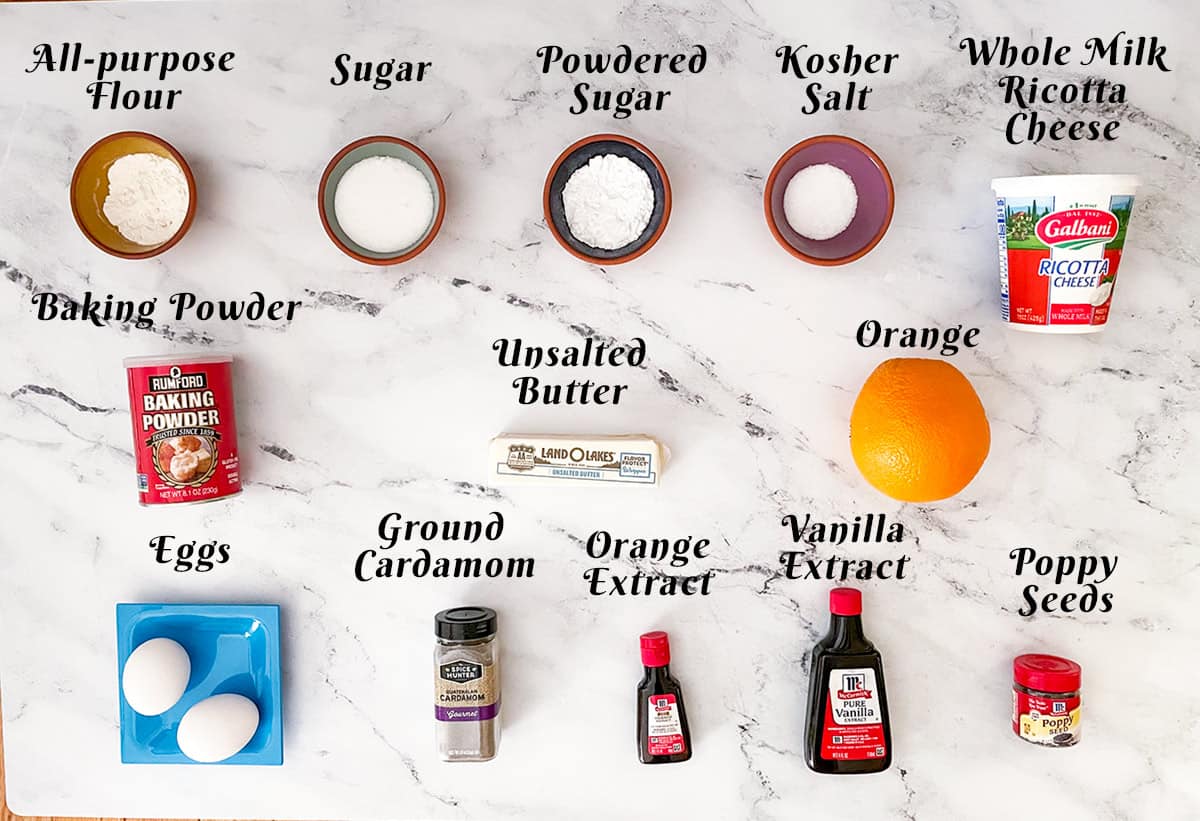 Jump to Recipe for Amounts
Ricotta Cheese - I purchase the Galbani Whole Milk brand for my cookies. This ricotta has a little sweeter taste to me so I really love it for cookies. But as long as it is whole milk you can certainly use your favorite brand.
Orange and Vanilla Extracts - So many companies that sell extracts so it can be hard to decide what to use. I have used McCormick extracts forever and it is so easy to find and get at my local store. I don't see the point in spending more money on certain things. Most are expensive enough but you do want to buy the pure extract it has the best taste in my opinion.
Spices in General - Every grocery store has an aisle that sells spices in a jar. It is really hard to figure out if you are getting the best quality for your money. I searched online for reviews of spices but the sites I found had so many ads that covered up the whole web page that I would not add a link to them.
If you really want to ramp up the spices in your cabinet you might want to consider purchasing online and different brands for different spices. I did find a website called bonappetit.com Where to Buy Spices. This article was just created on March 22, 2022, so it is recent.
Easy Ricotta Orange Cookies
The Prep Work
The prep work is not hard at all. The first thing I do is zest and juice an orange. Next, I weigh or measure the sugar. Now add a packed tablespoon of the orange zest (1 navel orange for me) to the sugar and mash the orange zest into the sugar. You want the zest to make the sugar moist. Set the bowl aside.
Now weigh or measure all your dry ingredients (flour, baking powder, salt, cardamom, poppy seeds) into a bowl and run a whisk through to blend.
Mixing and Baking the Cookies
In a stand or handheld mixer, add the softened butter and the sugar with the zest and turn the mixer to medium-high speed for at least 3 minutes. You need the sugar and butter mixed well.
Next, on a medium mixer speed add one egg at a time until blended into the butter. Scrape down the bowl and add the ricotta cheese, orange juice, vanilla, and orange extract; mix on medium speed for a minute or two. I scrape down the sides and across the bottom of the mixer bowl to make sure all the sugar is incorporated. Finally, on a low speed, add the dry ingredients until mixed. Don't over mix; you can always finish with a spatula.
Preheat the oven to 350°F (175°C or 180°C)
Add 12 cookie mounds onto a parchment-lined cookie sheet pan using a medium-size cookie scoop. Bake for 16-18 minutes.
Baked and moved to a cooling rack
Glaze for Cookies
This glaze is the perfect complement to the ricotta orange cookies. Since my navel orange had enough juice for the cookies and the glaze I only needed one. But you may need two oranges depending on the size.
In a bowl add the powdered sugar, orange juice, and vanilla bean paste, and whisk until the glaze is smooth.
I use a teaspoon to pour the glaze onto the top of the cookie. Then, turn the teaspoon around and in a circular motion around the top so the glaze runs down the sides.
Storage
I store these in a plastic container and put parchment paper or wax paper between the layer. You can refrigerate them but if they are going to be eaten within 5 to 6 days I do not.
But you can freeze the baked cookies, just thaw them out, and then put the glaze on the tops.
Loving Cheese Cookies
Recipe
Glazed Ricotta Orange Cookies
Barbara Hall
Cardamom adds warmth to these classic, soft ricotta cookies.
Ingredients
COOKIES
½

cup

(

113.5

g

)

Butter unsalted

room temperature

1 ½

cups

(

300

g

)

Sugar white

1

Tablespoon

(

1

Tablespoon

)

Orange zest

2

(

2

)

Eggs

2

Tablespoon

(

2

Tablespoon

)

Orange juice

¼

teaspoon

(

0.25

teaspoon

)

Orange Extract

¾

teaspoon

(

0.75

teaspoon

)

Vanilla Extract

15

oz

(

453.59

g

)

Ricotta cheese

3

cups

(

375

g

)

All-purpose flour

1

teaspoon

(

1

teaspoon

)

Baking powder

½

teaspoon

(

0.5

teaspoon

)

Kosher Salt

½

teaspoon

(

0.5

teaspoon

)

Ground cardamom

1

Tablespoon

(

1

Tablespoon

)

Poppy seeds
GLAZE
2 ¼

cups

(

270

g

)

Powdered sugar

4 ½

Tablespoon

(

4.5

Tablespoon

)

Orange juice

¾

teaspoon

(

0.75

teaspoon

)

Vanilla bean paste
Instructions
Making Cookies
Turn on the oven and preheat to 350°F (175°C or 180°C). Line 2 cookie pans with parchment paper or a silicone mat and set them aside. Zest and juice one orange into small bowls. Set both of these bowls aside. Weigh or measure the sugar and add the orange zest to the sugar. Mix by hand until the sugar is moist from the orange zest, then set this bowl aside.

Next, weigh or measure your flour, baking powder, salt, cardamom, and poppy seed into a medium bowl and whisk them together. You want to make sure you get the poppy seeds throughout the dry ingredients. Set the bowl aside.

In a stand or hand-held mixer, add the softened unsalted butter and orange zest sugar mixture and blend on medium-high speed until the butter is mixed well. I let it mix for at least 3 minutes; you want the sugar blended into the butter as much as possible. If you do not get the sugar incorporated into the butter, you could have a few cookies that bake flat.

Add your eggs one at a time. Then, add the vanilla extract, orange extract, ricotta, and orange juice, blending until incorporated. Next, turn the mixer down to a low speed, slowly adding the flour mixture. Mix until all the flour is incorporated. This cookie dough is soft but can still hold a shape.

Take your parchment (or silicone mat) lined cookie pan and scoop out twelve mounds using a medium cookie scoop. You can spoon drop by using a teaspoon, but I get more uniform-sized cookies using a cookie scoop. Bake at 350°F (175°C or 180°C) for 16-18 minutes. After baking, move cookies to a cooling rack.
Orange Glaze
Add the powdered sugar, orange juice, and vanilla bean paste into a bowl and whisk until smooth. Add 1 teaspoon on top of each cooled cookie and spread it around with the backside of the teaspoon. Let them sit until the glaze sets. I let mine sit for about 45 minutes before moving them to a container.
NUTRITION DISCLAIMER
I am not a certified Dietitian or Nutritionist. The nutrition amounts given below are provided through a program and are only a guideline.
Nutrition
Calories:
168
kcal
Carbohydrates:
28
g
Protein:
3
g
Fat:
5
g
Saturated Fat:
3
g
Polyunsaturated Fat:
1
g
Monounsaturated Fat:
1
g
Trans Fat:
1
g
Cholesterol:
25
mg
Sodium:
66
mg
Potassium:
41
mg
Fiber:
1
g
Sugar:
18
g
Vitamin A:
170
IU
Vitamin C:
2
mg
Calcium:
44
mg
Iron:
1
mg