Oatmeal says fall to me! Add a little cinnamon and some fruit and nuts, and it is a classic fall cookie.
Oats seem to pull all the moisture out of a cookie if you are not careful. So, to make sure my cookies are nice and soft, I added mascarpone to the recipe.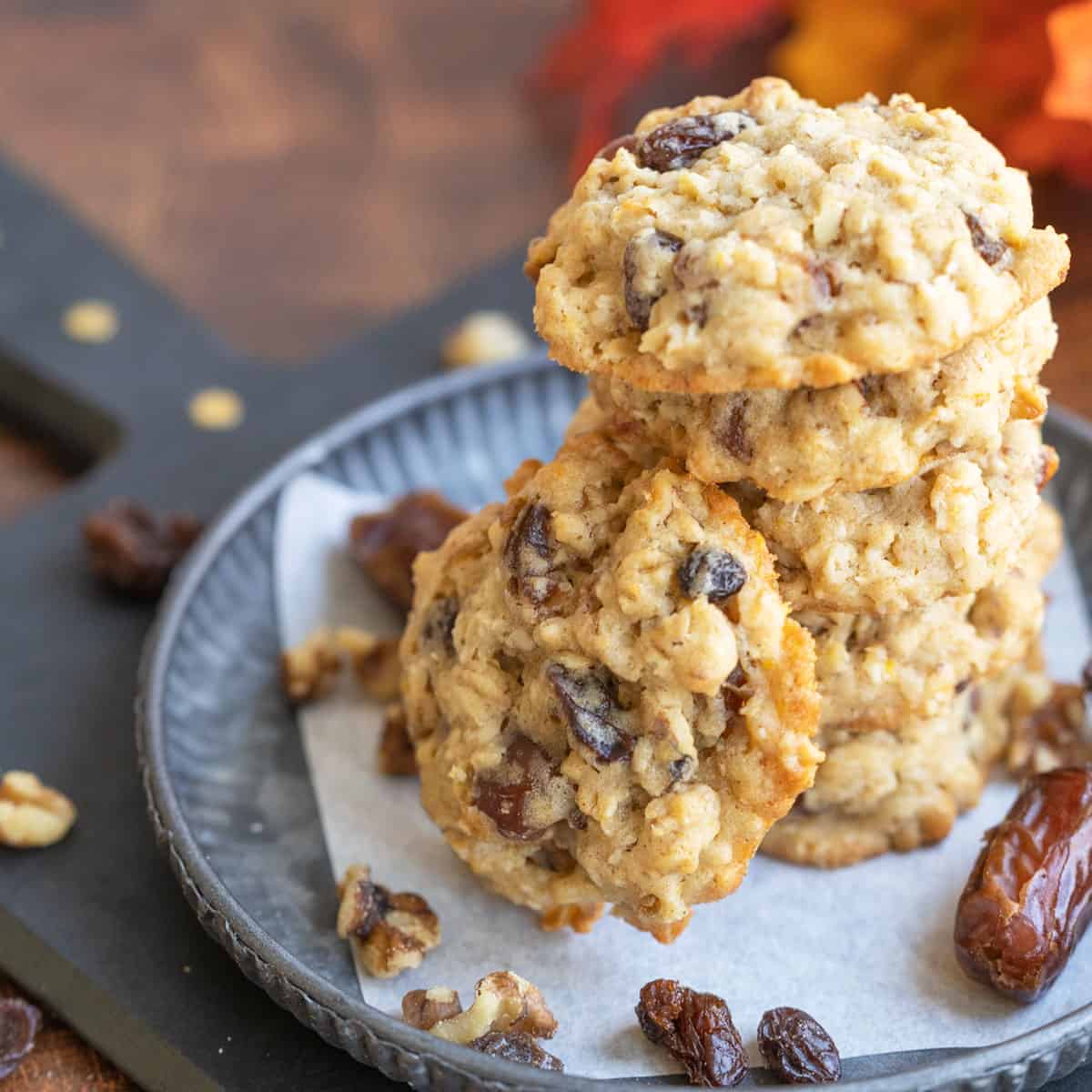 National Oatmeal Cookie Day
Our next National Oatmeal Cookie day is April 30, 2022. But, unfortunately, that was just too long to wait to make and eat these delicious cookies.
Everyone gushes over the famous chocolate chip cookie, but oatmeal cookies have quite the following also. I mean, really they have their own day for Pete's sake.
The history is fascinating for the origin of the oat cookies. Many believe that this cookie was created during the Middle ages. They called them Scottish oatcakes since they were easy to carry and were a quick snack.
If you would like to read more about the history Of the Oatmeal Cookie, I found a couple of sites with similar stories.
National Today and Holidays Calendar
Ingredients Needed for Soft Oatmeal Cookies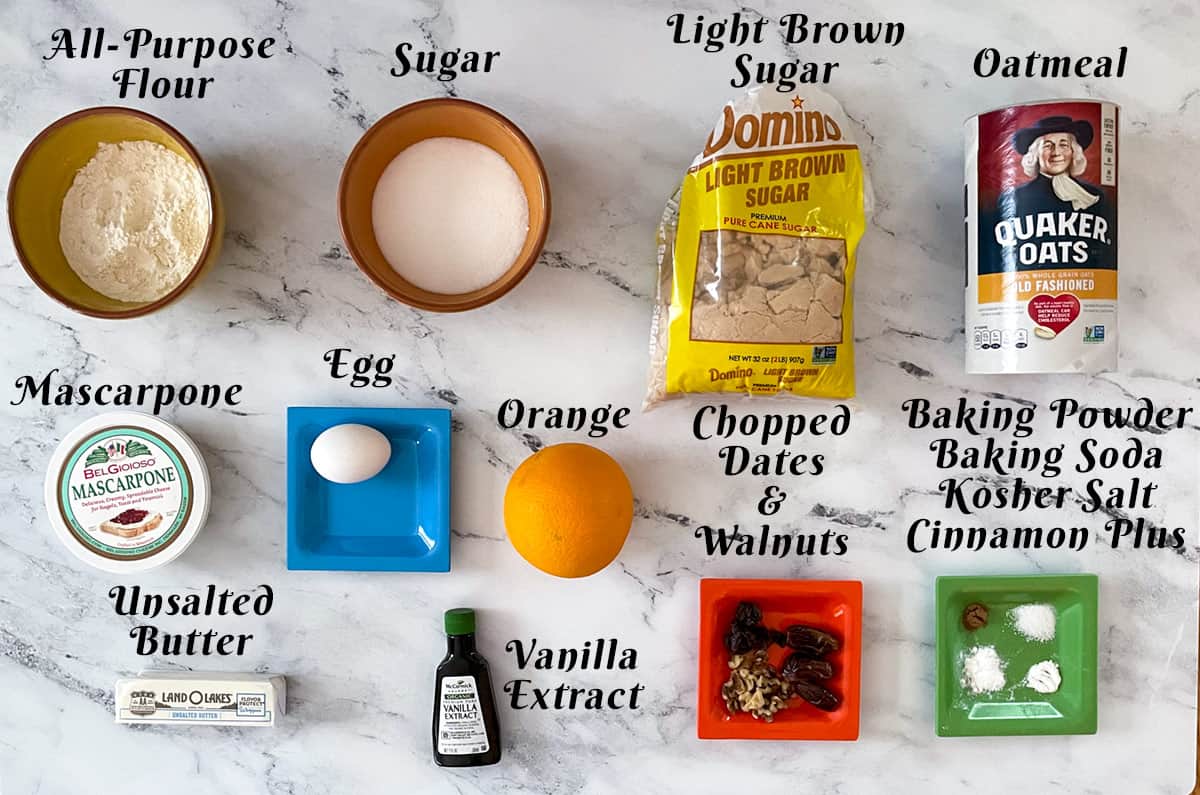 ½ cup Butter unsalted
8 ounces Mascarpone
½ cup Sugar white
½ cup Sugar light brown
1 Egg
1 teaspoon Vanilla extract
½ teaspoon Orange juice
½ Tablespoon Orange zest
1-½ cups All-purpose flour
½ teaspoon Baking soda
1 teaspoon Baking Powder
½ teaspoon Kosher salt
½ teaspoon Cinnamon Plus or regular cinnamon
2 cups Old fashion oats
20-25 Dates chopped whole and pitted
1 cup Walnuts chopped
½ cup Raisins
How to Make a Soft Oatmeal Cookie
Zest and juice one orange. I try not to zest to the white of the skin; it tends to get bitter. Taking whole pitted dates chop them into small pieces.
Mix the butter and mascarpone in your mixer till they are blended. Next, add the sugars and mix for 1 minute at medium speed. Then add the orange zest and juice along with the egg and vanilla extract.
Next, mix in the dry ingredients, the cookie dough will start to thicken up with the oats incorporated.
Finally, add the dates, walnuts, and raisins and mix for about 30 seconds. Cover and chill for at least an hour. Preheat oven to 350°F (175°C or 180°C) and scoop onto a parchment-lined sheet pan 12 mounds. Take your hand or the bottom of a glass and press lightly on the top of each mound so that they are a bit flatter looking. Not much you don't want a pancake, lol. Bake for 12-13 minutes and enjoy!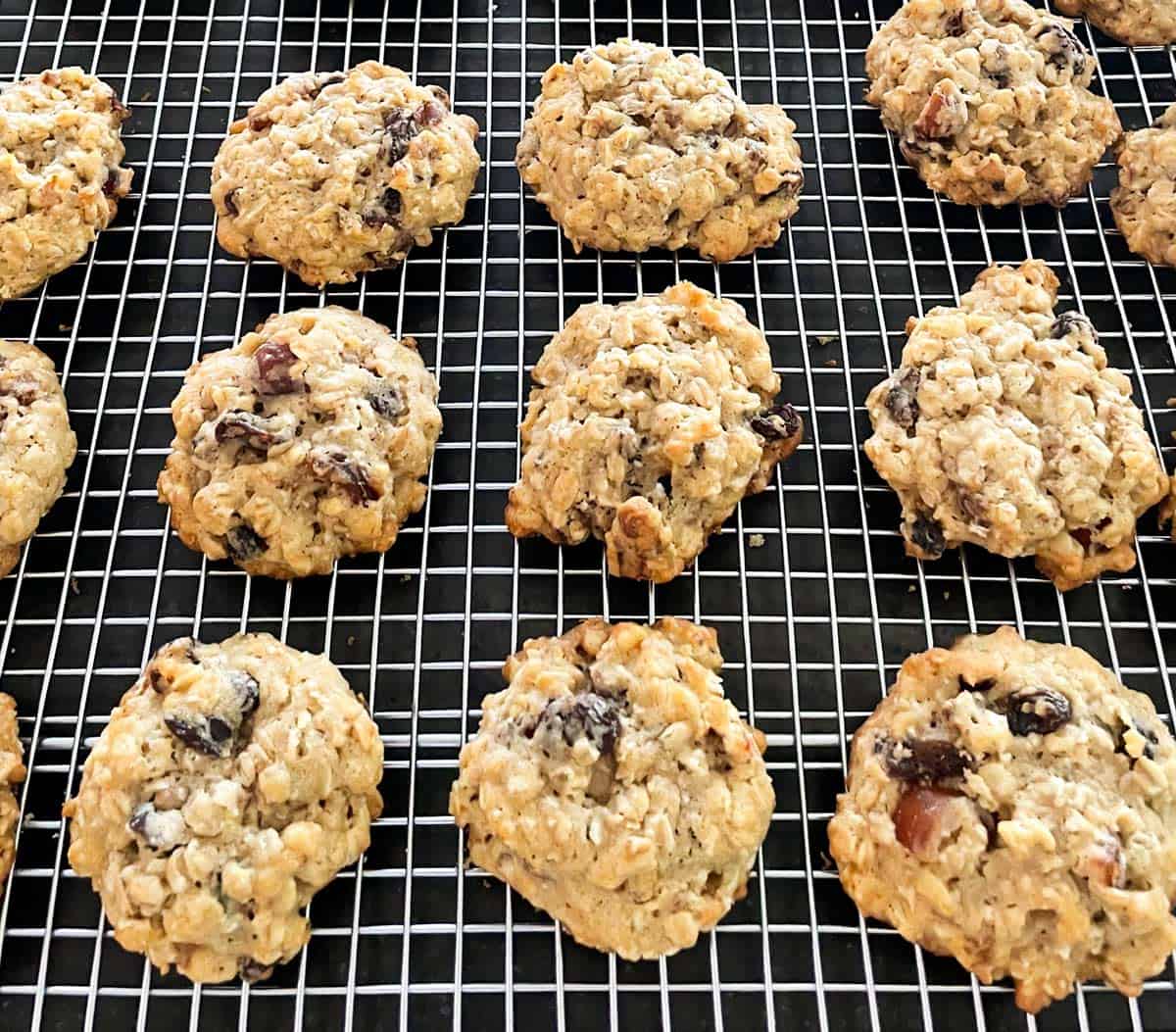 Working with Mascarpone
What is mascarpone, and what is it doing to my cookies? It originated from Italy and is soft and entirely created from heavy cream and citric or tartaric acid.
I often use cream cheese, mascarpone, or ricotta cheese to bring a creaminess to my cookies. Mascarpone is a little sweeter and has a heavier fat content than cream cheese. This makes creamy cookie dough, and mixed with the oats, helps create a soft oatmeal cookie.
Mascarpone is a more delicate ingredient to work within a stand mixer. I have folded in the flour mixture at the end when working with some recipes for the gentle touch. If I use a mixer, I do not mix it for long, and I use cold mascarpone right out of the refrigerator.
So the takeaway is to have all your ingredients ready for the mixer, cold mascarpone, and short mixing cycles. Don't forget to chill your cookie dough before baking!
Other Oatmeal Cookies You Might Enjoy
Recipe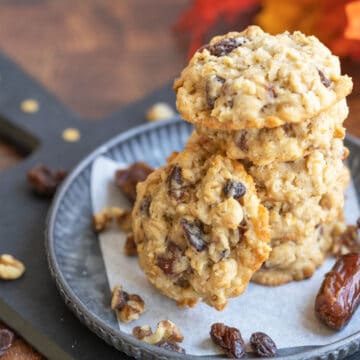 Soft Oatmeal with Dates and Walnut Cookies
Barbara Hall
Oatmeal cookies in the fall are the best! Add some fruits and nuts along with mascarpone for softness, and this is a perfect cookie.
Ingredients
½

cup

Butter unsalted

1 stick softened

8

ounces

Mascarpone

softened

½

cup

Sugar white

99 g

½

cup

Sugar light brown

107 g

1

Egg

1

teaspoon

Vanilla extract

½

teaspoon

Orange juice

½

Tablespoon

Orange zest

1-½

cups

All-purpose flour

195 g

½

teaspoon

Baking soda

1

teaspoon

Baking Powder

½

teaspoon

Kosher salt

½

teaspoon

Cinnamon Plus or regular cinnamon

Pampered Chef

2

cups

Old fashion oats

198 g

20-25

Dates chopped

whole and pitted

1

cup

Walnuts chopped

½

cup

Raisins
Instructions
Zest and juice one orange into separate bowls. I love the sweetness of dates, and I cut up 25 pitted dates into a bowl and set it aside. Next, weigh or measure the sugars into another bowl. Finally, weigh or measure the flour, oats, baking soda, baking powder, salt, cinnamon and run a whisk through to blend.

In your mixer bowl, add the butter and mascarpone and blend till incorporated. Now, add the sugars and mix for 1 minute at medium speed. Next, add the vanilla extract, orange juice, orange zest, and the egg and mix for a minute or until there is no more egg color left. Scrape down the sides and now add the flour mixture. Finally, add the dates, walnuts, and raisins and blend for 30 seconds.

Take the bowl and cover loosely with plastic wrap and refrigerate for an hour. Of course, you can do longer; it will not hurt the cookie dough.

Preheat the oven to 350°F (175°C or 180°C). I use a medium cookie scoop to get even size cookies. Add twelve scoops to a half-sheet pan covered with parchment paper. Next, take a flat bottom water glass and lightly press it down on the mounds to flatten them out just a little. Bake for 12-13 minutes. Leave them on the pan for a minute before moving them to a cooling rack. Enjoy.
Notes
Pampered Chef's Cinnamon Plus Spice Blend 
The Cinnamon Plus spice is one of my favorites for making cookies for the holidays. Unfortunately, it is only offered around this time of year, so follow the link if you would like to try it. I am not affiliated with Pampered Chef.
NUTRITION DISCLAIMER
I am not a certified Dietitian or Nutritionist. The nutrition amounts given below are provided through a program and are only a guideline.
Nutrition
Calories:
148
kcal
Carbohydrates:
17
g
Protein:
2
g
Fat:
8
g
Saturated Fat:
4
g
Polyunsaturated Fat:
2
g
Monounsaturated Fat:
1
g
Trans Fat:
1
g
Cholesterol:
19
mg
Sodium:
71
mg
Potassium:
93
mg
Fiber:
1
g
Sugar:
10
g
Vitamin A:
186
IU
Vitamin C:
1
mg
Calcium:
30
mg
Iron:
1
mg