Kolache cookie recipes are everywhere if you are hunting for holiday cookies. They look so good I wanted to bake and taste these cookies that look like bowties. When reading about them, most Eastern European countries have a similar type of cookie with various shapes. I found a website, A Trip Through Kolache History, that you might find very interesting if you want to know more.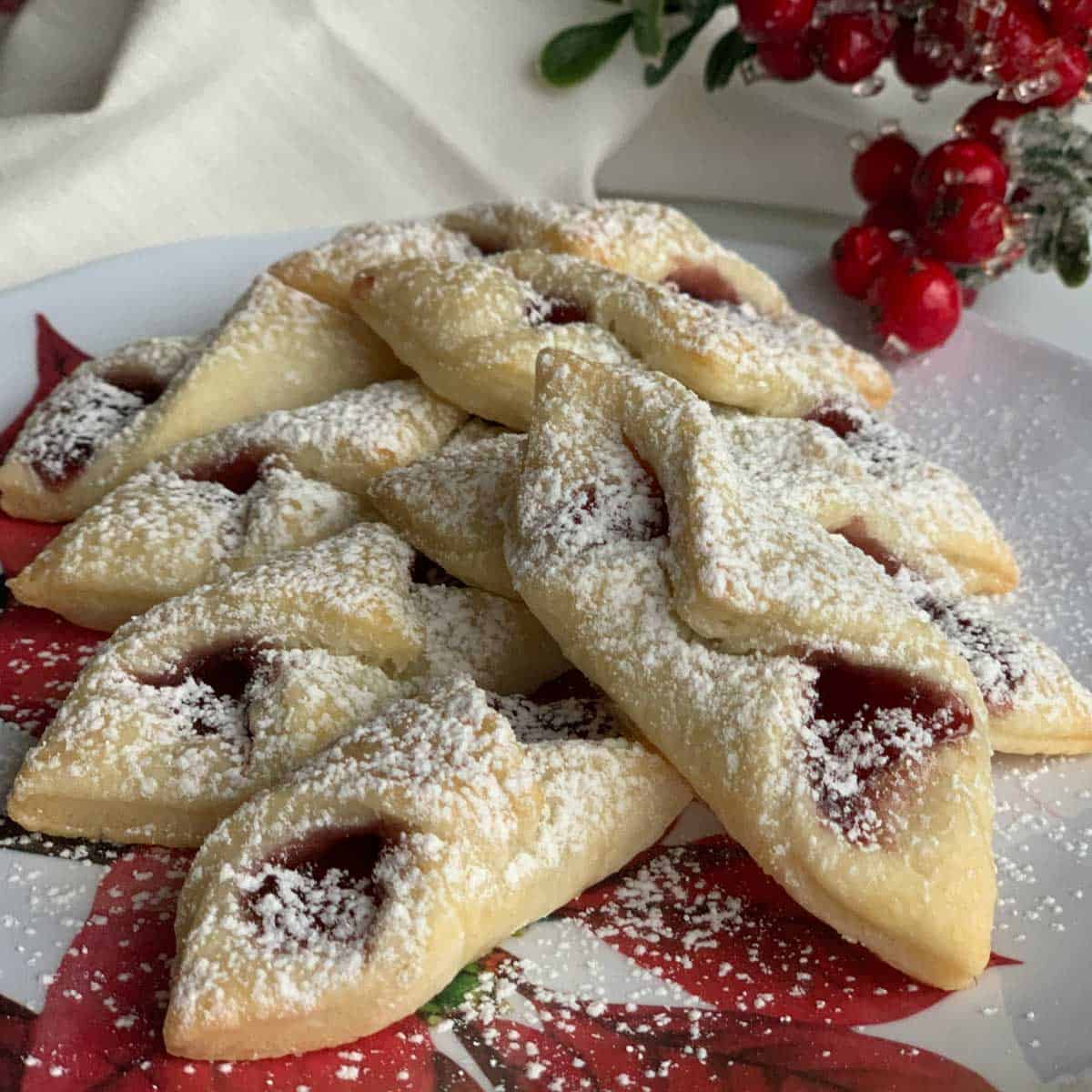 My favorite jam is red raspberry, so of course, this was my choice of jam for the cookie. However, you can certainly use whatever your favorite jam is, and your variation will be beautiful and tasty.
What Not To Do When Making Kolache Cookies
My first adaptation didn't turn out well. The thickness was wrong (¼"), and the recipe I was adapting the technique from used water to seal the corners. So I made some changes, and they turned out just the way I imagined they would be.
But I am not ashamed to show you my trials and tribulations when it comes to failed recipes. I believe that is how we learn and how we grow as bakers. When you can see the mistakes and make changes, you feel more confident about your baking skills.
As you can see, the dough is too thick at ¼", so when baked, the cookie swings open. The other issue was the water did not effectively hold the cookie dough corners together.
Ingredients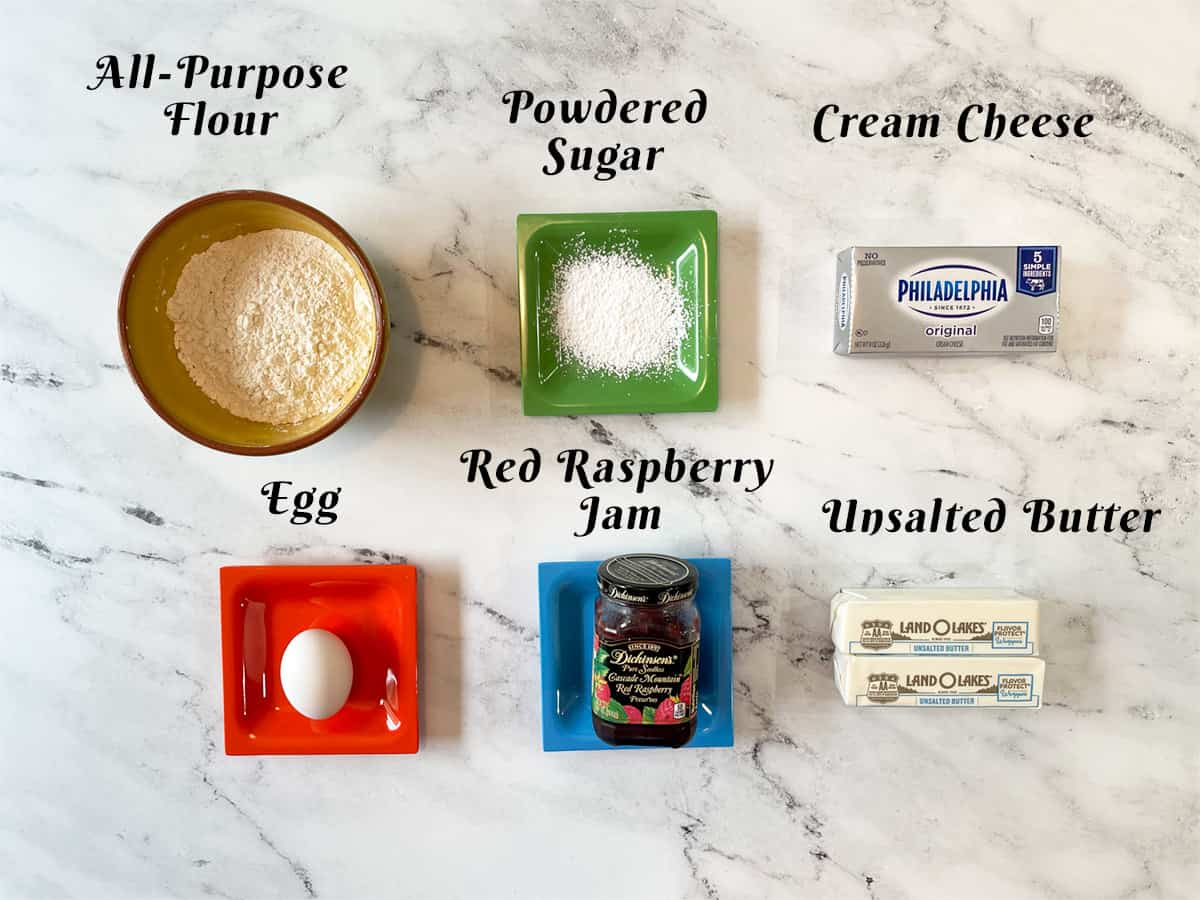 Jump to Recipe for Amounts
Flour
Powdered Sugar
Cream Cheese
Egg White
Red Raspberry Jam or Preserves
Unsalted Butter
If you use red raspberry jam or preserves, this fruit comes with seeds or seedless, I prefer seedless myself, but this is your choice.
Instructions
After mixing your dough according to the recipe below, you must wrap it in plastic and chill it for two hours. This time will give the butter and cream cheese time to firm back up so you can easily roll out the dough.
Carefully roll the dough out to ⅛" thickness, watching not to tear it. Cut out your squares with a knife (a dedicated kitchen ruler is a great tool!) or find a square biscuit or cookie cutter. Mine is 2 ½" square, and I think it makes the perfect size.
I like to place the dough squares right on my baking sheet, so I don't have to move them once filled. Next, use egg whites, well beaten, to seal your cookie edges. Egg whites are a very effective "glue" when you are making shaped or sealed cookies. You can see in the picture how I use a spoon handle to help me close the cookie without pressing it into the jam.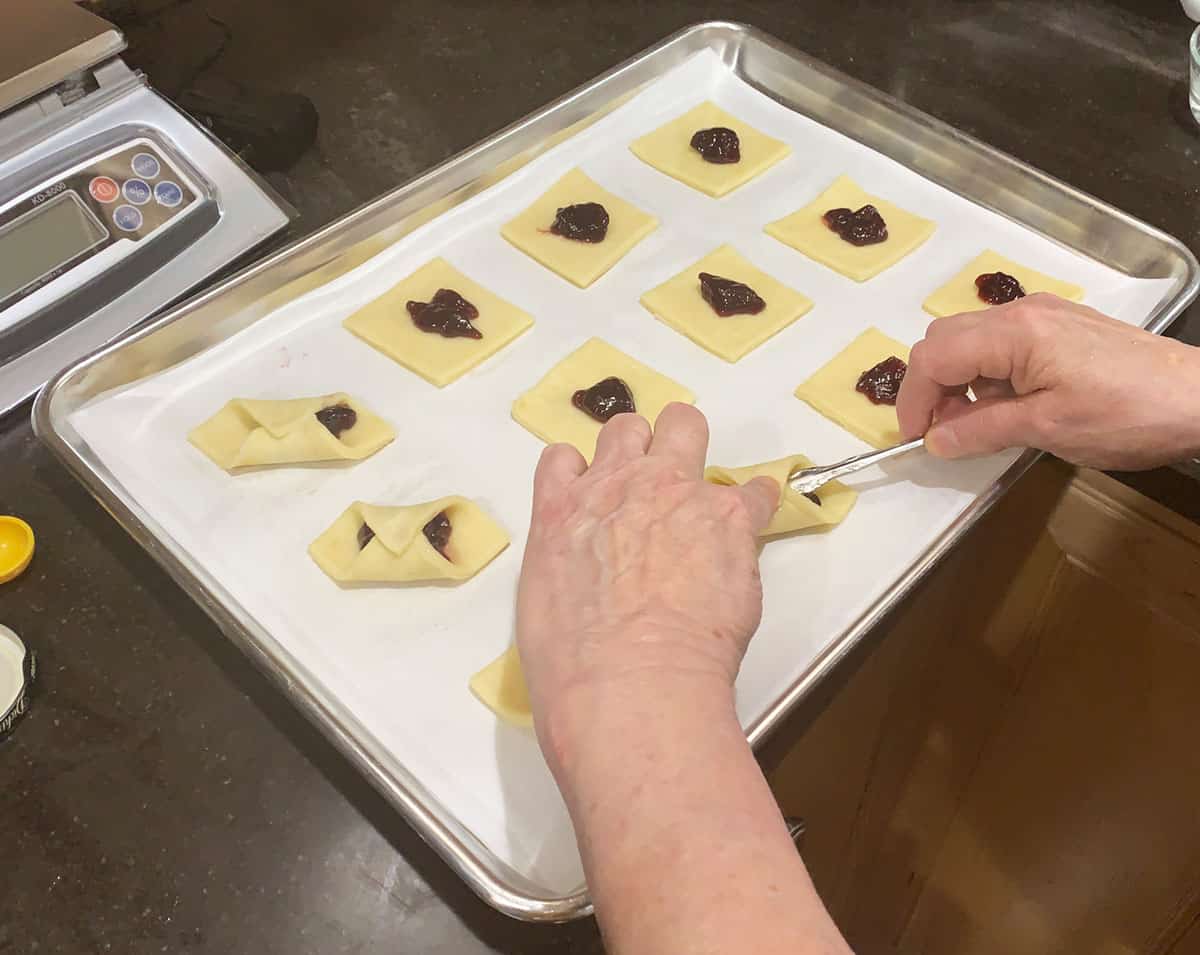 They are now ready to bake! Watch them, so they bake until firm and only browned just slightly.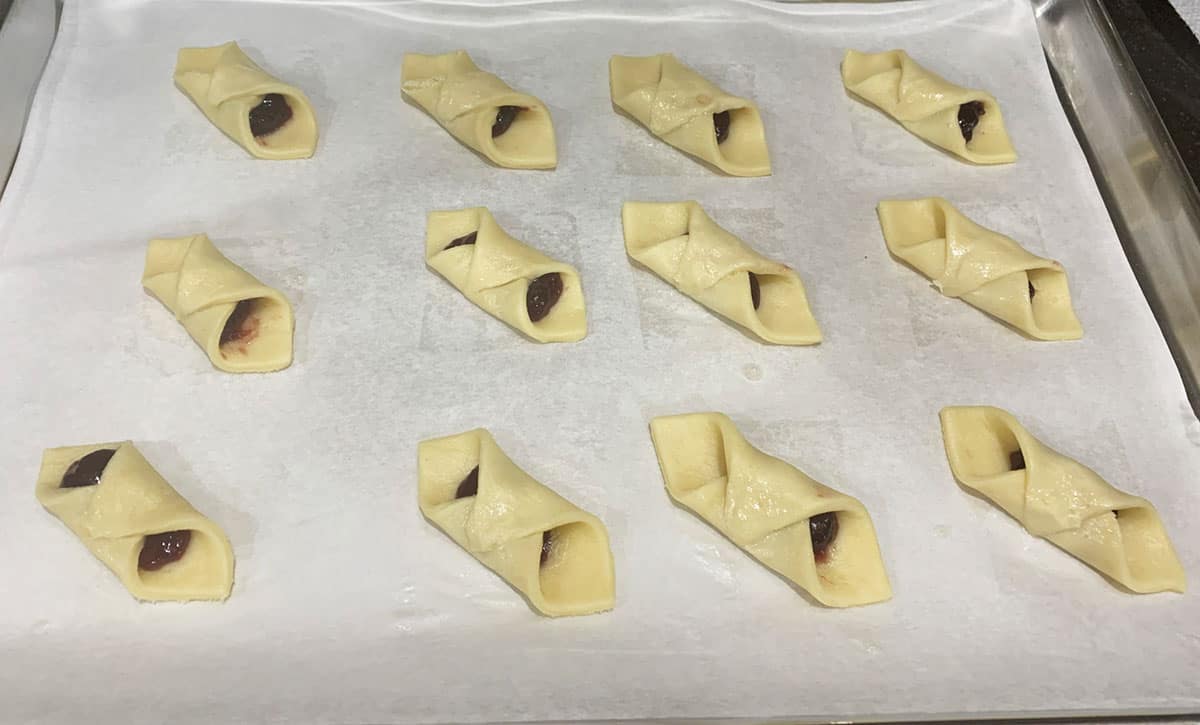 Let cool on a rack before dusting with powdered sugar, and enjoy!
FAQ's
What are kolaches actually called?
I found so many names for these cookies, depending on what country you were researching. But the most common name was kolaches.
How do you keep kolaches fresh?
The cookies can be stored in an airtight container for up to 5 days. When I store them in an airtight container, the powdered sugar starts to be absorbed into the cookie. So keep your powdered sugar shaker handy and dust them a little before serving.
Can I use other jams or preserves?
You most certainly can! Whatever your family's favorite jam or preserve is, just substitute the red raspberry, and they will love these cookies.
Other Jam-Filled Cookies
Recipe
Red Raspberry Kolache Cookies
Barbara Hall
These classic Eastern European cookies can be a bit tricky to make, but they are worth the effort.
Ingredients
1

cup

(

227

g

)

Butter unsalted

room temperature

6

ounces

(

170.1

g

)

Cream Cheese

2 ½

cups

(

312.5

g

)

All-purpose flour

5

ounces

(

141.75

g

)

Red raspberry jam

¼

cup

(

30

g

)

Powdered sugar

For dusting on top of the cookies

1

(

1

)

Egg whites

lightly beaten for sealing
Instructions
Weigh or measure the flour and set aside. You may use a stand or hand-held mixer to cream the butter and cream cheese together. Turn the mixer speed down and gradually add the flour.

Incorporate the flour into the butter and the cream cheese mixture. You can always dump it onto a pastry sheet and finish kneading it together. Flatten out the dough and wrap in plastic wrap, put into the refrigerator for 2 hours.

Taking the dough out of the refrigerator, I break it into quarters. I used my hands to knead it a little, so it made it easier to roll out. Line your cookie pan with parchment paper and preheat your oven. On a lightly floured surface, roll the dough to ⅛" thickness. I have a cookie cutter that is 2-½ inch square-shaped, which made the perfect size. I kept rolling out the excess dough till I had 12 squares on a cookie pan.

Putting about ½ to 1 teaspoon of red raspberry jam (you can substitute another favorite jam if you like) in the middle of the square cookie dough. Next, I take the end of a long teaspoon that you use for ice tea and hover over the jam. I then take the corner over the spoon end and dab the top with the slightly beaten egg white. Then bring the opposite corner over and press lightly to seal. I put the spoon between the jam and the cookie dough corners so I can press and seal without pushing all the jam out of the ends. I dab a little egg white on top of the pressed corner edges to make sure they seal.

Bake at 350° for 14-16 minutes or until lightly browned on the corner edges. Move them to a cooling rack after taking them from the oven. Dust them with powdered sugar after they have cooled.
NUTRITION DISCLAIMER
I am not a certified Dietitian or Nutritionist. The nutrition amounts given below are provided through a program and are only a guideline.
Nutrition
Calories:
131
kcal
Carbohydrates:
9
g
Protein:
1
g
Fat:
10
g
Saturated Fat:
6
g
Polyunsaturated Fat:
1
g
Monounsaturated Fat:
3
g
Trans Fat:
1
g
Cholesterol:
28
mg
Sodium:
28
mg
Potassium:
25
mg
Fiber:
1
g
Sugar:
4
g
Vitamin A:
332
IU
Vitamin C:
1
mg
Calcium:
12
mg
Iron:
1
mg