Looking in my refrigerator, I saw a fresh cranberry bag in a drawer that I purchased about 2 weeks ago. They were the first to hit the fruit section in the store for the year, so I grabbed a bag. Not sure what I was going to do with them, but I wanted something that had apples and cranberries in them. So many choices, so I started looking up flavors that went well together.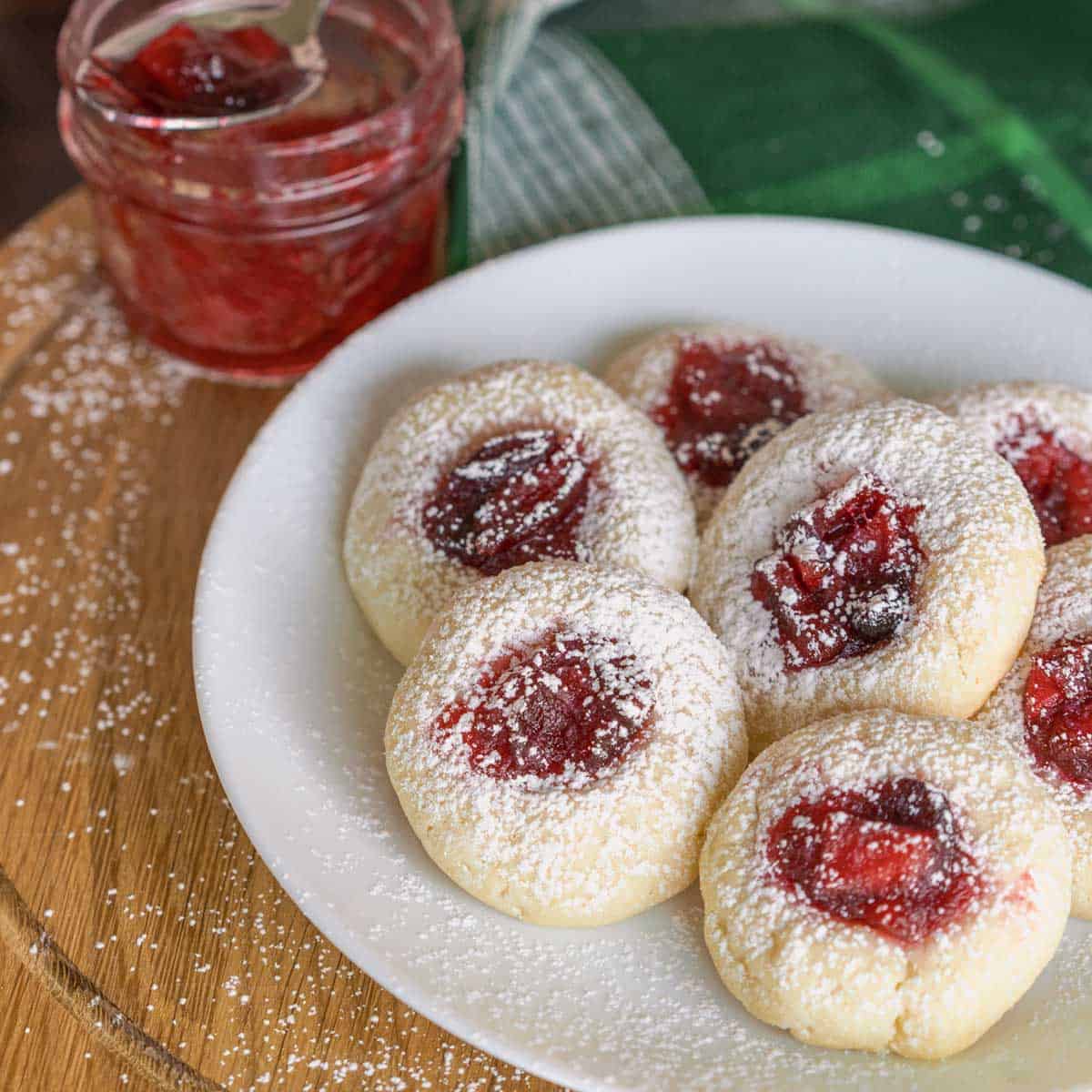 Of course, orange and cranberry go together very well since we have relishes made of these two ingredients for Christmas. But I wanted to add a little fall into these cookies, so I added a Granny Smith apple. LOVE these apples. They hold their shape and do not get mushy in the cookies.
Ingredients You Will Need
Flour
Sugar
Water
Holiday Spice Blend*
Cranberries
Granny Smith Apple
Powdered Sugar
Unsalted Butter
Lemon
Cream Cheese
The jam is so easy to make. Just a few ingredients cook on the stove, then let it cool. I added just a little lemon zest and juice to wake up the flavors. Speaking of flavors, I like cloves and cinnamon with my cranberries but had difficulty deciding on the ratio.
A friend of mine just became a Pampered Chef consultant, so I purchased a few things from a few of my friend's virtual parties. My good friend said they had a few spices that would be offered for the holidays, and after looking at them, I purchased them. They arrived just in time to make these cookies. The one I used for this cookie is called Cinnamon Plus. It had all the spices I wanted plus orange peel. I think it is a perfect choice.
How to Make Apple Cranberry Jam Cookies
Granny Smiths are the perfect apple when you are baking or making a jam. Their tart flavor offsets the added sugar, and they also hold their shape. Give them bite-size dice for easy eating.
Add the jam ingredients to a pot and get to simmering!
As they cook, fresh cranberries give a little pop and will turn the jam a beautiful red color. Once it starts to thicken, you'll be ready for the next steps.
You can jar this up to use as gifts or to save for later for spreading on toast or baking more cookies.
I do like to use a cookie scoop to make sure my cookies are equal in size. This way I know how much jam to use on each one to achieve the perfect ratio of cookie to jam. After scooping, roll them into smooth balls.
Gently use your thumb to make a well in each cookie before adding a bit of your freshly made jam.
You'll notice the cookie puff up nicely to contain the jam. Be sure and dust with powdered sugar once they have cooled completely.
Please Enjoy Other Cranberry Cookies
Fresh Cranberry Orange Pecan Shortbread Cookies
Cranberry Orange and Walnut Rugelach
Cranberry Cinnamon Caramelized Walnut Cookies
Recipe
Apple Cranberry Homemade Jam Cookies
Barbara Hall
Jam is easy to make, and so are the cookies. You do need to leave the cookie dough in the refrigerator for an hour before baking the cookies.
Ingredients
APPLE CRANBERRY HOMEMADE JAM
1

Granny Smith apple

makes about 2 cups of peeled and diced apple

1

cup

Fresh cranberries

1 ¼

cup

Sugar white

¼

cup

Water

1

teaspoon

Holiday spice blend*

1

tablespoon

Lemon juice

1

tablespoon

Lemon zest
COOKIE DOUGH
8

oz

Cream Cheese

softened

1

cup

Butter unsalted

2 sticks room temperature

1

cup

Sugar white

198 g

2 ½

cups

All-purpose flour

300 g

Powdered sugar

Sprinkle on top
Instructions
APPLE CRANBERRY HOMEMADE JAM
Peel and dice the Granny smith apple and diced it pretty small. These pieces will need to go into a well in the center of the cookie. Zest and juice 1 lemon into 2 bowls and set aside.

In a medium-size saucepan, add the cranberries, diced apple pieces, water, and sugar, bringing the mixture to a boil over medium-high heat. Don't worry about the size of the whole cranberries. They will pop open and become small. Stir constantly for about 10 minutes till the cranberries open, and the apple pieces soften. Add the lemon zest and juice plus the holiday spice blend. Stir and cook until it starts to thicken and become syrupy. Transfer to glass containers to cool. This recipe for the jam will make 2 batches of these cookies. I have 4 small canning jars that I put mine into to cool. I use 2 for this recipe and can make another batch to use the other two later.
COOKIE DOUGH
Weigh or measure the flour and sugar into two separate bowls and set them aside. In a stand or handheld mixer, add the cream cheese and butter, blending on medium speed for 2 to 3 minutes. Add the sugar and blend till it looks like a thick cake batter (about 2 minutes). It will look smooth. Stop and scrape down the sides and the bottom of the mixing bowl and blend for another 30 seconds. Turn the mixer onto low speed and gradually add the flour till incorporated. Cover loosely and refrigerate for an hour.

Preheat the oven to 350°, and line 2 cookie sheet pans with parchment paper. For these cookies, I use a medium cookie scoop. Take the cookie dough scoop, make a ball using your hands, and place it on the cookie sheet. I get 12 balls to a sheet pan.

Taking your thumb and pushing down right through the middle of the dough ball to make a well. I move my thumb around in a circular motion, so the well opens up some to accommodate more of the jam. Fill the well with the jam. I use a teaspoon to push the jam off the spoon easier than using a measuring spoon.

Bake for 11 - 13 minutes until they are light brown on the bottom. Move them to a cooling rack and let them cool completely. I take a powdered sugar shaker and sprinkle the sugar on top. This recipe makes about 2-½ dozen. Enjoy the cookies!
Notes
* The holiday blend I used was the Cinnamon Plus by Pampered Chef. You can make your own depending on what spices you add together. Usually, it is cinnamon, cloves, ginger, nutmeg, allspice, and more. It does not have to be all them just what you like. Pampered Chef added orange peel in theirs, and that sounded really good to me. Just had to try it...
NUTRITION DISCLAIMER
I am not a certified Dietitian or Nutritionist. The nutrition amounts given below are provided through a program and are only a guideline.
Nutrition
Calories:
181
kcal
Carbohydrates:
25
g
Protein:
2
g
Fat:
9
g
Saturated Fat:
5
g
Polyunsaturated Fat:
1
g
Monounsaturated Fat:
2
g
Trans Fat:
1
g
Cholesterol:
25
mg
Sodium:
26
mg
Potassium:
34
mg
Fiber:
1
g
Sugar:
16
g
Vitamin A:
296
IU
Vitamin C:
1
mg
Calcium:
13
mg
Iron:
1
mg