This shortbread cookie is not the type that you roll into logs, chill, slice, and bake. I put the cookie dough into a pastry bag and pipe out the dough to create rosette-style shortbread cookies. Then, fill the center with a small bit of thick jam—perfect no-chill shortbread jam cookies for quick baking.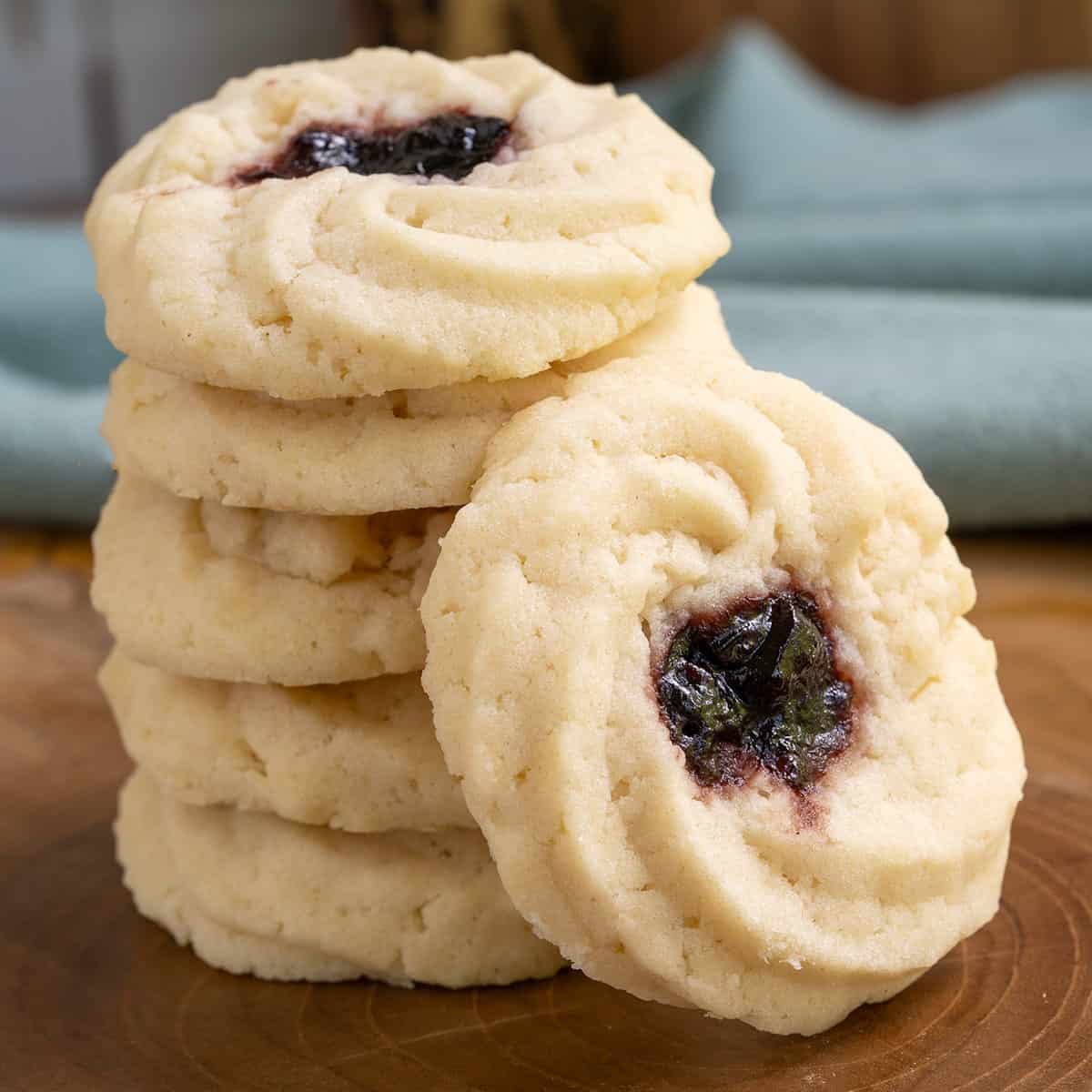 They are buttery and just enough jam to give it that fruity taste. I did get 24 cookies with this recipe, but you can adjust the count in the recipe card below.
Jump to:
Ingredients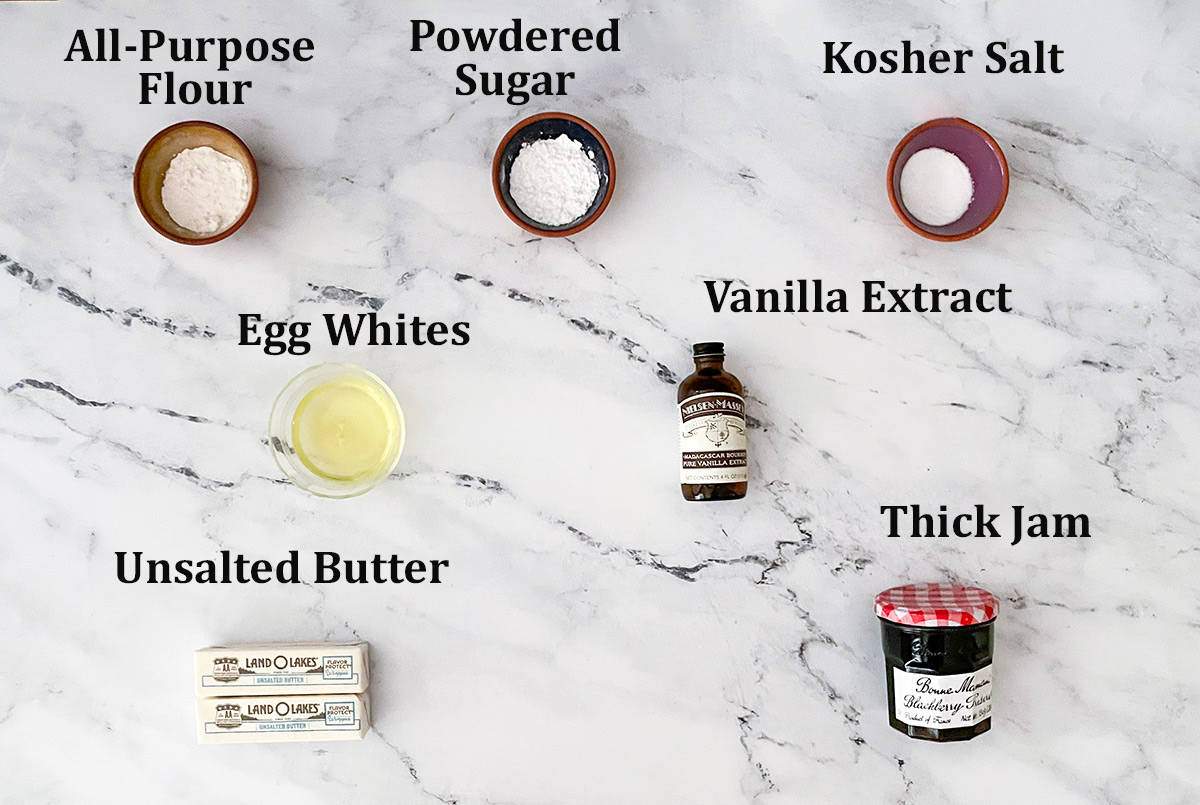 Jump to Recipe for Amounts
Unsalted butter
Powdered sugar
Egg white
Vanilla extract
Kosher salt
Thick jam
What I Use for Piping Cookie Dough
The two main types of (piping bags) are pastry bags, which are disposable or reuseable. I prefer disposable mainly because I do not need a pastry bag every day, so it works out better for me.
Pastry Bags
I used a 16" disposable pastry bag by Sweetshop that you can purchase at American Crafts. The only thing I recommend if you purchase other brands (which there are many) is to ensure they are sturdy. Cookie dough is usually a little thicker than frosting and can break some thinner gauge pastry bags.
If you need to use a baggie like a Ziploc as a substitute, use one of the freezer bags. I would only do this method in a pinch. I don't really trust them not to break.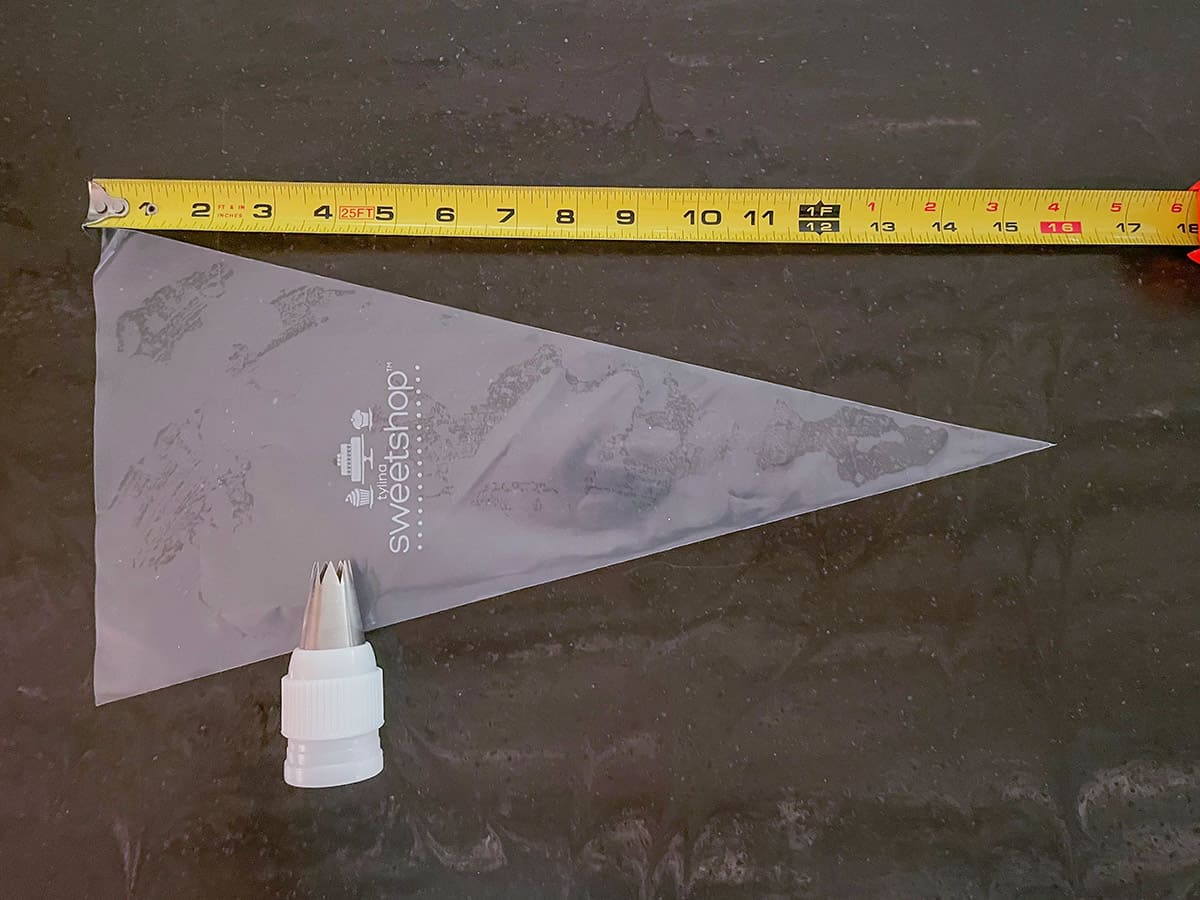 The tip I use for piping cookie dough into rosettes is an open star made by Ateco # 826 which can be purchased at Amazon. I like the open star because it is easier to pipe the cookie dough through a bigger opening since it is ½" wide.
Coupling and Pastry Bags
To go along with the Ateco tip, I use a coupling from the Webstaurantstore. If you have done piping with just the tip and are comfortable using that method, that is great! I find I have a better grip when including the coupling.
There are a couple of methods on how to add the tip and coupling to a disposable pastry bag and here is mine. I add the tip to the inside coupling and push it through the to the narrow part of the bag. It usually takes me two cuts off the end of the bag to allow enough of the tip to come through the end of the bag.
Then I simple screw the top part of the coupling over the tip. This method has worked well for me over the years. This method works for this cookie since I will not be changing tips.
They also have pastry bag holder stands that can hold the bag in place while filling it. The one I have is no longer available, but Amazon has plenty. Just make sure it will hold a 16" pastry bag.
How to Make Shortbread for Piping
Prepping is easy for this cookie. In a small bowl, weigh or measure the powdered sugar and set it aside. In a medium bowl, weigh or measure the flour and the salt. I run a whisk through to blend the two.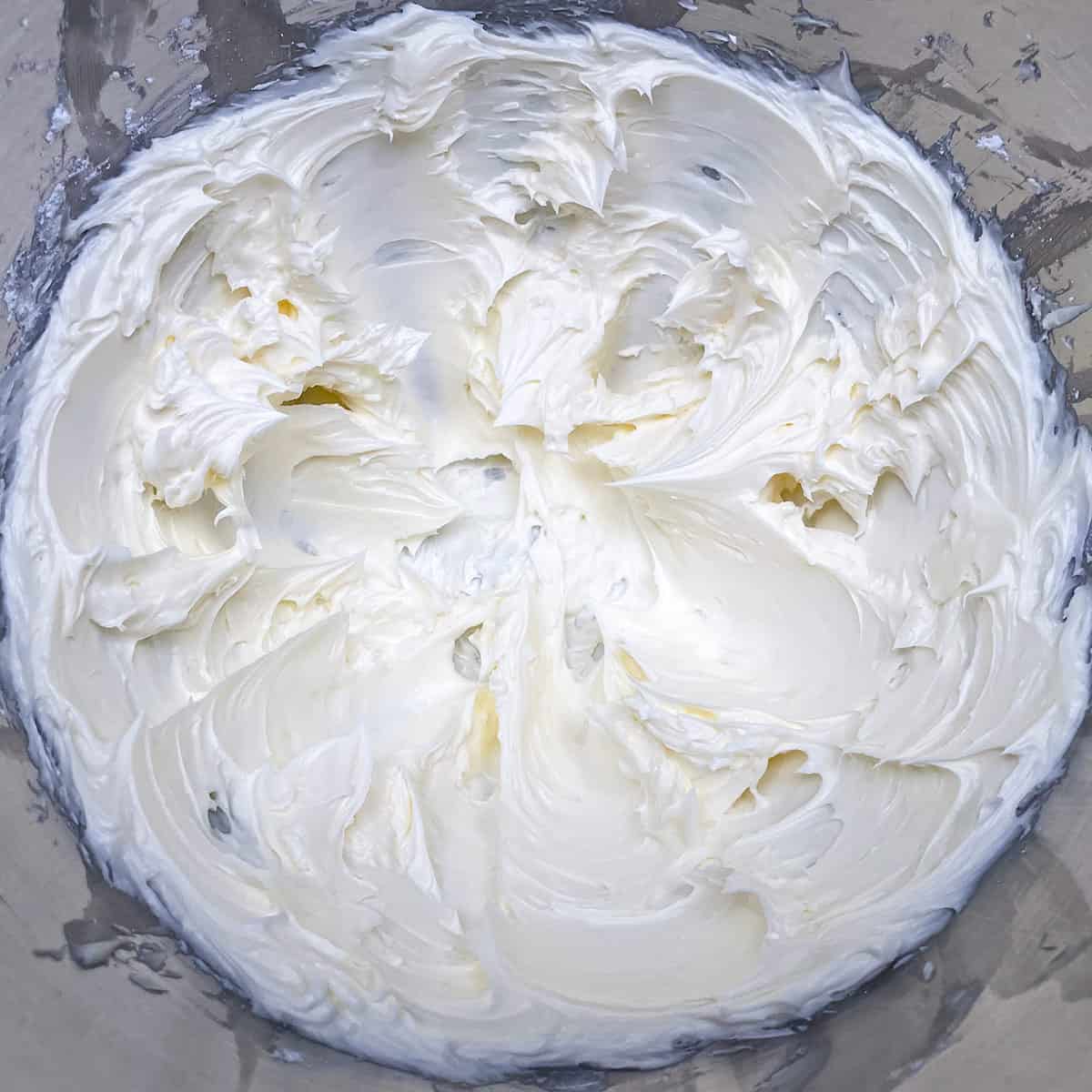 Add the soft butter and powdered sugar to a mixer bowl. Start on the lowest setting until the sugar is blended with the soft butter. Then, turn the mixer to a medium speed and mix for 2 to 3 minutes.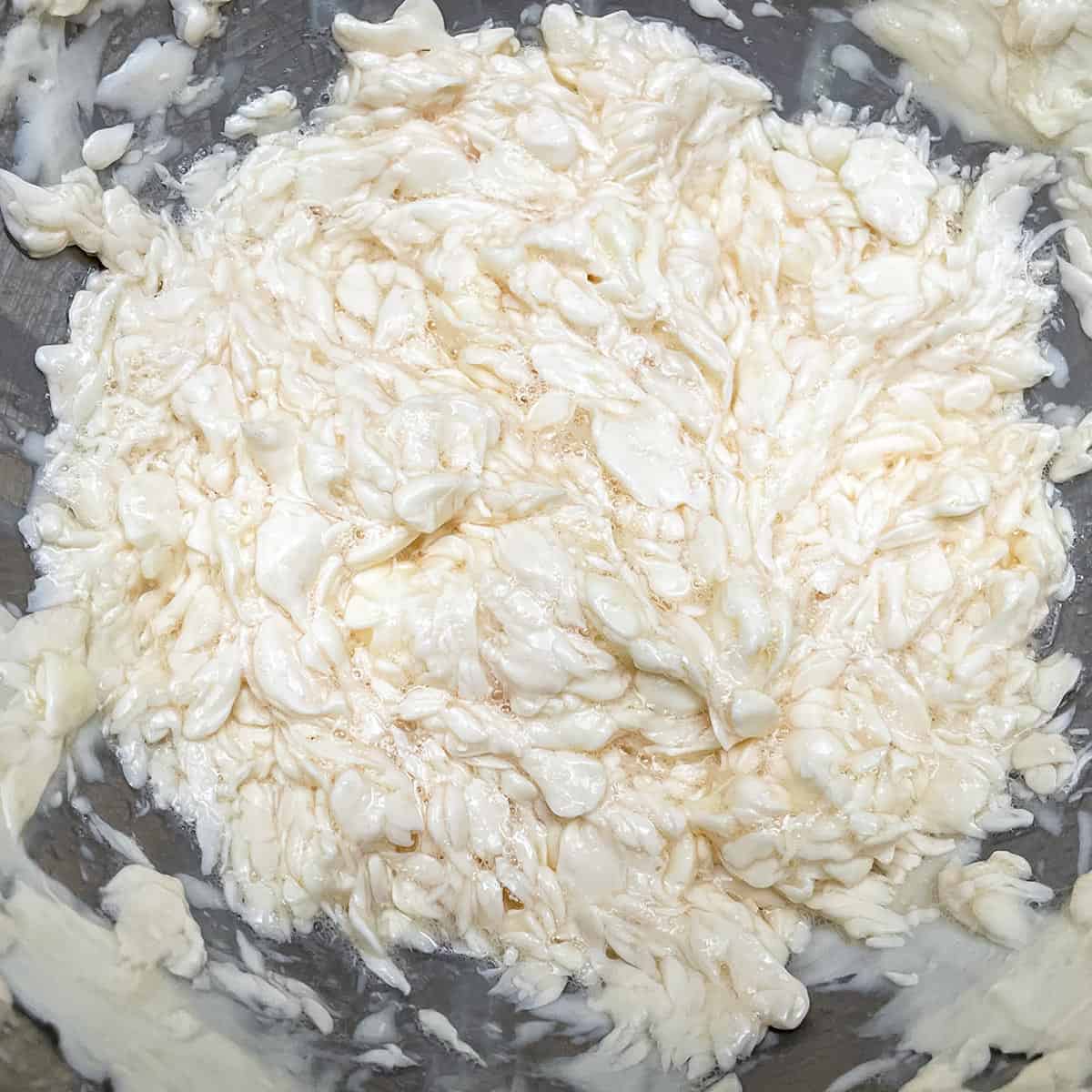 Next, add the egg whites and the vanilla extract and mix. I will tell you the egg whites separate the butter and sugar mixture into what looks like pellets. But this is okay; the flour will bring it together.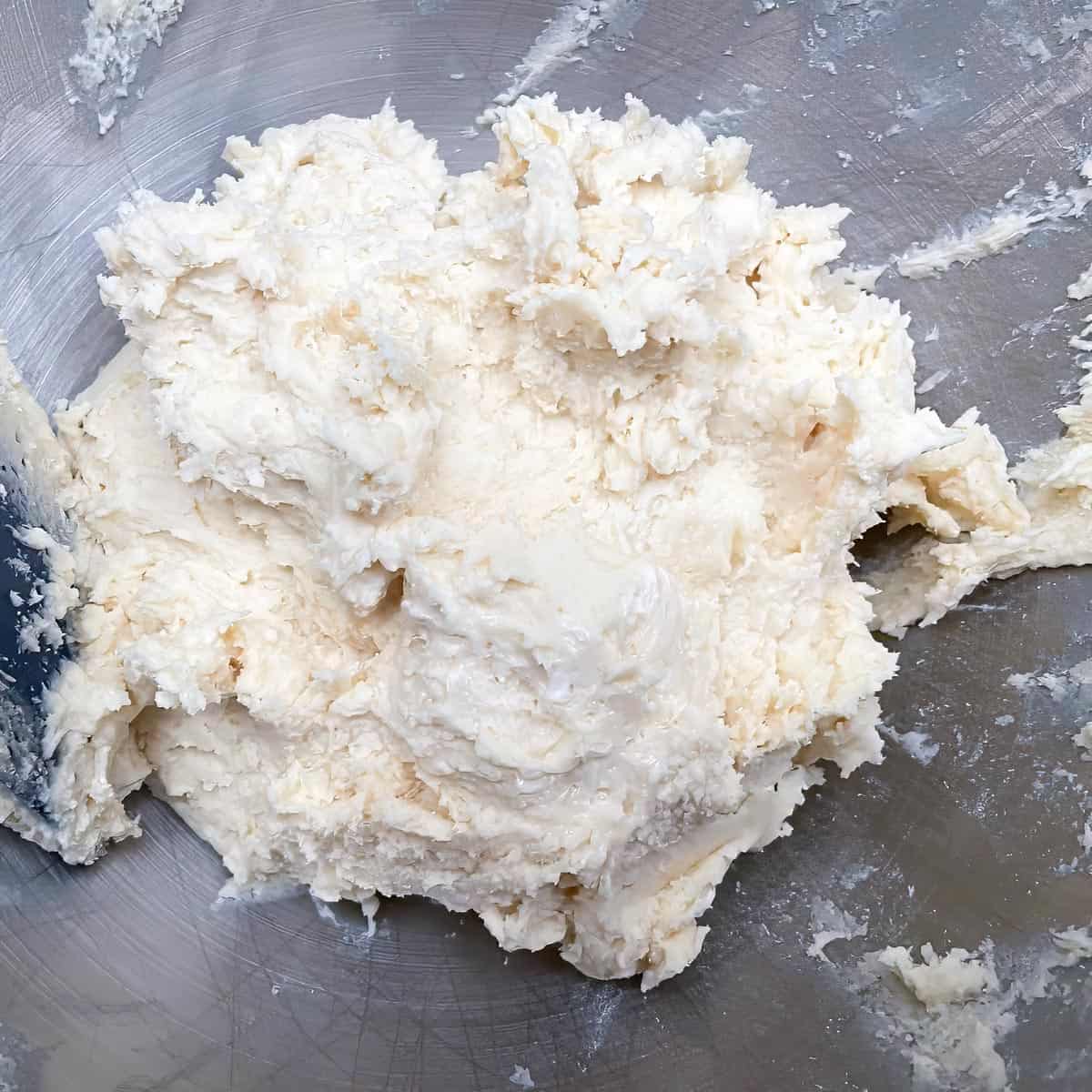 Add the flour and mix for about a minute. Then, I take the cookie dough from the mixer bowl onto a plate. Make sure all the flour is mixed in. Then, divide the cookie dough in half on the plate.
Create Shortbread Rosettes
Prepare the pastry bag using a 16" bag with an Ateco tip #826 and an Ateco medium coupling. (Ateco tip and coupling links)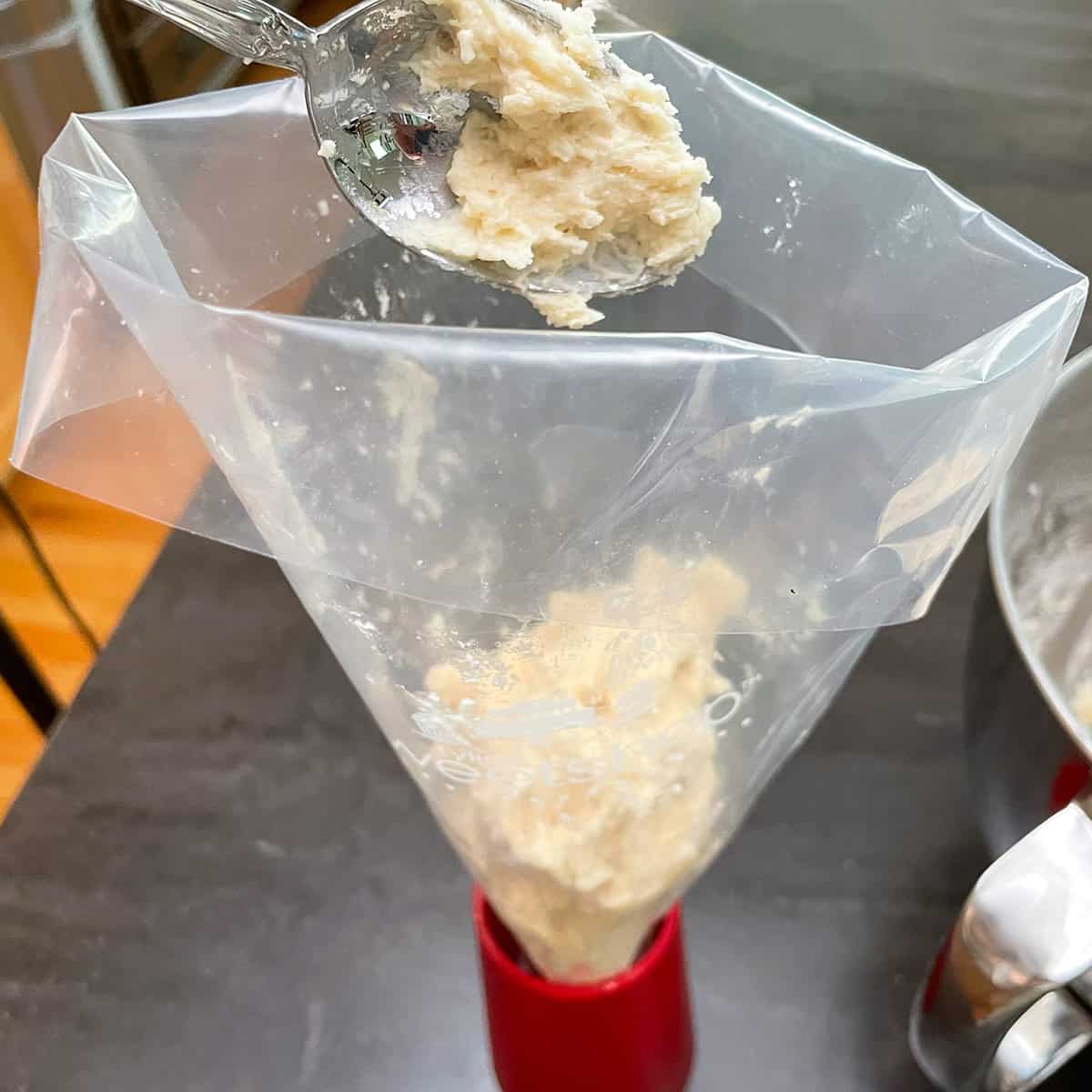 Half the cookie dough will fit into the pastry bag, and I got 12 piped rosettes. If you think the cookie dough is a little stiff, you can heat just that half for 2-3 seconds. Just enough to warm the cookie dough but not enough to turn the butter into liquid.
Heat your oven to 350°F (175°C or 180°C) while you assemble the cookies!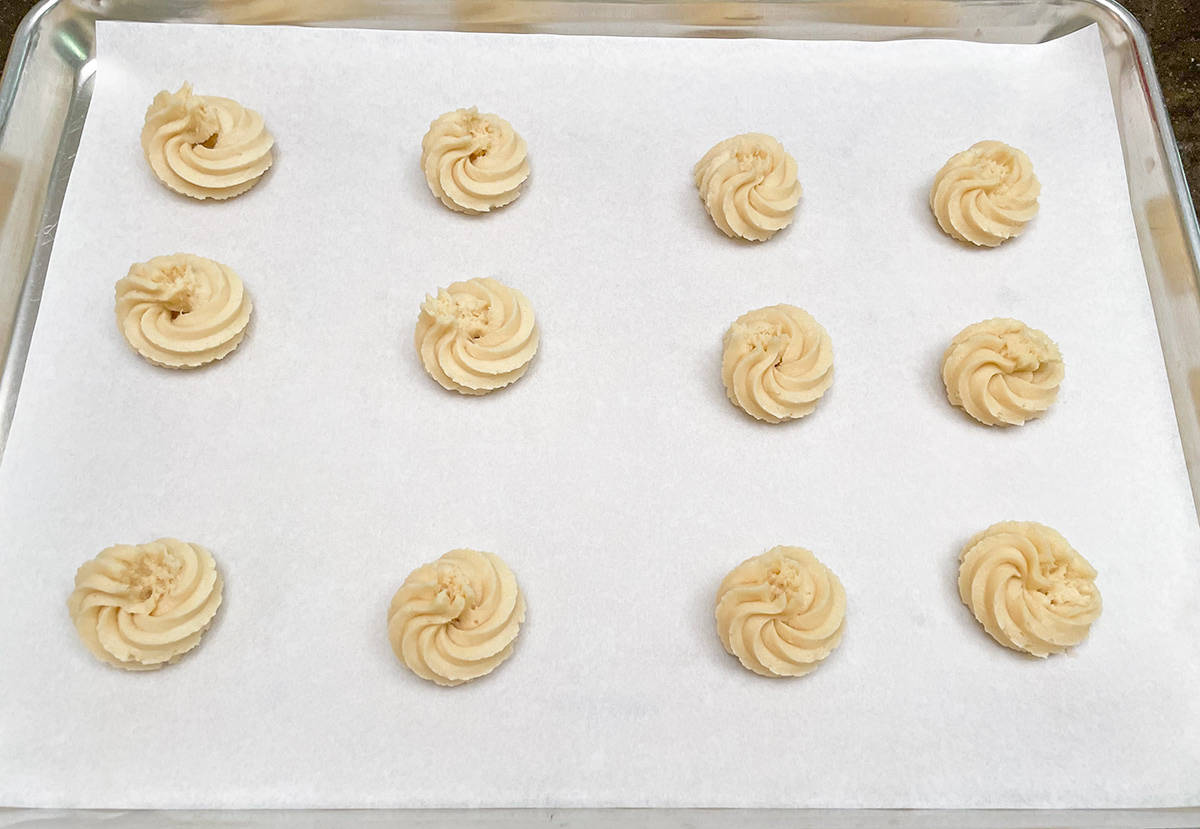 If you have never piped rosettes, it might take a few rosettes to get the hang of it. Just start and go around in a circle and meet in the middle after making the circle. Here is a YouTube video for different shapes of piping cookies.
I used a small round teaspoon to make an indent right in the middle for the thick jam. My preference is blackberry, but you can use another fruit jam if that is what you have in your cabinet.
Put a small amount of jam on the end of a spoon and add it to the indent you made with the round teaspoon end.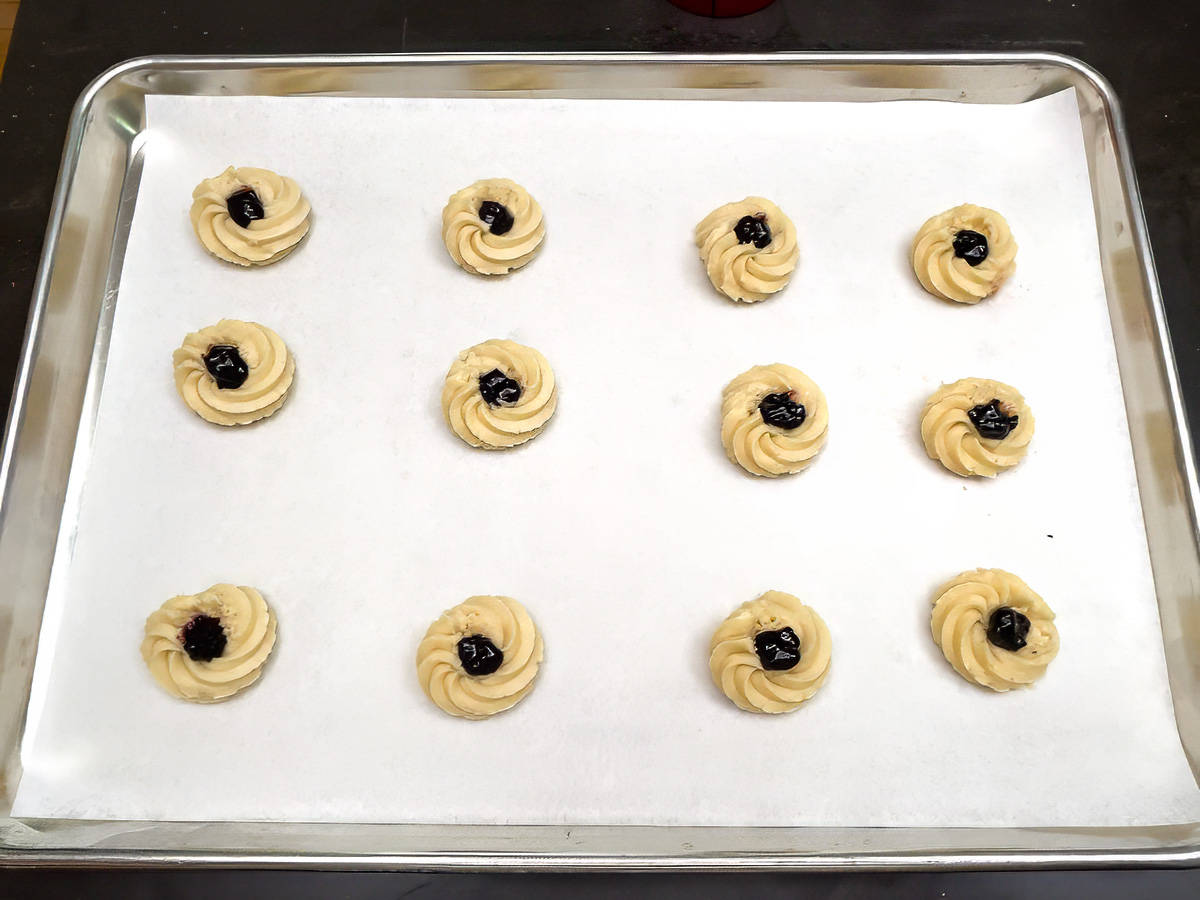 After filling all the cookies with jam. If the cookies dough seems soft, you can stick the whole sheet pan into the fridge for 15 minutes before baking. Bake for 9-11 minutes at 350°F (175°C or 180°C). Move them to a cooling rack after they come out of the oven.
Now, repeat with the other half of the cookie dough.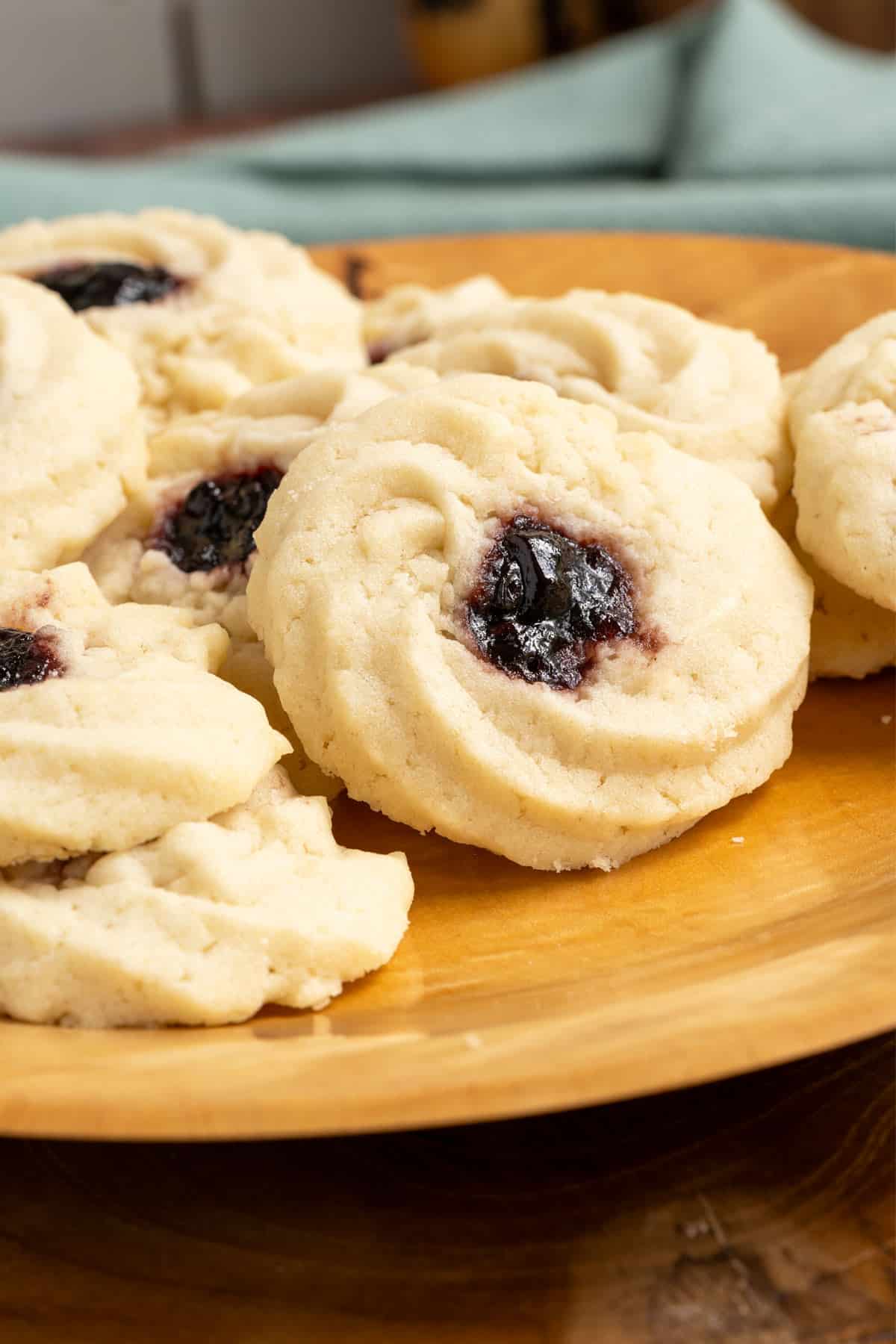 Enjoy!
FAQ's
Can I use other jams for my cookies?
You can certainly use your favorite fruit jam. I would be careful of using preserves since they usually have fruit chunks. Some fruit pieces may be too big for the small indent in the rosette cookie.
Can I refrigerate my piped cookies before I bake them?
If the cookie dough is too warm and soft, they can lose their shape when baking. So, to help stop that getting the butter cooled down again can help with keeping their shape.
Why do I have so many different size cookies when I am piping?
Well, practice does help! But there are things you can do to help. Take a flat-bottom drinking glass and, using a pencil, mark 12 circles on the parchment paper; this will give you a guide for the size of the cookies. You can also purchase silicone baking mats on Amazon that have circles. They are commonly used for making macarons.
Other Shortbread Cookies
Recipe
Shortbread Cookies with Jam - Revised
Barbara Hall
This quick, no-chill shortbread recipe with a thick, rich jam is perfect for Christmas, an afternoon snack, or anytime.
Ingredients
1

cup

(

227

g

)

Unsalted butter

softened

⅔

cup

(

80

g

)

Powdered sugar

2

(

2

)

Egg white

1

Tablespoon

(

2

teaspoons

)

Vanilla extract

½

teaspoon

(

0.5

teaspoon

)

Salt

2

cups

(

250

g

)

All-purpose flour

2

Tablespoon

(

340

g

)

Thick jam
Instructions
Weigh or measure the powdered sugar into a bowl and set it aside. Next, weigh or measure the flour and salt in another bowl and whisk to blend.

Preheat oven to 350°F (175°C or 180°C) so it has time to heat up. Blend powdered sugar and softened butter in a mixer (hand or stand) for 2-3 minutes.

I stopped the mixer and scrape down the sides. Then add the egg whites and vanilla extract, mixing until well blended. Slowly add the flour and salt until incorporated into the wet ingredients, about 1 minute. Take the cookie dough out of the mixer bowl and ensure all the little pieces at the bottom of the mixer bowl are incorporated.

Line cookie pans with parchment paper and set aside. If it is too stiff, take half of the cookie dough and microwave for 2-3 seconds. You do not want the butter to become a liquid, so only a few seconds in the microwave. Half of the cookie dough will fit into the 16-inch piping bag. You want the dough to be pliable enough to go into a pastry bag and be able to squeeze out the dough through a large open star tip.

Pipe 12 onto a pan and make the cookies about 2 inches in diameter. Next, I take a ⅛" teaspoon round end and press a small indent into the middle of each cookie. Take a small amount of jam and fill in the indent. If the piped cookie dough seems soft, refrigerate it for 15 minutes before baking. This will help to keep the rosette shape.

Bake for 9-11 minutes at 350°F (175°C or 180°C) or until the sides slightly turn golden brown. Move to a cooling rack right away.
NUTRITION DISCLAIMER
I am not a certified Dietitian or Nutritionist. The nutrition amounts given below are provided through a program and are only a guideline.
Nutrition
Calories:
126
kcal
Carbohydrates:
14
g
Protein:
2
g
Fat:
7
g
Saturated Fat:
4
g
Polyunsaturated Fat:
1
g
Monounsaturated Fat:
2
g
Trans Fat:
1
g
Cholesterol:
18
mg
Sodium:
54
mg
Potassium:
22
mg
Fiber:
1
g
Sugar:
4
g
Vitamin A:
208
IU
Vitamin C:
1
mg
Calcium:
4
mg
Iron:
1
mg