Cheesecake bites are my favorite and easiest way to have cheesecake. It has enough cream cheese that when it has been in the refrigerator overnight, it can be picked up and eaten just like a cookie.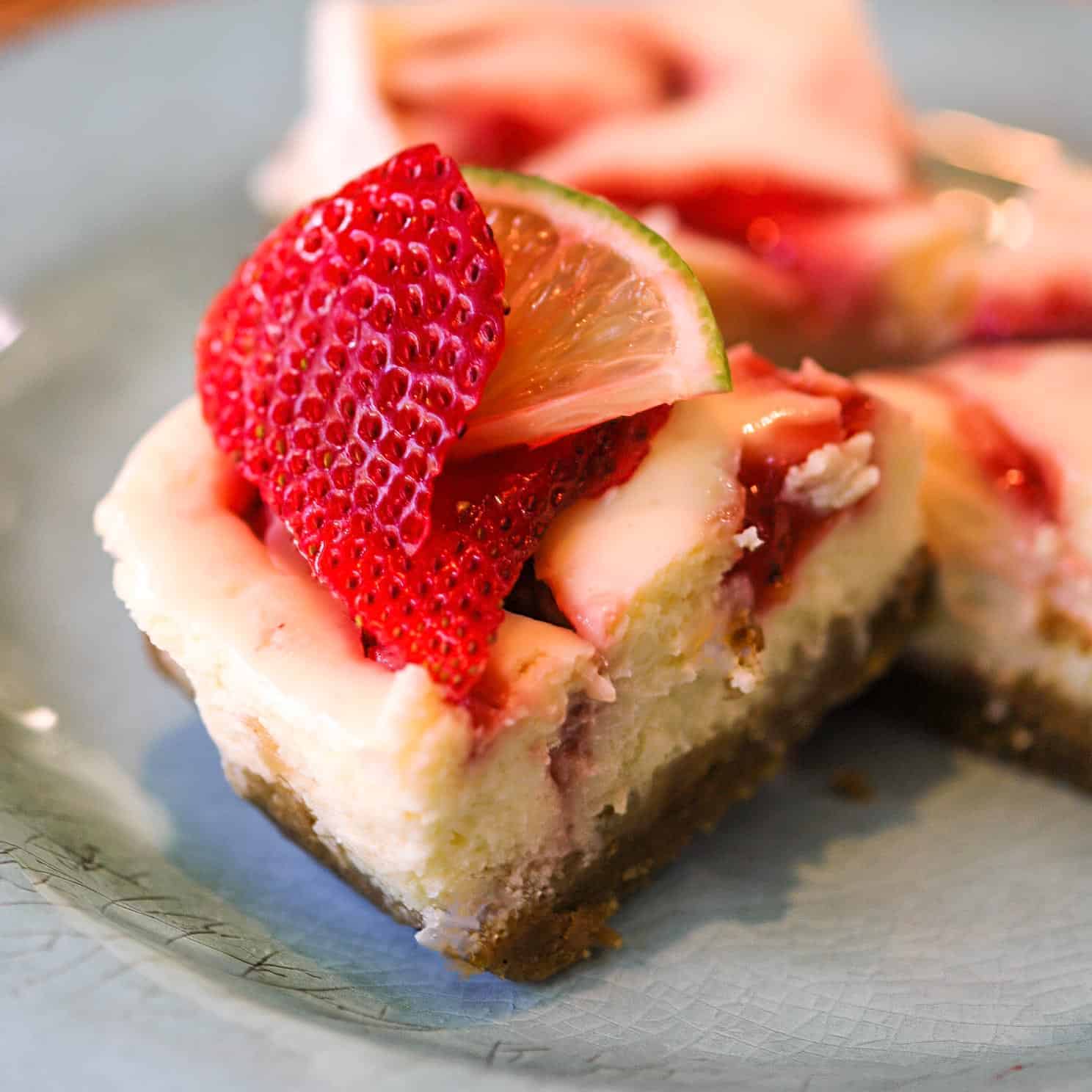 Strawberries always remind me of summer. When I was young, we use to go to the farm down the hill and pick our strawberries to take home. They are so versatile that you can have them on ice cream, add sugar and eat them, or bake them into a fantastic summer treat. I decided to use the rest of my key limes and strawberry preserves to make a perfect summer cheesecake.
When buying key limes, they come in a bag, so I had enough to use for two different recipes. The first was my Key Lime Cheesecake Bars from last week, and the rest are for this week's recipe Strawberry Key Lime Cheesecake Bites. The thought of adding strawberry preserves with fresh key lime juice was something I have wanted to try. They do go very well together according to the folks at work that got to try them.
An added treat if you want to give the bites just an added bit of fresh strawberries is to quarter and add to the top of each bite.
Gluten-Free Option!
To make these gluten-free, I love the flavor of Pamela's Honey Grahams. I prefer this graham cracker to any graham cracker whether it is gluten-free or not. They work perfectly for my cheesecake bites!
They are firm and make a great solid base for my Strawberry Key Lime Cheesecake Bites.
One box works perfectly for the 8X8 or 9X9 baking dish. The baking dish I use says 9X9 but it is closer to 8X8 at the bottom of the stoneware (I use Rachal Ray's Cucina Stoneware 9X9), but any baking dish will do.
The macadamia nuts choice was my favorite nut to go with this graham cracker.
Recipe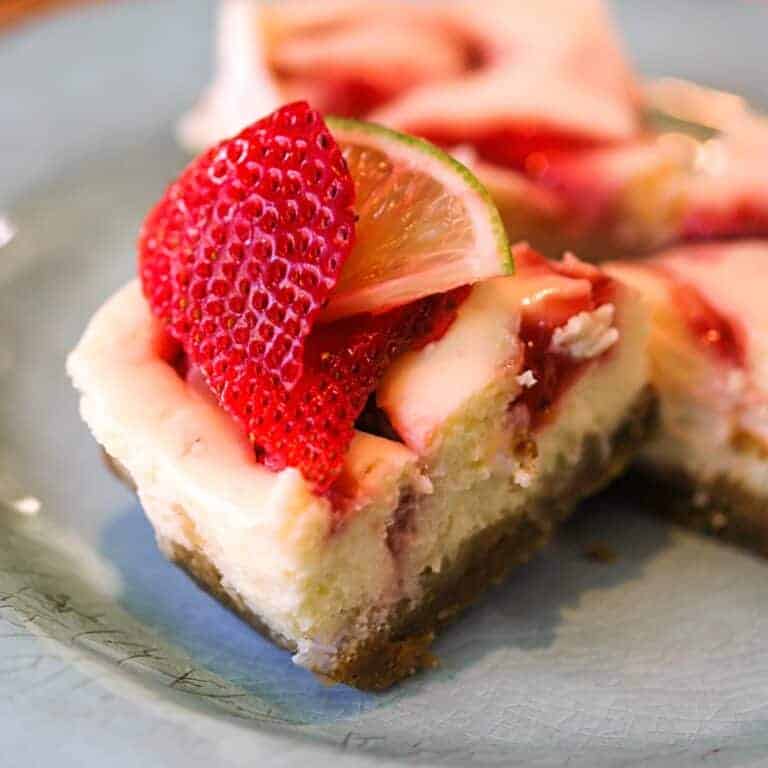 Strawberry Key Lime Cheesecake Bites
Barbara Hall
Cheesecake bites are my favorite and easiest way to have cheesecake. It has enough cream cheese that when it has been in the refrigerator overnight, it can be picked up and eaten just like a cookie.
Ingredients
CHEESECAKE FILLING
¼

cup

Key lime juice

16

oz

Cream Cheese

2 bars

½

cup

Condensed milk

½

teaspoon

Vanilla Extract

2

Eggs

¼

cup

Sugar white
CRUST
1

package

Graham crackers

½

cup

Macadamia nuts

⅓

cup

Melted butter unsalted

1

tablespoon

Sugar white
SWIRL
¼

cup

Strawberry preserves
Instructions
CRUST
In a food processor mince the macadamia nuts till tiny pieces. Add the whole box of Pamela's Honey Grahams to the macadamia nuts. Put into a bowl and add the sugar. Pour the melted butter over the graham mixture and blend with a fork till sticking together.

Line an 8X8 ovenproof baking dish with tinfoil and press the graham cracker mixture along the whole bottom. Set the baking dish aside
CHEESECAKE FILLING
Using a citrus reamer cut and ream enough key limes to get ¼ cup of key lime juice. When I went to the store, they came in a bag of about 20. I used half the bag for the ¼ cup.

You can use a stand (I use a KitchenAid) or hand mixer and blend the cream cheese and sugar together. Stop and scrape down the sides and add one egg at a time and mix till combined. Add the key lime juice, condensed milk, and vanilla extract and mix till all blended. The mixture will be thin but will thicken when baking. Pour the cream cheese mixture on top of the graham cracker crust and give it a little jiggle to make sure there are no air pockets.
STRAWBERRY SWIRL
Take a small spoon and drop some of the preserves in different spots on top of the cream cheese mixture. I take a knife and swirl the preserves around. Don't go too deep you don't want to cut the graham cracker crust at the bottom.

Bake for 40 minutes, it should not jiggle much when moving it out of the oven. Let it cool on the counter before putting it into the refrigerator. Leave it in the fridge overnight. This amount of time gives the cream cheese time to stiffen, and the Key lime needs time to bring out its full flavor.

Take the baking dish out of the fridge and lift the whole cheesecake out of the baking dish by grabbing the tin foil ends. The tin foil will peel off easily. Try not to bend the cheesecake the crust will break in half. Take a sharp knife and cut into squares the size you would like.
NUTRITION DISCLAIMER
I am not a certified Dietitian or Nutritionist. The nutrition amounts given below are provided through a program and are only a guideline.
Nutrition
Calories:
151
kcal
Carbohydrates:
15
g
Protein:
2
g
Fat:
9
g
Saturated Fat:
4
g
Polyunsaturated Fat:
1
g
Monounsaturated Fat:
3
g
Trans Fat:
1
g
Cholesterol:
29
mg
Sodium:
140
mg
Potassium:
68
mg
Fiber:
1
g
Sugar:
8
g
Vitamin A:
247
IU
Vitamin C:
1
mg
Calcium:
38
mg
Iron:
1
mg