Nothing says fall like the smells of apples with all the spices heating on the stovetop. It just seems to warm the whole home.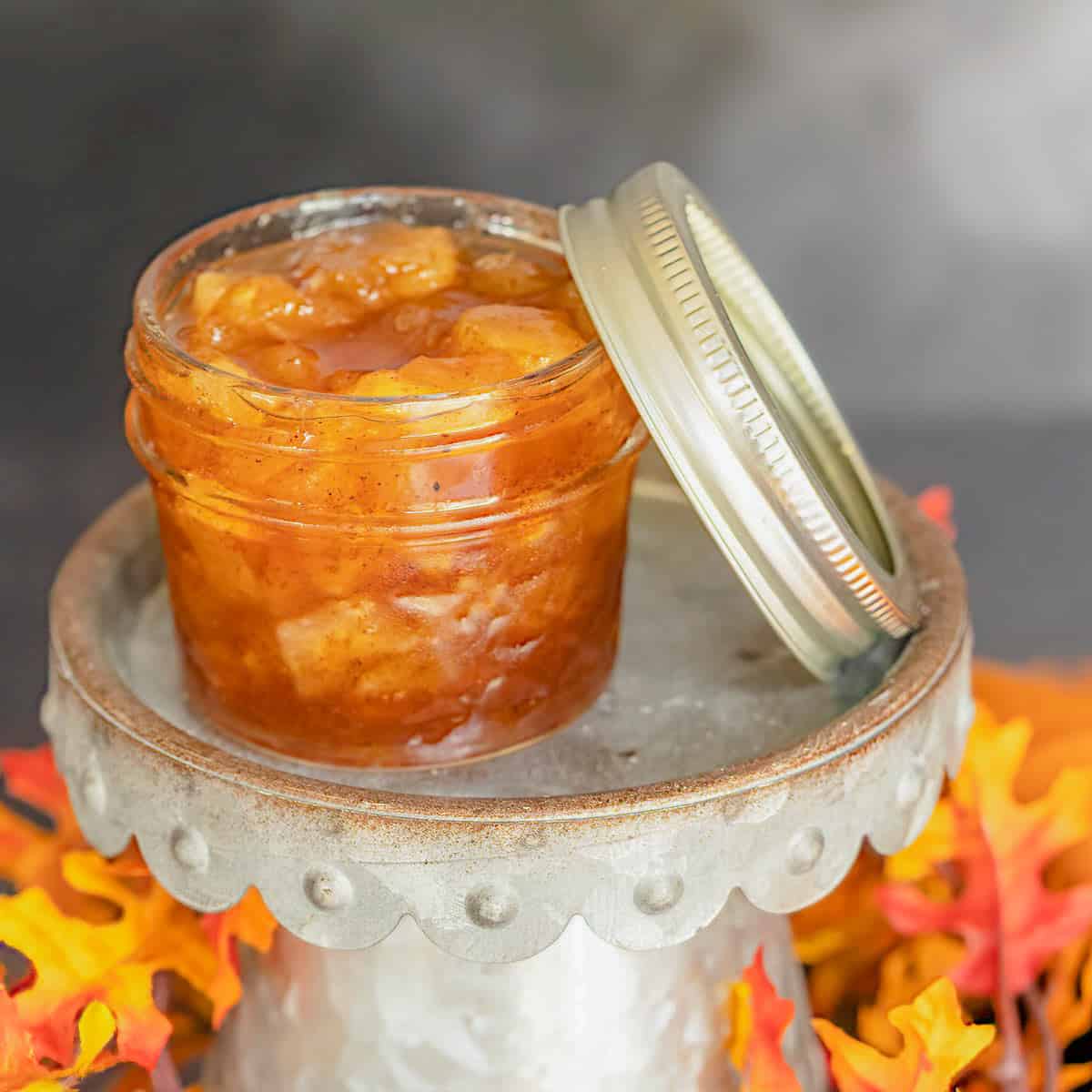 It is easy to make a homemade filling for cookies or as a spread for toast or bagels. In addition, you have more control of what goes in and how it is going to taste.
This jam is so good! I toasted a bagel and spread some of the Chunky Apple Jam on top of my cream cheese. Try it on toast, pancakes, waffles, and ice cream, and you will find your happy place.
Ingredients
2 Granny Smith apples
1-¼ cups White sugar
¼ cup Water
1 Tablespoon Lemon juice
1 Tablespoon Lemon zest
1 teaspoon Apple pie spice
Instruction For Making The Apple Jam
Start with dicing two Granny Smith apples. I make them small, but you can decide how small you want them.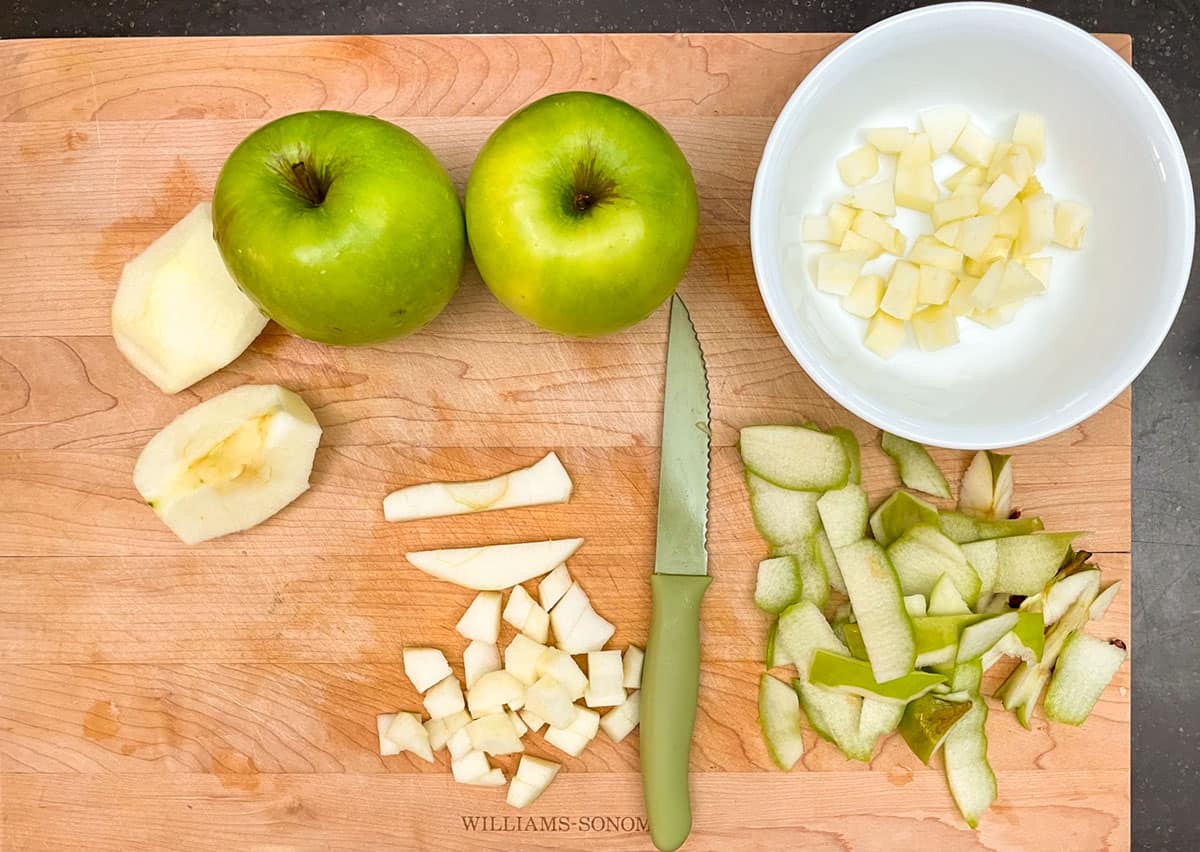 Add the apples, water, and sugar to a medium saucepan and turn the setting to medium-high to bring it to a boil. At this point, continue stirring so you do not burn the bottom.
Once boiling, add the lemon zest and juice along with the spice. It will fill your kitchen with wonderful fall smells.
Keep stirring till the water has turned a thicker warm brown color and the apples are soft.
Once you take the pan off the heat, pour the jam into glass jars to cool.
I picked up these 4 oz glass jars, filled them, and screwed the lids to cool down to room temperature. These have canning-type caps and make beautiful gifts for family and friends. I have added a little ribbon around the top to make them unique.
FAQ's
Do I have to use Granny Smith apples?
You can use other types of apples, but the results will vary. For baking and the chunky jams, I want to choose a crisp style apple. The Granny Smith will stand up to the higher heat when making the chunky jam and will not dissolve into the sugar water. There are a variety of crisp flesh apples with different sweetness levels. I found a website that can help you find the best apple for you, GUIDE TO PICKING THE BEST APPLES – CANNING, EATING FRESH, BAKING & MORE!

Do you need to refrigerate the jars after they cool down to room temperature?
Because I used the canning jars and lids, I put them into the refrigerator about an hour after I filled and screwed the lids onto the jars. But yes, you will need to keep them in the fridge after you have opened the jar.
Try My Other Apple Cookies
Apple Raisin Walnut Oatmeal Cookies
Applesauce and Walnut Cookies
Applesauce and walnuts seem to go together naturally. I love to add a crunch factor to all of my cookie recipes.
Check out this recipe
Apple Raisin Walnut Oatmeal Cookies
Because this has fresh fruit, I let them open and do not cover them in a closed container. Fresh fruit needs air to keep the cookies from getting soggy. They are worth it because fresh fruit has such great taste you can't beat. This recipe makes two dozen cookies. You can use quick oats also in place of the old fashion oats.
Check out this recipe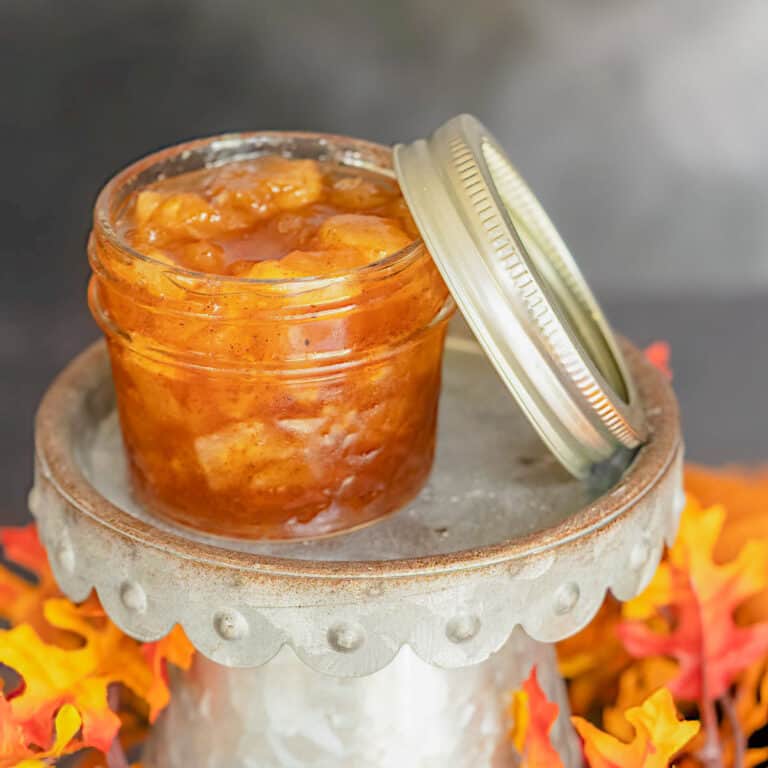 Chunky Apple Jam
Barbara Hall
Homemade chunky apple jam that is easy to make and oh so good to eat. Use for cookie filling, toast spread and on top of bagels.
Ingredients
2

Granny Smith apples

1-¼

cups

White sugar

¼

cup

Water

1

Tablespoon

Lemon juice

1

Tablespoon

Lemon zest

1

teaspoon

Apple pie spice
Instructions
Peel and dice the two Granny Smith apples. Zest and juice one lemon into separate bowls and set aside.

Add water, sugar and the diced apples to a medium sauce pan. Bring to boil over mediun-high heat stirring all the time.

Adjust heat to a soft boil, and add the lemon juice, zest, and apple pie spice. Continue to stir and reduce the liquid to a light syrupy consistency.

Pour into glass mason jars. Screw the lids on and cool for about an hour. Then store in the refrigerator.
Nutrition
Calories:
20
kcal
Carbohydrates:
5
g
Protein:
1
g
Fat:
1
g
Saturated Fat:
1
g
Polyunsaturated Fat:
1
g
Monounsaturated Fat:
1
g
Sodium:
1
mg
Potassium:
21
mg
Fiber:
1
g
Sugar:
4
g
Vitamin A:
10
IU
Vitamin C:
2
mg
Calcium:
2
mg
Iron:
1
mg