This time of the year, the kids are out of school and want to help in the kitchen. These cookies are perfect for including young bakers. They only take 8 minutes to bake between batches, and the kids will eat more of the mini M&M than go onto the cookies. Christmas tree cookies are so fun to make!!!!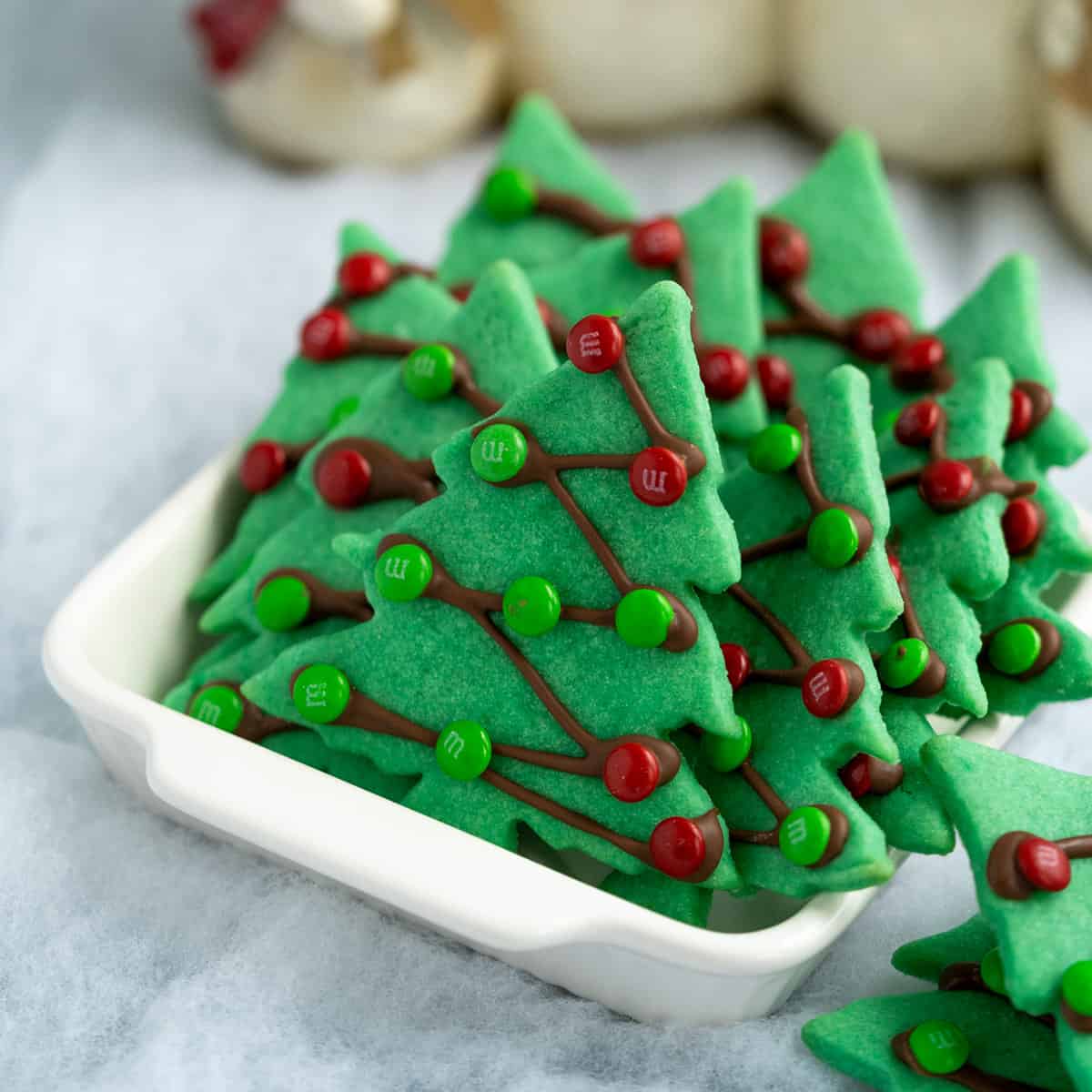 Here in Lancaster, Pennsylvania, sugar cookies are in every bakery at this time of the year but almost anytime.
I found it strange that the history of the sugar cookie goes that it was created in the 1700s by Germans Protestants in Nazareth, Pennsylvania. I am German and Irish; both sides are Protestants, but neither side made sugar cookies or any cookies at Christmas. Cookie making was not a tradition in my house growing up. At least if they did make cookies, we kids were not part of the action.
Although there are few ingredients to making the humble sugar cookie, it is all about the toppings. I have seen simple decorations done by young children that were so adorable I wanted to grab one. But I have also watched cookie artists create the most beautiful cookies I have ever seen.
Ingredients You Will Need
For the Sugar Cookie
Jump to Recipe for Amounts
Butter unsalted 
Sugar white 
Egg
Vanilla Extract
All-purpose flour 
Baking powder
Kosher Salt
Coloring gel
For the Topping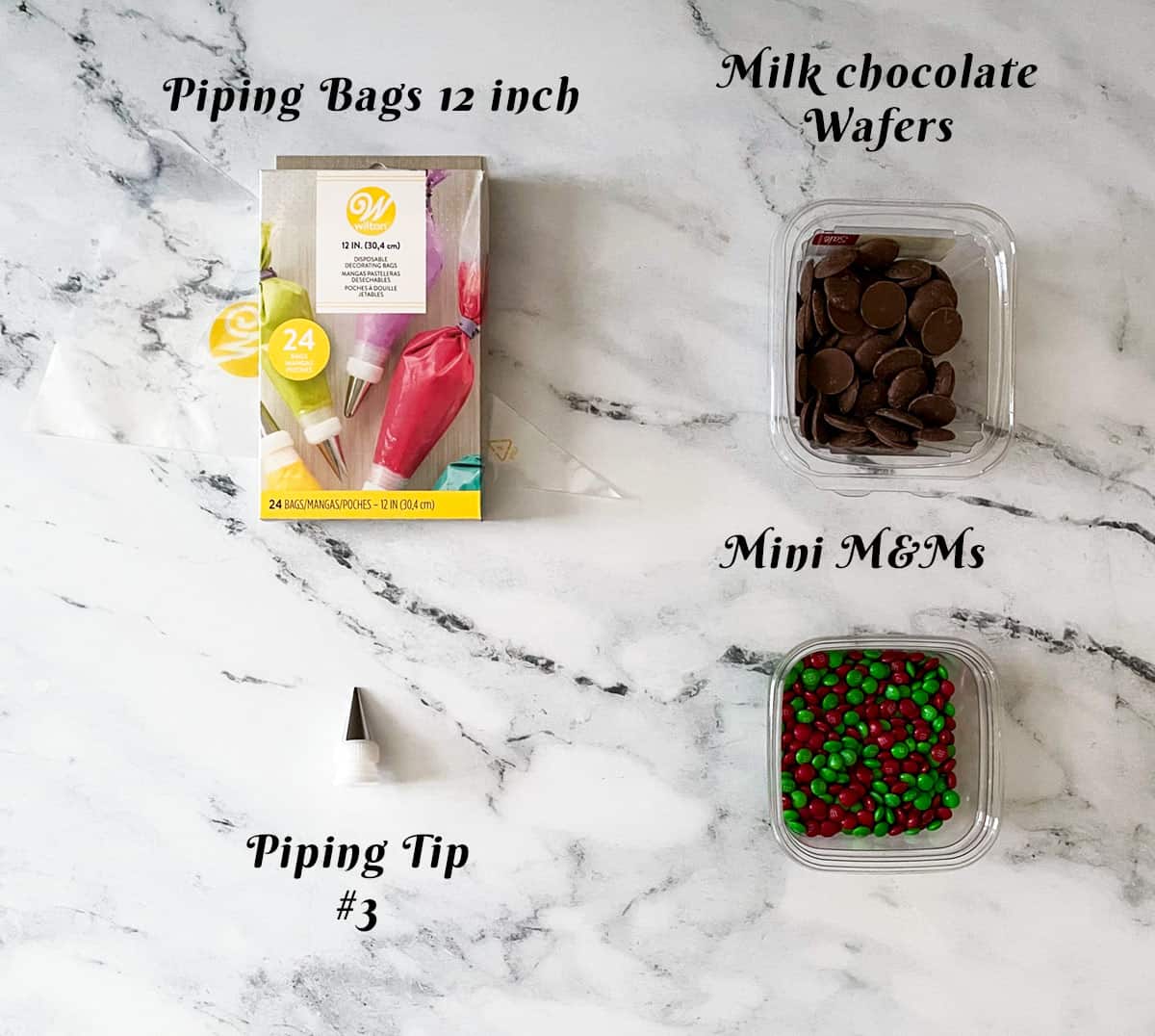 Milk chocolate wafers
Mini M&M's
Piping bag
#3 Piping tip
Creating Your Christmas Tree Cookie
Making the Trees
Weigh or measure the sugar and set it aside. Then, in another bowl, weigh the flour, salt, and baking powder, running a whisk through to blend.
Now we start to make the magic. Add the butter and sugar to a mixer and mix for 2-4 minutes so they are light and fluffy. Now add the egg, vanilla extract, and the green coloring gel. I used the color leaf green, which is an excellent color for a Christmas tree.
Finally, add the dry ingredients until incorporated on a slow mixer speed. Place the cookie dough on a pastry sheet and divide the dough in half. I flattened them down and wrapped them in plastic wrap. Refrigerate for 30 minutes.
Take one of the wrapped oval cookie doughs and roll it out on a floured surface. I use my pastry sheet, but you can use any flat surface. Remember, you will be using a cookie cutter and don't want to damage your surface.
Cut out as many trees as you can. Then, you can keep re-rolling the dough till you can't get any more cutout trees.
I put 12 trees to a half-sheet pan and bake them at 350° for 7-9 minutes. I rolled out my cookie dough to ⅛" thick, so if yours are thicker, you may need to add a minute or two.
Time to Decorate With The Kids
Because milk chocolate coating wafers set faster, I like using them for this type of cookie decorating. But if you are decorating with your kids and this will be a fun time, I might suggest using Baker's Milk Chocolate, which does not harden so quickly. They both melt the same in the microwave; you have a longer time getting the M&Ms on the tree.
I melted the milk chocolate coating wafers in two batches of about 80 grams each. Start with microwaving 30 seconds before you stir the wafers. I heat for another 10 seconds and go again. If need be, heat for another 10 seconds. You do not want to overheat the chocolate, or it will not be smooth and creamy but stiff and lumpy.
Spoon the melted chocolate into a piping bag with a small tip and go back and forth like a string of lights on a Christmas tree. Place the M&Ms anywhere that makes the tree look adorable. I did two or three trees at a time since the chocolate sets fast.
These are simple to make, and the kids will have fun. What more could you ask for! Enjoy!
Storage
I use a Tupperware type of container that has a lid that seals. Leaving them exposed to air will turn them hard and not the soft cookie we all know and love. I also do not store these in the refrigerator.
Try a Few Other Holiday Cookies
Recipe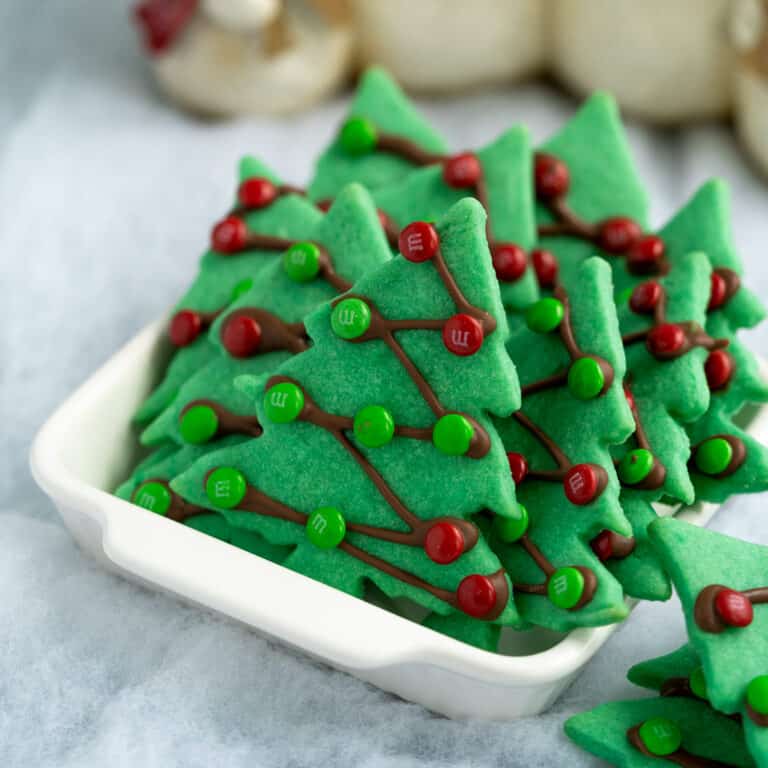 Christmas Tree Sugar Cookies
Barbara Hall
Perfect cookies for the young bakers to have some fun. They are quick to mix and quick to bake.
Ingredients
1

cup

(

227

g

)

Butter unsalted

room temperature

1

cup

(

200

g

)

Sugar white

1

(

1

)

Egg

1-½

teaspoons

(

0.5

teaspoons

)

Vanilla Extract

3

cups

(

375

g

)

All-purpose flour

2

teaspoons

(

2

teaspoons

)

Baking powder

¼

teaspoon

(

0.25

teaspoon

)

Kosher Salt

2

drops

(

2

drops

)

Coloring gel

8

ounces

(

226.8

g

)

Milk chocolate wafers

6

ounces

(

170.1

g

)

Mini M&M's
Instructions
Making the Cookies
Weigh or measure your sugar and set it aside. Then, weigh or measure the flour, baking powder, salt, and run a whisk through to blend.

In a stand or hand-held mixer, cream (baking term) the butter and the sugar together till light and fluffy looking. About 2-3 minutes. Next, add the vanilla extract and the egg. Now add 2 drops of coloring gel and mix till incorporated. Finally, add your dry ingredients and mix until combined.

Place the dough on a pastry sheet and divide it in half. Flatten each half and wrap in plastic wrap and refrigerate for 30 minutes.

Now, please take one of the chilled cookie disks out and place it onto a lightly floured pastry mat. I made my cookies about ⅛" thick. There are bands on the ends of my rolling pin so that you can roll out the dough evenly. If you roll out your dough thicker, you may need to add a minute or two to the time. Next, cut out 12 trees and place them on a parchment-lined sheet pan. They are ready for the oven.

Bake at 350° for 7-9 minutes. After baking leave the cookies on the pan for a minute before moving them to a cooling rack.
Decorating Your Cookies
Whether you are using wafer coating chocolate (sets fast), chocolate blocks, or even chocolate chips, they all need to be melted for the chocolate can go into the piping bag. I divided the wafers into two batches since this chocolate set fast. Add chocolate to a microwave-safe bowl and turn the microwave on for 30 seconds. Stir, then heat for another 10 seconds, stir again. If it needs it, do another 5 to 10 seconds. Don't overheat the chocolate; it will get hard, dull-looking, and lumpy.

Add the melted chocolate to a piping bag with a #3 tip and swing the chocolate from point to point so that it looks like a Christmas light string, and add the mini M&Ms along the chocolate lines, so it looks like light. I added the chocolate to 2 or 3 cookies, then stopped and put on the M&Ms. The kids will love adding the M&Ms while you do the chocolate. Enjoy!
NUTRITION DISCLAIMER
I am not a certified Dietitian or Nutritionist. The nutrition amounts given below are provided through a program and are only a guideline.
Nutrition
Calories:
178
kcal
Carbohydrates:
24
g
Protein:
2
g
Fat:
8
g
Saturated Fat:
5
g
Polyunsaturated Fat:
1
g
Monounsaturated Fat:
2
g
Trans Fat:
1
g
Cholesterol:
21
mg
Sodium:
100
mg
Potassium:
31
mg
Fiber:
1
g
Sugar:
12
g
Vitamin A:
197
IU
Vitamin C:
1
mg
Calcium:
27
mg
Iron:
1
mg