Well, I could not wait to make these cookies. I realize it is the same cookie two weeks in a row. But the ingredients were on my counter, which kept calling to me. I could hear them say, "make me, make me," so, of course, I had no choice, lol. Fall weather screams apricots and apples, at least as far as I am concerned.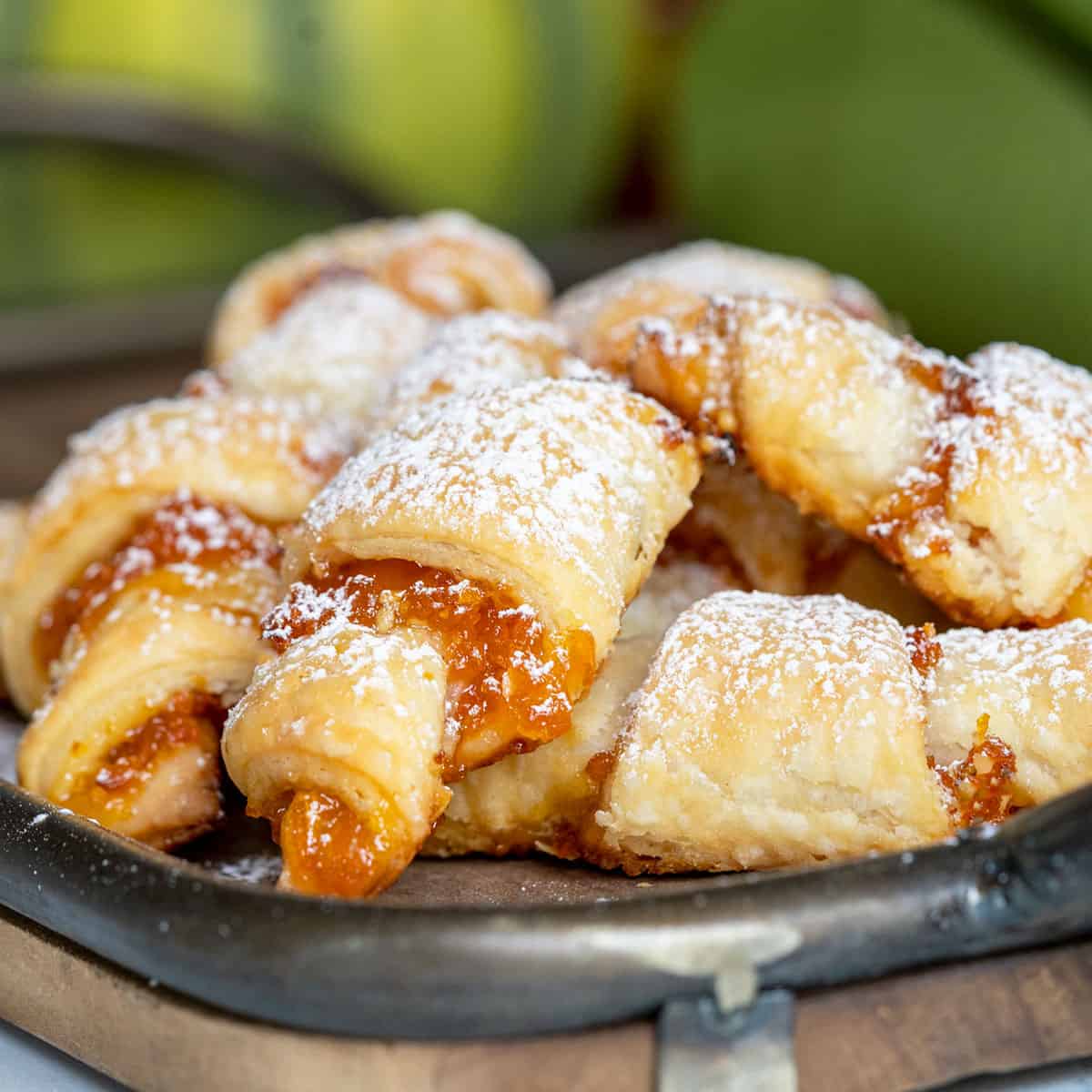 I went to the dried fruit section at the store, and there were only 2 containers of dried apricots left. Trying to be pragmatic, of course, I took both. I found a website that gives 8 benefits to eating dried apricots. From what I am reading, I should eat more of these since one benefit is to boost vision, and at my age, I can use all the help I can get.
It is sometimes hard to make the right choice in pairing fruit-to-nut combinations with so many nuts. I wanted a nut that was not going to overpower the apricot taste. I love to use almonds that are a mild-tasting nut when blanched, and I thought it would be perfect with apricots. The benefits of almonds are fantastic, which you can read here on the benefits of almonds.
The rugelach is a cookie I have wanted to try for a long time. They looked so good, and I was a little intimidated in making them in fear of not doing them correctly. But there is one thing I have learned on my cookie journey; not all my cookies will be perfect looking. But I want home bakers to know that that is OK and that this makes your cookies unique to you. As long as your family enjoys what you bake, that is all that matters.
Ingredients You Will Need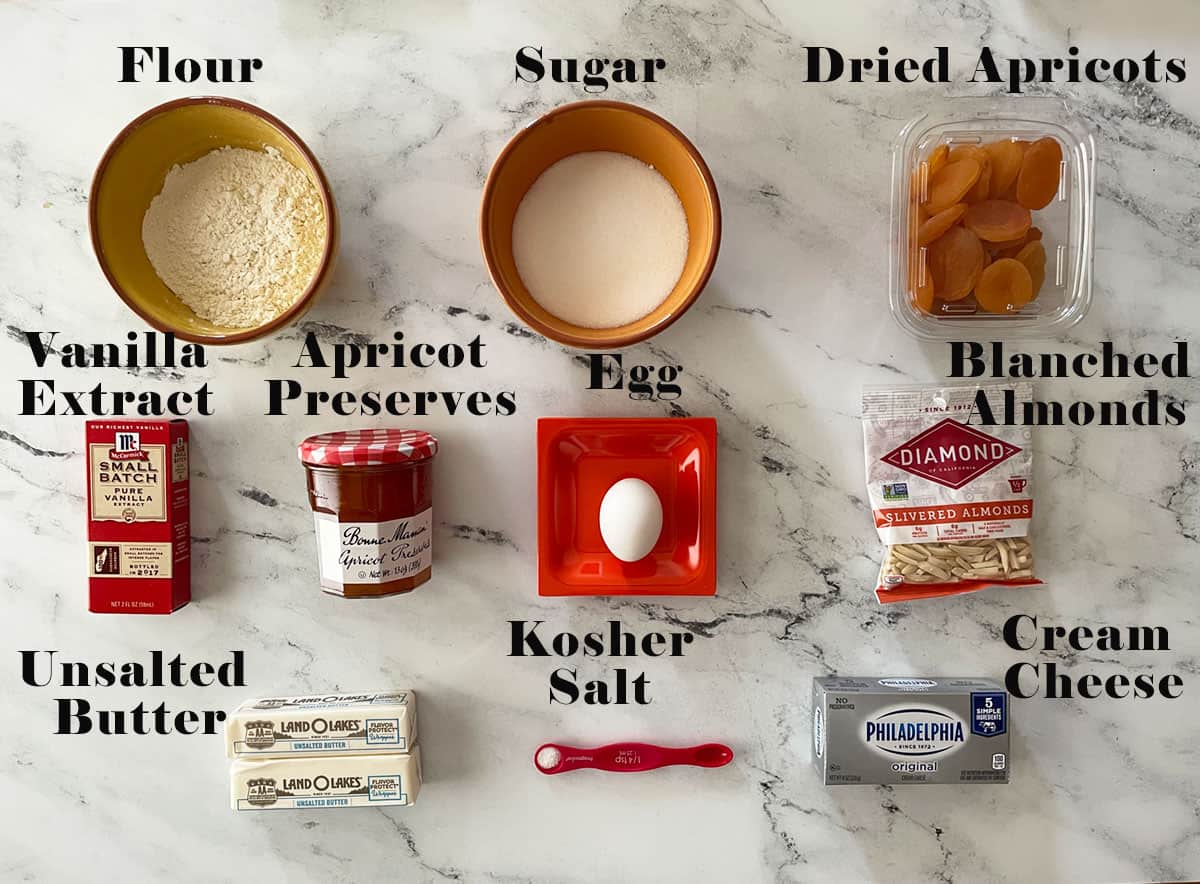 Flour
Sugar
Dried Apricots
Vanilla Extract
Apricot Preserves
Egg
Blanched Almonds
Unsalted Butter
Kosher Salt
Cream Cheese
How to Make Apricots with Almonds Rugelach
Rugelach has many steps, but the look and taste of the final cookie are worth the work! Make sure and read through everything first so that you are ready with each step.
Use a food processor for your dough preparation. I'm sharing how your dough will look as you start (chunked ingredients), and when you end, you're ready to form together with your hands.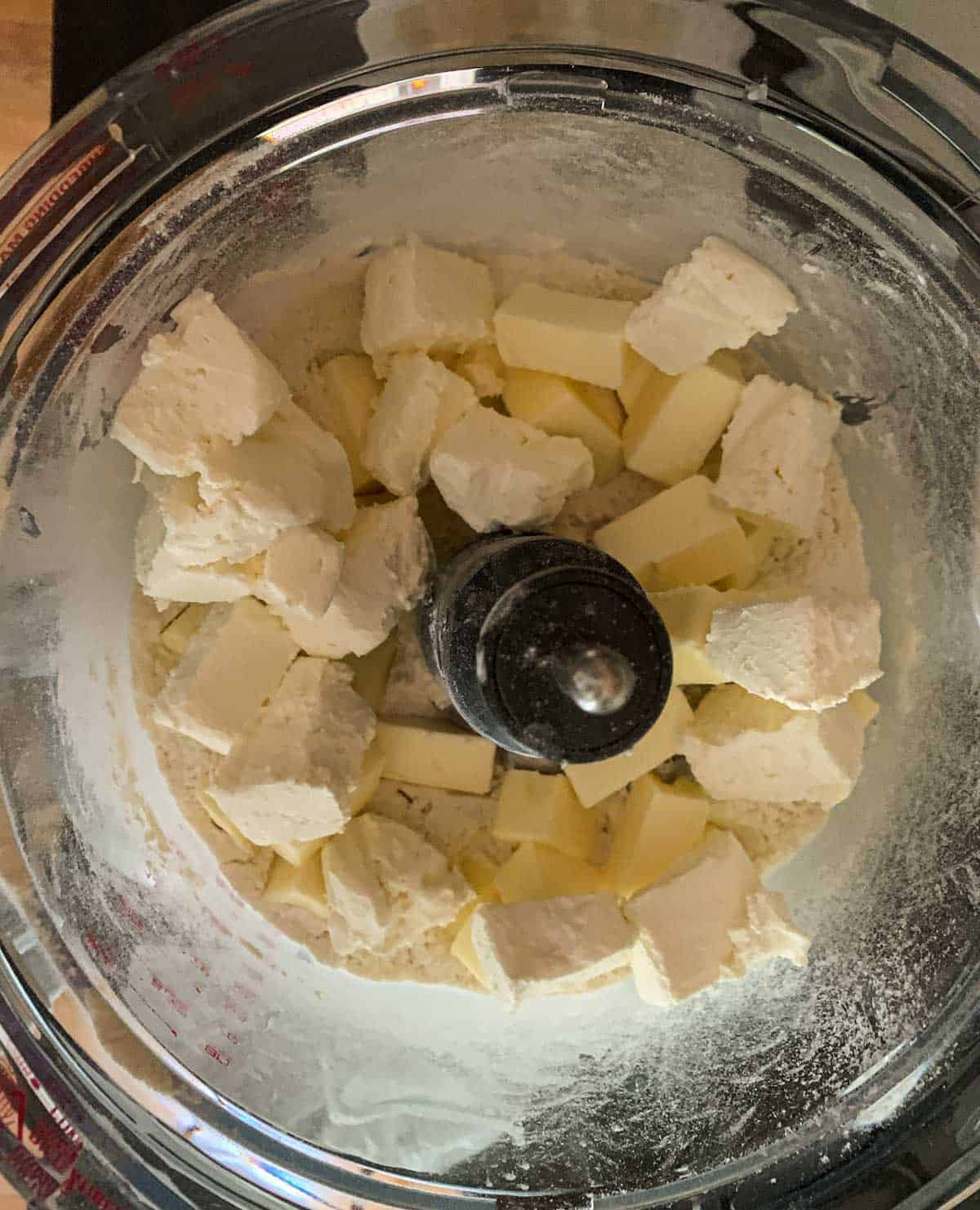 Flatten it into a rectangle with your hands to combine all ingredients before dividing it into four equal parts. Then wrap securely and chill overnight.
Use the food processor again to make your filling: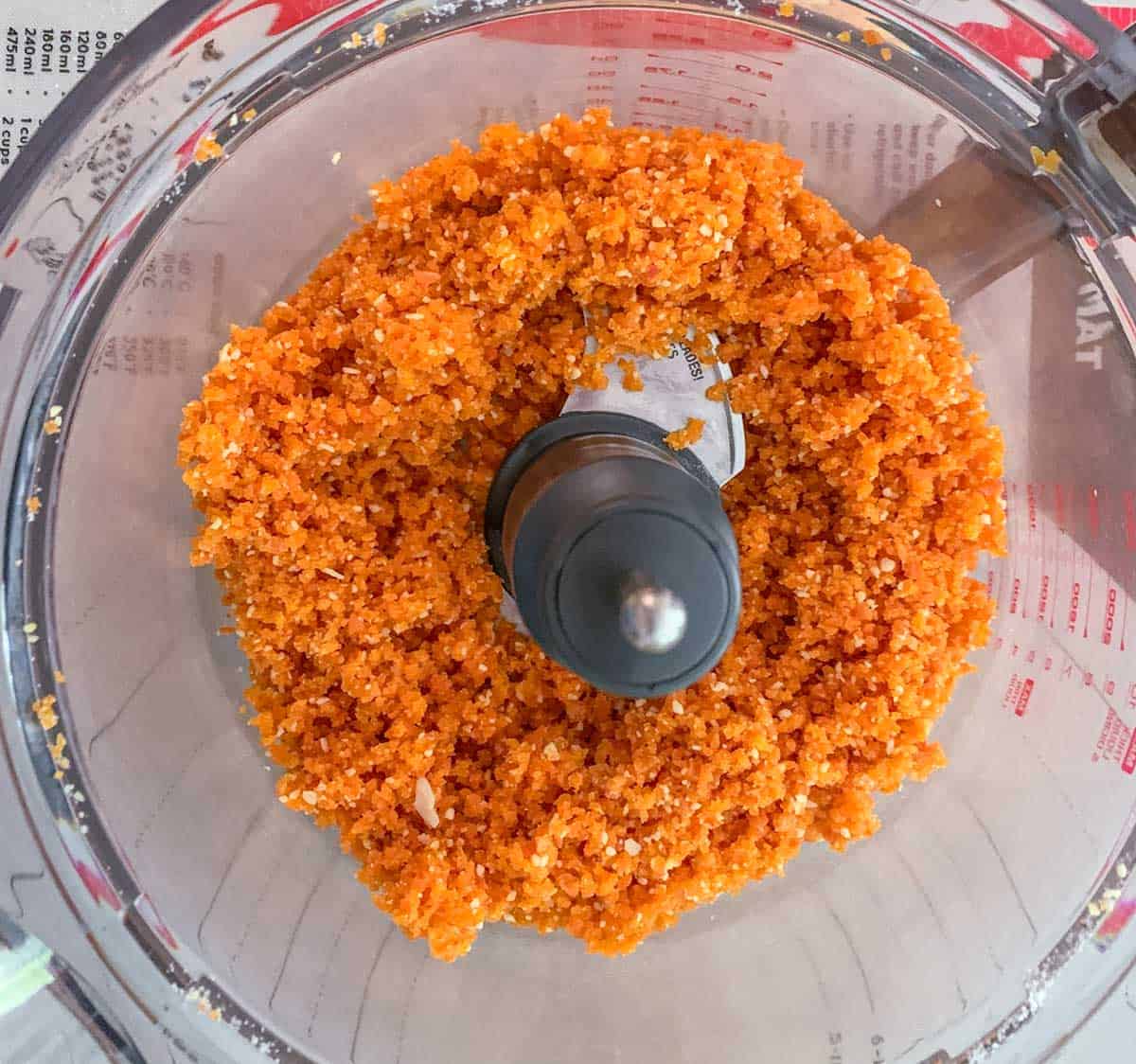 Now the fun begins! Roll out one section of your chilled dough on a floured surface. Then spread with your apricot preserves and sprinkle with the prepared filling.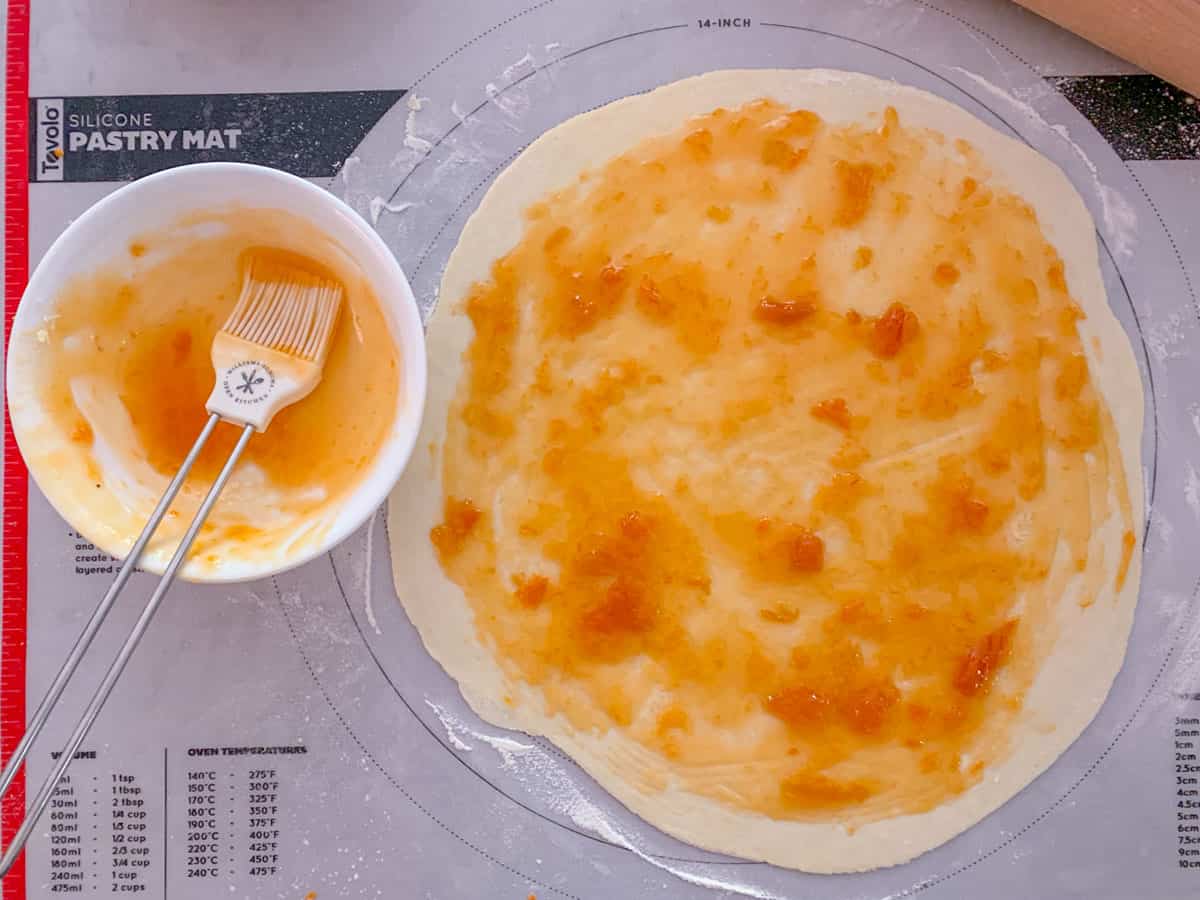 Cut into triangles and roll them up!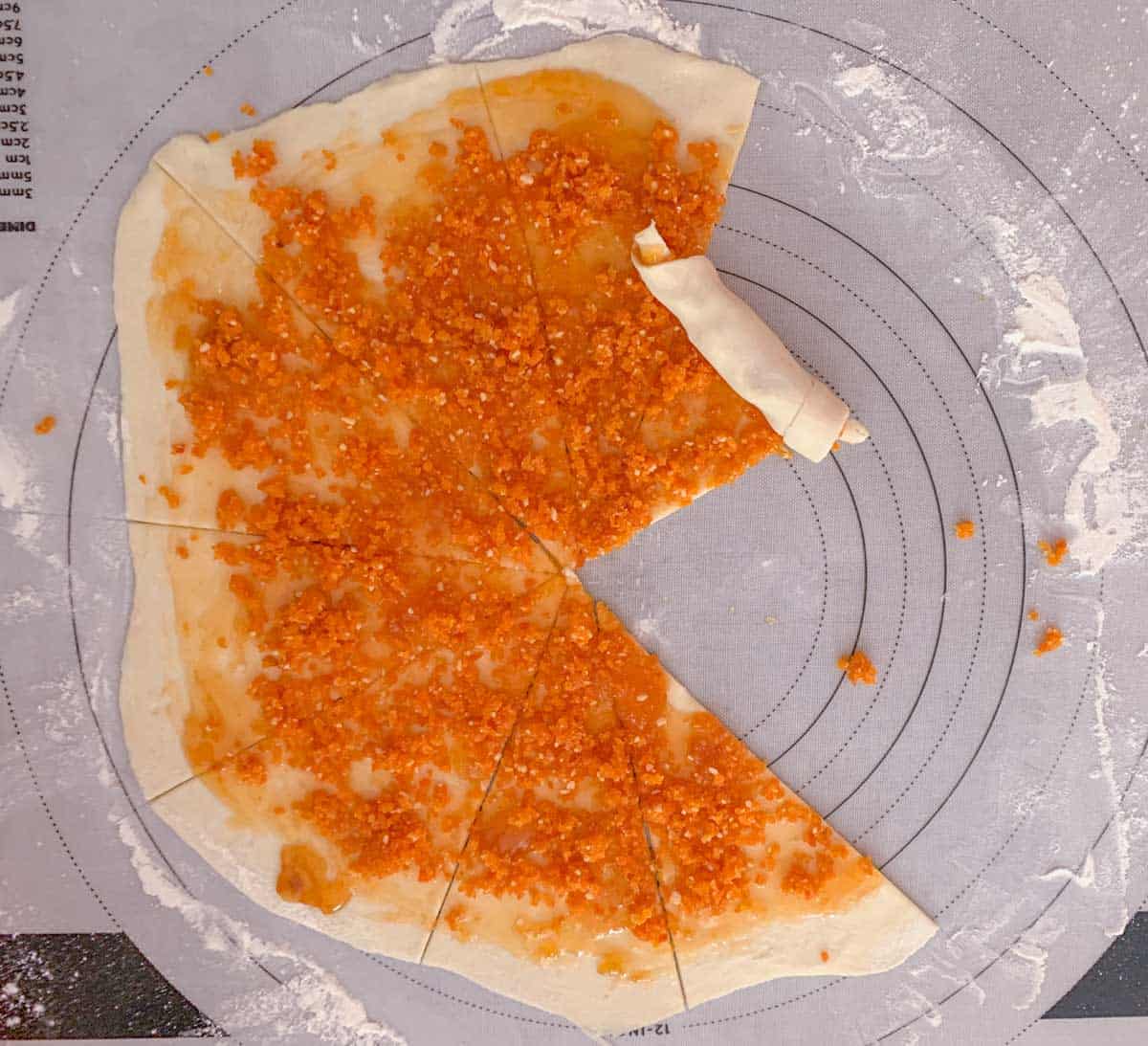 Now you are ready to bake to perfection. Don't forget to top them with powdered sugar once they have cooled completely.
Tips for Apricots with Almonds Rugelach Cookies
Try not to overfill with the preserves and the apricot almond mixture, it will squeeze out all over the place when you roll up the slices.
Keep an eye on the cookies in the oven for the last 5 minutes of baking to ensure the ends do not burn.
If you are going to sprinkle powdered sugar on top, please wait until they are completely cooled. The sugar will just dissolve into the cookie otherwise.
Recipe
Apricots with Almonds Rugelach
Barbara Hall
The cookie crust is flaky and has a wonderful apricot taste that you will fall in love with.
Ingredients
COOKIE DOUGH
2

cups

(

250

g

)

All-purpose flour

¼

teaspoon

(

0.25

teaspoon

)

Kosher Salt

1

cup

(

227

g

)

Butter unsalted

cold

8

ounce

(

226.8

g

)

Cream Cheese

cold

1

(

1

)

Egg yolk

1

teaspoon

(

1

teaspoon

)

Vanilla Extract
FILLING
1

cup

(

130

g

)

Dried apricot

¼

cup

(

31.25

g

)

Almonds blanched

2

Tablespoon

(

2

Tablespoon

)

Sugar white

6.5

ounce

(

184.27

g

)

Apricot Preserves

½

cup

(

60

g

)

Powdered sugar

Sprinkle on top when cooled
Instructions
COOKIE DOUGH
Weigh or measure the flour, salt and add to a food processor. Pulse 1 or 2 times. Next, cut up the butter and cream cheese and add to the flour. Pulse till it looks like small little balls. Next, take the egg yolk and the vanilla and mix them with a fork before adding them to the flour, butter, cream cheese mixture. Pulse till it looks like large balls are starting to come together. Dump onto a pastry mat or just a clean counter and mold it to a flattened rectangle shape.

Cut the flatten ball into four parts. I find it easier to mold the quarters into a disk shape after flattening it to about 1" thick and wrapping it with plastic wrap. You want them to be as round as you can make it, so it is easier to roll out. The disks need to refrigerate for at least 2 hours or up to 3 days. I put 2 in the refrigerator, and I froze the other two disks to make later. The frozen cookie dough disks will last for three months, but I will use them sooner. (Here is an update I added how to make the dough, but I used for this week's cookies the two disks that I had frozen from last weeks, Cranberry Orange and Walnut Rugelach.)
FILLING
Depending on how many disks you are making at a time, I pulled 2 out of the refrigerator that had thawed overnight so they could warm up just a little. Then, I added the dried apricot, almonds, sugar and pulsed in a food processor until they were in small pieces. They should look like a crumble.

Flour a hard surface and your favorite rolling pin. Since I am using a pizza cutter and do not want to damage my countertop, I use a pastry mat. The trade-off means it could slightly cut into your pastry mat, but I figure it is cheaper to replace it than my countertop. Roll out the disk to about a 12 inch round. Take ½ jar of apricot preserves and heat in a microwave for 30 seconds, then stir till smooth. I take a pasty bush and paint the cookie dough with the preserves, leaving the outer rim without any preserves.

Next, I add the apricot and almond crumble on top of the preserves and smooth out any crumble clumping. Don't overfill, or it will be hard to roll and pick up to move to a parchment-lined cookie sheet pan. Taking a sharp knife or using a pizza cutter, cut the dough into 10 or 12 triangles. Start from the outside edge, roll the dough towards the center to form a crescent style shape. After filling the cookie pan, stick the whole pan with the rolled cookies into the refrigerator for 20 minutes to firm up the cookie dough. Then place into the oven at 350° for 20 - 25 minutes. Gently move to a cooling rack after taking the pan from the oven. After the cookies completely cooled, sprinkle with powdered sugar and enjoy.
NUTRITION DISCLAIMER
I am not a certified Dietitian or Nutritionist. The nutrition amounts given below are provided through a program and are only a guideline.
Nutrition
Calories:
195
kcal
Carbohydrates:
21
g
Protein:
2
g
Fat:
12
g
Saturated Fat:
7
g
Polyunsaturated Fat:
1
g
Monounsaturated Fat:
3
g
Trans Fat:
0.3
g
Cholesterol:
38
mg
Sodium:
59
mg
Potassium:
104
mg
Fiber:
1
g
Sugar:
10
g
Vitamin A:
585
IU
Vitamin C:
1
mg
Calcium:
22
mg
Iron:
1
mg