I was looking through my refrigerator yesterday and noticed I still had a bag of fresh cranberries that I did not use over the holidays. So, looking through my recipes for a recipe called for fresh cranberries, I found this one from a website.
Fresh Cranberries and Walnuts!
I did not bake the cookies the way they were stated in the online recipe. But at the end of baking my cookies my way, I put the last three cookies on a greased cookie sheet. They did not come out as well as the ones I did on parchment paper.  Grease on the bottom of my cookies has never been something I cared for.
Ingredients Needed
½ cup Butter unsalted
1 cup Sugar white
¾ cup packed Light brown sugar 
1 Eggs
¼ cup Milk
2 TBSP Orange juice fresh
3 cups All purpose flour 
1 tsp Baking powder
½ tsp Kosher Salt
¼ tsp Baking soda
2 ½ cup Cranberries, chopped fresh or frozen
1 cup Chopped walnuts
FROSTING
⅓ cup Butter unsalted
2 cups Powdered sugar
1 ½ tsp Vanilla Extract
2 to 4 TBSP Hot water
How to Make Cranberry and Walnut Cookies
Cookie Dough
Weigh or measure your sugars and set the bowl aside. Next, weigh or measure all the dry ingredients and run a whisk through to blend. Finally, juice one orange, so you have at least two tablespoons.
Now that everything is prepped, it is time to make some cookies.
Add the sugars and butter to a mixer bowl and mix them for 2-3 minutes on medium speed. Next, add the egg, milk, and orange juice and mix. Scrape down the sides and turn the mixer to a low speed, gradually adding the dry ingredients.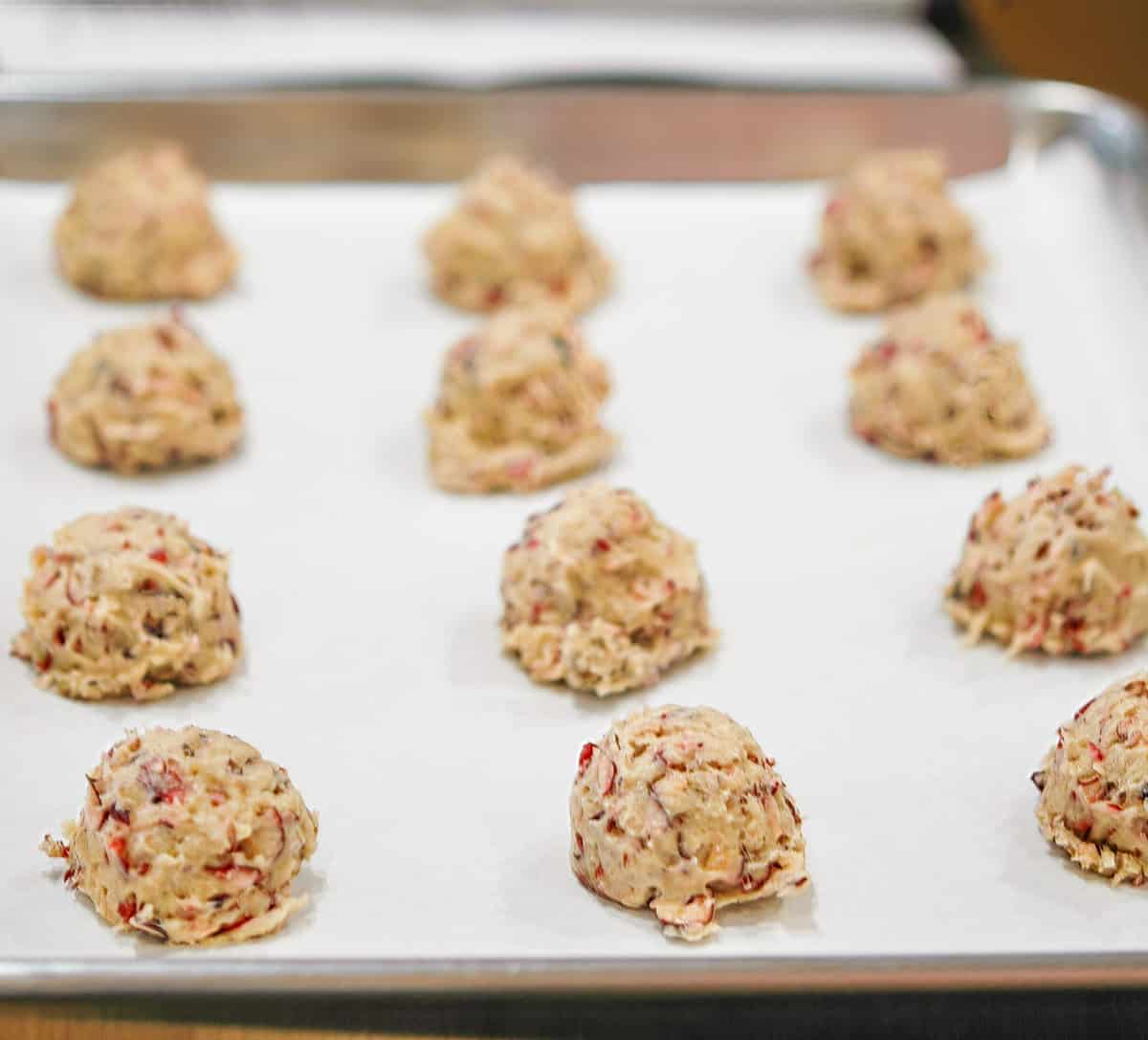 Finally, I take the bowl off the stand and add the chopped cranberries and walnuts. I do not add them using the mixer because it will break up the cranberries and turn my cookie dough into a red all-over color.
Scoop twelve mounds onto a parchment-lined sheet pan and bake at 350° for 14-16 minutes. Please move to a cooling rack after they come out of the oven.
Frosting
Brown the butter in a saucepan over medium heat. The butter will start to have a nutty smell to it. Move the brown butter to a small bowl and let it cool slightly.
Add the brown butter, powdered sugar, vanilla extract, and two tablespoons of hot water to your mixer. Mix till smooth. If the frosting is too thick, you can add another tablespoon of the hot water and mix again.
Please make sure the cookies have cooled completely before you start to frost them. Then, I take a knife and spread a nice layer of frosting on top of each cookie. These are perfect cookies for the holidays, and I hope you enjoy them!
Adapted from Taste Of Home
Fresh Cranberry and Walnut Frosted Cookies
Barbara Hall
It is not that these cookies are hard to make but they do take some time since you put frosting on them. The cranberries contrast so nicely with the frosting.
Ingredients
½

cup

Butter unsalted

1 stick softened

1

cup

Sugar white

198 g

¾

cup

packed Light brown sugar

160 g

1

Eggs

¼

cup

Milk

2

tablespoon

Orange juice

fresh

3

cups

All-purpose flour

360 g

1

teaspoon

Baking powder

4 g

½

teaspoon

Kosher Salt

¼

teaspoon

Baking soda

2 ½

cup

Cranberries, chopped

fresh or frozen

1

cup

Chopped walnuts
FROSTING
⅓

cup

Butter unsalted

2

cups

Powdered sugar

220 g

1 ½

teaspoon

Vanilla Extract

2 to 4

tablespoon

Hot water
Instructions
MAKE COOKIES
Preheat your oven to 350° and line 2 cookie pans with parchment paper.

In a separate bowl weigh or measure the flour, baking soda, baking powder, and salt. Take a whisk and run it through the dry ingredients to blend. Set the bowl aside.

Weigh out or measure the light brown and white sugars and add them to the bowl of your hand or stand mixer. Add the butter and beat till the sugar is blended with the sugars. It took about 2 to 3 minutes at the number 6 (medium-high) setting on my KitchenAid stand mixer.

Add the milk, egg, and the orange juice to the butter-sugar mixture and turn the mixer to medium-high and mix till it looks smooth.

Turn your mixer down to low and gradually add the bowl with the flour, baking soda, baking powder and salt to the wet mixture. Blend till smooth. Take the bowl off the stand mixer and stir in the chopped cranberries and chopped walnuts.

I use a OXO Good Grips Cookie Scoop, Medium to make 12 scoops on the parchment paper. Bake at 350° for 14-16 minutes. Leave them on the pan for a minute or two before moving them to the cooling rack.
FROSTING
Put the butter into a pan and heat over medium-low till the butter is a light brown, and has a nutty smell. This takes at least 5 minutes after the butter melts and starts to bubble. Stir once in a while. Let the brown butter cool for a minute or two in a small bowl.

Add brown butter, powdered sugar, and vanilla extract to the bowl of your mixer and blend on medium speed. For my frosting I added only 2 tablespoons of hot water but if you like your frosting a little thinner just add little more water. You can always add more water but you cannot take it out if you add too much. So add a little at a time.
Nutrition
Calories:
169
kcal
Carbohydrates:
26
g
Protein:
2
g
Fat:
7
g
Saturated Fat:
3
g
Polyunsaturated Fat:
2
g
Monounsaturated Fat:
1
g
Trans Fat:
1
g
Cholesterol:
16
mg
Sodium:
57
mg
Potassium:
45
mg
Fiber:
1
g
Sugar:
17
g
Vitamin A:
147
IU
Vitamin C:
1
mg
Calcium:
20
mg
Iron:
1
mg