I decided I wanted to make this cookie recipe again to get better step-by-step photos. So I went to the store to purchase the ingredients. I spent the whole afternoon looking for Hershey's Caramel Sea Salt Chips. Unfortunately, everyone was out of them.
I started to think of what I could use as a substitute for the Hershey's caramels if I could not find any today,
Hersheys Caramel With Sea Salt
Since everyone was out of them, I decided to call the Hershey Company directly to find out what was happening with these chips. The customer service representative told me that they had been discontinued. I said do you know that I have recipes on my website that use those chips. UGH! Well, now I have to find a substitute for these chips.
Kraft makes caramel bits taste really good, so I purchased the caramels from Target and swapped out the Hersheys for the Kraft. My husband loves them, so I am rewriting the recipe to incorporate the new caramel. One issue is that these are called bits, and the Hershey's are called chips. Can I just shake my head and move on?
Caramel and dates are a perfect combination of flavors. I chose whole fresh dates and diced them. I figured I would eat the rest as snacks during the week. Searching on the web for the benefits of dates was an easy find. It is a well know fact about The Benefits of Dates that I found on PharmEasy's website. What is not to like about something small, sweet, delicious, and good for you?
My only other issue is that the caramel can stick to the parchment paper, so I will try spraying the parchment paper lightly with PAM the next time I use these caramels to see if that will work. I did not realize they would stick when I baked them.
Ingredients
Jump to Recipe for Amounts
Butter unsalted
Sugar white
Eggs
Vanilla extract
Mascarpone
Baking powder
Kosher salt
Dates
Caramel bits
Chopped walnuts
Dates, mascarpone, and caramel bits are pretty easy to find at the grocery store thank goodness.
Making Cookies with Mascarpone
I love cream cheese in my cookie because it gives the cookie moisture and softness that just butter can not match. But for this cookie, I chose mascarpone, and the taste is just incredible. So if you have never had a cookie with mascarpone cheese incorporated into the cookie batter, please try it; you will not be sorry.
Prep and Weigh
First, I weigh my sugar and set it aside. Next, I weigh my flour, baking powder, and salt into a bowl. I then run a whisk through to blend the three ingredients.
For the dates, I cut them in half lengthwise and then cut each half into small pieces. If they are large, seven should yield about ¾ of a cup. Now we are ready to mix!
Add the butter and sugar to a mixer bowl and blend on medium speed for a couple of minutes.
Mixing
Since there is more sugar than butter, it will look lumpy. Now add the vanilla extract and one egg at a time until incorporated. Scrape down the sides, add the mascarpone, and blend for about a minute.
Next, add the chopped dates, caramel bits, and walnuts and mix for about 30 seconds. You will finish the rest with a spatula.
Fold in Flour
Mascarpone is a delicate cheese, so I always fold the dry flour into my cookie dough. I was told it makes for a tender cookie and I believe them.
Grab a good one-piece spatula and mix the flour mixture into the wet cookie dough a third at a time.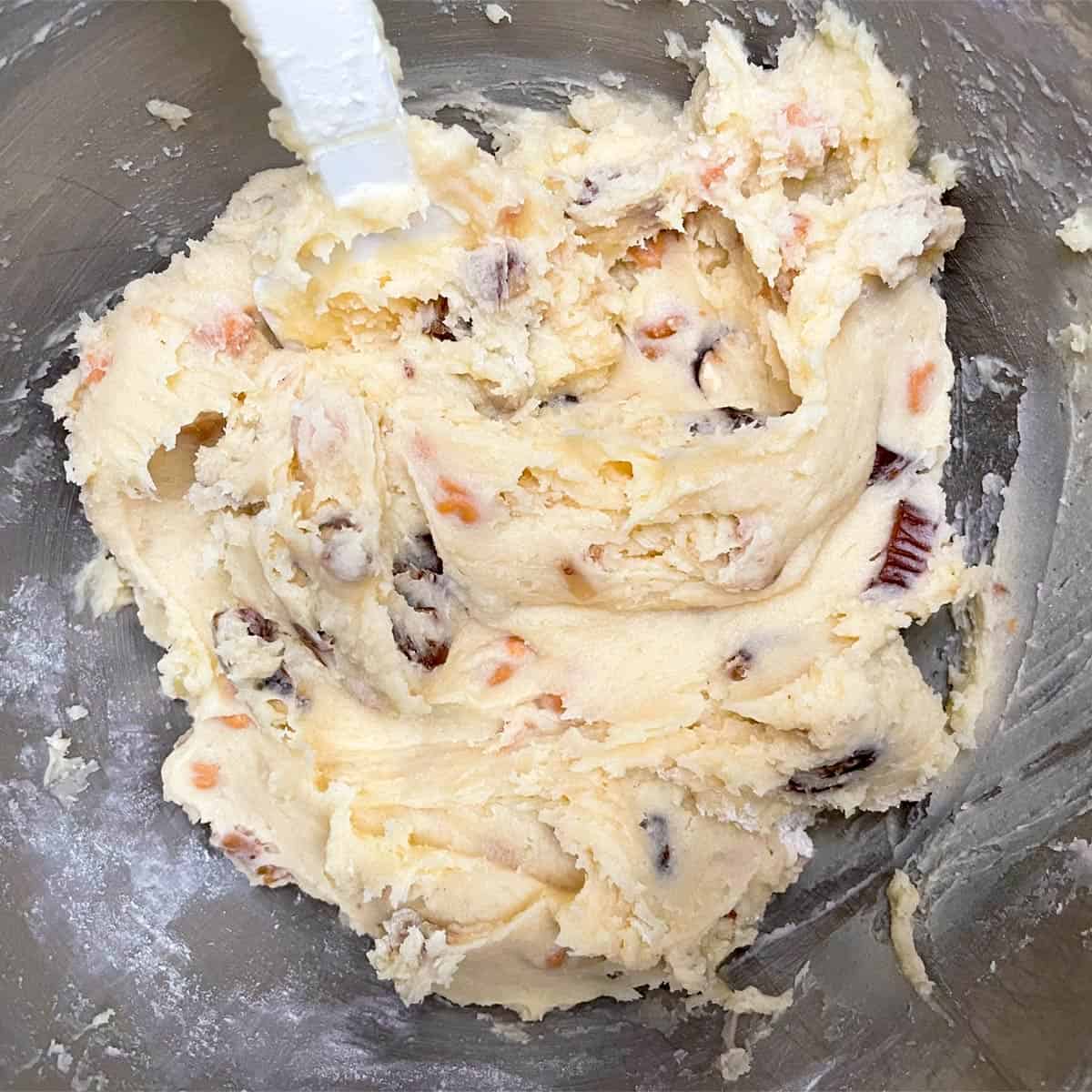 I scrape the sides and across the bottom to ensure all the flour has been incorporated—cover and chill for 2 hours.
Chilling the dough will help meld together the ingredients and provide a great flavor for your cookies.
Bake
Heat your oven to 350°F (175°C or 180°C) and add parchment paper to two cookie sheet pans.
Using a medium cookie scooper place 12 cookie mounds onto the prepared cookie sheet pan. I keep a couple of inches between the mounds.
Bake for 12-14 minutes. I leave the cookies on the pan for 2-4 minutes to finish baking and for the caramel to cool. It can be a little stubborn coming off the parchment paper.
If the caramel is still really warm, you can place a sheet of parchment paper on top of the wire rack before you move the cookies over to finish cooling.
I love dates and walnuts, and adding the caramel bits adds another fall flavor to an already great-tasting cookie.
Storage
I store these in an air-tight container, which will last about a week. These are one of my husband's favorites and do not last more than 5 days. The mascarpone gives the cookies a nice sweet taste.
Other Fall Cookies
Recipe
Caramel Bits with Dates and Walnut Cookie
Barbara Hall
Caramel and dates are a perfect combination of flavors. Add the delicate mascarpone cheese along with a few chopped walnuts and you will love this combo of flavors.
Ingredients
½

cup

Butter unsalted

room temperature

1 ¼

cups

Sugar white

2

Eggs

room temperature

½

teaspoon

Vanilla Extract

8

oz

Mascarpone

2 ½

cups

All-purpose flour

1

teaspoon

Baking powder

½

teaspoon

Kosher Salt

¾

cup

Dates

½

cup

Caramel bits

½

cup

Chopped walnuts
Instructions
Take the large 7 dates, cut them in half, take out the pit, and dice the halves into small pieces. I did get about ¾ of a cup of dates when loosely added to the measuring cup. Don't smash them into the measuring cup to measure; it will be hard to separate them throughout the cookie dough when added. Weigh or measure the sugar into a bowl and set aside. In another bowl, weigh or measure the flour, salt, and baking powder, running a whisk to blend.

Add the sugar and butter to a stand mixer and blend for 2 for about 3 minutes on medium speed. Add one egg and incorporate before adding the 2nd egg. Stop and scrape down the sides and across the bottom. Add the vanilla extract and mascarpone and blend. Stop the mixer, add the dates, walnuts, and caramel bits and turn the mixer on for about 30 seconds or less.

Grab a good one-piece spatula and take the cookie dough in the bowl off the stand. Fold the flour mixture a third at a time until it is all incorporated into the cookie dough. Cover the bowl and refrigerate for at least 2 hours.

Preheat your oven to 350°F (175°C or 180°C), and line 2 cookie sheet pans with parchment paper. Taking the cookie dough out of the refrigerator and using a medium cookie scoop, place 12 scoops on one of the cookie sheet pans. Bake for 12-14 minutes (mine were perfect at 13 minutes). After pulling the cookies out of the oven, leave them on the cookie sheet pan for 1 minute before moving them to a cooling rack to finish cooling.
NUTRITION DISCLAIMER
I am not a certified Dietitian or Nutritionist. The nutrition amounts given below are provided through a program and are only a guideline.
Nutrition
Calories:
175
kcal
Carbohydrates:
23
g
Protein:
3
g
Fat:
8
g
Saturated Fat:
4
g
Polyunsaturated Fat:
1
g
Monounsaturated Fat:
1
g
Trans Fat:
1
g
Cholesterol:
27
mg
Sodium:
72
mg
Potassium:
44
mg
Fiber:
1
g
Sugar:
14
g
Vitamin A:
218
IU
Vitamin C:
1
mg
Calcium:
31
mg
Iron:
1
mg