I love sugar cookies, but my decorating skills are not something I excel in. So I rely on flavor to make my cookies stand out. Cinnamon is a favorite spice of mine, especially in the fall and winter months. So I started to think about how I could make a sugar cookie different but still say, "I am a sugar cookie." My thought was, why not add cinnamon sugar on top.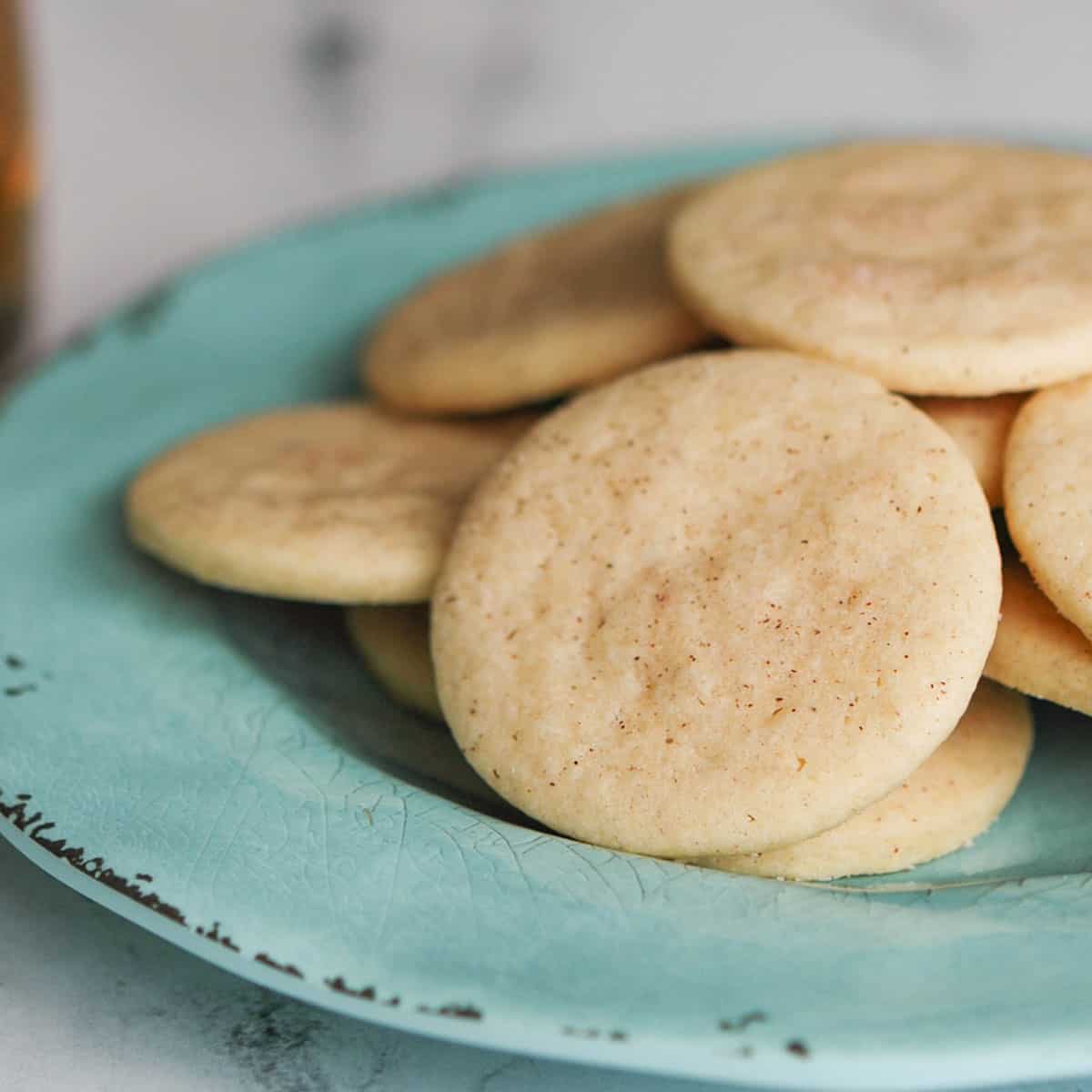 Remembering how I loved cinnamon sugar toast as a kid and thinking this would be perfect for spicing it up. But another favorite of mine is applesauce with cinnamon sugar on top. So I thought, why not just throw in some apple juice and see where this goes. Apple and cinnamon gave my cookies a flavor combo that did bring back memories. This cookie reminds me of some of my favorite foods growing up with every bite.
Ingredients You Will Need
COOKIE DOUGH
1 cup Butter unsalted
1 cup Sugar white
3 TBSP Apple juice
1 Egg
3 cup All purpose flour
1-½ tsp Baking powder
½ tsp Baking soda
¼ tsp Ground cinnamon
½ tsp Apple pie spice
TOPPING
½ tsp Ground cinnamon
2 TBSP Sugar white
How to Make the Perfect Sugar Cookie
It is my wish that all my sugar cookies might be the same size and thickness. You will get a consistent cookie taste with every cookie if you can follow this rule. So this is one of the ways I go about accomplishing this goal.
Weigh or measure all your dry ingredients and run a whisk through to blend them evenly. Next, weigh out the sugar, and we are ready to start.
In a mixer, add the butter and sugar. On medium speed, mix for 2 to 3 minutes. Next, add the apple juice and egg and blend. Finally, turn the mixer down to low and gradually add the dry flour mixture. You want to bring the dough together into a ball and then cover and chill.
Take the cookie dough out of the fridge and onto a floured piece of parchment paper. Flatten out the ball some and add a little flour to the top. Next, add another piece of parchment paper so that the cookie dough is between the two. I have thickness rings on the ends of my rolling pins, and this one is ¼"
Roll out the dough and then peel back the paper for a smooth and even cookie dough. I used a round cookie cutter (you can use whatever you have handy).
These do not spread much but leave an inch between each cookie when placed on the parchment-lined cookie sheet pan. Next, mix some cinnamon and sugar together in a small bowl and sprinkle a little on the top of each cookie.
Bake at 350°F (175°C or 180°C) for 6-8 minutes. You do not want to see any brown around the bottom edges, or they will be overdone. You may need to adjust the time if you go thicker or thinner with the rolled-out dough. I hope you enjoy these cookies!
Storage
These can be stored in a container that the lid is just laid on top. I am constantly changing the cover from either airtight or not. If the cookies get too soft, I just lay the lid on top without sealing it.
Rolling Pins That I Use
In the last couple of years, I have changed my rolling pins to a wooden dowel, and the other is polyethylene dowel. The wooden one is a J.K. Adams Plain Rolling Dowel, and the polyethylene is discontinued, but this one from PME Is a very close version of mine.
I love the straight edges of these rolling pins since it is easy to add the thickness rings to the ends. These rings from Amazon fit both of my rolling pins. These thickness rings are my saving grace for getting consistent cookies that bake up the same with every batch.
Other Sugar Cookies to Try!
Recipe
Apple Cinnamon Sugar Cookies
Barbara Hall
This basic cookie is almost a cross between a sugar cookie and snickerdoodles. Definitely a good cookie to have on hand.
Ingredients
COOKIE DOUGH
1

cup

Butter unsalted

2 sticks room temperature

1

cup

Sugar white

198 g

1

Egg

3

tablespoon

Apple juice

3

cup

All-purpose flour

360 g

1-½

teaspoon

Baking powder

6 g

½

teaspoon

Baking soda

3 g

¼

teaspoon

Ground cinnamon

½

teaspoon

Apple pie spice
TOPPING
½

teaspoon

Ground cinnamon

2

tablespoon

Sugar white
Instructions
Measure or weigh your flour, baking powder, baking soda, cinnamon, and apple pie spice into a bowl and run a whisk through to blend. In another bowl, weigh or measure the sugar and set aside. You may use a stand or handheld mixer to cream the butter and sugar until they are light and fluffy. Next, add the apple juice, then add your egg and blend till the egg is incorporated.

Turn the mixer to low and add the flour mixture till incorporated. The dough might look a little crumbly, but if you take some in your hand, you should be able to make a ball. So think of it as play dough it should have the same consistency. Cover and refrigerate for 20 minutes to half an hour. I buy parchment paper in sheets, and I find rolling out dough between 2 sheets of parchment paper the easiest way to roll out the dough.

Preheat the oven to 350°F (175°C or 180°C) and line two cookie pans with parchment paper, so they are ready. Roll the dough to at least ¼" thick. You can make them thicker, but you will need to add another minute or so to the baking time. I got five dozen cookies from making the dough ¼" thick. They do not spread very much but leave at least an inch between the cookies on the cookie pan. For the topping mix the cinnamon and the sugar together. Using your thumb and fingers, sprinkle the mixture on top of each cookie.

Bake at 350°F (175°C or 180°C) for 6-8 minutes, mine was 7 minutes. You do not want them to turn brown, or they will be dry inside. Move the cookies to a cooling rack when you take them out of the oven.
NUTRITION DISCLAIMER
I am not a certified Dietitian or Nutritionist. The nutrition amounts given below are provided through a program and are only a guideline.
Nutrition
Calories:
66
kcal
Carbohydrates:
9
g
Protein:
1
g
Fat:
3
g
Saturated Fat:
2
g
Polyunsaturated Fat:
1
g
Monounsaturated Fat:
1
g
Trans Fat:
1
g
Cholesterol:
11
mg
Sodium:
14
mg
Potassium:
10
mg
Fiber:
1
g
Sugar:
4
g
Vitamin A:
99
IU
Vitamin C:
1
mg
Calcium:
5
mg
Iron:
1
mg