It is February, and it is frigid outside. So I always think of blueberries as a winter kind of fruit. Of course, they aren't, but dark blue reminds me of cold. Anyway, the blueberry is just full of nutritional components. To learn more about blueberry's health benefits here is a great article by MedicalNewsToday - Everything you need to know about blueberries.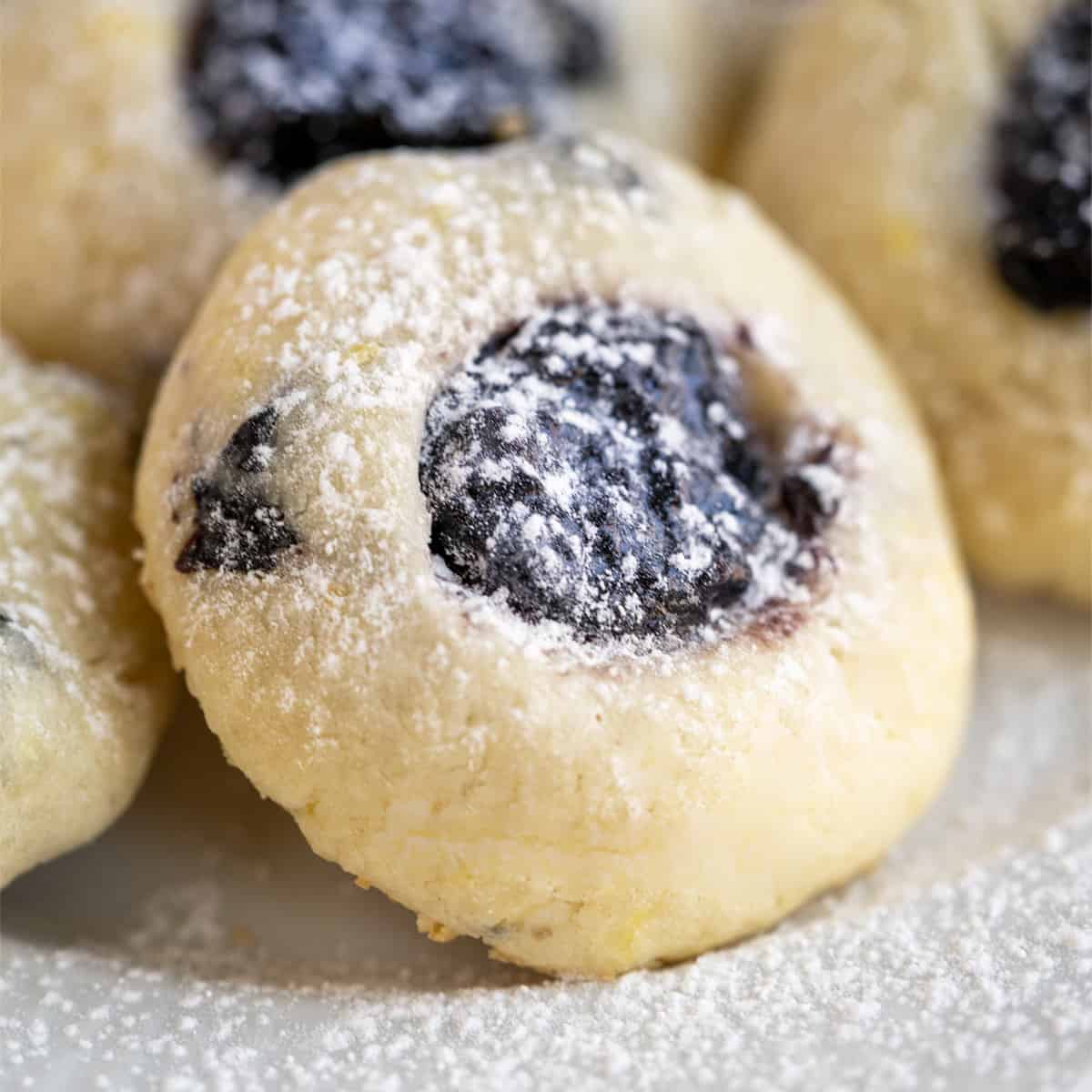 So, I didn't want just a jam-filled cookie, so I thought, why not add dried blueberries to the cookie and really make it a blueberry, blueberry jam-filled cookie? I do like dried blueberries since they do not make the cookie blue in color. Also, dried blueberries are not so big that they overwhelm the cookie.
Jump to:
Ingredients
Jump to Recipe for Amounts
Cream Cheese
Butter unsalted
Sugar white
Lemon zest
All-purpose flour
Blueberries dried sweetened
Blueberry jam
Powdered sugar Sprinkle on top when cooled
Jams or Preserves
The grocery stores have expanded the shelving for jellies, jams, and preserves over the last five to ten years. So as you are looking over your choices, this may help with your decision. Jam is a thinner spreadable fruit, while preserves have chunks of fruit.
For the thumbprint cookies, I use either, and the taste will be great for both. I am lucky that we have a local company in Lancaster County, PA, that makes the jams and preserves here.
Kitchen Kettle has many shops, including the Jam & Relish Kitchen, where you can buy online.
Some of my other favorite jams and preservers are manufactured by; Stonewall Kitchen and Bonne Maman.
Making Thumbprint Cookies
These easy blueberry jam thumbprint cookies are so full of blueberry taste and delicious. Not sure about your home, but when I make homemade cookies, they do not last long. You might want to try some of my other thumbprint cookies, like Apricot Cream Cheese Cookies or Apple Cranberry Homemade Jam Cookies.
Not too much prep work. Start by zesting the lemon. I usually only go over the same spot once or twice. If you go over more than that, you run the risk of zesting the next white layer down, which can be bitter tasting.
Next, weigh or measure the flour in one bowl and the sugar in another bowl, setting both aside.
Take your room-temperature butter and mix in the bowl for a minute. I do this to make sure it is soft throughout the whole stick. Then, add the cream cheese and blend on a medium mixer speed for 2 to 3 minutes.
Gradually add the sugar to the butter-cream cheese mixture and blend for another 2 minutes. Then, scrape down the bowl and across the bottom. This way, you can make sure everything is mixed.
Now add the lemon zest and mix until it has been incorporated. Next, turn the mixer down to a slow speed and gradually add the flour. Don't over-mix the flour; it only takes less than a minute to distribute.
Last but not least, add your blueberries and mix for about 15 seconds or less. I take a spatula and make sure the blueberries are even throughout the cookie dough.
Chill Scoop and Bake
Cover and chill for 1 to 2 hours. Giving a long chill time allows the ingredients to meld together.
After pulling the cookie dough out of the refrigerator, I let the bowl sit for 10 minutes to soften enough for me to scoop.
Preheat the oven to 350° and line 2 cookie sheet pans with parchment paper.
Using a medium size cookie scooper, scoop out and make a ball of the cookie dough. I put 12 balls on the first cookie sheet pan. The second sheet pan will only have 8 to 9, so space them around the pan.
Now take your thumb, and from the top, go straight down the center of each ball of cookie dough. You may have to dodge a few blueberries but wiggle your thumb to get around them. Don't go through the bottom.
You want the well to hold the jam, not ooze out the bottom. I take a small spoon and fill the well with blueberry jam. Try not to overfill the cookies, or the jam will spill out over the top.
Bake at 350° for 11-13 minutes. Test them at 11 minutes. You want the top to be just a little firm to the touch. You don't want to overbake these.
Move them to a cooling rack right after they come out of the oven. After they cooled, you can sprinkle powdered sugar on the tops.
I hope you enjoy this blast of blueberries! These cookies even taste better the next day, but I could never wait that long.
FAQs
Why are these blueberry with blueberry jam cookies special?
These cookies are packed with blueberry flavor. By adding dried blueberries in the cookie dough and blueberry jam in the middle you get a blueberry burst with every bite.
Can I use a different flavor of jam instead of blueberry jam?
Absolutely! Oh, my yes, most fruits work well together. For example, you could use apricot, blackberry, raspberry, or one of my favorites peaches.
What is the best way to store the jam cookies?
These cookies stay fresh for 4 to 5 days. If you need a longer shelf life you may want to refrigerate them for up to a week.
Try Some of My Other Blueberry Recipes
Recipe
Blueberry with Blueberry Jam Cookies
Barbara Hall
This is a blueberry lover's dream. Whole dried blueberries along with a well filled with blueberry jam of your choice. Every bite, you taste blueberries.
Ingredients
4

ounce

(

113.4

g

)

Cream Cheese

½

cup

(

113.5

g

)

Butter unsalted

room tempreture

½

cup

(

100

g

)

Sugar white

1

teaspoon

(

1

teaspoon

)

Lemon zest

1 ¼

cup

(

156.25

g

)

All-purpose flour

½

cup

(

80

g

)

Blueberries dried sweetened

½

cup

(

170

g

)

Blueberry jam

½

cup

(

60

g

)

Powdered sugar

Sprinkle on top when cooled
Instructions
Zest the lemon. Weigh or measure the sugar into one bowl, then do the same in another bowl for the flour. In a stand or handheld mixer, add the cream cheese and the butter blending on medium speed for 2 to 3 minutes. Add the sugar and mix on medium speed for another two minutes. Scrape down the sides and across the bottom to make sure all ingredients are blended thoroughly.

Add the lemon zest, then turn the mixer down to a low speed. Gradually add the flour till all is incorporated. Scrape down the sides and across the bottom before adding the blueberries. Mix for about 30 sec to distribute the blueberries evenly. Cover loosely and refrigerate for 1 to 2 hours.

Preheat the oven to 350°, and line 2 cookie sheet pans with parchment paper. The cookie dough might be stiff, so I let it sit on the counter for 10 minutes before I start. Take a medium cookie scooper, scoop out the cookie dough, and roll it in your hands to make a round ball. Just try and make them all the same size for even baking. I put 12 rolled balls onto the first pan. Take your thumb and make a hole in the center of each ball going straight down but do not go to the bottom.

Take your favorite blueberry jam and use a teaspoon to fill the hole with the jam. Bake the cookies at 350° for 11-13 minutes. After pulling the baked cookies from the oven, move them to a cooling rack. I sprinkle powdered sugar on top once they are cooled.
NUTRITION DISCLAIMER
I am not a certified Dietitian or Nutritionist. The nutrition amounts given below are provided through a program and are only a guideline.
Nutrition
Calories:
166
kcal
Carbohydrates:
24
g
Protein:
1
g
Fat:
7
g
Saturated Fat:
4
g
Polyunsaturated Fat:
0.3
g
Monounsaturated Fat:
2
g
Trans Fat:
0.2
g
Cholesterol:
19
mg
Sodium:
24
mg
Potassium:
57
mg
Fiber:
1
g
Sugar:
15
g
Vitamin A:
229
IU
Vitamin C:
1
mg
Calcium:
13
mg
Iron:
1
mg