I was dreaming about blueberries the other night, I know, really, so I had to have them. However, fresh blueberries can be tricky because they have different levels of sweetness and tartness in the same container. So I needed to find a way to balance the fresh blueberries to a more even taste.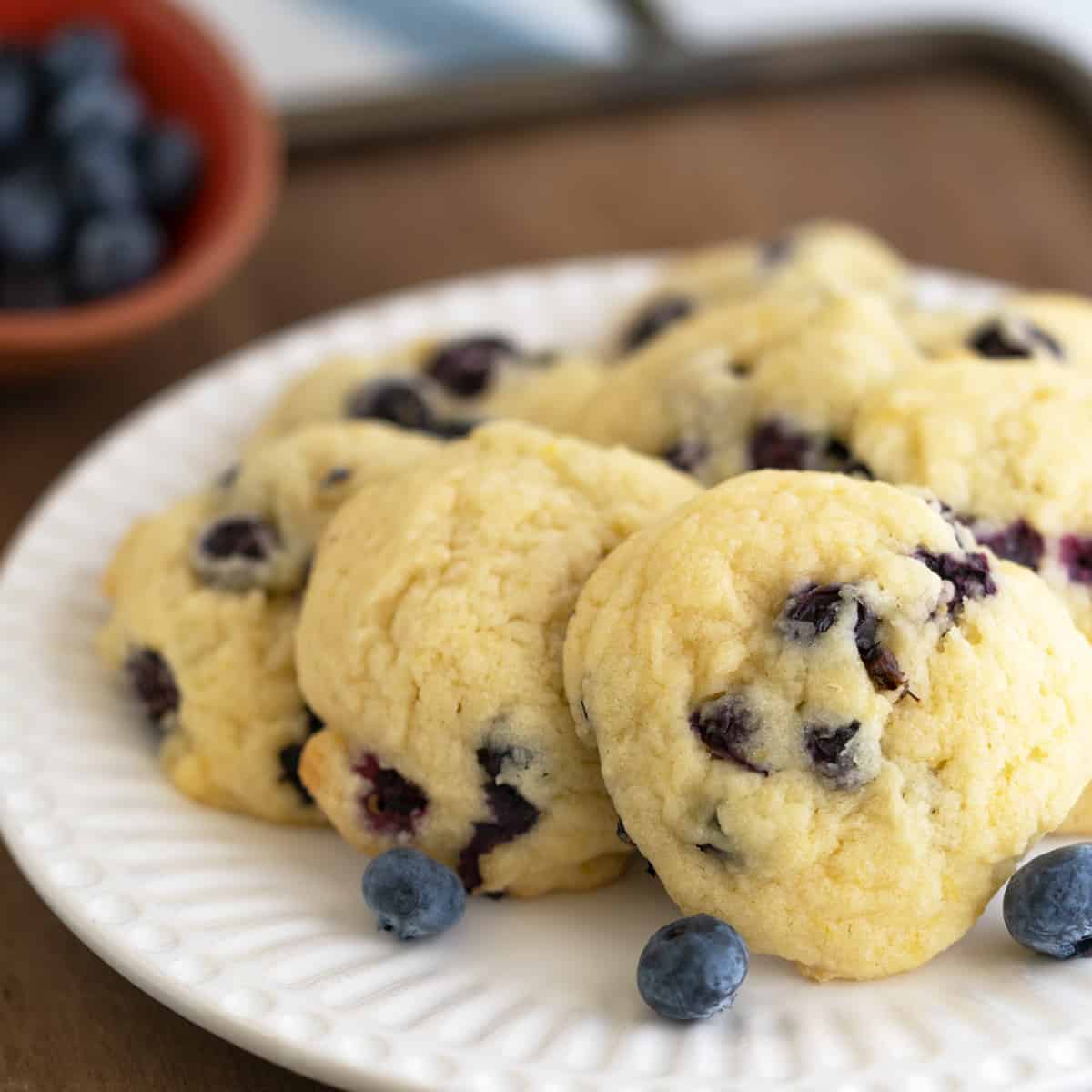 So I decided to infuse the blueberries with lemon and maple syrup. I purchased a new maple syrup this past month from a Canadian company called Escuminac. They produce different syrups with different tastes. I choose Great Harvest for this cookie. The description is:
GREAT HARVEST
Luxuriously thick, with a buttery mouthfeel that coats the palate beautifully. This is a pure maple syrup; its aromatic profile brings to mind warm buttered brown sugar, date purée, English toffee, and green anise.

Escuminac
Using pure maple syrup and lemon zest is a great way to add flavor and sweetness to the blueberries. So, I added a little more syrup and lemon to the cookie dough.
Ingredients You Will Need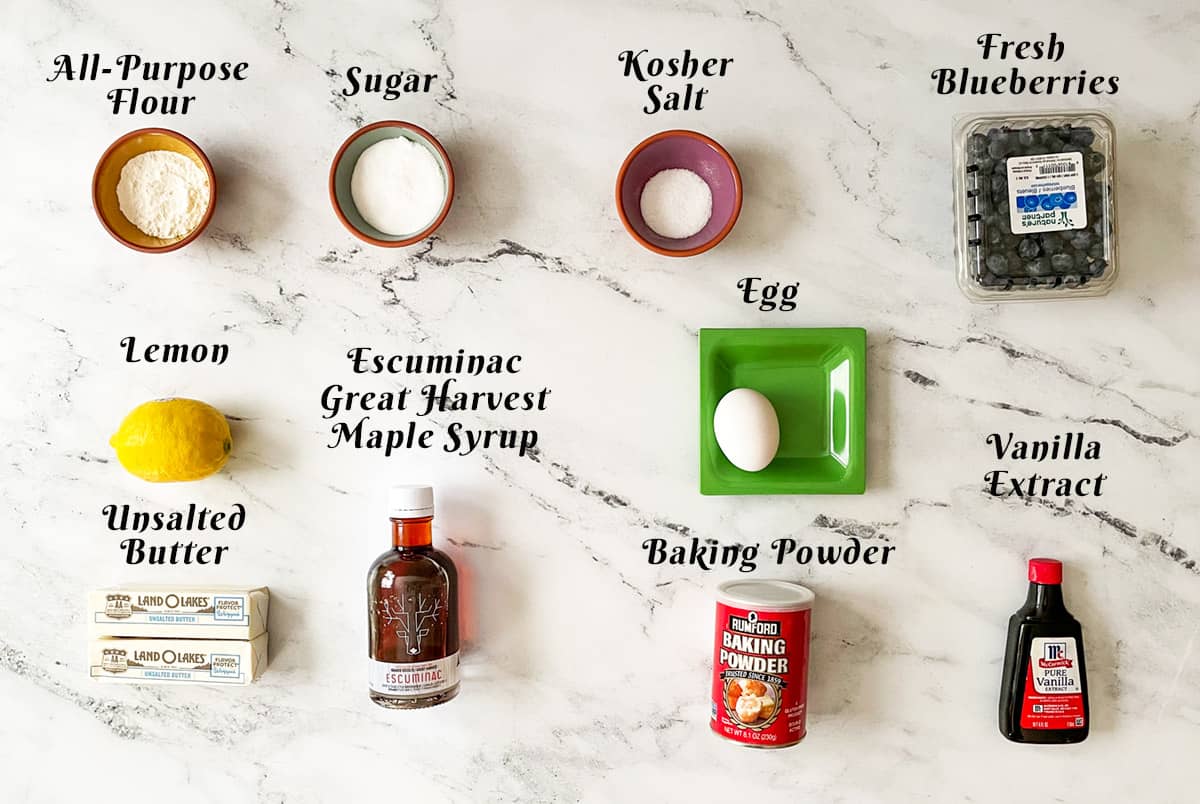 Jump to Recipe for Amounts
Blueberries You will want to get the firmest you can find. These blueberries go through being infused, folded into cookie dough, and baked. The firmer they are, the better. Nothing is as good as biting into a cookie with blueberries where the cookie is baked, but the blueberries are juicy.
Vanilla Extract This should be a pure vanilla extract. I have talked to some people who say they do not taste a difference between imitation and pure vanilla extract, but I can. But if you are tight on a budget, use what you have on hand.
Maple Syrup Every maple syrup has its unique flavor. I love the Great Harvest because of its buttery taste.
Land O'Lakes Unsalted Butter This is the most consistent butter I have found. Since I add my amount of salt to my cookies, I prefer unsalted. If you are using butter with salt, you may want to skip the salt in the recipe.
Kosher Salt Diamond Crystal is the brand I use, but there are a few others, mostly Morton. Most table salt has iodine in it, and using kosher salt eliminates any aftertaste of iodine since it does not contain any. So if you start to use Kosher Salt for your baking and cooking, everything will taste better.
Step by Step Instructions
This cookie has two steps; infusing the blueberries and making the cookies. Let's start with infusing your fruit and why I do this process.
Infuse Blueberries
Lemon and maple syrup pair well with blueberries, but you don't want to bite into a lemon and maple cookie and never taste the blueberries. This is all about balance! Start with firm blueberries; they will hold their shape when baking more than soft blueberries.
Wash the blueberries and pat them dry. Add to a bowl and zest 1 whole lemon right on top of the blueberries. Next, add ½ Tablespoon of maple syrup and stir to coat all the blueberries. Let these sit for about an hour or so, stirring every fifteen minutes.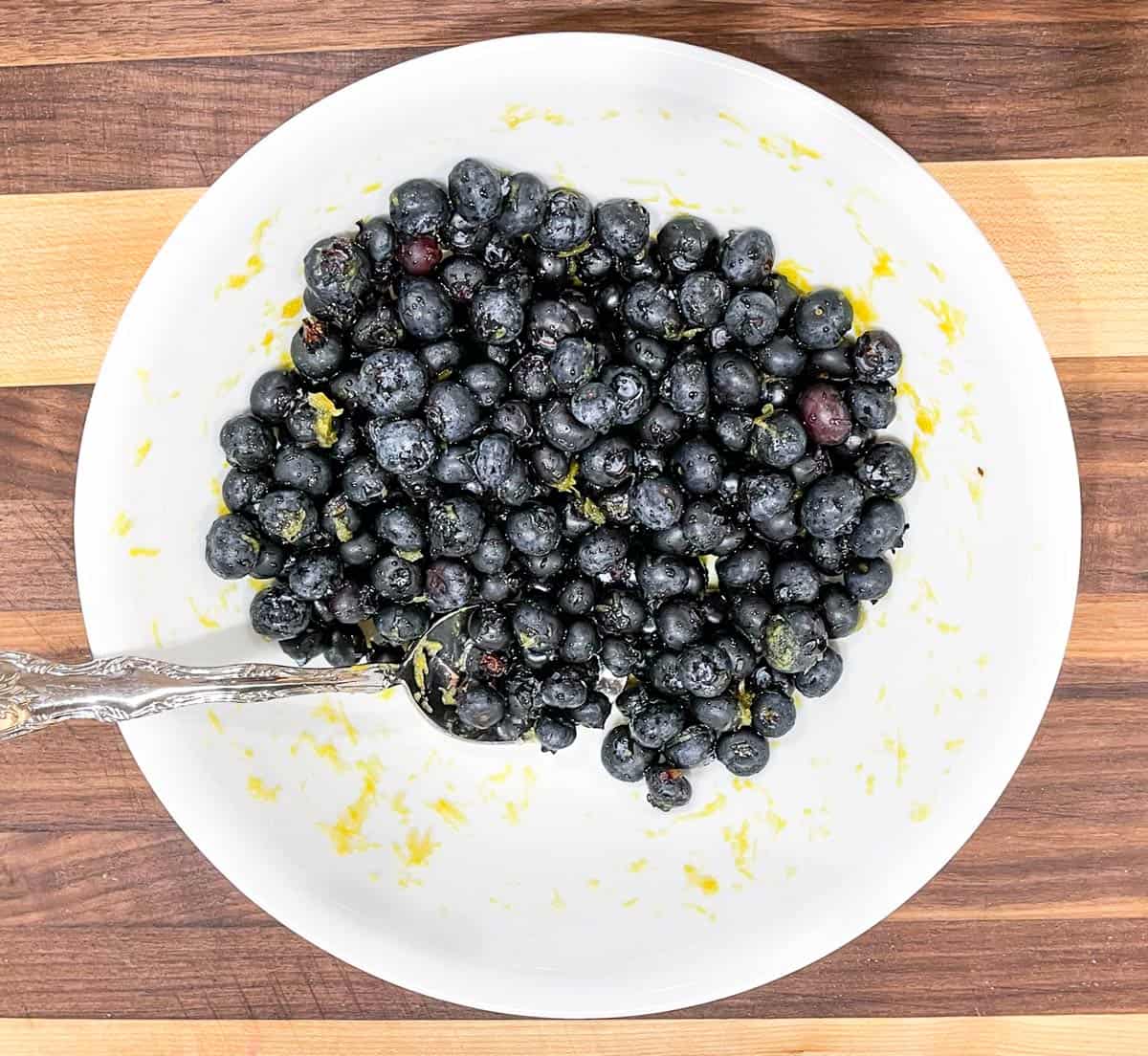 That is all you need to do to brighten up and add flavor to your blueberries.
Making the Cookies
Weigh or measure your sugar and set that bowl aside. Next, weigh or measure the flour, baking powder, salt, and run a whisk through to blend.
Add the room temperature butter and sugar and mix until it is light and fluffy, about 3 minutes on medium mixer speed. Now, stop and scrape down the sides and add the lemon juice, vanilla extract, maple syrup, egg, and mix until all these have been incorporated.
I scrape down the sides again and turn the mixer to a low speed. Gradually add the flour mixture. Mix for about a minute or until most of the flour is mixed into the wet ingredients. You don't want to over mix the flour; you can finish with a spatula if needed. Take the bowl off the stand and get out your spatula; it's time to fold in the blueberries.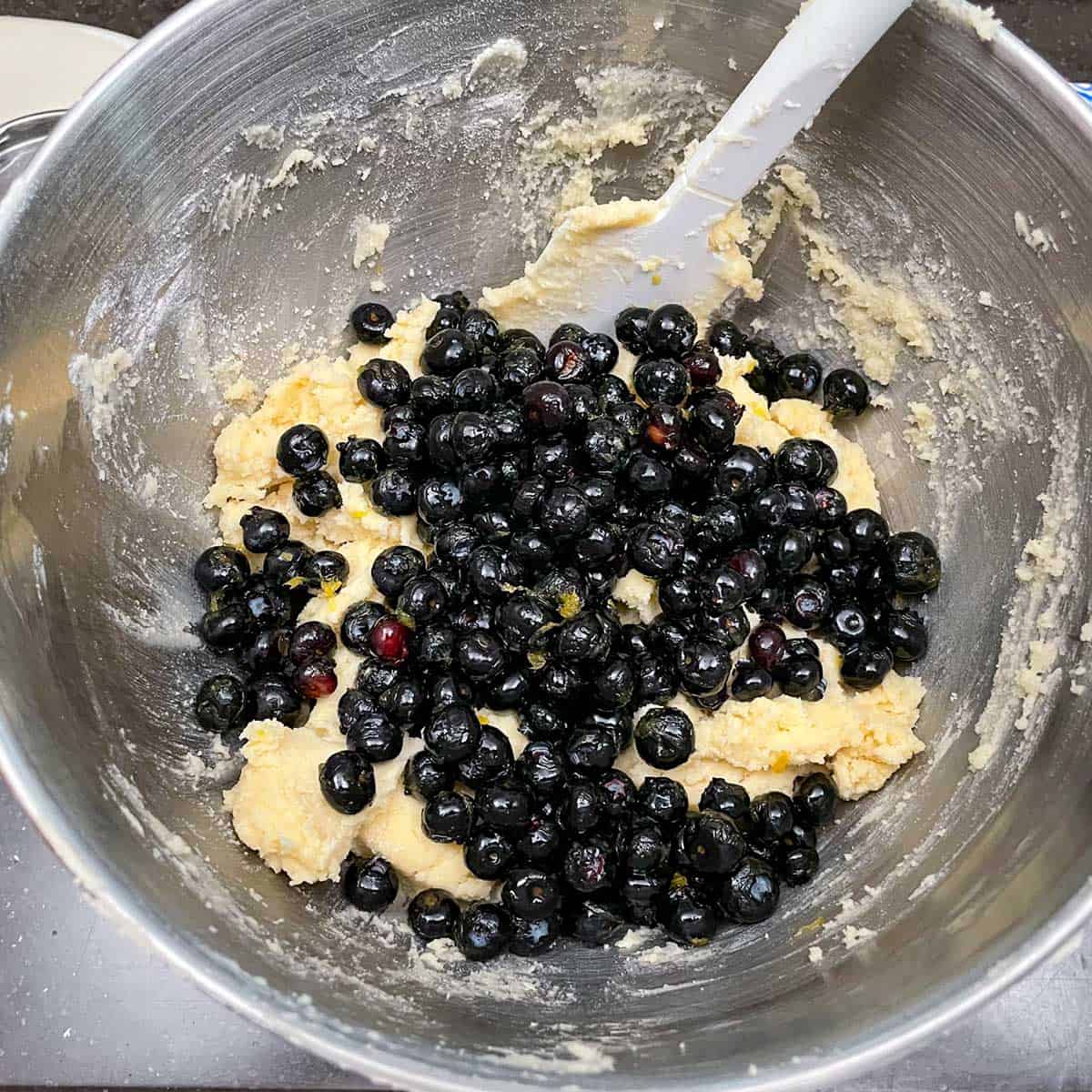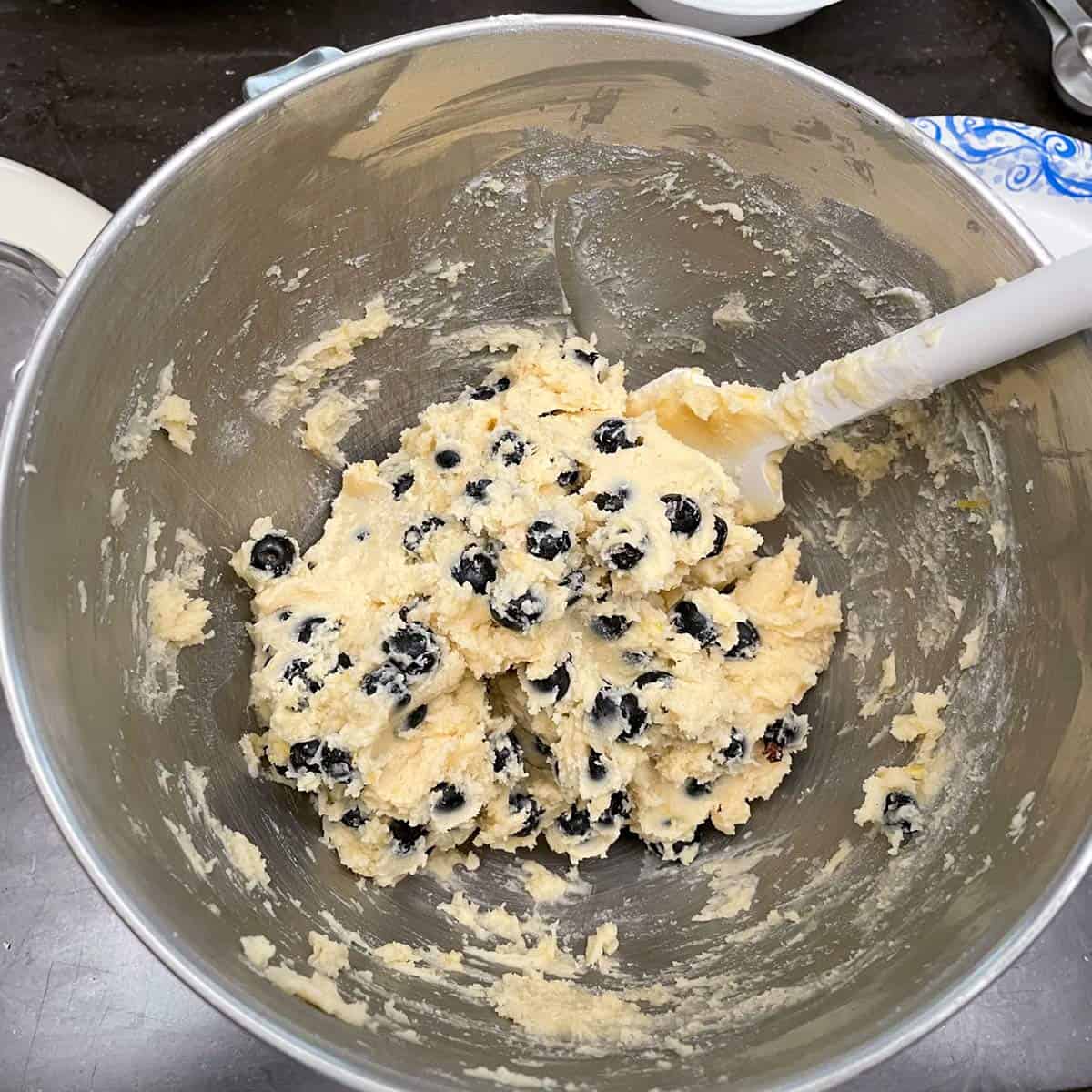 I have a one-piece spatula from Williams Sonoma that I have used for five years. The head will not come off, and it is not wooden, so it will not break. Perfect for folding things like blueberries into cookie dough. Be gentle folding in the infused blueberries and keep them whole as much as possible.
Refrigerate for 15 to 20 minutes. Line 2 sheet pans with parchment paper and scoop 12 cookie mounds onto one of the pans with a medium cookie scooper. Bake at 350°F (175°C or 180°C) for 13 to 15 minutes, then repeat with the other pan.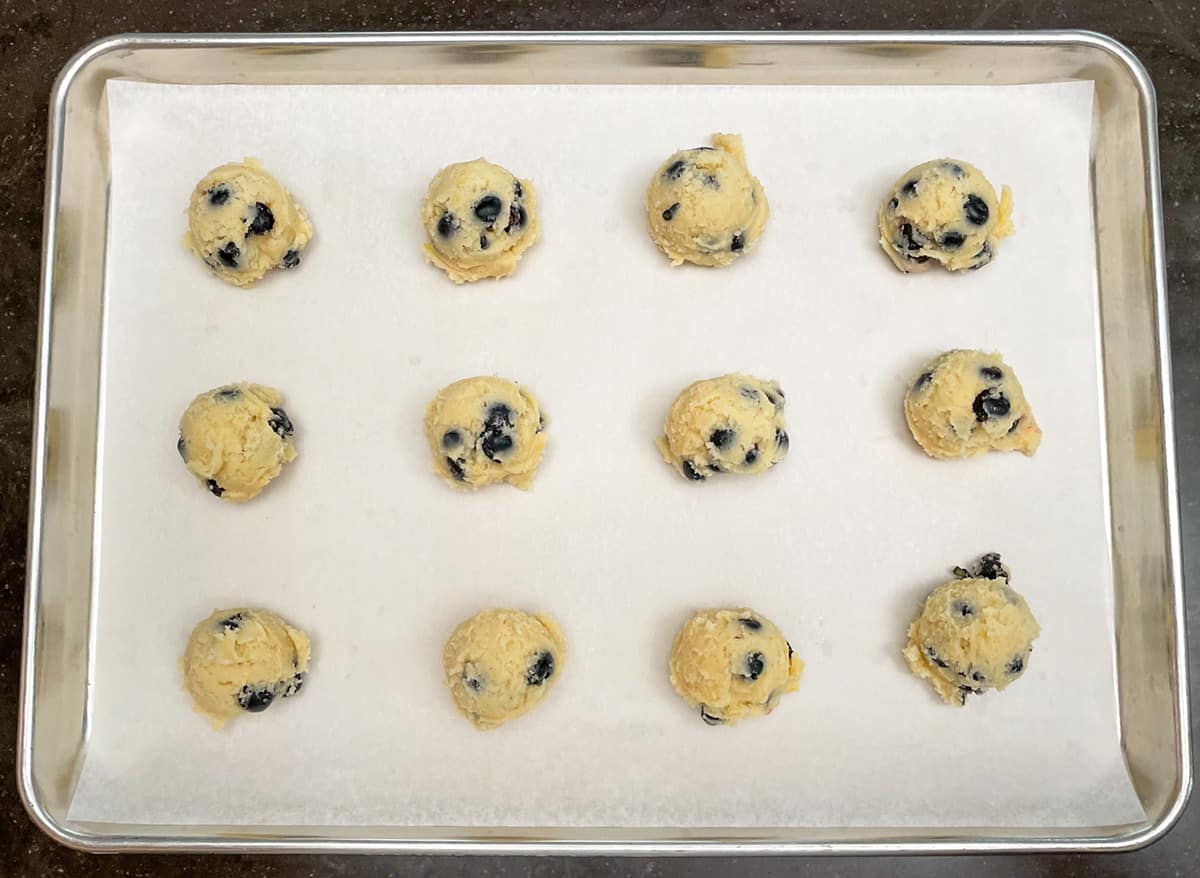 Once out of the oven, leave the cookies on the sheet pan for about 3 minutes. Then move them to a cooling rack.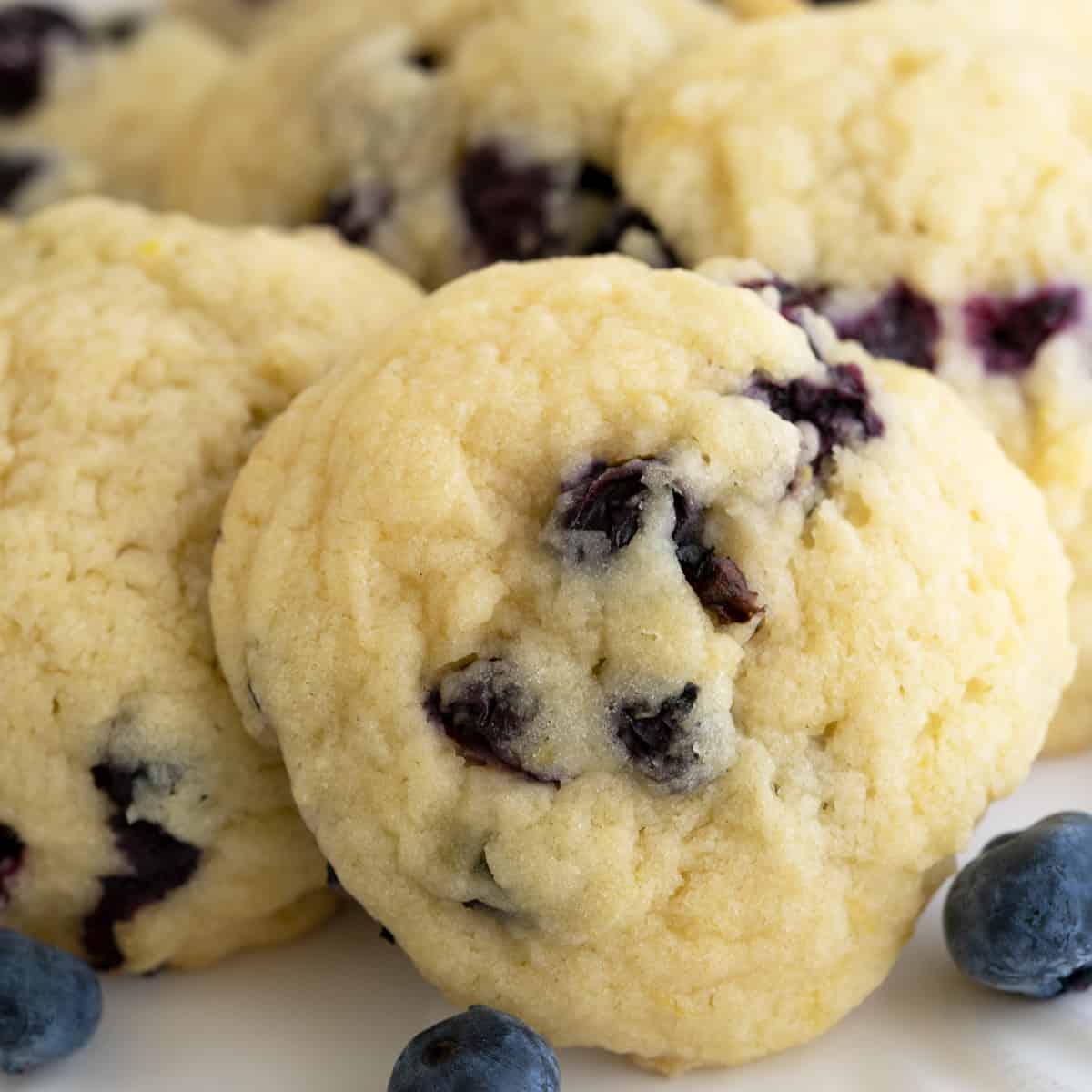 Storage
These cookies are so good, but you need to take special care concerning storage. Fresh fruit has liquid which can lead to soggy cookies if you are not careful. My best advice is to store the cookies in a single layer with parchment or wax paper between the layers. I also lay the lid crosswise across the top.
This will leave plenty of air to circulate around the cookies and keep them just the way you want them. These cookies should last for about 5-6 days.
More Blueberries
Recipe
Fresh Blueberry Lemon Maple Cookies
Barbara Hall
Fresh blueberries can be tricky as far as flavor. You never know what's in your container. Adding lemon and maple syrup evens out the berries and makes these cookies bright and delicious.
Ingredients
Cookies
1

cup

(

227

g

)

Butter unsalted

room temperature

1

cup

(

200

g

)

Sugar white

½

teaspoon

(

0.5

teaspoon

)

Vanilla extract

1

teaspoon

(

1

teaspoon

)

Lemon juice

½

Tablespoon

(

0.5

Tablespoon

) Escuminac maple syrup

Great Harvest

1

(

1

)

Egg

room temperature

2 ½

cups

(

312.5

g

)

All-purpose flour

1

teaspoons

(

1

teaspoons

)

Baking powder

¼

teaspoon

(

0.25

teaspoon

)

Kosher Salt

1 ½

Cup

Infused blueberries
Infused
1 ½

cup

(

222

g

)

Blueberries fresh

1

Lemon zest

½

Tablespoon

(

0.5

Tablespoon

) Escuminac maple syrup

Great Harvest
Instructions
INFUSE BLUEBERRIES
Zest and juice 1 lemon. Reserve the juice for the cookie dough. In a bowl, add the blueberries, maple syrup, and the zest of 1 lemon and stir around. Let it sit for 1 to 2 hours. Stir it around once in a while to keep the berries rotated. If you use more maple syrup, the blueberries will hold too much liquid and make your cookies too wet and soft.
COOKIES
Preheat your oven to 350°F (175°C or 180°C) and line 2 cookie pans with parchment paper and set aside. Weigh or measure flour, baking powder, and salt and run a whisk through it to blend and set the bowl aside.

Cream the sugar and butter until light and fluffy using a hand-held or stand mixer. Next, add the vanilla extract, lemon juice, maple syrup, egg, and mix until all are incorporated. Next, you want to slowly add the flour mixture to the wet cookie dough in the mixer bowl. Don't overmix; a minute is good. Next, you want to take the bowl off the stand and, using a one-piece spatula, fold in any flour that the mixer missed.

Now add the whole bowl of infused blueberries and gently fold them into the cookie dough. Try not to break the blueberries but get them as evenly distributed throughout the cookie dough as possible. Refrigerate for 15 to 20 minutes.

I use a medium cookie scooper to add 12 scoops to a cookie sheet pan. Bake at 350°F (175°C or 180°C) for 13 to 15 minutes until they are just a little brown around the bottom edges. After pulling the cookies out of the oven, let them sit on the cookie pan for at least 3 minutes. They will be soft, so they need a little time to firm up. Then move them to a cooling rack. I left them cool for about an hour on the rack.
NUTRITION DISCLAIMER
I am not a certified Dietitian or Nutritionist. The nutrition amounts given below are provided through a program and are only a guideline.
Nutrition
Calories:
184
kcal
Carbohydrates:
19
g
Protein:
2
g
Fat:
12
g
Saturated Fat:
7
g
Polyunsaturated Fat:
1
g
Monounsaturated Fat:
3
g
Trans Fat:
1
g
Cholesterol:
31
mg
Sodium:
40
mg
Potassium:
27
mg
Fiber:
1
g
Sugar:
8
g
Vitamin A:
360
IU
Vitamin C:
1
mg
Calcium:
14
mg
Iron:
1
mg