Apple pie a la mode is one of my favorite pies in the whole world. Since it is the middle of August, apples are in full swing here in Pennsylvania. The grocery stores have at least 8 or 9 different types of apples. I am sure that almost everyone has heard the old Welsh proverb, "an apple a day keeps the doctor away," so is this true?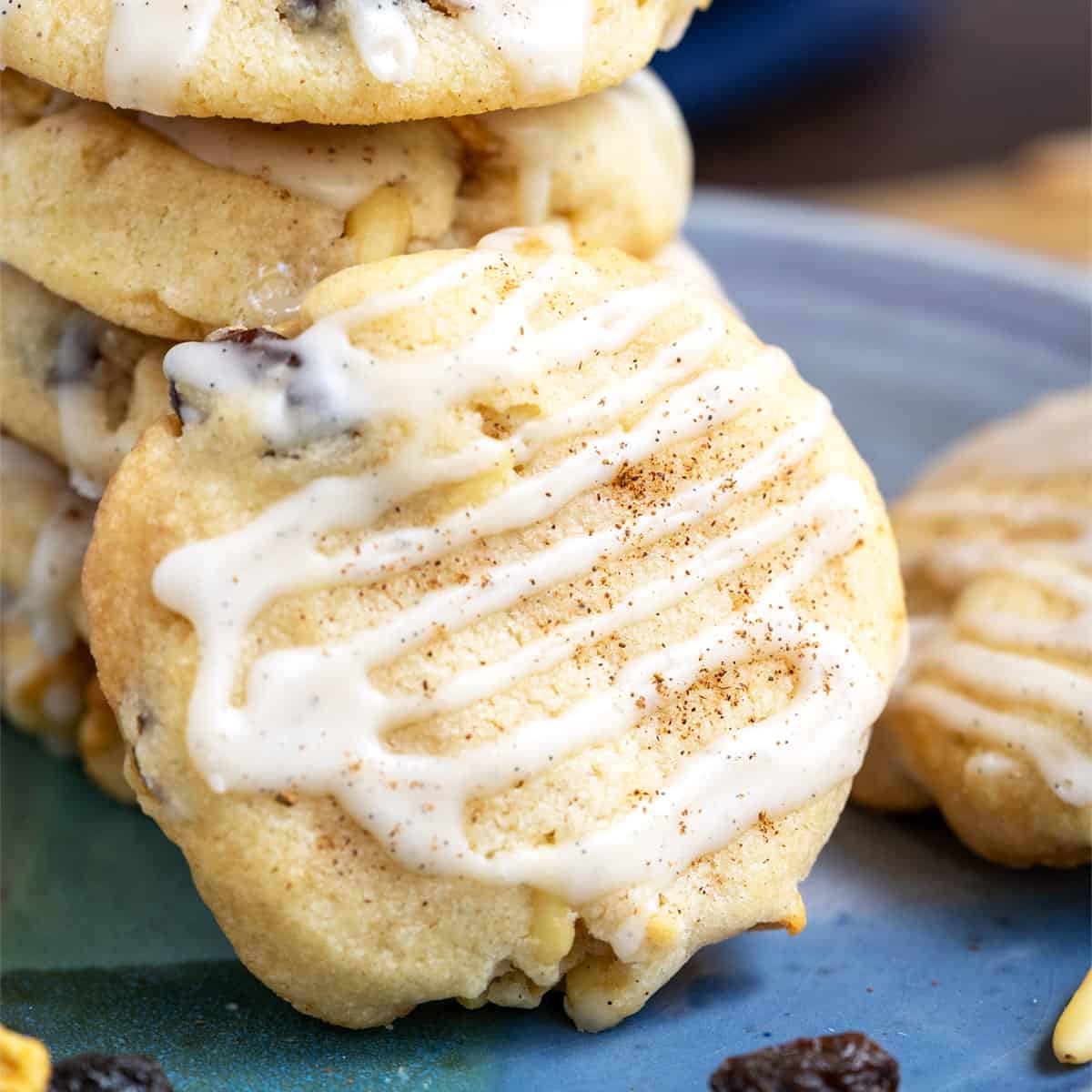 Two things about apples I want to share:
I wanted a little crunch, so I added pine nuts. Unfortunately, I don't think pine nuts get their due as far as nuts for cookies go. But here are a few fun facts about pine nuts. First, they have a light buttery taste, so they would not overpower my apples or raisins.
I wanted something that would bring out the taste of the apples and give the taste of an apple pie, and I found a spice called Apple Pie Spice by McCormick. I can't tell you how impressed I am with this spice. It did make my cookies taste like apple pie.
Jump to:
Where to Find Dried Apples
If you've never used dried apples, they have a bit of a strange texture. They are a little spongy. They aren't dehydrated and crisp; they just have some of the moisture pulled out so that they are chewy.
Thinking there had to be an orchard that was local and did their own dried apple slices that I could use for this cookie. So, drifting through my local grocery store Oregon Dairy low and behold there was a perfect size bag of dried apple slices.
Here in Lancaster, we have quite a few apple orchards in the area. So, finding dried apple splices processed here in my area was golden. Flinchbaugh's Orchard & Farm Market was just in the next county over from Lancaster. I did call them to find out if they shipped and they do. Visit their website and call if you have questions about their products.
In this recipe, I rehydrate and infuse them with apple juice and cinnamon. Infusing gives them a wonderful flavor and also a wonderful texture after they are baked. I place them on paper towels for a couple of hours to draw as much liquid out of the apple pieces as possible.
Ingredients You Will Need
INFUSED DRIED APPLES
Dried apples
Apple juice
Cinnamon stick
---
COOKIE DOUGH
Butter unsalted
Light brown sugar
Sugar white
Apple juice
Vanilla Extract
All purpose flour
Baking powder
Apple pie spice
Kosher Salt
Infused dried apple
Pine nuts
Raisins
---
A LA MODE GLAZE
Powdered sugar
Vanilla bean paste
Milk
Apple pie spice
---
How to Infuse Dried Fruit with Flavor
Since I needed small pieces for my cookies, I found it easier to cut them up before infusing them.
Add the apple juice and the cinnamon stick to a small saucepan and bring to a boil.
Pour the hot apple juice (including the cinnamon stick) over the cut-up dried apple pieces and soak for 15 minutes.
Strain the apple pieces and lay them out on a paper towel. Take a paper towel over the top and press down to help absorb the liquid. I leave them out for a couple of hours, changing the paper towels a couple of times.
Mixing and Baking Apple Pie Cookies
This is an easy cookie to make and packs a lot of flavors. So, start with weighing or measuring the white and light brown sugars into a bowl and setting it aside.
I like to cut my butter into cubes. Start the mixer out on low.
Then turn the mixer to a medium speed and for about 2 minutes so that it creams the butter.
Scrape down the bowl sides and add the sugars. Turn the mixer to medium speed for 2 to 3 minutes. Then add the apple juice and vanilla extract and blend. Scrape down the bowl and turn the mixer to a low speed and gradually add the flour mixture.
Finally, add the infused apple pieces, raisins, and pine nuts. Mix for about 15 to 20 seconds.
Take a spatula and mix if the apple pieces are not distributed evenly. Cover and chill for about 30 to 45 minutes.
Preheat the oven to 350° and line 2 cookie sheet pans with parchment paper. Take a medium cookie scooper and scoop out enough to make a ball with your hands. Add 12 balls to a prepared sheet pan. Try and make them about the same size so they bake evenly.
Cut a square of parchment paper and lay it on top of a cookie ball. Take a flat bottom glass and press about halfway to flatten the ball to about ⅜" thick.
Flattening the balls makes the a la mode glaze easier to drizzle on, and you can cover most of the cookie, which lets you have a cookie and glaze in every bite.
Bake at 350° for 11-13 minutes. Leave on the pan for a minute before moving them to a cooling rack.
Making Perfect A La Mode Glaze
After the cookies have cooled, it is time to make the a la mode glaze.
Add powdered sugar, vanilla bean paste, and milk in a mixer bowl. With a whisk in hand, mix all the ingredients together. You want to see all the beautiful specks of vanilla beans and no lumps.
This glaze is thin enough to drizzle on top of the cookies. Looks much like ice cream that runs down your slice of warm apple pie. I think this adds just the right touch instead of heavy icing. Just take your spoon and go back and forth.
To finish my cookies, I took a pinch of the apple pie spice and sprinkled it onto the tops of each cookie. Not too much, just a little.
Where I Got My Dish
August and September are when we have all the local craft shows in Lancaster County. I thought sharing the creator's information was only fitting since they are featured prominently in my image.
This dish is a substantial weight and very solid with blues and greens as the colors. I love the colors and it is just the right size for my needs. T. D. Le Fine Art is the company name and Tuyen Le is the artist. You can also contact her at TDLeFineArt@gmail.com
I enjoy promoting local art, so you will see from time-to-time artist credits and contact information.
Enjoy!
FAQ's
Can I use fresh apples instead of the dried ones?
Yes, you can; the only drawback is that fresh fruit has more juices in them naturally. So, it would be best to accommodate this by not storing them in a closed container. The air circulation helps to evaporate some of the liquid and will make them last longer.
Can I customize the spices in the cookie filling?
The McCormick apple pie spice comprises cinnamon, nutmeg, and allspice. But if you do not like this combination of spices, you can substitute for a mixture you prefer. I suggest mixing your choices of spices in a small cup to get the right flavor combination you seek. Then swap your blend for the amount of apple pie spice in the recipe.
Can I make mini versions of these cookies for parties?
Certainly! You can create smaller-sized cookies for parties by using a smaller cookie scooper and shaping the dough into smaller cookie balls. Just make sure to adjust the baking time accordingly to avoid overcooking.
Try a Few Other Fall Cookies
Recipe
Apple Pie A la Mode Cookies
Barbara Hall
Elevate your dessert game with the warm and inviting flavors of apple pie and the sweetness of à la mode glaze, all in one delightful cookie.
Ingredients
INFUSED DRIED APPLES
1

cup

(

86

g

)

Dried apples

cut into small pieces

1

cup

(

248

g

)

Apple juice

1

(

1

)

Cinnamon stick
COOKIE DOUGH
1

cup

(

227

g

)

Butter unsalted

room temperature

½

cup

(

110

g

)

Light brown sugar

½

cup

(

100

g

)

Sugar white

3

Tablespoon

(

3

Tablespoon

)

Apple juice

½

teaspoon

(

0.5

teaspoon

)

Vanilla Extract

2 ½

cups

(

312.5

g

)

All-purpose flour

1

teaspoon

(

1

teaspoon

)

Baking powder

¼

teaspoon

(

0.25

teaspoon

)

Apple pie spice

¼

teaspoon

(

0.25

teaspoon

)

Kosher Salt

1

cup

(

216

g

)

Infused dried apple

¼

cup

(

33.75

g

)

Pine nuts

⅓

cup

(

48.33

g

)

Raisins
TOPPING (A LA MODE)
1

cup

(

120

g

)

Powdered sugar

½

teaspoon

(

0.5

teaspoon

)

Vanilla bean paste

2

Tablespoon

(

2

Tablespoon

)

Milk

1

teaspoon

(

1

teaspoon

)

Apple pie spice

Small pinch on top
Instructions
INFUSE DRIED APPLE
Cut dried apple slices into small pieces and add to a heat-resistant bowl. Take 1 cup of apple juice and one cinnamon stick and heat on a stove until it comes to a boil. Pour the hot apple juice and the cinnamon stick over the dried apple piece and let it soak for about 15 minutes.

Drain them and lay them on a paper towel to help soak up excess liquid. Changing the paper towel a couple of times over 2 hours. I also take a paper towel and press down on the top of the apple pieces to help absorb liquid.
COOKIE DOUGH
Weigh or measure your sugars and set aside. In another bowl, weigh or measure the flour, salt, baking powder, and apple pie spice. Run a whisk through to blend.

In a mixer, cream the butter for a minute or two. Next, add the sugars and mix on a medium mixer speed until it is light brown, about 3 minutes. Add the vanilla extract and the apple juice and blend. Slowly add in the flour mixture and incorporate. Scrape down the sides and blend for another 30 seconds. Stop the mixer and add the infused apples, pine nuts, and raisins. Mix for about, about 15 seconds. You can use a spatula to distribute the fruit more evenly. Wrap loosely and refrigerate the cookie dough for 30 to 45 minutes.

Preheat your oven to 350°. Line your cookie pans with parchment paper. Using a medium cookie scoop, roll 12 balls of cookie dough and place them onto the sheet pan. Next, put a small piece of parchment paper over one of the cookie balls. Now, press down with a flat bottom glass until there is about ⅜" of a flat circle of cookie dough. Do this for each cookie ball. This help when you add the a la mode glaze onto the baked cookies. Bake for 11-13 minutes, then move them to a cooling rack to cool.
A LA MODE GLAZE
Add the powdered sugar, vanilla bean paste, and milk to a mixer bowl. Using a whisk, blend until smooth. Take a spoonful of the glaze and go back and forth over each cookie. Just for a little added apple pie taste, I take some of the apple pie spice, put it into the palm of my hand, and add a small pinch to the top of each cookie. Just a little; it is a strong spice.
NUTRITION DISCLAIMER
I am not a certified Dietitian or Nutritionist. The nutrition amounts given below are provided through a program and are only a guideline.
Nutrition
Calories:
160
kcal
Carbohydrates:
24
g
Protein:
1
g
Fat:
7
g
Saturated Fat:
4
g
Polyunsaturated Fat:
1
g
Monounsaturated Fat:
2
g
Trans Fat:
0.2
g
Cholesterol:
16
mg
Sodium:
39
mg
Potassium:
63
mg
Fiber:
1
g
Sugar:
14
g
Vitamin A:
192
IU
Vitamin C:
0.3
mg
Calcium:
19
mg
Iron:
1
mg