If you ever get the chance to come to Lancaster, Pennsylvania there are a few local food items that are a must to try. One is Chichen Pot Pie and the other is Shoofly Pie. This is my take on our classic pie.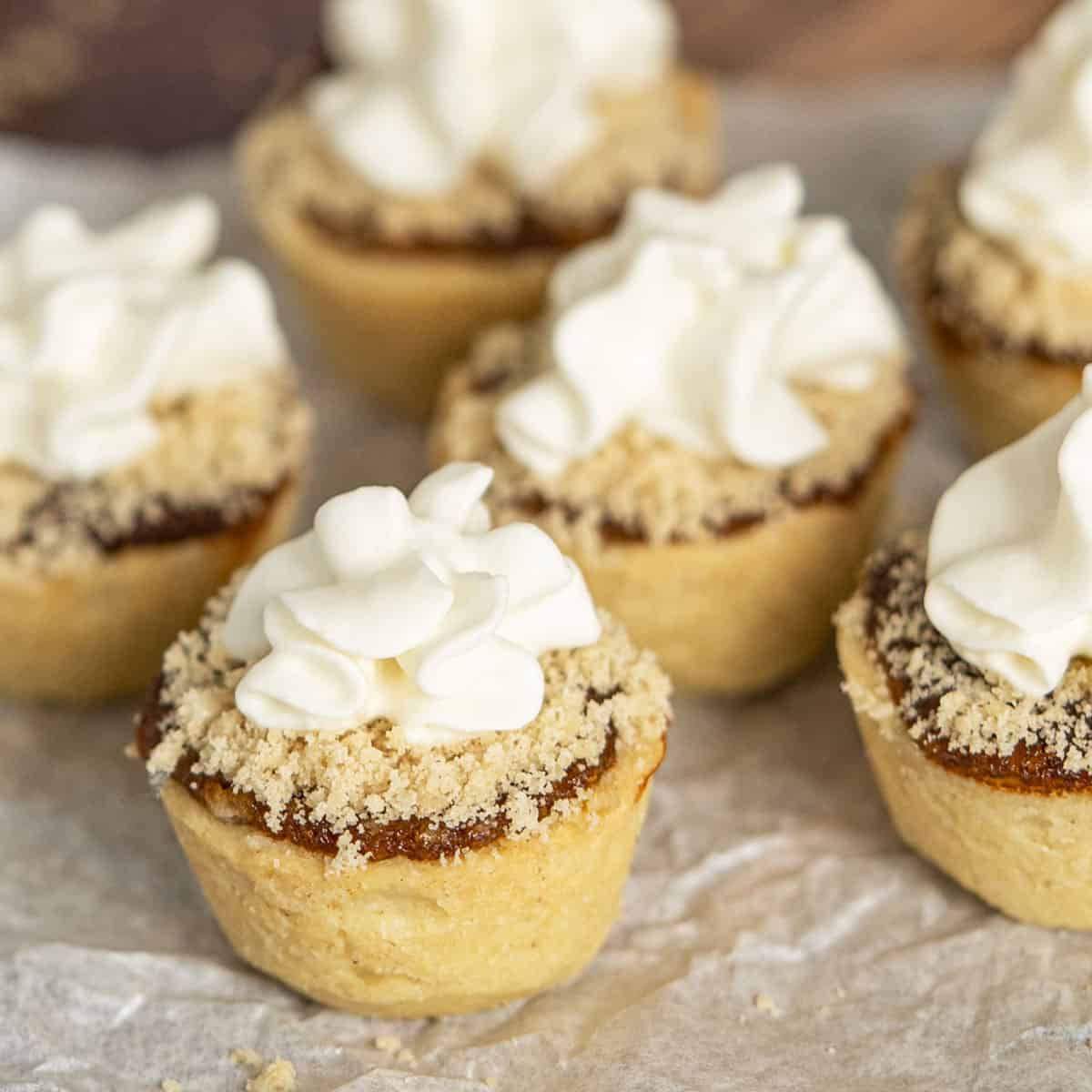 Types of Shoofly Pie!
Shoofly pie in Lancaster County, PA, comes in two forms: wet bottom and dry bottom. For a pie, I prefer wet-bottom all the way. Slightly warm and lots of whip cream on top. This type of shoofly is what I grew up eating. But I think you can agree that for a cookie, this would not be a good thing. My dry bottom has all the taste of a Shoofly pie but not the gooey bottom.
Ingredients You Will Need
TOPPING
1-½ All purpose flour 180 g
1 cup Light brown sugar 213 g
⅛ tsp Nutmeg
⅛ tsp Ground cinnamon
½ cup Butter unsalted
Whipping Cream Optional
COOKIE CUPS
1 cup Butter unsalted
1 cup Sugar white 198 g
1 Egg
3 cups All purpose flour 360 g
1-½ tsp Baking powder
½ tsp Baking soda
¼ tsp Kosher Salt
⅛ tsp Nutmeg
¼ tsp Ground cinnamon
FILLING
½ cup Grandma's unsulphured Molasses
½ cup Hot water
½ tsp Baking soda
How to Make ShooFly Cookie Cups
In a bowl, add all the ingredients for the topping except for the butter. Whisk till blended. Cut the butter into small pieces, and using a pastry blender, cut the butter through the flour mixture. You want it to be crumbly.
After mixing your cookie dough following the direction in the recipe, add some flour to a pastry mat and put the cookie dough on the mat. Roll out some of the cookie dough to about ⅛" thick, and using a 2-½ " circle cookie cutter cut out as many as you can.
Spray the mini cup pan with Pam or something similar. You will thank me later. To fit the dough circle into the mini pan cup, I pinch the sides slightly so it will easily go to the bottom.
Smooth out the sides, so you have nice little cups for your Shoofly Cookie. Mix the molasses filling as directed, and using a teaspoon, add the molasses filling to each cup. Fill about ⅓ to no more than ½ of the cup—the filling and the crumble bake together and create a cake-like combined filling.
Add the crumble mixture on top of the molasses filling. Leave a little space on top. Reserve some of the topping since you will go back and add more after they have finished baking. The crumble will mix with the molasses while baking, making it look like there is no crumble.
Preheat your oven to 350°. Bake for 10-12 minutes. After baking the shoofly cups, please leave them in the pan for 30 minutes to cool. Then, move them to a cooling rack and add more crumble to the top. Enjoy!
Why Does it have the Name Shoofly?
When I was younger, I worked at a restaurant that specialized in local food cuisine. This meant recipes I had grown up eating and loved. You would not believe the questions I would get about Shoofly pie and where it got its name. After the shoofly pies were baked, the story told to me was that they would set them on the windowsill to cool, and someone would have to shoo the flies away because they loved molasses. Not quite sure how true that is, but it is a heck of a story. 😀
Does the Kind of Molasses Matter?
Shoofly pie is not hard to make, but creating a cookie out of the taste of what I love about the pie was challenging. The first consideration is the type of molasses to use for a Shoofly pie. It has to be a good quality lighter syrup. The best taste that I have come across is Grandma's unsulfured molasses; you do not want to use a blackstrap or dark molasses. These have too strong of a taste. Here is some information from MedicalNewsToday on the types and benefits of molasses.
So I hope you enjoy a tiny part of Lancaster County in Pennsylvania!!!
Shoofly Pie Cookie Cups
Barbara Hall
These are cookies with the great taste of a dry bottom Shoofly Pie.
Ingredients
TOPPING
1-½

All-purpose flour

180 g

1

cup

Light brown sugar

213 g

⅛

teaspoon

Nutmeg

⅛

teaspoon

Ground cinnamon

½

cup

Butter unsalted

1 stick

Whipping Cream

Optional
COOKIE CUPS
1

cup

room temperature Butter unsalted

2 sticks

1

cup

Sugar white

198 g

1

Egg

3

cups

All-purpose flour

360 g

1-½

teaspoon

Baking powder

½

teaspoon

Baking soda

¼

teaspoon

Kosher Salt

⅛

teaspoon

Nutmeg

¼

teaspoon

Ground cinnamon
FILLING
½

cup

Grandma's unsulphured Molasses

½

cup

Hot water

½

teaspoon

Baking soda
Instructions
TOPPING
In a bowl, add the flour, light brown sugar, nutmeg, cinnamon, and whisk to blend. Cut the butter into small pieces and add to the flour mix. I used a pastry blender to cut the butter through the flour mixture, but you can use one or two forks to perform this task. It will just take longer to get to the crumbly consistency. Set aside for later. This looks like a lot of crumbs, but I add it at two different times.
COOKIE CUPS
Weigh or measure your sugar and set aside. In another bowl, weigh or measure the flour, baking powder, baking soda, salt, cinnamon, and nutmeg, running a whisk through to blend. Using a stand or hand-held mixer, add the butter, sugar, and blend on medium-high speed for 3 minutes. Scrape down the sides and add the egg; once the egg is incorporated, turn down the mixer and slowly add the flour mixture. Once the flour has been incorporated, take the bowl off the stand and wrap it loosely with plastic wrap. Refrigerate for 30 minutes.

Using a pastry mat, flour the surface and the rolling pin, so the dough does not stick. I take about the size of a hardball and roll the dough out to ⅛" to 3/16' thickness. I use a J.K. Adams Maple Plain Rolling Dowel and purchased bands that fit on the ends so you can get an even thickness on your cookie dough. Using a 2-½" round cookie cutter cut out as many as you can. Depending on how thick you make your dough will determine if you have a little extra dough leftover or not. I have a 48-cup mini muffin pan so I can do this batch all at the same time.

Spray the mini muffin pan with Pam; it will make your life easier when you take the cups out of the pan. Gently mold the cut-out circles of cookie dough into each of the muffin holes. Make sure there are no tears in the cookie cup. You can press gently on the tear, and it will seal it. Also, make sure there is no air pocket between the cookie dough and the pan. I have a little trick to pinch in the sides just a little till I get it down in the muffin mold, then gently push the sides out to make the cup shape. Next, make the filling that will go into the cups.
FILLING
Mix the molasses and hot water into a container. Next, add the baking soda and stir. It will get a little frothy. The mixture will be thin in consistency but will thicken up as it bakes with the crumb topping. Taking a measuring teaspoon, add a teaspoon of the molasses to each cup. Next, add the crumb topping to fill the rest of the cup. Save the rest of the crumb topping; you will add more on top once they are baked.

Preheat your oven to 350°. Bake for 10-12 minutes (mine were done at 11 minutes). Take them out of the oven and let them cool in the pan till the pan is cool to the touch for at least 30 minutes. The molasses filling will have absorbed the topping during the bake, which helps to firm up this filling. So don't be alarmed that there is no topping; you will add more after they cool. This gives the cookie cups time to harden and not be soft. If you try and take them out too soon, they will break apart. I slide a knife down the side and gently lift the cup out of the mold. Move them to a cooling rack. Add more of the crumb topping to the tops of the cookie cups. I love my Shoofly Pie with whip cream on top. Just a thought 🙂
Nutrition
Calories:
124
kcal
Carbohydrates:
17
g
Protein:
1
g
Fat:
6
g
Saturated Fat:
4
g
Polyunsaturated Fat:
1
g
Monounsaturated Fat:
2
g
Trans Fat:
1
g
Cholesterol:
19
mg
Sodium:
77
mg
Potassium:
69
mg
Fiber:
1
g
Sugar:
11
g
Vitamin A:
182
IU
Vitamin C:
1
mg
Calcium:
17
mg
Iron:
1
mg