Since I am 50% Scottish, I thought making some Scottish shortbread for the upcoming St. Patrick's Day was only fitting. I realize this shortbread cookie is served at Christmas, but I thought it would be nice for this time of the year. So the adventure begins by trying to guess what ingredients and how they might have looked and tasted a hundred years ago.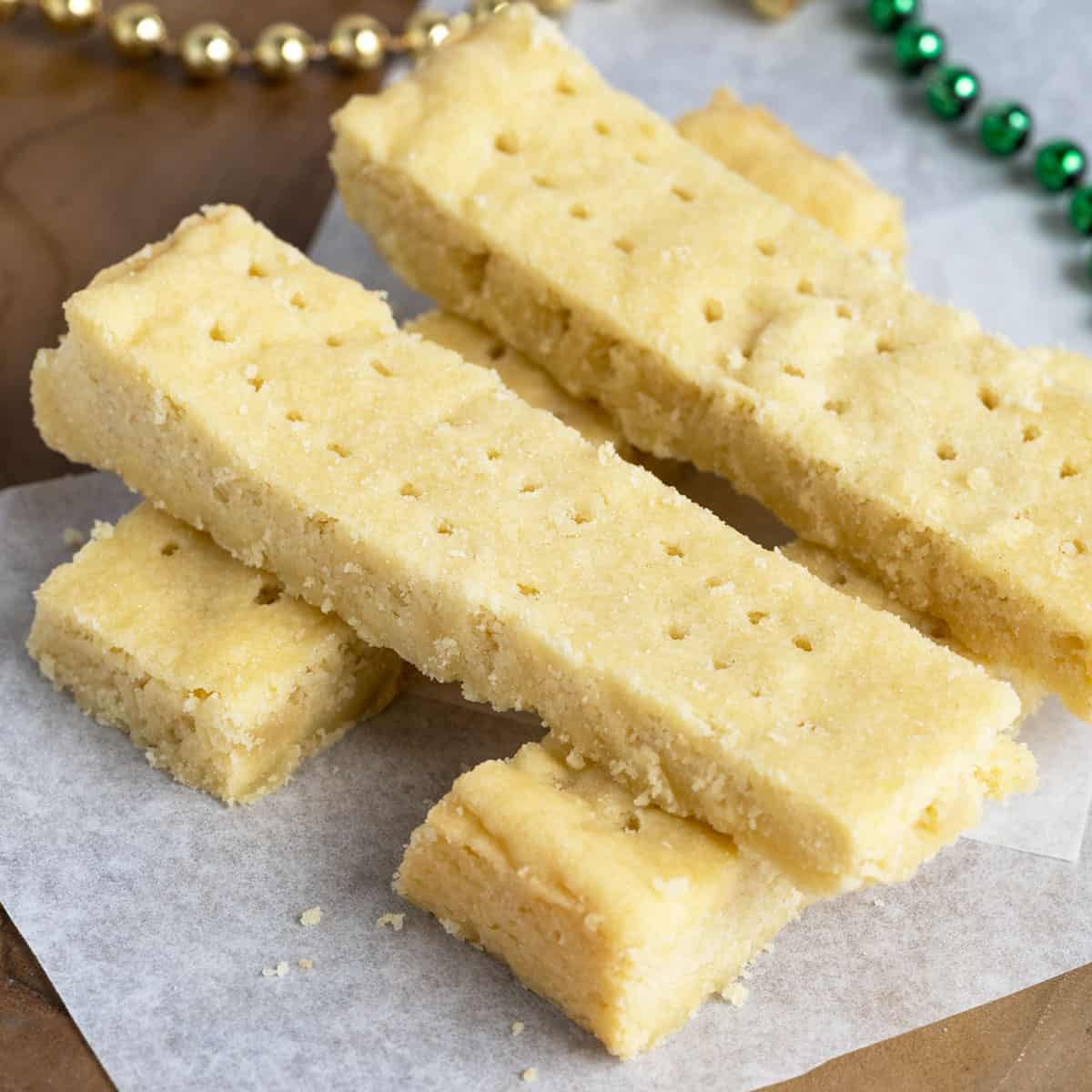 I have made numerous shortbread cookies, but they all had flavors like my cardamon orange shortbread or my rosemary with lemon and honey shortbread but nothing with just sugar, flour, salt, and butter.
Scottish Shortbread Success and Failures
First off, these are so good it took me a couple of tries to get the look, taste, and hang of making these buttery, crumbly, oh-so-good shortbread cookies. Then, of course, the quality of the ingredients had to be superb since there are only four ingredients.
My first try did not go well; I set the standard 350°F (175°C or 180°C) oven temperature for 30 minutes, and the cookies got overdone. You can see for yourself. The cookies on the left are overdone, but the right side has the perfect shortbread look and taste I wanted to achieve.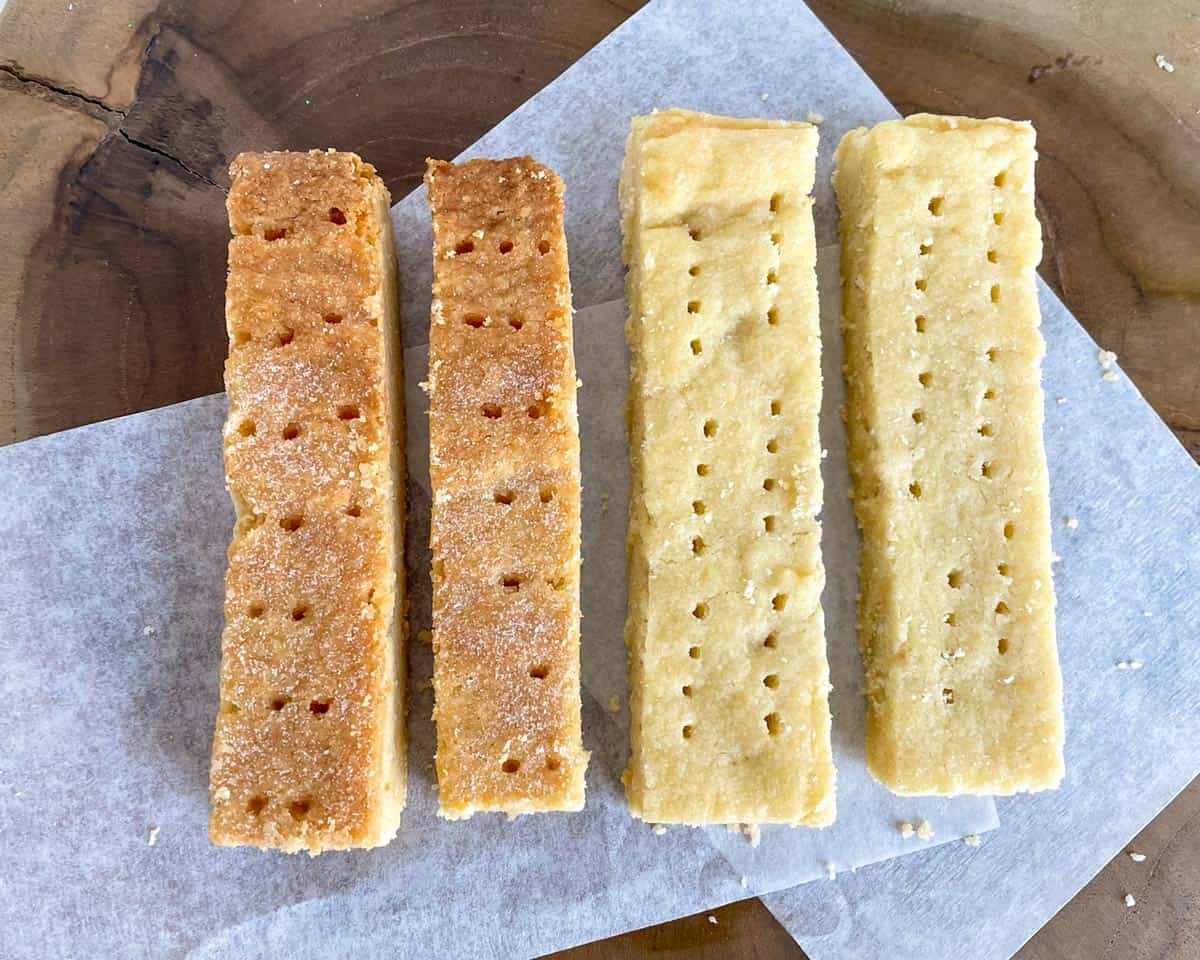 So, there was trial and error in getting this cookie to where I wanted it to be, but I could not be happier with the results.
Jump to:
Ingredients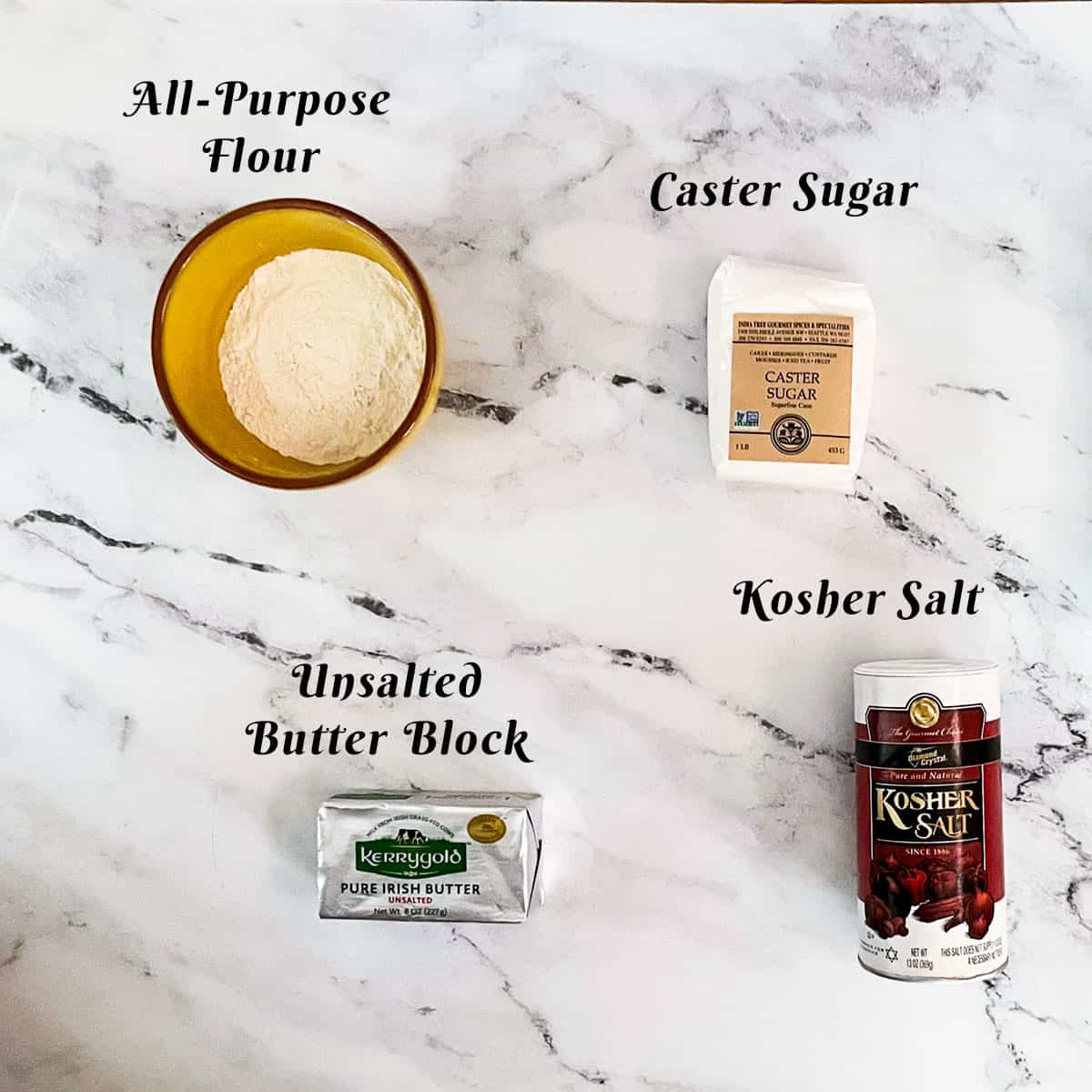 Jump to Recipe for Amounts
Why I Chose These Ingredients
I found different sugar, flour, and butter in researching Scottish shortbread recipes. How to pick, and what if I don't have that particular type on hand? So let's see some of our choices.
Sugar
Some recipes call for powdered sugar, regular white sugar, or caster sugar (baker's sugar). I decided I wanted the caster sugar, and although I could have made my own in a food processor, blender, or spice grinder and sifted it through a strainer, I wanted to find a store that sold caster sugar locally.
Whole foods here in Lancaster have it on hand; I was so excited. I know it doesn't take much these days to make me happy.
Powdered sugar or regular white sugar might taste OK, but they will not have the texture of Scottish shortbread cookies.
Butter
Salted or unsalted, everyone has their favorite. I was taught to use unsalted, so that is what I use. I add salt since I can adjust how much is added to the cookie dough. Salted and unsalted butter has been a debate for years between bakers. If you love what you bake, use the best ingredients you feel will make the best cookie.
Diamond Crystal Kosher Salt is my choice of salt to add to my cookies since I feel it is lighter and cleaner in taste. Unfortunately, when you buy salted butter, you do not know what type of salt they use to make their salted butter.
I decided on Kerrygold unsalted block butter. It has 82% butterfat instead of over 80% in Land O Lake. I love Land O Lake and use it for all my cookies, but I wanted to try butter from that region for this cookie. Besides, this is a shortbread cookie. It is all about the taste of the butter.
Making Shortbread
Weigh your caster sugar into a small bowl and set it aside. Then weigh the flour and add the salt. Finally, I run a whisk through the flour to blend.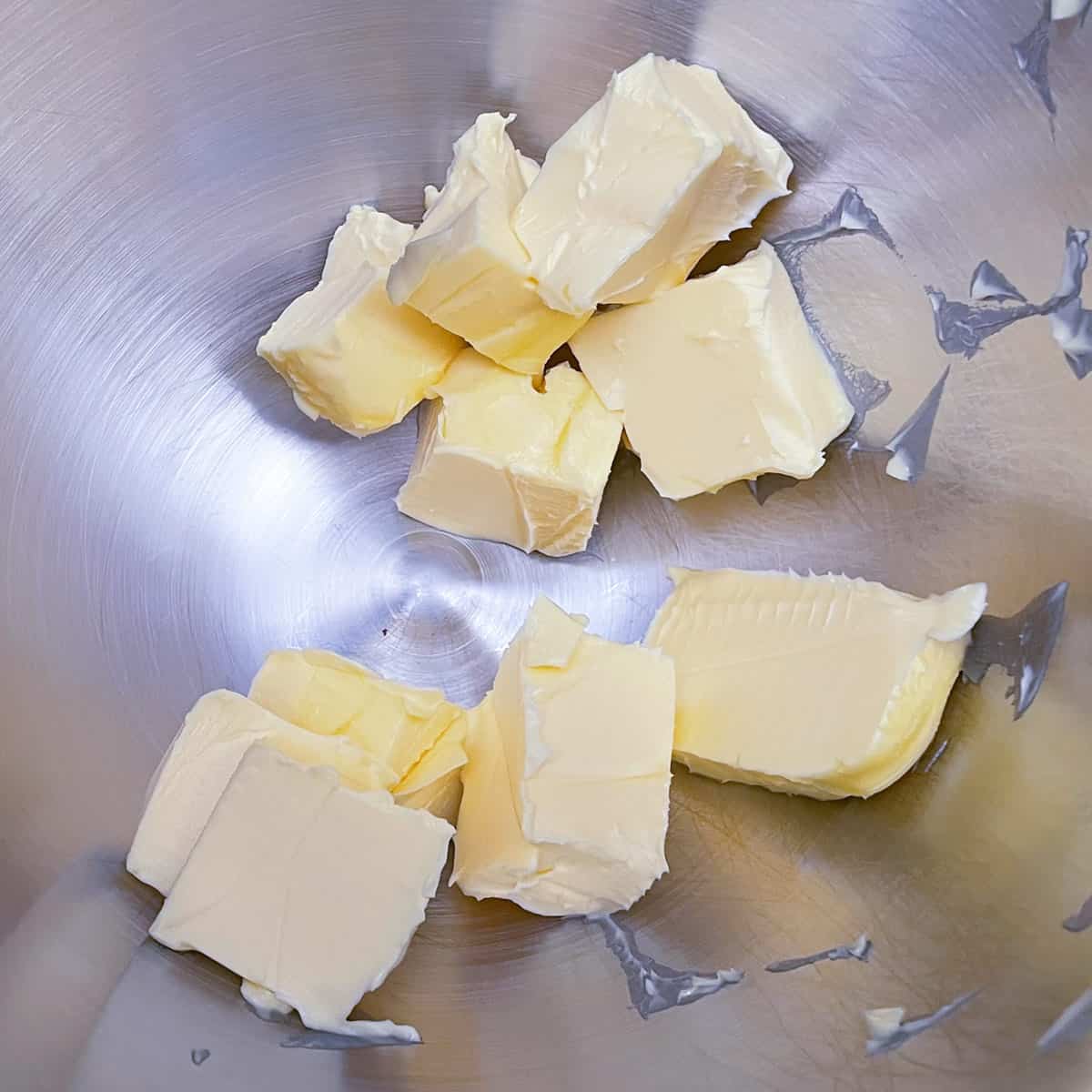 Cut your room temperature butter into cubes right into your mixer bowl. Cream the butter for a minute.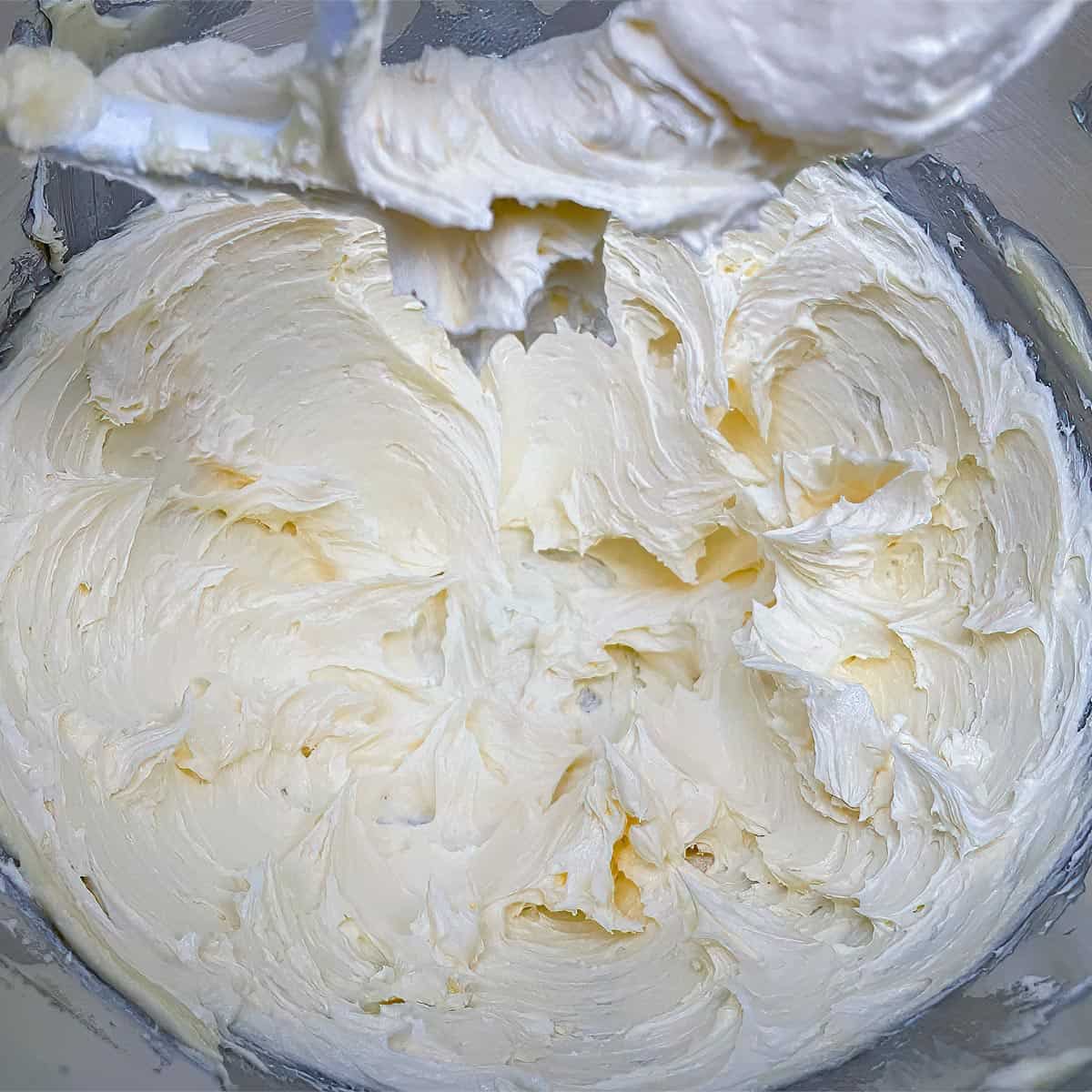 Then slowly add the sugar. Mix for 3 to 4 minutes until the butter and sugar have formed soft peaks and it looks creamy.
Prepping the pan, you can spray the pan with a vegetable spray, or what I did was I took the butter wrapper and greased the pan with the butter that was left on the wrapper.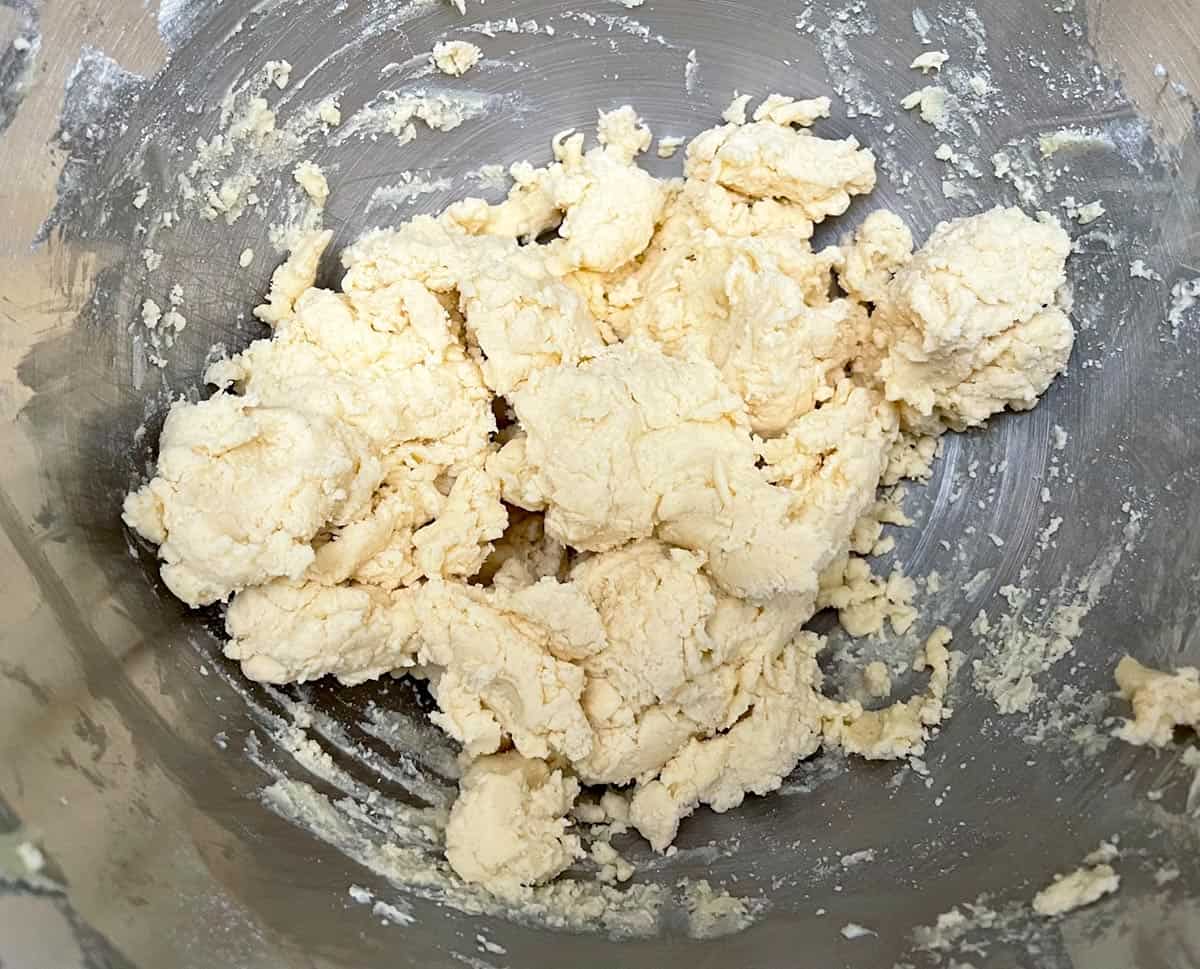 Scrape down the bowl and add the flour. It only takes a minute to incorporate the flour. You want it in big chunks. Make sure to scrape along the bottom of the mixer bowl to combine any loose flour.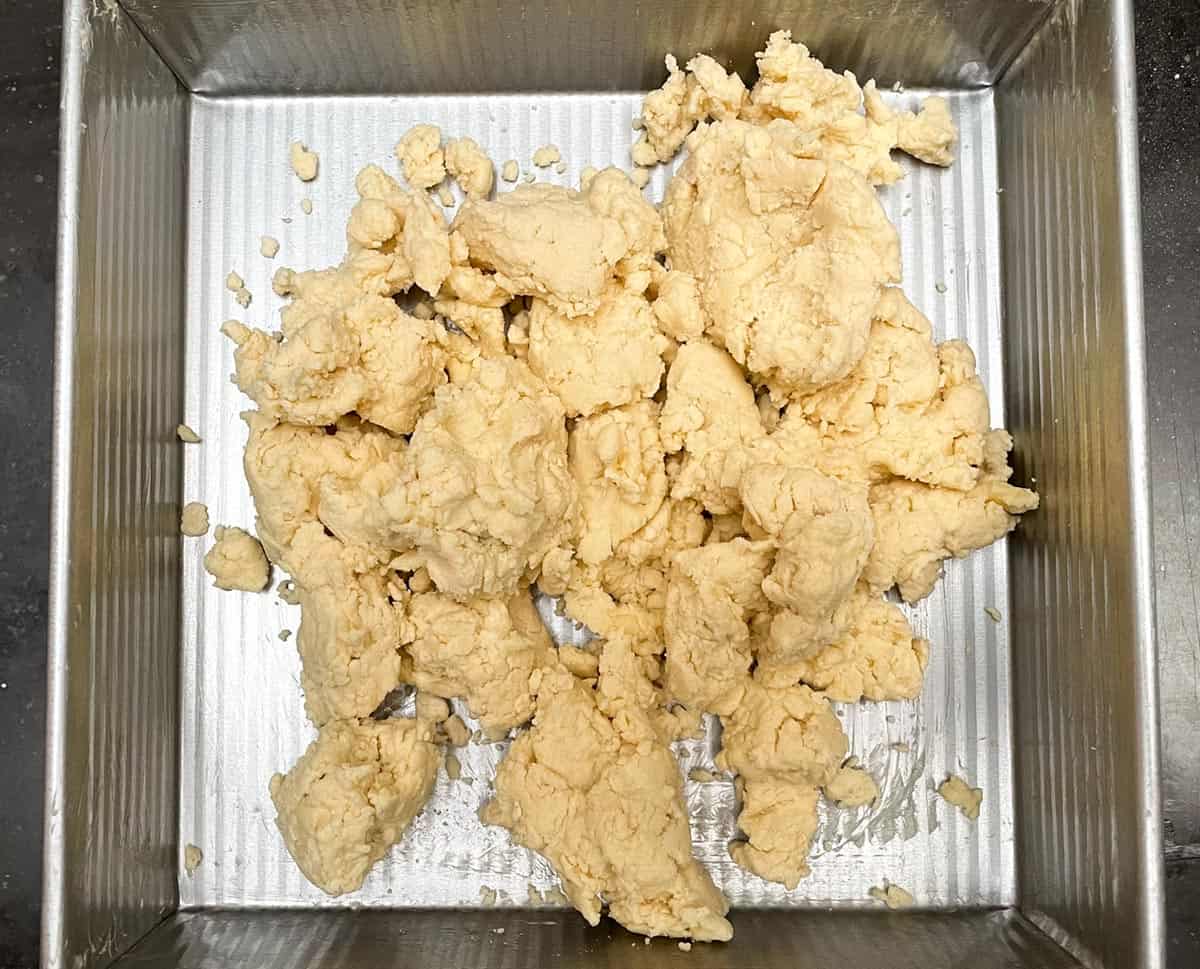 I use a USA Pan 9" X 9" you can get from the WebstaurantStore or Amazon. Move the cookie dough to the buttered pan.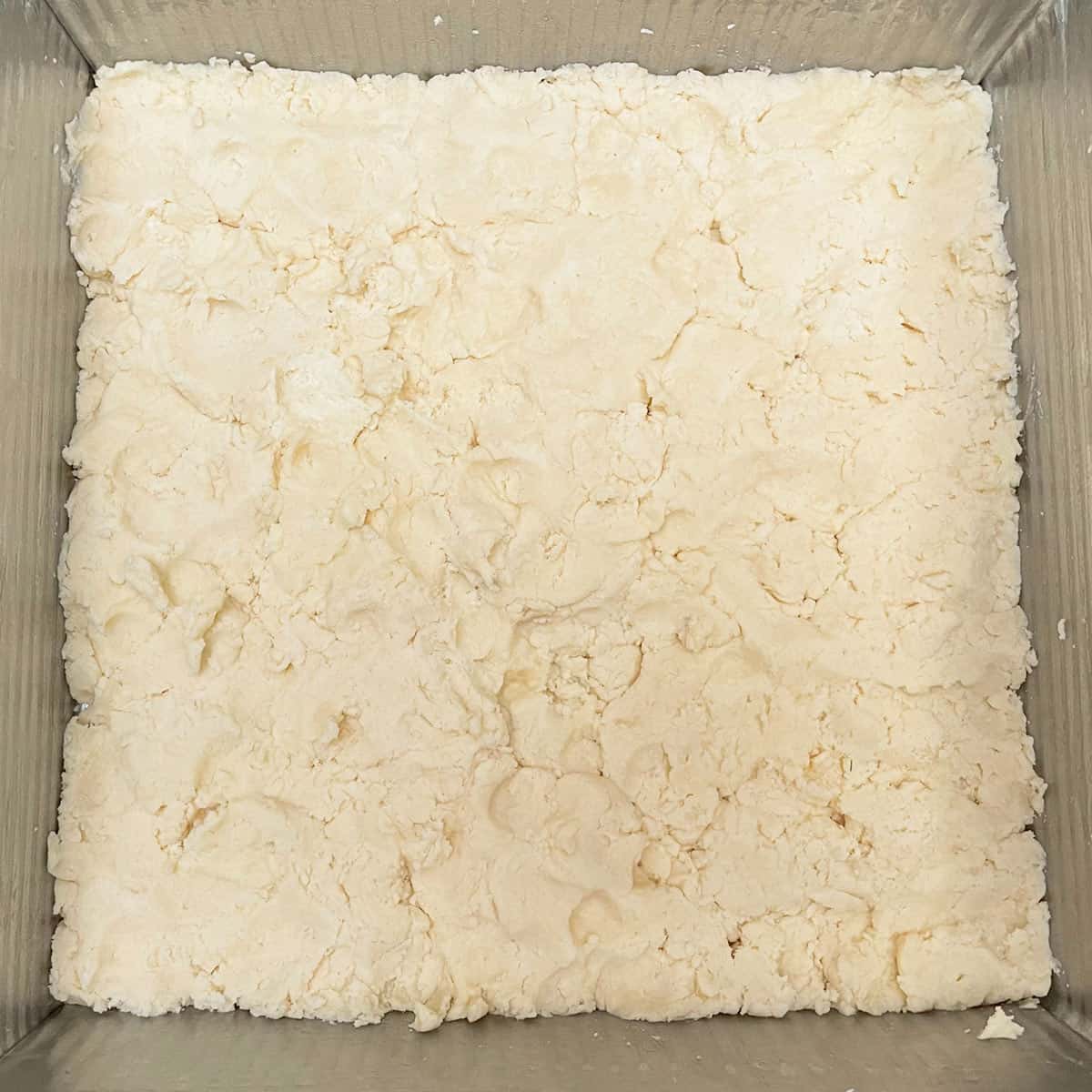 Fill in any gaps so you cannot see any of the bottom of the pan.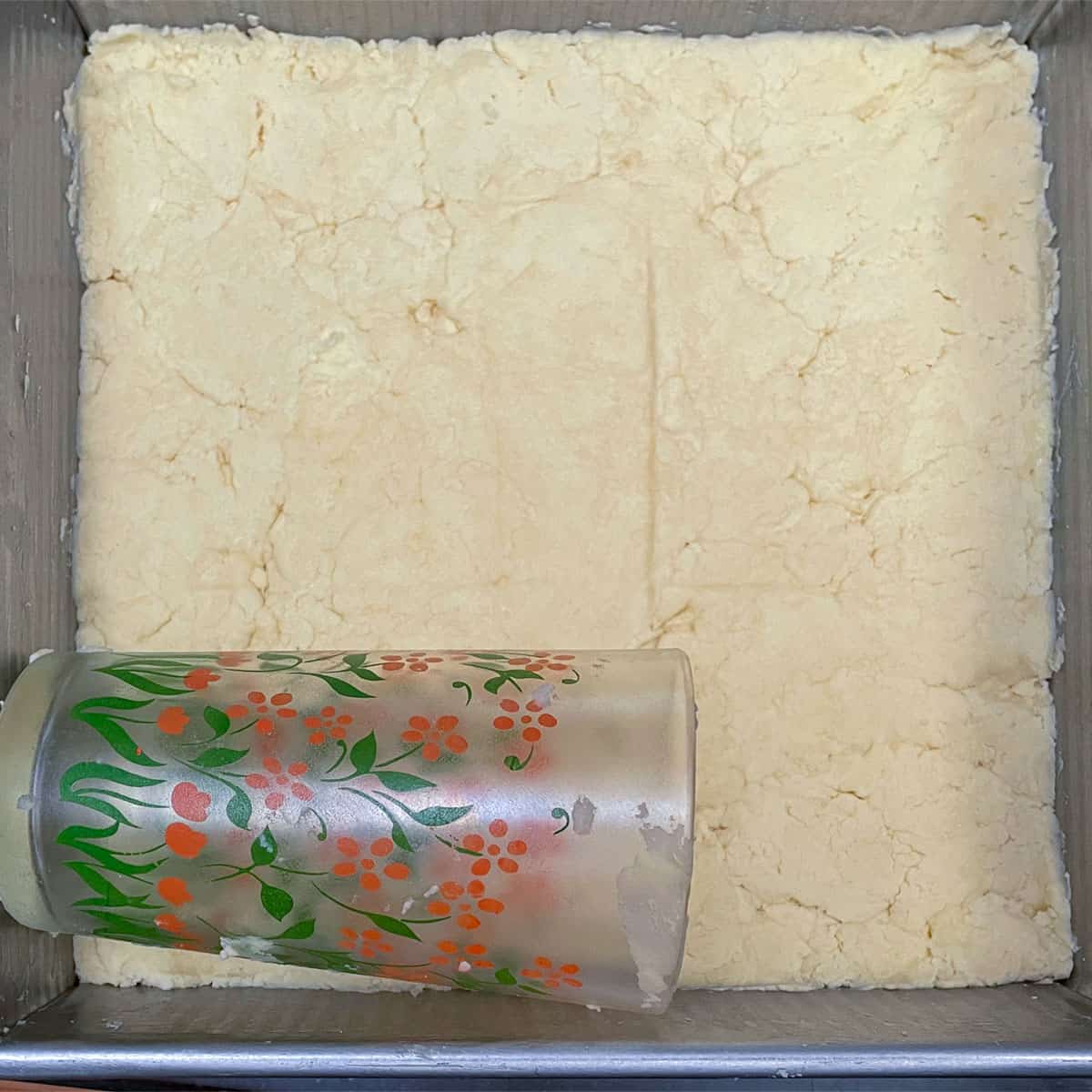 To smooth out the top, I take a glass and gently roll it over the top on its side. Not too much pressure.
When to Score the Scottish Shortbread
Preheat the oven to 325°F. You can score and use your fork to poke the traditional holes, but these will mostly disappear when it bakes. So instead, I baked the shortbread for 20-21 minutes and pulled the pan out of the oven.
I work fast and score my lines, taking a knife and only going halfway down into the cookie dough. Score 1 line straight down the middle then 9 lines across. Now, with a fork, poke the holes.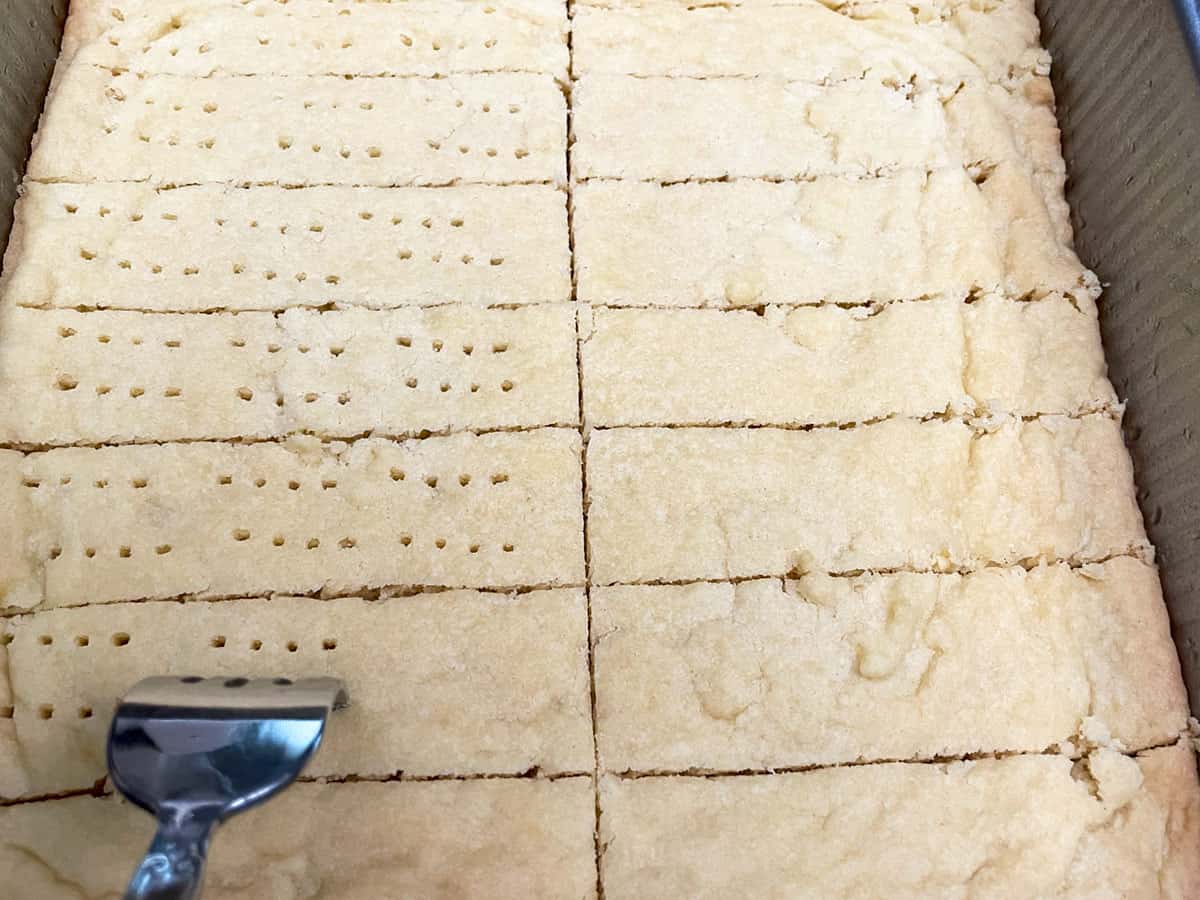 Return the pan to the oven for about 5 to 7 more minutes. They should look golden on top with edges just starting to turn a light brown.
Shortbread Cool Down
Then, turn the oven off and crack the oven door. Leave the pan in the oven for 20 - 30 minutes before bringing the pan out to cool.
I take a knife and cut through the scored lines to separate each cookie. Then, I let them completely cool before taking them out of the pan.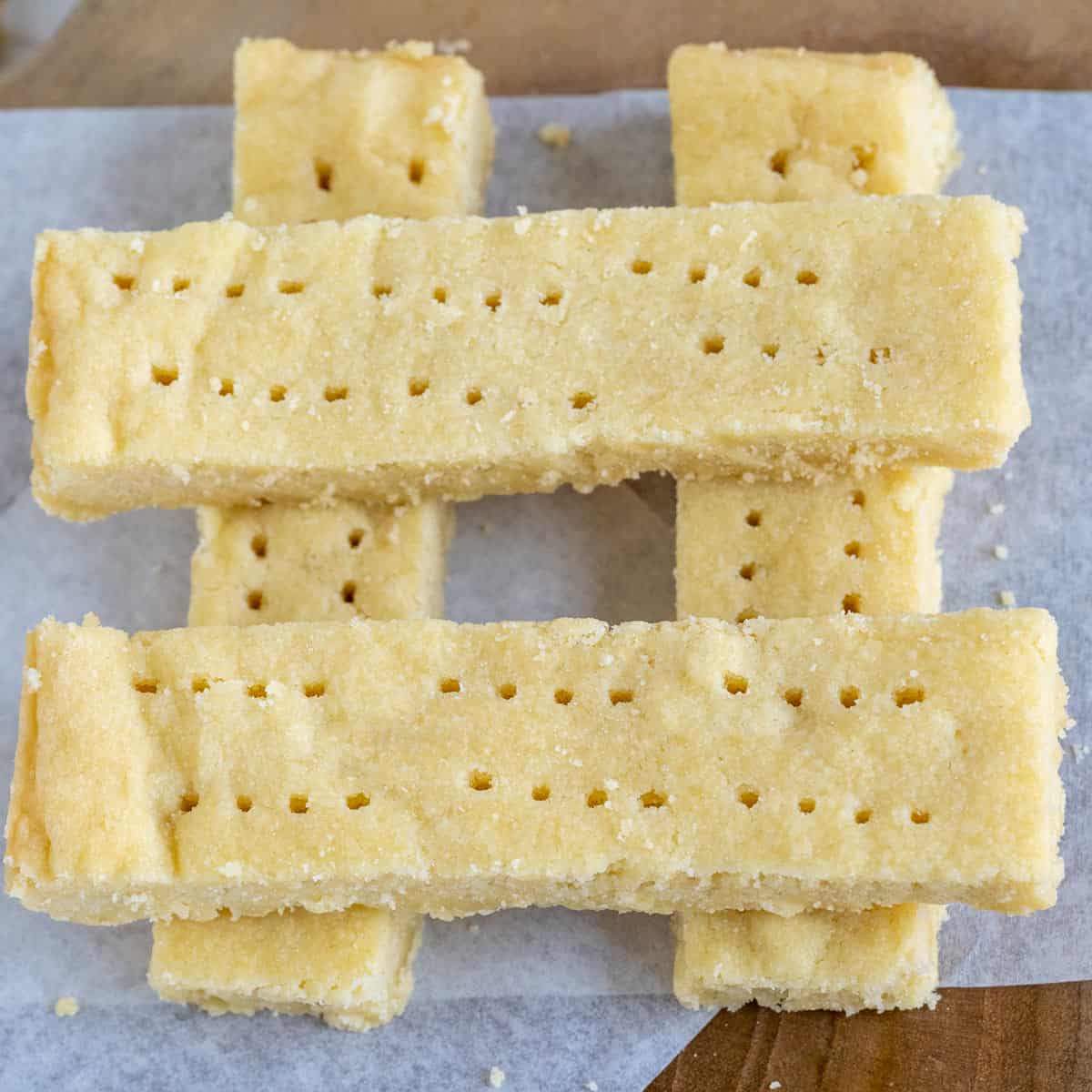 Hope you enjoy these wonderful cookies!
FAQ's
How do I store my Scottish shortbread cookies?
Scottish shortbread cookies can be stored in an air-tight container for up to 2 weeks. Depending on the size of your container if it is not big enough for a single layer you can put parchment paper between the layers.
What are Scottish shortbread cookies?
These cookies are made for only four ingredients and have a longer shelf life then most cookies. They actually taste better the next day as the ingredients meld together even more. They are know for their crumbly texture and buttery flavor.
Can I add other flavors to my Scottish cookies.
Yes, but the traditional is the butter flavor. But I have heard people adding vanilla extract, lemon zest, or chocolate chips. Such the American way, chocolate chips in anything.
Can I use salted butter?
Yes, but you might want to eliminate the salt in my recipe.
Other Cookies to Try
Recipe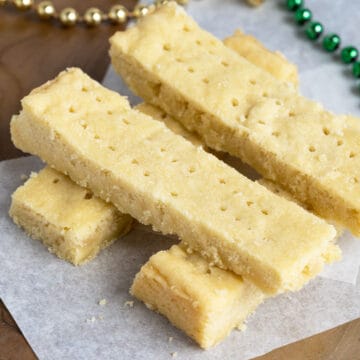 Scottish Shortbread
Barbara Hall
These Scottish shortbread cookies are so buttery, crumbly, and my all-time favorite shortbread cookies.
Ingredients
1

cup

(

227

g

) Butter unsalted

Kerrygold room temperature

½

cup

(

95

g

) Caster sugar

2

cups

(

240

g

)

All-purpose flour

2

Tablespoon

(

2

Tablespoon

)

All-purpose flour

½

teaspoon

(

0.5

teaspoon

)

Kosher Salt
Instructions
Weigh or measure all the flour into a bowl, add the salt to the flour and run a whisk through to blend. Next, weigh or measure the caster sugar into a bowl and set it aside.

Cut the butter into pieces and add to a mixer bowl; on a medium speed, cream the butter before adding the caster sugar. Blend sugar and butter for 3 to 4 minutes until it looks creamy and has soft peaks. Gradually add the flour and mix for 30 seconds. You do not want to over mix the flour. If there are loose flour pieces in the bottom, incorporate them gently into the rest of the cookie dough.

Butter the inside of a 9 x 9 baking pan and add the cookie dough to the pan. Move chunks of the cookie dough around the bottom of the pan to roughly fill in and cover the bottom. Try to even it out without pressing down hard on the cookie dough. To smooth out the top take a glass on its side and gently roll it over the top of the cookie dough.

Preheat oven to 325°F and bake for 20-21 minutes. Pull the pan out of the oven and score the lines for your cookies. You want to try and do this quickly. Only go halfway down into the cookie dough. I did one line right down the middle and then spaced out 8 lines across to give you 18 cookies. Take a fork and add the traditional fork marks on each cookie.

Return the pan to the oven for another 5-7 minutes. When the top is golden and the edges are just turning a light brown, turn the oven off and crack the oven door. Let the pan sit in the oven for 20-30 minutes. Then, pull the pan out of the oven and gently run a knife down each line to separate the cookies. Finally, you can move them to a container with a tight lid after they have completely cooled.
NUTRITION DISCLAIMER
I am not a certified Dietitian or Nutritionist. The nutrition amounts given below are provided through a program and are only a guideline.
Nutrition
Calories:
166
kcal
Carbohydrates:
17
g
Protein:
2
g
Fat:
10
g
Saturated Fat:
7
g
Polyunsaturated Fat:
1
g
Monounsaturated Fat:
3
g
Trans Fat:
1
g
Cholesterol:
27
mg
Sodium:
66
mg
Potassium:
19
mg
Fiber:
1
g
Sugar:
6
g
Vitamin A:
315
IU
Calcium:
5
mg
Iron:
1
mg