Strolling through the grocery aisles the other day I found myself in front of the nuts. Debating on what kind of nut to use this week I wanted something different. The roasted pistachios look great and will make a fantastic flavor for this week.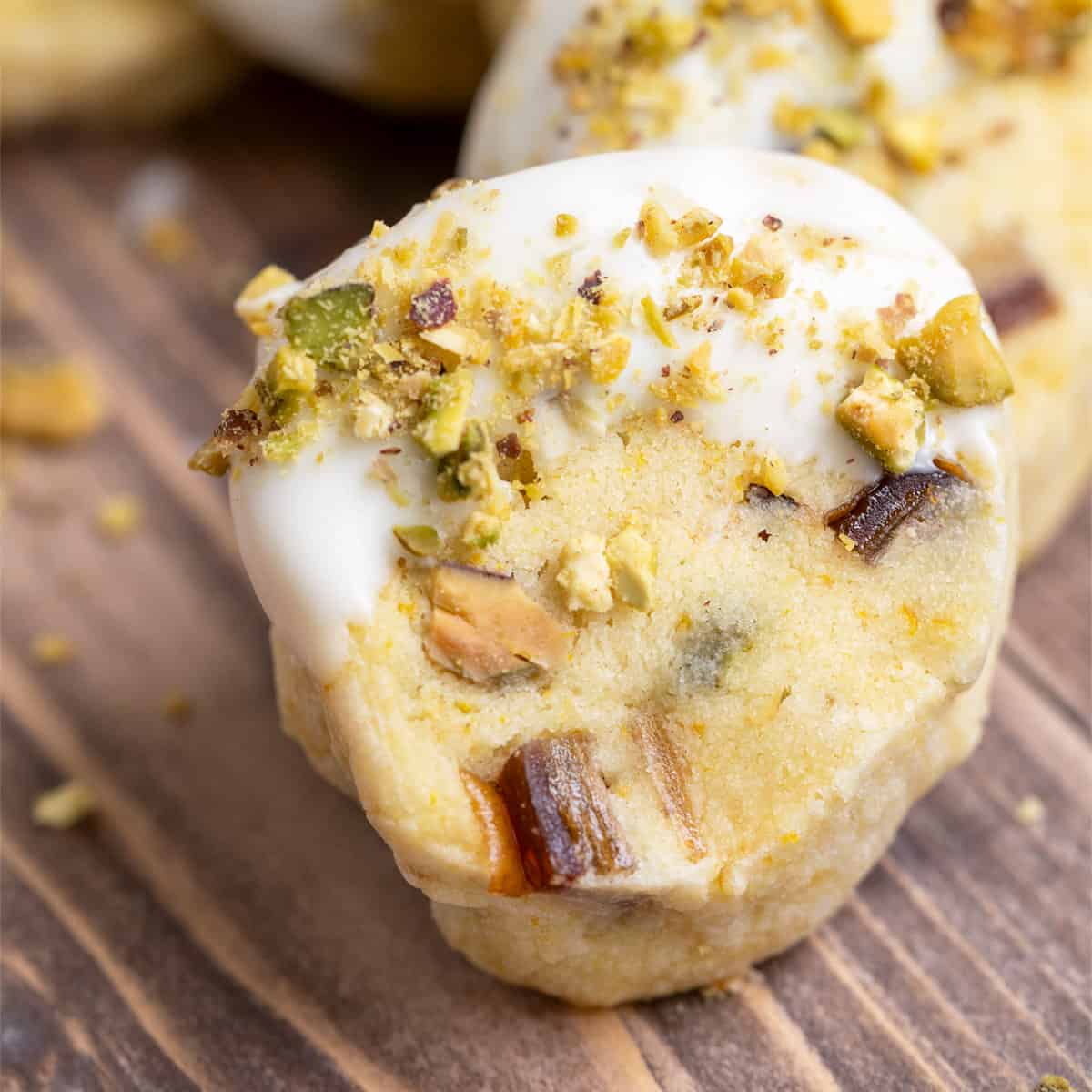 Next, what flavors go with pistachios (some history about pistachio)? Dates (Info about the date fruit) are one of my favorites; when fully ripe they have a sweet taste and are soft when you eat them. I need one more flavor to make the trio, which would brighten up the cookie.
Citrus is my go-to for giving my cookies a fresh taste and brightness. I love lemons, but I thought that might be too strong for the pistachio and date combo. Orange has such a sweet and fantastic smell and taste. Orange would be a great compliment to the cookies.
Jump to:
Cookie Ingredients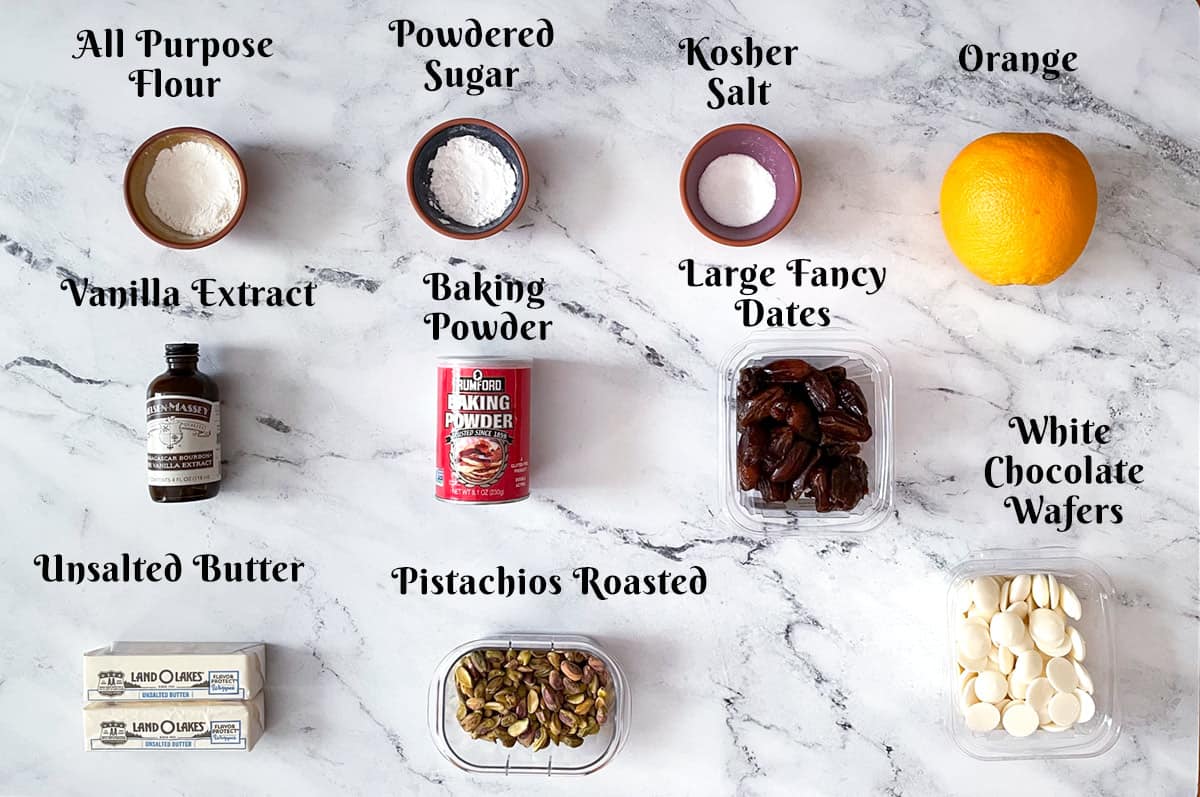 Jump to Recipe for Amounts
Butter unsalted room temperature
Powdered sugar
Vanilla Extract
Orange zest
Dates - I purchased the large fancy dates and used 16 dates.
Pistachios- I found my pistachios already roasted but if all you can find is raw pistachios you can easily roast your own.
Baking powder
Kosher Salt
White chocolate wafers
How to Roast Raw Pistachio
This process is pretty straightforward and does not take long. Preheat your oven to 350°F (175°C or 180°C). For easy cleanup, line a sheet pan with tin foil. You can also spray lightly using Pam or an equivalent. Lay in a single layer shelled raw pistachios and roast them for 7-10 minutes.
You can shake the sheet pan halfway through the cooking process so that it can roast all over. After taking them out of the oven, move the pistachios to a plate so they can cool.
How to Make Roll Slice and Bake Cookies
Slice-and-bake cookies, aka shortbread cookies are pretty easy to make and fun to eat. So, you do have a little prepping to do, but after that, it is clear sailing.
Prepping the Ingredients
In a small bowl, weigh or measure the powdered sugar and set it aside. Next, weigh or measure the flour, baking powder, and salt into a bowl. I take a whisk and run it through the ingredients to blend them together.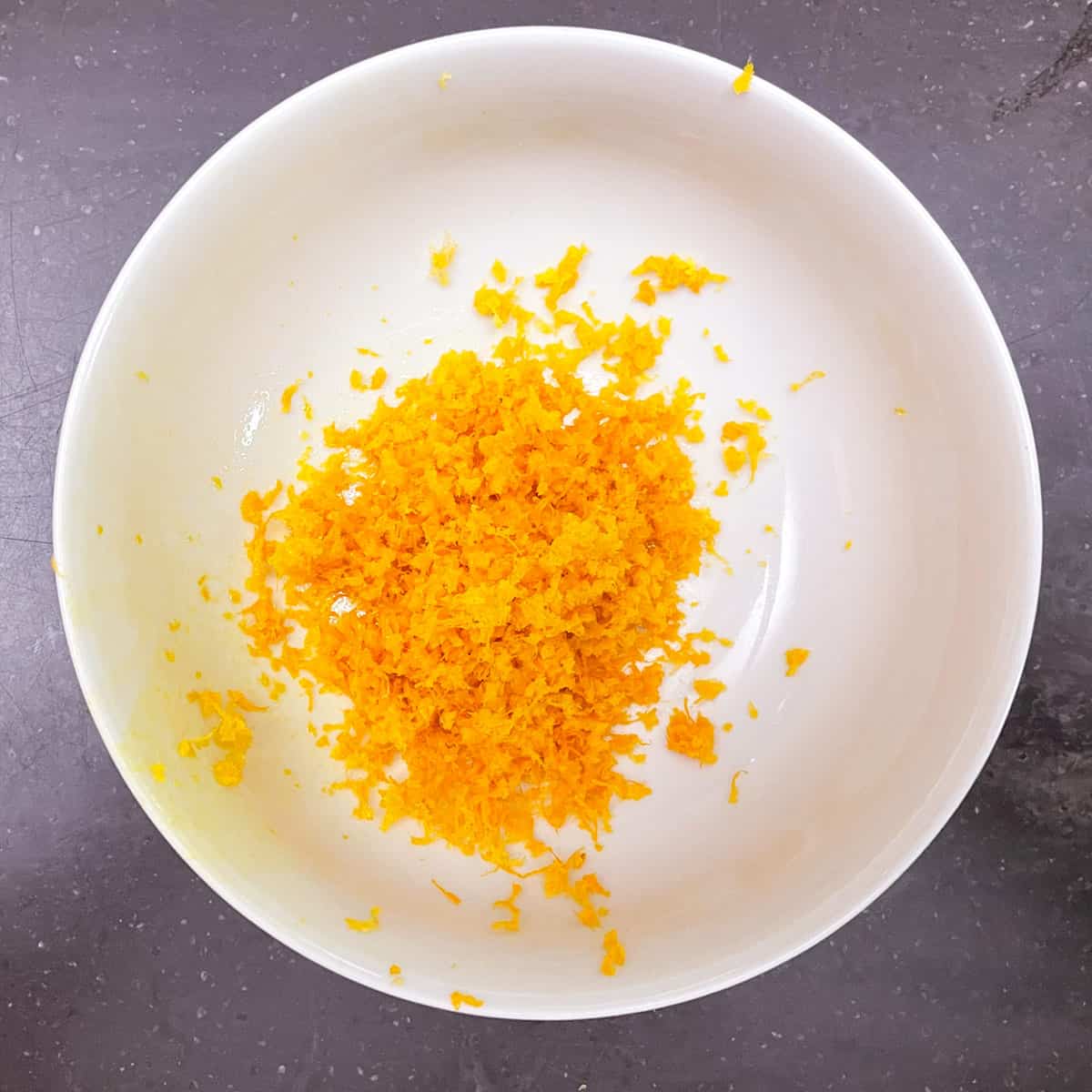 Well, the orange I got from the store was huge. I only needed one orange for the 2 Tablespoons of zest. But you may need two oranges depending on the size. Set the bowl aside for adding later.
The dates can be chopped in a food processor if you want small pieces or cut into bite-size pieces if you do not want to drag your food processor out of the cabinet.
The last thing I do is chopped the pistachios into pieces. I buy pistachios that are already roasted. If yours are raw, roasting them is a simple matter; I have a section above that gives directions for roasting pistachios.
Now all the components are ready to be put together into this orange-infused pistachio date cookie dough.
Mix Roll Wrap and Chill Your Shortbread
Add your room temperature unsalted butter to your mixer bowl. I let my butter sit out for an hour or two before I am going to use it. Since our home is airconditioned we keep it at 74° and that is usually good for making cookies.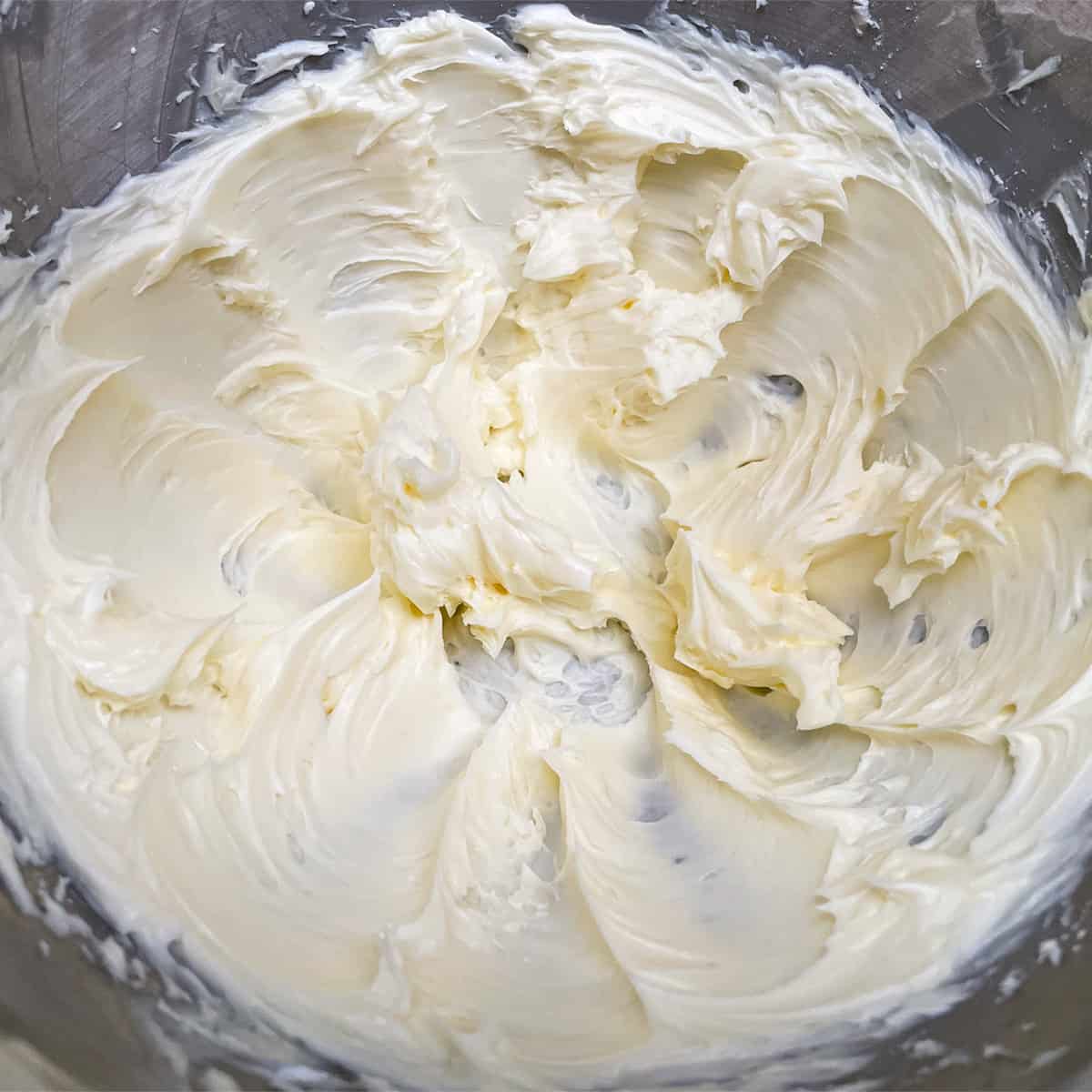 Mix the butter for a minute or two until you get soft peaks. Then add the powdered sugar and mix for another minute or two. Scrape down the sides and add the orange zest and the vanilla extract. Mix until blended into the dough.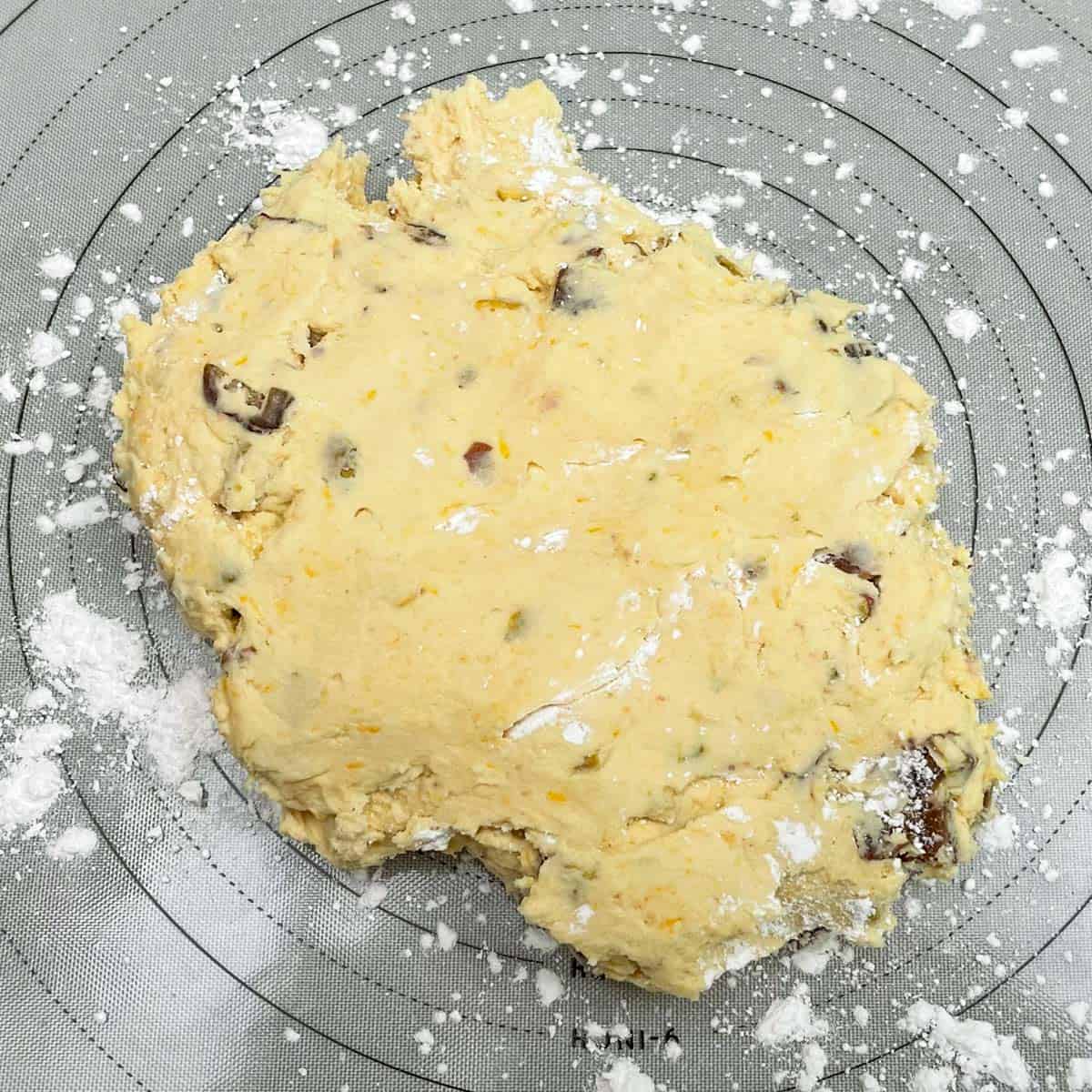 Turn the mixer to a low speed and gradually add the flour mixture and just mix until incorporated. Scrape down the bowl and add the dates and pistachio pieces. Mix for about 15 to 30 seconds. Place the cookie dough on a lightly floured pastry sheet.
Here is where you can tell if the dates and pistachios look like they are distributed evenly throughout the cookie dough. You can make adjustments if you need to knead the dough some but you really should not need to.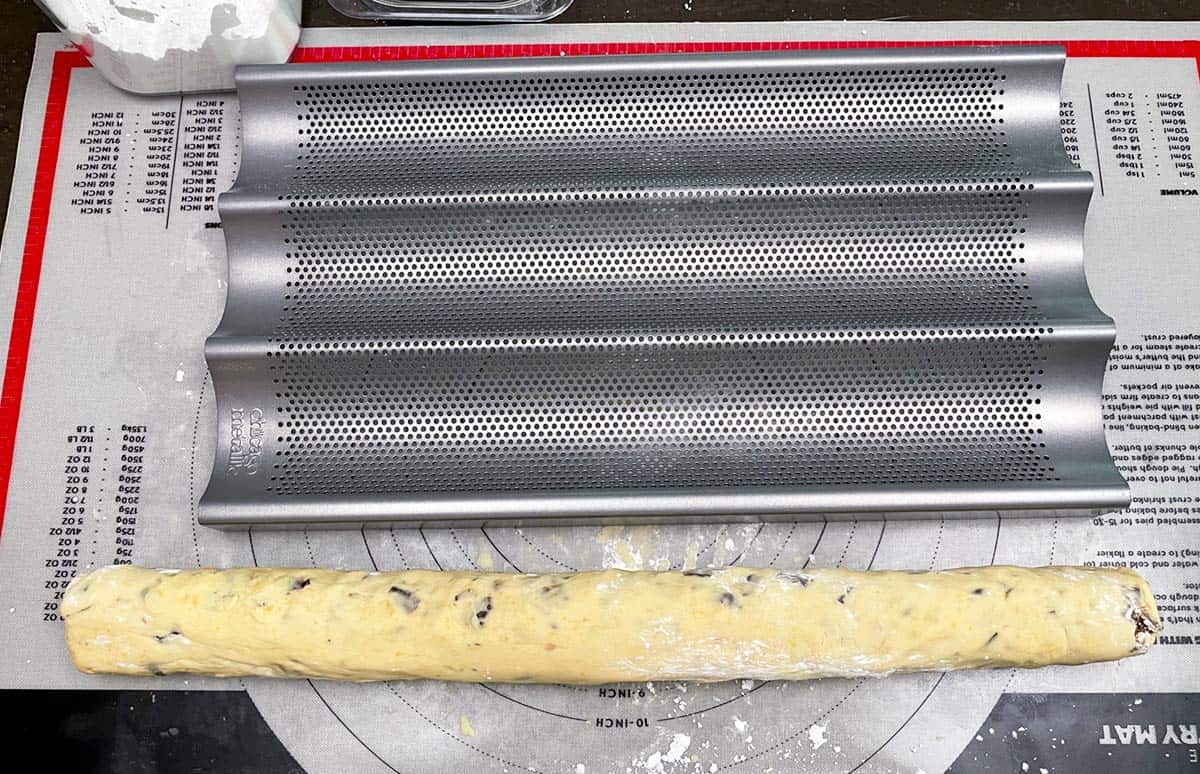 I use a baguette pan to cradle the rolls when they are in the fridge chilling. Roll out either a long roll that you can cut in half and get 30 cookies or 1 fat roll and get 15 cookies. I do one long roll and cut it in half.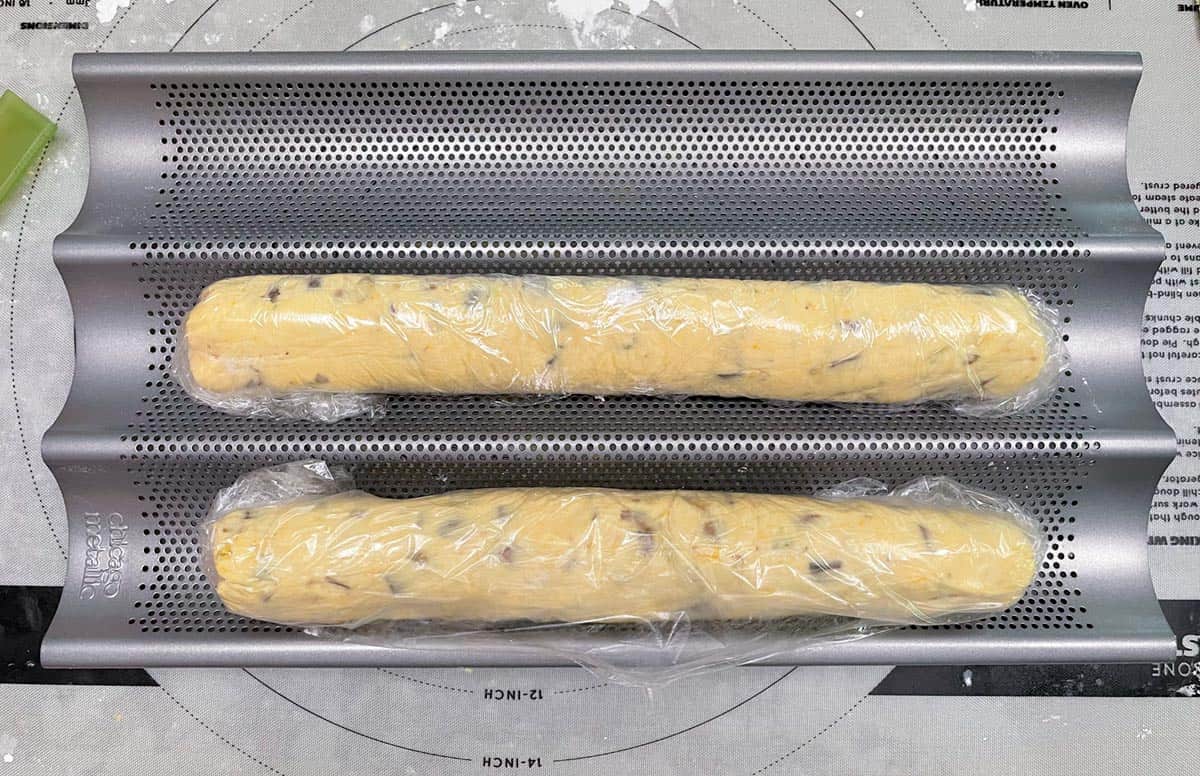 My logs are about 12" long and have a diameter of about 1-½ inches. Since shortbread cookies tend to be a little crumbly, I like to keep them on the more manageable size. Wrap in plastic wrap and chill in the fridge for at least one hour.
Now it is time to slice and bake.
Slice and Bake Pistachio and Date Cookies
Preheat your oven to 350°F (175°C or 180°C) F.
Take one of the logs and take off the plastic wrap. I place this on a cutting board and get a sharp knife.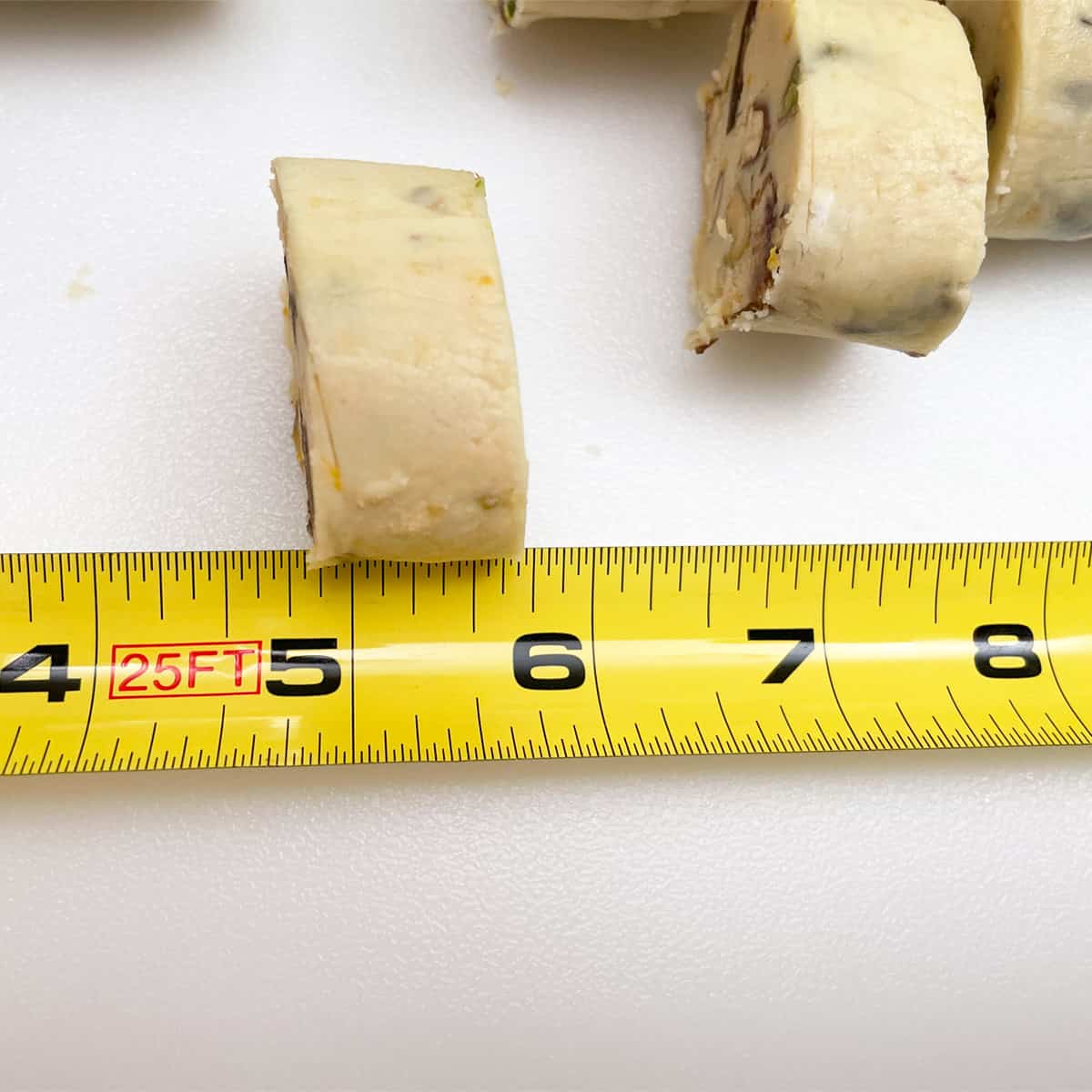 I score the log so I have an idea how big to make each slice before I actually cut the log. I make them around ¾" an inch thick. These do not spread much so I could get one log on a cookie sheet pan.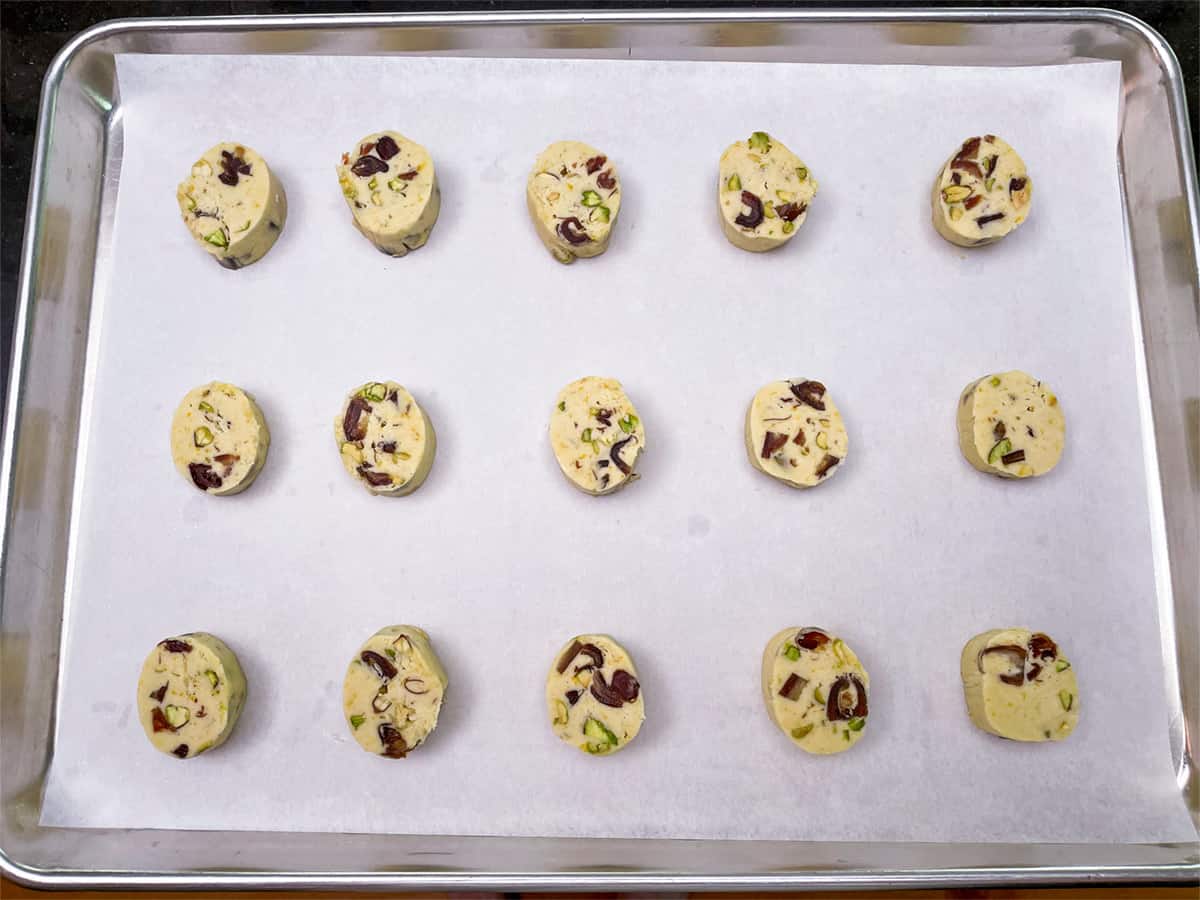 Bake at 350°F (175°C or 180°C) F for 10 - 12 minutes. After taking the cookie sheet pan out of the oven leave the cookies on the pan for a minute or two before moving them to a cooling rack.
Let the cookies completely cool down before starting the white chocolate and pistachio topping.
Adding White Chocolate and Pistachios
On the counter or a cooling rack lay parchment paper or wax paper so that once you have added the topping you can lay them on a surface that the white chocolate will not stick to.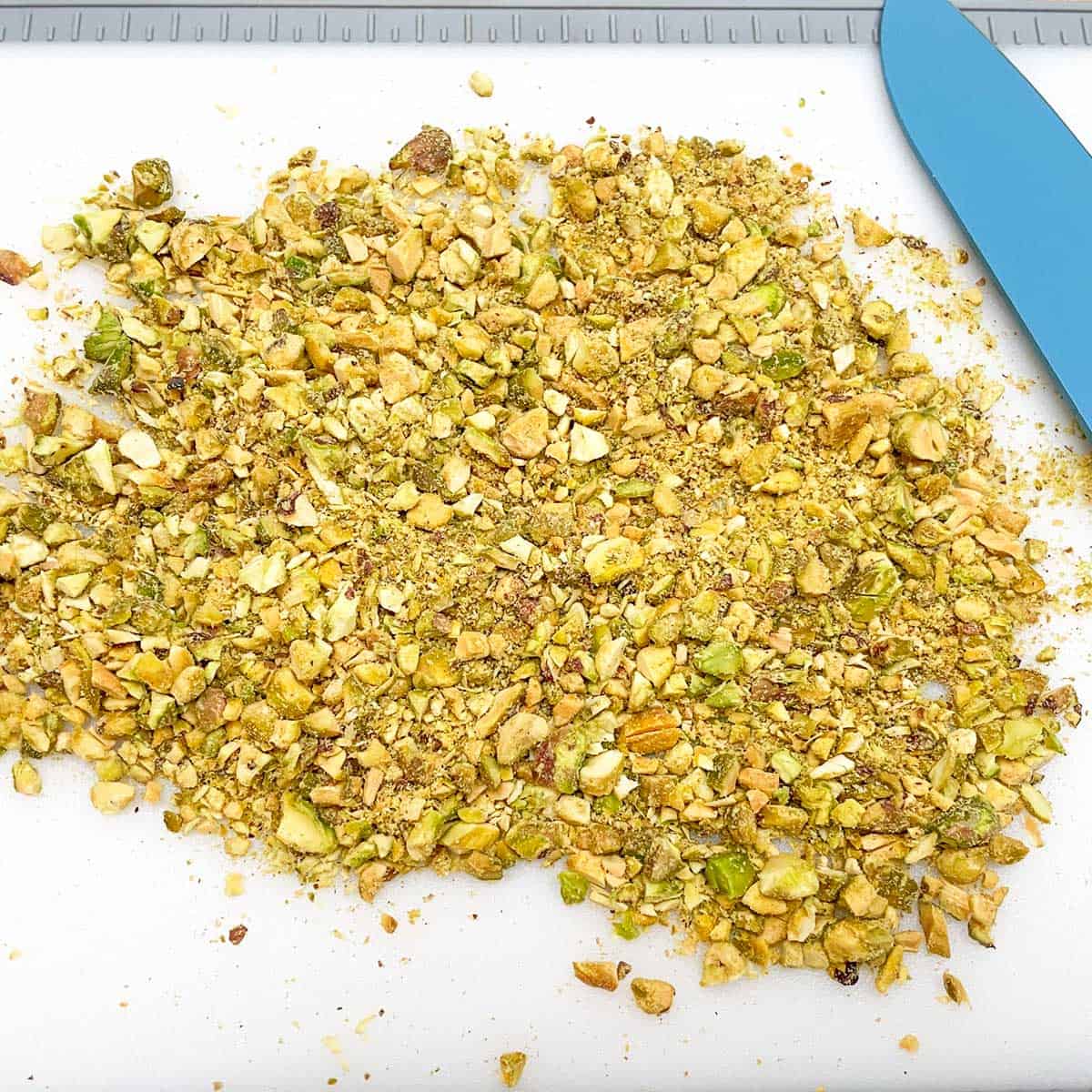 Take your left-over roasted pistachios and this time cut them up and make the pieces smaller than what was used for the cookies.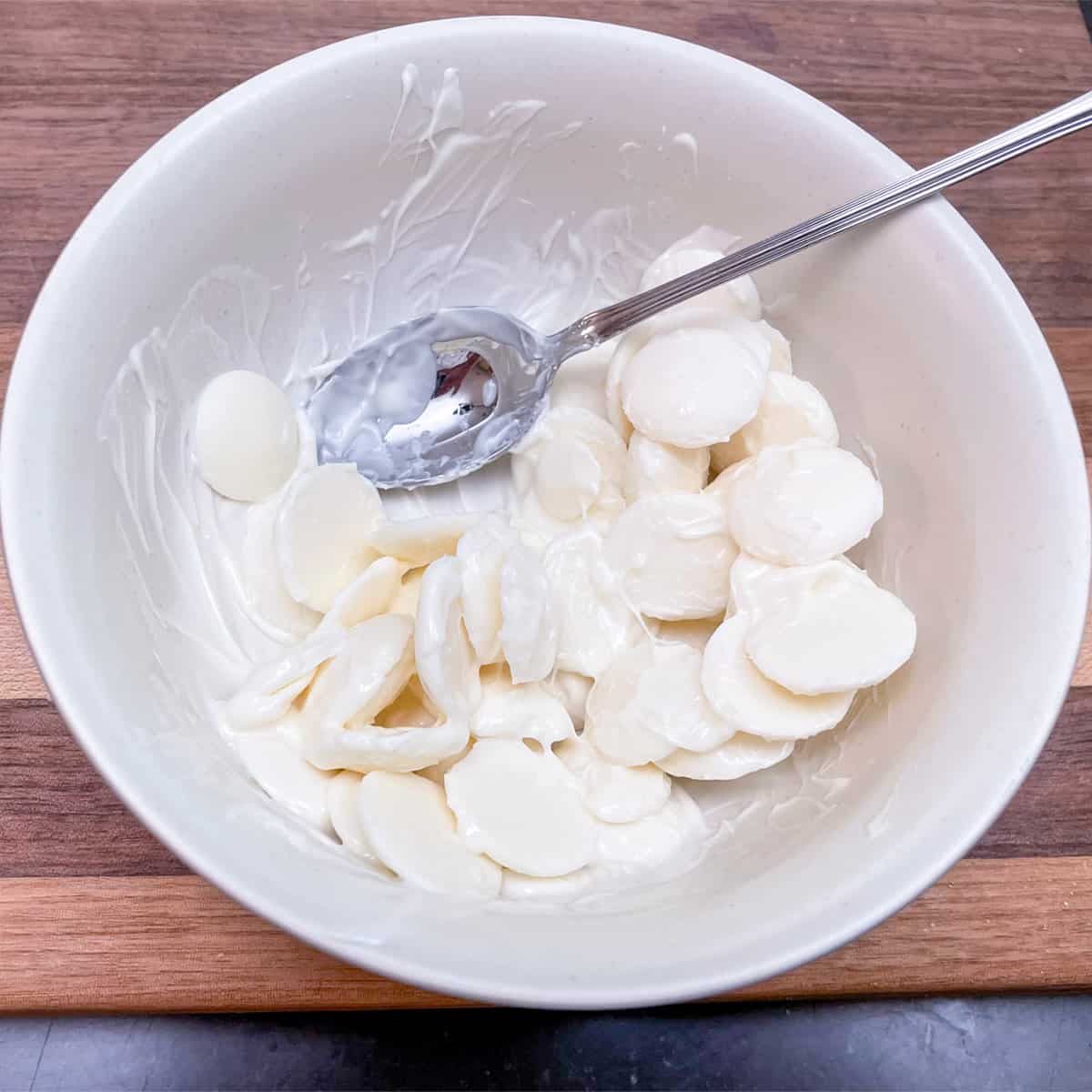 Take the white chocolate wafers and in a microwave safe bowl nuke for 30 seconds. Stir and do another 30 seconds. Stir again and if needed do 15 seconds. Even if there are pieces stir until all the wafers are melted. If needed you can heat for another 10 seconds.
You want the melted white chocolate to be smooth and creamy. If you heat it too much it will become hard and dull looking.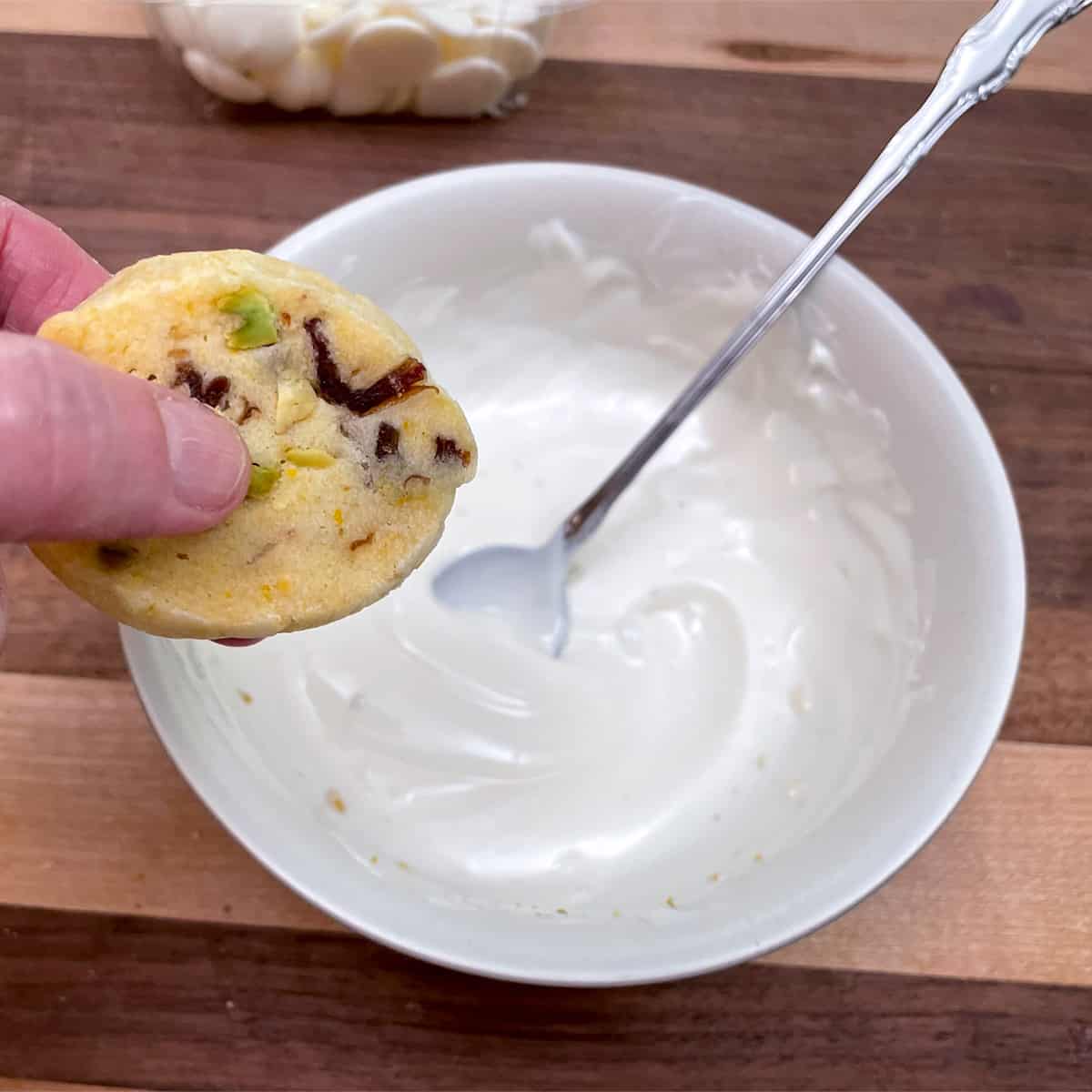 Since shortbread cookie are soft and can crumble hold the cookie gently in the middle and dip one end into the melted white chocolate.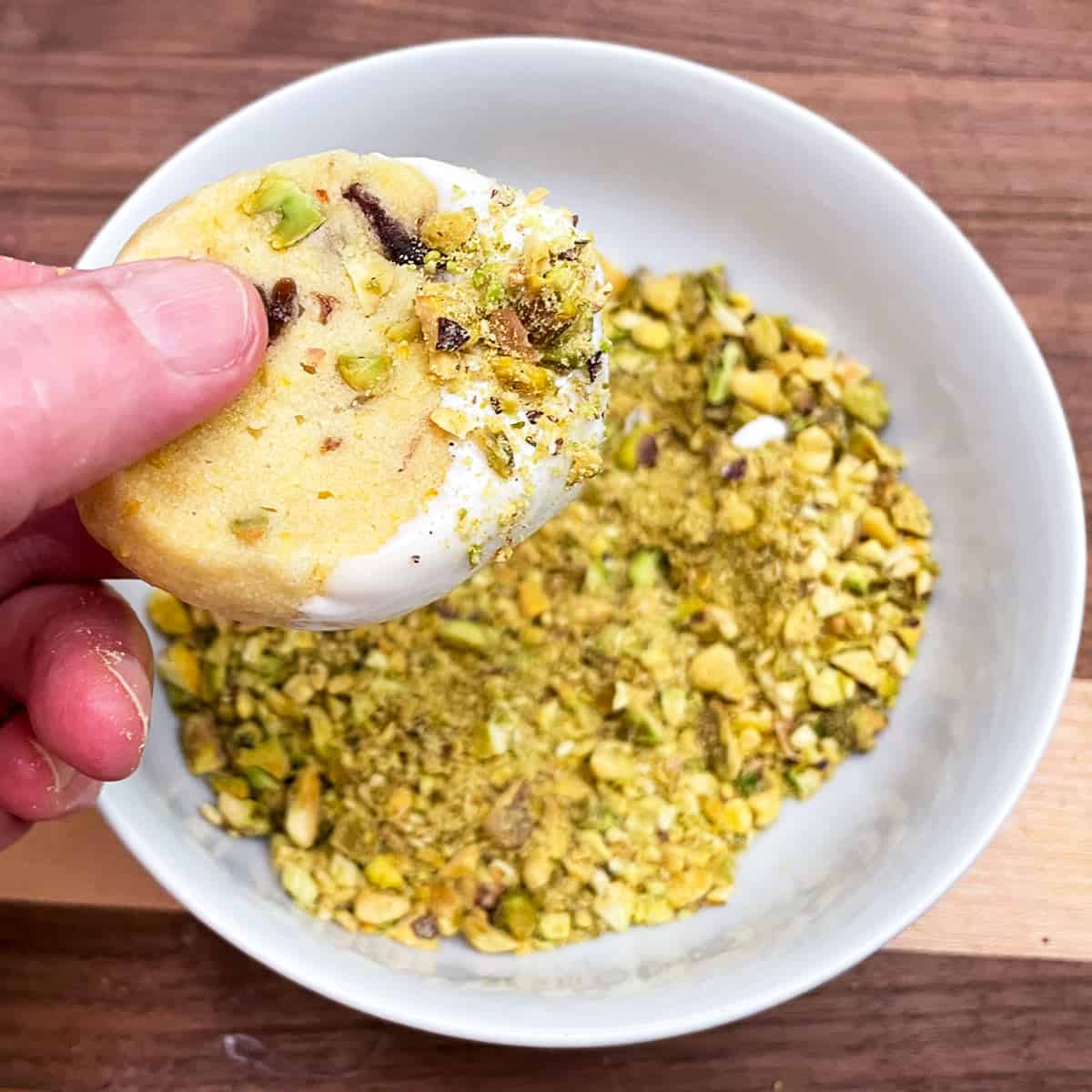 Take some of the small pieces of pistachio and sprinkle some on top of the white chocolate. Lay them on the prepared surface and let the topping set.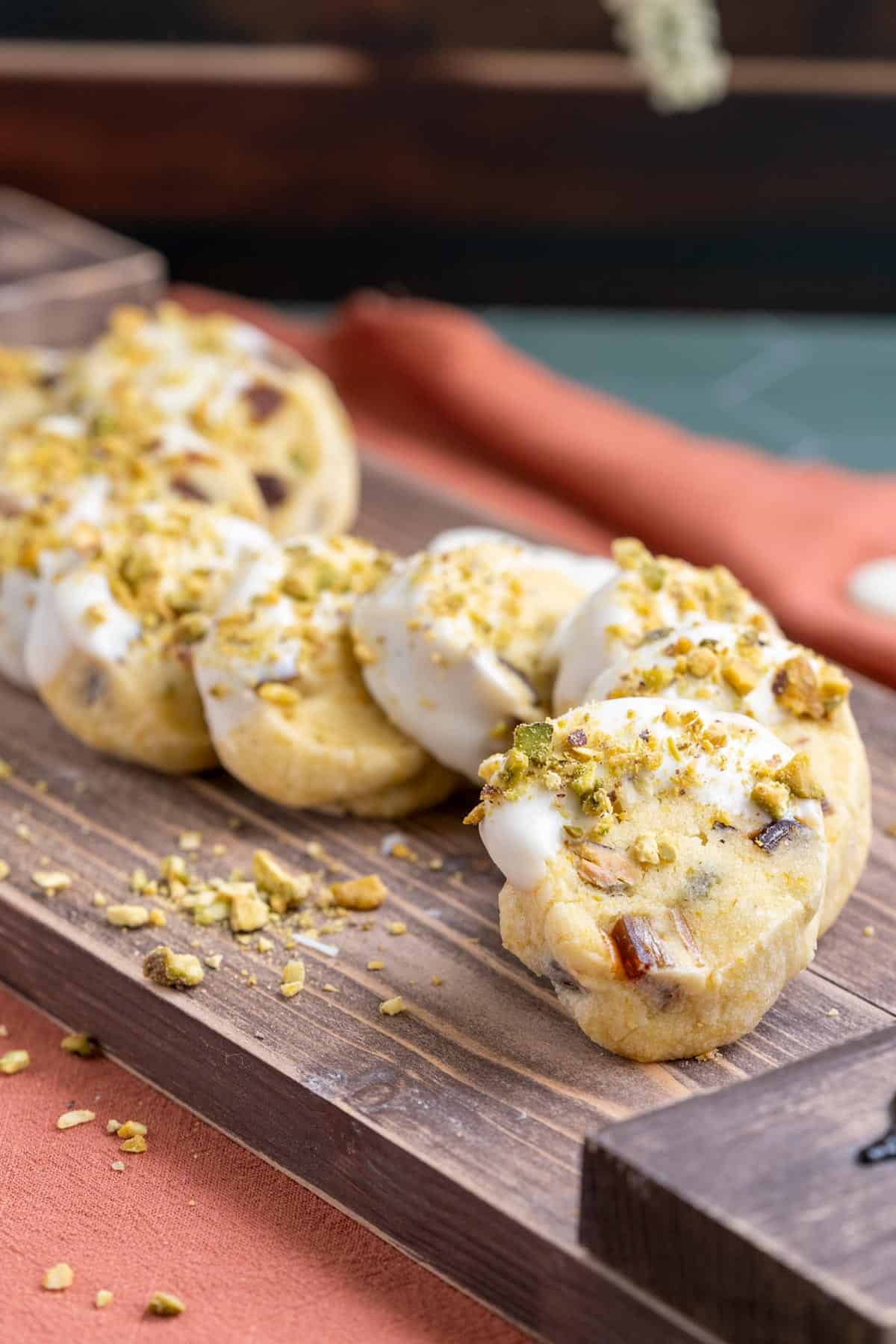 Enjoy!
FAQs
Can I substitute a different nut if I am not fond of pistachios?
Yes, there are several nuts that go well with dates and oranges. The almond, hazelnuts, macadamia nuts, pecans, and walnuts would be good choices.
How to store my pistachio date and orange cookies?
Store them in an airtight container for up to a week right on your counter.
Can I freeze pistachio date and orange cookies?
Of course, but here is how I would do it. If you are using a freezer bag lay the bag done on the counter and place a layer of cookies in the bag. Cut parchment paper to fit and lay on that single layer before adding another layer of cookies. Depending on the bag you should get 2 or 3 layers with parchment paper between each layer. Freeze up to 3 months.
Can I use dark chocolate instead of white chocolate?
The two types of chocolate that pair with all three flavors of pistachio, dates, and oranges are the white and dark chocolate. So yes you could swap out the white for the dark chocolate.
Other Slice and Bake Cookies
Recipe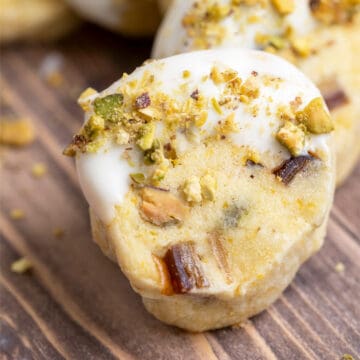 Pistachio Date and Orange Cookies
Barbara Hall
Indulge in the delightful combination of pistachio, date, and orange cookies dipped in white chocolate and sprinkled with more pistachios.
Ingredients
COOKIE DOUGH
1

cup

(

227

g

)

Butter unsalted

room temperature

⅔

cup

(

80

g

)

Powdered sugar

3

teaspoon

(

3

teaspoon

)

Vanilla Extract

2

tablespoon

(

2

tablespoon

)

Orange zest

16

(

16

)

Dates

½

cup

(

61.5

g

)

Pistachios

chopped in small pieces

2

cups

(

250

g

)

All-purpose flour

¼

teaspoon

(

0.25

teaspoon

)

Baking powder

¼

teaspoon

(

0.25

teaspoon

)

Kosher Salt
WHITE CHOCOLATE WITH PISTACHIOS
1

cup

(

236.59

g

)

White chocolate wafers

⅓

cup

(

41

g

)

Crushed Pistachios

chopped very small pieces
Instructions
COOKIE DOUGH
You can use a food processor to cut up your dates, chop your roasted pistachios, or use a knife and a cutting board. Cut the dates into small pieces and the same for the roasted pistachios.

Zest 1 or 2 oranges (depending on the size of the orange) to get 2 tablespoon of orange zest. Set this bowl aside.

Weigh or measure the powdered sugar into a bowl and set aside. In a separate bowl, weigh or measure the flour, baking powder, and salt together. I take a whisk and blend them.

In a stand mixer or handheld, add the butter and mix on medium speed to cream the butter. Make sure all the butter has been creamed.

Turn the mixer speed down and slowly add the powdered sugar until it is all incorporated. Turn the mixer back to medium speed and mix for 2 minutes. Next, add the vanilla extract and orange zest and blend. I had to stop and scrape down the bowl and across the bottom to ensure it was all mixed.

Turn the mixer speed down and slowly add the flour mixture. Don't over-mix. Turn the mixer off, add the pistachios and dates, and turn the mixer on for about 15 seconds. You may need to hand mix the dough a little to ensure the pistachios and dates go thoroughly through the whole dough.

Put the dough out of the bowl on a silicone pastry mat. Divide the dough in half, roll, and form 2 log shapes, about 12 inches each. It should have a diameter of approximately 1-½ inches. Wrap each log with plastic wrap and put it into the refrigerator for at least 1 hour. I use a baguette pan to help keep the round log shape.

Preheat the oven to 350°F (175°C or 180°C). Remove one log from the refrigerator and unwrap the plastic wrap from the cookie log. Slice into ¾-inch slices and put them onto a parchment-lined cookie pan. These cookies do not spread much, so they only need about an inch between each disc. Bake for 10 to 12 minutes; leave them on the pan for a minute or two after pulling the pan from the oven before moving to a cooling rack. Wait for the cookies to cool completely before starting the white chocolate.
WHITE CHOCOLATE WITH PISTACHIOS
On a cutting board, chop the roasted pistachios into very small pieces. Add them to a bowl and set them aside.

Add the white chocolate wafers to a microwavable bowl and heat for 30 seconds. Take out and stir and heat for another 30 seconds. If needed, you can heat it for another 15 seconds. You want the chocolate creamy, not dull and hard, so don't overheat.

Lay parchment sheets or wax paper onto the counter or a cooling rack. If you lay the cookies after they have been dipped onto a rack, they will stick, and you will have difficulty getting them off in one piece.

Holding the cookies in the middle dip the cookie so that about a ¼ has white chocolate on it. Move to the bowl with the chopped pistachios and sprinkle some on the white chocolate. Now lay it on the parchment paper. Do not wait to put the pistachios onto the cookie; the chocolate hardens quickly. Finish all the rest of the cookies in the same way.
NUTRITION DISCLAIMER
I am not a certified Dietitian or Nutritionist. The nutrition amounts given below are provided through a program and are only a guideline.
Nutrition
Calories:
162
kcal
Carbohydrates:
18
g
Protein:
1
g
Fat:
9
g
Saturated Fat:
6
g
Polyunsaturated Fat:
1
g
Monounsaturated Fat:
2
g
Trans Fat:
1
g
Cholesterol:
16
mg
Sodium:
26
mg
Potassium:
53
mg
Fiber:
1
g
Sugar:
10
g
Vitamin A:
200
IU
Vitamin C:
1
mg
Calcium:
9
mg
Iron:
1
mg