I like to make quick slice and bake cookies. Since most of these cookies have powdered sugar, butter, flour, and baking powder, the added nuts and fruits become very important for flavor. In addition, these types of cookies almost always taste even better the next day.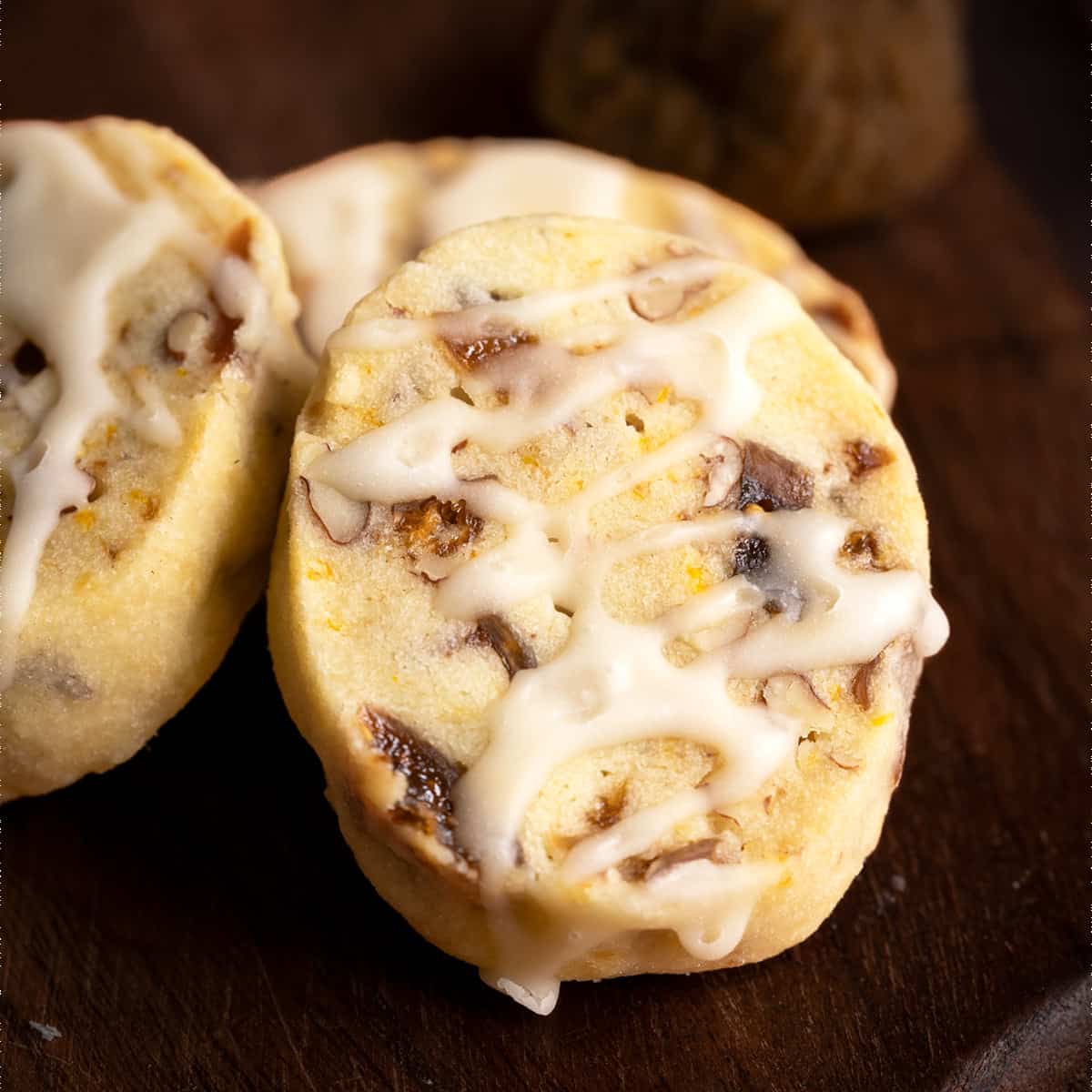 The glaze can be just a hint of honey and orange or add more to add a bolder flavor. The great thing about glazing is that you control how much to add.
Jump to:
Fig Peacan Cookie Ingredients
Jump to Recipe for Amounts
COOKIES
Butter unsalted
Powdered sugar
Vanilla Extract
Orange juice
Orange zest
Kosher Salt
Baking powder
Figs
Pecan chips
GLAZE
Orange juice
Milk
Powdered sugar
Honey
A Trick To Keep Your Cookie Logs Round
Whenever I make log-style cookies, to keep them a round shape, I have been using the inner cardboard tube of a paper towel roll cut lengthwise to cradle my logs. However, I wanted something a little sturdier that would not flatten out under the weight of the cookie log.
I saw these baguette pans and thought, what a wonderful idea. They are curved just how I want them to be and will not flatten out. I finally got to use them this week, and this Chicago Metallic Baguette Pan is wonderful. I might have to make some French baguette bread sometime.
Best Honey To Go With Figs
Of all the flavors I work with, I never thought honey could make a difference. But I was wrong...
I grabbed the Hound Dog honey (Raw local) in my pantry and put some on a plate. I did not test it with figs since they are already sweet, so I picked pecans. It had just a slightly bitter taste with the pecan. Hound Dog honey is great for other things, just not for this cookie.
I was standing at the grocery store for 10 minutes looking over all the honey varieties. I was starting to feel a little overwhelmed, but I saw the Dutch Gold Orange Blossom and thought OK, I am using oranges in the cookies, so maybe this would be a good match.
I came home, put some on a plate, and dipped half of my pecan into the honey. It did indeed have a smoother taste with the pecan. It also had a slightly fruity taste which I feel would not fight the other flavors in the cookies—just a peak at how I chose my ingredients.
Picking Figs For Cookies
Some dried figs are hard. My husband buys figs by the bagfull, and they are just too hard to use in my cookies. So at Christmas, I serve figs on my charcuterie board, and the best I can find is the Golden California Figs. I like that I can see the figs in the packaging. They are on the smaller side but cut up nicely.
These figs are not organic, so if you prefer that type, here are a few things to look for before buying. You have, of course, read the label, and it is what you are looking for. Now, most times, you can not see what the figs look like since they do not have any clear parts in the container.
But you can squeeze a fig through the bag to see how hard they are. If they are soft, they should be OK.
Making Fig Pecan Cookie Log
These are easy slice-and-bake fig pecan cookies which are one of my favorites. If you are a fig lover, you will love this cookie. So let's get started.
Prepping Ingredients
The first thing I do is zest and juice the orange. I only go over the same spot once or twice. If you zest down to the white layer of the orange skin, it may taste kinda bitter.
I prefer this wooden handle zester by Microplane since I can lay it across the top of a bowl. It has a long handle, and the zester holes are great for oranges and lemons.
The juicer is a rather cheap one I got at the grocery store. So check the aisle with baking tools at your grocery store, Walmart, or Target.
How I cut my figs is first to check and see if there is a stem and cut it off. Now I slice it into 4 or 5 sections and then cut them in half. This will give a nice size piece for the cookies.
For the pecans, you can buy either half or chopped. This is a rough chop of big chopped pecans I got at the store. You don't want them too small but big enough to taste when you bite into a cookie.
Next, I weigh or measure the powdered sugar into a bowl and set it aside. The final prep is to weigh or measure the flour, salt, and baking powder, whisking to blend.
Mixing Fig Pecan Cookie Dough
The butter needs to be at room temperature so to make sure I cream the butter before adding the powdered sugar.
After creaming the butter for a minute or two, I add the powdered sugar and slowly speed the mixer up to medium. Mix for 3 minutes or until it is creamy looking. Now add the vanilla extract, orange juice, and zest and incorporate.
Scrape the bowl down, and slowly add the flour mixture on a low mixer speed; don't over-mix. Scrape down the bowl and add the cut-up figs and chopped pecans. Mix for about 30 seconds. You don't want to break up the figs.
Roll Wrap and Chill
Using a pastry mat, lightly flour the mat. Place the cookie dough on the floured mat, and I dust the cookie dough with a little flour to help roll the dough.
Here is where you have choices. I prefer my cookies to be about 2 ½" wide, so I roll the cookie dough into a long log about 19" long and 2 ½" in width. But you can certainly make one log that is shorter in length and wider in width.
After you roll the cookie dough into a log shape, you cut the log in half. I have a baguette pan that I am using to cradle the logs while in the fridge. This helps to keep them a round shape.
Wrap each log in plastic wrap and set them in the baguette pan.
Chill in the refrigerator for at least 1 hour. I like to chill my slice and bake cookie dough overnight. This gives the dough time to meld all the flavors together.
Slice and Bake Log Cookies
Turn your oven to 350°F (175°C or 180°C), and line two cookie sheet pans with parchment paper.
Take one of the logs, unwrap the plastic wrap, and set it on a cutting board. I score the log so that the slices will be about ¾".
There were 15 slices to a log. This type of cookie does not spread much when baked, so you can fit the whole 15 slices onto 1 pan.
Bake at 350°F (175°C or 180°C) for 12-13 minutes. Move them to a cooling rack once they are taken out of the oven. Wait until the cookies have cooled before starting the glaze.
Easy Honey Orange Glaze
Add the orange juice, powdered sugar, and honey to a mixer bowl. Start the mixer at a low speed, and after all the sugar is incorporated, use the milk to thin out the glaze to the desired consistency.
I lift the mixer tilt head and see how fast the stream of glaze runs off the mixer paddle. I then take a spoon and hold it upright with it just tilted a little to one side so the glaze will come off in a little stream. I go back and forth over the cookie to add just a light coating of the glaze.
Try the cookie before adding more glaze, it is a sweet glaze, and a little goes a long way. The glaze dries in about 15 minutes. Enjoy!
FAQ's
How long does it take for the honey orange glaze to set?
The honey orange glaze should be set within 10-15 minutes. I wait that long before testing it by touching the glaze.
Can I use a different glaze?
Yes, of course. If you have a favorite, by all means, use it, but I will say that the added sweetness of the honey helps since I did cut back on the amount of powdered sugar used in the fig pecan cookies.
Can I chill my log-style cookies overnight?
Yes, and I do this many times. When the cookie dough chills overnight, the ingredients have more time to meld together. This can produce a richer flavor and a buttery texture.
Can I use a different nut?
You most certainly can; almonds, walnuts, and even pistachios go well with the flavors of honey and oranges.
What if I do not have a baguette pan?
In the past, I have used a paper towel center cardboard tube that I cut lengthwise down the middle to hold my wrapped cookie logs.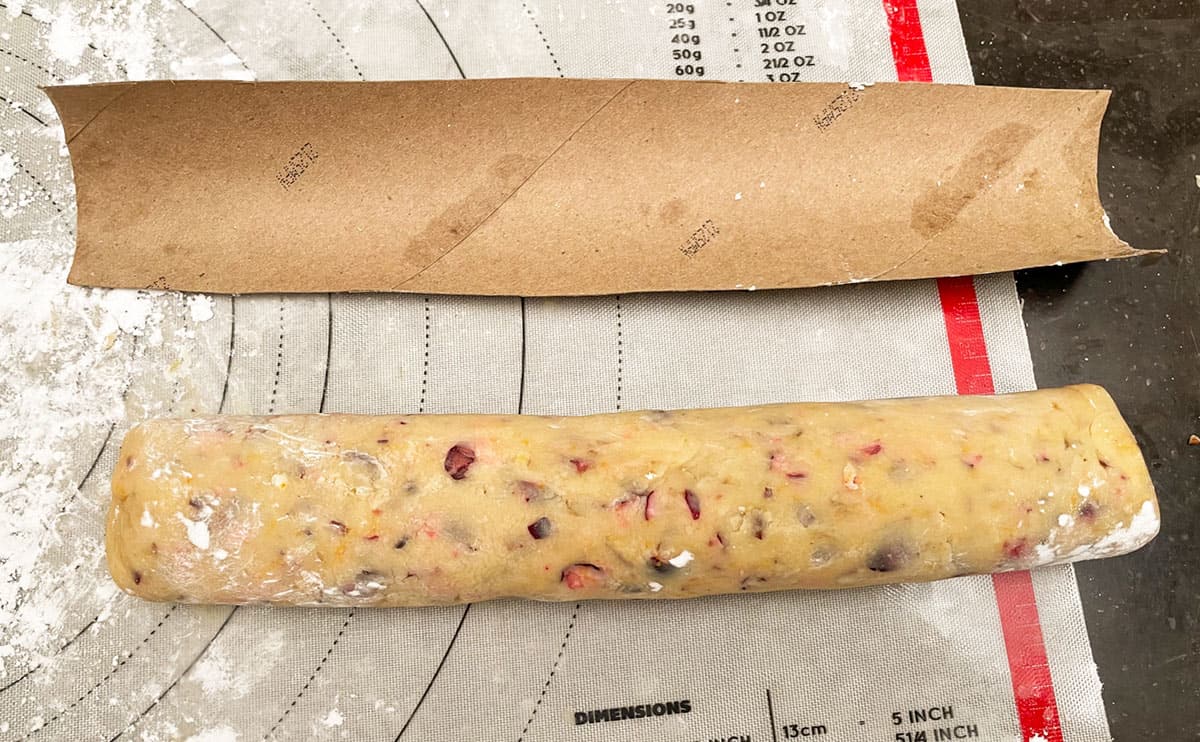 Other Cookies To Try
Recipe
Fig Pecan Cookies with Honey Orange Glaze
Barbara Hall
I've always loved fig newtons, but there are a lot of steps if you want to make your own. So I took those flavors and rolled them into an easy-to-slice version.
Ingredients
COOKIES
1

cup

(

227

g

)

Butter unsalted

room temperature

⅔

cup

(

80

g

)

Powdered sugar

1

teaspoon

(

1

teaspoon

)

Vanilla Extract

2

teaspoon

(

2

teaspoon

)

Orange juice fresh

2

Tablespoon

(

2

Tablespoon

)

Orange zest

2

cups

(

250

g

)

All-purpose flour

¼

teaspoon

(

0.25

teaspoon

)

Kosher Salt

¼

teaspoon

(

0.25

teaspoon

)

Baking powder

½

cup

(

49.5

g

)

Pecan

rough chopped

1

cup

(

236.59

g

)

Figs

cut-up
GLAZE
2

Tablespoon

(

2

Tablespoon

)

Orange juice

1

teaspoon

(

1

teaspoon

)

Milk

2

cups

(

240

g

)

Powdered sugar

2

Tablespoon

(

2

Tablespoon

)

Honey
Instructions
Prep work: zest and juice your orange into separate bowls and set aside. You will need orange juice for both the cookie and the glaze. Next, I cup up about 16 small figs to get a cup of cut-up figs. Next, cut the stems off and cut the figs into small pieces. Finally, rough chop the pecans to about the same size as the fig pieces.

Weigh or measure the powdered sugar and set it aside. Now, weigh or measure the flour, baking powder, and salt and whisk the mixture to blend.

In a stand or hand-held mixer, cream the butter on medium speed, then turn the mixer down to low and slowly add the powdered sugar to the creamed butter and incorporate. Next, add the vanilla extract, orange juice, and orange zest and blend. I stop and scrape the bowl down and across the bottom to make sure all is mixed.

Turn the mixer speed down and slowly add the flour mixture. Scrape the bowl if needed, but make sure the flour is incorporated. Turn the mixer off and add the figs and the pecan chips; turn the mixer on for about 30 seconds or until mixed.

Place the cookie dough on a floured pastry mat. Form a log about 2 ½" wide and about 19-20" long and cut it in half to form 2 logs. Or you can make 1 log to make bigger cookies. Take plastic wrap and wrap each cookie dough log. I have a baguette pan that I set the logs in so they stay round in shape while chilling. Place them in the refrigerator for at least 1 hour; overnight is even better.

Make sure you preheat the oven to 350°F (175°C or 180°C). Take one log out of the refrigerator and unwrap the plastic wrap from the cookie log. Slice into ¾ inch slices and put them onto a parchment-lined cookie pan. I did 5 across and 3 down. These cookies do not spread hardly at all, so they only need about an inch between each slice of cookie. Bake for 12 to 13 minutes; leave them on the pan for about a minute after pulling the pan from the oven, then move them to a cooling rack.
GLAZE
Weigh or measure your powdered sugar and place it in a stand mixer bowl, then add the honey and orange juice. Gradually increase the mixer speed to medium speed. Now add the milk to thin the mixture to a glaze consistency. Next, I take a spoon with some glaze and tilt the spoon just enough so that a thin stream of glaze goes down the side. Finally, I go back and forth over the cookie to add a thin zigzag across the top.
NUTRITION DISCLAIMER
I am not a certified Dietitian or Nutritionist. The nutrition amounts given below are provided through a program and are only a guideline.
Nutrition
Calories:
149
kcal
Carbohydrates:
20
g
Protein:
1
g
Fat:
7
g
Saturated Fat:
4
g
Polyunsaturated Fat:
1
g
Monounsaturated Fat:
2
g
Trans Fat:
0.2
g
Cholesterol:
16
mg
Sodium:
24
mg
Potassium:
41
mg
Fiber:
1
g
Sugar:
13
g
Vitamin A:
206
IU
Vitamin C:
2
mg
Calcium:
10
mg
Iron:
0.5
mg