I really like oatmeal cookies but wanted something different other than oatmeal with raisins, so I decided to use butterscotch chips instead of the raisins. This time of year, it is easy to find butterscotch chips at the local grocery store.
The only maker of the butterscotch chips that I could find locally was the Nestle Toll House brand. Since I did not want to send away for any other brand of chips, I used the tried-and-true Nestle brand.
Jump to:
Ingredients
Jump to Recipe for Amounts
Butter unsalted
Light brown sugar
Sugar white
Egg
Vanilla bean paste
Baking powder
Ground cinnamon
Kosher Salt
Old fashion oats
Butterscotch Chips
Types of Vanilla for Cookies
I guess you could say I am a Nielsen-Massey fan since that is what I usually purchase at the grocery store. Unfortunately, pure vanilla of any type is not cheap. I will never tell anyone to change the brand they use if you love how your cookies taste.
I have three types of vanilla I use for my cookies. The first and the most expensive is the vanilla beans. You get the most intense flavor by cutting a vanilla bean in half and scraping the specks out of the pods to add to your cookie dough.
It also shows off all those pretty little specks throughout the desert. I would use the specks from the pods if I were making a white cake, vanilla icing, something that you want the prominent flavor of vanilla and had the background color to show off the specks from the pod.
I commonly use vanilla extract or vanilla bean paste for almost all my cookies. If you have both the extract and the paste, you can do a taste test.
When I tasted the vanilla extract, I got a strong alcohol taste when tasted on its own. I still taste vanilla, but the alcohol taste hits me first. It is clear in color, which to me means a less saturated taste.
Vanilla extract is a clear thin liquid.
Vanilla bean paste has a lot of the vanilla specks but still in a pourable form.
On the other hand, when I tasted the vanilla bean paste, I got a concentrated vanilla taste. Although vanilla bean paste is made with vanilla extract, the alcohol is much less prominent. The vanilla specks in the paste come through in any medium or light-colored cookie dough or icing. So, if you want a stronger vanilla taste and want to show off the vanilla specks, go for the vanilla bean paste.
To help keep costs down, you can make your own vanilla extract and vanilla bean paste. Some Facebook groups sell vanilla beans in bulk during certain times of the year. I belong to Indri's vanilla bean group. The Facebook group first points people to their website so you can get a feel for what the group is about. Their website is Indrivanilla, and their FB group, Indri's Vanilla Bean Group (you must request to join), have tons of resources.
I use and love all things vanilla, so I suggest doing a taste test to see what you like. I have always preferred pure vanilla, but I also know home bakers that like the imitation vanilla. So, purchase based on taste and cost. They are your best guides.
How to Make Scotchie Cookies
I start by preparing my ingredients, so I don't forget any ingredients when making the cookies. In a bowl, weigh or measure the white and light brown sugar, setting the bowl aside.
Next, weigh or measure the flour into a bowl and add the baking powder, cinnamon, and salt. I then run a whisk through and blend and set this bowl aside. Finally, weigh or measure the oatmeal and set it aside also.
Mixing
In a mixer bowl, I cube the butter to see how cold the butter is. This determines how long it takes to cream the butter.
Turn the mixer on medium speed and cream the butter for a minute or two.
Now add the sugars and mix for 3 minutes on a medium speed. You want the sugars to be well incorporated with the butter. Next, add the vanilla bean paste and the egg. Next, add the oats and mix until blended into the wet ingredients.
Scrape down the bowl and turn the mixer to a low speed. Gradually add the flour mixture and mix until the flour is incorporated. Finally, add the butterscotch chips and mix for about 15 seconds.
If you see a little flour not incorporated, use a nice solid spatula and finish mixing with the spatula.
You can see that the cookie dough is moist but still stays together. But look at all the butterscotch chips, enough for any butterscotch lover.
Cover lightly and refrigerate for 30 minutes.
Scoop and Bake
Preheat your oven to 350°F (175°C or 180°C) and line 2 cookie sheet pans with parchment paper. I use a medium cookie scooper to get nice, consistent-sized cookies. These cookies spread some when they bake, so leave a couple of inches between scoops.
Bake for 11-13 minutes. Try not to overbake these cookies. Oatmeal tends to dry out if baked too long. Even if they are a little soft, when taking them out of the oven, you will want to leave them on the cookie sheet pan for a few minutes. This will help to finish the bake, and the tops will start to harden.
Then, move the cookies to a cooling rack to finish.
Enjoy!
FAQ's
Can I use vanilla extract if I do not have vanilla bean paste?
Yes, you can!
Can I use quick oats if I do not have the old fashion oats?
Yes, you can use the quick oats. Quick oats are smaller in size and bake faster, so keep an eye on the time. It will probably be at the lower end of the time on the recipe.
Can I add more to the cookie than just butterscotch chips?
You can add chocolate chips, lemon chips, or espresso chips. You might also like to add some almonds if you want to add a nut. All of these go with butterscotch and oatmeal.
Other Oatmeal Cookies
Recipe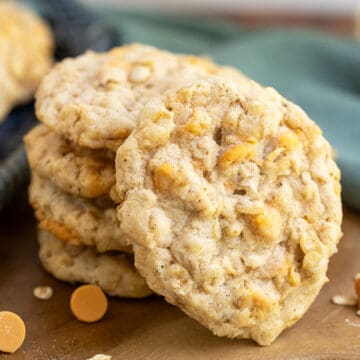 Old Fashion Oatmeal Scotchie Cookies
Barbara Hall
Delicious Old Fashion Oatmeal Scotchie Cookies: learn how to make these yummy cookies with oats and butterscotch chips in an easy, quick way!
Ingredients
½

cup

(

113.5

g

)

Butter unsalted

room temperature

½

cup

(

110

g

)

Light brown sugar

½

cup

(

100

g

)

Sugar white

1

(

1

)

Egg

½

teaspoon

(

0.5

teaspoon

)

Vanilla bean paste

1

cup

(

125

g

)

All-purpose flour

½

teaspoon

(

0.5

teaspoon

)

Baking powder

½

teaspoon

(

0.5

teaspoon

)

Ground cinnamon

¼

teaspoon

(

0.25

teaspoon

)

Kosher Salt

1 ½

cups

(

121.62

g

)

Old fashion oats

1

cup

(

170

g

)

ButterScotch Chips
Instructions
Weigh or measure the white and light brown sugars in one bowl and set this aside. Weigh or measure the flour, baking powder, cinnamon, and salt into another bowl. Run a whisk through to blend. Weigh or measure the oats into another bowl and set it aside also.

Start by creaming the butter for a minute or two before adding the sugars. Then mix the butter and sugars for 2-3 minutes or until well incorporated. Add the egg and vanilla bean paste and blend. Turn the mixer down to low-medium and slowly add the oats, followed by the flour mixture. Turn the mixer off and scrape down the sides and across the bottom. Add the butterscotch chips and mix for about 15 seconds. Loosely wrap the top of your bowl and refrigerate for 30 minutes.

Line 2 cookie sheet pans with parchment paper. Take the cookie dough out of the refrigerator. Using a medium cookie scooper, add 12 scoops to a pan. I leave a good 2 inches between scoops since they spread some. Bake at 350°F (175°C or 180°C) for 11-13 minutes. You don't want to overbake oatmeal cookies, so start checking at 11 minutes. The tops will be slightly soft but not wet. Remove them from the oven and leave them on the pan for a few minutes before moving them to a cooling rack.
NUTRITION DISCLAIMER
I am not a certified Dietitian or Nutritionist. The nutrition amounts given below are provided through a program and are only a guideline.
Nutrition
Calories:
149
kcal
Carbohydrates:
25
g
Protein:
2
g
Fat:
5
g
Saturated Fat:
3
g
Polyunsaturated Fat:
0.4
g
Monounsaturated Fat:
1
g
Trans Fat:
0.2
g
Cholesterol:
19
mg
Sodium:
72
mg
Potassium:
37
mg
Fiber:
1
g
Sugar:
16
g
Vitamin A:
148
IU
Vitamin C:
0.002
mg
Calcium:
16
mg
Iron:
1
mg