May is the time of year that Lancaster County residents go out to the local farms and pick fresh strawberries. But I have found that for baking with strawberries the local ones are a little on the softer side and contain a lot of liquid. They are sumptuous to eat as a fruit and love them on ice-cream but for baking I like stiffer strawberry.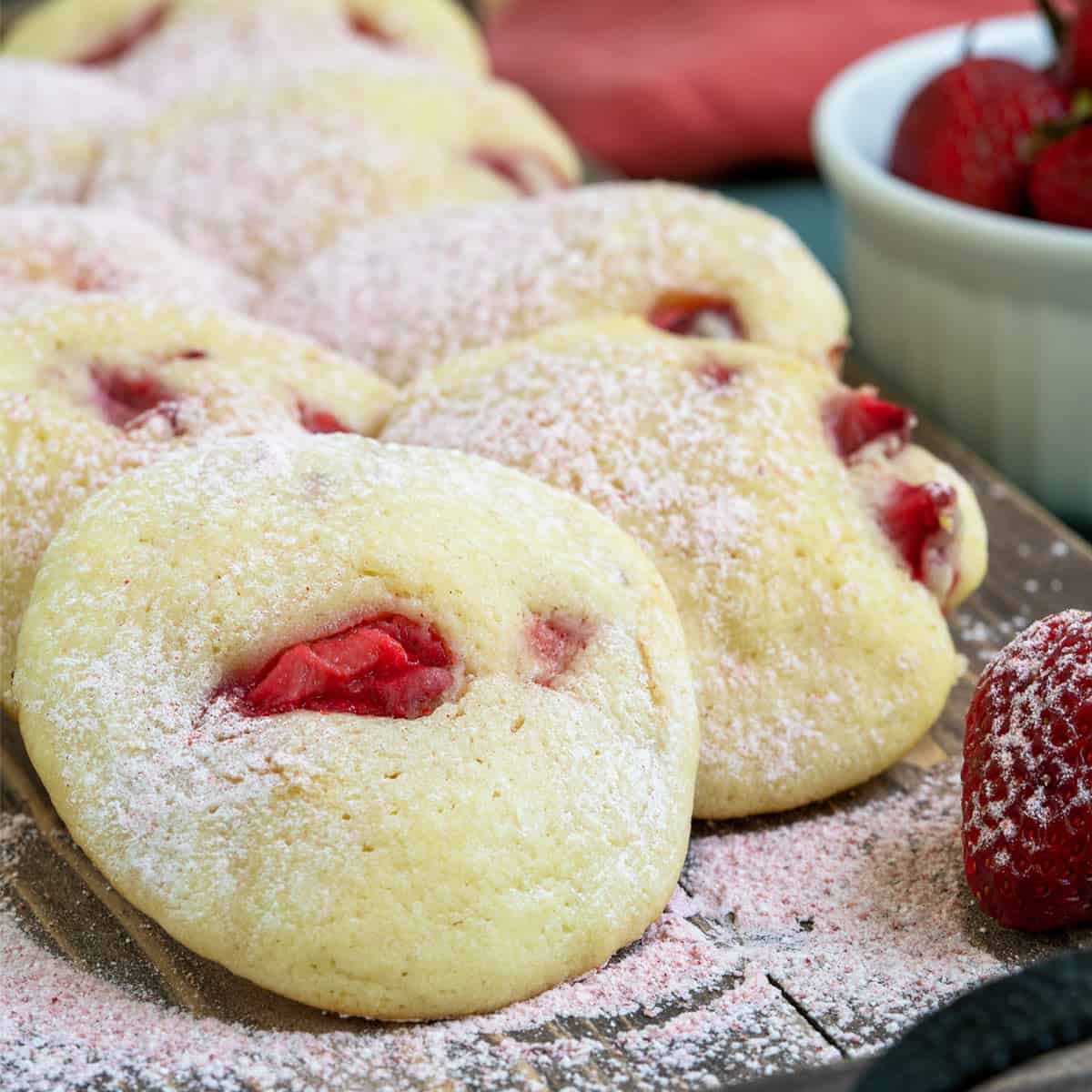 Looking at what makes up strawberry shortcake, I start to deconstruct this perfect springtime treat. You have, of course, the strawberries, the shortcake, and the creamy whip cream. So, strawberries are easy, cookie dough for the shortcake, and mascarpone for the whipped cream; this sounds like a plan.
Jump to:
Ingredients
Jump to Recipe for Amounts
Butter unsalted
Sugar white
Mascarpone
Vanilla Extract
Eggs
All-purpose flour
Kosher Salt
Baking powder
Fresh strawberries cut into small pieces
Optional Topping
Powdered sugar
Freeze dried strawberries
Pitfalls Using Fresh Fruit
I love the flavor that fresh fruit brings to a cookie but there are special considerations that you need to be aware of:
The Moisture Content
Fresh fruits, especially juicy ones like strawberries, contain a high juice content. This excess moisture can affect the texture of the cookies, making them more prone to becoming soft, soggy or even causing them to spread excessively during baking. Therefore, it's important to consider the amount of juice content of the fruit and adjust the recipe accordingly by reducing the amount of other wet ingredients or adding extra dry ingredients, such as flour or oats.
I have also found that if I lay my fruit on a paper towel with the cut side down and leave them there for a couple of hours, it helps to draw some of the liquid out of the fruit. I have sometimes had to transfer them to a clean paper towel if they had a lot of liquid. Some fruits have more juice than others.
Fruit Can Sink
Fresh fruit pieces may sink to the bottom of the cookie dough during baking, resulting in uneven distribution. To prevent this, you can lightly coat the fruit in flour or another dry ingredient before folding them into the cookie dough. This helps to absorb excess moisture and provides a better chance of the fruit staying evenly dispersed throughout the cookie. I find fruit sinking more in cookie bars than I do cookies using a cookie scooper.
Shorter Shelf Life
Fresh fruit contains natural enzymes and moisture, which can cause the cookies to spoil more quickly. The cookies may lose their freshness and become stale faster compared to cookies without fresh fruit. It's advisable to consume fruit-filled cookies within a shorter timeframe.
Appearance of Baked Fruit
Fresh fruits with high sugar content, such as berries, can release their juices during baking, which might cause the cookies to brown more quickly or develop a slightly uneven appearance. To minimize this, you can gently pat dry the fruit before incorporating it into the dough, and monitor the baking time and temperature accordingly.
How To Make Strawberry Shortcake Cookies
These cookies have a wonderful fresh strawberry taste that will remind you of the classic strawberry shortcake. If you like, you can throw a little whip cream on top of your cookie, and your will have the taste of summer.
How To Prepare Strawberries
Rinse and clean the strawberries. Grab a cutting board and a sharp knife. Getting the strawberries ready takes a little time since you want to extract as much juice as possible, so your cookies do not become overly soft and limp.
Cut the top off the strawberry. As you can see, there is a white center. Some over-ripe strawberries will be solid red inside, and I find them harder to get a lot of the liquid out after cutting it up.
Take your knife and just cut the white part out of the strawberry. This is called hulling a strawberry. Pretty simple and only take a second.
I cut the strawberry into quarters and then cut the quarters in half. This will give you fairly nice pieces of strawberries.
Take a paper towel and lay it on a plate. Now you want to add the cut-up strawberries cut side down. This helps draw out the liquid from the strawberry pieces.
I leave the pieces on the paper towel for a couple of hours. You want as much liquid as possible to have been drawn out of the strawberries.
Mix Cookie Shortcake Dough
Weigh or measure the sugar into a bowl and set it aside. Next, weigh or measure the flour, salt, and baking powder, running a whisk through to blend.
Add the butter, sugar, and mascarpone in a mixer bowl, mixing thoroughly. I mix on a medium speed for a few minutes. Next, add the vanilla extract and one egg incorporating before adding the second egg.
Scrape down the bowl sides and across the bottom. Now turn the mixer to a low speed and gradually add the flour mixture. Next, I transfer the cookie dough to another bowl with a wide top and shallow sides so I can fold in the strawberries. Fold in the strawberries as gently as you can but still get the strawberries spread throughout the cookie dough. Cover and refrigerate for at least 2 hours.
Baking Strawberry Shortcake Cookies
Preheat the oven to 375° and line 2 sheet pans with parchment paper. You will also need a cookie scooper for consistent size cookies.
The cookie scooper I used had a #40 on the bowl of the scooper. That is slightly bigger than my Pampered Chef cookie medium scooper, which is just a tiny bit smaller. I only put 9 scoops on my prepared cookie sheet pan. These do spread some, so I give them plenty of room.
Bake at 375° for 12-14 minutes. You want a little brown around the bottom edges before you pull them from the oven. Give them a couple of minutes on the sheet pan before moving a cooling rack.
Optional Strawberry Topping
You want to crush the freeze-dried pieces to dust by either pulsing the pieces in a food processor or a baggie and using something substantial like a rolling pin to crush them.
Using the rolling pin option, you should sift out the pieces that do not get crushed. But it is worth it. The freeze-dried fruit is the perfect topping.
Mix the powdered sugar and the sifted crushed freeze-dried strawberries into a small bowl. I take a small sifter and sprinkle a small amount of the sugary pink wonder on top of the cookies.
Enjoy!
FAQs
How do I store strawberry shortcake cookies?
When baking cookies with fresh fruit, I do not store them in an airtight container. If there is still moisture in the fruit and you keep it in an airtight container, the cookies could get limp and soggy. So instead, I put them in a container with the lid off and lay a piece of parchment paper over the cookies. They need air to circulate; this helps to evaporate the moisture.
Can I substitute ingredients for my strawberry shortcake cookies?
Flavors that work with strawberries can be added to the cookie dough when mixing—for example, almond or lemon flavors. You can also play around with different toppings, like a chocolate drizzle or homemade strawberry glaze. Finally, of course, you might like to try adding some cocoa powder to powdered sugar and sprinkling that on your cookies.
Can I substitute fresh strawberries with strawberry jam or preserves?
You have a couple of options if you want to use jam or preserves. First, add a well in the middle of the scooped cookie dough on the sheet pan and fill it with the hole with jam. Another option would be to spoon a little jam onto the cookie dough and try and swirl it around, giving it a marble look.
More Fresh Fruit Cookies
Recipe
My Strawberry Shortcake Cookies
Barbara Hall
The perfect Strawberry Shortcake Cookie! You can't beat the fresh taste of strawberries with the cookie, plus the added mascarpone for the best creamy taste. WOW!!
Ingredients
½

cup

(

113.5

g

)

Butter unsalted

room temperature

1 ½

cups

(

300

g

)

Sugar white

8

oz

(

8

oz

)

Mascarpone

½

teaspoon

(

0.5

teaspoon

)

Vanilla Extract

2

(

2

)

Eggs

2 ½

cups

(

312.5

g

)

All-purpose flour

½

teaspoon

(

0.5

teaspoon

)

Kosher Salt

1

teaspoon

(

1

teaspoon

)

Baking powder

1

cup

(

144

g

)

Fresh strawberries
OPTIONAL TOPPING
2

tablespoon

(

2

tablespoon

)

Powdered sugar

½

tablespoon

(

1

tablespoon

)

Freeze dried strawberry
Instructions
Clean and drain strawberries. Cut the tops off and hull out the middle. Cut fresh strawberries into pieces by cutting them into quarters and then cut the quarters in half, giving you 8 pieces per strawberry. Lay a paper towel on a plate and add the strawberry pieces cut side down on the paper towel. Leave the strawberries on the towel for 2 hours; this will help to absorb the liquid from the strawberries.

In a bowl, weigh or measure the flour, salt, and baking powder and set aside. I run a whisk through the dry ingredients to blend. Measure or weigh the sugar and add it to the mixer bowl.

With a hand-held or stand mixer, incorporate the sugar, butter, and mascarpone on medium speed for 2 to 3 minutes. Next, add the vanilla extract and one egg, ensuring the first egg is completely incorporated before adding the second. Next, scrape down the sides and across the bottom, then gradually add the flour mixture on a low mixer speed.

I transfer the cookie dough to a bowl with a wide mouth and fairly low sides. I find this bowl type easier to fold the strawberries into the cookie dough, but you can certainly use the mixer bowl. Fold in the cut-up strawberries and mix them through the dough. Cover lightly with plastic wrap and refrigerate for 2 hours.

Preheat oven to 375°, line two baking sheet pans with parchment paper, and set aside. Add 9 scoops to a prepared sheet pan and bake for 12-14 minutes using a medium cookie scoop. When you see a little brown around the bottom edges, pull them out of the oven. Leave them on the pan for about a couple of minutes, then move them to a cooling rack.
OPTIONAL TOPPING
Place a bag of Freeze-Dried Strawberries into a food processor and pulse until they are dust. You can also choose a sturdy baggie and seal the top before crushing them using a rolling pin or another hard object. If you do not use the food processor, you may want to sift the dust to get the larger pieces out. Next, I mix the strawberry dust and powdered sugar and sprinkle the tops of the cookies. This topping gives an added fresh strawberry taste you will not believe.
NUTRITION DISCLAIMER
I am not a certified Dietitian or Nutritionist. The nutrition amounts given below are provided through a program and are only a guideline.
Nutrition
Calories:
176
kcal
Carbohydrates:
23
g
Protein:
2
g
Fat:
8
g
Saturated Fat:
5
g
Polyunsaturated Fat:
0.3
g
Monounsaturated Fat:
1
g
Trans Fat:
0.1
g
Cholesterol:
32
mg
Sodium:
74
mg
Potassium:
32
mg
Fiber:
0.5
g
Sugar:
13
g
Vitamin A:
260
IU
Vitamin C:
7
mg
Calcium:
28
mg
Iron:
1
mg