Spring is here...
Adding lemon zest and juice gives these cookies a buttery lemon melt in your mouth bite-size cookie. They are light and airy, which is a nice change from heavy winter cookies.
Now that it is spring, all I want is Lemon. So I decided to update my lemon spritz cookies.
Ingredients
Cookies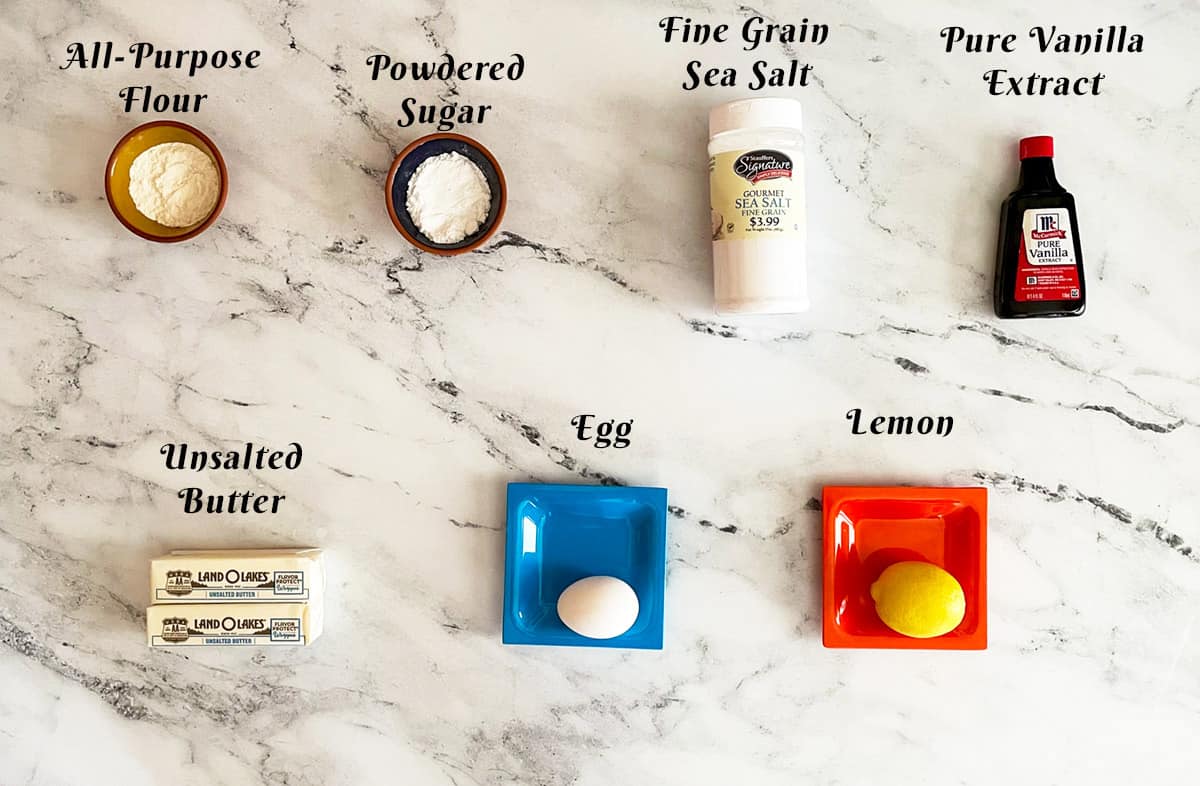 Jump to Recipe for Amounts
Fine Grain Salt - I decided to use fine-grain sea salt because this salt dissolves more quickly than my regular Kosher salt. In addition, these cookies are small, and I wanted to ensure that the salt was evenly distributed in the cookies.
All-Purpose Flour - My favorite choice for all-around cookie baking is King Arthur All-Purpose Flour. I have used this brand for years and never had any issues with the results.
Pure Vanilla Extract - I have yet to try making vanilla extract, but that may be coming in the future. But for now, I do buy pure vanilla extract, but I know the price is high for this spice. So my go-to brand is McCormick All Natural Pure Vanilla Extract. My advice is to buy the best you can, and your family will love whatever you make.
Lemon Juice and Zest - Please buy fresh lemons and juice and zest them. The lemon juice you buy in the little lemon-shaped container will never taste as good as what you squeeze and zest yourself. If I could, I would grow a lemon tree in my backyard.
Icing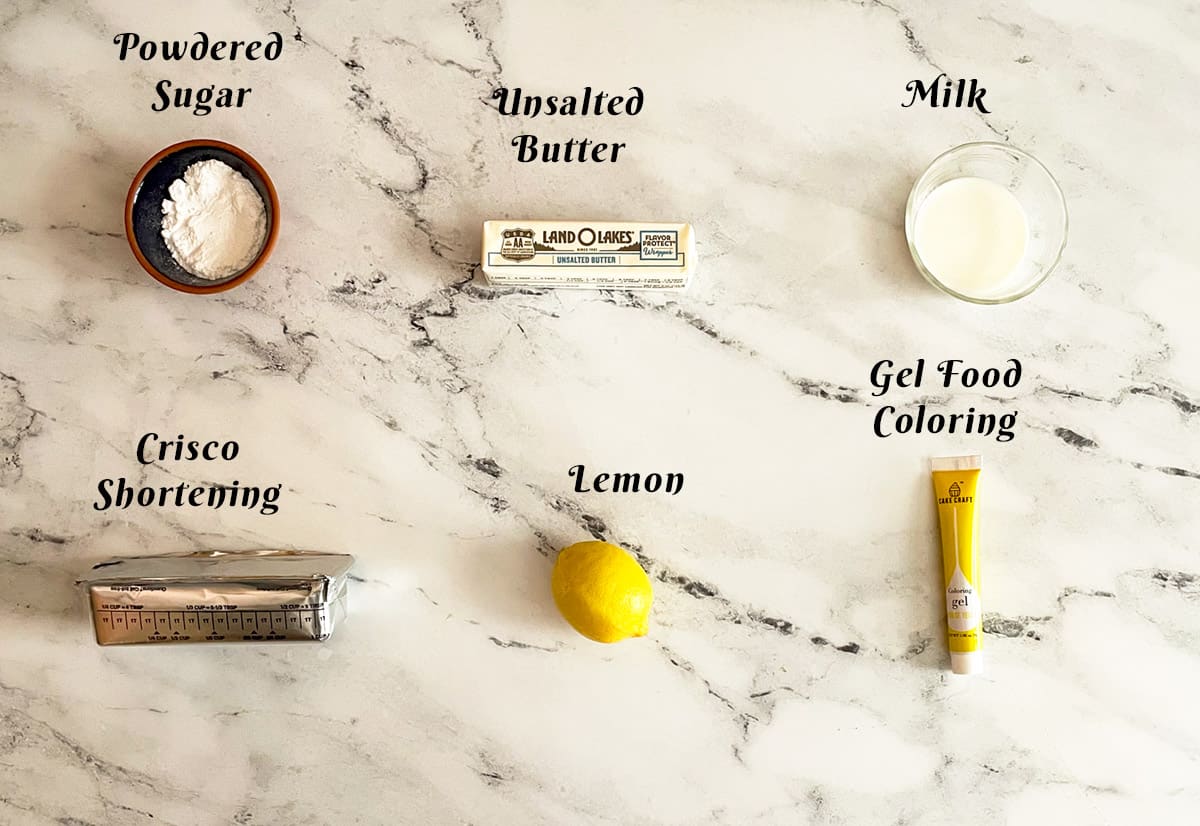 Milk - I used 2% for this recipe. But you can certainly use the whole or 1% to get that creamy icing.
Coloring Gel - I Cake Craft Color Gel, and I love the colors. The 12 pack I have used for all my cookies.
How to Make Spritz Cookies
First the Cookie Dough
Weigh or measure the flour and salt into a bowl. Next, I run a whisk through to blend. Then weigh or measure the powdered sugar. Now add the room temperature butter and powdered sugar to a mixer and turn it onto a low speed until they are incorporated, then turn the mixer speed up to medium for a couple of minutes.
Light in color and creamy looking after 2 to 3 minutes of mixing.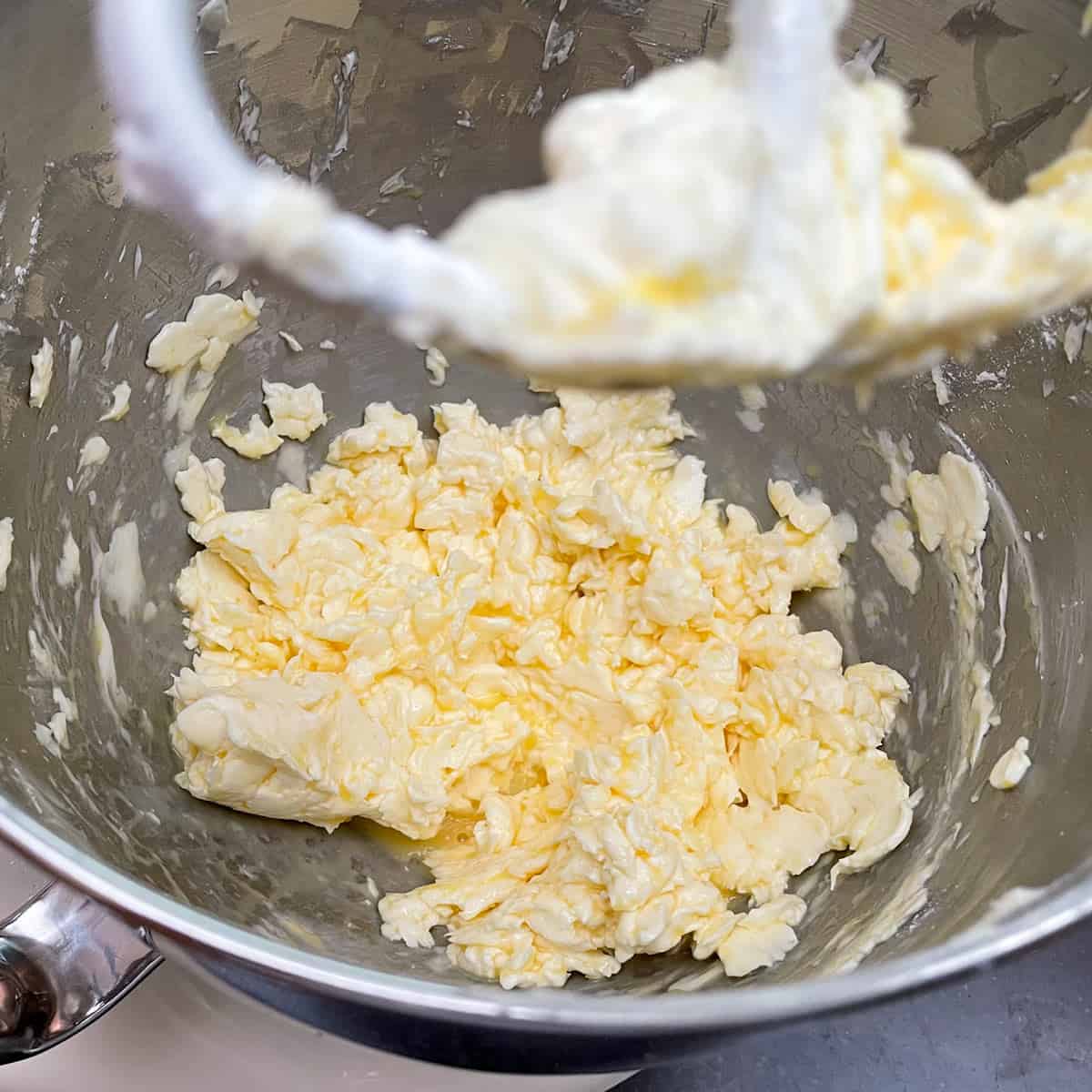 After adding the lemon juice, zest, vanilla extract, and egg, it looks a little lumpy.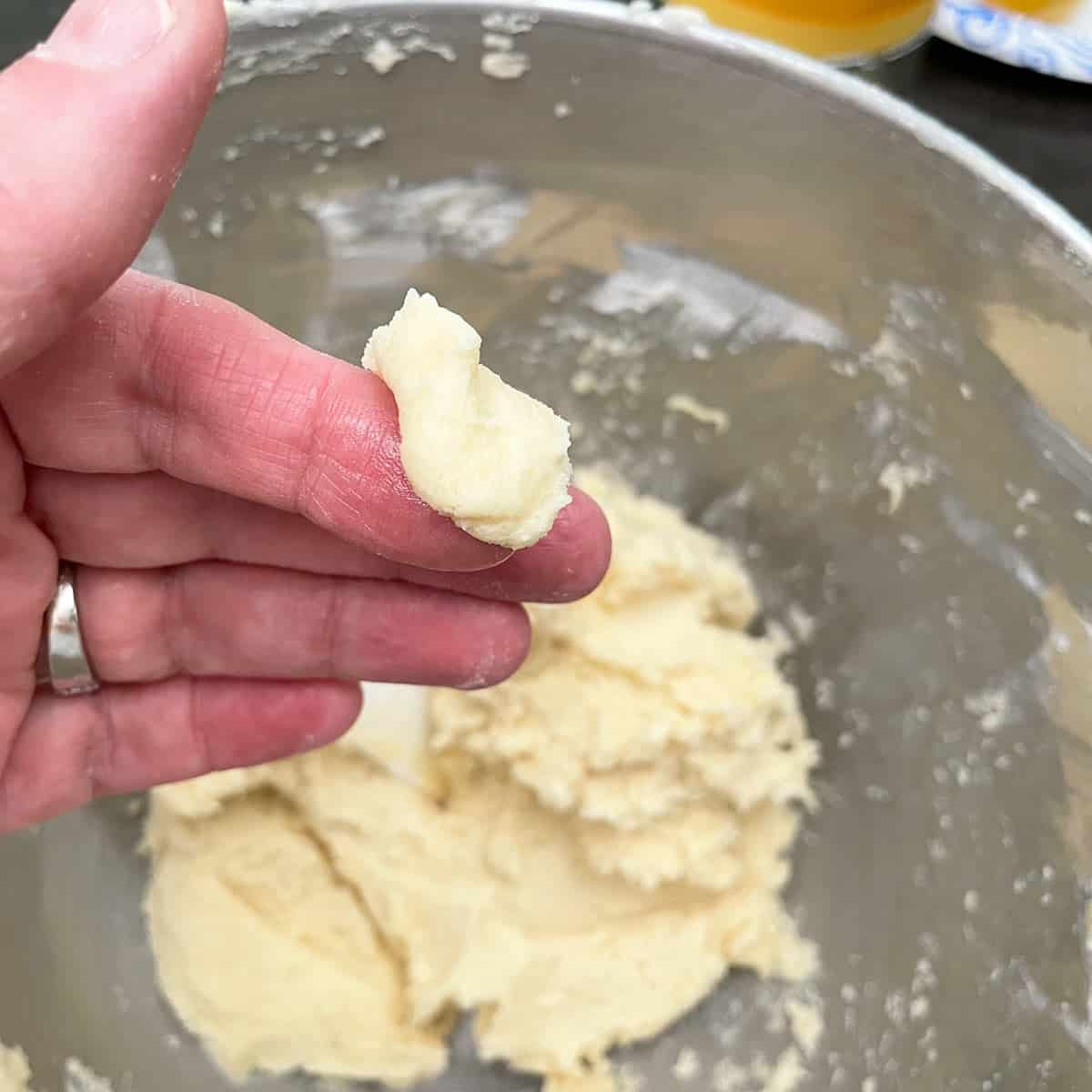 Turn the mixer down and slowly add the flour mixture. Don't over mix; you can always finish by making sure the flour is incorporated using a spatula to get any loose flour on the bottom of the mixer bowl.
Cookie Press
Take your cookie dough press out and decide on the design you want. Since I am adding icing, I decided on a flower. Once the cylinder is filled, you want to make sure the press is straight up and down with one hand pushing it flat against the sheet pan.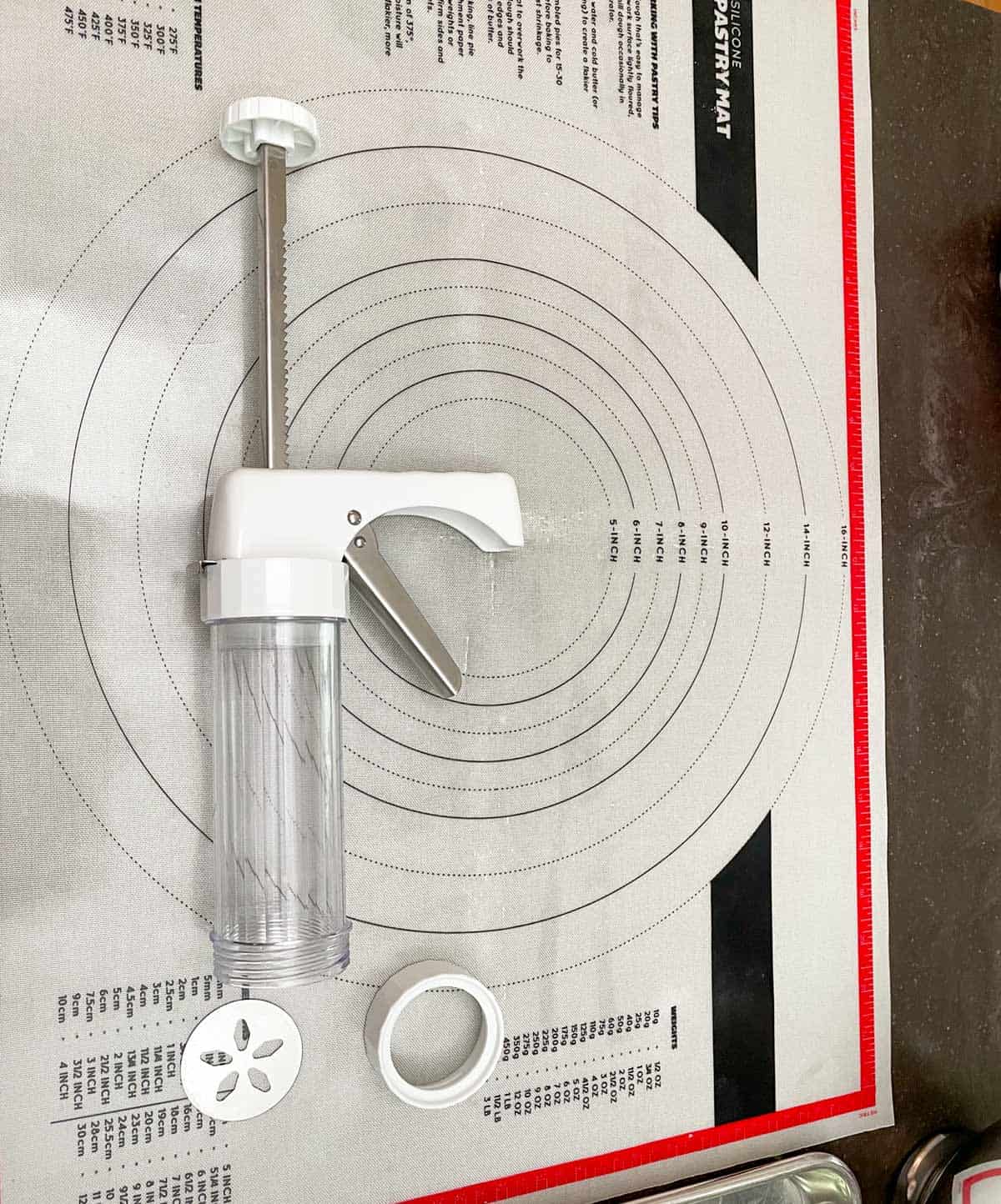 Take about ⅓ of the cookies dough and place it on a lightly floured pastry mat or counter. Roll it so that it is skinnier than the cylinder and then slide it in. Make sure the plunger is pulled back to get the dough in. Flatten it at the end and take off any excess that sticks past the end.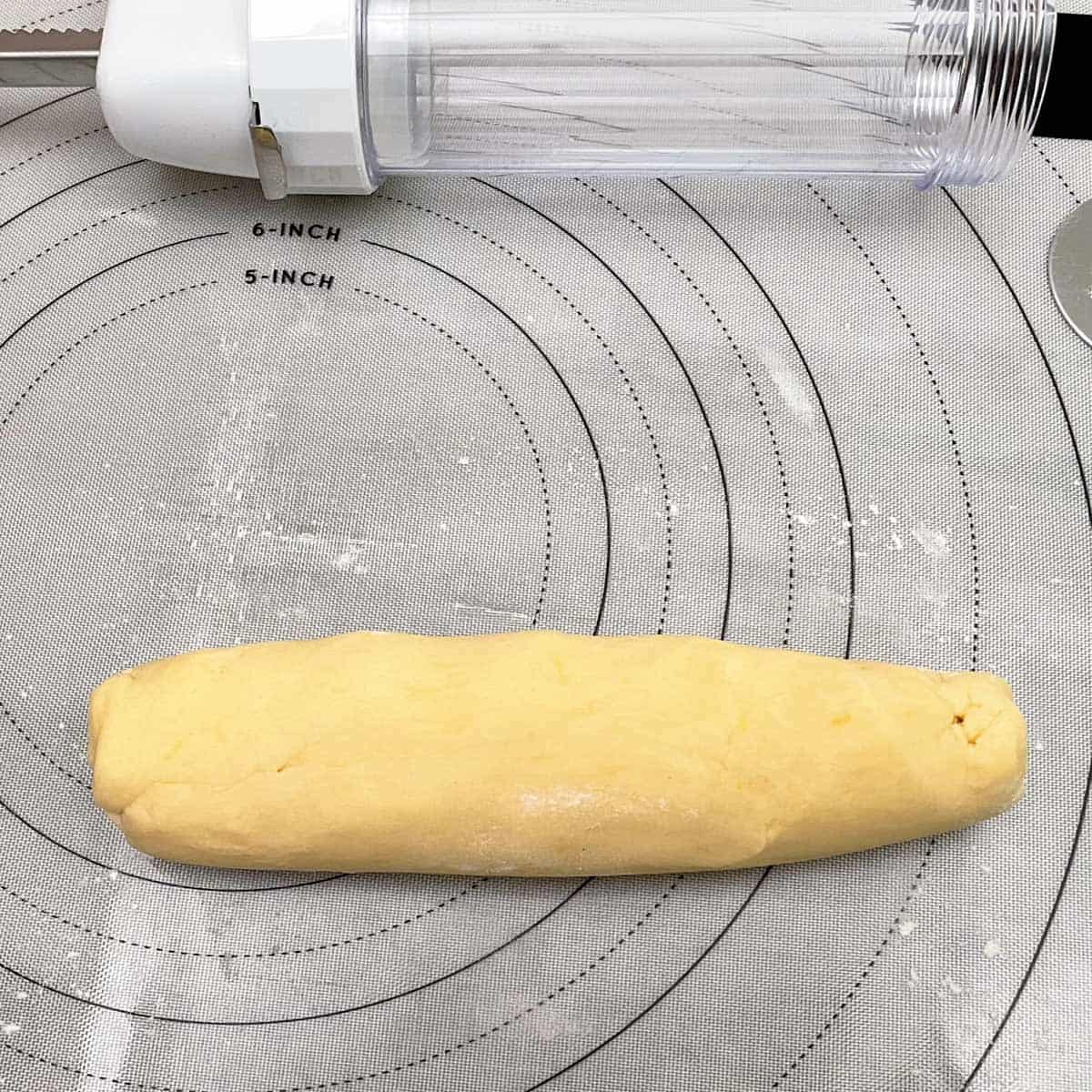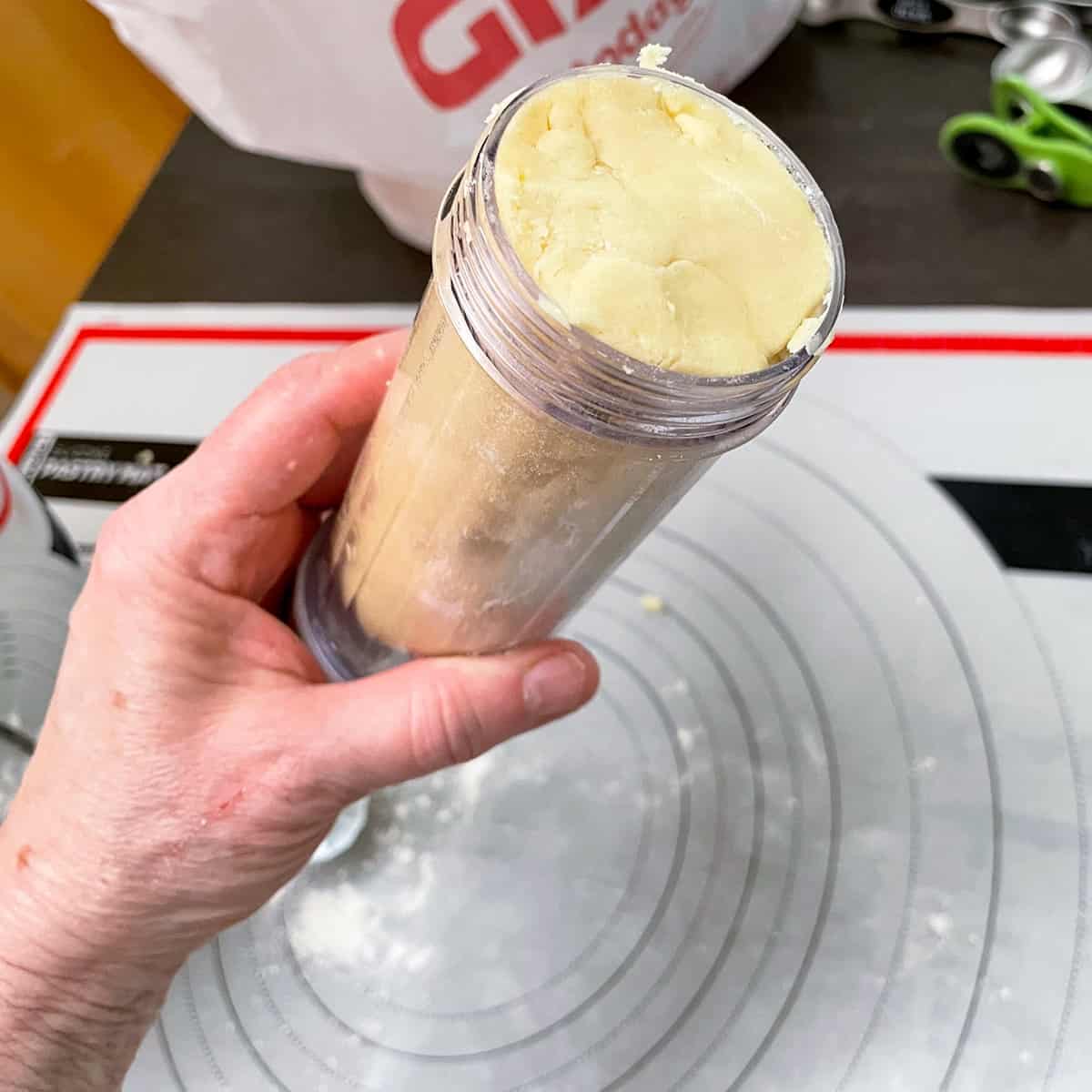 Add the disk that has the shape and screw on the end piece. If you have problems with your cookie press, here is a YouTube video from Kuhn, the maker of the cookie press I use. Here is a link if you are thinking of purchasing a Kuhn Rikon Cookie Press.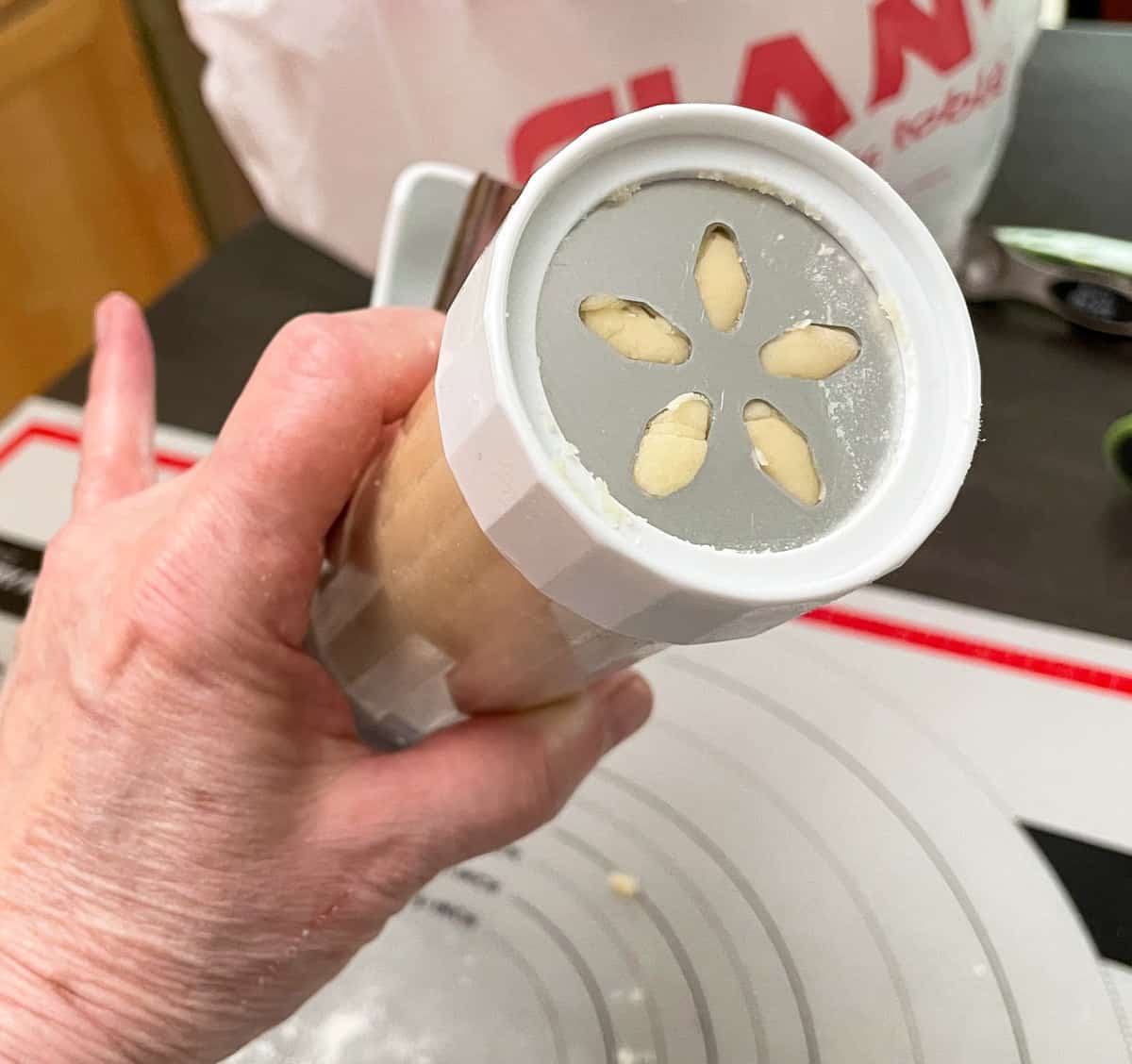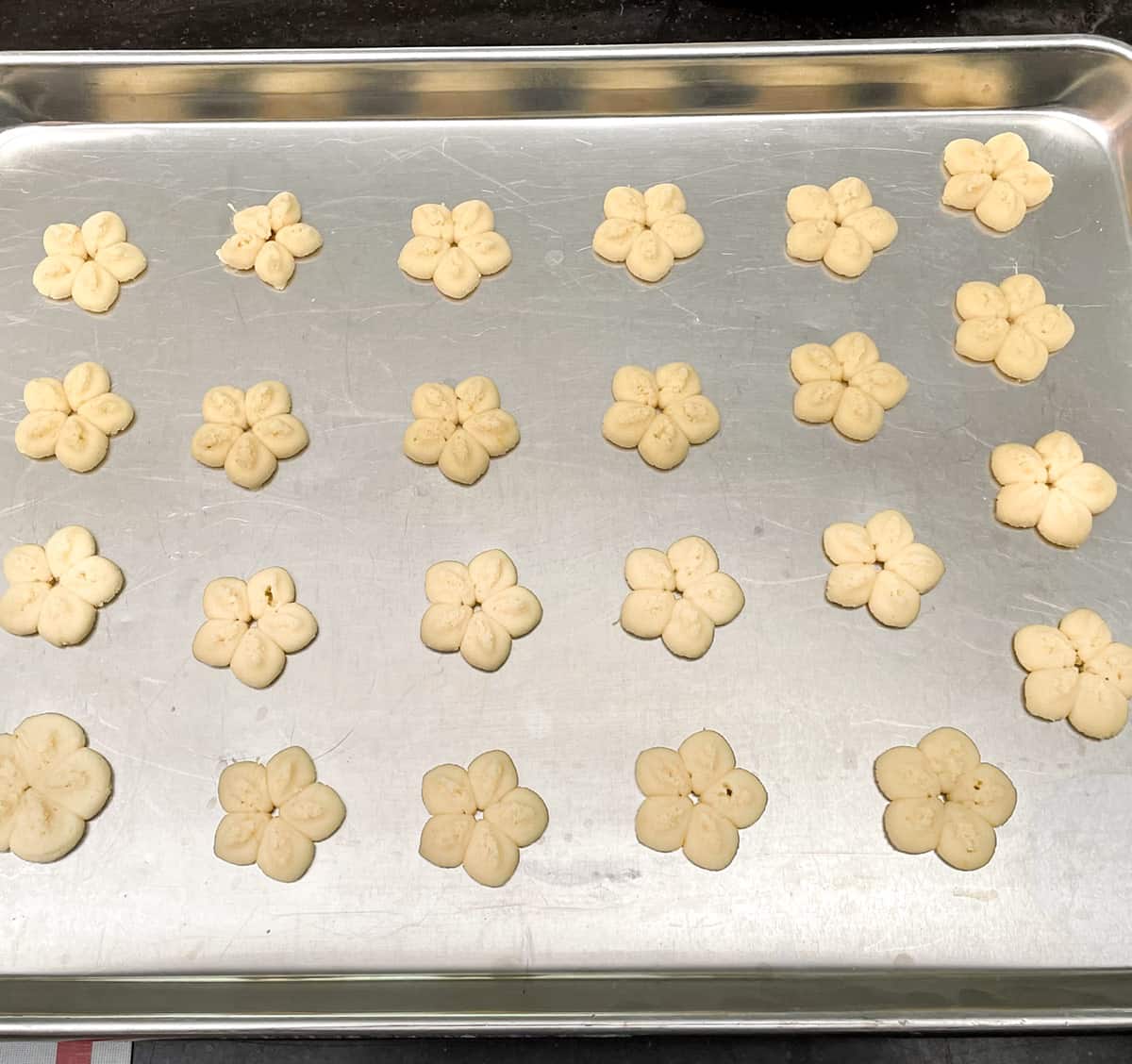 Make sure you are not using a nonstick cookie sheet pan. The cookie dough needs to stick to the pan when using the cookie press. So press these cookies straight onto a clean, cool sheet pan free of parchment paper and any nonstick spray. These cookies do not spread, so you can easily get 24 cookies on a pan.
Bake for 9-11 minutes at 350°F (175°C or 180°C). Move them to a cooling rack once they are out of the oven.
Now for the Icing
Once your cookies are baked and cooled, it is time to make the icing. Add the powdered sugar, Crisco, and butter into a mixer bowl and mix until all are blended. Stop and scrape down the sides and add the lemon juice, lemon zest, milk, and 1 or 2 drops of yellow coloring gel. The icing I am holding in the piping bag has 2 drops of yellow coloring gel.
If the icing is too thick, you can add a little more milk. If it is too runny, add a little powdered sugar. You can't go wrong with this icing. Using a Wilton #14 tip (a small star), add the icing to a piping bag and pipe icing in the middle of the flower-shaped cookies.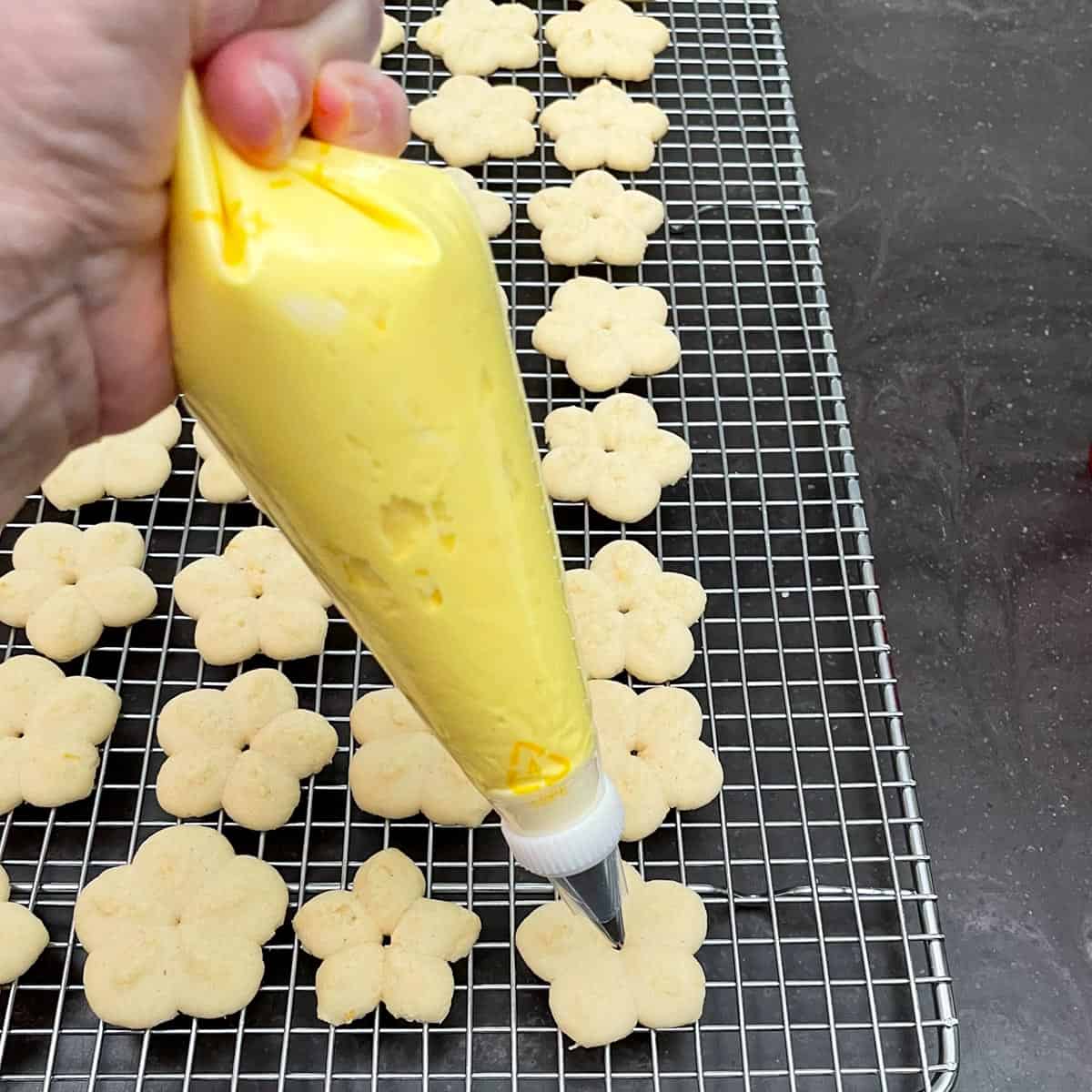 Let them sit on the rack for about an hour so the icing hardens enough to store the cookies in a container. These cookies are just a little ray of sunshine and defiantly put a smile on my face.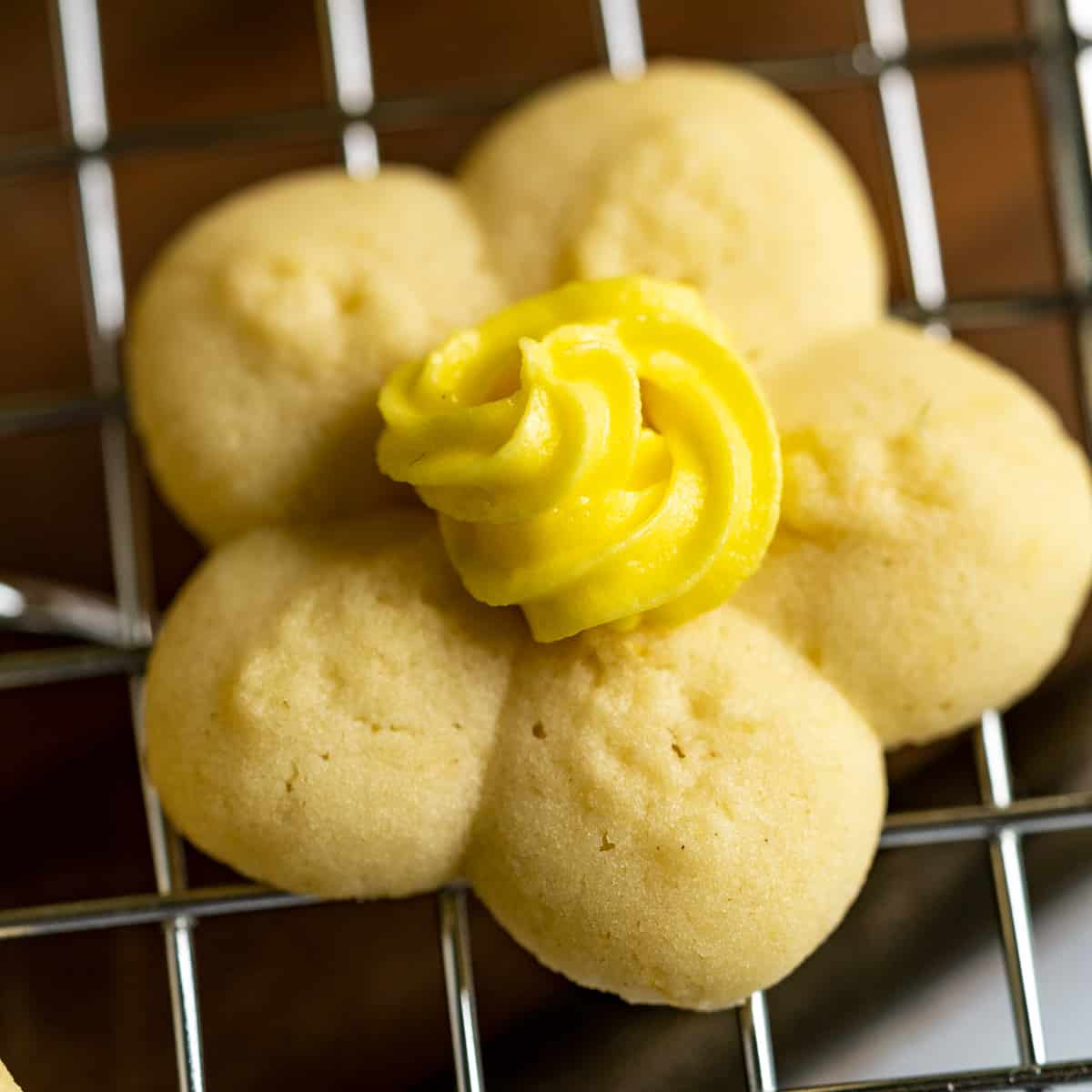 Can't Get enough Lemon...
Storage
The great thing about spritz is they store very nicely. Once the icing has had a chance to set, I keep the cookies in a plastic container with a lid. They stay fresh for 7-10 days if they last that long.
Recipe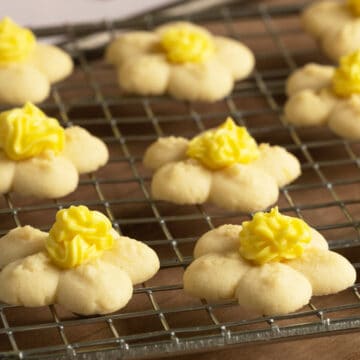 Lemon Spritz Cookies
Barbara Hall
These are small cookies in size but big in lemon flavor. The icing also has lemon zest and juice. So double the lemon taste.
Ingredients
Cookies
2 ½

cups

(

312.5

g

)

All-purpose flour

¾

teaspoon

(

0.75

teaspoon

)

Fine salt

1

cup

(

227

g

)

Unsalted butter

room temperature

1

cup

(

120

g

)

Powdered sugar

1

(

1

)

Egg

1

(

1

)

Lemon zested

medium size

2

teaspoons

(

2

teaspoons

)

Lemon juice

1

teaspoon

(

1

teaspoon

)

Vanilla extract
Icing
1 ½

cups

(

180

g

)

Powdered sugar

1

Tablespoon

(

1

Tablespoon

)

Lemon juice

½

Tablespoon

(

0.5

Tablespoon

)

Lemon zest

2

Tablespoons

(

2

Tablespoons

)

Unsalted butter

room temperature

⅛

cup

(

25.63

g

)

Crisco shortening

room temperature

2

teasspoons

(

2

teasspoons

)

Milk

add a little more if needed

2

drops

(

2

drops

)

Yellow food coloring gel
Instructions
Cookies
Weigh out the flour and salt in a large bowl, I run a whisk through to blend and set it aside. Zest and juice 1 medium lemon for your cookies dough. Weigh or measure your powdered sugar. Now to combine!

On a low speed of your mixer, cream the butter and sugar together. Next, turn the mixer to medium speed for about 3 minutes till light and fluffy. Now, turn off the mixer and scrape down the sides of the bowl.

Next, add the egg, vanilla extract, lemon zest, and lemon juice and beat for about 1 minute. Turn the mixer off and scrape down the sides. Finally, add the flour mixture and mix for about a minute but don't over mix the dough.

Fill your cookie press with the dough according to the instruction of your press. On an ungreased cookie sheet pan, press out your cookie mixture. You can put these close together; the cookies do not spread. I got 5 across and 6 rows down on my cookie sheet.

Bake 9-11 minutes at 350°F (175°C or 180°C) F. They will look pale in color but leave them on the pan for a couple of minutes before moving them to a cooling rack. Make sure they are completely cooled before adding the icing.
Icing
Add Crisco, butter, and powdered sugar, to a mixer bowl and blend on low speed. Scrape down the sides of the bowl, and add the remaining ingredients, including 1 to 2 drops of yellow food coloring gel. Mix on medium speed for about 2 to 3 minutes.

Add the icing to a piping bag with a small star tip and pipe little centers to your flower cookie. It will take about an hour for the icing to set so you can store the cookies.
NUTRITION DISCLAIMER
I am not a certified Dietitian or Nutritionist. The nutrition amounts given below are provided through a program and are only a guideline.
Nutrition
Calories:
52
kcal
Carbohydrates:
6
g
Protein:
1
g
Fat:
3
g
Saturated Fat:
2
g
Polyunsaturated Fat:
1
g
Monounsaturated Fat:
1
g
Trans Fat:
1
g
Cholesterol:
8
mg
Sodium:
39
mg
Potassium:
6
mg
Fiber:
1
g
Sugar:
3
g
Vitamin A:
78
IU
Vitamin C:
1
mg
Calcium:
2
mg
Iron:
1
mg