I love lemons. They can be used all year long and brightens all kinds of food. They make me happy not only because of the color but the taste. Lemons are so versatile in that you can use all the parts of a lemon. For instance, you can use the skin in two different ways.
You can zest the outside or take the lemon peel and have them candied. But, of course, one of the most popular ways is squeezing the juice out of these pretty yellow wonders. I found a site with a complete breakdown of all the lemon parts and how to get the most out of a lemon, Natasha's Kitchen.
I used lemon zest and juice and you can purchase Paradise Diced Lemon Peel for this week's recipe. But, if you would like to make your own here is my recipe for Homemade Candied Lemon Peel. Also, adding a little honey helps sweeten the mascarpone cheese I added for softness. Finally, the lemon peel adds texture to the cookie. I didn't want any nuts in this cookie, but you could add some if you like.
Jump to:
Ingredients
Jump to Recipe for Amounts
Butter unsalted
Sugar
Lemon juice
Lemon zest
Honey
Eggs
Mascarpone
All-purpose flour
Baking powder
Kosher Salt
Candied diced lemon peel - you can buy already made or you can use my recipe. If you use my Candied Lemon Peel recipe, I would make them the day before.
Prepping for Lemon Cookies
Since this is a lemon cookie, we all know we need lemon juice and zest. The zester I use is a pretty fine zest made for citrus fruit. Microplane Master Series Wood Handle Stainless Steel Zester Grater which can be found on Amazon.
The juicer I got from my local grocery store. It was pretty cheap but does the job. I cut the ends off my lemons before I start to zest them; it makes it easier trying to go around the top.
I only zest over each spot once or twice to just get the outside of the lemon. Once done cut it in half and juice each half.
Mixing the Lemon Cookie Dough
This is a nice soft cookie with a bright lemon taste.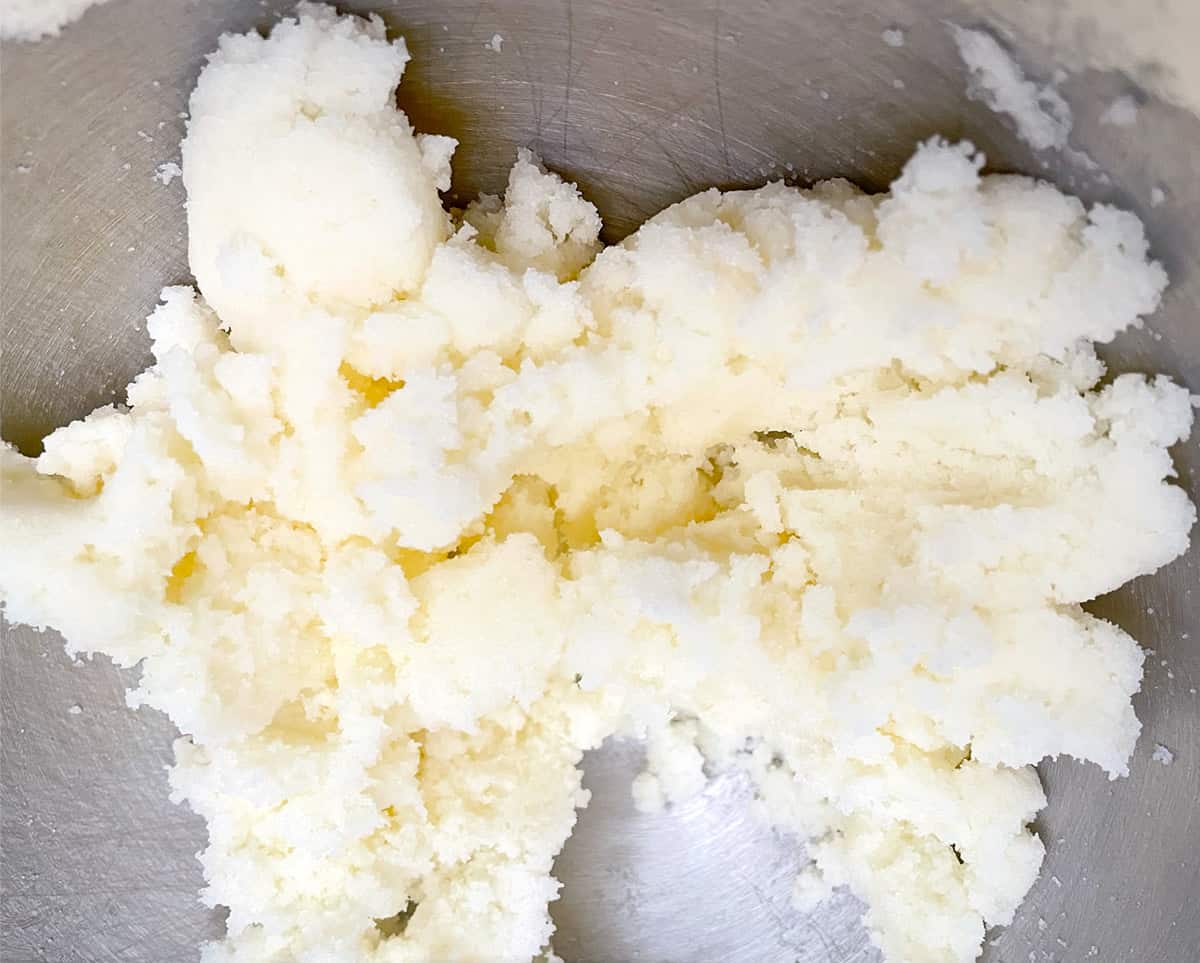 This cookie has more sugar than butter, so I start by creaming the butter for 2 minutes before adding the sugar. Blend for another 2 to 3 minutes on medium mixer speed. It looks like clumpy sugar. Scrape the bowl down and add the honey and lemon zest, and juice.
Now, crack one of the eggs into a small bowl to make sure there are no egg shells before adding it to the mixer bowl. Add one egg at a time and combine. The mixture will look broken. But once you add the mascarpone, it brings everything together into a smooth batter.
You can use a mixer to add your flour, but I was taught to fold in the flour with a spatula when using mascarpone cheese in the cookies. I think it is because mascarpone cheese is a delicate cheese compared to cream cheese.
I take the mixer bowl off the stand and add about ⅓ of the flour at a time to the bowl. Using a good one-piece spatula will make this easy. Continue until all the flour is incorporated.
Finally, add the candied lemon peel and mix until evenly spread throughout the cookie dough. Lightly cover the bowl and refrigerate for 2 hours.
Baking Lemon Cookies
Preheat your oven to 350° and line 2 cookie sheet pans with parchment paper. Take the bowl of cookie dough out of the refrigerator. Grab a medium cookie scooper and let's get baking.
Add 12 cookie mounds to one of the prepared cookie sheet pans using your medium cookie scooper. Bake at 350° for 12-14 minutes. I start to check at 12 minutes on doneness.
After pulling the cookies from the oven, give them a minute on the pan before moving them to a cooling rack.
Enjoy!
FAQ's
Can I use the bottled lemon juice?
If your bottled lemon juice is 100% lemon juice, you can, but it will not have quite the brightness that freshly squeezed lemon juice has. Also, when you squeeze your own, you know no preservatives are added.
Does it matter what kind of honey I use?
No, although different types of honey like clover, raw, and wildflower may have a slightly different taste, you can still use them.
Can I add nuts?
You certainly can add nuts like almonds or pecans. Either of these nuts go well with the lemon taste.
What is mascarpone and what does it add to the cookies?
Mascarpone is an Italian cream cheese. This cream cheese adds moisture and softness to the cookies. Lemon and mascarpone pair so well together. You will find this combination in frosting, tarts, pancakes, and even dips.
Lemon Lover Here Are A Few More
Recipe
Lemon with a touch of Honey Cookies
Barbara Hall
The lemon peel adds texture to the cookies, and the mascarpone adds tenderness to the cookies.
Ingredients
½

cup

(

113.5

g

)

Butter unsalted

room temperature

1 ½

cups

(

300

g

)

Sugar white

3

Tablespoon

(

3

Tablespoon

)

Lemon juice

2

Tablespoon

(

2

Tablespoon

)

Lemon zest

1

teaspoon

(

1

teaspoon

)

Honey

2

(

2

)

Eggs

room temperature

8

ounces

(

8

ounces

)

Mascarpone

2 ½

cups

(

312.5

g

)

All-purpose flour

1

teaspoon

(

1

teaspoon

)

Baking powder

½

teaspoon

(

0.5

teaspoon

)

Kosher Salt

½

cup

(

48

g

)

Candied diced lemon peel
Instructions
In a bowl, zest 2 lemons and set aside. In another bowl, juice both lemons. The picture above shows how deep to zest; you don't want the white to show. Weigh or measure the sugar and set it aside. Next, weigh or measure the flour, baking powder, and salt, running a whisk through to blend.

Using a stand or handheld mixer, add the sugar and room-temperature butter to the mixer bowl and blend for 2 to 3 minutes. Add the honey, lemon zest, and lemon juice, and mix for a minute. I crack one of the eggs into a small bowl to ensure I do not get any eggshells with the egg. I add one egg at a time, incorporating it into the cookie batter before adding the 2nd egg. Add the mascarpone and blend thoroughly. It only takes about a minute.

Take the mixer bowl off the stand and fold the flour mixture a third at a time into the wet cookie batter. Finally, add the diced lemon peel. Make sure all the flour is incorporated before loosely covering and refrigerating for 2 hours.

Preheat oven to 350° and line 2 cookie sheet pans with parchment paper. Using a medium cookie scoop, I scoop 12 mounds onto a pan. Bake for 12-14 minutes (start checking after 12). If the tops still look shiny, they are not quite done yet. After taking the cookies out of the oven, I leave them on the pan for about a minute before moving them to a cooling rack.
NUTRITION DISCLAIMER
I am not a certified Dietitian or Nutritionist. The nutrition amounts given below are provided through a program and are only a guideline.
Nutrition
Calories:
128
kcal
Carbohydrates:
11
g
Protein:
2
g
Fat:
8
g
Saturated Fat:
5
g
Polyunsaturated Fat:
1
g
Monounsaturated Fat:
1
g
Trans Fat:
1
g
Cholesterol:
33
mg
Sodium:
80
mg
Potassium:
17
mg
Fiber:
1
g
Sugar:
7
g
Vitamin A:
271
IU
Vitamin C:
1
mg
Calcium:
28
mg
Iron:
1
mg