I must admit ginger is a favorite spice of mine. I use to buy ginger snap cookies by the box full, and I loved the taste but not how hard they were. So, I decided to make my own, and these came our wonderful—the perfect blend of molasses and ginger.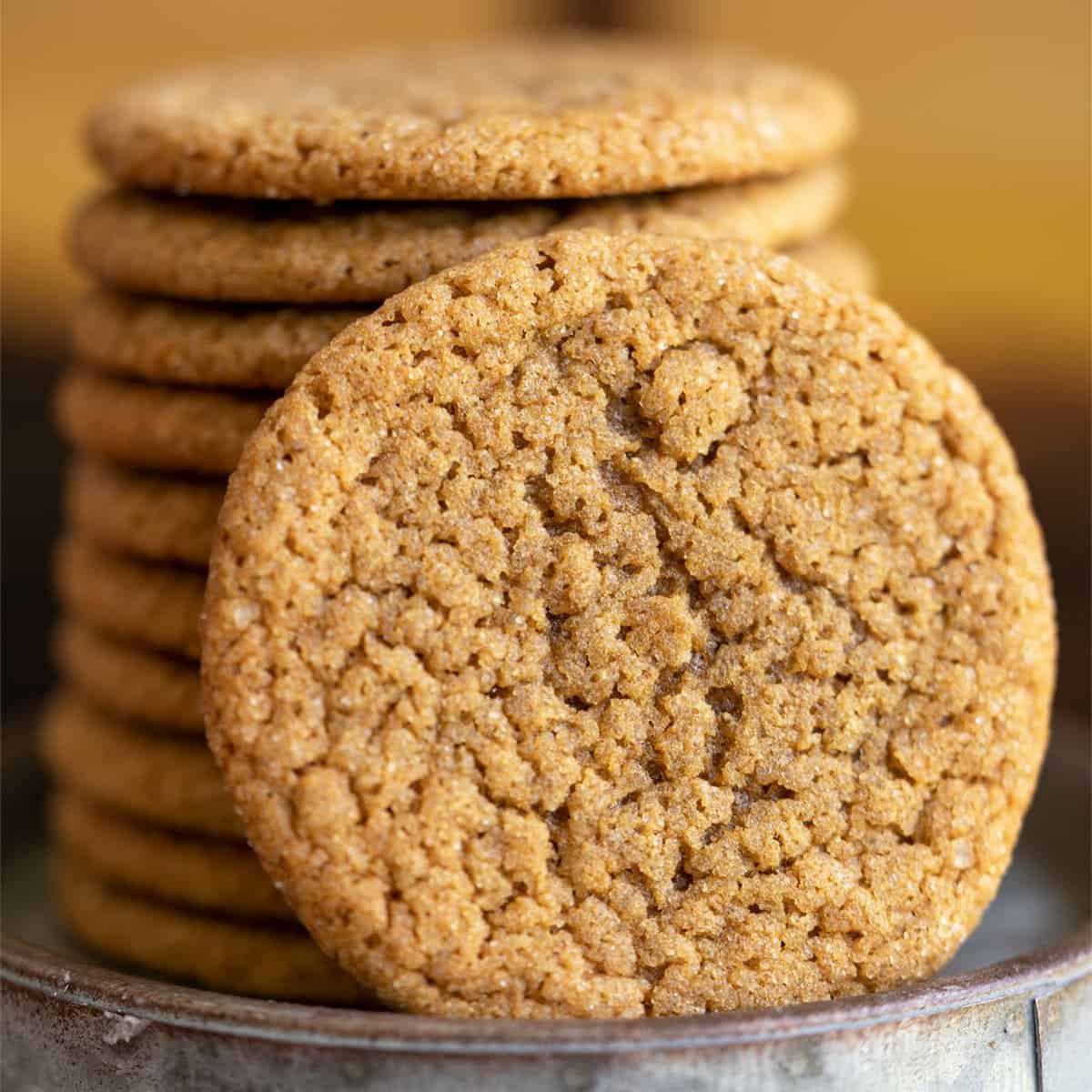 These are such a great fall or anytime cookie that fills the home with cinnamon, cloves, and ginger scents. All I want is a fire blazing in my fireplace, a glass of milk, and 4 of these cookies to make me feel warm inside. If you love ginger or molasses, you might like to try my Gingerbread Crinkle Cookies or my Shoofly Pie Cookie Cups.
Jump to:
Ingredients
Jump to Recipe for Amounts
Butter unsalted softened
Granulated sugar
Egg
Molasses
Water
Ground ginger
Baking Soda
Ground cinnamon
Ground cloves
Salt
Sugar for rolling
How to Choose Your Molasses
When considering molasses there are 3 main types:
Light - This molasses is sweeter and lighter in color. It is a popular choice for baking and is especially liked for sweetening foods such as pancakes, muffins, and cookies. Grandma's Molasses, Brer Rabbit Mild Molasses, and Plantation Organic Mild Molasses are popular brands.
Dark - This variety is darker and stronger in taste because it is the second sugarcane juice extraction and has a slightly bitter taste. The darker types are mostly used for gingerbread, baked beans, and making a great barbeque sauce. Grandma's Original Molasses, Plantation Organic Molasses, and Brer Rabbit Full Flavor Molasses are popular brands.
Blackstrap - This variety is the final extraction of the sugarcane juice and is thicker and darker with the strongest taste. It also has a slightly bitter taste. Blackstrap can be used for savory dishes and sauces. My husband likes to dip his Fasnacht into Brer Rabbit Blackstrap Molasses in February every year. There are a few other brands, like Plantation Organic Blackstrap Molasses and Wholesome Sweeteners Organic Blackstrap Molasses, but I think Brer Rabbit is the most popular.
There are also other things to consider, for example, looking at the label. It will tell you whether it is pure cane sugar or if additives and sweeteners have been added.
Price is always a consideration, so set a price and get the best quality you can budget for. So read reviews or see if a relative or neighbor has some molasses around their house that you can do a taste test with. You will be surprised how strongly they feel about the brand they use.
Does the Cinnamon Really Matter
Well, if you had asked me two years ago if cinnamon makes a difference in your cookies, I would have said no, I don't think so...
I did a taste test with results that I posted on my Fantastic Carrot Cake Cookies page that compared Vietnamese cinnamon against the McCormick brand that I have used for years.
For baking, I have been using the Vietnamese cinnamon from Penzey's since I think it has a sweeter taste and does not have the woody taste that McCormick seems to have. The bottom line is I think it makes a difference in my cookies' taste.
Spice Up Your Day Making Ginger Cookies
This ginger cookie recipe is perfect for the beginner and anyone who loves ginger cookies. They are quick to put together and do not take long to bake.
The ginger may be a new flavor for some, but I think you'll love it. These aren't crisp gingersnaps, but rather a chewy softer cookie. Think of a thin sugar cookie with nice warm spices throughout.
Prep Mix and Chill Cookies
Weigh or measure your sugar and set it aside. In another bowl, weigh or measure the flour, cinnamon, ginger, cloves, baking soda, and salt. I run a whisk through to blend it altogether.
Add the butter to your mixer bowl. You want to cream your butter to ensure it is soft for mixing with the flour. I do this for about a minute or two on a medium mixer speed.
Add your sugar and mix for at least 3 minutes on a medium mixer speed. It should be a lighter color than butter.
Next, add the egg and incorporate. Scrape down the bowl sides and add the molasses and the water. The water helps to blend the molasses through the cookie dough.
Finally, turn the mixer speed down and gradually add the flour mixture. It should only take about a minute to add the flour mixture. Scrape the bowl and turn the mixer on for a few seconds. Do not over mix the cookie dough.
Take the bowl off the mixer and, using a spatula, finish incorporating any loose flour. Make sure you scrape along the bottom of the bowl. Cover loosely and refrigerate for 30 minutes.
Scoop and Bake
Grab a plate and add the sugar; I use a paper plate, less cleanup.
Here is the size difference between the small and medium cookie scooper. I used the small for these cookies. If you use a medium, the cookie balls spread, so you will want to add fewer balls onto the cookie sheet pan.
Using the small scooper, roll the scooped cookie dough into a ball and roll it in the sugar before adding them to the cookie sheet pan.
Using the small cookie scooper, you can fit 12 balls of cookie dough rolled in sugar onto a parchment-lined cookie sheet pan. Give at least 2 inches between the cookie balls.
Bake at 350°F (175°C or 180°C) for 8-10 minutes. When you start to see cracks in the tops of the cookies, they are done. I started looking at 8 minutes, and my cookies were done at 9 minutes. They will be soft but leave them on the cookie pan after taking them out of the oven for a few minutes.
Then move them to a cooling rack. They will become flat after they start to cool. The rim of the cookies will be crunchy, and the inner part will be chewy. By the next day, even the edges will be chewy.
These are one of the best ginger cookies I've ever tasted, and I hope you enjoy them also!
FAQ's
How do I store ginger cookies?
Store them in a container that has a snap-down lid. This will keep them fresh for at least a week.
Are these the same as gingerbread cookies?
Much like gingerbread, these do contain molasses, but less of it. This allows the ginger to shine through even more, and the cookie isn't as dark. I love to keep a jar of molasses on hand for warm-flavored cookies. And while ginger is the star, it plays nicely with cinnamon and cloves to warm you up.
Can these ginger cookies be made vegan?
Yes, you can use your favorite vegan butter that works with baking. Of course, not all do, but I have heard that Earth Balance sticks works well.
More Ginger Cookies
Recipe
So Good Ginger Cookies
Barbara Hall
If you are looking for an easy ginger cookie recipe, you have found the one my family and I enjoy!
Ingredients
¾

cups

(

170.25

g

)

Butter unsalted

softened

1

cup

(

200

g

)

Granulated sugar

1

(

1

)

Egg

¼

cup

(

84.25

g

)

Molasses

1

Tablespoon

(

1

Tablespoon

)

Water

2 ¼

cups

(

281.25

g

)

All-purpose flour

2

teaspoon

(

2

teaspoon

)

Ground ginger

1

teaspoon

(

1

teaspoon

)

Baking Soda

¾

teaspoon

(

0.75

teaspoon

)

Ground cinnamon

½

teaspoon

(

0.5

teaspoon

)

Ground cloves

¼

teaspoon

(

0.25

teaspoon

)

Salt

½

cup

(

118.29

g

)

Sugar for rolling
Instructions
Weigh or measure flour, salt, cinnamon, ginger, baking soda, and cloves into a bowl, running a whisk through to blend. Next, weigh or measure the sugar in another bowl and set it aside.

Add the butter to a stand mixer and mix it for a minute or two to ensure it is soft. Next, stop the mixer and scrape down the sides and add the sugar. You want the sugar incorporated into the butter, so mix on a medium mixer speed for 3 minutes. Next, add the egg and incorporate it. Stop the mixer and scrape down the sides, then add the water and molasses mixing until combined.

Add the flour mixture and mix until blended. I put the dough in the refrigerator for about 30 minutes.

Preheat the oven to 350°F (175°C or 180°C). Using a small cookie scooper, roll the scoop into a ball. They should be about 1" in diameter. Roll in the sugar and place on a cookie sheet lined with parchment paper or a silicone sheet. These spread, so give them at least 2" between the rolled balls.

Bake for 8-10 minutes at 350°F (175°C or 180°C). I allowed them to stay on the cookie sheet for a few minutes before moving them to a cooling rack.
NUTRITION DISCLAIMER
I am not a certified Dietitian or Nutritionist. The nutrition amounts given below are provided through a program and are only a guideline.
Nutrition
Calories:
98
kcal
Carbohydrates:
15
g
Protein:
1
g
Fat:
4
g
Saturated Fat:
2
g
Polyunsaturated Fat:
0.2
g
Monounsaturated Fat:
1
g
Trans Fat:
0.1
g
Cholesterol:
14
mg
Sodium:
47
mg
Potassium:
45
mg
Fiber:
0.2
g
Sugar:
10
g
Vitamin A:
118
IU
Vitamin C:
0.002
mg
Calcium:
8
mg
Iron:
1
mg