If you love almonds, you are in for a treat. I used almond flour, almond extract, Amaretto, and a whole roasted almond on top. These cookies are for the almond lover that can't get enough almonds.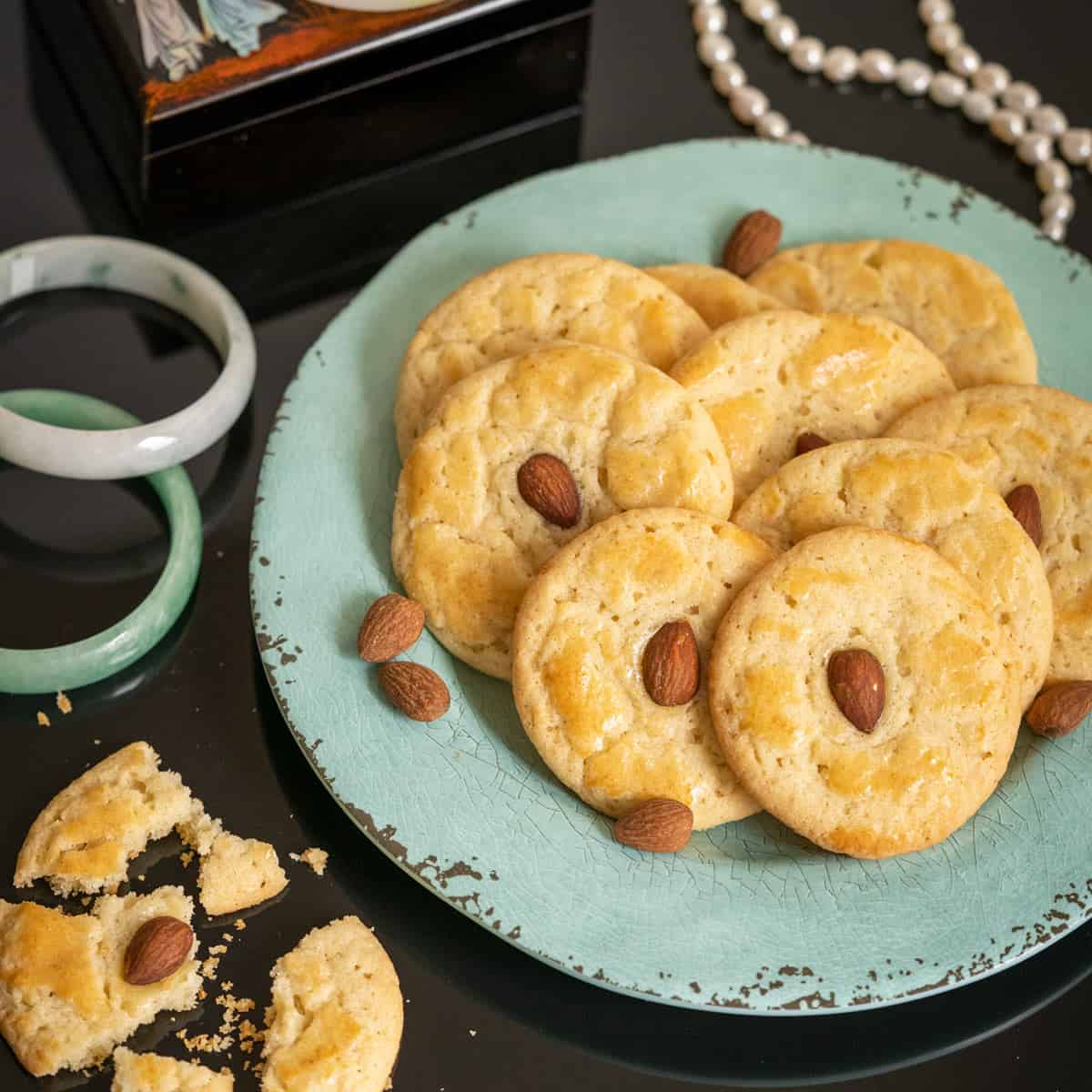 Although the traditional Chinese almond cookies called for lard, I do not keep this ingredient around my house, so I did what so many others have done and used unsalted butter.
I did find a web page that gave a brief history of the Chinese almond cookie at Origins of Almond Cookies that you might enjoy.
I also did something unconventional and added a little Amaretto for an extra twist of almond flavor. These are by far my favorite almond cookies.
Ingredients For My Chinese Almond Cookies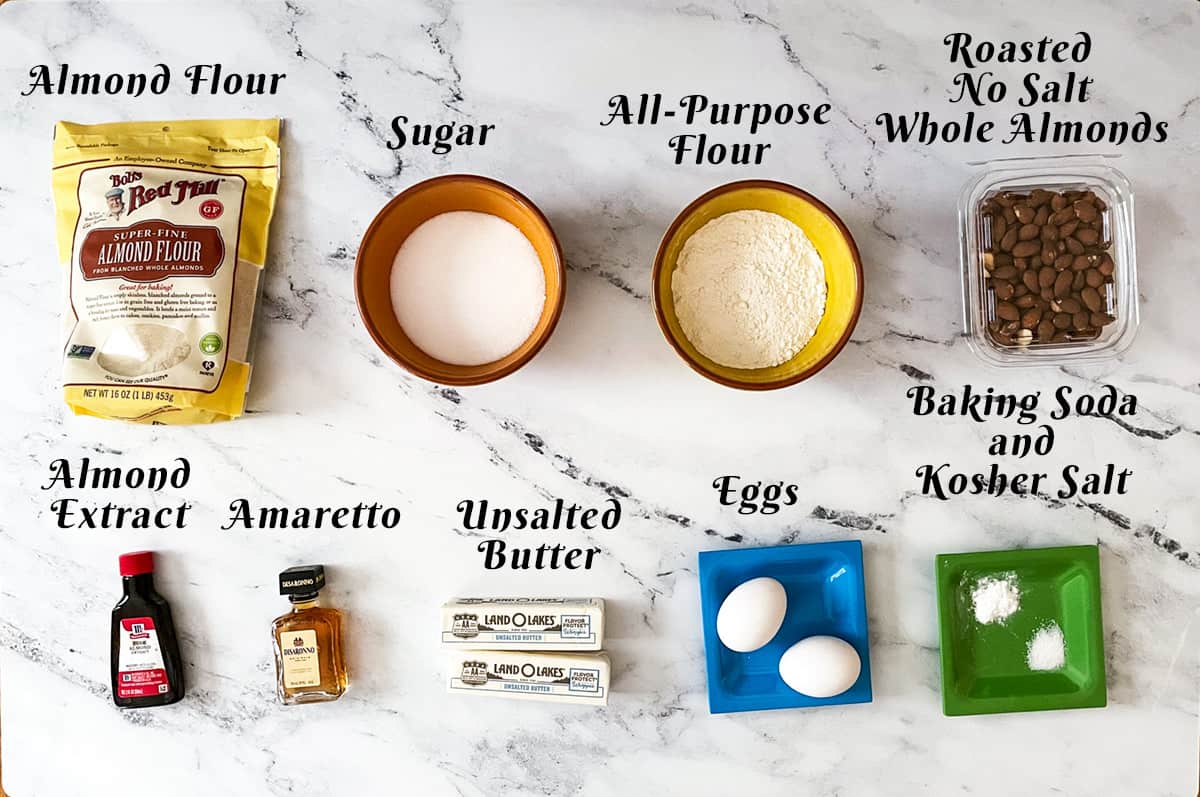 1 ⅓ cup Almond flour
1 cup Butter unsalted
2 Eggs
1 teaspoon Almond extract
½ teaspoon Amaretto liqueur
1 ¾ cup All-purpose flour
¼ teaspoon Kosher Salt
1 cup Sugar white
½ teaspoon Baking soda
48 Whole roasted no-salt almonds
Creating My Almond Cookie
Mixing the Almond Cookie Dough
Weigh the almond flour and add it to a mixer bowl along with the chilled butter. I cut it into tablespoons, making it easier for the mixer to combine with the almond flour. Mix for about 2-3 minutes. Next, add the egg, almond extract, and amaretto, then blend in the sugar.
Finally, weigh the flour, baking soda, salt, and whisk before adding it to the mixer. Just blend till the flour has been mixed into the rest of the batter.
The dough will be a little coarse when you put it onto the pastry mat, but that is OK; that is how it should look. Next, shape the dough into a flat oblong shape and wrap it with plastic wrap.
Stick it in the refrigerator for 2 hours; this will bring all the flavors together.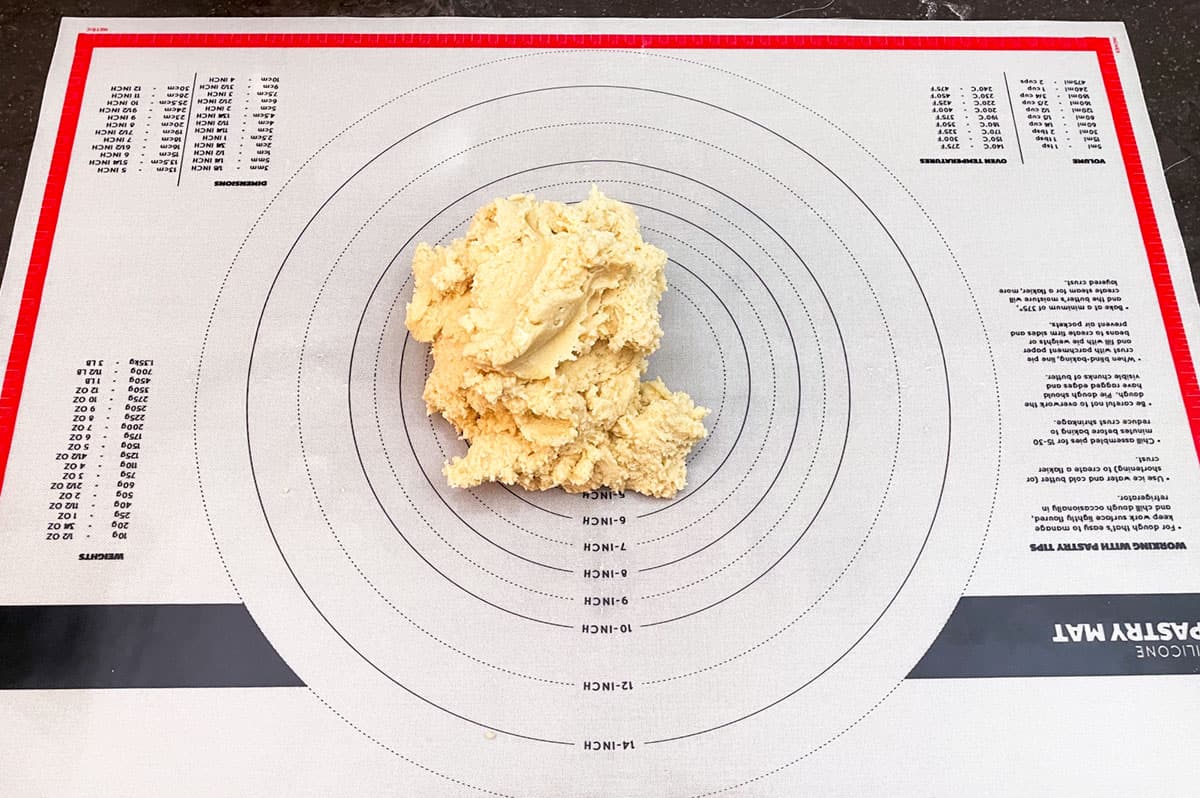 Assembling the Almond Cookies
Take a big enough piece of the cookie dough to form a 1" ball and place the ball on the parchment-lined sheet pan. I got 12 balls to a pan. Take the palm of your hand and press down on each ball so they flatten out some.
Take the 2nd egg and beat it with a fork. Next, take a pastry brush and go over the top of each flattened cookie. Finally, take one whole roasted almond and press it lightly into the top of each cookie.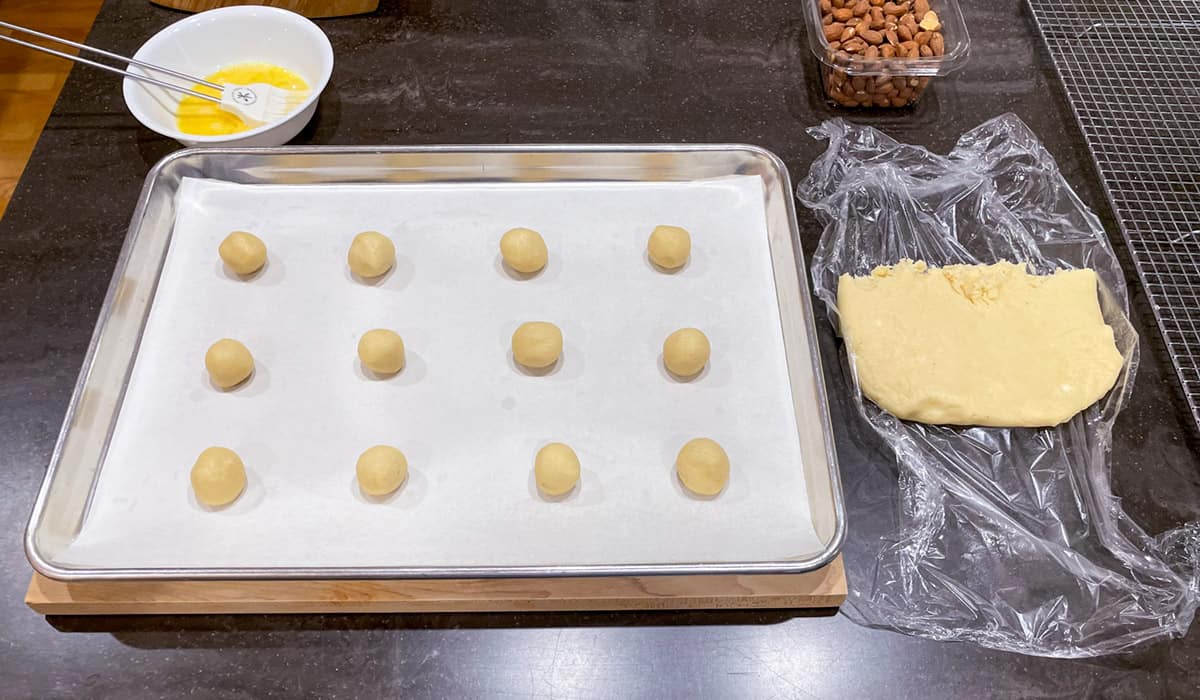 Bake at 325°F for 13 to 14 minutes until they are a nice amber brown on top from the egg wash.
These are easy-to-make cookies that your family will love. Enjoy!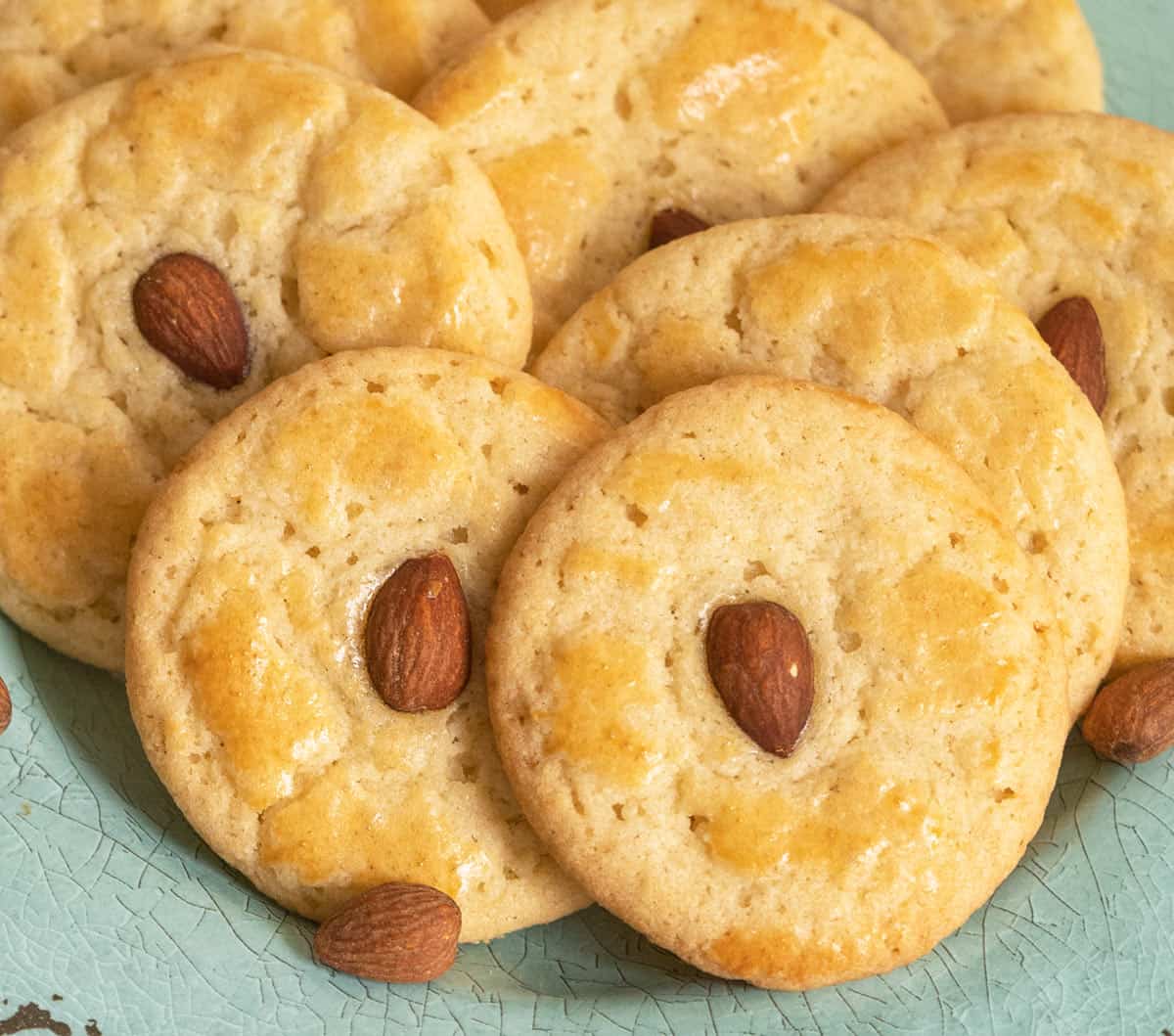 FAQ's
What is the significance of Chinese almond cookies in Chinese culture?
Chinese almond cookies are often served during Chinese New Year and other festive occasions. They are symbolic of good luck and are believed to bring prosperity and happiness.
Are Chinese almond cookies gluten-free?
Not the traditional version, but you could find gluten-free flour to substitute, like almond or rice flour. This will alter the taste some, but it is an alternative.
How do I store Chinese almond cookies?
To keep Chinese almond cookies fresh, store them in an airtight container at room temperature. They can last for up to two weeks if stored properly. If you want to keep them for an extended period, consider freezing them in an airtight container.
Try These Other Almond Cookies
Recipe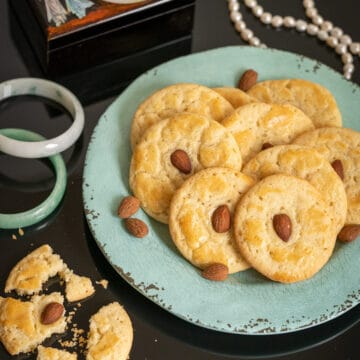 Chinese Almond Cookie
Barbara Hall
If you are looking for an easy full of almond flavor cookies, you found it here with my Chinese almond Cookie.
Ingredients
1 ⅓

cup

(

149.33

g

)

Almond flour super fine

1

cup

(

227

g

)

Butter unsalted

chilled

2

(

2

)

Eggs

half for cookies and the other half for egg wash on top before baking

1

teaspoon

(

1

teaspoon

)

Almond extract

½

teaspoon

(

0.5

teaspoon

)

Amaretto liqueur

1 ¾

cup

(

218.75

g

)

All-purpose flour

¼

teaspoon

(

0.25

teaspoon

)

Kosher Salt

1

cup

(

200

g

)

Sugar white

½

teaspoon

(

0.5

teaspoon

)

Baking soda

48

(

48

)

Whole roasted no-salt almonds
Instructions
Weigh the almond flour and add to the mixer bowl. Next, weigh the sugar into a small bowl and set it aside. Finally, weigh the all-purpose flour, salt, baking soda and run a whisk through to blend.

Add cut-up butter to the mixer bowl that has the almond flour and beat for 2-3 minutes. Next, add the sugar and blend it into the butter and almond flour mixture. After that, scrape down the sides, add one egg, almond extract, amaretto, and mix through. Finally, add the flour mixture and incorporate. It will look a little coarse, but it should.

Transfer the cookie dough onto a pastry mat and knead it together. Shape it into a flat oblong disk and wrap it in plastic wrap. Chill for at least 2 hours.

Line your cookie pan with parchment paper and take enough chilled cookie dough to form 1" balls. Next, Line your pan with 12 balls. Now take the palm of your hand and press down to flatten into a round shape. Next, beat the egg with a fork to create the egg wash. Now brush the tops of each cookie with the egg wash. Finally, add one whole almond to the top of each cookie. Press down lightly to keep it in place.

Preheat the oven to 325°F and bake for 13-14 minutes until the egg wash on top is golden brown. Leave on the pan for a minute or two before moving them to a cooling rack.
NUTRITION DISCLAIMER
I am not a certified Dietitian or Nutritionist. The nutrition amounts given below are provided through a program and are only a guideline.
Nutrition
Calories:
93
kcal
Carbohydrates:
9
g
Protein:
2
g
Fat:
6
g
Saturated Fat:
3
g
Polyunsaturated Fat:
0.3
g
Monounsaturated Fat:
1
g
Trans Fat:
0.2
g
Cholesterol:
17
mg
Sodium:
27
mg
Potassium:
16
mg
Fiber:
1
g
Sugar:
4
g
Vitamin A:
128
IU
Calcium:
12
mg
Iron:
0.4
mg