When I was younger, our family would go to dinner Sunday nights. My favorite dessert was a slice of moist and tender carrot cake. I loved the walnuts with the spices of cinnamon, nutmeg, and ginger, along with the cream cheese icing. All of the flavors just went so well together.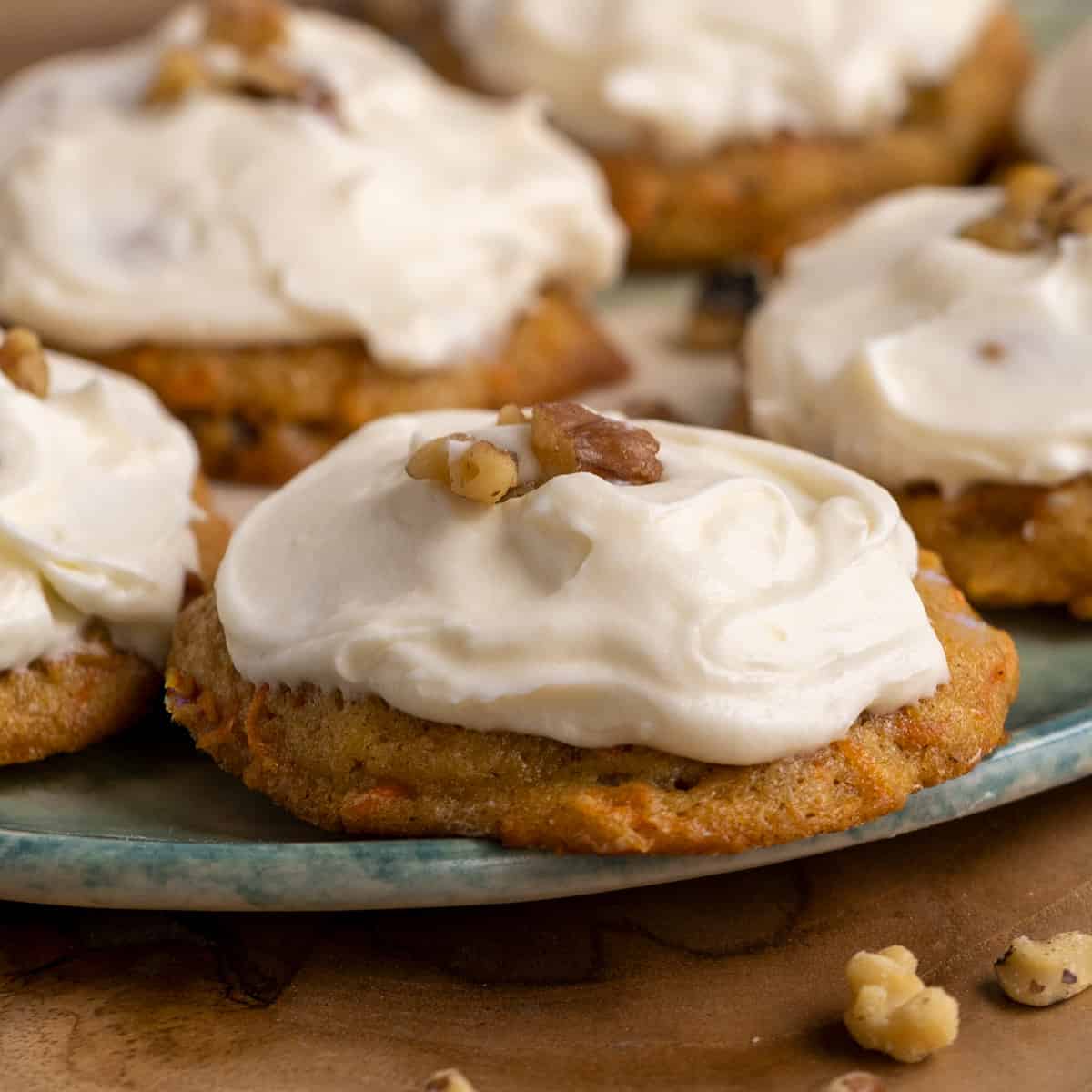 I have been toying with converting a cake recipe into a cookie recipe for a year. However, I was afraid the taste would not live up to my memories of the perfect decadent and flavorful carrot cake with cream cheese icing. Since creating this recipe I believe I have achieved my goal.
Jump to:
Ingredients For Carrot Cake Cookies
Jump to Recipe for Amounts
CARROT CAKE COOKIES
Butter unsalted
Light brown sugar
Sugar white
Egg
Vanilla Extract
Unsweetened apple sauce
Carrots raw
All-purpose flour
Baking powder
Baking soda
Kosher Salt
Cinnamon
Nutmeg
Ground ginger
Walnuts chopped
Raisins golden
Ingredients For Cream Cheese Icing
Jump to Recipe for Amounts
CREAM CHEESE ICING
Cream Cheese
Butter unsalted
Powdered sugar
Vanilla Extract
Walnuts chopped
Secrets For Fantastic Carrot Cookies
Here are the secrets and decisions of creating my spiced carrot cake cookies with cream cheese icing.
Does Cinnamon Make a Difference
Cinnamon is a key ingredient in carrot cake, so I did a taste test to determine which one I wanted for my cookies.
Vietnamese cinnamon tastes like the more common type of cassia variety but stronger. The brand I have is sold by Penzeys. The McCormick brand is sold in almost every grocery store. The way I choose is by smell and taste.
I first noticed that Penzey's Vietnamese cinnamon is much lighter in color than the McCormick brand. Next, I open the containers and smell each one. The McCormick has an undertone of the cinnamon stick (woody). Penzey's brand was a little sweeter in smell.
My final test, and probably the most important, is to taste it on my finger and then with an ingredient I will use in my cookie. I felt that Penzey's brand had a stronger, sweeter cinnamon taste than McCormick's.
The decision was made when I took a golden raisin with a piece of walnut and added a little cinnamon to see how they worked together. I preferred for this cookie Penzey's Vietnamese Cinnamon.
Spices are a fantastic way to change or add different flavors to anything you bake or cook. So grab a couple of different varieties of the same spice and do your own taste test based on your preferences.
It Is All About The Carrot
Since the carrot is the star of the show for this cookie, how do you make sure what you have will give you a sweet, tender, and vegetable-packed baked cookie?
Please do not buy the packaged shredded carrots that you can get in the grocery store. They are hard and have very little taste in baked goods. Also, because of how they are processed, they will stay crunchy. I use them on salads but not in my cookie dough.
The best way is to buy a bag of nice orange carrots and shred them yourself. I peel my carrots and cut off both ends. Then I give them a quick wash. You have choices on the equipment you use to shred your carrots.
You can use a box grater, food processor, mandoline, and a julienne peeler. I do not recommend the mandoline peeler or the julienne peeler for making cookies. The pieces will be larger and thicker. My choice is the food processor. But if you do not have a food processor you can use the box grater. Be sure to use the side that has the small grater.
The disk that came with my food processor has two sides, one for large shredding and the other for small shredding. I used the small shredder side.
The goal is to have paper-thin carrot strips that will bake up tender in the cookies' 12-14 minute bake time.
It only took 10 seconds to shred all six carrots I needed with my Breville 16-Cup Sous Chef Peel & Dice Food Processor. I have had this food processor for about five years, and it has made easy work for not only my cookies but other jobs in the kitchen.
How To Add Moisture
When baking a standard carrot cake I saw where some recipes called for vegetable oil to help add moisture. A popular ingredient is crushed pineapple. I thought about adding this, but I was trying to recreate the classic carrot cake taste.
Many recipes added pineapple along with coconut flakes. They also changed the nut to a pecan. Which is not bad, just not what I wanted.
I also saw two eggs added instead of one. So I decided to add moisture a different way by adding applesauce. I chose the no added sugar variety, so it would not compete with the other ingredients. I wanted the applesauce to add moisture but not added flavor.
Why Break Eggs Into A Separate Bowl
I have added too many of my recipes' instructions that I break open my egg into a separate small bowl before adding the egg to my cookie dough. It does not happen a lot, but I had the chance with this recipe to show you why I do this.
I broke the egg, and low and behold, there was a piece of shell that, if I had broken the egg into the mixer bowl, I would have never seen this shell piece.
It is much easier to dig a piece of shell out of a bowl with just an egg than to do it in your mixer bowl.
Making Moist Cookies
Peel and clean about six medium carrots. Run them through a food processor on the smallest shredder disk. You want 2 cups of shredded carrots. Next, weigh or measure the light brown and white sugar into the same bowl and set it aside. Finally, weigh or measure the flour, baking powder, baking soda, cinnamon, ginger, nutmeg, and salt in a bowl. Next, I take a whisk and blend all the dry ingredients.
Take the room-temperature butter and mix on a medium speed to ensure it is creamed. It should look nice and smooth.
Now add both sugars and mix on a medium speed for 3 minutes. You want the sugars to blend into the butter as much as possible.
Scrape down the sides of the mixer bowl and add the vanilla extract and applesauce. Before adding the egg to the cookie dough, break the egg into a small dish to ensure there are no broken egg shells. Mix until the egg is incorporated. The dough will look a little lumpy and wet.
Scrape down the sides, turn the mixer to a low speed, and gradually add the flour mixture. Mix just until the flour is mixed in about 45 seconds.
Scrape the bowl down and add the 2 cups of shredded carrots. Mix for about 30 seconds to mix the carrots throughout the cookie dough.
Finally, add the golden raisins and the chopped walnuts and mix for another 30 seconds or less.
I stuck the mixer bowl into the refrigerator until my oven came up to the 350° temperature for baking the cookies.
Line 2 cookie sheet pans with parchment paper. I use a medium cookie scooper from Pampered Chef, which I have had for a couple of years. It has lasted longer than my previous scooper, so I would say it is a keeper.
Bake at 350° for 12-14 minutes. Then, move the hot cookies to a cooling rack. Do not start the icing until the cookies have cooled.
My Cream Cheese Icing
When I think of a slice of carrot cake the icing is on the soft side and oh so creamy. The cream cheese and butter should be at room temperature, so they blend when mixed.
I cut them into slices to make them easier to mix. Bring the mixer speed up to medium speed for 2 minutes.
You want the cream cheese and butter to be blended before you add the vanilla extract. Blend and then scrape the bowl down.
Turn the mixer on to a low speed and gradually add the powdered sugar. After the sugar is blended, turn the mixer to a medium-high speed for 3 minutes.
Taste the icing before you make any changes. If you are like me it is the perfect cream cheese icing for my carrot cake cookies. But you can make the icing stiffer by adding more powdered sugar. Bring the amount to 3 cups instead of 2 ¼. It will make it sweeter and less of the cream cheese taste.
After icing your cookies, place a few chopped walnuts on top of each cookie. Enjoy!
FAQs
Can I change the walnuts to something else?
Of course! I think pecans are a good choice; frankly, walnuts or pecans are the most common. But you can go on the wild side and do almonds, hazelnuts, or even pistachios. Just keep in mind it will change the taste from the classic carrot cake to your own version of the cookie.
Can I use the store-bought grated carrots in a bag?
While I know it is tempting to purchase these types of carrots to save time, their texture and how they are processed will not give you the carrot cake you are seeking. This is one area where there is no substitute for freshly grated carrots.
How should I store carrot cake cookies with cream cheese frosting?
You should refrigerate cakes, cupcakes, and cookies with cream cheese frosting or icing on them about 2 hours after frosting them. If I am serving these cookies but do not want them served cold, I leave them out about half an hour before serving. Store these cookies in a single layer in a Rubbermaid container since this is a softer icing. But you can put a sheet of parchment paper and have two layers.
Can I use another frosting besides the classic cream cheese?
Yes!!! You have several choices: brown butter frosting, maple cream cheese frosting, orange cream cheese frosting, cinnamon buttercream frosting, and honey cream cheese frosting. Any of these frostings will bring out the warm spices and complement the cookies nicely.
Love Cream Cheese Try These Cookies
Recipe
Fantastic Carrot Cake Cookies
Barbara Hall
I took all the flavors of my favorite carrot cake and created this perfect bite of the carrot cake that I remembered.
Ingredients
CARROT CAKE COOKIES
1

cup

(

227

g

)

Butter unsalted

room temperature

¼

cup

(

55

g

)

Light brown sugar

¾

cup

(

150

g

)

Sugar white

1

(

1

)

Egg

½

cup

(

122

g

)

Unsweetened applesauce

2

teaspoon

(

2

teaspoon

)

Vanilla Extract

2 ¼

cups

(

281.25

g

)

All-purpose flour

1

teaspoon

(

1

teaspoon

)

Baking powder

1

teaspoon

(

1

teaspoon

)

Baking soda

¼

teaspoon

(

0.25

teaspoon

)

Kosher Salt

1

teaspoon

(

1

teaspoon

)

Cinnamon

½

teaspoon

(

0.5

teaspoon

)

Nutmeg

¼

teaspoon

(

0.25

teaspoon

)

Ground ginger

2

cups

(

256

g

)

Carrots shredded finely

1

cup

(

117

g

)

Walnuts chopped

1

cup

(

145

g

)

Raisins golden
CREAM CHEESE ICING
8

oz

(

226.8

g

)

Cream Cheese

room temperature

½

cup

(

113.5

g

)

Butter unsalted

room temperature

2 ¼

cups

(

270

g

)

Powdered sugar

1

teaspoon

(

1

teaspoon

)

Vanilla Extract

⅓

cup

(

39

g

)

Walnuts chopped

add a few on top of icing
Instructions
COOKIE DOUGH
In a food processor or a hand grater/shredder, shred enough carrots for 2 cups. I use my Breville food processor, which has a large and small shredder attachment. The small shredder side was perfect for the size of the pieces I wanted for these cookies. Please DO NOT USE the store-bought bags of shredded carrots; they are dry and tasteless. They will draw the moisture out of your cookies.

In a bowl, weigh or measure the flour, baking powder, baking soda, salt, cinnamon, ginger, and nutmeg, running a whisk through to blend. In another bowl, weigh or measure the white and light brown sugars and set aside.

In a stand or hand-held mixer, cream the butter on medium speed for about 2 minutes. Then, add both sugars and mix on medium speed for about 3 minutes. Next, mix in the vanilla extract, applesauce, and egg. Scrape the bowl down. Turn the mixer speed to a low speed and slowly add the flour mixture until incorporated.

Scrape the bowl and then mix the shredded carrots through the cookie dough. Finally add the golden raisins and the chopped walnuts and blend them through the carrot cookie dough. I only refrigerate the cookie dough for as long as it takes to preheat my oven, about 10 minutes.

Preheat oven to 350° and line 2 cookie sheet pans with parchment paper. I used a medium cookie scooper and scooped 12 mounds onto a pan. Bake for 12-14 minutes and then transfer to a cooling rack after you take them out of the oven. Wait until the cookies have cooled before starting the icing.
CREAM CHEESE ICING
In a stand or hand-held mixer, blend the cream cheese and butter until incorporated, about 2 minutes on a medium speed. Add the vanilla extract and mix it through. Turn the mixer down and slowly add your powdered sugar. After the powdered sugar has been incorporated, turn the mixer to a medium or medium-high speed and mix for 3 minutes. Add the icing to the top of each cookie and finish with a few chopped walnuts.
NUTRITION DISCLAIMER
I am not a certified Dietitian or Nutritionist. The nutrition amounts given below are provided through a program and are only a guideline.
Nutrition
Calories:
208
kcal
Carbohydrates:
18
g
Protein:
1
g
Fat:
15
g
Saturated Fat:
8
g
Polyunsaturated Fat:
1
g
Monounsaturated Fat:
5
g
Trans Fat:
1
g
Cholesterol:
36
mg
Sodium:
77
mg
Potassium:
51
mg
Fiber:
1
g
Sugar:
15
g
Vitamin A:
871
IU
Vitamin C:
1
mg
Calcium:
31
mg
Iron:
1
mg