Since meringue is like eating a puff of air, it is all about the flavors you add to the sugar and egg whites. Biting into one of these orange puffs is perfect for a spring day.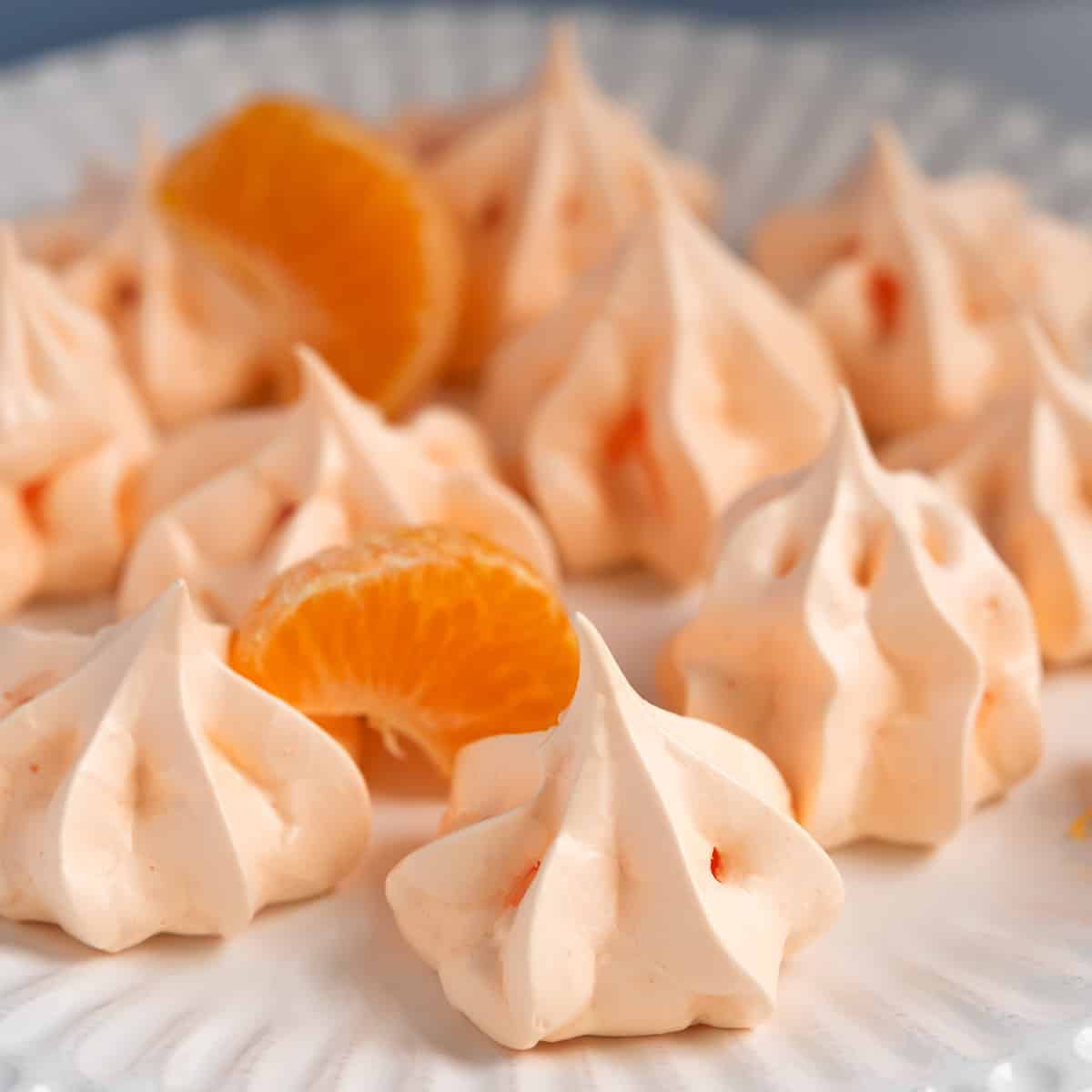 Orange is one of my favorite colors and taste, so it was a pleasure to make these cookies. There are few ingredients, but it takes time to whip these up and bake. If you have never made meringue cookies give it a try, you have nothing to lose.
Ingredients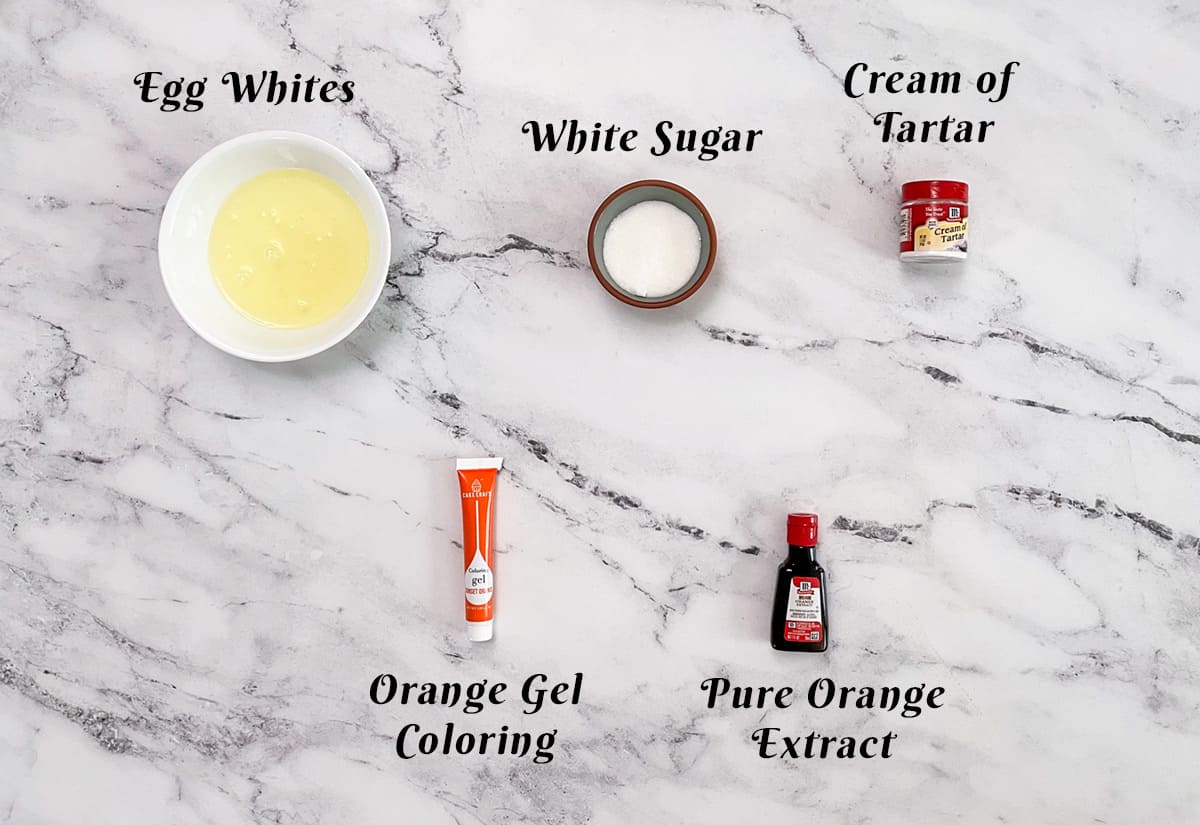 Jump to Recipe for Amounts
Egg Whites-I wait until I am going to get a new dozen of eggs before I bake meringue cookies. This is because I never get the volume of whipped egg white with older eggs.
Orange Gel Coloring-With the gel coloring, I use 1 to 2 drops to get a nice light orange color. Just add one drop and then decide if you want a darker orange before adding the second drop. If you are using food coloring, it takes more drops. I have used two red and three yellow to make the orange color I like.
Pure Orange Extract-You will want to use pure orange extract simply because it is the only flavor in the cookie, so you want an excellent orange taste. I used McCormick, but there are some expensive extracts on the market; as long as the extract is pure, use what you have on hand.
Piping or Spoon-Dropping Meringue
I enjoy piping my meringue, but you can also do a more organic cookie by spoon dropping a mound onto a parchment-paper sheet pan. Here are some tips for each.
Piping
When I made these meringue cookies this week, I found I had lost my favorite tip (French tip) used in baking my Strawberry and Chocolate Meringue Cookies and had to use another less favored tip. I used a large open star, which works, but it tends to give some open holes in the sides when baking the cookies.
I found a website that links the best piping tips for making meringue cookies. Why We Like This, which did an excellent job of relaying what users have said about the different types of tips.
Whether you are looking for one tip or a variety pack, I will give you the links to what I am buying. I decided to get a variety pack and the single French Tip by Ataco.
Ateco 869 Pastry Tube - French Star - Size 9
Kowanii Large Icing Piping Tip Cupcake Decorating Tip Set Kit Cake Decorating Supplies, 8 Frosting Tip Nozzle, 10 Pastry Bag, 2 Coupler
Spoon-Dropping
Spoon-dropping your meringue is a quick and easy way to make meringue cookies. However, it has been suggested that you may need to clean your spoon between each cookie. But you will know if you need to because the meringue will start to stick to the spoon.
Spoon-dropping is a great way if you want to add some fine nuts or mini chocolate chips to the top of the cookies since they have a more rounded top instead of sloped and pointy, which you get from the piping.
Either way, meringue cookies are low in calories and a delight to eat.
Creating a Great Meringue Cookie
When separating your egg whites from the yolk the system I use has 2 bowls and an egg separator. You want to make sure that none of the yolks gets into the whites, or you will have to start over again. So I separate them in one bowl and then move the single egg white to another bowl. This way, I can do one egg at a time.
I also get my piping bag ready with the tip. You don't want the meringue mixture to be set in the mixer bowl while getting the piping bag ready. The less time from the finished meringue to the oven, the better.
Cut the end off the piping bag and insert the tip. I usually do not use a coupling for piping meringue.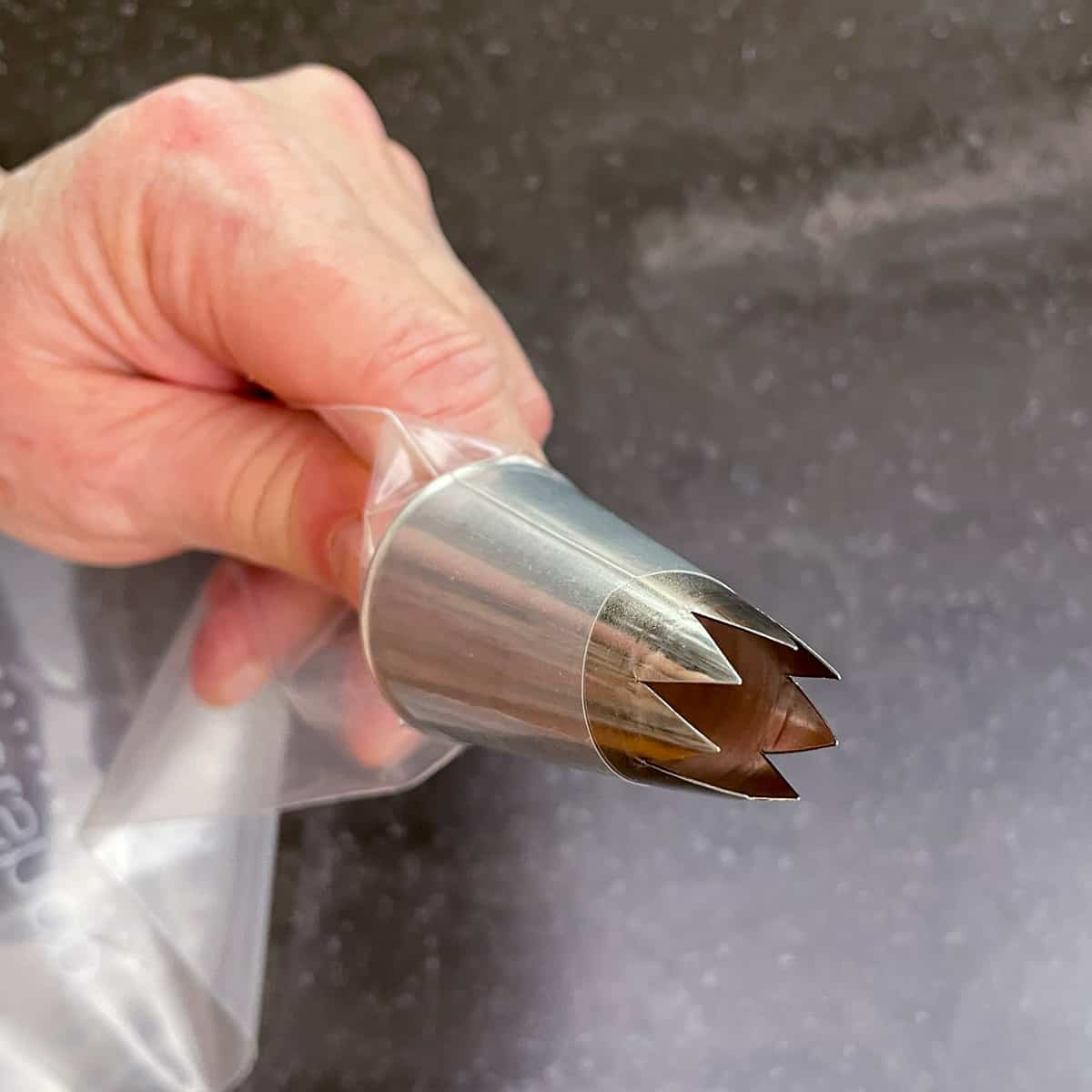 Whipping the Egg Whites
You also want to make sure that your mixer bowl is clean and free of any oils. Add the wire mixer tool to your mixer, and we are ready to start. Now add your egg whites to the mixer bowl and mix on medium speed until the whites are frothy. Next, add your cream of tartar and turn the mixer to a high speed for a minute or two.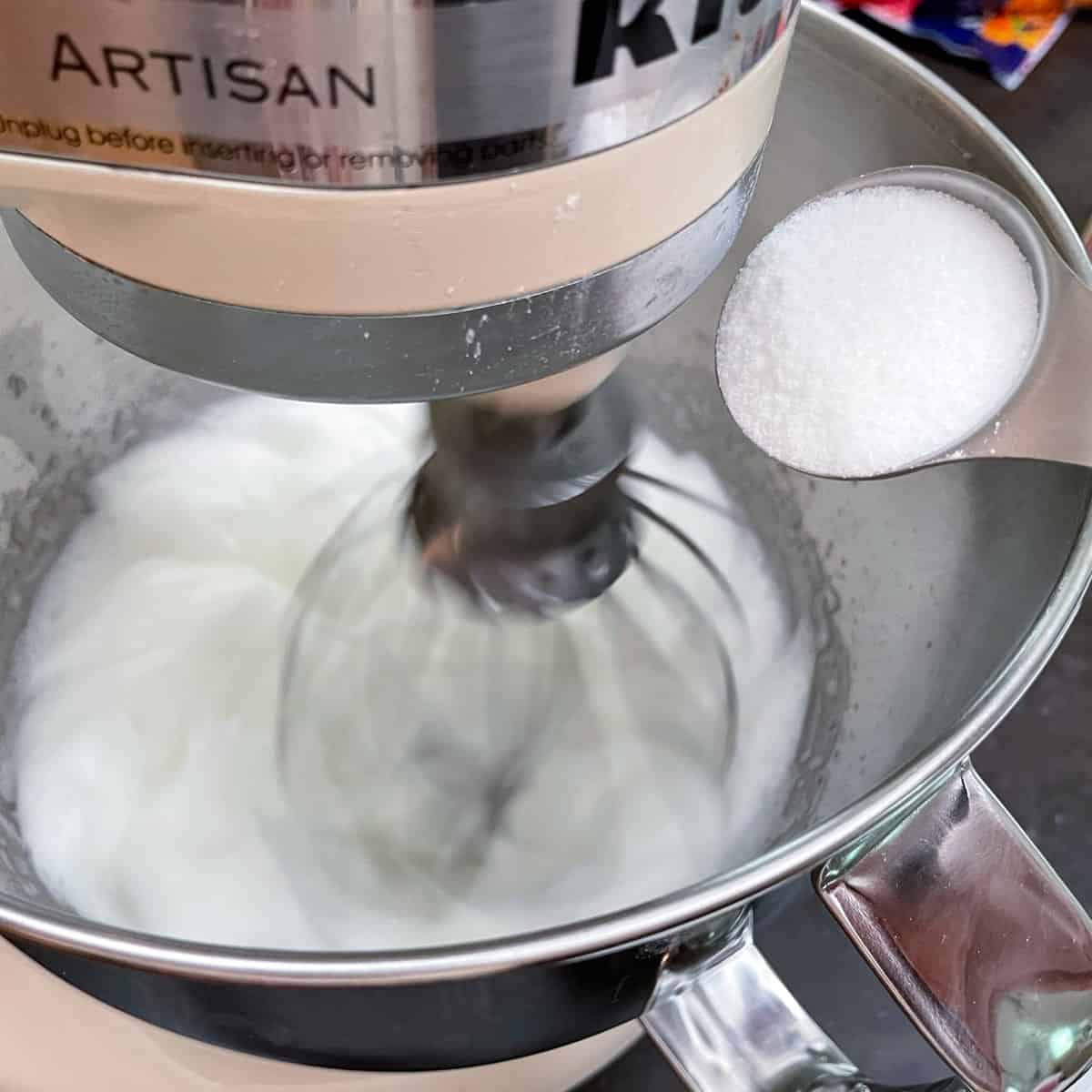 Add the cup of sugar 1 tablespoon at a time with at least 20 to 30 seconds between each tablespoon. This is tedious, but you want the sugar to dissolve into the egg whites. If you rush this step, you will not get the glossy, shiny stiff peaks you are after.
After adding the sugar, I stop and scrape down the sides to get any sugar at the top of the mixer bowl. Then, turn the mixer back to the high speed for 10 to 12 minutes.
Depending on the amount of egg whites your 4 eggs had, the bowl will fill up with whipped egg whites before condensing into the soft peak stage and then, finally the stiff peak stage.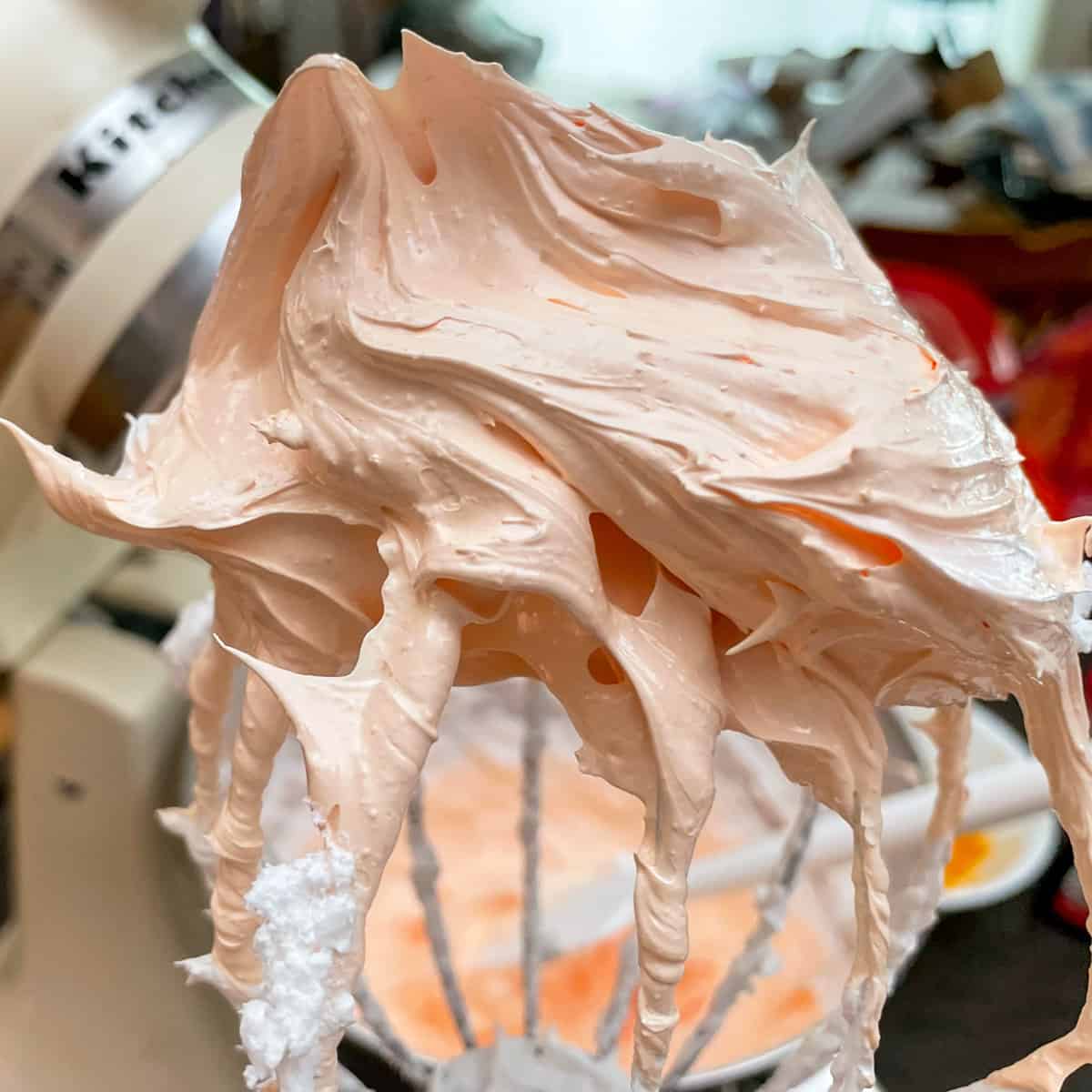 After twelve minutes, stop the mixer, scrape down the sides, and add the gel coloring and orange extract. Turn the mixer back on to a high speed and mix for another 3 to 4 minutes.
Pull the whip beater up, and the peaks should stand up. Also, take a little of the meringue and rub it between your thumb and finger; it should be smooth and not gritty. These checks mean it is ready to be put into the prepared piping bag with the tip.
Baking the Meringue
I fit all my piped meringue cookies onto two parchment-lined sheet pans. Then, I bake them at the same level by overlapping the sheet pans.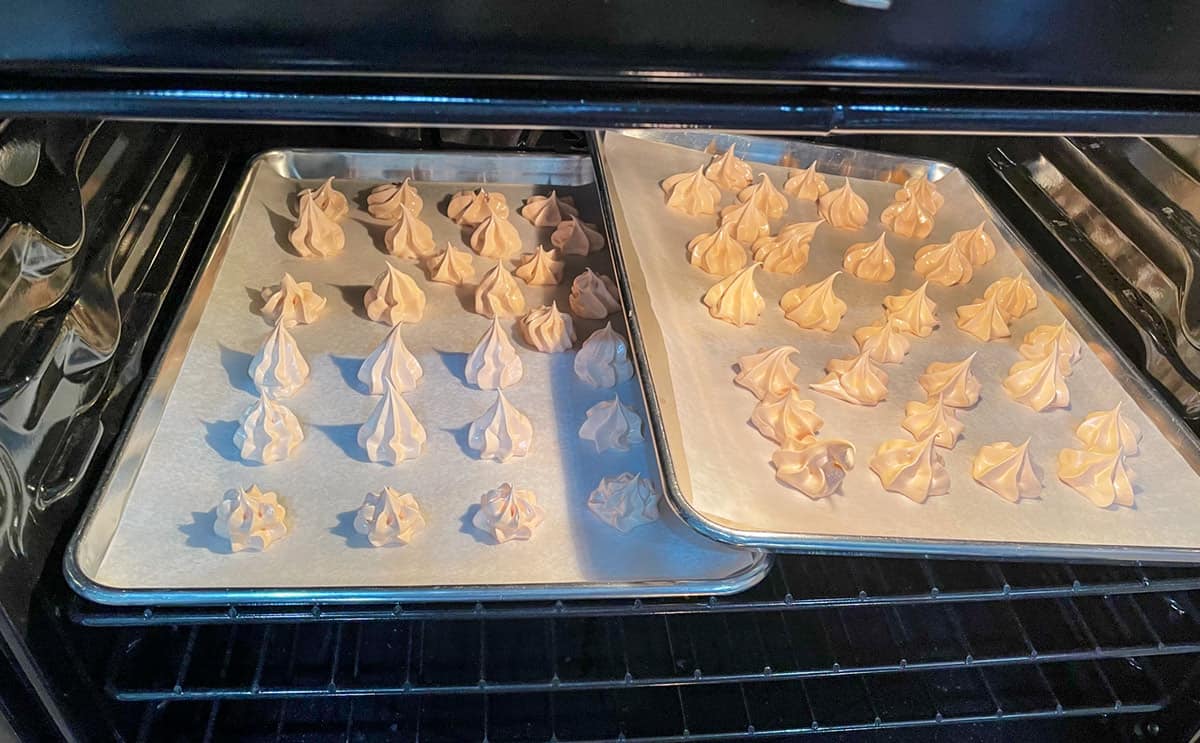 Bake at 225° for 45 minutes for this size cookies. Then turn your oven off and let the cookies sit in the oven for 1 hour and 15 minutes. DO NOT OPEN the oven door during the whole time the cookies are baking or resting in the turned-off oven.
If you make larger cookies, I would add 5 to 7 minutes to the baking time. The goal is to bake long and slow to dry out the egg whites. The more meringue in the cookie, the longer it takes. I like this size since I can eat the whole cookie in one bite. Enjoy!
Storage
Store these in an airtight container and room temperature; they can stay fresh for about two weeks. You can also freeze them in a single-layer container. When needed take them out of the freezer and let them thaw for a couple of hours.
Loving Orange Try These
Recipe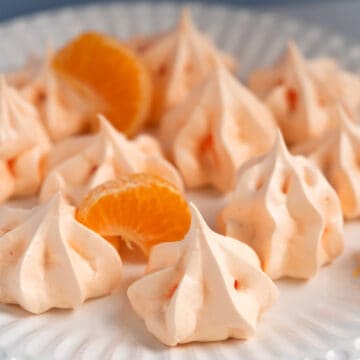 Orange Meringue Cookies
Barbara Hall
These pretty small puffs of air in a refreshing orange meringue cookie are perfect for a beautiful spring day.
Ingredients
4

(

4

)

Egg whites

room temperature

½

teaspoon

(

0.5

teaspoon

)

Cream of tarter

1

cup

(

200

g

)

Granulated sugar

½

teaspoon

(

0.5

teaspoon

)

Orange extract

1-2

drops

(

1-2

drops

)

Orange gel coloring
Instructions
Add egg whites to a mixer bowl and beat on medium speed until the egg whites are frothy. Now add the cream of tartar and turn the mixer onto the high setting. I let this beat for about a minute or two.

Important step - Add the sugar about a tablespoon at a time; if you add too fast, you will not get the light and fluffy meringues you seek. I wait 20-30 seconds between tablespoons of sugar. After adding the sugar, scrape down the bowl sides and continue to mix on high until you get stiff peaks. Mixing could take 10 to 12 minutes. Now, scrape down the bowl sides again to capture any sugar along the top of the bowl.

Now fold into the mixture the orange extract then you want to add your gel coloring. I did 1 drop of the orange gel, but you can add 2 if you like a brighter orange color. Turn the mixer to high again for 3 to 4 minutes.

Turn the mixer off and check to make sure you have stiff peaks by turning the whipping tool right side up to see if the meringue peaks stand up and do not bend down. The meringue should be shiny glossy, and smooth between your thumb and finger.

I used a piping bag with a large star or closed star tip. Place them about an inch apart on a baking sheet with parchment paper. I did bake both pans at the same time, side by side, in the oven at 225° for 45 minutes. After 45 minutes, turn the oven off and let them sit in the oven for 1-¼ hour. Once out of the oven, I let them finish cooling on a rack.
NUTRITION DISCLAIMER
I am not a certified Dietitian or Nutritionist. The nutrition amounts given below are provided through a program and are only a guideline.
Nutrition
Calories:
15
kcal
Carbohydrates:
4
g
Protein:
1
g
Fat:
1
g
Sodium:
4
mg
Potassium:
8
mg
Sugar:
4
g
Calcium:
1
mg
Iron:
1
mg