Growing up, I have always loved fig newtons, and I must say my taste has not changed. So, I wanted to bake the perfect honey fig walnut cookies from scratch that tasted similar to my beloved fig newtons.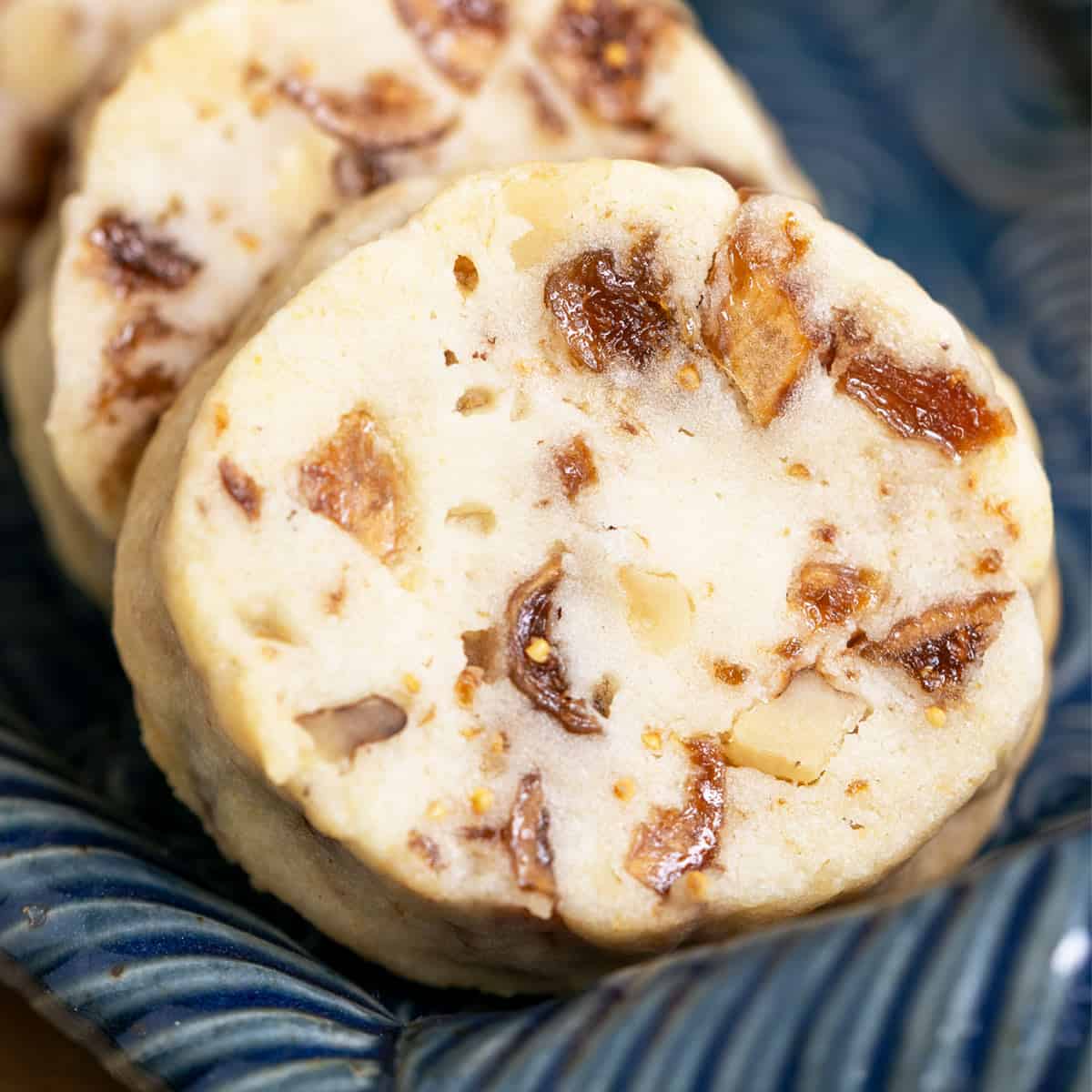 The fig newtons made when I was growing up had nuts, honey, and figs in the recipe, plus a few other ingredients. But the star was the sticky fig mixture in the middle of the cake, like a cookie. So, I hope you will try my delicious fig and walnut cookie recipe with honey and enjoy them as much as I do.
Jump to:
Ingredients You Will Need
Jump to Recipe for Amounts
Butter unsalted
Powdered sugar
Lemon juice
Honey
All-purpose flour
Baking powder
Kosher Salt
Dried Figs
Chopped walnuts
Types of Figs For Baking
When it comes to baking with figs, there are a few types that work particularly well due to their flavors and textures. Here are some common types of figs that are often used in baking:
Mission Figs: These figs boast a deep purple or black exterior, revealing pink flesh. With their sweet and rich flavor, they're a go-to choice for many bakers for baking and cooking.
Calimyrna Figs: Sporting a greenish-yellow skin, Calimyrna figs bring a nutty and slightly buttery flavor to the table. Perfect for baking, they add a unique twist to various recipes.
Kadota Figs: With their light green hue, Kadota figs offer a milder, less sweet taste than other types. They're ideal for infusing baked goods with a subtle fig essence.
Brown Turkey Figs: These figs come with brownish-purple skin and pink flesh. Their balanced sweetness makes them versatile for both baking and enjoying fresh.
Adriatic Figs: Sporting a pale green color, Adriatic figs carry a delicate, sweet flavor. They're a great fit for baked goods that call for a gentler fig presence.
Panache Figs (Tiger Figs): Recognizable by their yellow-striped green skin, these figs boast a sweet and fruity flavor. Get creative with your baking by incorporating these unique gems.
Black Mission Figs: Similar to Mission Figs, these have dark purple or black skin and a deep, sweet taste. They can infuse your baked goods with a rich, delectable flavor.
White Genoa Figs: With their pale green shade and delicate flavor, White Genoa figs add a subtle sweetness to baked treats that's simply delightful.
How I Pick Packaged Figs
Ok so there are a lot of figs to choose from and most of these I have never seen, let alone baked with. What you are looking for is dried figs. I have used mission figs, but for me, the bag is hit or miss on how soft they are, and for this cookie, I want it soft and easy to cut up.
I think finding figs at the store and ensuring you can see them in the packaging is important. Next, press down on one or two to see how soft they are. If they are hard, move on to the next fig. They also have organic dried figs if this is what you prefer. The testing is the same for either.
During Christmas last year I purchased California fig and the brand I choose was Golden California Figs which you can purchase at your grocery store or online at Amazon.
Of course, if you have a favorite, you can't beat that.
Step-by-Step for Baking Cookies
Prepping is not that intensive for these cookies. But the chopping of the figs probably takes the most time of any of the prep work. Walnuts I find at my local grocery store that are already chopped to a great medium size. If you cannot find walnuts already chopped just grab some packs of walnut halves and do a rough chop. Try and make them as even in size as you can.
Now it is time to make my easy homemade honey fig and walnut cookies.
Prep
Weigh or measure the powdered sugar and set it aside. Weigh or measure the flour, baking powder, and salt into another bowl. I run a whisk through to blend them together.
I start by pulling or cutting the stems off the dried figs. Then cut them into pieces that are about the size of the walnuts.
This is about the size I use for these cookies. I really do like figs and walnuts, so I cut the whole package of the figs up.
Mix
Cut the butter into cubes and place them in a mixer bowl. On a medium mixer speed, cream the butter for a minute. If the butter is cold, it will take longer to get it to a creamy state.
Once the butter is creamed, add the powdered sugar and mix on a medium mixer speed for 2 to 3 minutes.
Now, add the honey and lemon juice and blend.
Finally add the cut-up dried figs and chopped walnuts.
Take a spatula and make sure the figs and walnuts are distributed as evenly as you can get them throughout the cookie dough.
Roll and Chill
On a pastry mat I sprinkle powdered sugar (or flour) on the mat. Take the cookie dough and put it on the powdered sugar. If the dough is tacky sprinkle some powdered sugar on the top. You want to be able to roll the cookie dough into a log shape.
Now here is the choice, you can roll a shorter fat log or a smaller diameter log that is longer. I do the longer log for two reasons.
First there are a lot of figs and walnuts in this cookie and the bigger the cookie the heavier and richer they will be. Second, I use a baguette pan to cradle my wrapped logs. The one I use is Chicago Metallic Commercial II Non-Stick Perforated Baguette Pan which you can get from Amazon.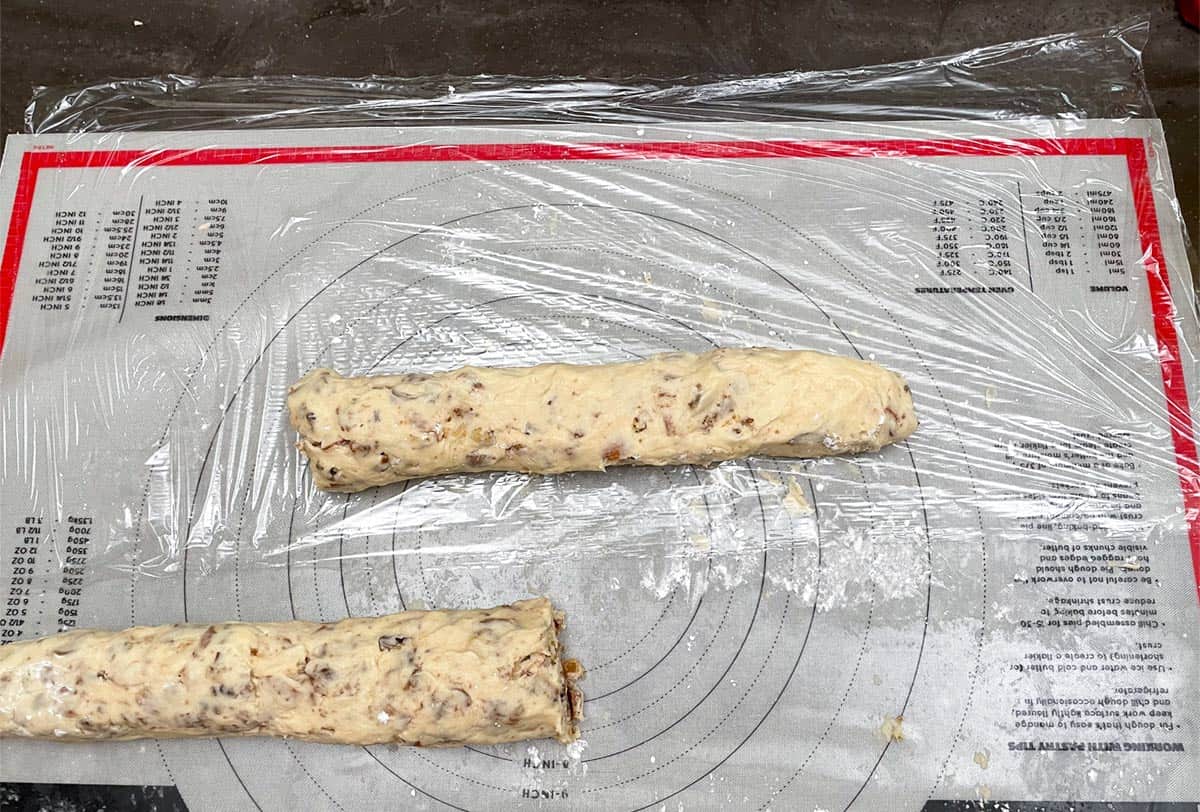 I cut my log so that each is about 11 inches long. Wrap each log with plastic wrap, and then smooth and shape the logs. Set them in the baguette pan.
Chill in the fridge for an hour. I often leave mine in the refrigerator overnight and bake them the next day. This gives all the flavors a chance to meld together.
Bake
Preheat the oven to 350°, line two cookie sheet pans with parchment paper, and set them aside. Grab a cutting board, a sharp knife, and one of the cookie logs.
To make it easier, I score the log with the knife to help get even slices of cookies. I like my slices to be about ½" to ¾", so there are about 15 slices a log. Fifteen slices fit nicely on a sheet pan.
Bake at 350° for 11-12 minutes. They will be a little soft on the top but leave them on the pan for a minute, and they will start to firm up. Then, gently move them to a cooling rack and leave them alone until they cool.
Shortbread cookies made with powdered sugar need to be set before handling.
Enjoy!
Where to Get the Dish
This is a great little serving dish that is beautifully made that I picked up at the Lititz Art and Craft Show here in Lancaster County, which was a couple of weeks ago. The dark blue was just the color I needed against my Honey Fig and Walnut Cookies.
The artist's name is Bridget Hughes, and you can follow her on Facebook at https://www.facebook.com/bridgethughespottery. This piece would be perfect for pickles and olives at your holiday party.
Can I swap out the walnuts for another nut?
Yes, you can! The best combination is with walnuts, but you can use almost any other nut. Almonds, chestnuts, pecans, and pistachios all of these nuts will go with honey and figs.
How can I enhance the flavor of honey fig and walnuts cookies?
You can add orange juice instead of lemon juice. You can also add vanilla extract or even a little cinnamon. Be careful of the cinnamon it can be overpowering. You could also add a little maple syrup by splitting the ¼ cup of honey in the recipe into ⅛ honey and ⅛ cup good maple syrup.
How do I store my honey fig and walnut cookies?
These are easy cookies to store. In fact, I think they taste even better the next day. I have a plastic container with a lid on my counter, and everyone enjoys them as they walk by and grab one; hard to keep cookies in my house.
Other Cookies to Enjoy
Recipe
Honey Fig and Walnut Cookies
Barbara Hall
Honey and walnuts are natural compliments to figs, so this was a no-brainer. I decided on a shortbread cookie style since the cookie flavors would not compete with the honey, fig, or walnuts.
Ingredients
1

cup

(

227

g

)

Butter unsalted

room temperature

½

cup

(

60

g

)

Powdered sugar

1

Tablespoon

(

1

Tablespoon

)

Lemon juice

¼

cup

(

84.75

g

)

Honey

2 ¼

cup

(

281.25

g

)

All-purpose flour

½

teaspoon

(

0.5

teaspoon

)

Baking powder

¼

teaspoon

(

0.25

teaspoon

)

Kosher salt

9

ounce

(

9

ounce

)

Dried figs

cut up

1

cup

(

117

g

)

Chopped walnuts
Instructions
Weigh or measure the flour, baking powder, and salt. I run a whisk through to blend. Reserve the juice of one lemon. Take the stems off the dried figs and cut them into about the same size as the chopped walnuts. Chop the walnuts if you could not find them already chopped into medium size pieces.

In a mixer, cream the butter until it is light and fluffy, about 2-3 minutes. Turn the mixer down and add the powdered sugar, then turn the mixer to medium speed to blend.

Add the honey and lemon juice and incorporate. Turn the mixer down again and slowly add the flour mixture and mix until the flour is blended in, and then turn the mixer off. Add the cut-up figs and walnuts and blend for about 15 seconds.

Take a pastry mat and sprinkle with powdered sugar. Scrape the cookie dough onto a pastry sheet. Make one long roll about 22" inches long. If the cookie dough is tacky, sprinkle a little more powdered sugar until the dough is manageable to roll. Then divide the log in half so you have two about 11" long logs.

Roll each log in plastic wrap. I use a baguette pan to lay my cookie logs in. But you can use the inside cardboard tube of a paper towel roll that has been cut in half lengthwise to cradle the logs in. Chill for an hour or overnight.

Preheat your oven to 350°, line sheet pans with parchment paper, and set them aside. Take one of the cylinders out of the refrigerator. Unwrap from the plastic wrap, slice about ½" to ¾" an inch thick, and place on the cookie pan. I can get about 15 slices per cookie dough log. Bake for 11-12 minutes. Do the same for the second cylinder. Move them to a cooling rack and let them cool completely before moving them again. Shortbread cookies need time to set.
NUTRITION DISCLAIMER
I am not a certified Dietitian or Nutritionist. The nutrition amounts given below are provided through a program and are only a guideline.
Nutrition
Calories:
132
kcal
Carbohydrates:
13
g
Protein:
2
g
Fat:
9
g
Saturated Fat:
4
g
Polyunsaturated Fat:
2
g
Monounsaturated Fat:
2
g
Trans Fat:
0.2
g
Cholesterol:
16
mg
Sodium:
27
mg
Potassium:
49
mg
Fiber:
1
g
Sugar:
6
g
Vitamin A:
195
IU
Vitamin C:
0.4
mg
Calcium:
14
mg
Iron:
1
mg