These double heart sugar cookies symbolize that the love of my life and I are together. But, of course, I am not sure if he sees it that way lol. He is not very mushy when it comes to Valentine's Day, but he has always been there when I needed him.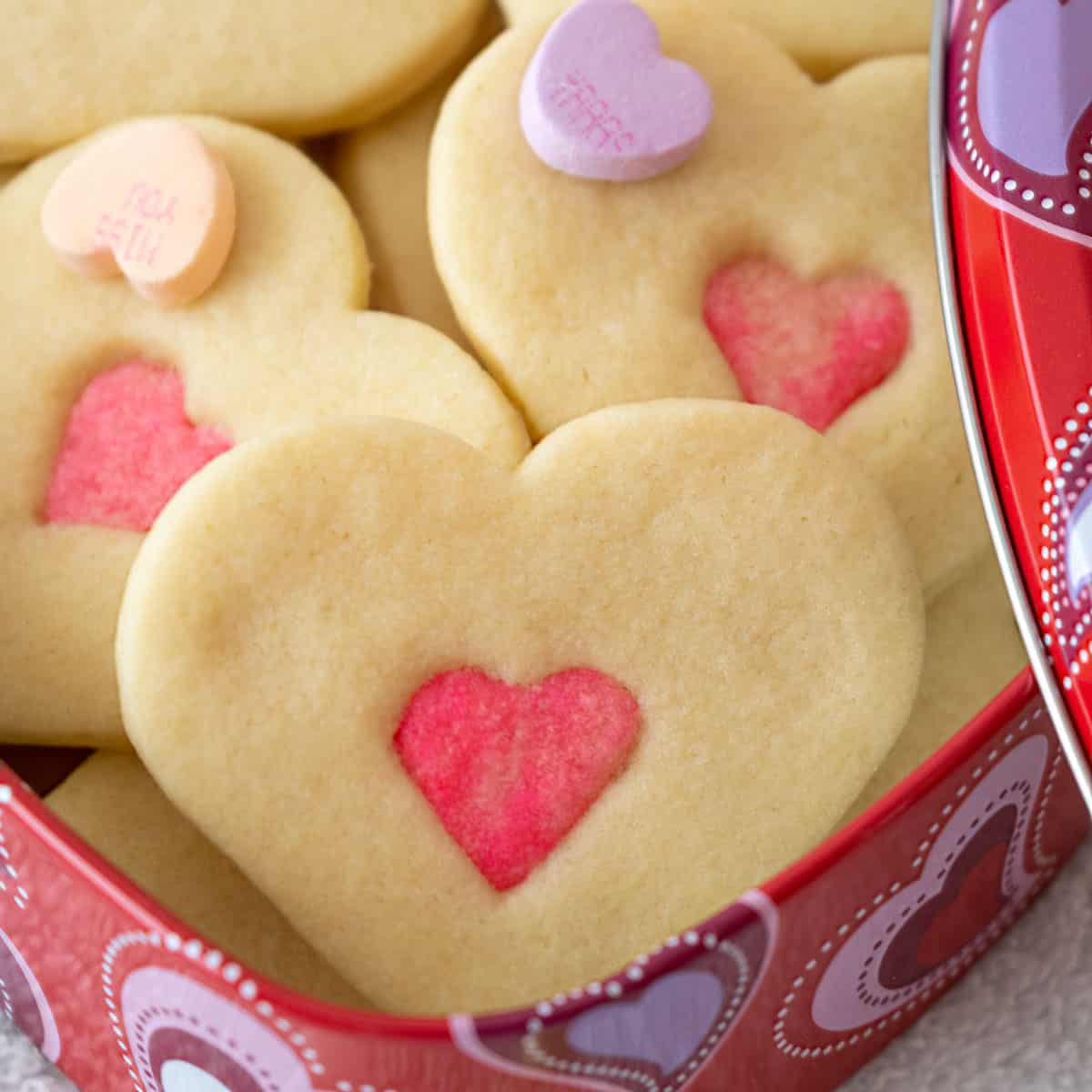 I knew I wanted to cut out the middle and insert a different colored heart for the center for the double hearts. I found Cake Craft Coloring Gel with 12 different colors that I have been itching to try. The box has two different colors for pink, Rosy Pink and Funky Fuchsia. Funky Fuchsia has a little red in it, so that is what I used for the sugar cookies, small heart. Two drops were just enough to color the small ball that was to be the pink center heart.
I found a Website that gives ideas for Valentine's Gifts of all kinds  55 Best Valentine's Day Gifts for Her.
Ingredients You Will Need
Butter unsalted 
Sugar white 
1 Egg
Vanilla Extract
Baking powder
All purpose flour 
Kosher Salt
Coloring gel
How To Make Double Heart Cookies
I mean, who does not like a sugar cookie?
Start by blending your butter and sugar until light and fluffy. Next, add the vanilla extract and the egg.
Now you want all the dry ingredients into a bowl and run a whisk through to blend. Next, turn your mixer speed to slow and gradually add the dry flour mixture to the rest of the cookie dough.
You want the cookie dough to be like playdough. Take the cookie dough and form a ball in your hand. Break off a part of the cookie dough larger than a golf ball and add two drops of coloring gel. I choose pink, but you can make it any color you like. If you color both the small and the large heart dough, you may want to leave a little of the cookie dough without any color if you need to make more of one or the other.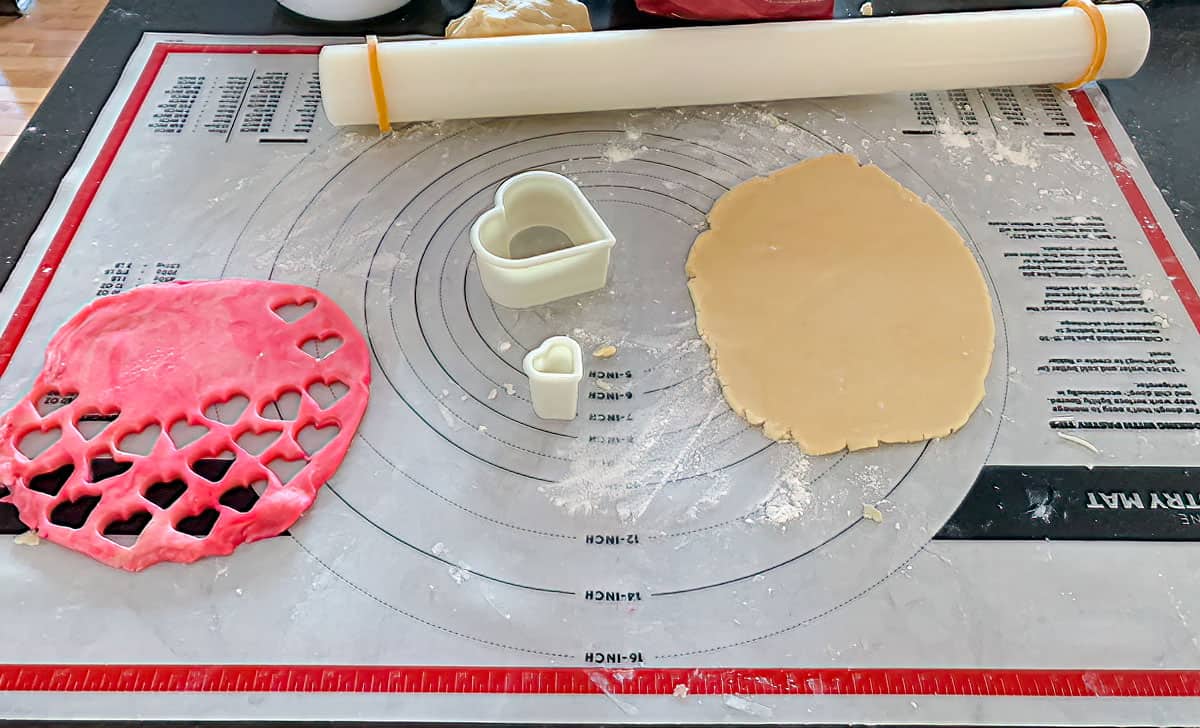 I have rings on my rolling pin to keep the cookie dough even. These are ¼" thick. You also need two different size heart cookie cutters. The cookie cutters that I am using are de Buyers at Williams Sonoma.
Now, roll out both colors and use the small heart to make 24 small pink hearts. Next, use the bigger heart on the uncolored cookie dough. Then take the small heart cookie cutter and cut a small heart in the middle of the larger heart. Finally, replace the empty small heart hole with the small pink one.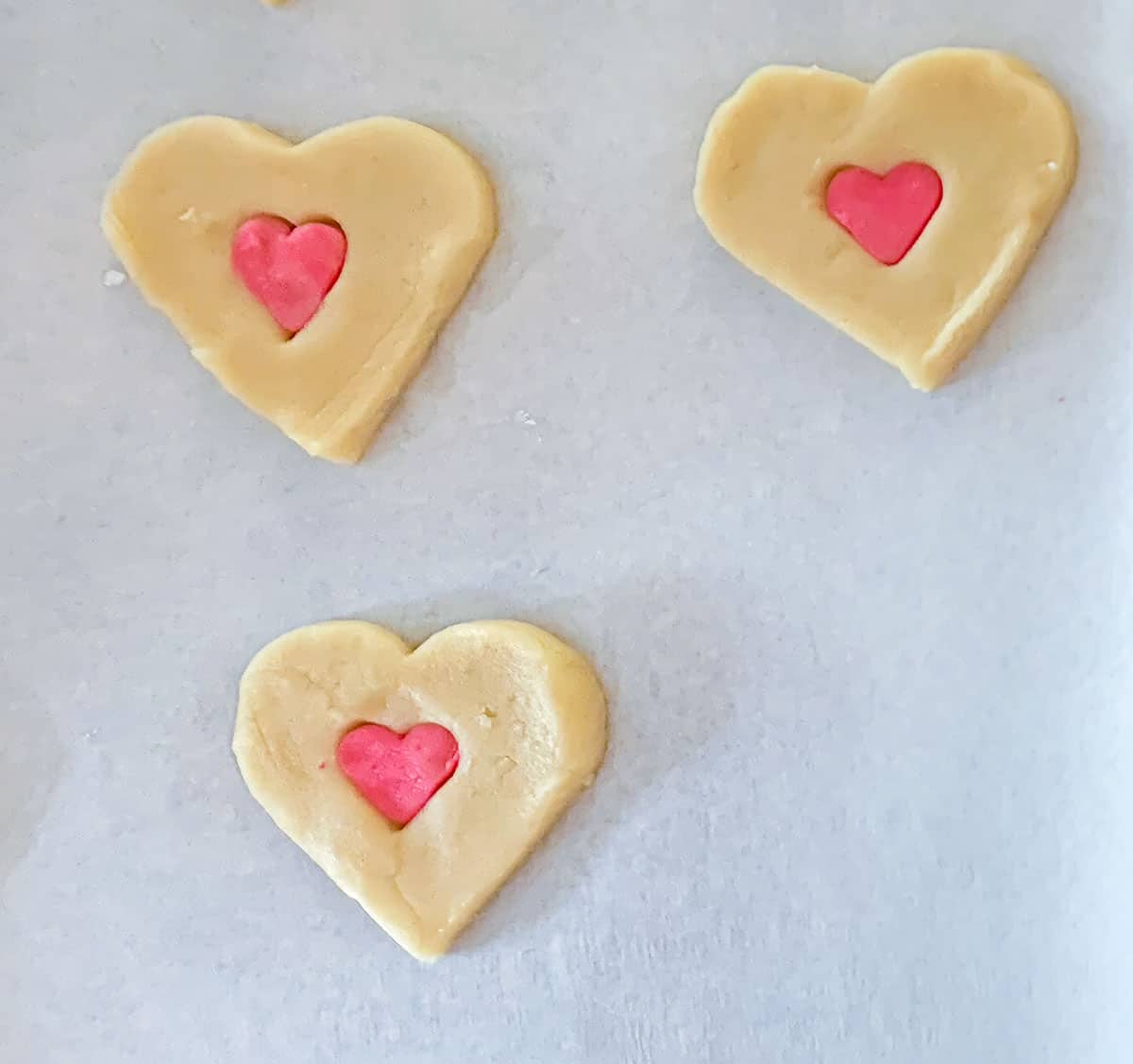 The great thing about these cookies is that they bake into one cookie. So you can use your imagination on colors and sizes.
Bake at 350°F (175°C or 180°C) on parchment-lined sheet pans for 6-8 minutes, moving them to a cooling rack after they come out of the oven. Enjoy!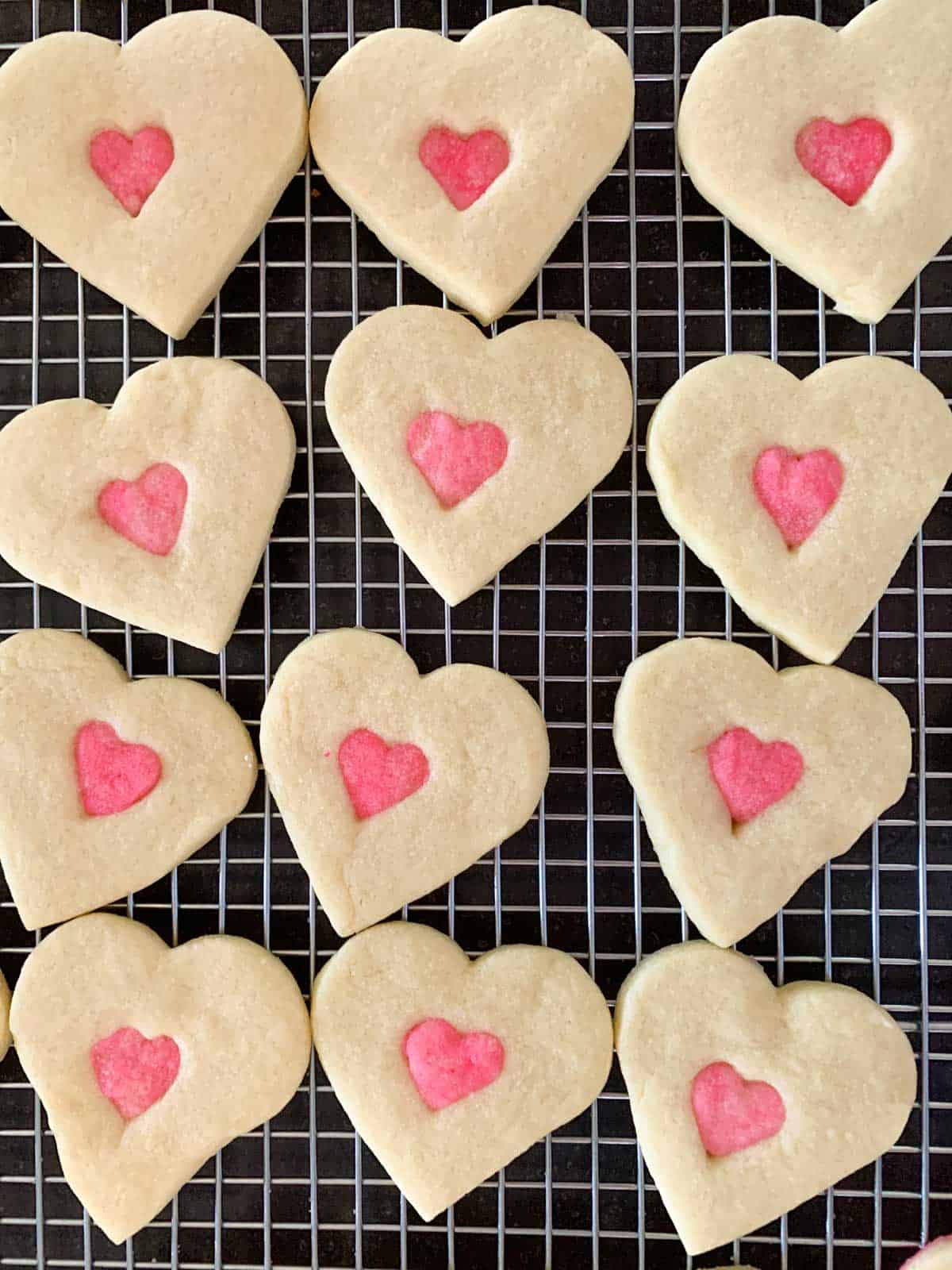 Try a Few Other Heart Cookies
Chocolate Heart Spritz Cookies with Cherries
Strawberry and Chocolate Chip Heart Cookies
Recipe
Double Heart Sugar Cookies
Barbara Hall
These cookies make me think of conversation hearts, which are a classic Valentine treat.
Ingredients
1

cup

Butter unsalted

2 sticks room temperature

1

cup

Sugar white

198 g

1

Egg

1

teaspoon

Vanilla Extract

2

teaspoon

Baking powder

3

cups

All-purpose flour

360 g

¼

teaspoon

Kosher Salt

2

drops

Coloring gel
Instructions
Weigh or measure the sugar and set aside. In another bowl, weigh or measure the flour, baking powder, and salt running a whisk through to blend. In a stand or handheld mixer, blend the butter and sugar till light and fluffy about 2 - 4 minutes. Add the vanilla extract and egg blend thoroughly. Turn the mixer down to low and add the flour mixture and mix till incorporated. You want the dough to be like playdough that you can form a ball in your hand.

You need two different sizes of heart cookie cutters. I choose a medium and small heart cookie cutters for these cookies, but you can do different sizes if you like. I took a ball of dough (bigger than a golf ball) and put it in a small bowl. Add two drops of any pink color gel and mix with your hands till incorporated. There should be enough dough if you are using a small heart cookie cutter. You will have to adjust the dough ratio if you decide to make the center heart larger.

Roll out noncolored dough and cut out as many as you can of the bigger hearts. Then take the small heart and cut that out of the middle of the bigger heart, so you have a heart-shaped hole. Next, take the little heart and cut it out of the pink dough and place that into the empty small heart-shaped hole of the bigger heart. When they bake, they blend and look like one cookie.

Add double heart cookies to parchment-lined cookie pan and bake for 6-8 minutes at 350°F (175°C or 180°C). You don't want them to get brown, or they will be dry. After pulling the cookie pan out of the oven, I leave them on the pan for a minute before moving them to a cooling rack.
NUTRITION DISCLAIMER
I am not a certified Dietitian or Nutritionist. The nutrition amounts given below are provided through a program and are only a guideline.
Nutrition
Calories:
160
kcal
Carbohydrates:
20
g
Protein:
2
g
Fat:
8
g
Saturated Fat:
5
g
Polyunsaturated Fat:
1
g
Monounsaturated Fat:
2
g
Trans Fat:
1
g
Cholesterol:
27
mg
Sodium:
64
mg
Potassium:
22
mg
Fiber:
1
g
Sugar:
8
g
Vitamin A:
246
IU
Calcium:
25
mg
Iron:
1
mg