I started my cookie recipe blog about three years ago on my old website. My first cookie lesson was a chocolate chip cookie recipe. This cookie is where I learned how to weigh, mix, and bake my first cookie.
Baking was something I always wanted to learn so I knew with my retirement I would have the time.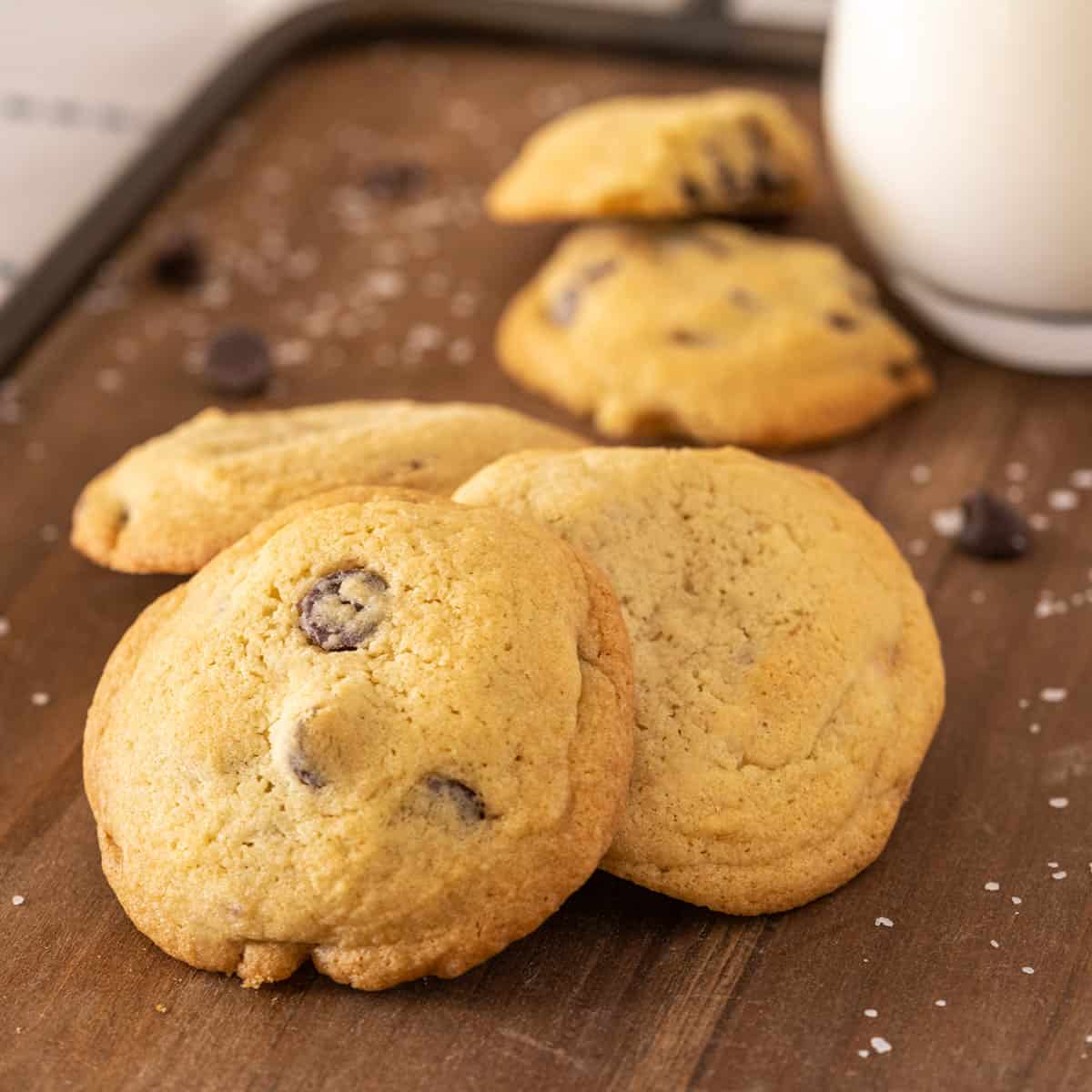 I had so much to learn, and I used Sally's Baking Addiction recipe to learn and practice. But after a couple of months, I was creating my cookie recipes. So it is time to update my Chocolate Chips Cookies to my creation.
Jump to:
Ingredients for My Best Chocolate Chip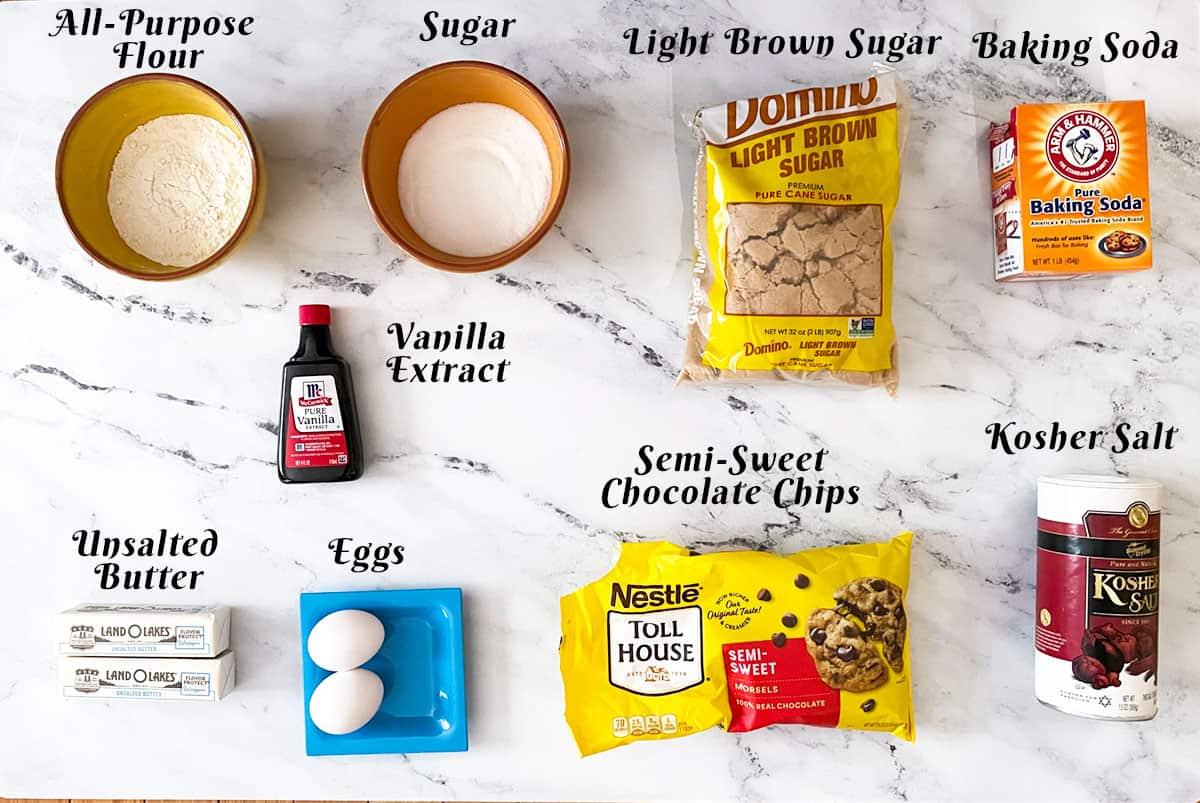 Jump to Recipe for Amounts
Butter unsalted
Light brown sugar
Sugar white
Eggs
Vanilla Extract
Kosher Salt
Baking soda
Semi-Sweet Chocolate Chip
Easy to Make Chocolate Chip Cookies
Good thing these are so easy to make and do not take that long. These are my husband's favorite, and I have had to make these quite a few times. 🙂
Start by weighing out the white and light brown sugars into a bowl and setting it aside. Next, weigh the flour, baking soda, salt and run a whisk through to blend.
So now we are ready to make these darn good cookies. Cream the sugars and the butter using a mixer on medium speed. I blend for at least 3 minutes. Next, add the vanilla extract, followed by one egg at a time until incorporated. Scrape down the bowl and mix for another minute.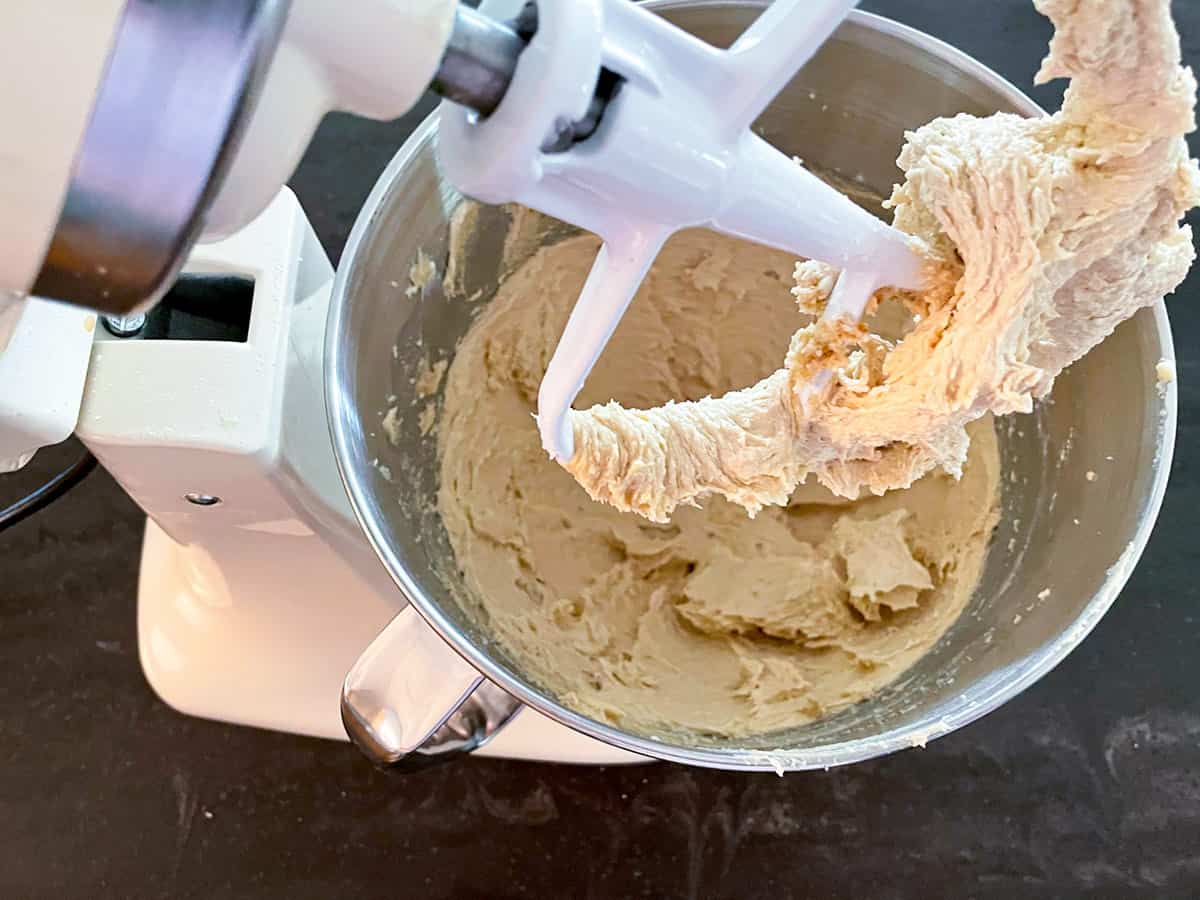 Turn the mixer to a slower speed and gradually add the flour mixture. You may need to scrape down the sides again but get all the flour incorporated. Finally, add the chocolate chips and mix for a few seconds.
You may need to make sure the chocolate chips are evenly distributed throughout the cookie dough. I use a one-piece spatula.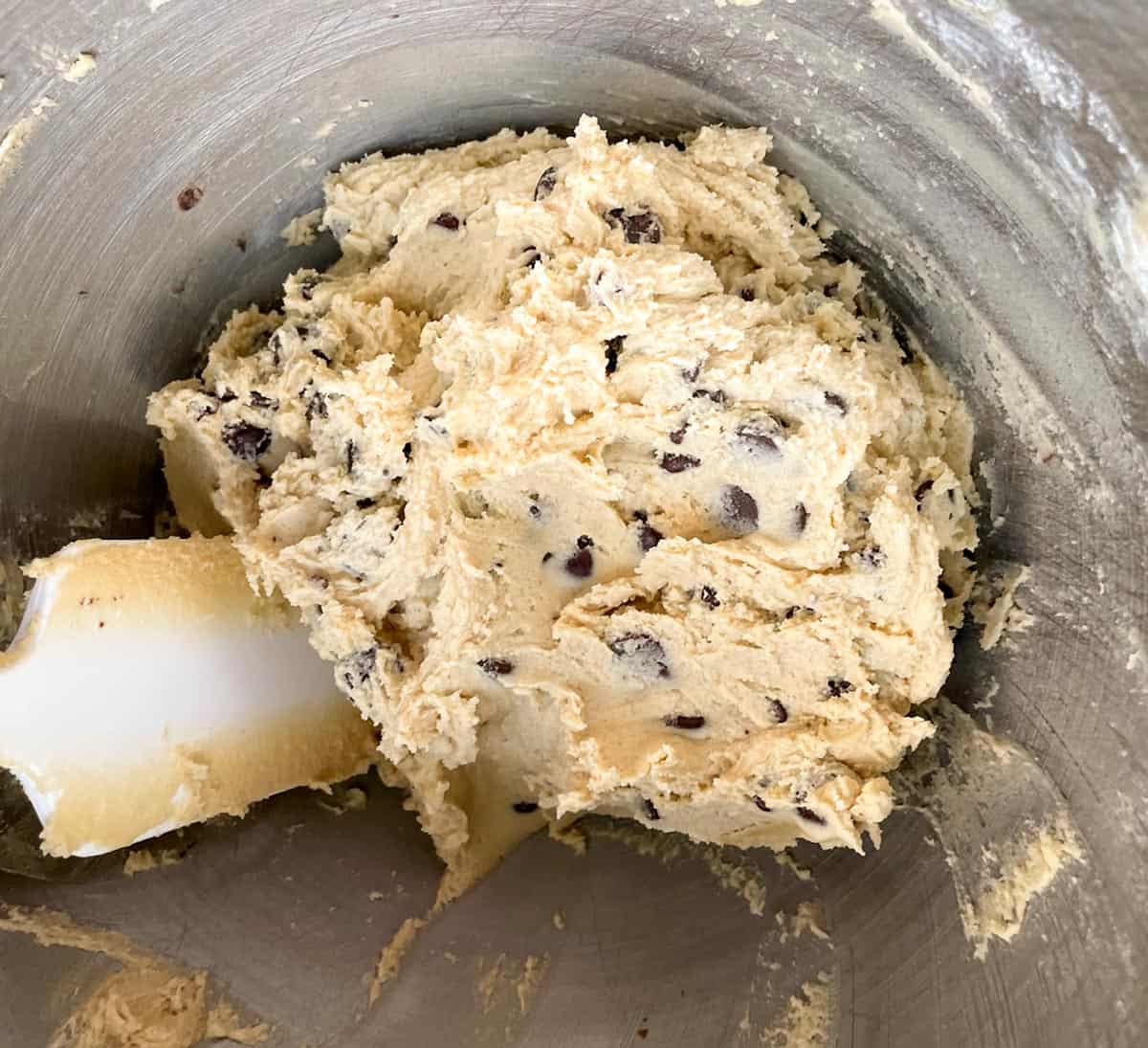 To chill or not to chill? I put the mixer bowl into the refrigerator while the oven was heating up, maybe 10 minutes, but that was all. Using a medium cookie scooper add 12 scoops to a sheet pan.
Bake at 350°F (175°C or 180°C) for 12-14 minutes, just long enough for the edges to get a golden brown. Try not to overbake.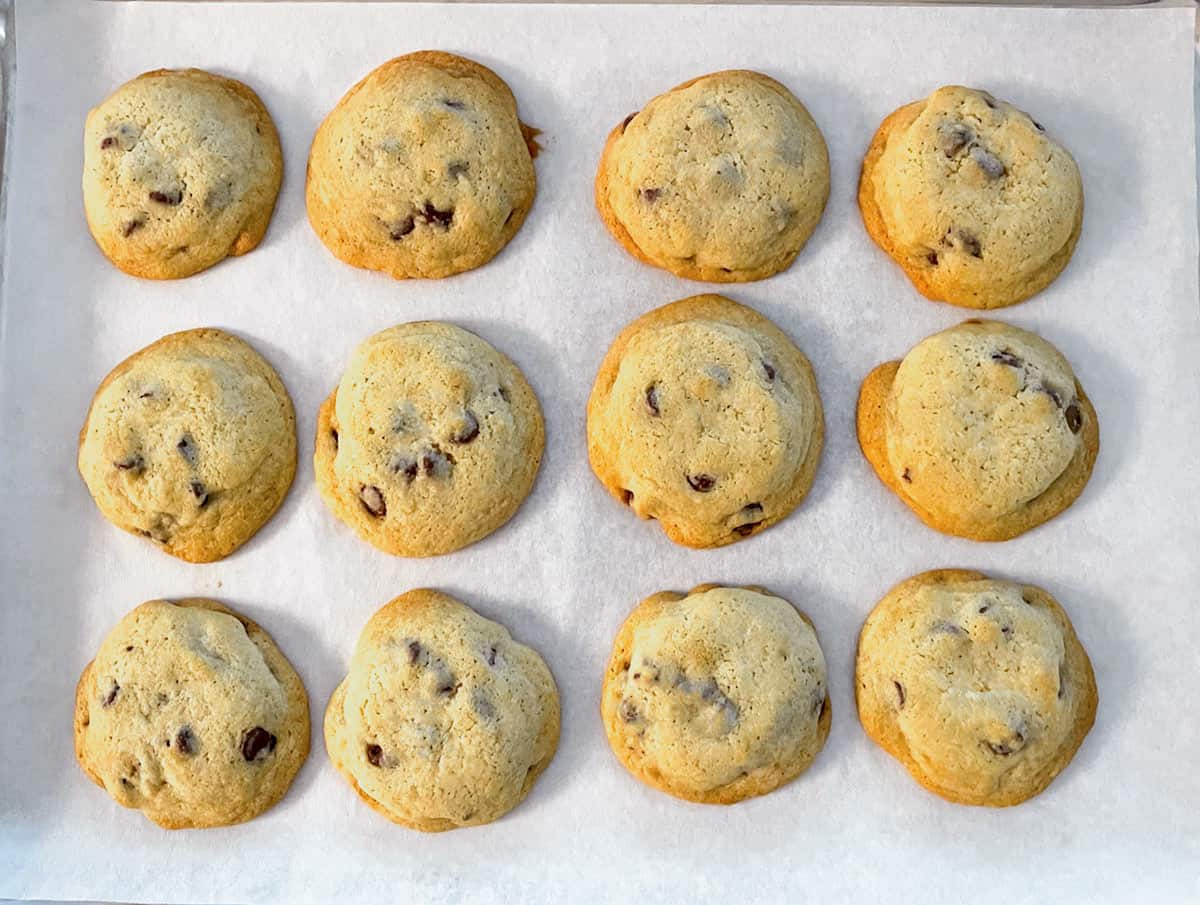 I leave the cookies on the sheet pan for about a minute before moving them to a rack to finish cooling.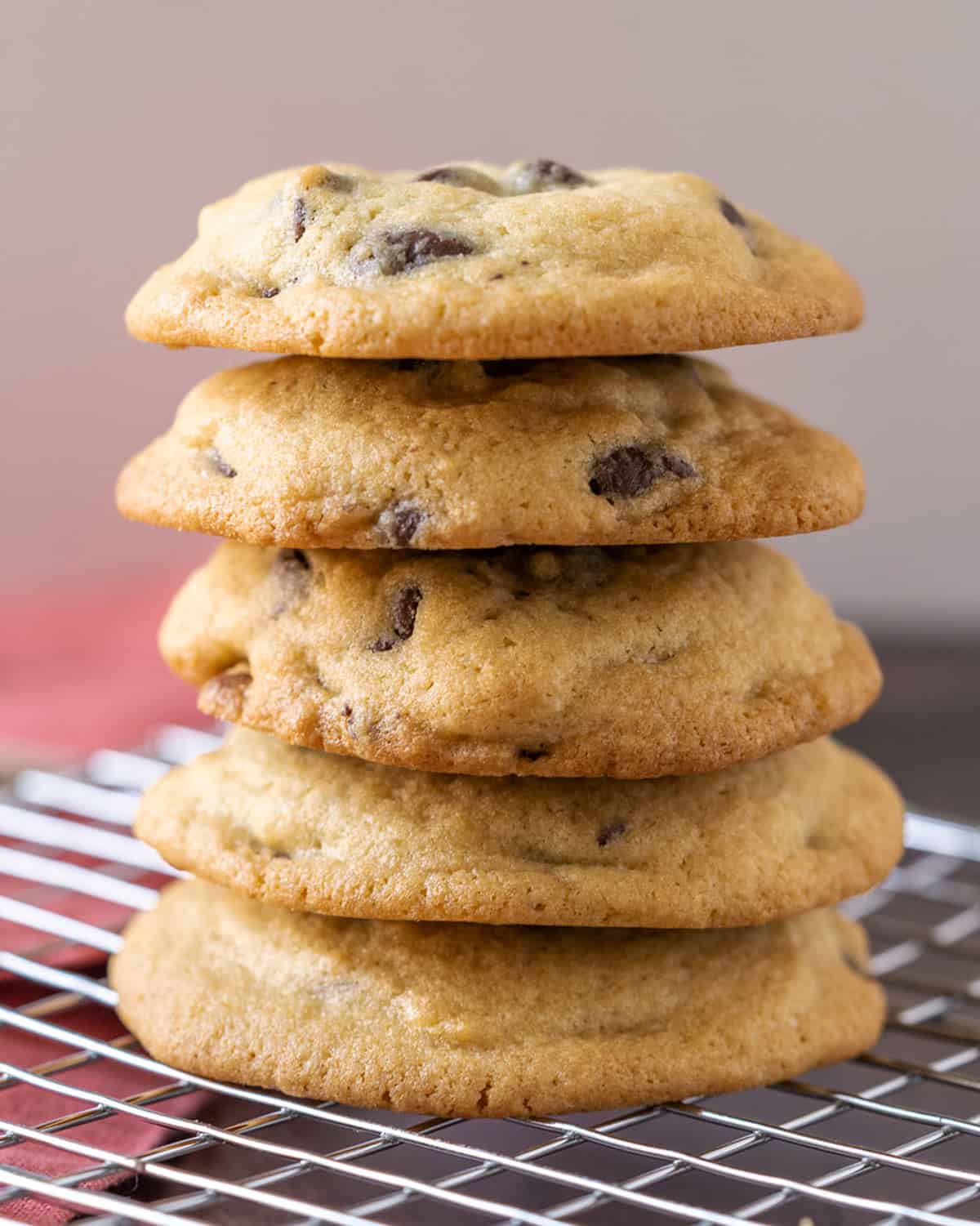 FAQ's
Can I add nuts to my chocolate chip cookies?
Yes! I am always adding nuts to my cookies. Almost any nut goes well with chocolate. If you have a favorite, add it you will be amazed at your creation.
How to store your chocolate chip cookies?
Store cookies in an air-tight container. They should stay good for 5 to 7 days.
Can I freeze my cookie dough for later?
Yes, the way I do it is to have a cookie sheet pan that will fit in the freezer and line it with parchment paper. I scoop out the cookie scoops and line up the scoops. You don't need to space them out. Just fit as many as you can on the sheet pan.

Freeze them, then put the frozen cookie scoops into a freezer bag and stick them back into the freezer. They will keep it for a couple of months. Let them thaw before baking.
How do I keep chocolate chip cookies fresh and soft?
If your cookies start to get dry, add a piece of bread to your container, and it will add moisture back into the cookies.
Do I have to use semisweet chocolate chips?
No, not at all! Although the traditional chips have been semisweet, you can do half and half of semisweet and milk chocolate. You can also do dark and white chocolate. Mix and match whatever flavors you love.
Other Chip Cookies
Recipe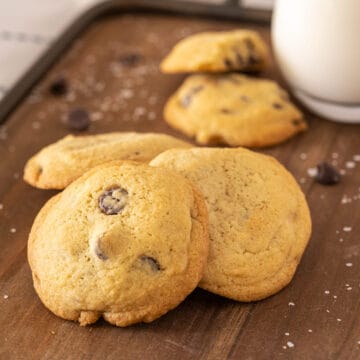 My Best Chocolate Chip Cookies
Barbara Hall
These chocolate chip cookies were a hit and so easy to make. A great recipe to make with the kids.
Ingredients
1

cup

(

227

g

)

Butter unsalted

Room temperature

⅓

cup

(

73.33

g

)

Light brown sugar

¾

cup

(

150

g

)

Sugar white

2

(

2

)

Egg

2 ¼

teaspoons

(

2.25

teaspoons

)

Vanilla Extract

2 ¾

cups

(

330

g

)

All-purpose flour

1 ½

teaspoon

(

1.5

teaspoon

)

Baking soda

½

teaspoon

(

0.5

teaspoon

)

Kosher Salt

1 ½

cups

(

262.5

g

)

Semi-Sweet Chocolate Chip
Instructions
Weigh or measure the brown and the white sugars and set them aside. In another bowl, weigh the flour, Kosher salt, baking soda and run a whisk through to blend.

In a stand mixer, mix the butter and sugars on a medium speed for 2-3 minutes until light and fluffy looking. Add the vanilla extract, then add one egg at a time, mixing until blended. I scrape down the sides and across the bottom. Slowly mix the dry ingredients into the wet until everything is combined. Add the chocolate chips and mix for a few seconds; mix by hand if they look unevenly distributed throughout the cookie dough.

Refrigerate for about 10 minutes while the oven is heating up.

Heat oven to 350°F (175°C or 180°C), line 2 baking sheet pans with parchment paper or silicone baking mats. Using a medium cookie scoop, add 12 scoops to a sheet pan. Bake for 12-14 minutes until the edges are golden brown. I leave them on the baking sheet for 1 minute before moving to a cooling rack to finish.
Notes
An alternative is you can swap out the light brown sugar for dark brown sugar. Another choice is to add ½ tablespoon of unsulphured molasses. Either of these options will give you a more molasses taste. I like Grandma's Original.
NUTRITION DISCLAIMER
I am not a certified Dietitian or Nutritionist. The nutrition amounts given below are provided through a program and are only a guideline.
Nutrition
Calories:
181
kcal
Carbohydrates:
22
g
Protein:
2
g
Fat:
10
g
Saturated Fat:
6
g
Polyunsaturated Fat:
1
g
Monounsaturated Fat:
3
g
Trans Fat:
1
g
Cholesterol:
23
mg
Sodium:
101
mg
Potassium:
78
mg
Fiber:
1
g
Sugar:
12
g
Vitamin A:
191
IU
Calcium:
16
mg
Iron:
1
mg