One of my favorite candies is chocolate-covered cherries, so this is a cookie version of that treat. My store offers dried regular, sweet, and tart cherries during the fall and winter months. Of course, you go by your taste on which one you use for this cookie, but I used regular dried cherries.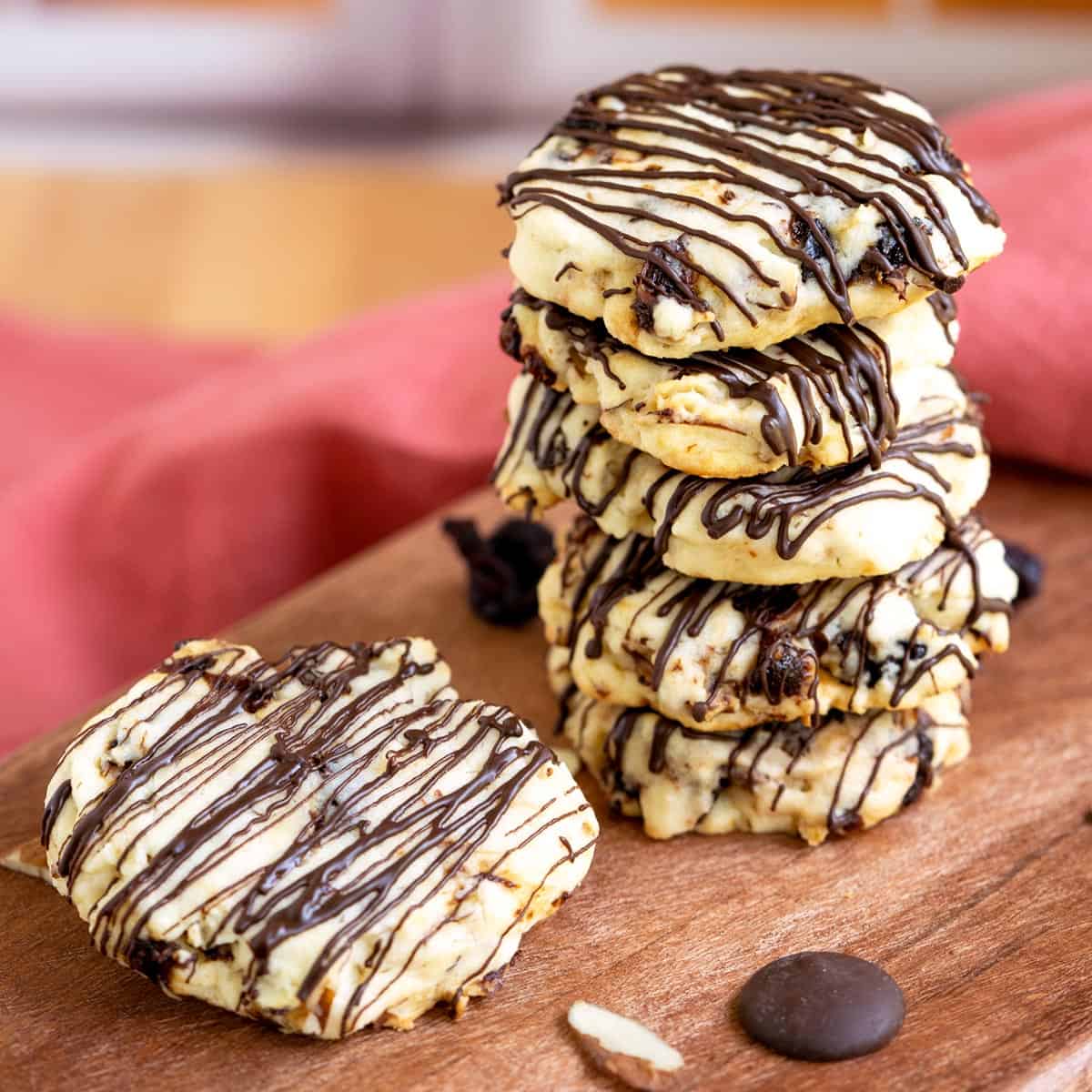 I decided I wanted a rustic style of cookies, so my almonds were sliced with the outside still on them. I think they give a more almond taste.
Ingredients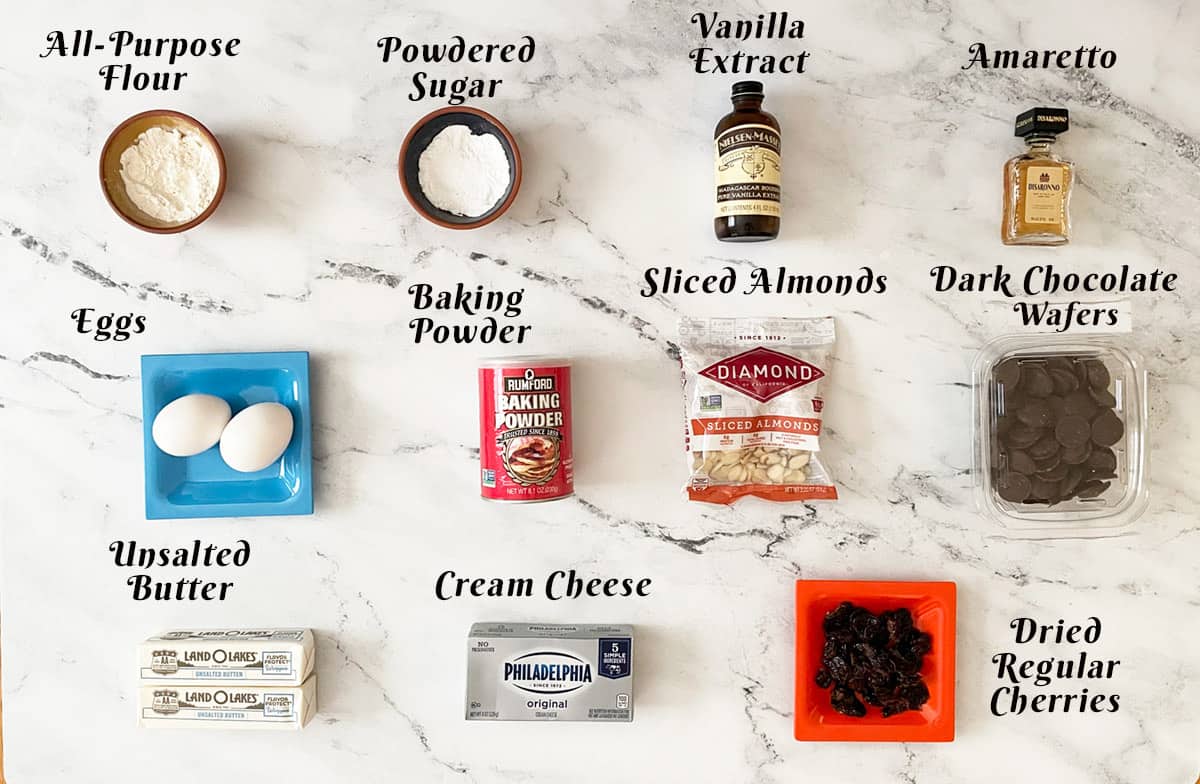 Jump to Recipe for Amounts
Cream Cheese
Butter unsalted
Powdered sugar
Eggs
Baking powder
Dried cherries
Almonds sliced
Vanilla Extract
Amaretto
Dark chocolate wafers
Infusing Dried Cherries
I also researched cherries to find flavors that would compliment the cherry taste and found an interesting fact about cherry pits. When you crack open a cherry hole, it has the essence of almonds.
Now will I crack open some cherry pits for the almond flavor, I don't think so. But I did add a little amaretto (I used Disaronno) to give a little almond kick. You can add ½ teaspoon of almond extract if you do not have any amaretto.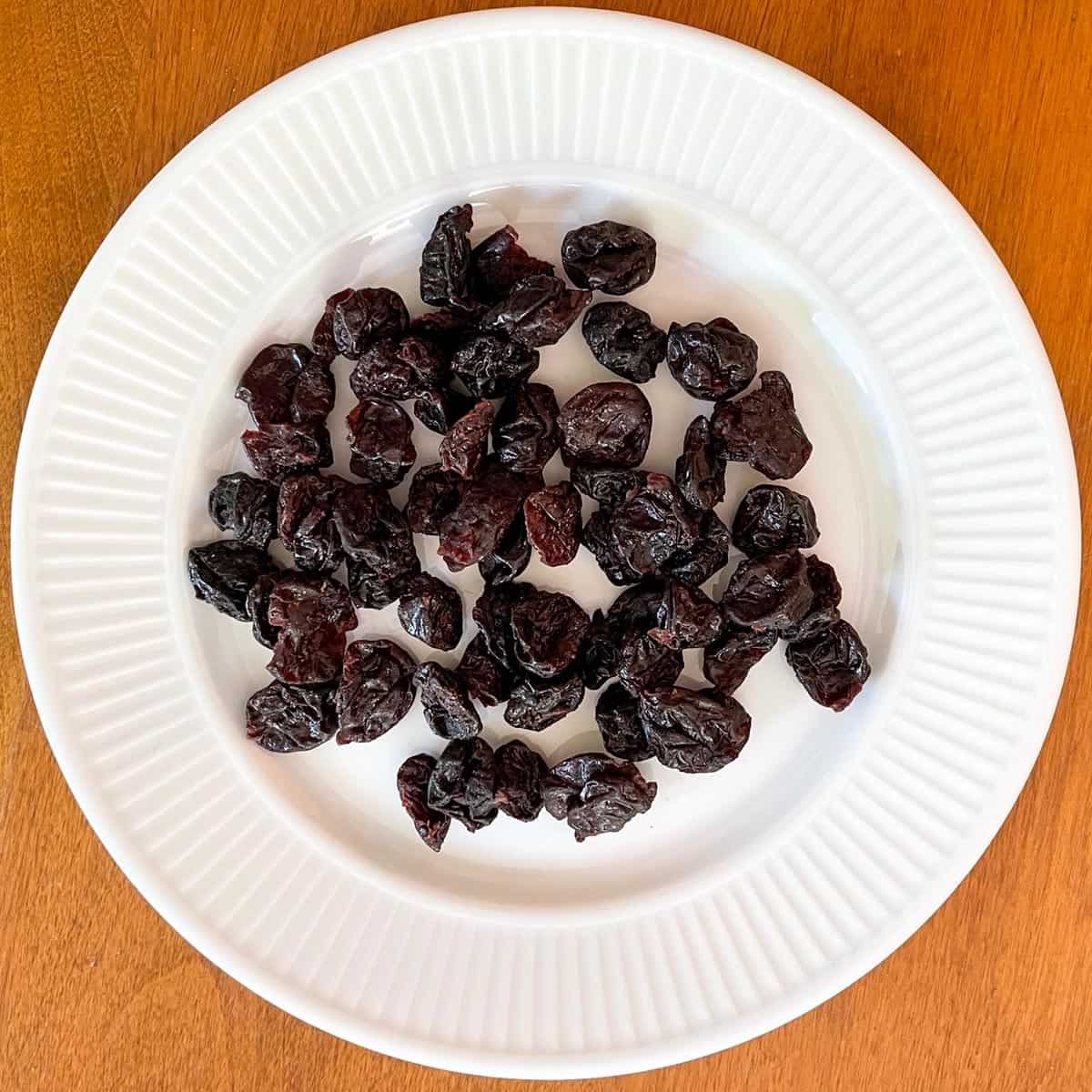 The dried cherries are a little bigger than raisins.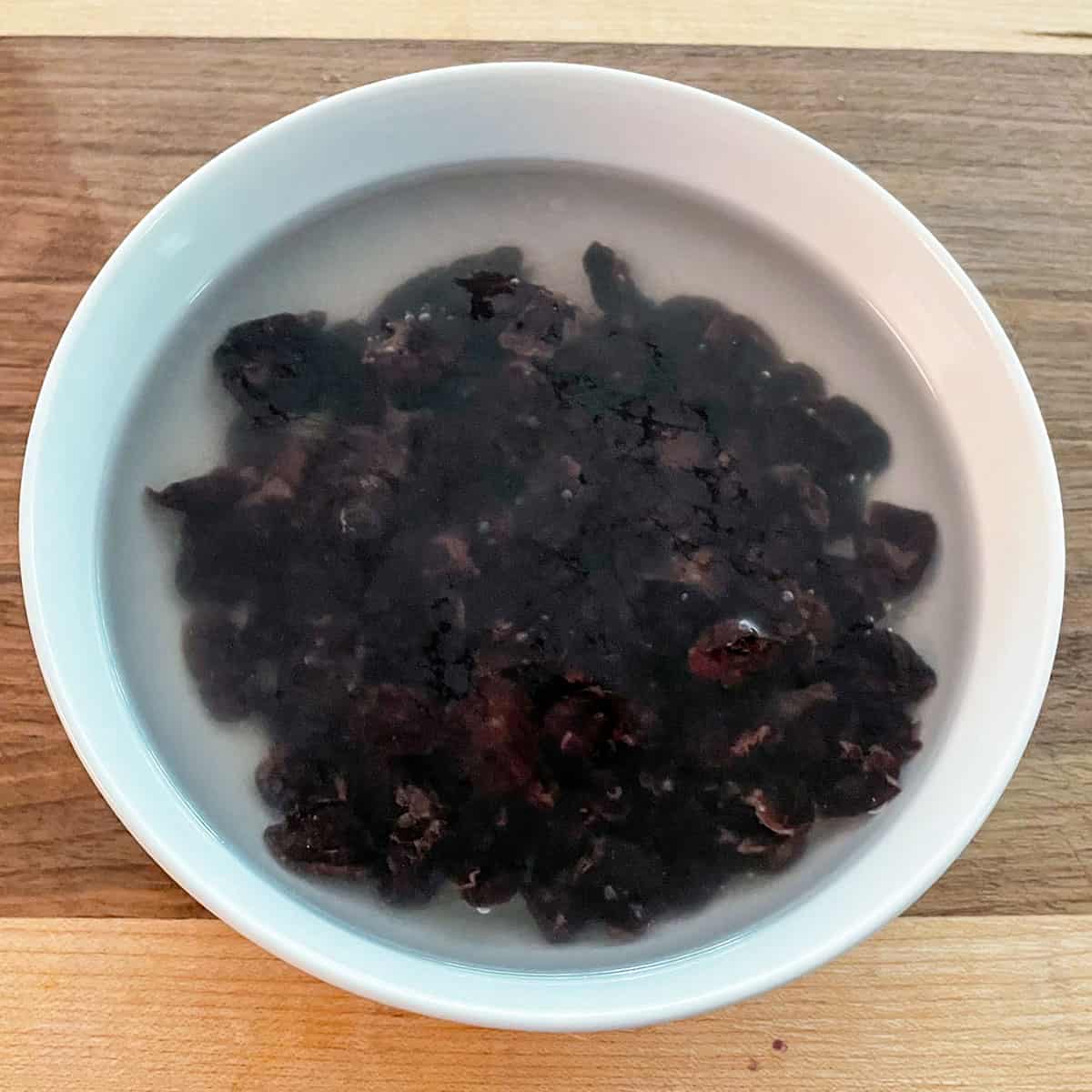 Add the dried cherries to a bowl and cover them with clean, cool water. I wash them and then drain and add new clean water along with the amaretto. I soak them for 5 to 10 minutes. Then drain in a colander.
Once drained, I lay them on a paper towel to absorb most of the liquid. I change out the paper towels after they have sat for 5 minutes. Set the cherries aside while you make the cookie dough.
Mixing Cherry Almond Cookie Dough
Weigh or measure the flour and baking powder into a bowl. Then, I run a whisk through to blend. Also, weigh or measure the powdered sugar into another bowl and set it aside.
Add the butter and cream cheese to a mixer bowl and blend on medium speed until they are incorporated about 3 minutes. Next, turn the mixer to a low rate and gradually add the powdered sugar until blended into the butter-cream cheese mixture.
Scrape the bowl and turn the mixer on to medium speed. Add one egg at a time. I crack one egg into a small bowl first to ensure I do not have any egg shells before adding it to the cookie dough. Follow the eggs by adding the vanilla extract.
Turn the mixer speed to a low setting and gradually add the flour mixture. I never do this step for very long because it will make a tough cookie. So just for a minute, to blend the flour mixture into the wet cookie dough.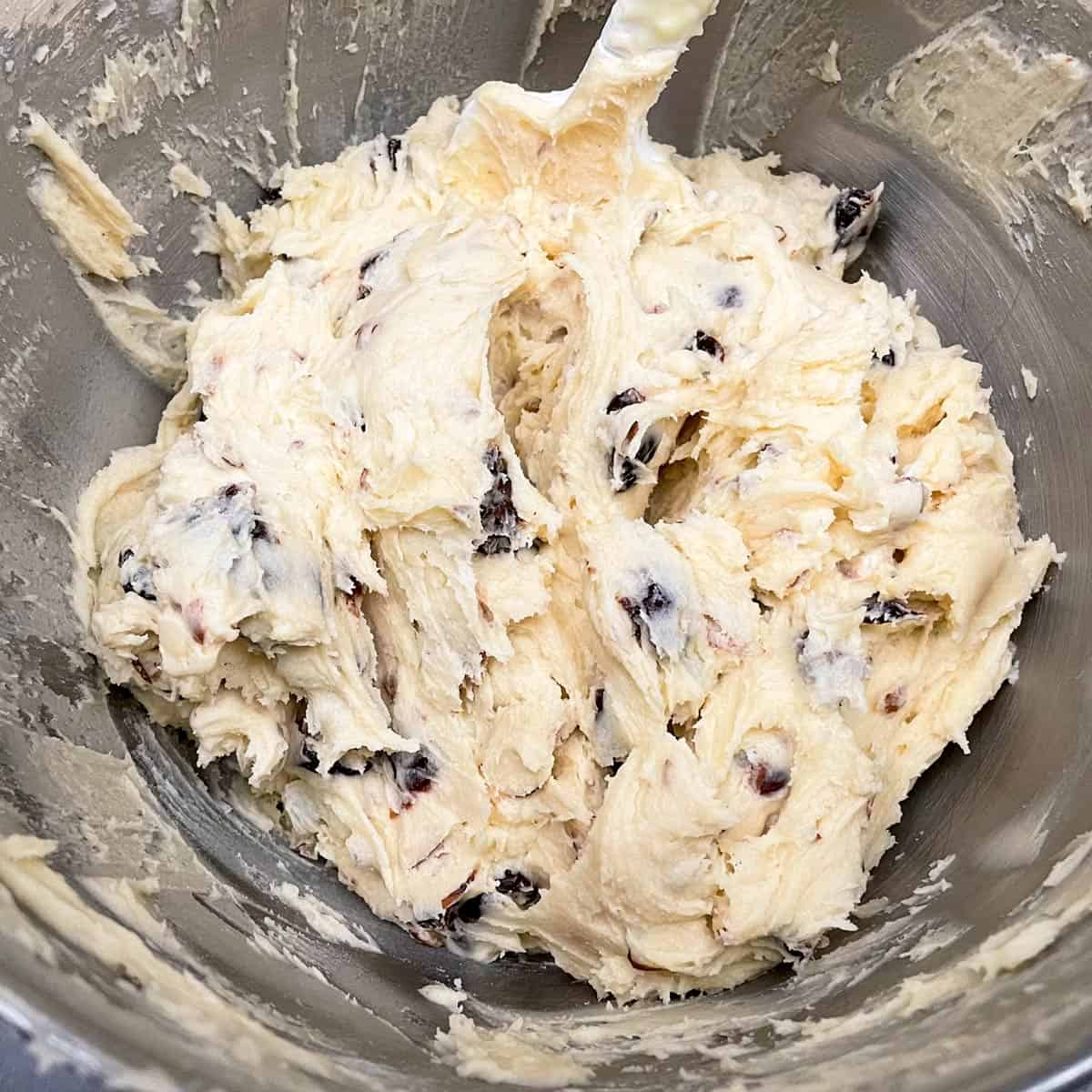 Scrape the bowl and add the infused cherries along with the sliced almonds. Turn the mixer on for about 30 seconds. Of course, you can always use a nice firm spatula (this is my favorite) to finish blending so you don't break up the cherries.
Chill and Bake
Cover the mixer bowl and refrigerate for 1 hour. You want the butter, cream cheese, powdered sugar, and flour to meld together.
Take a cookie sheet pan and line it with parchment paper. Taking a medium cookie scooper, I add 12 scoops to a pan. I overfilled the scooper a little for these cookies. Flattening them out a little before baking will give you a kind of rustic-looking cookie.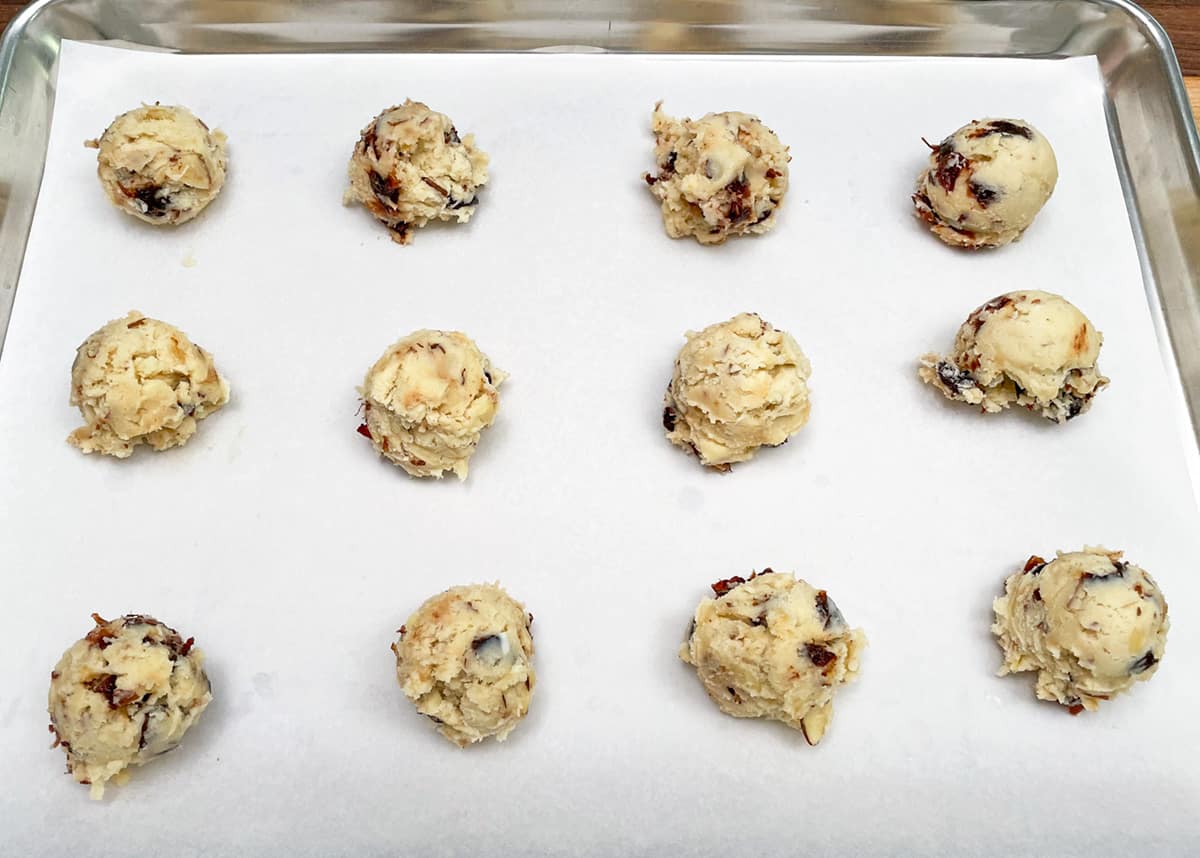 A trick I use for flattening my cookie dough mounds is to put something between the bottom of the glass and the cookie mound. You can use parchment paper or wax paper which seem to work well.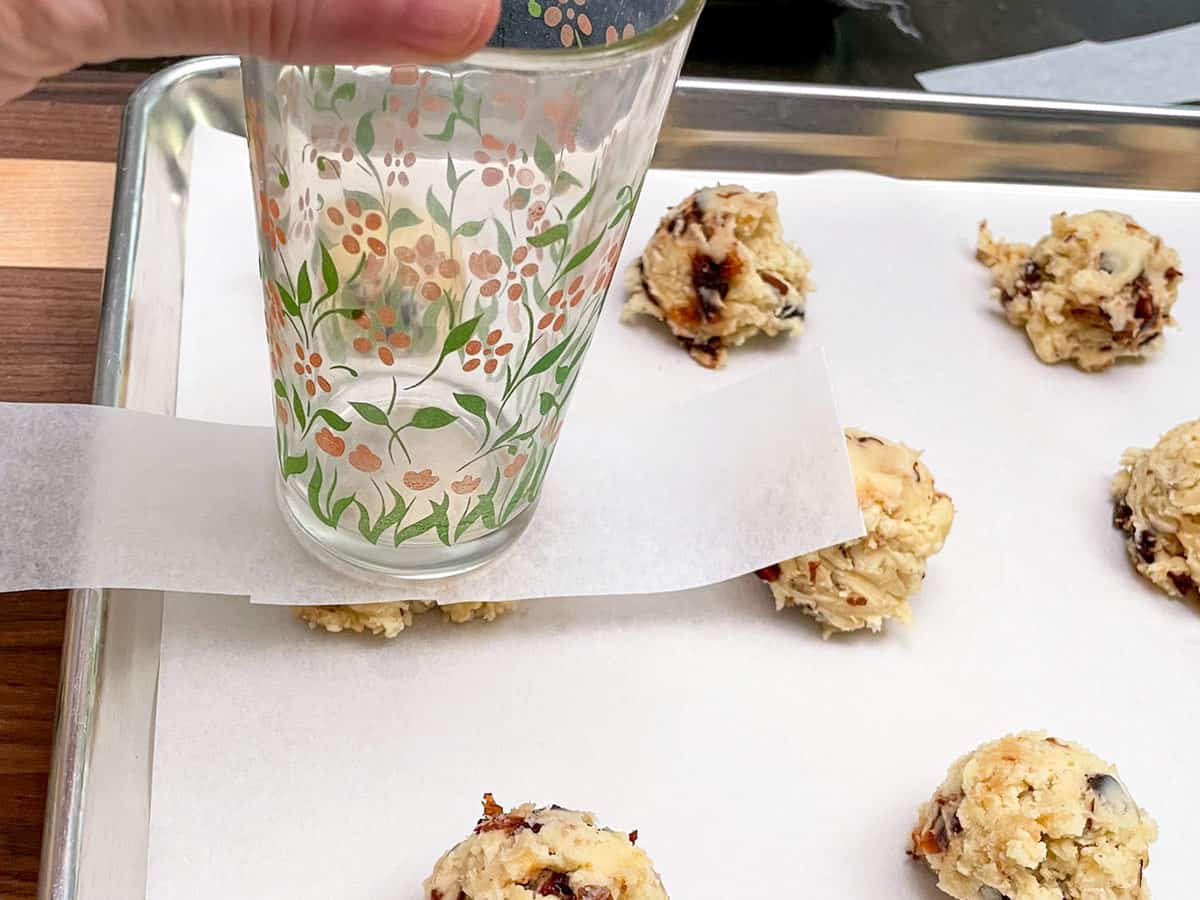 I cut a few strips of parchment paper and used a regular drinking glass to flatten out the cookie mounds.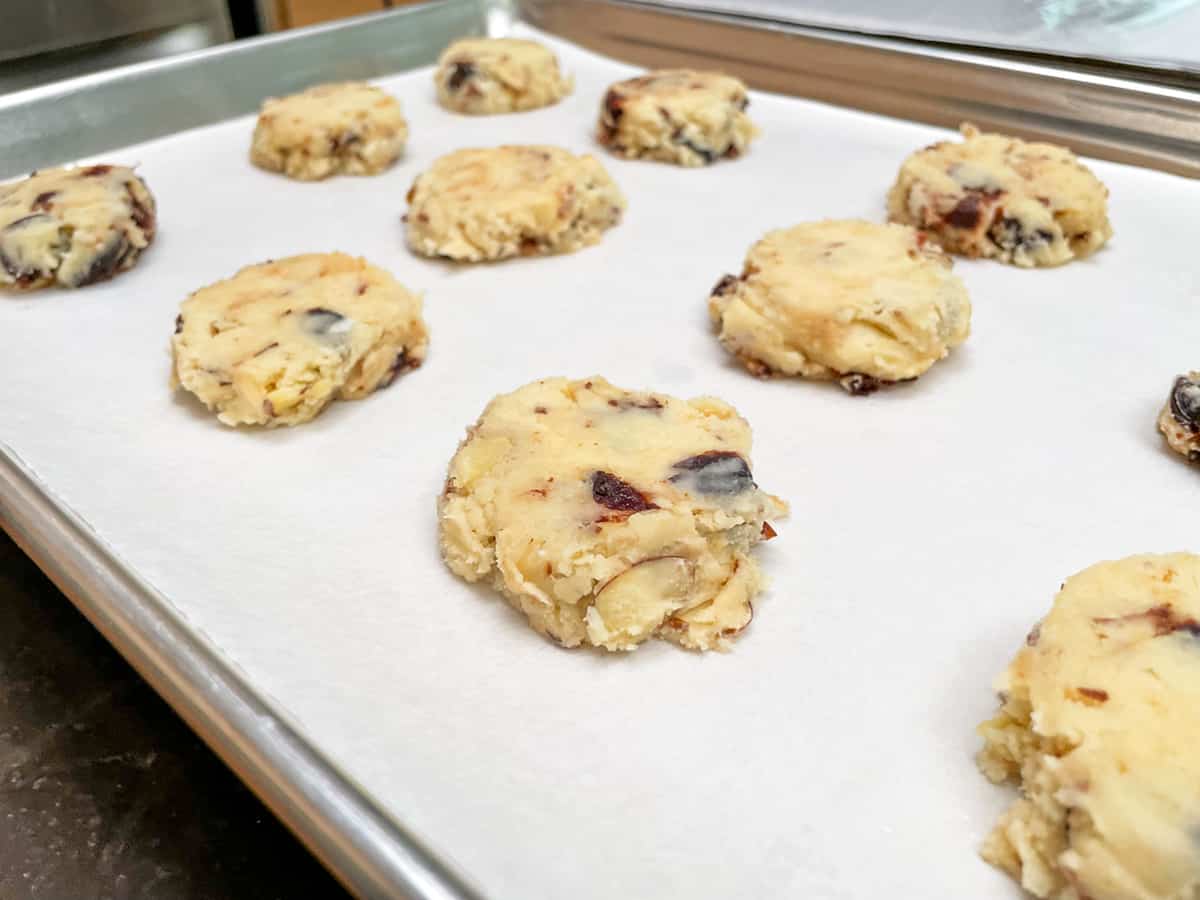 These are about ¾" thick after you flatten each of the mounds.
Bake at 350°F (175°C or 180°C) for 13-15 minutes. Move them to a cooling rack and let them cool completely before starting the dark chocolate drizzle.
Making Dark Chocolate Drizzle
I like adding a flavor on top of my cookies but didn't want to overpower the taste of the cherries, so I picked up a package of dark chocolate wafers to melt for the drizzle.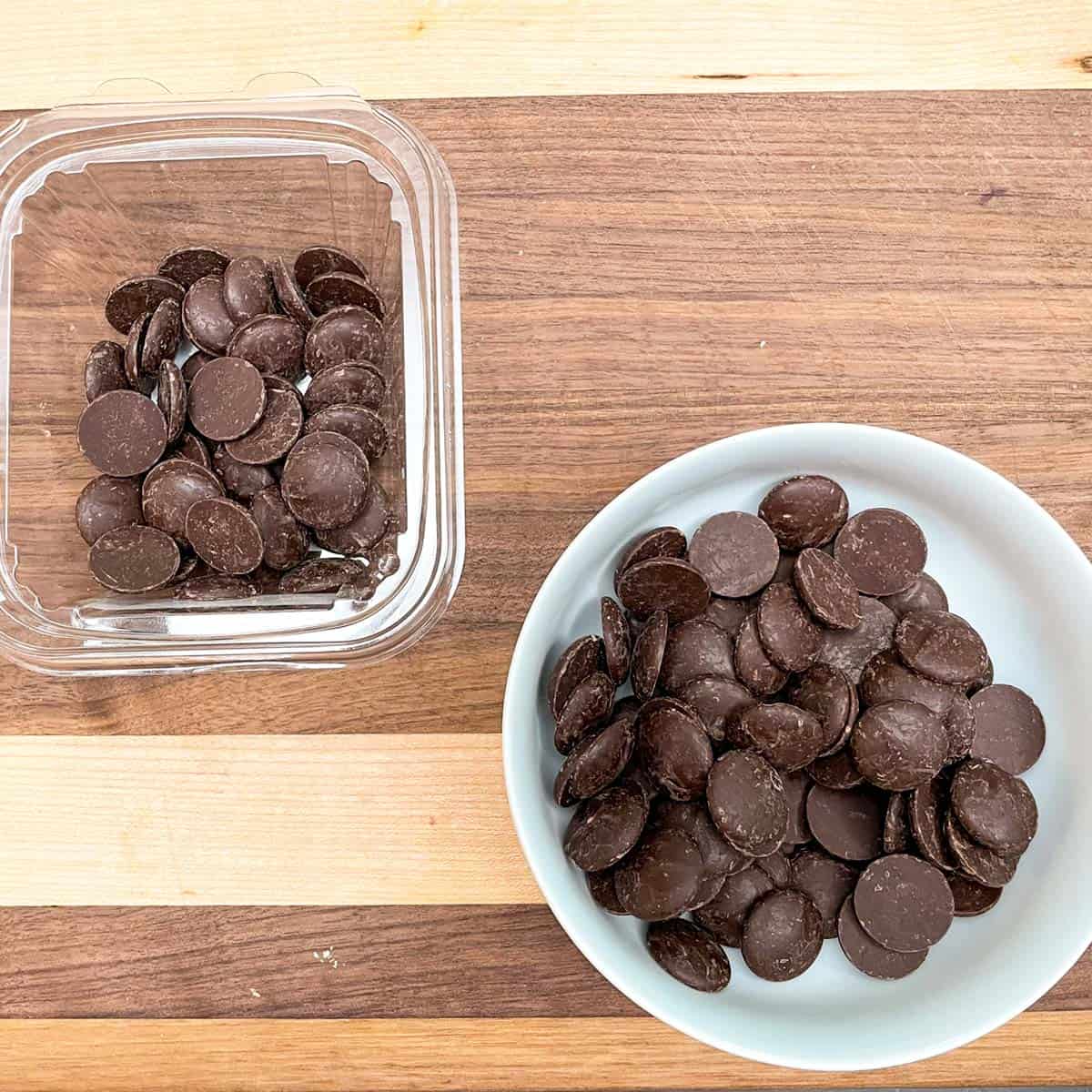 Add wafers to a microwaveable bowl and microwave them for 30 seconds. Take out the bowl and stir. They will be barely starting to melt. Then do another 30 seconds and stir again.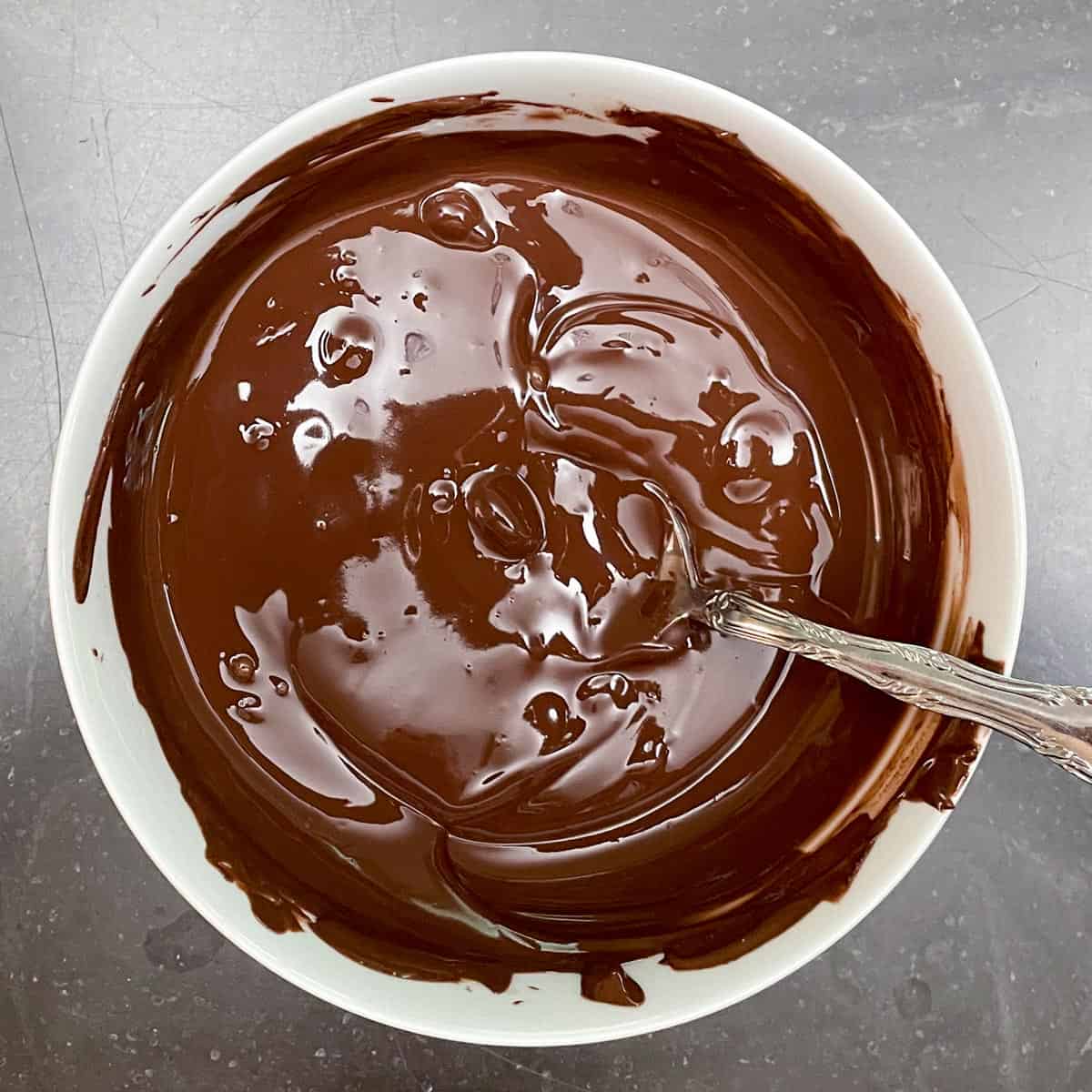 You may have to do another 15 seconds, and that should do it. If you heat it too long, it will get hard and dull looking. So only do 15-second intervals after the two 30-second. You want it shiny and smooth.
Take some parchment paper and stick it under the cooled cookies, so the chocolate does not go all over your counter.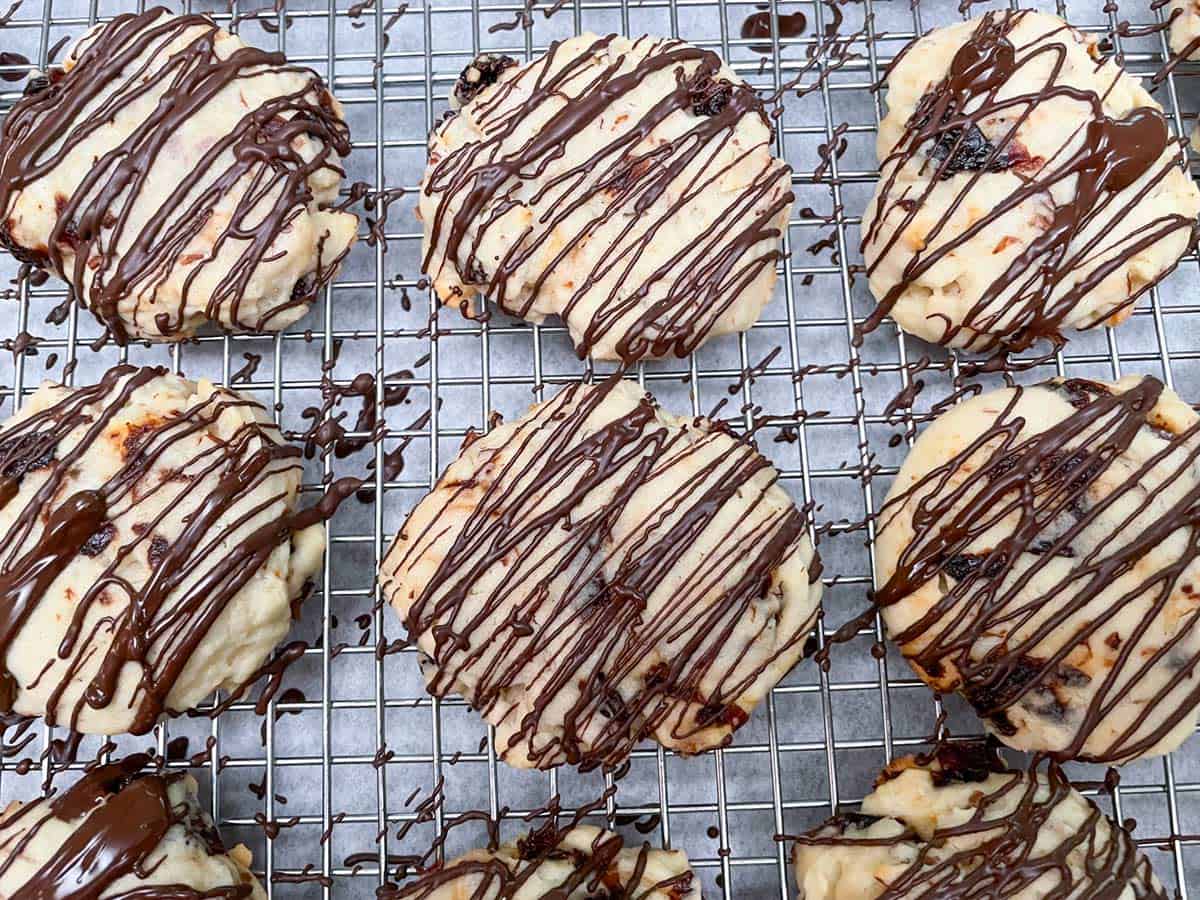 Keeping a spoonful of chocolate a couple of inches above your cookie go back and forth and add your chocolate to the top of the cookie. Keep in mind that dark chocolate has a stronger taste, so you do not need much to add flavor. You can try adding a little to a cookie and increasing the amount of chocolate until you find your sweet spot.
My husband is a dark chocolate hound, so he is a happy camper this week.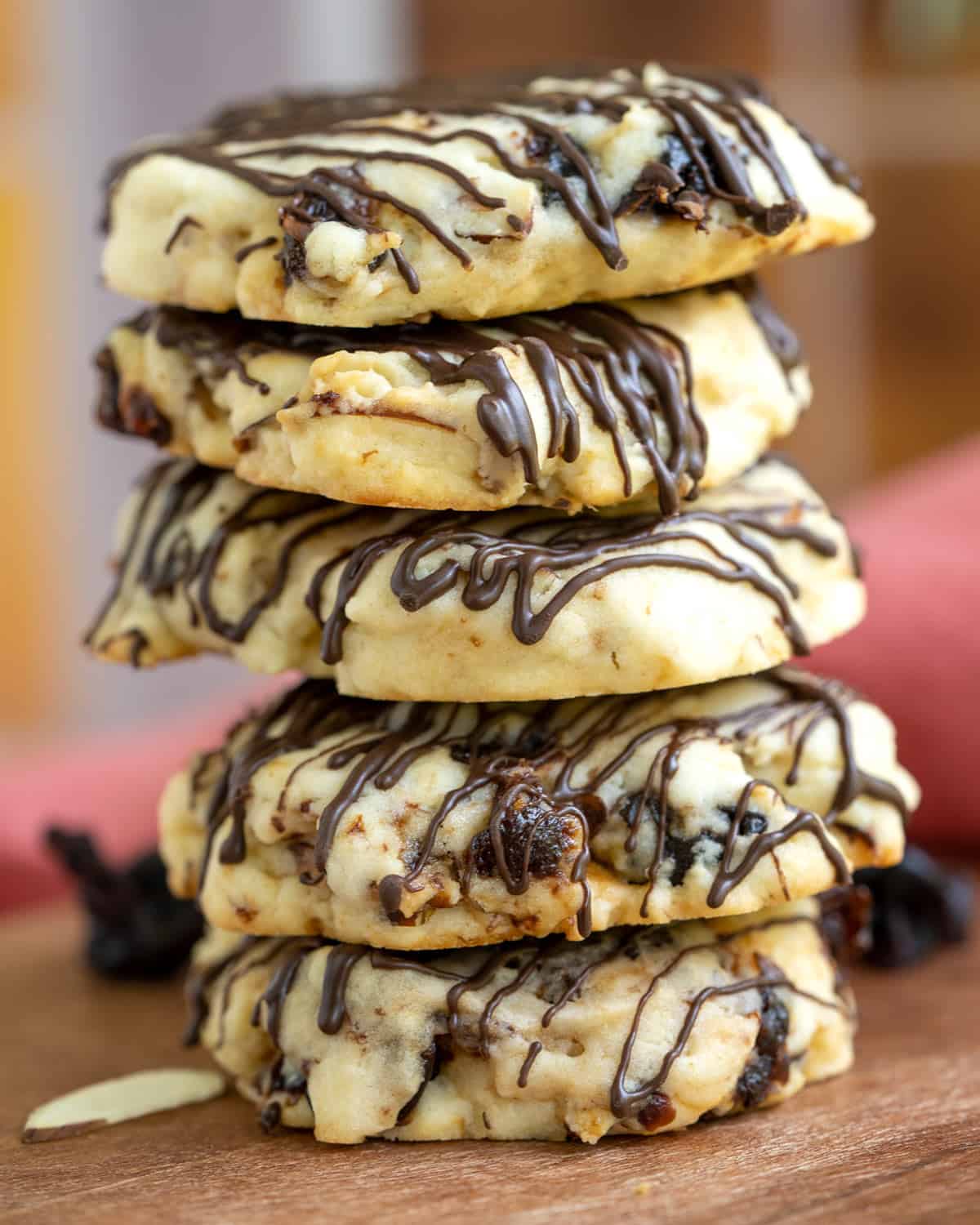 Storage
I keep these cookies in an air-tight container. They will last for 5-7 days. The great thing about a container with a lid is you can make them air-tight or not depending on how the cookies adjust. Some cookies seem to get really soft so just leave the lid on loosely, and they will firm up.
Other Cherry Cookies
Recipe
Cherry Almond with Dark Chocolate Drizzle Cookies
Barbara Hall
Cherries pair perfectly with almonds, and then to add sweetness but not overpower the cherry, I added just a touch of dark chocolate on top.
Ingredients
3 ⅔

cups

(

458.33

g

)

All-purpose flour

8

oz

(

226.8

g

)

Cream Cheese

1

cup

(

227

g

)

Butter unsalted

2 ⅔

cups

(

320

g

)

Powdered sugar

2

(

2

)

Eggs

1

teaspoon

(

1

teaspoon

)

Baking powder

1 ¼

cup

(

151.52

g

)

Dried cherries

1 ¼

cup

(

178.75

g

)

Almonds sliced

1

teaspoon

(

1

teaspoon

)

Vanilla Extract

½

teaspoon

(

1

teaspoon

)

Amaretto

¾ to 1

cup

(

135

g

)

Dark chocolate wafers
Instructions
Infuse Cherries
My dried cherries were a little bigger than raisins, and I wanted to plump them up. Cover them in cool water and rinse and drain. Then cover them again with cool water and add the amaretto. Leave them in the water for 5 to 10 minutes before draining them. I put paper towels down and lay the cherries on the paper towels to absorb some of the liquid. Set them aside.
Cookie Dough
In a bowl, weigh or measure the flour and baking powder. Run a whisk through to blend. In another bowl, weigh or measure the powdered sugar and set it aside.

Cream the butter and the cream cheese together, mixing on a medium speed for about 3 minutes. Turn the mixer down to slow speed and gradually add the powdered sugar until incorporated. Turn the mixer speed back to medium-low and add one egg at a time, followed by the vanilla extract. Scrape the bowl down.

Gradually add the flour baking powder mixture. I stop and scrape the bowl down the sides and across the bottom to make sure all the flour is incorporated. Add the almond slices and add the cherries last. Just mix long enough to spread the cherries around in the cookie dough. Be careful not to mix too long, or it will break the cherries into small pieces. You can mix the cherries a little by hand with a spatula if needed. Cover the cookie dough loosely and put it into the refrigerator for 1 hour.

Take the cookie dough out of the refrigerator, and add 12 scoops to a pan using a medium cookie scooper. I overfill the scooper a little, so I can flatten the cookie mounds. I take a piece of parchment paper, put it between the cookie mound and the bottom of a drinking glass, and press down lightly. I keep the cookies about ¾" thick.

Bake for 13-15 minutes at 350°F (175°C or 180°C). Move them to a cooling rack to finish cooling. Let them cool completely before starting the drizzle.
Drizzle
Take the dark chocolate chips and microwave them for 30 seconds. Stir and heat for another 30 seconds and stir. You can cut a tiny corner off a sturdy Ziplock bag or use a small pastry bag and a little hole size tip to squeeze the chocolate on top of each cookie. I freehand the chocolate by going back and forth with the chocolate on a spoon. You do not need much dark chocolate for the wonderful dark chocolate taste.
NUTRITION DISCLAIMER
I am not a certified Dietitian or Nutritionist. The nutrition amounts given below are provided through a program and are only a guideline.
Nutrition
Calories:
233
kcal
Carbohydrates:
26
g
Protein:
4
g
Fat:
13
g
Saturated Fat:
6
g
Polyunsaturated Fat:
1
g
Monounsaturated Fat:
5
g
Trans Fat:
0.2
g
Cholesterol:
29
mg
Sodium:
41
mg
Potassium:
111
mg
Fiber:
2
g
Sugar:
13
g
Vitamin A:
405
IU
Vitamin C:
0.02
mg
Calcium:
55
mg
Iron:
1
mg