Heart-shaped cookies are everywhere. Everyone is getting ready for Valentine's Day. Two of my favorite flavors are strawberry and chocolate, but finding a new twist on such classic flavors is getting more complicated every year. But I like this cookie. Most people use jam in their cookies for the ooey-gooey center that fills the cutout part of their cookies. I looked at all the strawberry jams and jellies at the store, and I love the clear red color in the strawberry jelly.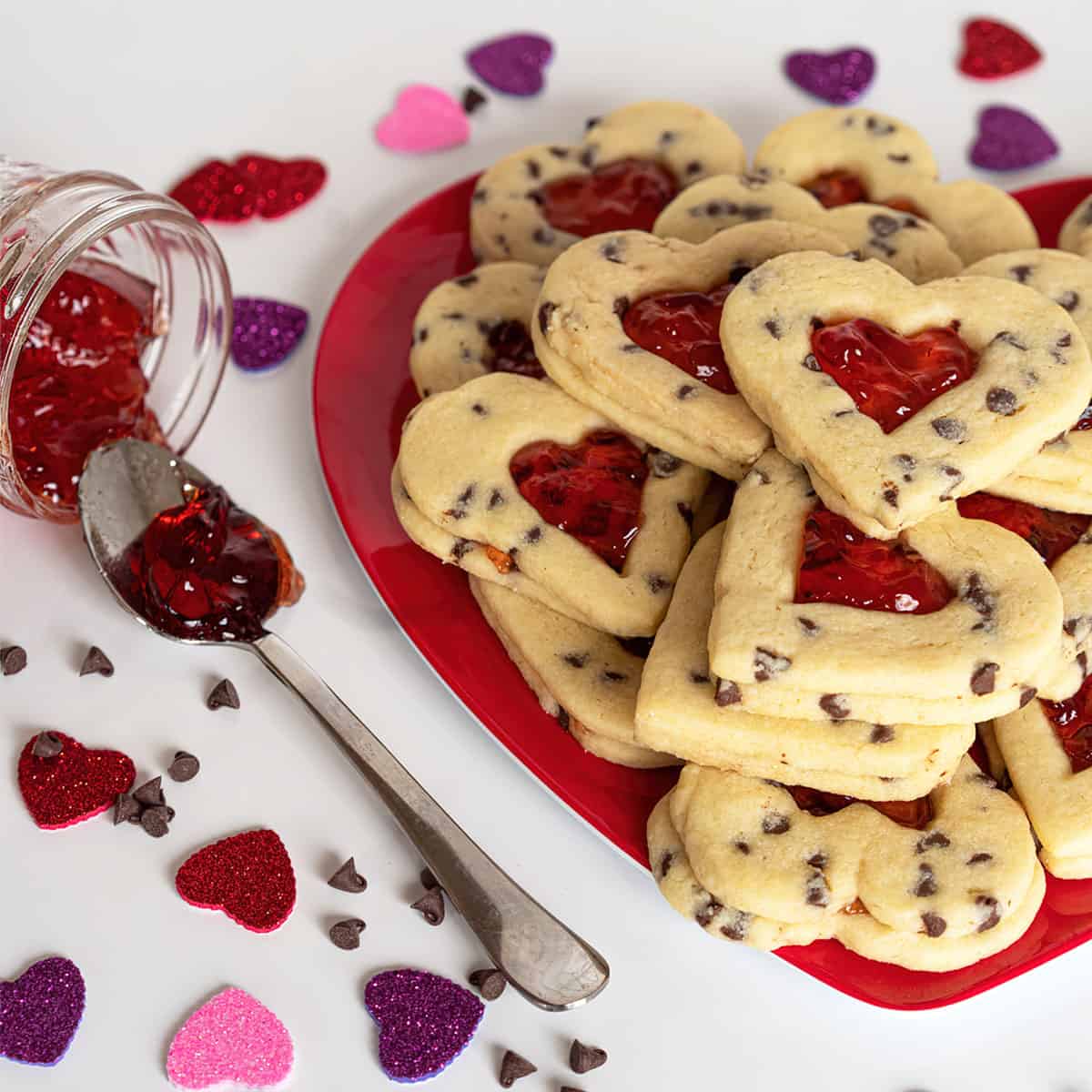 One of the challenges was the chocolate part. I wanted a light-colored cookie to show off the clear red strawberry jelly, so I opted for mini chocolate chips instead of a chocolate cookie. The great part about mini chocolate chips is their small size; you can make the cookie thin enough for two cookies together. They are also easy to roll out and not difficult to use a cookie cutter to cut through the dough.
I love my Dowel rolling pin. In fact, I have two. One is wooden, and the other is a BPA-free food-safe polyethylene. With so many companies either shut down or their supply is too low, I am having a hard time finding some of my tools in Amazon. Since I have two Dowel rolling pins, I will put the wooden in Tools I use. the only reason I did not use the wooden one is that I was too lazy to take the rolling rings off the polyethylene Dowel rolling pin and put them on the wooden one. I love them both. They do take a little getting used to, but I enjoy using them.
Ingredients You Will Need
Jump to Recipe
Butter unsalted
Sugar white
Vanilla Extract
Egg
All-purpose flour
Baking powder
Kosher Salt
Mini chocolate chips
Strawberry jelly
How to Make Jelly-Filled Cookies
To start, I weighed the sugar and set it aside. Next, I weigh flour, salt, baking powder and run a whisk to blend.
Mix the butter and the sugar on medium mixer speed for a couple of minutes. Next, add the vanilla extract and the egg. Next, scrape down the bowl and gradually add the flour mixture. Finally, add the mini chocolate chips. No chill time for this cookie!
Roll out part of the cookie dough about 3/16" thick. Remember that this will be two cookies together to make one complete cookie. You can use any size heart cookie cutter as long as the small one will fit inside of the larger one. Mine was 2-½" for the big one and 1-¼" for the small one. These came in a set from Williams Sonoma called de Buyer Cookie Cutter Heart Set.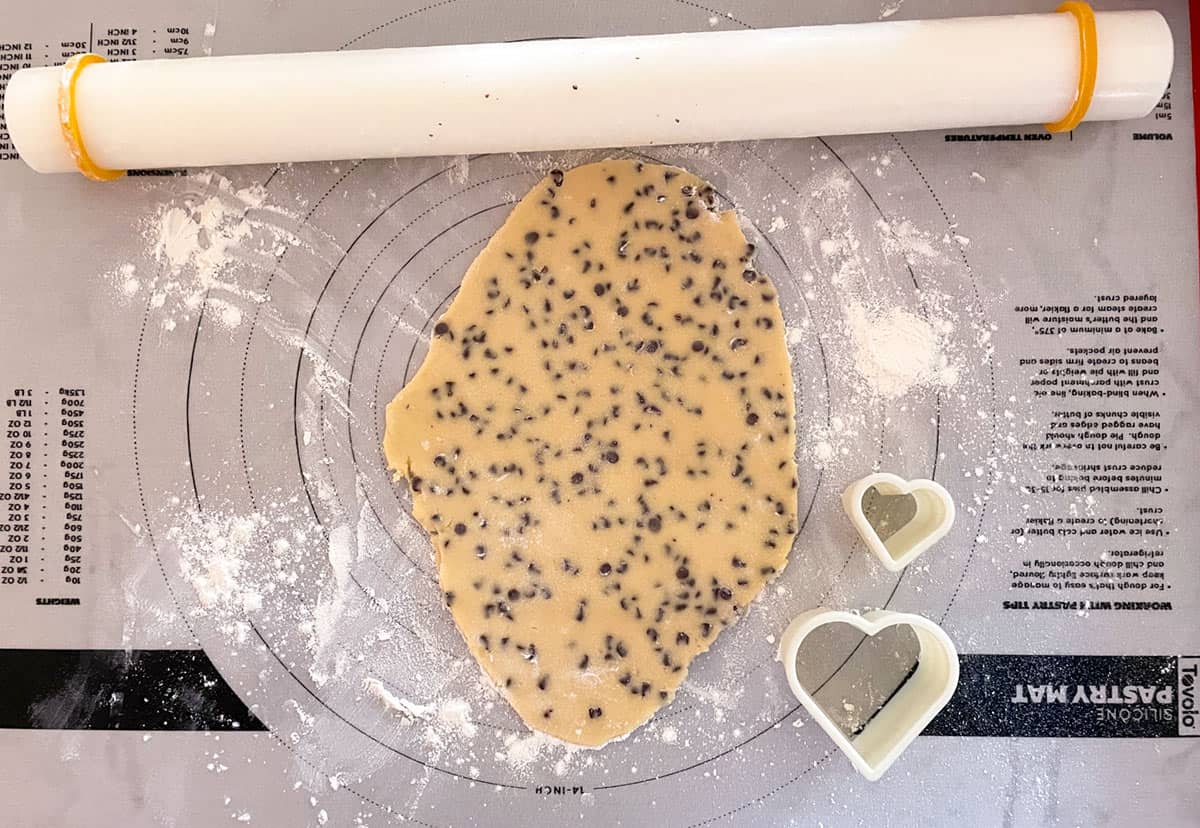 Cut out 12 larger hearts and lay them on a parchment-lined cookie sheet pan. Now take the small heart and cut the middle out of 6. This sheet pan now has six bottom cookies and 6 top parts of cookies.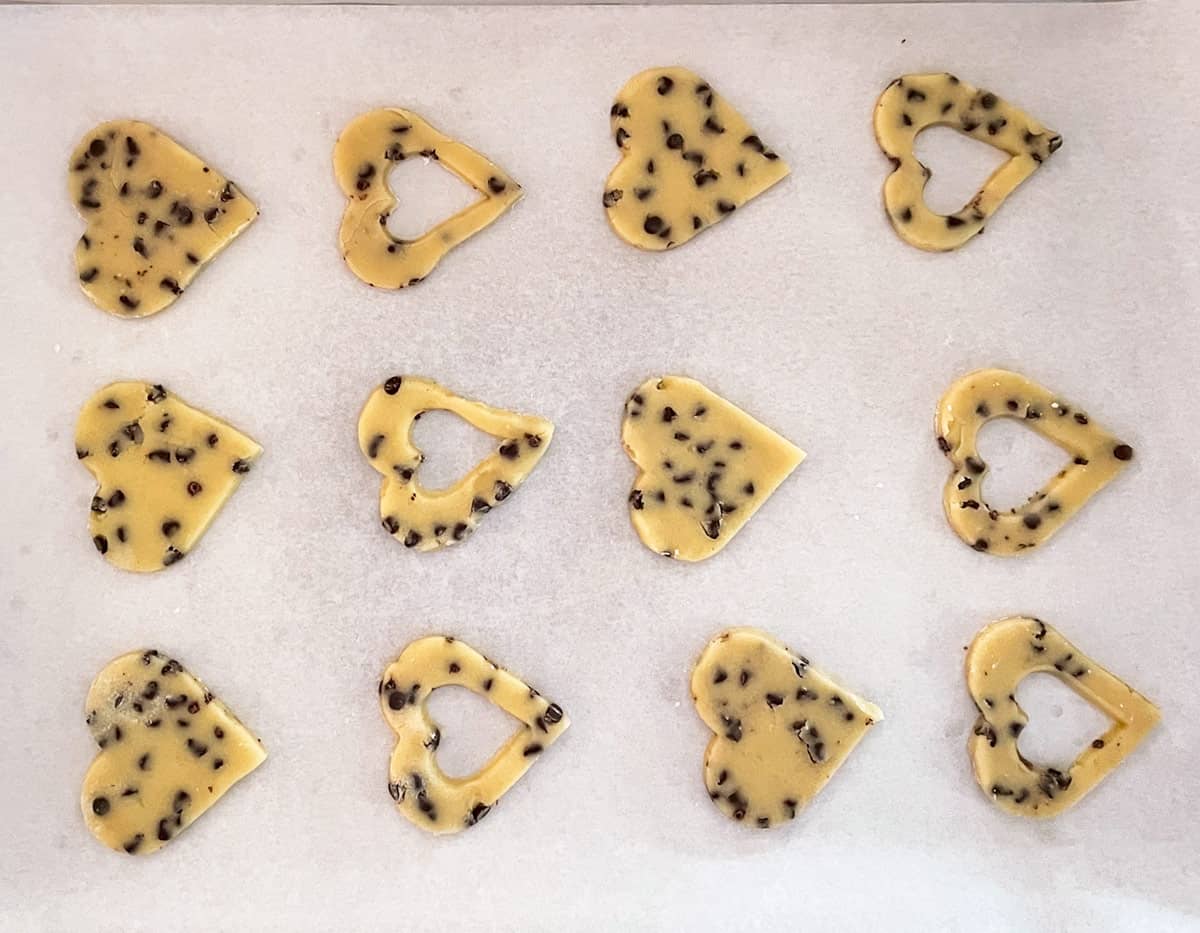 Bake at 350° for 6-7 minutes. Move them to a cooling rack after you take them from the oven.
Once they have cooled, place a teaspoon of the strawberry jelly. I used jelly instead of jam only because I wanted the transparent see-through that jelly gives me.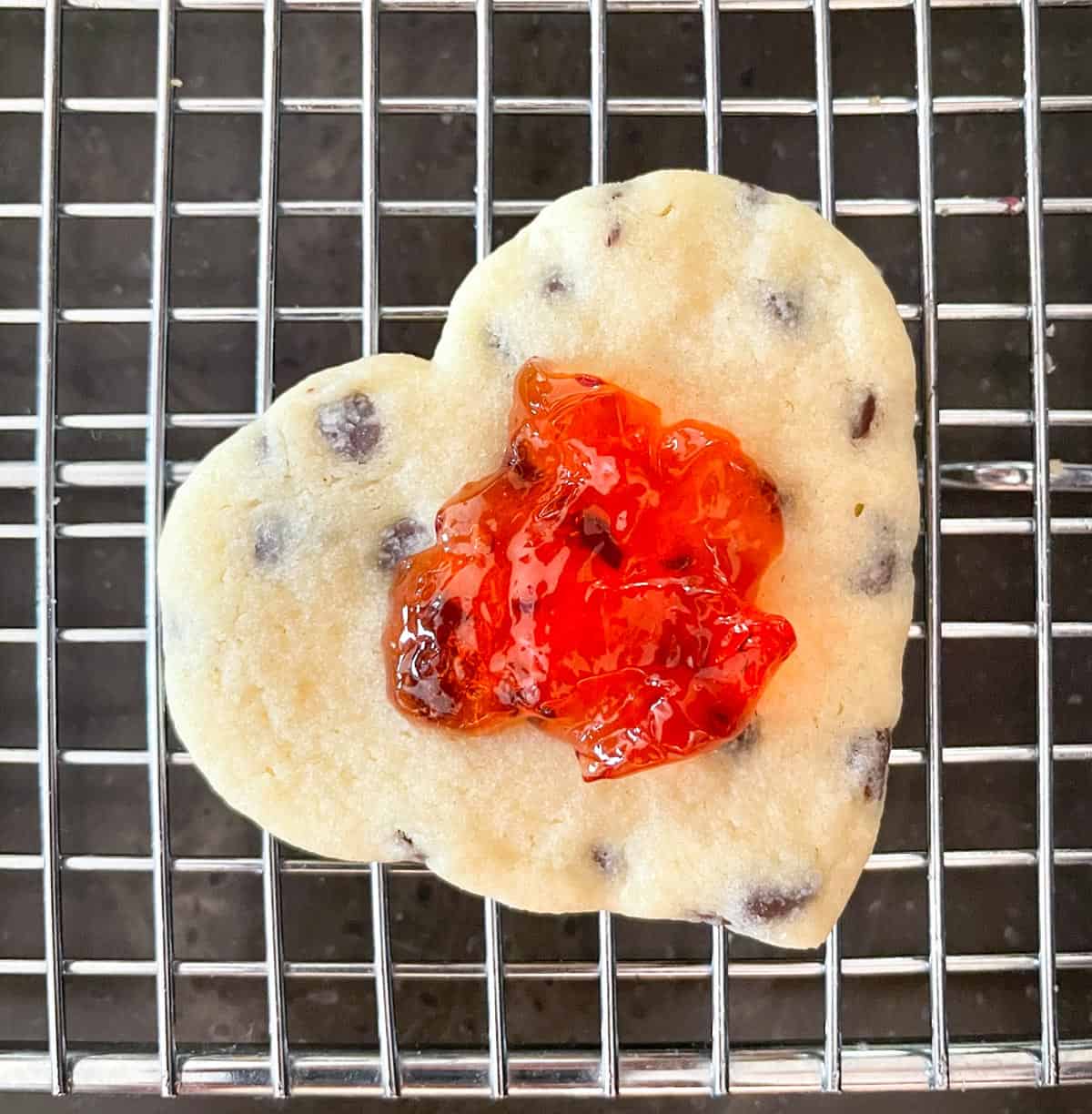 Now line up the top cutout cookie, and once they are together, move them around a little to line them up. The jelly will help bond the two cookies together.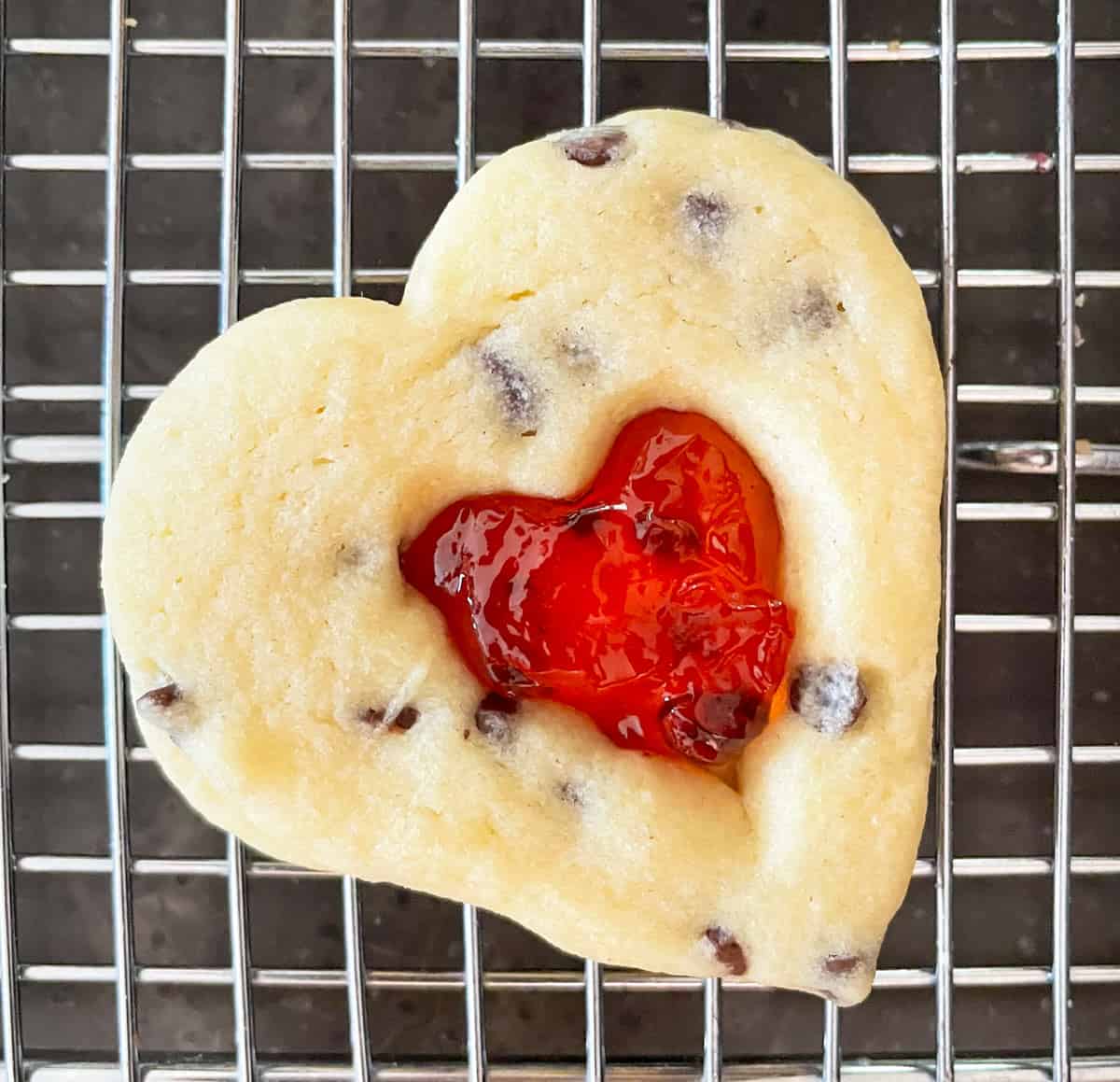 What a great way to say I Love You!
Other Valentine's Day Cookies
My Strawberry Shortcake Cookies
Recipe
Strawberry and Chocolate Chip Heart Cookies
Barbara Hall
These are so cute and fun to eat. Just be careful when baking they bake really fast.
Ingredients
1

cup

(

227

g

)

Butter unsalted

2 sticks room temperature

1

cup

(

200

g

)

Sugar white

1

teaspoon

(

1

teaspoon

)

Vanilla Extract

1

(

1

)

Egg

3

cups

(

375

g

)

All-purpose flour

2

teaspoon

(

2

teaspoon

)

Baking powder

¼

teaspoon

(

0.25

teaspoon

)

Kosher Salt

½

cup

(

90

g

)

Mini chocolate chips

6-8

oz

(

170.1

g

)

Strawberry jelly
Instructions
Weigh or measure the sugar and set it aside. In another bowl weigh or measure the flour, baking powder, salt, and run a whisk through to blend.

In a stand or handheld mixer, add the butter and sugar and mix for 2 to 3 minutes on medium speed till blended thoroughly. Stop the mixer and scrape down the sides before adding the vanilla extract and the one egg. I break my egg into a small bowl before adding the egg to the mixer bowl. I like to make sure there are no eggshells before adding the egg into the cookie dough. Once incorporated, stop the mixer and scrape the bowl and turn the mixer to low speed. Slowly add the flour mixture till incorporated. Add the mini chocolate chip and mix for about 30 seconds or less. You want them to be evenly distributed. I do not refrigerate the cookie dough. If you grab a ball of the dough, it should form a ball like play-dough.

Preheat the oven to 350°. I have a Dowel rolling pin that I used with 3/16" rolling pin rings to get evenly rolled cookies. You want to apply a generous amount of flour on a pastry mat, so the cookie dough does not stick to the mat when using the cookie cutter. You will also need 2 different size heart cookie cutters. The smaller heart has to fit inside the larger heart. Roll out your cookie dough and line a parchment-lined cookie pan with 12 hearts. Two rows will be solid hearts, and two rows will have the center cut out with the smaller heart cookie cutter. I found it easier to use the small heart after it is on the cookie sheet. Bake for 6 -7 minutes. Make sure you keep an eye on them. They will turn brown quickly, and they should be light in color when you pull them out of the oven. I leave them on the pan for 2-3 minutes before moving them to a cooling rack.

After they have cooled, add about a teaspoon of strawberry jelly onto the solid heart shape cookie. Taking one of the heart shape cookies with the smaller heart shape cut out of the middle and press lightly onto the bottom cookie. If it is not enough jelly to fill in the cut-out small heart, separate the cookies and add a little more strawberry jelly and then just put them together again. This recipe makes about 2 dozen.
NUTRITION DISCLAIMER
I am not a certified Dietitian or Nutritionist. The nutrition amounts given below are provided through a program and are only a guideline.
Nutrition
Calories:
199
kcal
Carbohydrates:
28
g
Protein:
2
g
Fat:
9
g
Saturated Fat:
5
g
Polyunsaturated Fat:
1
g
Monounsaturated Fat:
2
g
Trans Fat:
1
g
Cholesterol:
28
mg
Sodium:
68
mg
Potassium:
27
mg
Fiber:
1
g
Sugar:
14
g
Vitamin A:
255
IU
Vitamin C:
1
mg
Calcium:
31
mg
Iron:
1
mg