Peach pie says summer all the way to late summer, so I wanted to make peach pie cookie cups for a picnic. When making cookie cups, you have to think about the structure of the cup. You do not want a soggy or limp cup for people to grab and hold. Sugar cookies fit the bill quite nicely.
Jump to:
I used the standard sugar cookie recipe on my website (minus the green coloring gel), and they came out perfect to what I had envisioned. The sugar cookie recipe is strong enough to hold the peach filling and is an excellent holding vessel.
Ingredients
Jump to Recipe for Amounts
PEACH FILLING
Sugar white
Lemon juice
Corn starch
Water
Vanilla Extract
Ground cinnamon
3 Peaches medium size
COOKIE CUPS
Butter unsalted
Sugar white
Egg
Vanilla Extract
Baking powder
Kosher Salt
I did use the yellow sweet peaches for this cookie cup. One reason is I am making a peach filling, so it is not cut-up peaches directly incorporated into the cookie dough. This type of peach contains a lot of moisture, but it will make a fabulous peach filling.
Making Peach Filling
Prepping to make the filling is pretty easy; start with juicing a lemon. Next, cut in half three peaches and remove the pits. Next, peel the skin off each half and cut the peaches into small pieces. You should get about 2-½ cups of cut-up peaches.
Add the sugar, lemon juice, water, and corn starch to a saucepan, bringing all the ingredients to a boil on medium-high heat. Then, turn the heat setting down, so it is a low boil. You can stir or whisk to eliminate any lumps. Stir until this mixture thickens about 5-8 minutes.
Take it off the heat, add the vanilla extract, cinnamon, and cut-up peaches, and stir. Pour into a glass container and let it cool. I stored this in the refrigerator for two days until I was ready to make the cookie cups. I like to have it in the fridge overnight just so all the flavors have a chance to meld together.
You can also use any leftover peach filling on top of pancakes, waffles, or ice cream, to mention a few things.
How to Make Sugar Cookie Cups
Time to make the sugar cookie cups, which are pretty straightforward. I mainly find it easy to get all my ingredients ready before I even start, so I do not miss any ingredients.
Prep and Mix
Weigh the flour, baking powder, and salt, running a whisk to blend. Also, in another bowl, weigh or measure the sugar. Now it is time to make this dough. Add the sugar and butter to a mixer bowl and beat on medium-high speed for 2 to 4 minutes. You want it to be light in color and fluffy looking.
Next, add the vanilla extract and the egg. Scrape down the bowl, turn the mixer to a low speed, and gradually add the flour mixture until incorporated.
Equipment
You will need two pieces of equipment: a mini muffin pan or pans and a punch. Here are links to products;
The wooden tart tamper set is three pieces which I am getting since they did not have this set when I purchased my tamper.
The mini muffin pan is your choice. If you have the 48 cups, it will only take one bake. If you opt for the 24 cups, it will take two bakes.
Assemble and Bake
Lightly spray with the non-stick PAM spray. Using a small cookie scooper, make a ball from one scoop.
I got 30 balls from the small cookie scooper. Don't make the balls too small; you want a nice cup shape. Take the tamper and push the middle down without stretching the cookie dough too far.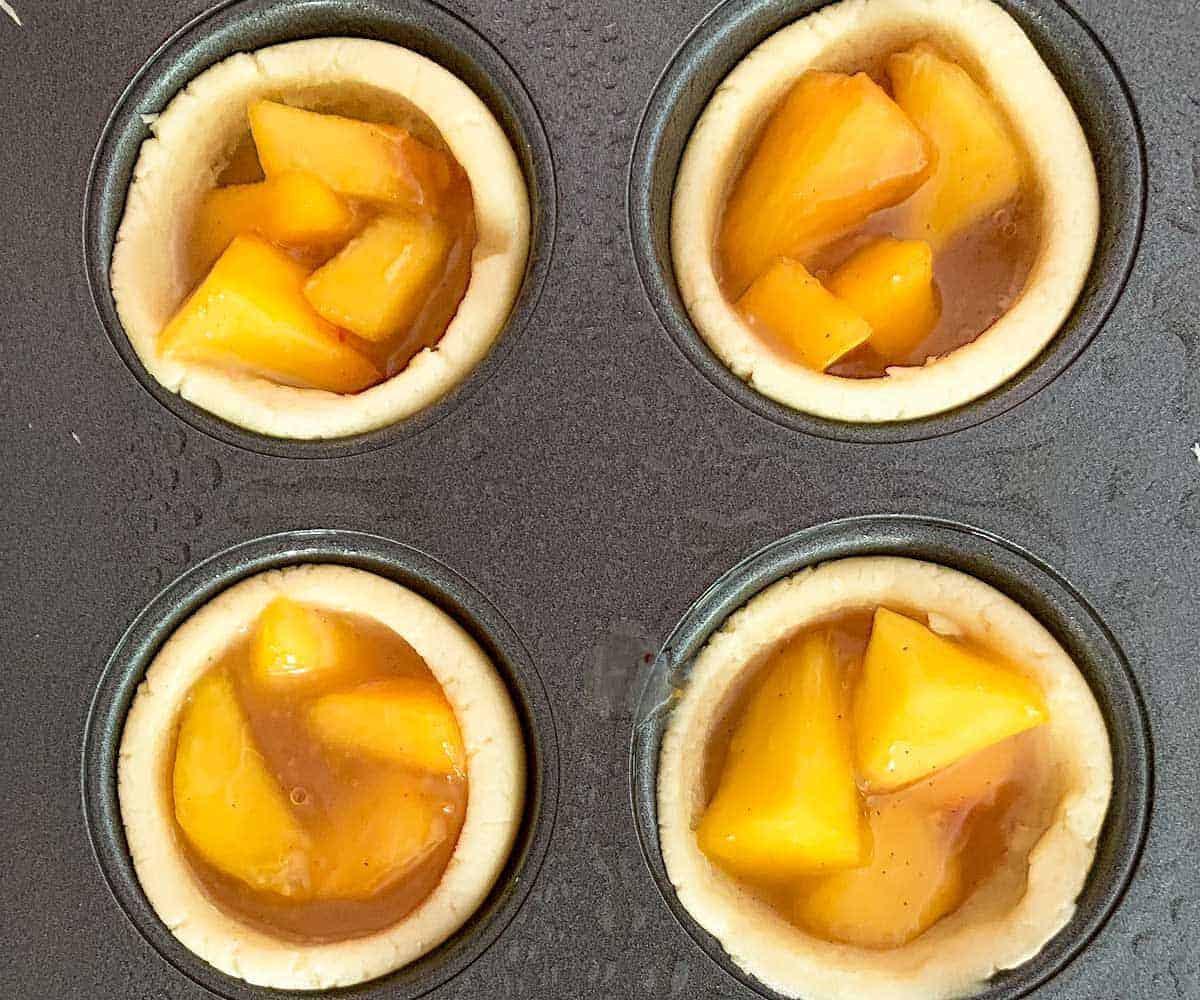 You can shape the cookie dough, so they look like nice cups. Then, take the peach filling and fill each cup about ¾ of the way full.
Bake at 350°F (175°C or 180°C) for 12 to 14 minutes. To test, touch the cookie coops; if they feel firm to the touch, pull them out of the oven.
IMPORTANT - Let the pan completely cool before trying to remove the cookie cups from the pan. It should take about 20 minutes before you can touch the pan.
Once cooled, take a butter knife and lift one side up and out of the mini cup mold. Next, move the cookie cups to a cooling rack to finish cooling.
Added a little Cool Whip, and they tasted just like a slice of peach pie in a cookie. So glad I had time to make these before summer is over; blink, and it will be fall very soon.
Storage
You can store this cookie cup just like any other sugar cookie. The peach filling is like peach jelly, so you do not have to refrigerate them. I use a Tupperware type of container with a lid. If they get too soft leave the lid off so more air can circulate.
More Cookie To Try
Recipe
Peach Pie Cookie Cups
Barbara Hall
Peach pie mini cookie cups are just like a piece of peach pie, only so much handier since you can carry them around and eat them in one or two bites.
Ingredients
PEACH FILLING
½

cup

(

100

g

)

Sugar white

½

Tablespoon

(

0.5

tablespoon

)

Lemon juice

⅛

cup

(

16

g

)

Corn starch

½

cup

(

118.29

g

)

Water

½

teaspoon

(

0.5

teaspoon

)

Vanilla Extract

⅛

teaspoon

(

0.13

teaspoon

)

Ground cinnamon

3

(

3

)

Peaches medium

cut into small pieces
COOKIE CUPS
1

cup

(

227

g

)

Butter unsalted

room temperature

1

cup

(

200

g

)

Sugar white

1

(

1

)

Egg

1

teaspoon

(

1

teaspoon

)

Vanilla Extract

3

cups

(

375

g

)

All-purpose flour

2

teaspoon

(

2

teaspoon

)

Baking powder

¼

teaspoon

(

0.25

teaspoon

)

Kosher Salt
Instructions
PEACH FILLING
Cut three medium-size peaches in reasonably small pieces. You want about 2-½ cups. Juice 1 lemon, you need ½ TBSP.

Add the sugar, lemon juice, corn starch, and water to a saucepan and bring to a boil over medium-high heat. Lower the heat to a low boil while you stir or whisk to eliminate any lumps. You want the syrup to thicken, which takes about 5- 8 minutes. Once it has thickened, take the pan off the heat and add the vanilla extract, cinnamon, and peaches to the saucepan. I poured the peach filling into a bowl and let it cool completely. Then, I add it to a glass container and put it in the refrigerator. I like to keep it in the fridge overnight.
COOKIE CUPS
Weigh or measure into one bowl the flour, baking powder, and salt, running a whisk through to blend. In a stand or hand-held mixer on medium speed cream the butter and sugar for 2 -4 minutes or till light in color and fluffy. Add the vanilla extract and egg blend till incorporated. Turn the mixer to low and gradually add the flour mixture. You want to mix till the flour is incorporated.

Using a mini muffin pan (mine makes four dozen at one time) spray with Pam even if it is a non-stick pan. I am using a small cookie scoop and roll the cookie dough in your hand until you have a ball and drop it into one of the mini molds in the pan. I save a little of the cookie dough in the bowl just in case I need to add a small amount to add to one of the balls that might be a little small in size.

A great way to create the cups is by using a tart tamper. I used the smaller end to press down the cookie ball until it made the shape of a cup. After you have created all the cookie cups, fill each one with the peach pie filling. I did about four peach pieces per cookie cup. The juice I only added until it filled the cup about ¾ of the way.

Preheat the oven to 350°F (175°C or 180°C) and bake for 12-14 minutes. These will be longer than the average sugar cookie, the sides need to become firm to hold the peaches. If you touch the cookie part of the cup and it is firm pull it out of the oven. !!! IMPORTANT let them set in the pan till entirely cooled - at least 20 minutes. You want the pan cool to the touch before you try and get the cups out of the mold. I take a butter knife and go straight down the side of the cookie cup, and it should lift easily. If you try lifting the cookie cup before it has cooled, it will start to fold into itself and will get messy fast, once out of the pan, move to a cooling rack. I add just a little Cool Whip on the tops of mine, but that is optional.
NUTRITION DISCLAIMER
I am not a certified Dietitian or Nutritionist. The nutrition amounts given below are provided through a program and are only a guideline.
Nutrition
Calories:
149
kcal
Carbohydrates:
22
g
Protein:
2
g
Fat:
6
g
Saturated Fat:
4
g
Polyunsaturated Fat:
1
g
Monounsaturated Fat:
2
g
Trans Fat:
1
g
Cholesterol:
22
mg
Sodium:
51
mg
Potassium:
47
mg
Fiber:
1
g
Sugar:
11
g
Vitamin A:
246
IU
Vitamin C:
1
mg
Calcium:
21
mg
Iron:
1
mg