I prefer to have all my ingredients measured or weighted out before I start. I have never been one to add ingredients as I go. For example, cracking an egg on the side of the mixing bowl, and half the shell went with it into the cookie dough. I HAVE TO BE ORGANIZED! Ok, so it may be a slight character flaw to be that obsessed with organizing everything. But hey, that is how I make it through the day. 🙂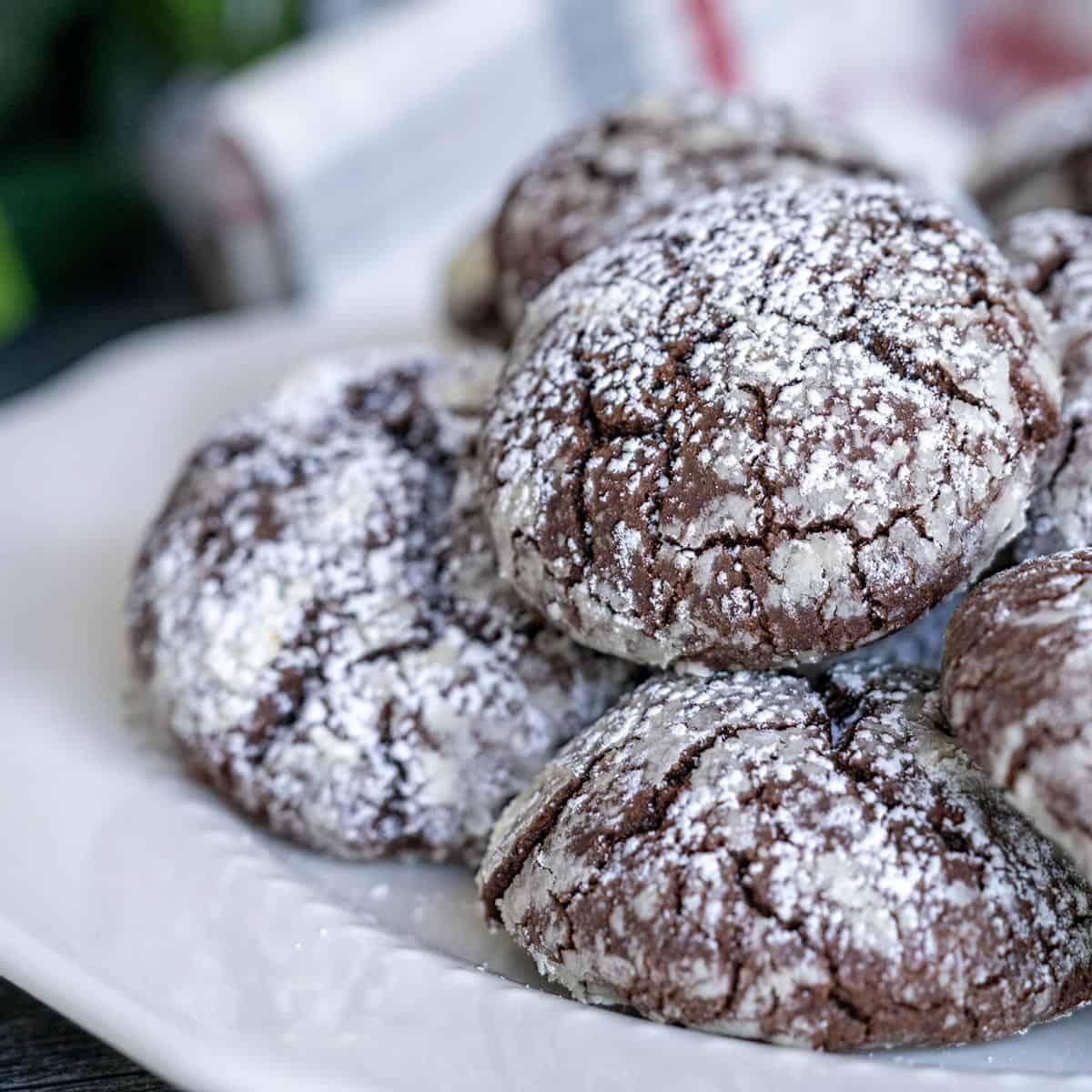 I have been reading how well cocoa and cayenne powder go together. There are many recipes out there for Mexican hot chocolate, which adds the cayenne pepper just for a little kick. You don't want too much just enough to complement the cocoa powder, not burn your taste buds. There are benefits to adding a little spice to these cookies, which you can find out on Cayenne Pepper Benefits.
There is only a small amount of cayenne pepper in these cookies. I decided to mix unsweetened Hershey's Cocoa 100% cocoa powder with Hershey's Cocoa Special Dark 100% cocoa powder. This blend makes an extraordinarily great-tasting chocolate cookie with a slight kick.
Recipe
Mexican Chocolate Crinkle Cookies
Barbara Hall
These cookies have a slight kick to them. I hope you enjoy the flavors.
Ingredients
¾

cup

Butter unsalted

1 ½ sticks room temperature

1 ½

cup

Sugar white

297 g

¾

cup

Unsweetened cocoa powder

63 g

¼

cup

Unsweetened dark cocoa powder

21 g

2

Eggs

1

Tablespoon

Vanilla Extract

2

cups

All-purpose flour

240 g

1

teaspoon

Ground cinnamon

2

teaspoon

Baking powder

⅛

teaspoon

Ground cayenne red pepper

½

teaspoon

Kosher Salt

1 ½

cup

Powdered sugar

for coating
Instructions
Weigh or measure the sugar into a small container and set aside. In another bowl, weigh or measure the cocoa and dark cocoa powder and set that aside. In one last container weigh or measure the flour, baking powder, salt, ground cayenne, cinnamon, and run a whisk through to blend.

Using a handheld or stand mixer, add the butter and sugar and beat for 2-3 minutes on medium-high speed. You want the sugar and butter to be light in color and fluffy. You may need to scrape down the sides and bottom to make sure the butter is incorporated. Turn the mixer down to low and slowly add the cocoa powder. Be careful cocoa powder is very light in weight and flies everywhere if the mixer speed is higher than the low setting. Scrape down the sides to make sure the butter and cocoa powder is mixed. Turn the mixer to medium speed and add the vanilla extract. Before adding the eggs, I crack the eggs into a small bowl to make sure there is no eggshell before adding to the cookie batter. Mix through then turn down the mixer speed and gradually add the flour mixture. Just mix till the flour is incorporated. Take the bowl off the stand and place it in the refrigerator for 30 minutes.

Add the powder sugar to a small bowl. Using a small cookie scoop, I made about 1" to 1-½" diameter balls by rolling them with my hands. Add them to the powdered sugar and thoroughly coat them. The powdered sugar is what makes the crinkle effect on the cookies. Put 12 on a standard parchment-lined cookie pan and bake at 350°. Now comes the decision on how long to keep them in the oven. The baking range is 10-12 minutes if you want a more moist type cookie bake closer to the 10 minute time. If you like a drier type cookie, go more to the 12 minute time. I did mine for 12 minutes, and whether you do 10 minutes or 12 minutes, the tops of the cookies, when pulling from the oven will be soft to the touch. Let cool on the pan for a minute or two before moving to a cooling rack.
NUTRITION DISCLAIMER
I am not a certified Dietitian or Nutritionist. The nutrition amounts given below are provided through a program and are only a guideline.
Nutrition
Calories:
182
kcal
Carbohydrates:
30
g
Protein:
2
g
Fat:
7
g
Saturated Fat:
4
g
Polyunsaturated Fat:
1
g
Monounsaturated Fat:
2
g
Trans Fat:
1
g
Cholesterol:
29
mg
Sodium:
91
mg
Potassium:
74
mg
Fiber:
2
g
Sugar:
20
g
Vitamin A:
202
IU
Vitamin C:
1
mg
Calcium:
31
mg
Iron:
1
mg