I have always been fascinated with the idea of adding peppers and chocolate together. Since I started watching baking shows and saw someone add cayenne peppers to a baked dessert, I knew I would have to try this sometime.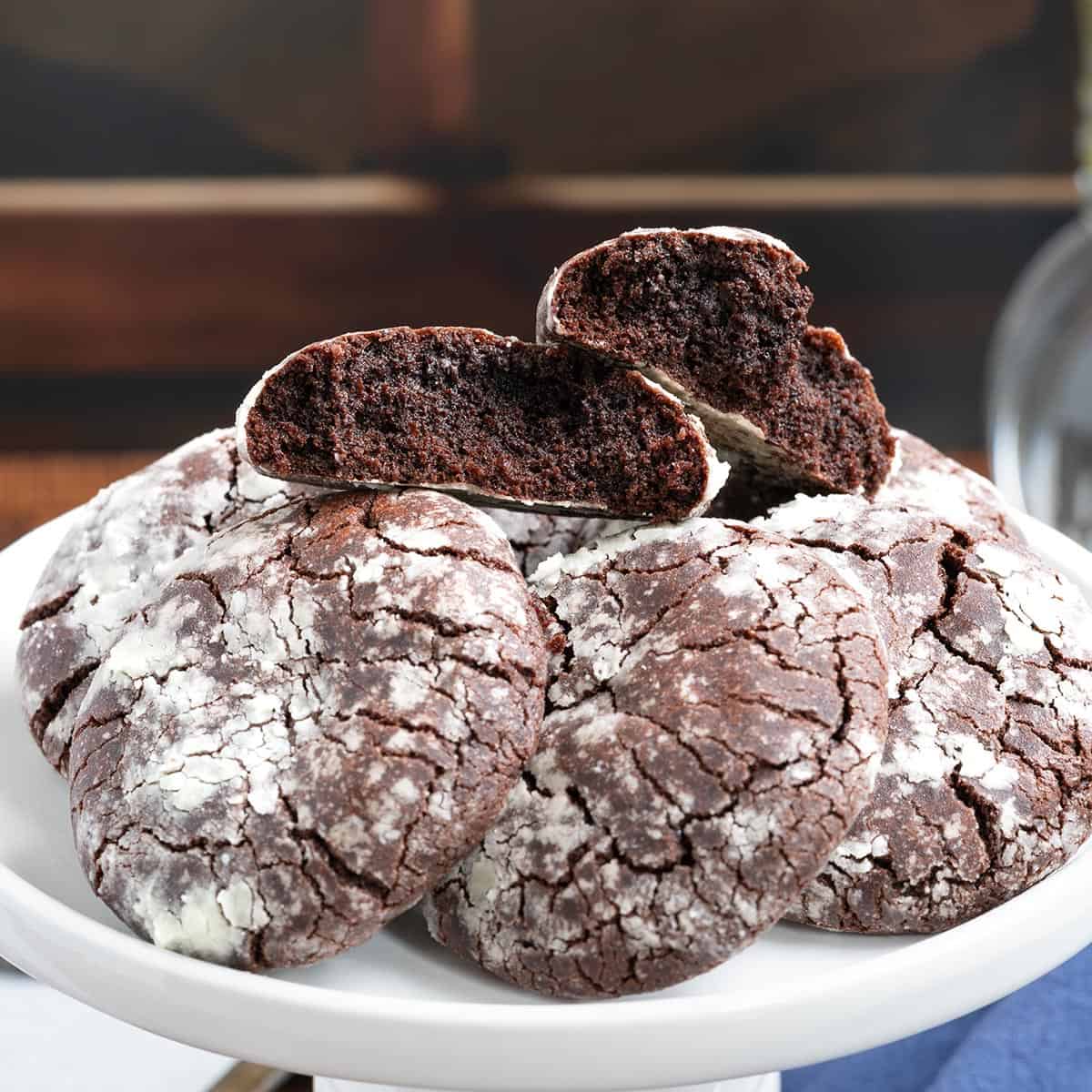 In many recipes for Mexican hot chocolate, they add some pepper just for a little kick. You want to do just enough to complement the cocoa powder, not burn your taste buds. There are benefits to adding a little spice to these cookies, which you can find out on Cayenne Pepper Benefits.
Jump to:
Ingredients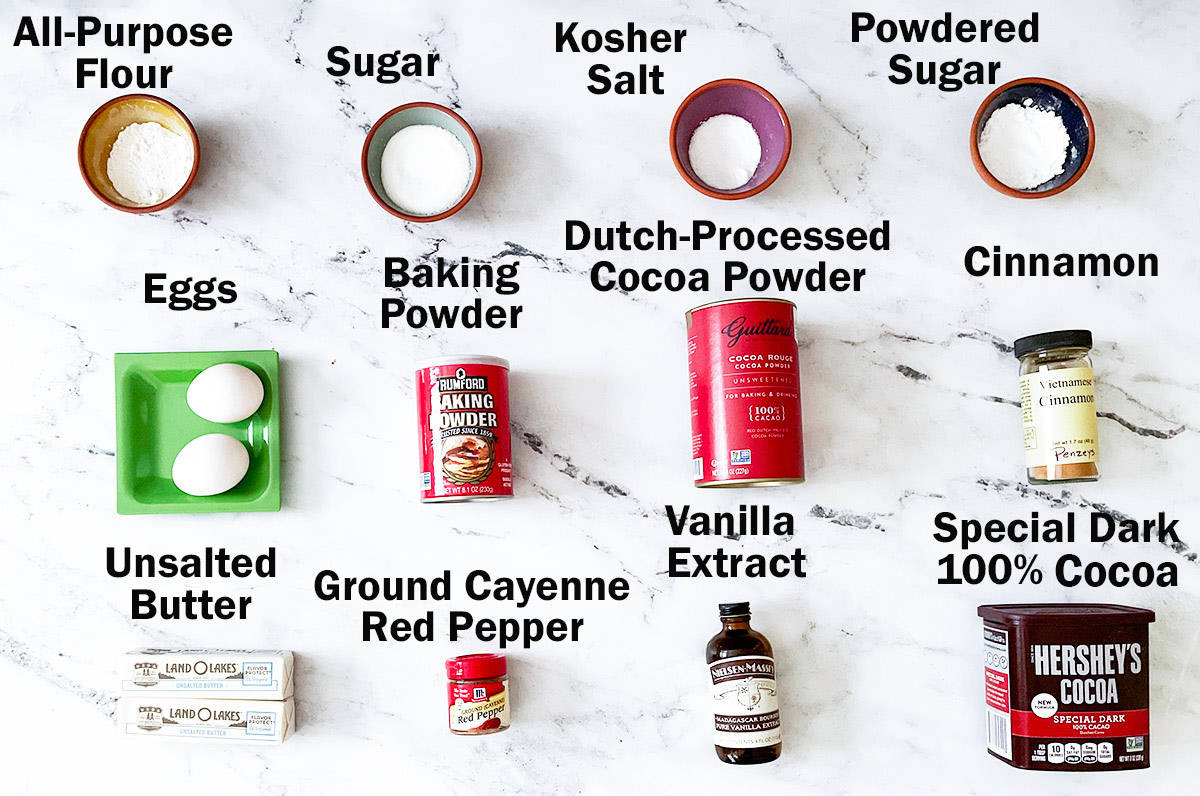 Jump to Recipe for Amounts
Butter unsalted
Sugar white
Cocoa powder
Dark cocoa powder
Eggs
Vanilla Extract
Ground cinnamon
Baking powder
Ground cayenne red pepper
Kosher Salt
Powdered sugar
Testing Cocoa Powders and Vietnamese Cinnamon
I do not normally have a blend of regular and dark chocolates in my cookies, so I wanted to make sure they worked together. The type of chocolate can make all the difference in how your cookies look and taste. So, my preferred method to determine what to use has always been to taste the ingredients together.
Since Hershey's Special Dark Chocolate is dutched cocoa, I wanted to find out if the regular Hershey's cocoa (not dutched) would taste better or if my Guittard cocoa rouge would be a better choice. I chose the Guittard cocoa rouge for the regular cocoa.
I am amazed at the rich chocolate taste I got using the Special Dark Chocolate and the Cocoa Rouge mixture in my taste test. They stood up very well to the Vietnamese cinnamon, and I am pleased with the results.
I have decided which cocoa's go with Penzeys Vietnamese cinnamon, so now I must decide on the pepper that will complement the cocoas and cinnamon.
Cayenne pepper and Chocolate
What comes to my mind when I hear the word Mexican is peppers. It is no mystery that when I named these cookies Mexican Chocolate Crinkle Cookies that there would be some kick to them. Not much but enough that that would compliment the cocoa.
I wanted the chocolate cinnamon to shine in this cookie so the chocolate is rich in taste and the cinnamon is a bold cinnamon. So I did not want a smoky or fruity tasting pepper like the smoked chipotle, papilla, or the cobanero. All three of these peppers are on the mild side as far as heat goes and I wanted a slightly bolder taste.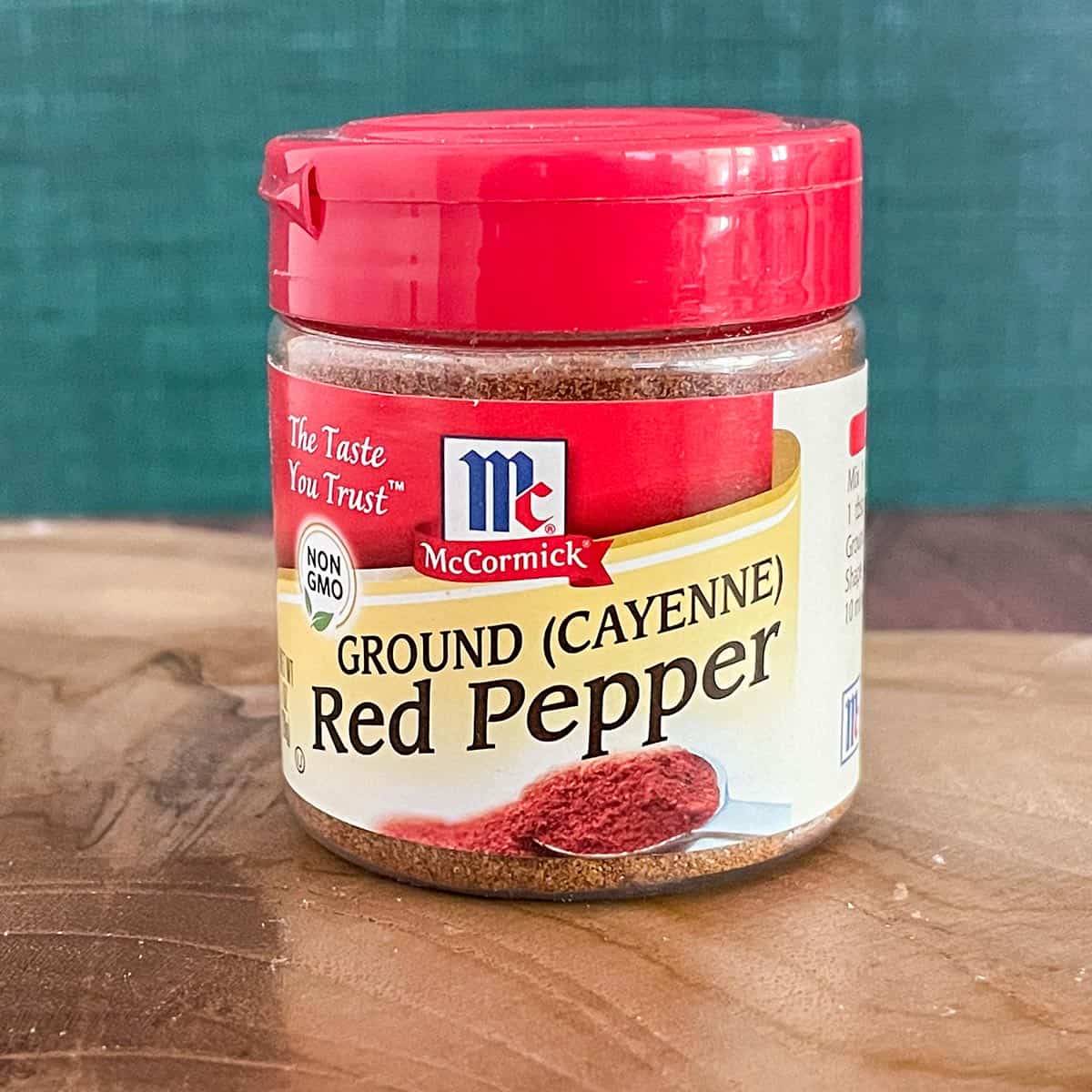 I chose the cayenne because I knew how it would taste and the heat it would produce in the cookie. I needed something that could hold up to the rich Dutch-processed chocolate of both the (Walmart) dark chocolate by Hershey's (look for the container that has New Formula on the front) and the Cocoa Rouge by Guittard (Amazon), plus the bold Penzeys Vietnamese cinnamon.
The main consideration is how much to add to the cookie dough. I added ⅛ of a teaspoon for 24 cookies. So, the heat is just a touch more than minimal. So, you can adjust to 1/16 of a teaspoon the first time to have a guideline on taste and heat. Honestly, this is not a big spicy heat bomb in your mouth, but if some people have a problem with spiciness, you can leave out the cayenne pepper and still have a great Chocolate Crinkle Cookie.
Making Crinkle Cookies
I prefer to measure or weigh all my ingredients before I start. I have never been one to add ingredients as I go. I tried that a couple of times, and after the cookies were baked, I realized I had forgotten one of the ingredients. So, I have bowls and all my ingredients beside the mixer bowl so this does not happen again.
Prep
You will need three bowls to weigh or measure the ingredients. In the first bowl, add your sugar and set it aside. In the next bowl, add both of the cocoa powder and set that bowl aside. Add the flour, cinnamon, baking powder, salt, and cayenne pepper into the last bowl. I use a whisk to blend them.
I am ready to make these cookies!
Mix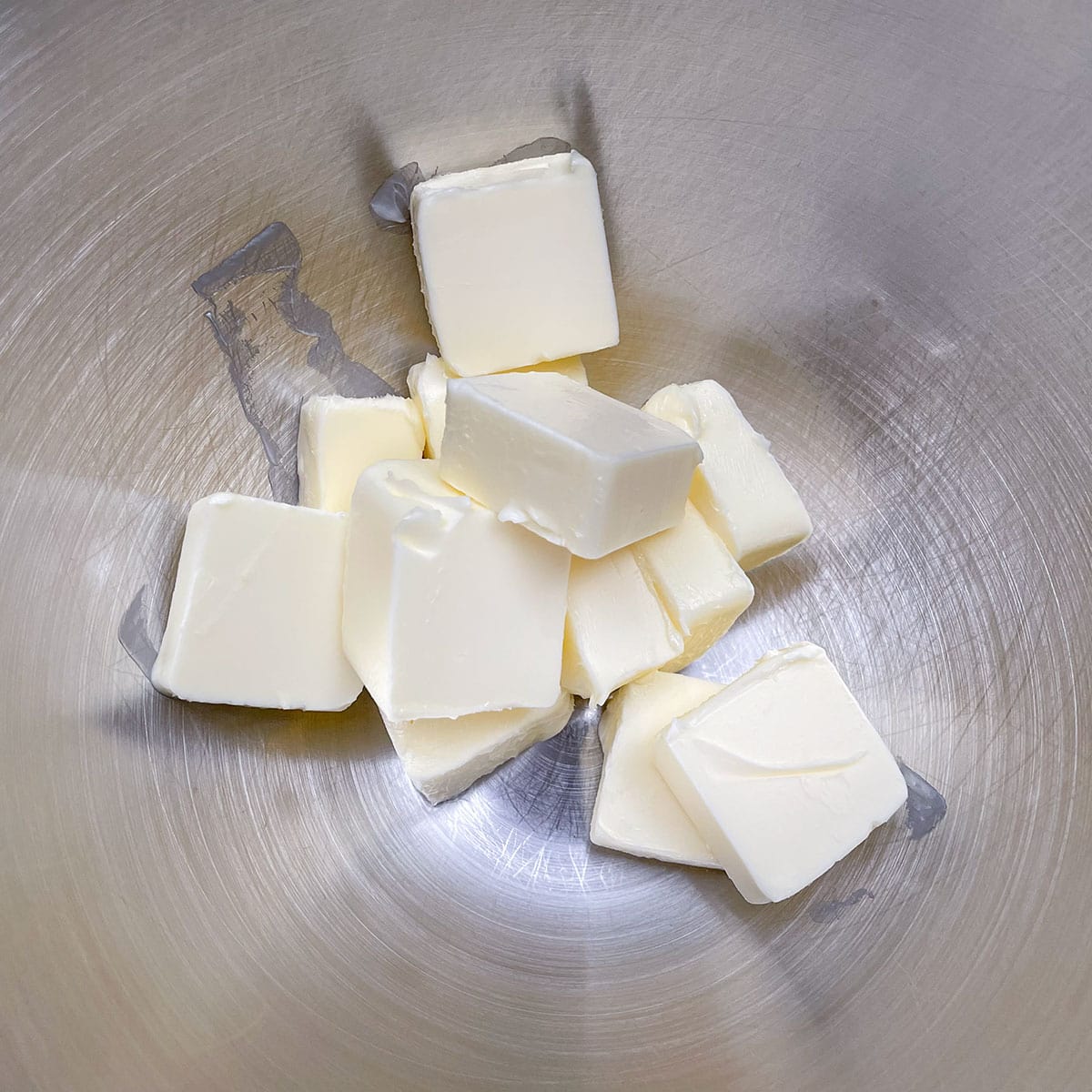 Cube your room-temperature butter into a mixer bowl. Creaming the butter is much easier if it is not rock cold hard.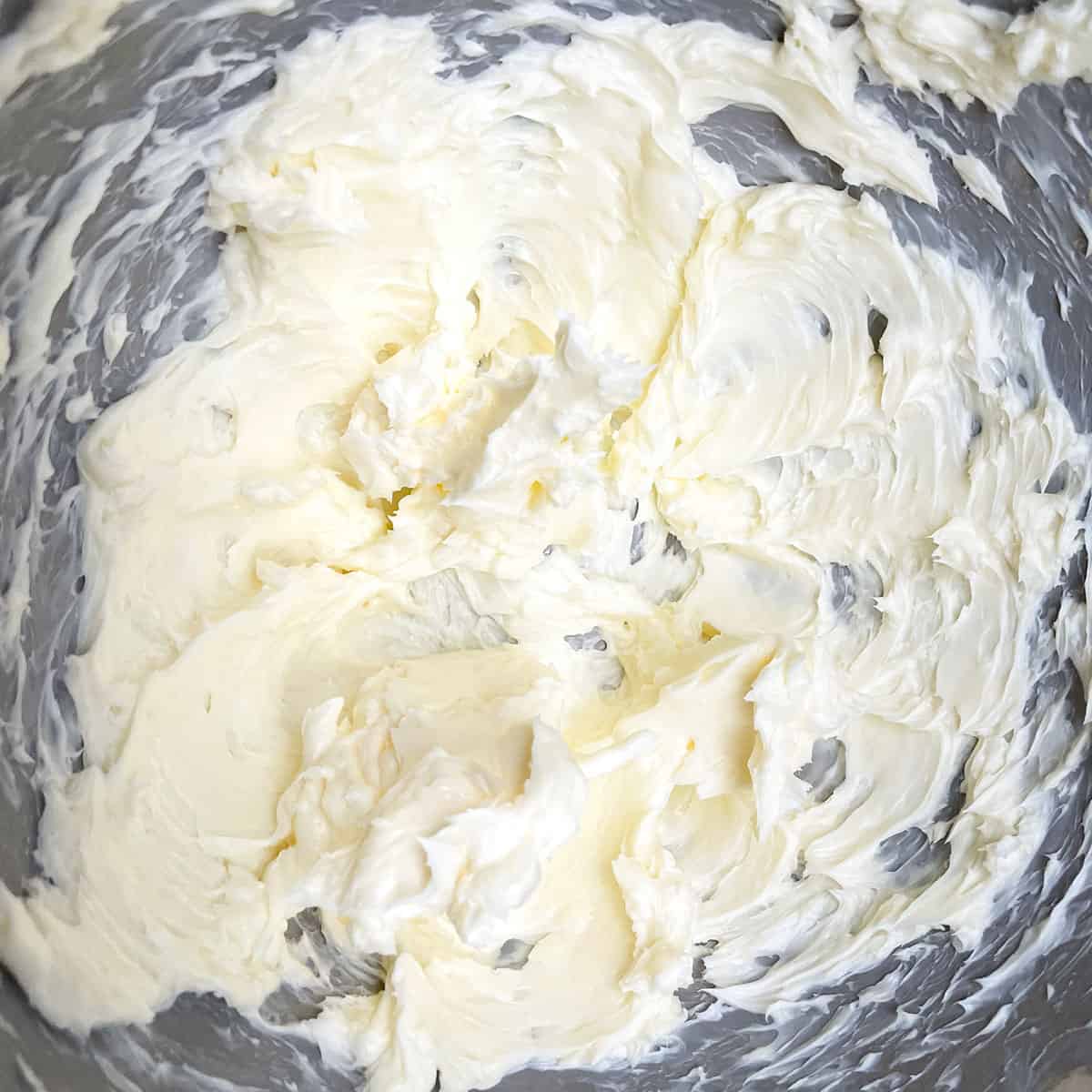 Cream your butter on a medium mixer speed for 1 to 2 minutes. You should have soft butter peaks around the bowl.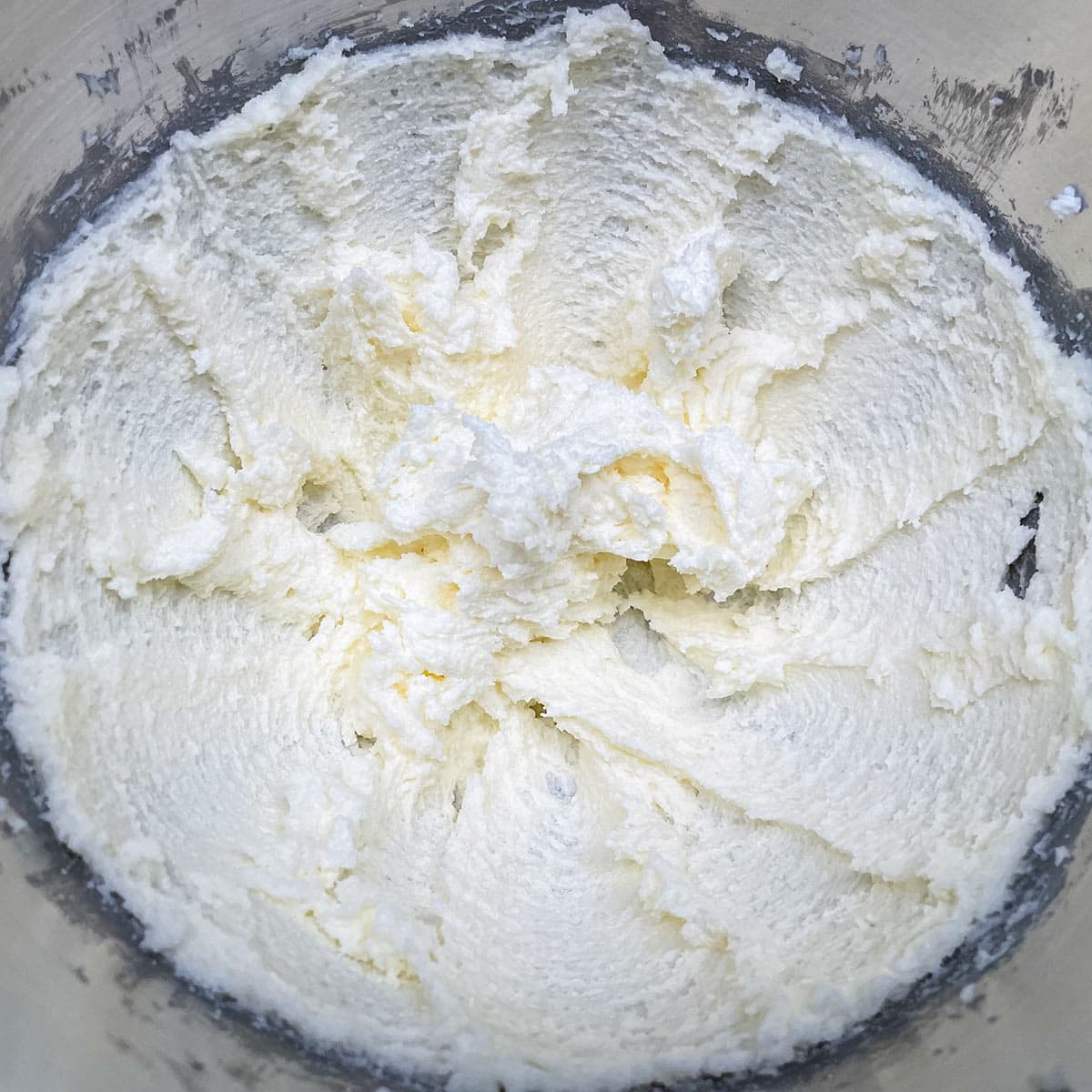 Now add the sugar and mix on medium mixer speed for 3 minutes. You want to incorporate as much sugar into the butter as possible. Then, add the vanilla extract and one egg at a time until blended.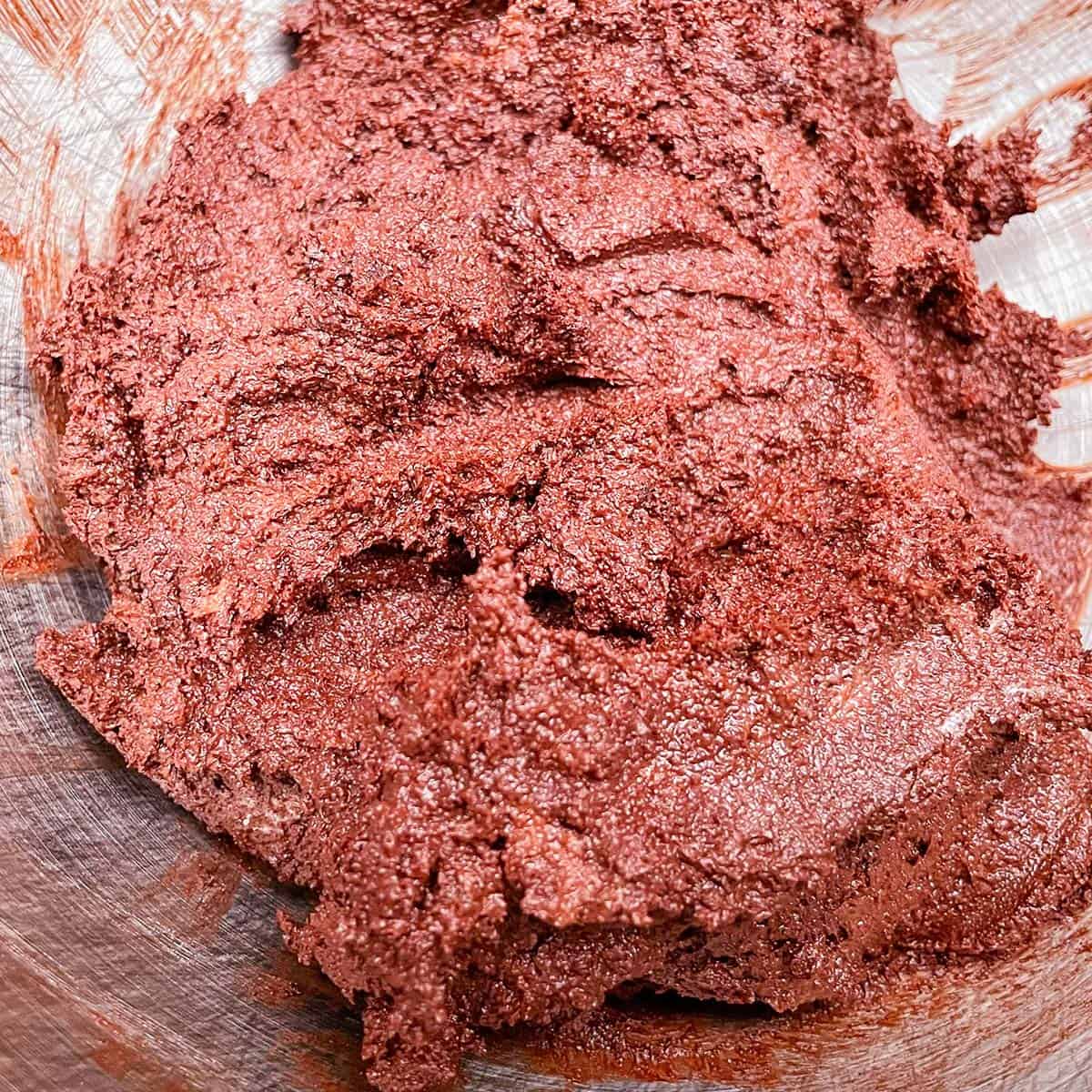 Add the bowl with the chocolates and blend them into the butter-sugar mixture. I scrape down the bowl and gradually add the flour mixture at a low speed. Please avoid over-mixing if some flour specks still need to be mixed in; you can use a sturdy spatula and do it by hand.
Cover lightly and refrigerate for 30 minutes.
Bake
Setting up my workstation, I grab a paper plate and add the powdered sugar. You can use a small bowl or plate for the powdered sugar. Whichever is easier for you to roll the cookie balls in.
I line 2 cookie sheet pans with parchment paper and turn the oven on to 350°F (175°C or 180°C). I heat my oven while I prepare the first sheet pan of cookies.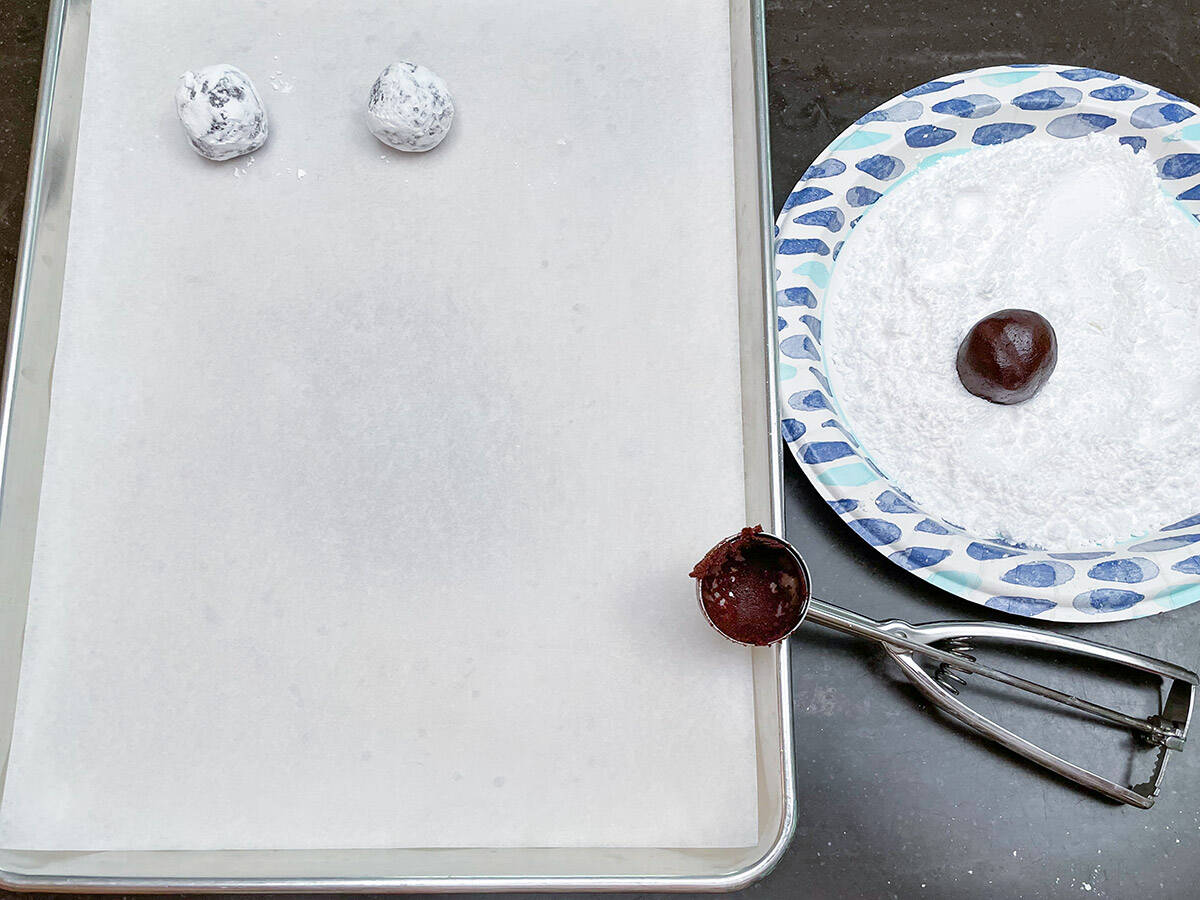 Using a medium cookie scooper, take a scoop of cookie dough and, with your hands, make a ball. If you don't have a cookie scooper, you can take about 1 and ¼ tablespoons of cookie dough to form your cookie dough balls. You want the balls about the same size for even baking.
After rolling the dough into a ball, roll the ball around in the powdered sugar. Coat all sides so the ball is covered with powdered sugar. This is what makes the crinkles.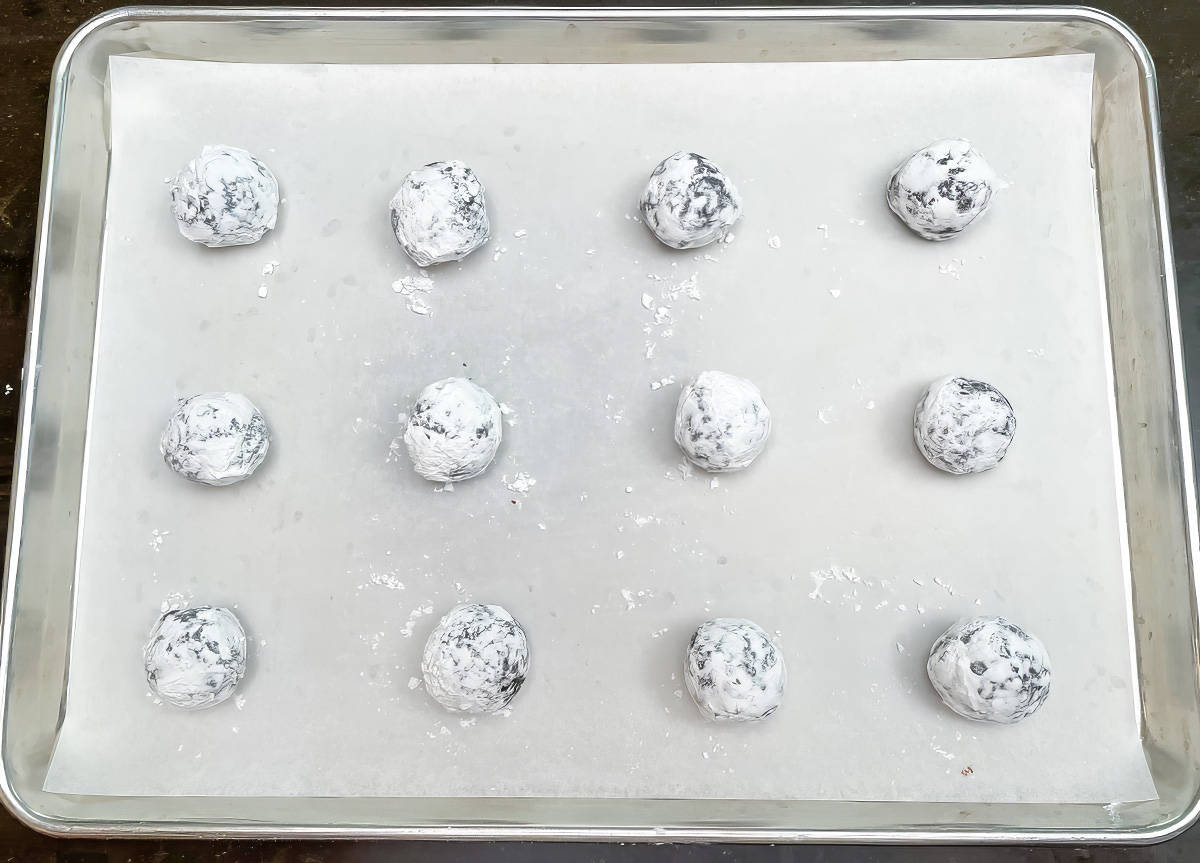 Place the cookies in a 350°F (175°C or 180°C) oven for 10 to 12 minutes. In my oven, the closer to 10 minutes, the cookies are moist in the middle but still baked through. After they come out of the oven, leave them on the pan for a minute or two, then move them to a cooling rack to finish cooling. Yes, moving the cookies off the hot pan stops the baking of the cookies any further.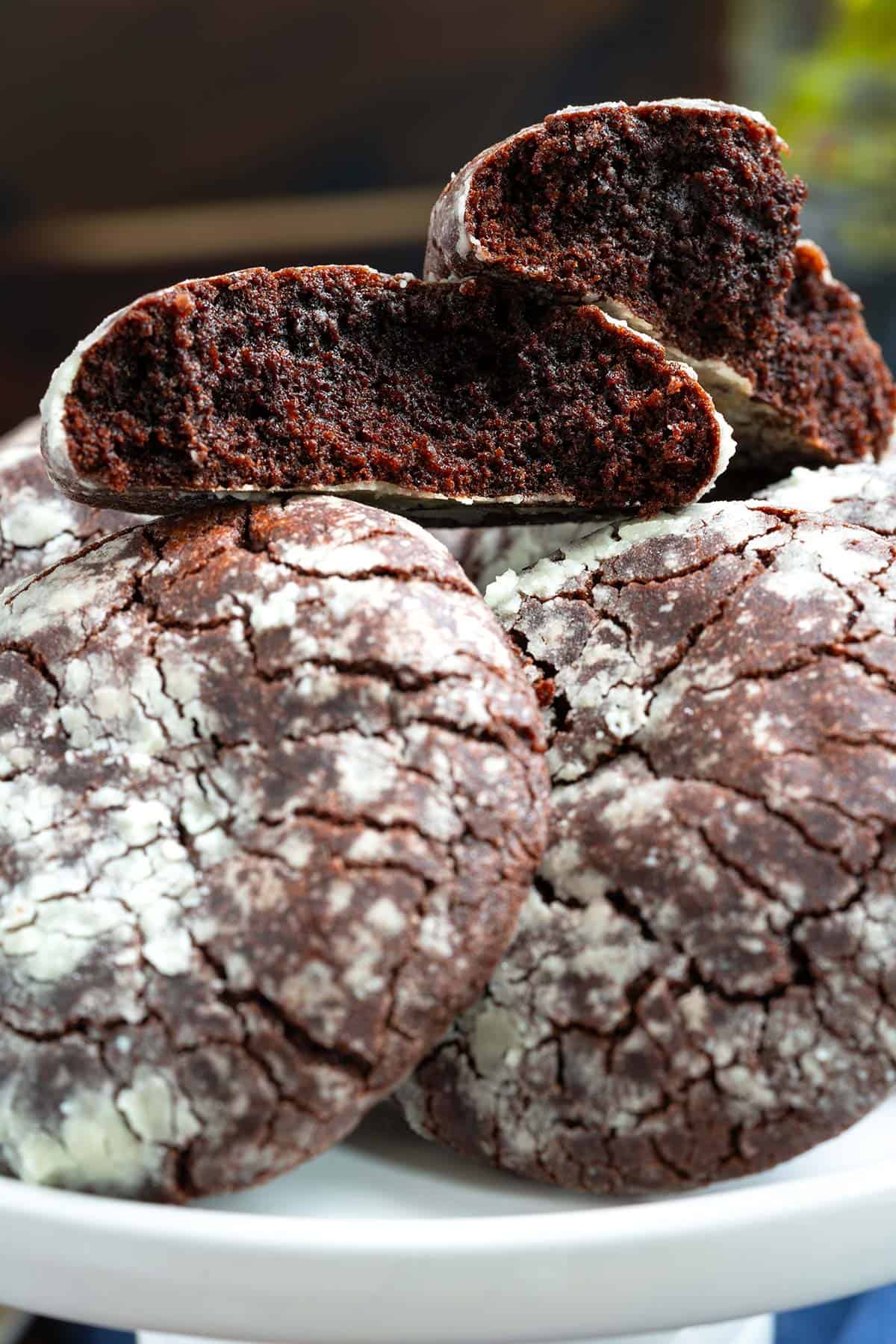 I hope you Enjoy!
FAQ's
What is the best way to measure flour?
The short answer for any new baker is to weigh the flour, especially if the recipe gives the amounts in grams. I know a lot of seasoned bakers who have never weighed their flour, but over time, if you do it the same way every time, they have got the measurements down to a science.
Why didn't my crinkles come out very well?
The trick is ensuring the cookie balls are coated well with the powdered sugar. You can always sprinkle powdered sugar after they have baked and cooled if you think they need it.
Can I use another pepper in my cookies?
According to Wockenfuss Candies, they give examples for pairing chocolate with Ai panca, Ancho, and Chipotle peppers. I just happen to like Cayenne and know how it would taste, but there are other choices.
Other Chocolate Cookies
Recipe
Mexican Chocolate Crinkle Cookies
Barbara Hall
Mexican Chocolate Crinkle Cookies, where chocolate meets a hint of cinnamon and cayenne spice, delivering sweetness and warmth in every bite.
Ingredients
¾

cup

(

170.25

g

)

Butter unsalted

room temperature

1 ½

cup

(

300

g

)

Sugar white

¾

cup

(

64.5

g

)

Unsweetened cocoa powder

¼

cup

(

21.5

g

)

Unsweetened dark cocoa powder

2

(

2

)

Eggs

room temperature

1

Tablespoon

(

1

Tablespoon

)

Vanilla Extract

2

cups

(

250

g

)

All-purpose flour

1

teaspoon

(

1

teaspoon

)

Ground cinnamon

2

teaspoon

(

2

teaspoon

)

Baking powder

⅛

teaspoon

(

0.13

teaspoon

)

Ground cayenne red pepper

½

teaspoon

(

0.5

teaspoon

)

Kosher Salt

½

cup

(

180

g

)

Powdered sugar

for coating
Instructions
Weigh or measure the sugar into a small container and set aside. In another bowl, weigh or measure the cocoa and dark cocoa powder and set that aside. In one last container, weigh or measure the flour, baking powder, salt, ground cayenne, and cinnamon, and run a whisk through to blend.

Cream your butter for a minute or two before adding the sugar using a handheld or stand mixer. Beat for 2-3 minutes at medium-high speed. You want the sugar and butter to be light in color and fluffy. You may need to scrape the sides and bottom to ensure the butter is incorporated. Turn the mixer to medium speed and add the vanilla extract. Before adding one egg at a time, I crack the egg into a small bowl to ensure there is no eggshell before adding to the cookie batter.

Turn the mixer down to low and slowly add the cocoa powder. Be careful; cocoa powder is very light in weight and flies everywhere if the mixer speed is higher than the low setting. Scrape down the sides to ensure the butter and cocoa powder are mixed. Mix through, then turn down the mixer speed and gradually add the flour mixture. Just mix till the flour is incorporated. Take the bowl off the stand and place it in the refrigerator for 30 minutes.

Add the powdered sugar to a small bowl or plate. I made about 1" to 1-½" diameter balls using a medium cookie scoop. I then roll them into a ball using my hands. Add them to the powdered sugar and thoroughly coat them. The powdered sugar is what makes the crinkle effect on the cookies. Put 12 on a standard parchment-lined cookie sheet pan and bake at 350°F (175°C or 180°C).

Now comes the decision of how long to keep them in the oven. The baking range is 10-12 minutes. Based on my oven, if you want a moist cookie, bake it closer to 10-11 minutes. If you like a drier cookie, go for more towards the 12 minutes. So whether you do 10 or 12 minutes, the tops of the cookies, when pulled from the oven, will be soft to the touch. Let cool on the pan for a minute before moving to a cooling rack.
NUTRITION DISCLAIMER
I am not a certified Dietitian or Nutritionist. The nutrition amounts given below are provided through a program and are only a guideline.
Nutrition
Calories:
162
kcal
Carbohydrates:
25
g
Protein:
2
g
Fat:
7
g
Saturated Fat:
4
g
Polyunsaturated Fat:
0.3
g
Monounsaturated Fat:
2
g
Trans Fat:
0.2
g
Cholesterol:
29
mg
Sodium:
91
mg
Potassium:
74
mg
Fiber:
2
g
Sugar:
15
g
Vitamin A:
202
IU
Vitamin C:
0.01
mg
Calcium:
31
mg
Iron:
1
mg