Sometimes I love a rustic cookie filled with nuts, dried fruit, some chocolate, and, to top it off citrus infused cookie dough. You can swap out one or several parts to accommodate your and your family's tastes. I hope you enjoy baking and tasting my cookies with lime, dried fruit, and macadamia nuts.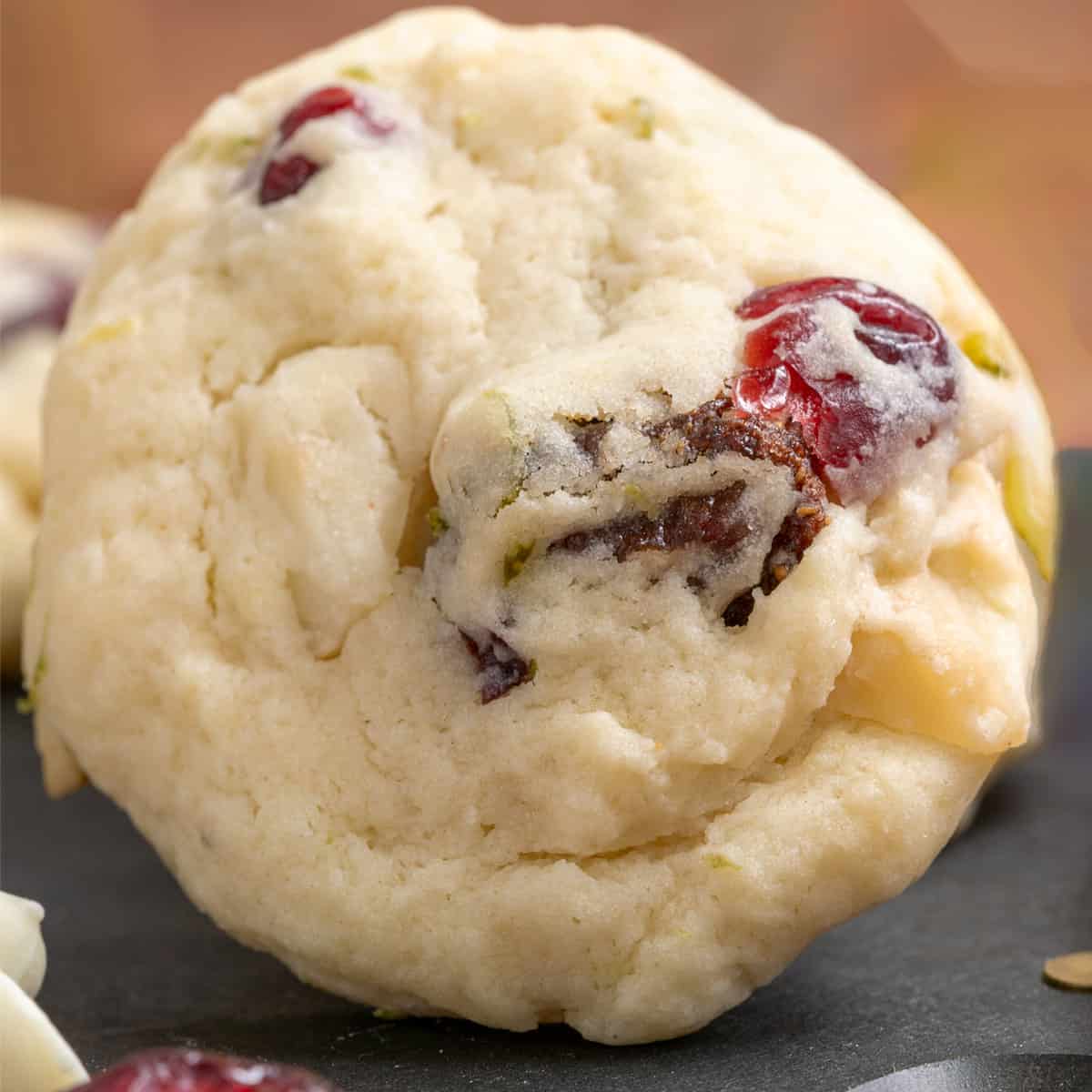 My local grocery store sells containers of all kinds of things. They dedicated a whole aisle on both sides for anything from nuts to candy and fruit. Some of these containers contain mixed dried fruit, from berries to tropical. The dried fruit mix I purchased has cherries, blueberries, cranberries, and strawberries in the container.
Jump to:
Ingredients
Jump to Recipe for Amounts
Butter unsalted
Cream cheese
Sugar white
Egg
Vanilla extract
Lime juice
Lime zest
All-purpose flour
Baking powder
Kosher salt
Mixed dried fruit
Roasted macadamia nuts
White chocolate chips
Buying Macadamia Nuts
These nuts come in various ways, salted, unsalted, and dry roasted (which can be salted or unsalted). What do I choose? Well, the answer is, "It depends." The health benefits of the macadamia nut are very impressive. The macadamia nut is known for its buttery, rich taste, and high nutritional value. I found an article on webmd.com that details the Health Benefits of Macadamia Nuts.
If I want to add flavor to my cookies and some crunch, I always opt for the roasted unsalted variety. You can roast or toast them at home if raw macadamia nuts are the only type you can find. The Spruce Eats has a detailed web page on How to Roast and Toast Macadamia Nuts.
The macadamia nuts on the left are unsalted and dry-roasted. The macadamia nuts on the right are packaged from Diamond and unsalted but smooth looking with just a little rosemary extract. It gives the nuts a slightly oily look.
When I am looking at the macadamia nut, the one that looks a little drier and not smooth seem to have a little more crunch to them, so I picked these for this cookie. Both macadamia nuts are good, so it is not about taste but about texture.
Either would go well with the dried fruit and lime, so you can't go wrong with either. I would avoid the salted for this cookie because the salted can be really salty.
What Kind of Dried Fruit
Almost all dried fruit will pair nicely with the flavor of lime in the cookie dough. The two combinations that I have done have been tropical flavors and berries. I am lucky to have a local store that makes these containers of mixed-dried fruit depending on the season. This makes it so easy for me to swap between the different types.
The tropical combination contains dried apricots, bananas, papayas, and apples. I did have to chop them up a little more since the apple came in bigger pieces. But when I went to the store this past week, they had a wonderful berry combination.
The berry combination contained blueberries, cherries, cranberries, and strawberries. All of these berries would work with the lime and macadamia nuts. The great part is they were all a good size, so I did not have to cut up any of them.
The great part is that you can make your own dried fruit mixture. Nuts.com has a whole page dedicated to dried fruit. Purchase 3 or 4 of the selections that you like. You may have to cut some of them into smaller pieces. But check out your local store to see if they have a bulk aisle; they may surprise you and have what you are looking for.
The Best White Chocolate Chips
There is no shortage of companies making white chocolate baking chips. I have tried most of them in my cookies, and the one I continually return to is the Ghirardelli Classic White. But I also like Hershey's Premier White and Nestle Toll House Premier White. You can't go wrong with any of these three.
Of course, you may have a brand that you reach for every time you need white chocolate chips, which is perfectly OK. You may be the shopper that buys whatever brand is on sale, which is a great way to try all the different makers. This allows you to compare and understand which brand you prefer.
Just know there is no right or wrong answer to which is the best because it will always come down to your taste and cost. I did find that Taste of Home did an extensive taste test of white chocolate chips called The Best White Chocolate Chips, According to Test Kitchen Bakers that you can check out.
How to Bake Lime and Macadamia Nut Cookies
Having all my ingredients ready when I start putting together and mixing my cookie dough always works out better for me. Weighing, zesting, and chopping goes pretty fast, and I have all my ingredients in bowls around my mixer. I weigh all my dry ingredients, but you can measure if you do not have a scale.
Prepping
First, I start by weighing the sugar into a bowl and setting it aside. Now, I weigh the flour in another bowl and add the baking powder and salt. I run a whisk through to blend.
Next, I zest and juice the limes. Don't go too deep when zesting the outside of the lime.
Finally, I rough chop the roasted macadamia nuts into nice chunks. Now it is time to make the cookie dough.
Mixing the Lime and Dried Fruit Cookie Dough
Start with room-temperature butter and cream cheese. Mix on a medium mixer speed mix for 1 to 2 minutes. You want them creamed together.
Still, on a medium mixer speed, add the sugar and mix for 3 minutes. Then scrape down the sides of the mixer bowl.
Add the vanilla extract and the egg mixing until the egg is incorporated.
Next, blend the lime zest and juice into the cookie dough. I scrape down the sides of the bowl and, on a slow mixer speed, gradually add the flour mixture.
I now add the white chocolate chips, chopped macadamia nut, and mixed dried berries. Incorporating these into the cookie dough takes about 15 to 20 seconds.
Taking the bowl off the mixer stand, I use a spatula to ensure all the flour is incorporated and all the components are mixed evenly throughout the cookie dough.
Cover and refrigerate for 60 minutes. I refrigerate for an hour to infuse the lime zest and lime juice into the butter, sugar, and flour.
How to Bake Refreshing Lime Cookies
Preheat the oven to 350°. Parchment paper is what I use for lining my cookie sheet pans. If you prefer silicone mats, use what you know and love. Prepare two cookie sheet pans with your preferred method.
I use a medium cookie scooper and place 12 cookie mounds on a prepared cookie sheet pan. For the cookies to have a consistent bake, I flatten the tops a little using my three fingers. Don't press down too hard; you want them to be about the same thickness. This gives them that rustic look.
Bake at 350° for 11 to 13 minutes. Move them to a cooling rack once they are out of the oven.
I hope you enjoy!
FAQs
Can I use a different type of nut instead of macadamia nuts?
Yes, macadamia nuts can be substituted with almonds, pecans, or walnuts. The cookies might have a slightly different taste, but they'll still be delicious!
How should I store these cookies to maintain their freshness?
Store the cookies in an airtight container at room temperature. They should stay fresh for about a week. If you need to keep them longer, you can freeze them in a zip-top bag.
How do I know when the cookies are done baking?
The cookies are done when the edges are lightly browned and the center is still a little soft. They will firm up as they cool.
Can I use lime juice without the lime zest?
Lime zest provides a stronger, more concentrated flavor than lime juice. If you don't have a zester or grater, you can use lime juice, but remember that the taste might be more subtle.
Other Lime or Macadamia Nut Cookies
Recipe
Lime with Dried Fruit and Macadamia Nut Cookies
Barbara Hall
This is a late summer into fall cookie. The mix of berries compliments the lime, which in turn compliments the roasted macadamia nuts.
Ingredients
½

cup

(

113.5

g

)

Butter unsalted

room temperature

4

oz

(

4

oz

)

Cream cheese

room temperature

1

cup

(

200

g

)

Sugar white

1

(

1

)

Egg

1

teaspoon

(

1

teaspoon

)

Vanilla extract

1

Tablespoon

(

1

Tablespoon

)

Lime juice

1

Tablespoon

(

1

Tablespoon

)

Lime zest

2 ½

cups

(

312.5

g

)

All-purpose flour

1

teaspoon

(

1

teaspoon

)

Baking powder

½

teaspoon

(

0.5

teaspoon

)

Kosher salt

1

cup

(

40

g

)

Mixed dried fruit

cherries, cranberries, blueberries, and strawberries

½

cup

(

67

g

)

Roasted macadamia nuts

½

cup

(

90

g

)

White chocolate chips
Instructions
Weigh or measure the flour, baking powder, and salt into a bowl and run a whisk through to blend. In another bowl, weigh or measure the sugar and set it aside. Zest and juice limes into separate bowls and set aside. Next, rough chop the roasted macadamia nuts.

Add the butter and cream cheese in a stand or handheld mixer and mix on medium speed for about 1 to 2 minutes. Add the sugar and mix for another 3 minutes. Next, add the egg and incorporate it. At this point, I stop and scrape down the sides and bottom of the mixing bowl.

Add the lime zest, lime juice, and vanilla extract and blend for a minute at medium speed. Turn the mixer to low and gradually add and incorporate the flour mixture. Turn the mixer off and scrape down the sides. Next, add the dried fruit, macadamia nuts, and white chocolate chips; mix for about 15 seconds. You just want them to spread throughout the cookie dough. Cover the bowl lightly with plastic wrap and refrigerate for an hour.

Preheat the oven to 350°, line 2 cookie sheet pans with parchment paper, and set them aside. Using a medium-sized cookie scoop, place 12 scoops on a pan. Using your fingers, press down on the top of the mound. This will flatten them out a bit and bake even. Bake for 11-13 minutes. They should be golden brown on the bottom of the cookie. Move them to a cooling rack to finish.
NUTRITION DISCLAIMER
I am not a certified Dietitian or Nutritionist. The nutrition amounts given below are provided through a program and are only a guideline.
Nutrition
Calories:
152
kcal
Carbohydrates:
19
g
Protein:
2
g
Fat:
8
g
Saturated Fat:
4
g
Polyunsaturated Fat:
0.3
g
Monounsaturated Fat:
3
g
Trans Fat:
0.1
g
Cholesterol:
19
mg
Sodium:
76
mg
Potassium:
49
mg
Fiber:
1
g
Sugar:
10
g
Vitamin A:
166
IU
Vitamin C:
0.3
mg
Calcium:
27
mg
Iron:
1
mg