My Irish Flag Shortbread cookies turned out to be the colors of the Irish Flag. It is more time-consuming to make the three batches, 1 for each color, but honestly, it would have driven me crazy to have to make it all at the same time then add the color afterward. I could have weighed out the cookie dough into thirds then added the color, but knowing me, I would not have gotten the color the whole way through.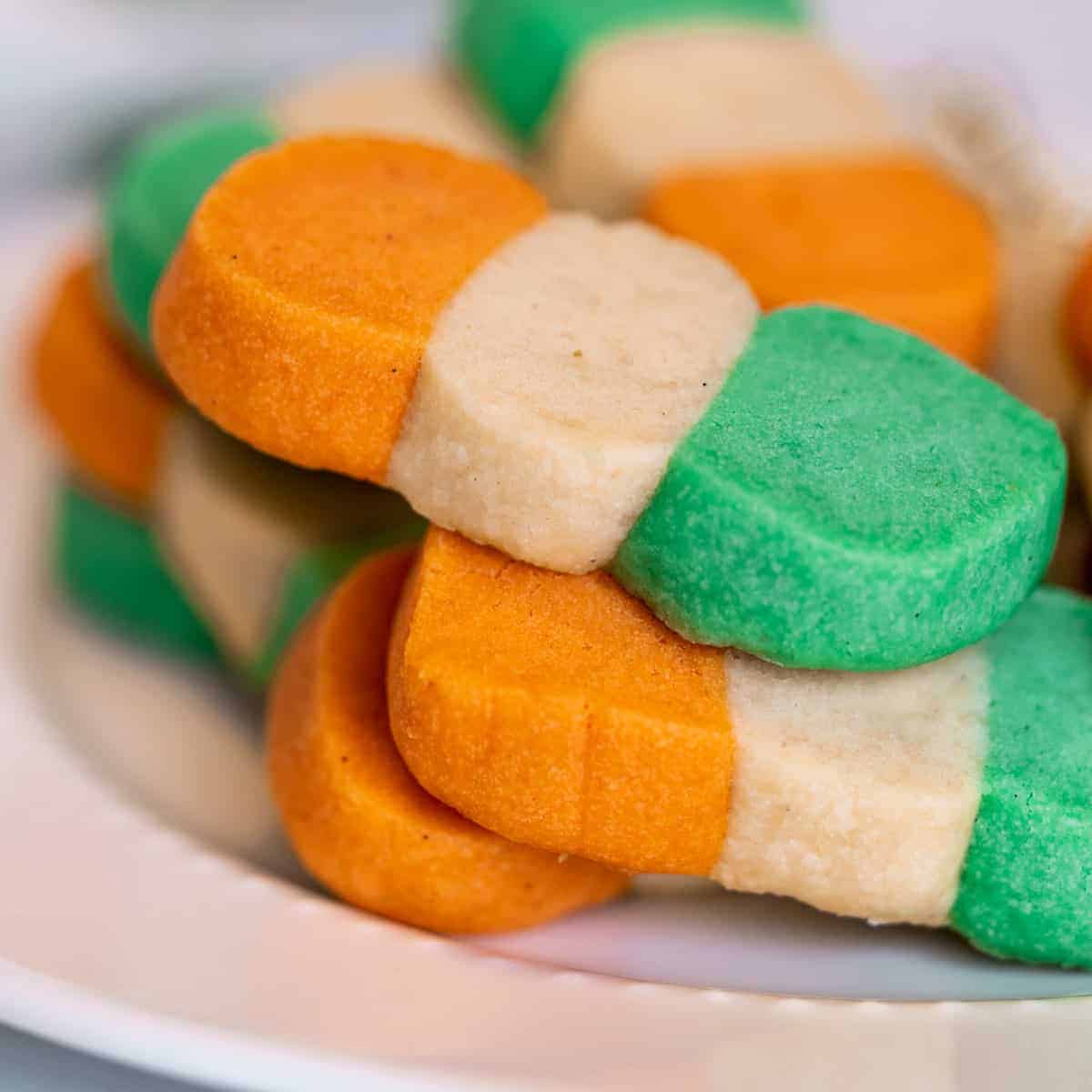 I wanted to know what the Irish flag colors stood for, so I found this site that had a lot of useful information about the flag. What's the Symbolism of the Irish Flag, I hope you get a chance to read it; I had no idea.
This is my last St Patrick's Day cookie for this year since the holiday is in a couple of days. I will be adding more next year.
Recipe
Irish Flag Shortbread Cookies
Barbara Hall
You could change the colors to make any sort of flag you want in the same way, such as France. Have fun with this shortbread dough!
Ingredients
½

cup

Butter unsalted

soft not melted

¼

teaspoon

Vanilla bean paste

1

teaspoon

Lemon juice

⅓

cup

Powdered sugar

38 g

1 ¼

cup

All-purpose flour

150 g

¼

teaspoon

Baking powder

⅛

teaspoon

Kosher Salt

or a good pinch

1

drop

orange or green Coloring gel
Instructions
I weigh out for all three batches of cookie dough at the same time into three different bowls. Weigh or measure the flour, salt, and baking powder into a bowl and run a whisk through to blend then set it aside. In a stand or handheld mixer, add the soft butter and beat till light and fluffy. Add the vanilla bean paste and the lemon juice and incorporate it. Turn the mixer down and add the powdered sugar and mix it into the butter. Next, if this is one of the two cookie dough that gets orange or green, add the color now. I only needed one drop, but if you like a deeper color, add two drops.

After mixing all three cookie doughs, I split each color in half and roll each one into a log shape. Lay each color next to each other on a piece of plastic wrap. Fold the one side of the plastic wrap over and lift the one side so you can flip it over to finish wrapping it around all three logs. I put the wrapped cookie dough into a 9X13 dish, and at this point, you can shape it into as close of a rectangular as you can. This way, when you slice the log, it will have even green, white (regular cookie dough color) and orange colors. Do the same for the other half of the dough. Put it in the refrigerator for at least an hour.

Preheat oven to 350°F (175°C or 180°C) and line 2 cookie pans with parchment paper then set aside. Take one of the logs out of the refrigerator and slice ¼" pieces and lay flat on the cookie sheet. I put 15 to a cookie pan—Bake at 350°F (175°C or 180°C) for 12-15 minutes. After baking, I let them cool on the pan for about a minute before moving them to a cooling rack.
Notes
I made three batches of cookie dough so I could get the green and orange color blended through each part of the cookie that needed color. The recipe makes ⅓ of the dough. You can take the recipe and times it by 3, then divide and add your colors to the two sections for the green and orange afterward, but I can never get equal parts that way. Whichever is more comfortable for you.
Yields 30 flag cookies if you make three batches of dough.
NUTRITION DISCLAIMER
I am not a certified Dietitian or Nutritionist. The nutrition amounts given below are provided through a program and are only a guideline.
Nutrition
Calories:
154
kcal
Carbohydrates:
16
g
Protein:
2
g
Fat:
9
g
Saturated Fat:
6
g
Polyunsaturated Fat:
1
g
Monounsaturated Fat:
2
g
Trans Fat:
1
g
Cholesterol:
24
mg
Sodium:
41
mg
Potassium:
20
mg
Fiber:
1
g
Sugar:
4
g
Vitamin A:
284
IU
Vitamin C:
1
mg
Calcium:
11
mg
Iron:
1
mg