Most people make these cookies with brown sugar and nuts. However, I wanted fruit and nuts, so I thought I would try my combination. First, I didn't care for sugar in this cookie, so I did not add sugar to the marmalade, cookie dough, or cranberry nut mixture. I did, however, need to add some sweetness, so I opted for powdered sugar that I could add myself. Since this orange marmalade comes from bitter oranges, the powdered sugar helped the orange taste a little sweeter.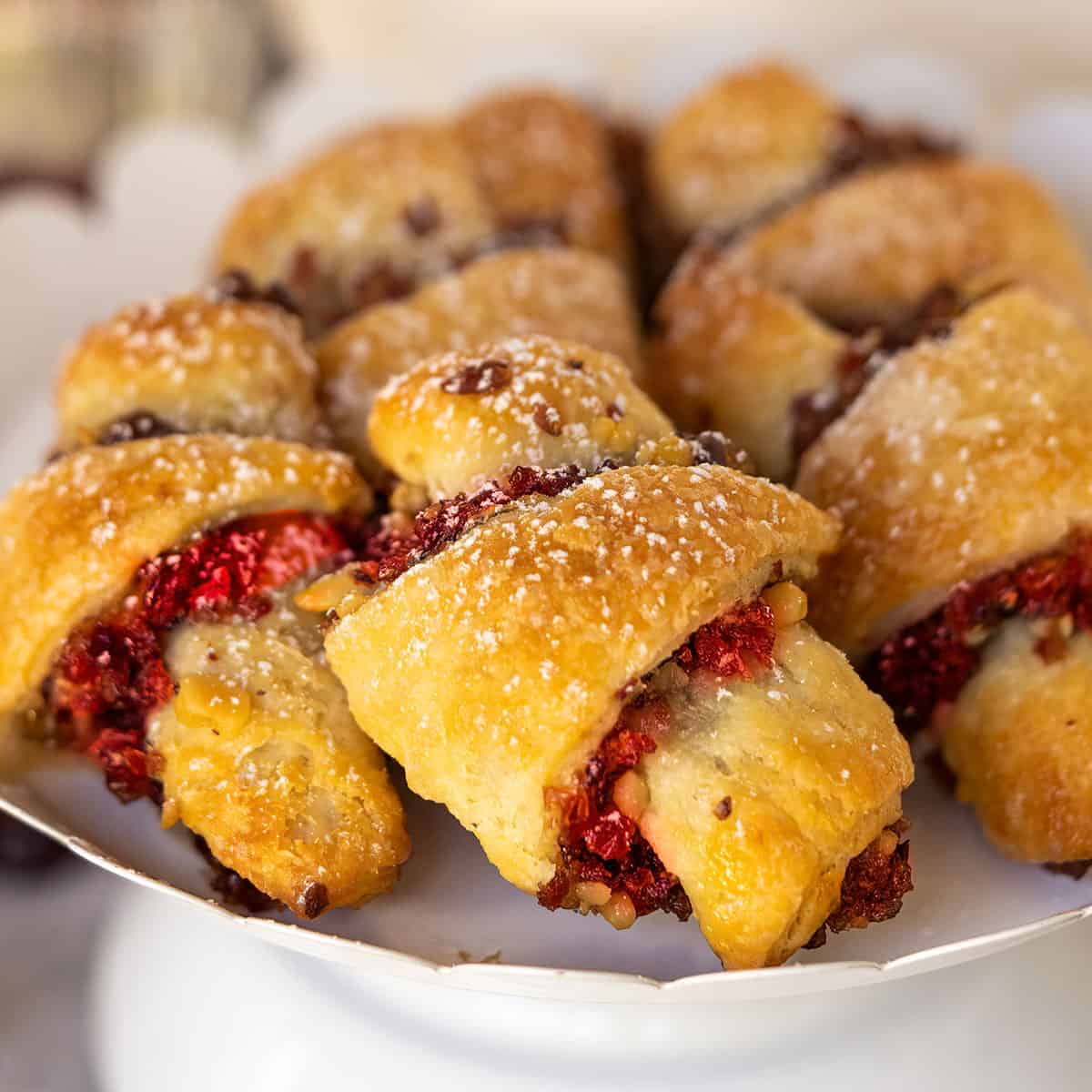 Cranberries, which some call a superfood because they are highly nutritious berries. For the orange marmalade there are different types, so you can pick whichever one you want to use. The sticky marmalade help hold the cranberry-walnut mixture in place as you roll the triangles up to the crescent shape.
Ingredients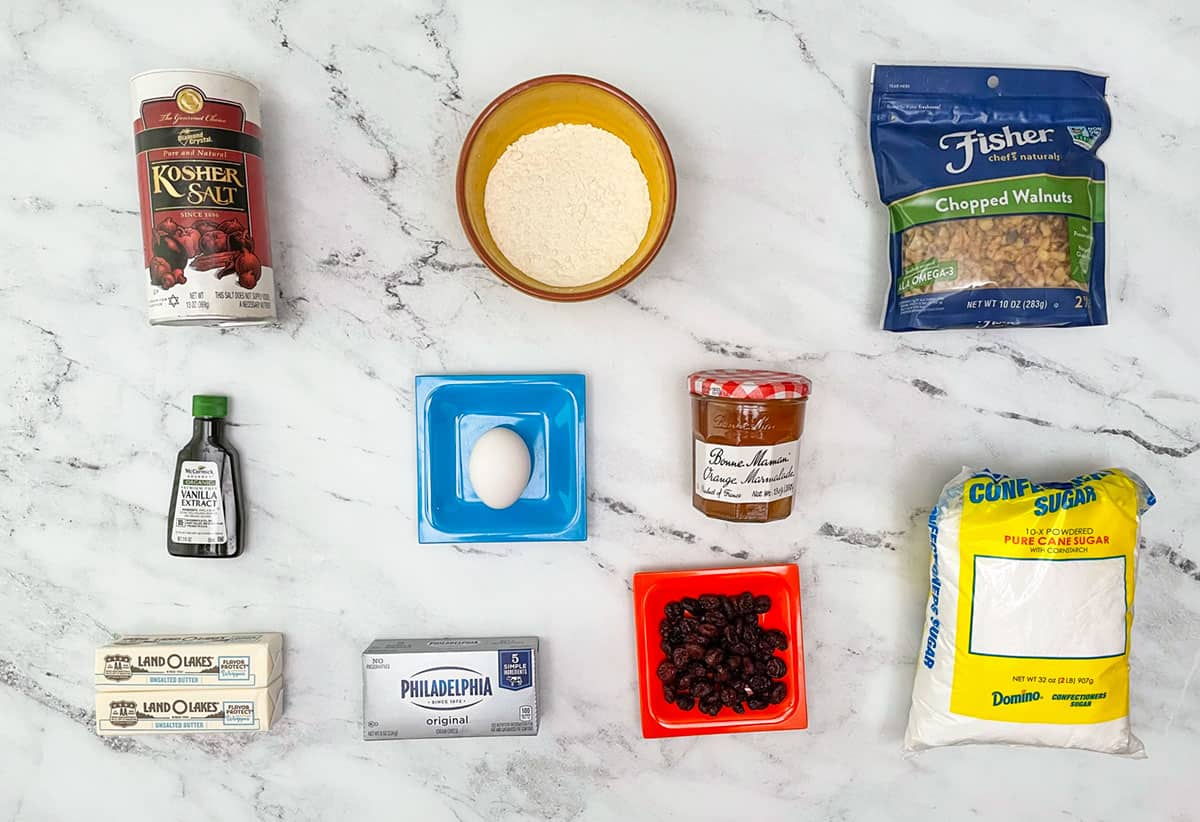 Jump to Recipe for Amounts
Cookie Dough
All purpose flour
Kosher Salt
Butter unsalted
Cream Cheese
Egg yolk
Vanilla Extract
Filling
Orange marmalade
Dried cranberries
Chopped walnuts
Powdered sugar for sprinkling
Instructions
If only I could make my cookie dough in a food processor all the time, I would be happy! Mix, shape into an oval, cut into quarters, flatten and make them round-shaped, then wrap them in plastic wrap. Chill for at least 2 hours.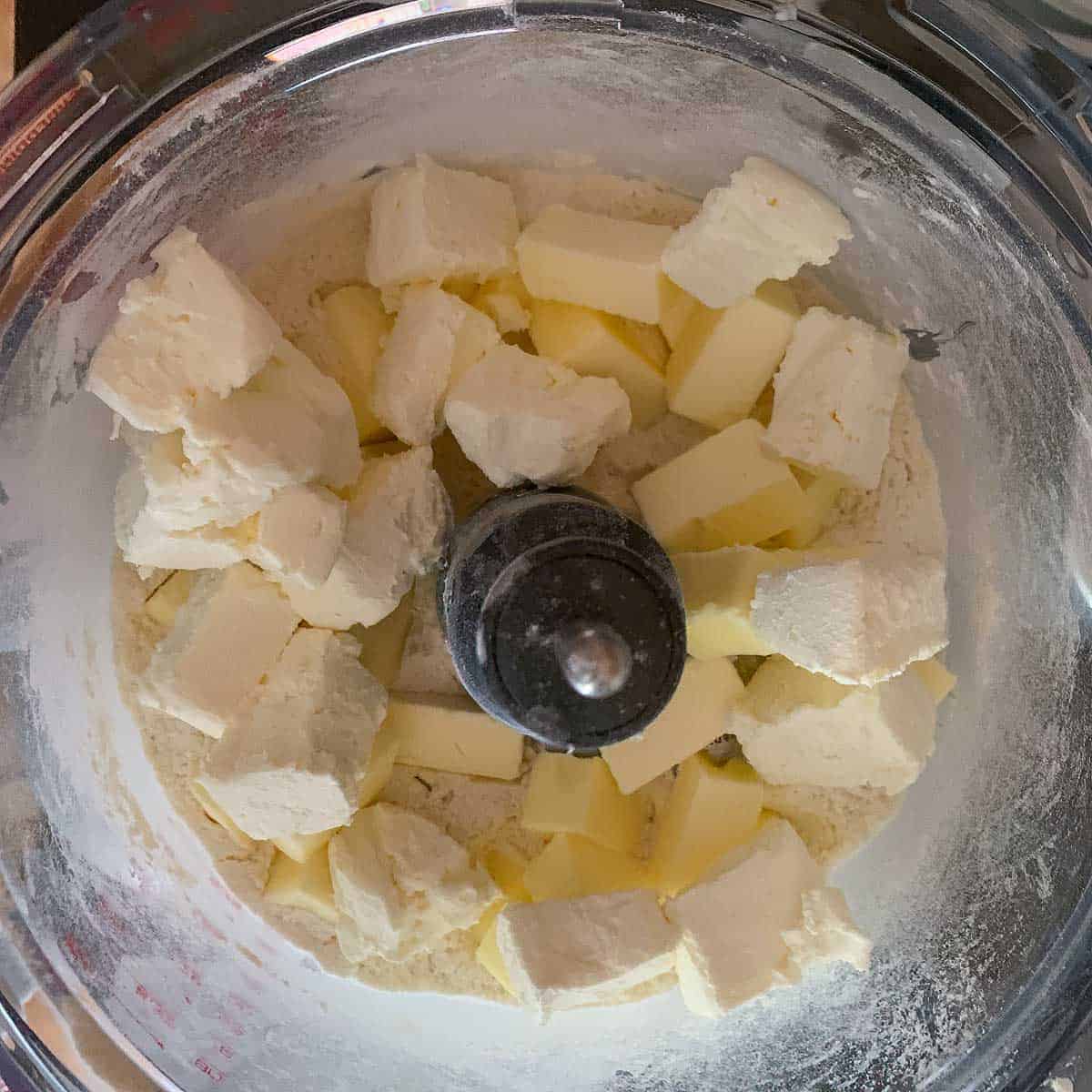 Roll out the dough to a pie shape and brush on the orange marmalade.
Next, take the chopped-up cranberries and walnut mixture and spread it on top of the orange marmalade. Lastly, sprinkle powdered sugar on top.
Slice like a pizza and start to roll from the outside, going to the middle of the circle. Roll each slice and bake to a golden brown.
If you fill the dough too much, it will be hard to roll and stay together. But I love cranberries, so that I may have overdone it just a tad.
FAQ's on Dried Fruit
What is in dried fruit? Is it just fruit?
Dried fruit is dehydrated fruit. Most commercially purchased dried fruit has added sugar and a little oil to keep the fruit from sticking together. I usually try and reduce the sugar in my cookies to accommodate the added sugar in the dried fruit.
You can undoubtedly dry your sugar-free fruit if you have a food dehydrator. Food dehydrators are not expensive, and if you have children, they are a great way to make sugar-free snacks.
Love Cranberry Cookies - Try One of These
Recipe
Cranberry Orange and Walnut Rugelach
Barbara Hall
Rugleach are such a beautiful cookie. They take some extra work but are WELL worth it.
Ingredients
COOKIE DOUGH
2

cups

(

250

g

)

All-purpose flour

¼

teaspoon

(

0.25

teaspoon

)

Kosher Salt

1

cup

(

227

g

)

Butter unsalted cold

8

ounces

(

226.8

g

)

Cream Cheese

cold

1

(

1

)

Egg yolk

1

teaspoon

(

1

teaspoon

)

Vanilla Extract
FILLING
1

jar

(

1

jar

)

Orange marmalade

2

cups

(

242.42

g

)

Dried cranberries

½

cup

(

58.5

g

)

Chopped walnuts

1

cup

(

120

g

)

Powdered sugar

for sprinkling
Instructions
COOKIE DOUGH
Weigh or measure the flour, salt and add to a food processor. Pulse 1 or 2 times. Next, cut up the butter and cream cheese and add to the flour. Pulse till it looks like small little balls. Take the egg yolk and the vanilla and mix it with a fork before adding it to the flour, butter, cream cheese mixture. Pulse till it looks like large balls starting to come together. Dump onto a pastry mat or just a clean counter and mold it to a flattened rectangle shape.

Cut the flatten ball into four parts. I find it easier to mold the quarters into a disk shape after I flatten it to about a 1" thick and wrap it with plastic wrap. You want them to be as round as you can make it, so it is easier to roll out. The disks need to refrigerate for at least 2 hours or up to 3 days. I put 2 in the refrigerator, and I froze the other two disk to make later. The frozen cookie dough disks will last for three months, but I will be using mine sooner than that.
FILLING
Take the two cookie dough disks (or four if you are doing them all) out of the refrigerator and let them warm up. In a food processor, add the dried cranberries and walnuts and pulse till they are small pieces and transfer to a bowl. Take the jar of orange marmalade and put it into a bowl and microwave for 30 seconds. Stir it around till it is smooth. Preheat the oven to 350°F (175°C or 180°C) while you finish making the cookies. Since I did not add sugar to the cranberry mix, I used powdered sugar instead of flour to coat my working station for rolling out the dough. You can use as much powdered sugar as needed to prevent the dough from sticking.

Roll out the cookie dough till you have a circle about 12" across and taking a pastry brush, spread a layer of orange marmalade. I leave about half an inch of the outside rim without the marmalade. Sprinkle the cranberry walnut mixture on top of the marmalade. The more you add, the harder it will be to roll the triangle shape into a crescent. I also press down lightly on the cranberry mixture, so it sticks to the marmalade. I then sprinkle powdered sugar on the cranberry mixture. Using a sharp knife or pizza cutter (which I find more manageable), cut it up like a pizza. Start at the outside edge of one of the triangles and roll towards the middle. Pick it up and put the cookie on the parchment-lined cookie sheet. You can easily get 12 on a pan. Put the whole pan into the refrigerator so the cookie dough firms up then—Bake for 20-25 minutes at 350°F (175°C or 180°C). My cookies for in about 23 minutes. Move to a cooling rack after you pull the pan from the oven.
Notes
The cookie dough is enough for 4 circles of dough. The filling will fill 2 of cookie dough. I usually freeze 2 of the wrapped cookie dough to make later with another filling. 
NUTRITION DISCLAIMER
I am not a certified Dietitian or Nutritionist. The nutrition amounts given below are provided through a program and are only a guideline.
Nutrition
Calories:
208
kcal
Carbohydrates:
22
g
Protein:
2
g
Fat:
13
g
Saturated Fat:
7
g
Polyunsaturated Fat:
2
g
Monounsaturated Fat:
3
g
Trans Fat:
1
g
Cholesterol:
39
mg
Sodium:
123
mg
Potassium:
42
mg
Fiber:
1
g
Sugar:
12
g
Vitamin A:
375
IU
Vitamin C:
1
mg
Calcium:
18
mg
Iron:
1
mg