I don't think it was fair to have two different cookies with the same name. The coconut macaroon originated in Italy, while France has almost any flavor of their famous macaroons. I could eat both with no problem at all. But I am a sucker for the coconut macaroon.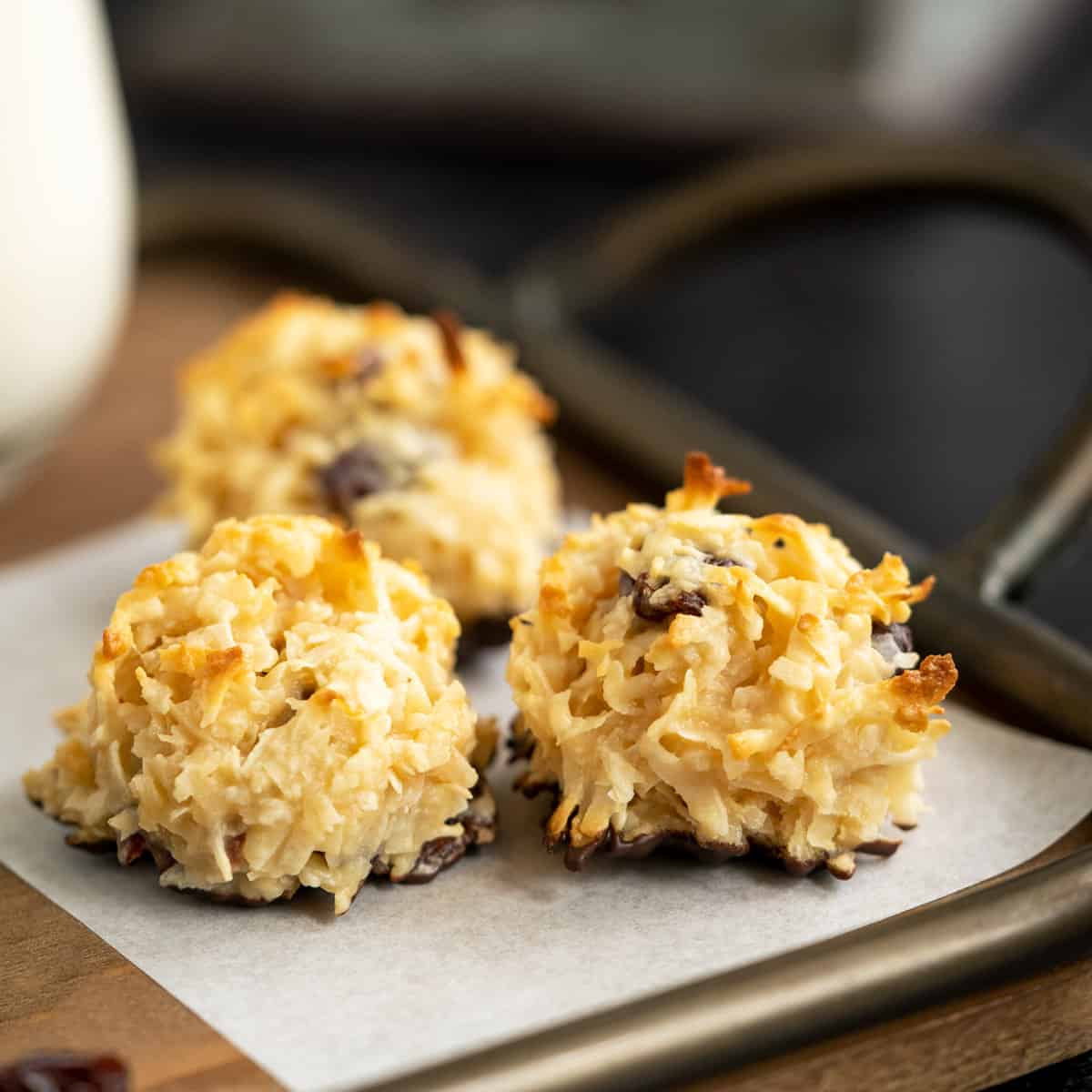 I decided to add tart-dried cherries to this version. However, I also wanted chocolate, and dark chocolate goes perfectly with tart cherries.
They are easy to make and can be mixed, baked, and dipped in an hour. My kind of cookie since this week between Christmas and New Year's is always busy.
What Ingredients You Will Need
15 ounces Sweetened Coconut shredded
14 ounce Condensed milk
2 teaspoons Vanilla Extract
1-½ teaspoons Almond extract
⅔ cup All-purpose flour
½ teaspoon Kosher Salt
5 ounces Dark chocolate wafers
1 cup Tart dried-cherries
How to Mix, Bake, and Dip a Coconut Macaroon
Throw the coconut, flour, condensed milk, vanilla extract, almond extract, and salt into a stand or hand mixer bowl. Mix till incorporated. Next, add the tart-dried cherries, and you want to blend them through. If you have a solid one-piece spatula, you can move the cherries around to be more even throughout the cookie dough.
Mix and Bake the Macaroons
Take a medium cookie scooper (a scooper makes the perfect doom for a macaroon) and add twelve scoops (they do not spread, so you can add a few more if you have room) to a parchment-lined cookie sheet pan. You have a choice on how your coconut macaroons will look when baked.
I leave some coconut sticking out, so they get toasted when baked. But you can undoubtedly tuck those coconut pieces in; the choice is yours.
Bake at 350° for 10-12 minutes. Move them to a cooling rack to cool after pulling them from the oven.
Chocolate Bottoms
The easiest way to get the chocolate bottom is by putting a good 1 or 2 handfuls of chocolate coating wafers into a microwave-safe bowl. Heat the wafers for 30 seconds, stir, heat for 15 seconds, and stir again. If all the wafers are close to melted, stir until they are completely melted. If your microwave is a lower power model, you can do another 10 seconds. You do not want to overheat the chocolate, or it will get hard, dull, and lumpy.
Then dip the bottoms into the melted chocolate and set them on their side. It only takes seconds for this kind of chocolate to set. Setting fast is why I love coating chocolate wafers.
I only put a thin layer of chocolate on the bottom, or that will be all you taste. The dark chocolate works so well with the tart-dried cherries and coconut. Enjoy!
Storage
You can store these cookies in a sealed container for 7-8 days. After that, the coconut on the outside will get stiffer, but the middle will still stay soft.
Here Are A Few Other Coconut Cookies
Chewy Coconut and Caramel Sea Salt Cookies
Pineapple Coconut with Lemon Glaze Cookies
Recipe
Coconut Macaroons with Cherries and Dark Chocolate
Barbara Hall
If you love coconut macaroons, you have got to try this version. The tartness of the cherries against the sweet, creamy coconut and the dark chocolate is divine.
Ingredients
15

ounces

(

425.24

g

)

Sweetened Coconut shredded

14

ounce

(

396.89

g

)

Condensed milk

2

teaspoons

(

2

teaspoons

)

Vanilla Extract

1-½

teaspoons

(

0.5

teaspoons

)

Almond extract

⅔

cup

(

83.33

g

)

All-purpose flour

½

teaspoon

(

0.5

teaspoon

)

Kosher Salt

5

ounces

(

141.75

g

)

Dark chocolate wafers

1

cup

(

125

g

)

Tart dried-cherries
Instructions
Weigh out your flour, coconut and add them to a mixer bowl. Next, add condensed milk, vanilla extract, almond extract, and salt and turn your mixer on to a low speed. Incorporate all the ingredients before adding the tart-dried cherries. You can finish spreading the cherries evenly using a good spatula.

I am using a medium cookie scoop. Add 12 to 15 scoops onto a parchment-lined cookie sheet pan. These cookies do not need much room between the cookies since they do not spread. So an inch is plenty of space. Bake at 350° for 10-12 minutes. When I see the coconut pieces that stick out start to get toasted, I watch the time. Finally, move them to a cooling rack after being pulled from the oven.

After the macaroons have cooled, it is time to melt the chocolate. Take a handful of the dark chocolate wafers and add them to a microwavable dish. If your microwave has a melt setting, you can use that, but if you do not, turn the microwave on for 30 seconds. Stir and microwave for another 15 seconds. Stir again; you can heat for another 5 to 10 seconds if needed. Do not overheat your chocolate, or it will be dull, hard, and lumpy.

Take a cooled macaroon and dip the bottom into the melted dark chocolate. Set the cookies on their side to harden. It only takes about a minute for the chocolate to harden. Enjoy!
NUTRITION DISCLAIMER
I am not a certified Dietitian or Nutritionist. The nutrition amounts given below are provided through a program and are only a guideline.
Nutrition
Calories:
213
kcal
Carbohydrates:
21
g
Protein:
3
g
Fat:
14
g
Saturated Fat:
12
g
Polyunsaturated Fat:
1
g
Monounsaturated Fat:
2
g
Cholesterol:
5
mg
Sodium:
71
mg
Potassium:
149
mg
Fiber:
4
g
Sugar:
14
g
Vitamin A:
206
IU
Vitamin C:
1
mg
Calcium:
52
mg
Iron:
1
mg