Apricots are an excellent fruit for cookies. I buy them packaged, and they are soft and dices very quickly. The ones at my store sell Turkish Apricots #4. Well, of course, I am no expert on the different apricot varieties. I had to go digging on the Internet to get the scoop on these little yellow-orange pieces of fruit. On my quest to find info on Turkish Apricots, I found a website with great information. Nutritional Value of Turkish Apricots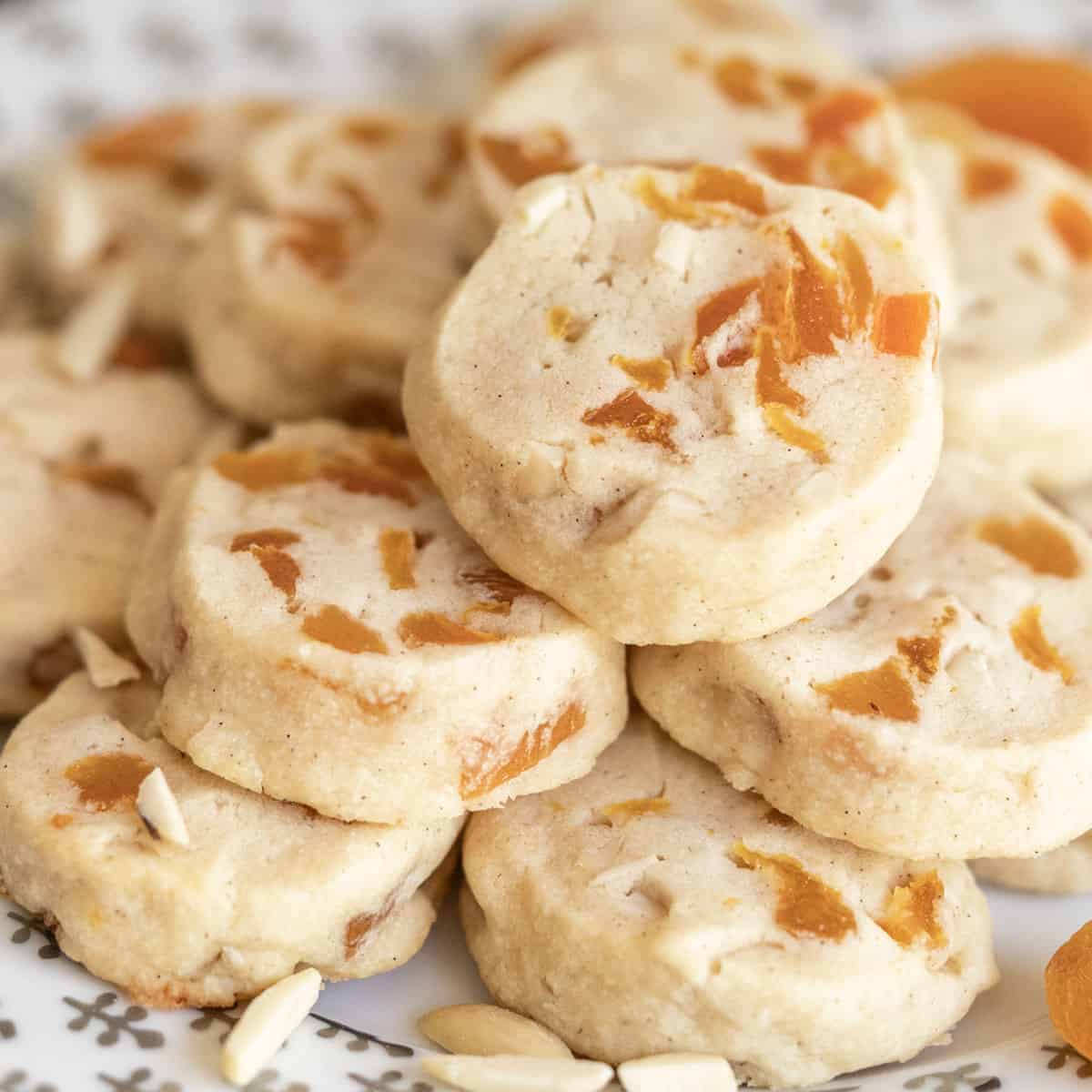 All I know is that they are great for putting in cookies, and they seem to be a great snack to munch on if you are looking for a fruit fix. Don't get me wrong, you can use any apricot, but for this type of cookie, the dried works better with the powdered sugar in the cookie dough. They hold their shape, flavor and do not make your cookie dough a wet mess.
Because apricot and vanilla go so well together, I wanted the cookie dough to have a fabulous presence to match the apricot. So I choose half of my vanilla flavor to be vanilla bean paste. The economic side of my brain said, you know how expensive vanilla bean paste is, and I nodded yes to myself (I promise I am of sound mind most of the time). So the other half is vanilla extract. Another reason was I was afraid it would have too strong a vanilla taste. Either way, vanilla, and apricots are perfect for each other.
Ingredients for Apricot Cookies
1 cup Butter unsalted 
⅔ cup Powdered sugar
1 tsp Vanilla bean paste
1 tsp Vanilla Extract
2 cups All-purpose flour
½ tsp Baking powder
¼ tsp Ground cinnamon
¼ tsp Kosher Salt
½ cup Almonds blanched
1 cup Dried Apricots
How to Make Shortbread Cookies
Have to do some prep before you can bake. So chop those dried apricots into small pieces and set them aside. I also weighed my powdered sugar in one bowl and set that aside. Next, I weigh or measure all the dry ingredients (flour, baking powder, salt, and cinnamon) into a big bowl and run a whisk through to blend.
You want to cream your butter so that it is light in color. Turn the mixer down and add the powdered sugar. Then add your vanilla bean paste and extract and blend it through. Scrape the bowl and, on a low-speed setting, add the dry flour mixture.
Add the cookie dough to a lightly floured pastry mat.
Divide the cookie dough in half and roll the two halves into equal-sized logs. About 10" in length will give you a nice diameter for your cookies. Wrap each log in plastic wrap and refrigerate for 30 to 40 minutes.
Take one log out of the refrigerator and unwrap the plastic wrap. I usually score the top of the log first to try and make the cookies all the same width. One half an inch is a good starting point, but you can make them a little thicker. You can fit one whole sliced log onto a parchment-lined cookie sheet pan. Don't worry if the log has a flat side; you can always shape it to be more round right on the sheet pan.
Bake at 350°F (175°C or 180°C) for 11-13 minutes. Leave on the cookie sheet pan for about 1 minute before gently moving them to a cooling rack.
Please enjoy!
Recipe
Apricot with Vanilla Bean Cookies
Barbara Hall
These are easy to make! Just measure, mix, refrigerate, slice, and bake. I love this type of cookie, and you can't go wrong with fruit in your cookies.
Ingredients
1

cup

(

227

g

)

Butter unsalted

2 sticks room temperature

⅔

cup

(

80

g

)

Powdered sugar

1

teaspoon

(

1

teaspoon

)

Vanilla bean paste

1

teaspoon

(

1

teaspoon

)

Vanilla Extract

2

cups

(

250

g

)

All-purpose flour

½

teaspoon

(

0.5

teaspoon

)

Baking powder

¼

teaspoon

(

0.25

teaspoon

)

Ground cinnamon

¼

teaspoon

(

0.25

teaspoon

)

Kosher Salt

½

cup

(

62.5

g

)

Almonds blanched

1

cup

(

130

g

)

Dried Apricots

rough chopped
Instructions
I purchased my apricot halves in a container at my grocery store. Chop the apricots into small pieces (they do not have to be the same size). Weigh or measure the powdered sugar and set it aside. In a separate bowl, weigh or measure the flour, baking powder, cinnamon, and salt running a whisk through to blend.

In a stand or hand-held mixer beat the butter on medium speed till it is creamy and light in color, about 3 minutes. Turn your mixer down to a low setting and gradually add the powdered sugar. Once incorporated, turn the speed back to medium and mix for about 2 minutes. I like to scrape down the side and just blend for about 30 more seconds. Add the vanilla bean and the vanilla extract and mix through the cookie dough. Turn the mixer to low and slowly add the flour mixture till incorporated. I turn off the mixer and scrape down the sides and across the bottom and blend for another 30 seconds. Add the apricots and almonds and just mix on low for 30 seconds. You just want the apricots and almonds to be incorporated through the cookie dough and not mashed.

I put the cookie dough straight from the mixer bowl onto a pastry mat. Then divide the cookie dough in half and roll into 2 logs. My logs were about 10" long and about 2" in diameter. You can adjust the length based on the size cookies you want. Wrap each log in plastic wrap and refrigerate for 30 to 40 minutes.

Preheat your oven to 350°F (175°C or 180°C), and line 2 cookie sheet pans with parchment paper. Take a cookie dough log from the refrigerator and slice ½" thick slices and lay on the cookie sheet pan. A secret I do is score the cookie dough log the whole way to the end and adjust the slices if you need to, so they are about the same size.

Bake for 11-13 minutes. When removing from the oven, I only let them sit on the sheet pan for about a minute before gently moving them to a cooling rack.
NUTRITION DISCLAIMER
I am not a certified Dietitian or Nutritionist. The nutrition amounts given below are provided through a program and are only a guideline.
Nutrition
Calories:
119
kcal
Carbohydrates:
12
g
Protein:
2
g
Fat:
7
g
Saturated Fat:
4
g
Polyunsaturated Fat:
1
g
Monounsaturated Fat:
2
g
Trans Fat:
1
g
Cholesterol:
16
mg
Sodium:
82
mg
Potassium:
75
mg
Fiber:
1
g
Sugar:
5
g
Vitamin A:
345
IU
Vitamin C:
1
mg
Calcium:
15
mg
Iron:
1
mg