In my house, chocolate chip cookies rule the roost. At least once a month, I get the "are you going to make chocolate chip cookies?" so I thought this week I would make hubby happy. I wanted a chocolate chip bar that was more than just a chocolate chip cookie. Deciding to add cinnamon which is a fantastic spice that enhances the chocolate flavor. If you have not had a chance to try cinnamon baking chips by Hershey's, you should. They have a great cinnamon flavor that will not overpower your cookies but gives it a mellow cinnamon taste.
But the chocolate and cinnamon needed a bit of tartness to counterbalance the sweet taste of the chocolate and what better way than adding cranberries. Dried cranberries can be used all year round and complement chocolate perfectly. I did add oatmeal into the recipe; it adds a wonderful texture to the cookie dough.
I decided to make a three-layer bar with chocolate cookie dough on the bottom and top with cinnamon chips and dried cranberries in the middle. This is a little more work than just throwing all the ingredients in the mixer and making a cookie bar. Which you could do, and I think it would taste great. Having the time on Friday to try it another way was my goal. I hope you enjoy this recipe either way!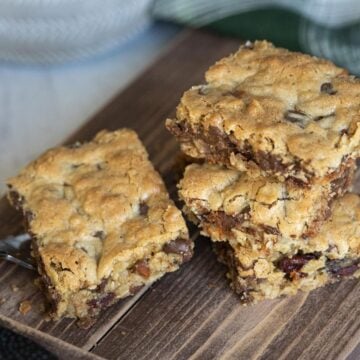 Cranberry Cinnamon Chocolate Chip Bars
Barbara Hall
This makes nice, big, sturdy bars. Feel free to cut them in half to share! The combination of cranberry, cinnamon, and chocolate is simply delightful.
Ingredients
1

cup

room temperature Butter unsalted

2 sticks

¼

cup

Dark Brown Sugar

53 g

¾

cup

light brown sugar

159 g

½

cup

Sugar white

99 g

2

teaspoon

Vanilla Extract

2

Eggs

1-½

cups

All-purpose flour

180 g

2

cups

Old fashion oats

178 g

1 -½

teaspoon

Baking powder

½

teaspoon

Baking soda

½

teaspoon

Kosher Salt

1

cup

Semi-Sweet Chocolate Chip

½

cup

Cinnamon Chips

½

cup

Dried cranberries
Instructions
Weigh or measure into a bowl the light brown, dark brown, and white sugar. In another bowl, weigh or measure the flour, oats, salt, baking soda, baking powder and run a whisk through to blend.

Using a stand or hand-held mixer, beat the butter and sugars together till it has become light in color and looks whipped—about 4 minutes on medium-high speed. Turn off the mixer and scrape down the side, then add the vanilla extract before turning the mixer back on to medium speed. I take one of the eggs, crack it into a small bowl to ensure there are no eggshells, and add it to the cookie batter. Mix into the cookie dough before adding the 2nd egg. I scrape down the sides to make sure all the egg has been incorporated and turn the mixer to a low speed before adding the flour mixture. After all the flour mixture has been added, I scrape the sides down and add the chocolate chips.

Bottom layer chocolate chip cookie dough in the baking dish.

Preheat the oven to 350°. Taking a 9X13 baking dish lightly sprayed with Pam or something similar to the bottom and sides. The cookie bars have a bottom layer (half the cookie dough), a filled middle layer (cranberries and cinnamon chips), then a top layer (the other half of the cookie dough). Because you have sprayed the dish with Pam and the cookie dough is a little tacky, spreading the cookie dough can be tricky. In your cookie dough bowl, divide the dough in half. I took tablespoons of cookie dough and dropped them around the bottom of the baking pan. Flour your hands and lightly dust the mounds of cookie dough with the flour also. As you start to work and spread the cookie dough to cover the dish's bottom, I lightly dust it with flour several times.

Once the bottom is pressed down and covering the bottom of the baking dish, take the cranberries and sprinkle them around evenly. Next, take the cinnamon chips and sprinkle them around. Using the other half of the cookie dough, I take a teaspoon and put little mounds on top of the cranberries and cinnamon for the top. I reserve a little to fill in any gaps I have. In the picture above I am just starting to smooth out the cookie mounds to bring them together. Taking the spoon, spread out the mounds till it covers the middle layer. When it bakes, the top cookie dough does spread a little. Bake for 24-29 minutes until the top is a nice medium golden brown color.

You will want to let the dish cool completely before cutting it into squares; this helps keep all the layers together. I let mine cool for at least 2 hours, sitting on 2 trivets to cool the bottom. My hubby ate 2 of the squares before I even took pictures. Store in an airtight container. I made big squares and got fifteen bars. I figured that if they would like a smaller bar, they could cut one in half. This is what I do. 🙂
Nutrition
Calories:
360
kcal
Carbohydrates:
46
g
Protein:
3
g
Fat:
18
g
Saturated Fat:
11
g
Polyunsaturated Fat:
1
g
Monounsaturated Fat:
5
g
Trans Fat:
1
g
Cholesterol:
56
mg
Sodium:
273
mg
Potassium:
146
mg
Fiber:
2
g
Sugar:
33
g
Vitamin A:
422
IU
Vitamin C:
1
mg
Calcium:
41
mg
Iron:
2
mg